There is nothing I love more that traveling to far off places and immersing myself in other cultures, but the sad fact of it is there is still a lot of American culture that I have not really experienced.  I've not even really wanted to if I'm completely honest.  Maybe it's that it's so close it doesn't seem "exotic" or maybe I'm just a self-loathing American, but I have a hard time getting as excited about experiences in my own backyard as I do about far away places.
I have several friends that get so excited when the fair is in town and I never quite got it.  I hadn't been, but it always seemed kinda dirty and sad to me.  I'd like to tell you my recent visit to the Florida State Fair changed that opinion, but that would be a lie.  Now I know it's dirty and sad, but it certainly is an iconic American experience.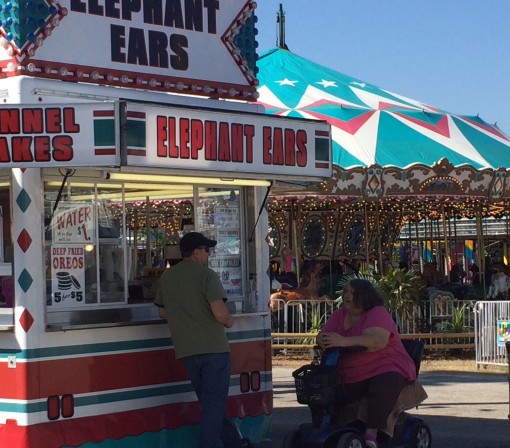 ~
~The Rides~
I'll start off by saying that I missed out on the main thing most people love about the fair, the rides.  It's just that I live in Orlando and get to go on way better rides all the time.  Most of these rides looked like they would either make me throw up or kill me, and either way that's a great way to ruin a day at the fair.  It also costs extra to go on them.  I already paid $11 just to walk around here.  Come on!
~
~The Exhibits and Contests~
This  was the best part.  The exhibits at the fair ranged from the amazing to the just plain confusing.  There was a balloon carousel though, that was pretty impressive.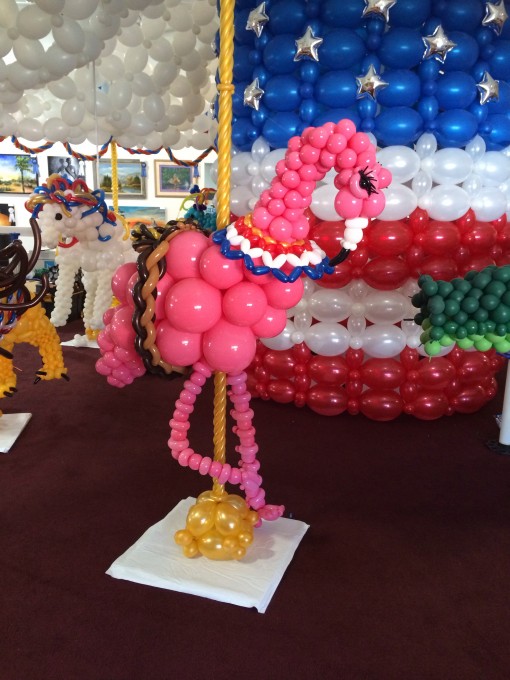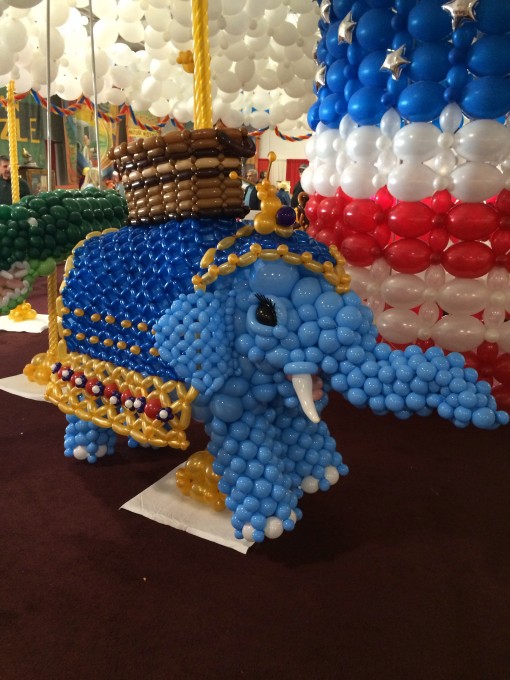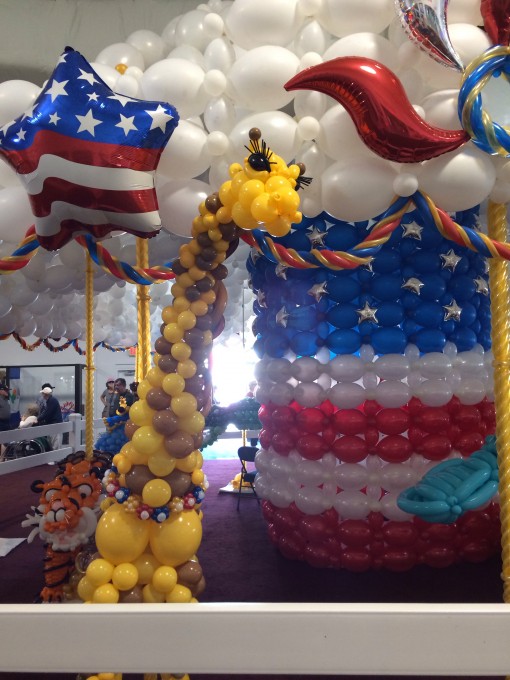 There was also an aquarium contest.  I'm not sure what the criteria was.  It was just a wall of aquariums that all had 1st place ribbons on them.  This one had an amusing sign about a crab though, presumably out of necessity.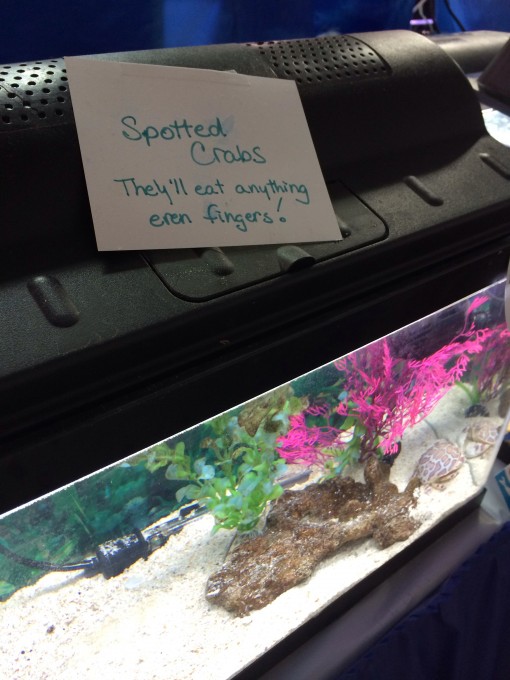 There were similar "everyone's a winner" contests for plants and wine.
I also got to witness a man dressed as a baby jumping off of a high dive into a pool of water.  I still don't really know how to process that.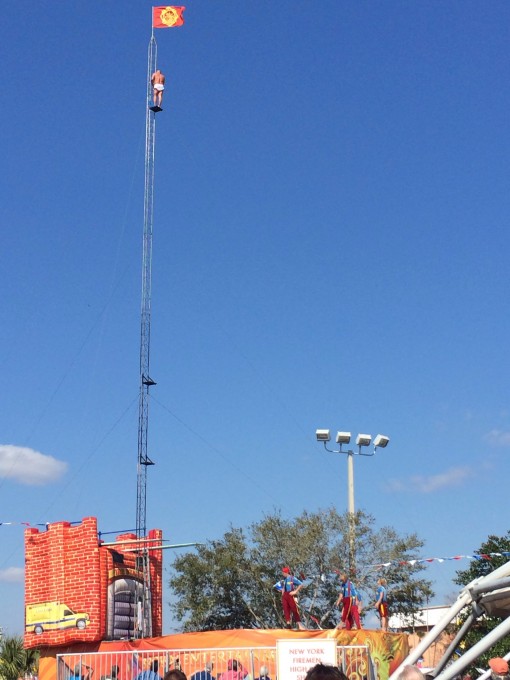 Then there was Cracker Country.  This was a highlight mostly because it reminded me of every field trip I took in elementary school.  It was a late 1800s village with interactive booths where you can do things like make candles, or make a rope out of some smaller ropes.  You know, things kids love.  We used the 1800s printing press to make some Florida State Fair Cracker Country post cards.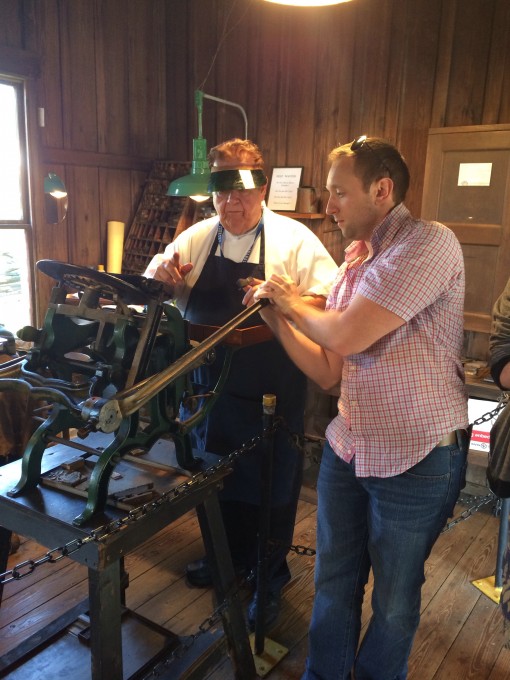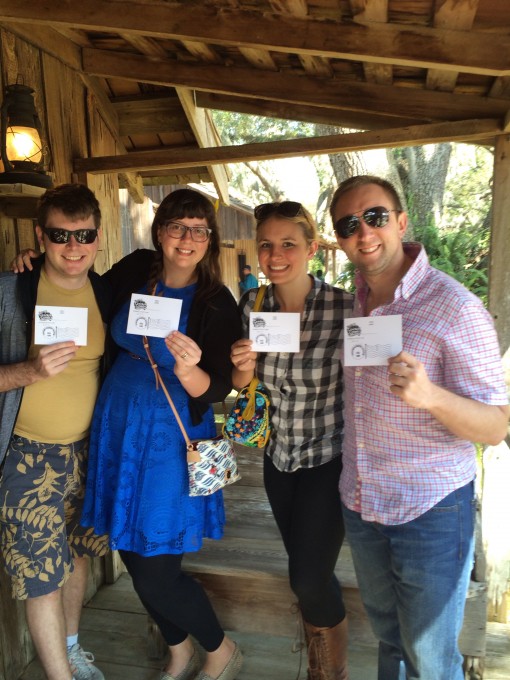 ~
~The Food~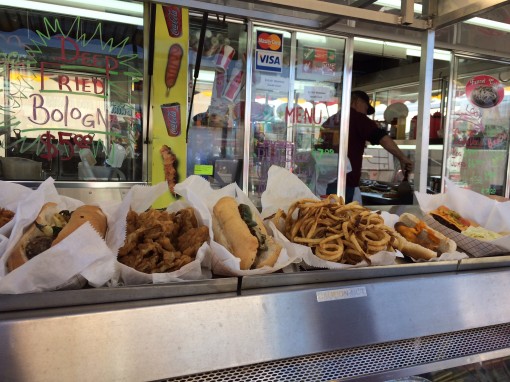 This is what I was most excited about and most disappointed in.  I love trying different foods and I obviously didn't expect haute cuisine, but most of this wasn't good even as far as fried greasy food goes.  I had fried cookie dough, which is not as good as cookies.   I had the pizza made of ramen noodles, which was actually worse than it looks believe it or not.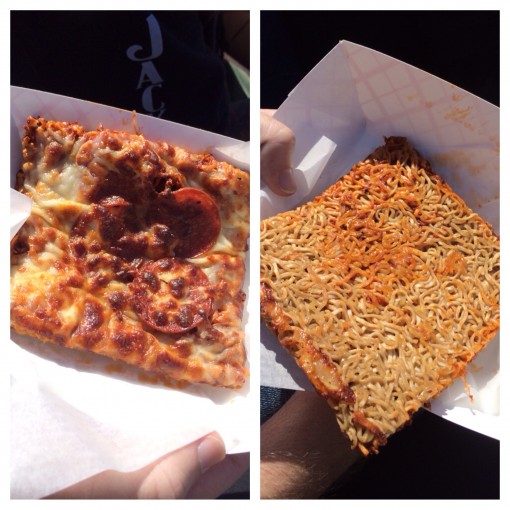 I tried elephant ears for the first time and learned that they are in fact different from funnel cake.  The lady at the stand explained the difference to me as "one is fried dough and the other is fried batter."  I'm still not sure which is which and I don't know the difference, but there is one.
I also tried bacon wrapped tator tots, which were actually pretty good.  How could you go wrong?  It just didn't seem terribly unusual and is not something I needed to be at the fair for.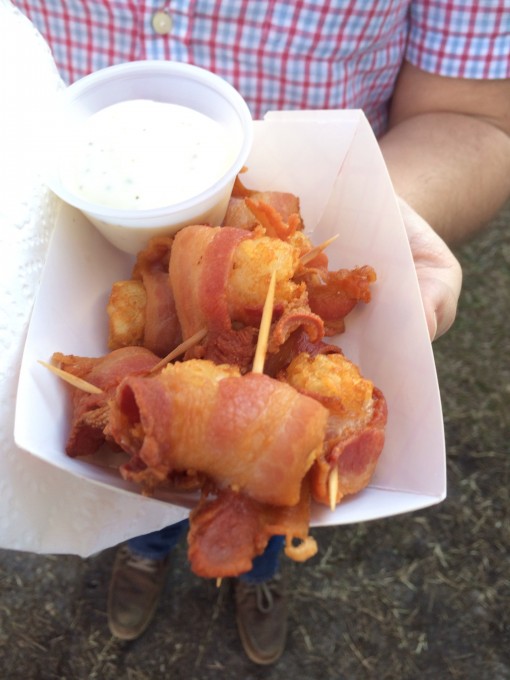 The last on the list of artery clogging nonsense was fried peaches and cream.  This made me wish it was just regular peaches and cream.  It's the only food I know of that was actually made worse by frying.  I didn't think it was possible.  I guess I did learn something at the fair.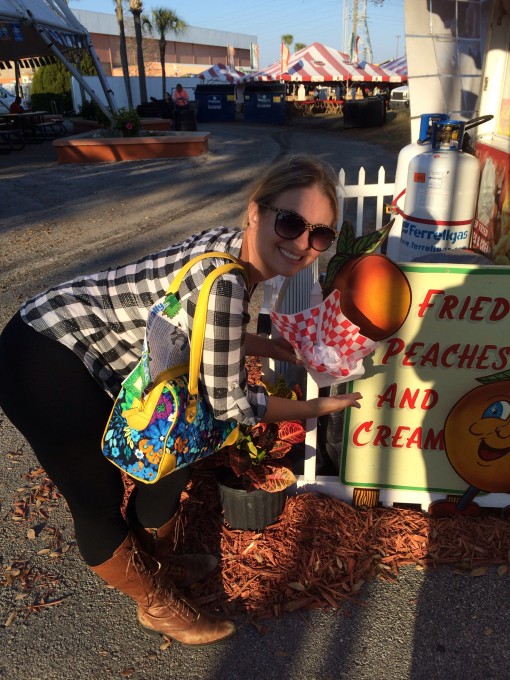 And let's take a moment to talk about the drinking.  It is both necessary and expensive.  I was happy to see that I could buy something that wasn't Bud Light, but I was not happy to spend $10 on it.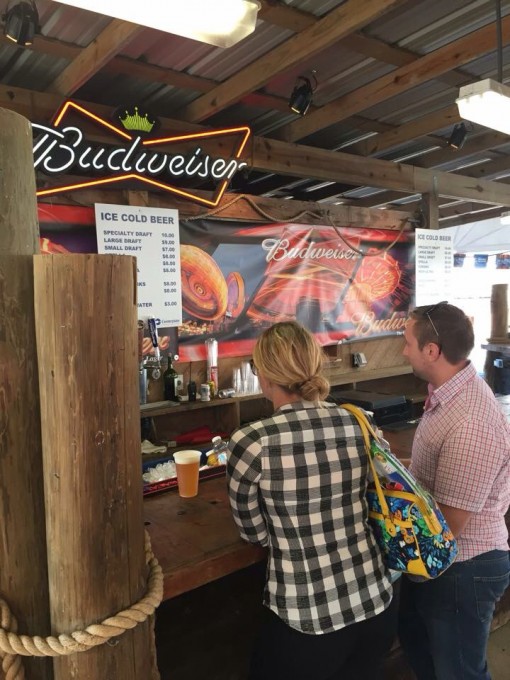 ~
~The Animals~
This is where the fair lost me.  I am not a crazy animal activist.  I eat meat (obviously).  I wear leather. I'll go to a zoo or aquarium. I have no problem with anything like that, but this just bummed me out.  I watched a pig race that seemed pretty okay, even if their punny pig name game was a bit off.  I watched a bear show that I was medium okay with.  The bears were trained, but it seems like they were kept in a safe environment.  They had been used in all sorts of movies and TV shows.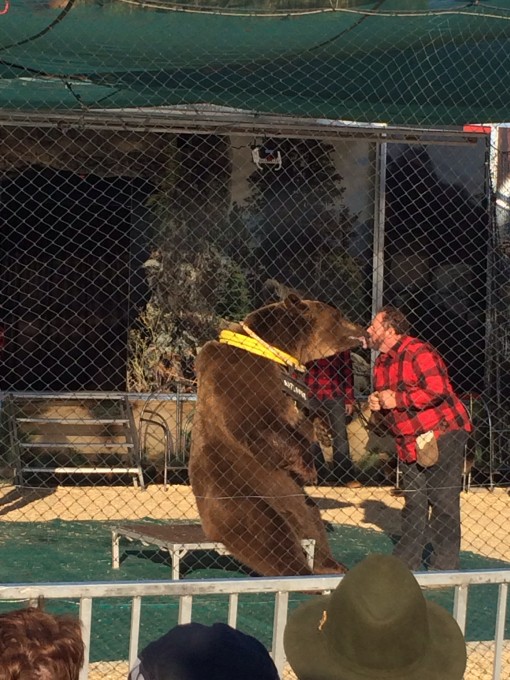 Then there was the petting zoo.  The petting zoo featured a small cage with lot and lots and lots of goats, a zebra in a dog run, and saddest of all was "Twigg's".   Not only is his name grammatically abysmal (it's not actually a giraffe owned by someone named Twigg, I checked), he's stuck in this tiny cage and spends all day reaching to take carrots from grubby kids.  The fur was even rubbed off where his chest was hitting the bars all day.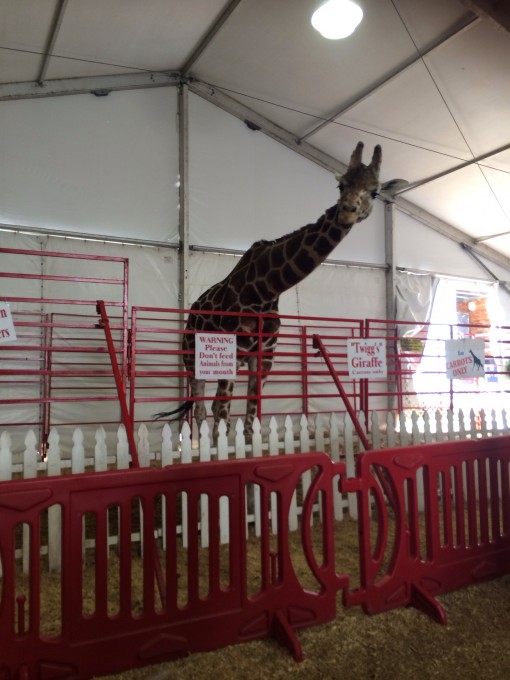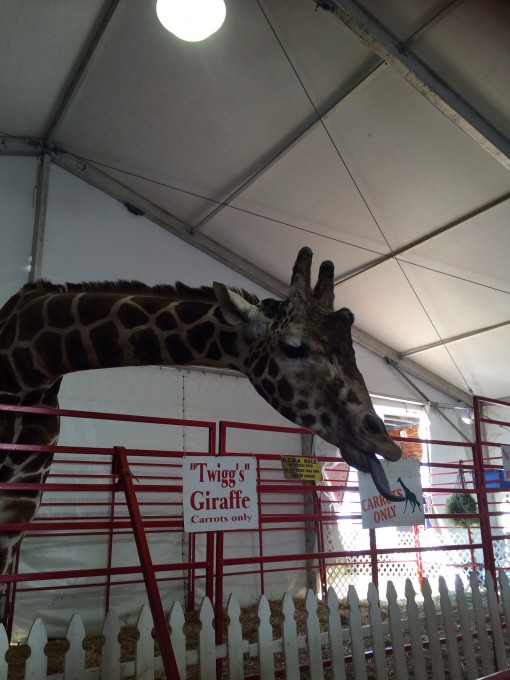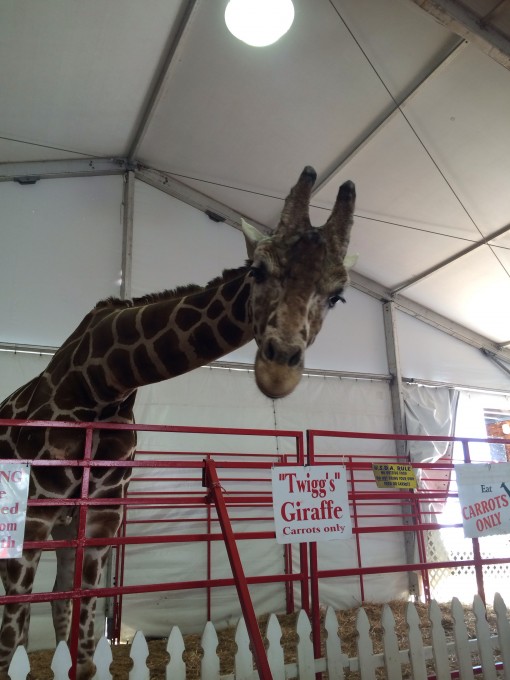 How heartbreaking is that?
Maybe it's just that giraffes are my favorite, but it seems extra sad.  How is this allowed to happen?  This seems like something you would see in a traveling carnival during the depression, not something people would still be okay with in 2015.  I thought we'd evolved past that.  I imagine you'd need some kind of licensing for that too.  I mean, you have to fill out an application and do a home visit when you want to adopt a homeless cat or dog.  Who is overseeing this industry?
~
Twigg's pretty much ruined the rest of my time at the fair and made me feel bad about the $11 I'd spent to support something like that.  I certainly won't be back for that reason, but even without the animals I don't think I quite understand the appeal of the fair.  Maybe it's one of those things you had to grow up with and the nostalgia keeps you coming back.  I feel that way about comic books and super heros.  I wasn't exposed as a kid and now it's too late.  I just don't get it (super heros or the fair).
As with everything though, I'm glad I tried it once.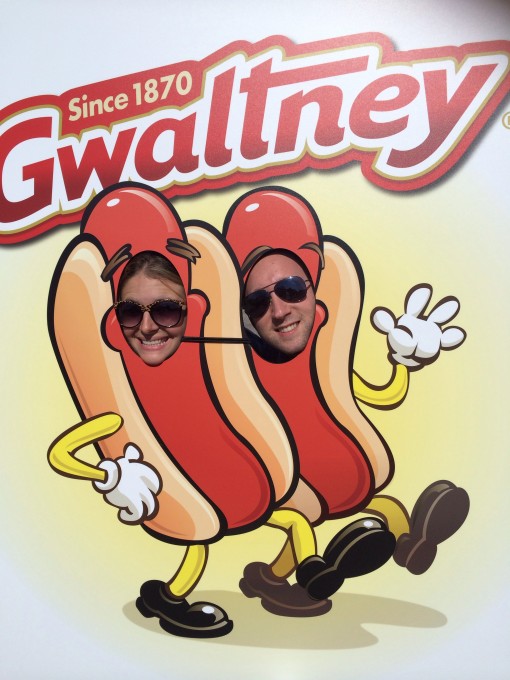 Any fair fans out there?  What am I missing?
~
~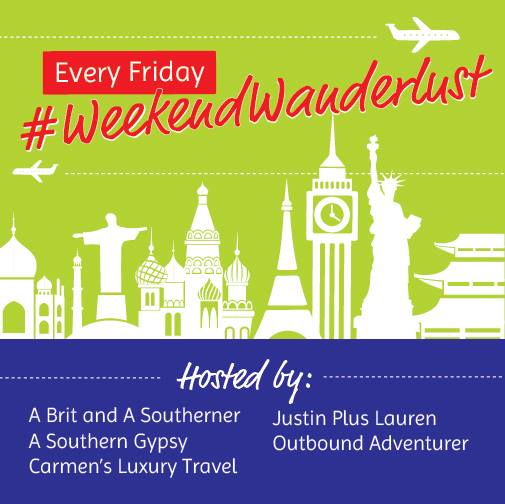 This post is part of the weekly blog link up, #weekendwanderlust hosted by A Brit and A Southerner, A Southern Gypsy, Carmen's Luxury Travel, Justin Plus Lauren, and Outbound Adventurer.