Florida has become notorious for theme parks and thrills.  We all know the biggies; Disney, Universal, Sea World, Busch Gardens, etc.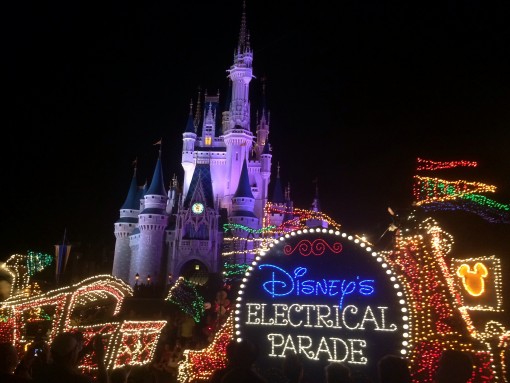 But long before Walt Disney invented Orlando in 1971, there were a few other delightfully retro attractions that are still standing!  I had visited Weeki Wachee once before about two years ago, but somehow hadn't made it to Gatorland even though it's in my hometown!  When my friend, Chelsea, was visiting from out of town, I found the perfect excuse to visit both! Of course, we made it to Disney a bit too!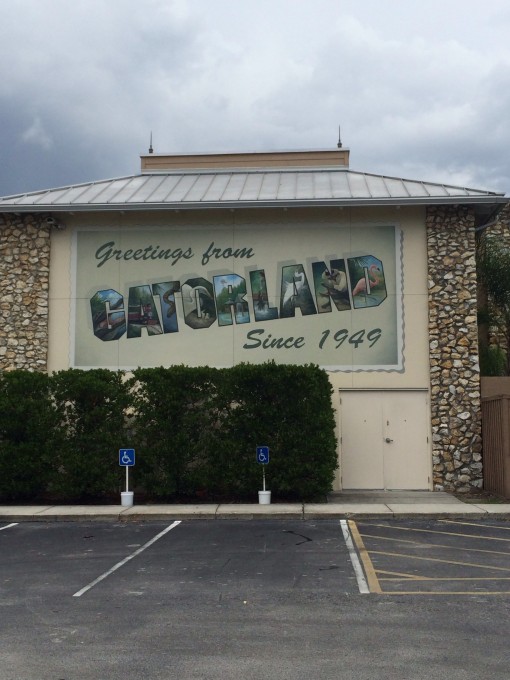 As you can tell from the outside of the building, Gatorland has been operating in Kissimmee, FL just outside of Orlando since 1949.  It's location makes it a perfect side trip for a Disney or Universal vacation.  It's quite a bit cheaper than the other theme-park alternatives too at $26.00/adult and $18.99/child (half price for FL residents and anyone stopping in after 3pm!).  Parking is free too!  Something you don't really appreciate until you try to visit Universal City Walk.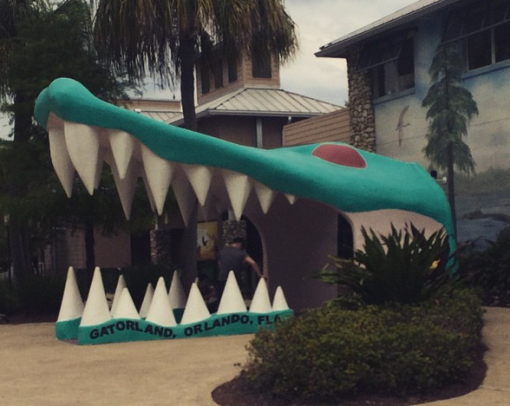 (Photo by chelsea_wels)
Gatorland has managed to maintain it's retro charm even as the area has grown around it.  They also take a humorous no-nonsense approach to safety…of their animals!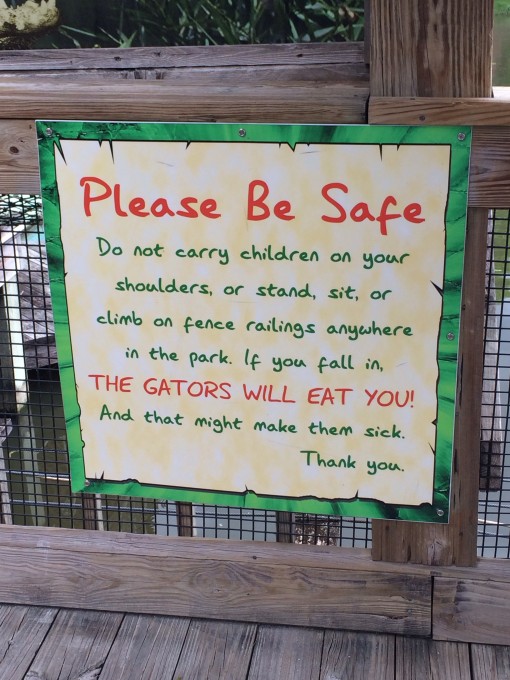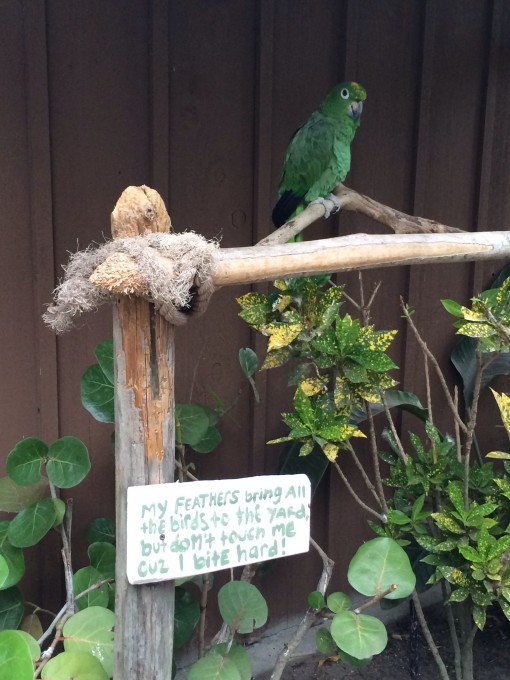 This is fair though, coming from an area of the country where it's not uncommon to watch redneck taunt zoo animals, I say fair play to the gator.
Gatorland is a wildlife and adventure park.  As you might imagine, the "wildlife" portion of this is primarily reptilian, which is fine until you get to the snakes.  I just really hate snakes.  Obviously, my personal bias shapes my opinion of this.  If watching slithering soulless monsters is you're thing, then I'm sure they are great.
The alligators are obviously the star attraction, and they come in every shape, size, and color.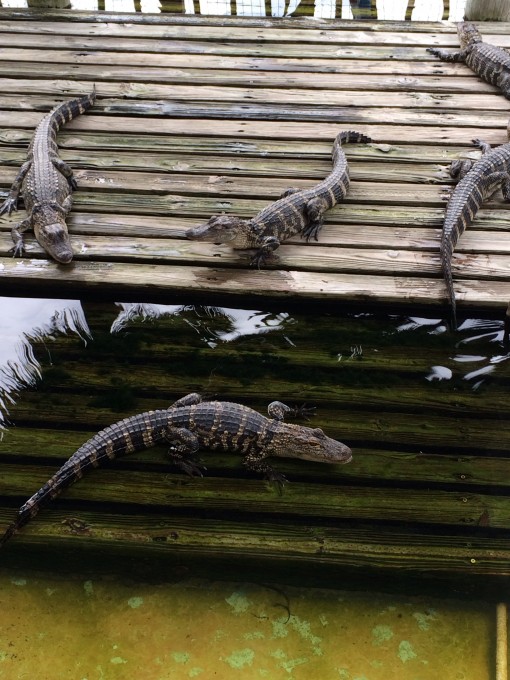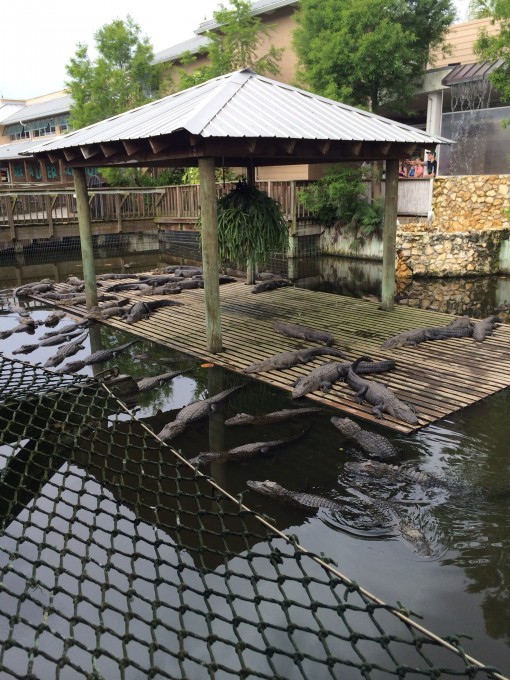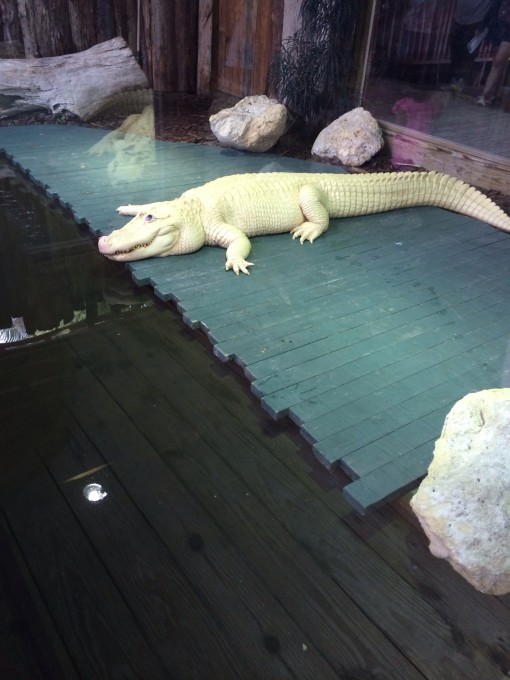 These gators are pretty cool, but no one is as bad ass as these fearless birds!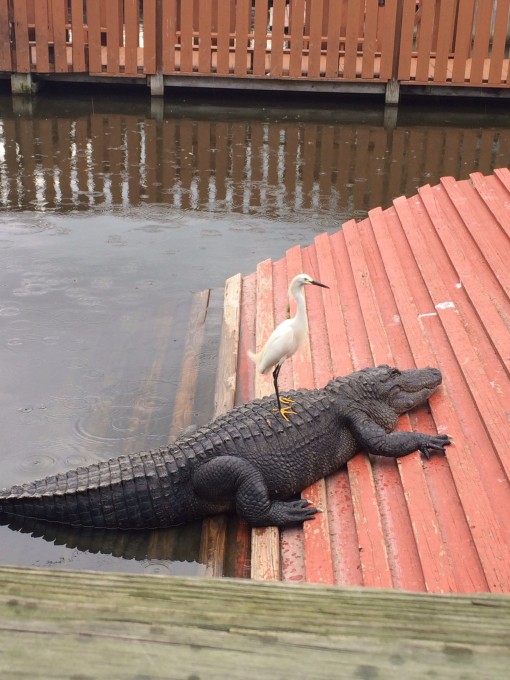 It's not all reptiles.  There is also a mostly flamingo lagoon, featuring one brave grey bird that doesn't know his friends are more attractive than him.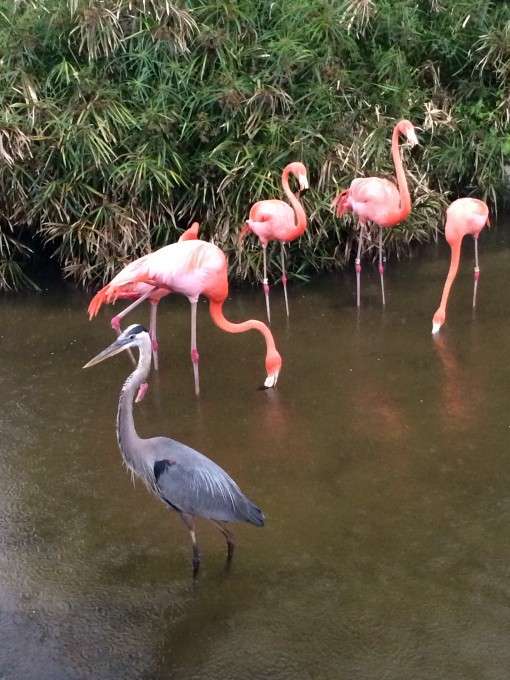 We could all learn a thing or two from these drab fearless birds!
The "adventure" part of the park is a ropes course and zip line that it was too rainy to use the day we were there.  I still feel like I got my money's worth out of the park though… even if the most adventurous thing we did was visit Chelsea's very first swamp.  My family is from Louisiana so I'm a swamp monster from way back.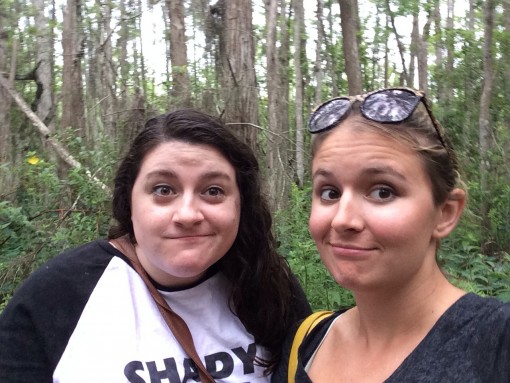 Here's a fun fact I learned about alligators.  Rain really turns gators on, and when gators are turned on, they let out a horrifying, ground-shaking, guttural growl.  Sometimes this happens when you're stuck on a pier that juts over the pool of the hugest scariest alligators by yourselves in a torrential downpour and you're just certain they're going to start busting through the floor boards and no one will even know or care that you're gone until one of the alligators throws up a human hand a week later.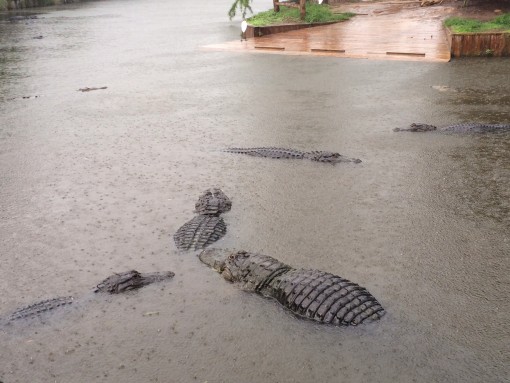 Okay that didn't happen, but it totally could have.  I didn't get eaten, and I would definitely go back, even if parts of it scared me a lot.
Like I said, I had visited Weeki Wachee once before, but it's just too weird not to share with my friends.  Where else can you see realish live mermaids?  I mean, some places, but not a lot.  Words cannot express the wonder that is Weeki Wachee.
Weeki Wachee is a natural spring and state park.  The mermaid shows predate Gatorland by a few years, having started in 1947.  Weeki Wachee is still a very small town, but these shows drew quite a crowd in the 50s and 60s and the park was eventually purchased by the American Broadcasting Company.
The park is seemingly unchanged since the 50s, even the narration of the shows seems the same.   There is an oddly patriotic show called "Fish Tails" that introduces the mermaids, and shows the audience a few tricks they can do with the aid of their breathing tubes.  Here you can watch mermaids do things like drink a Coke underwater, or dive directly down into the spring.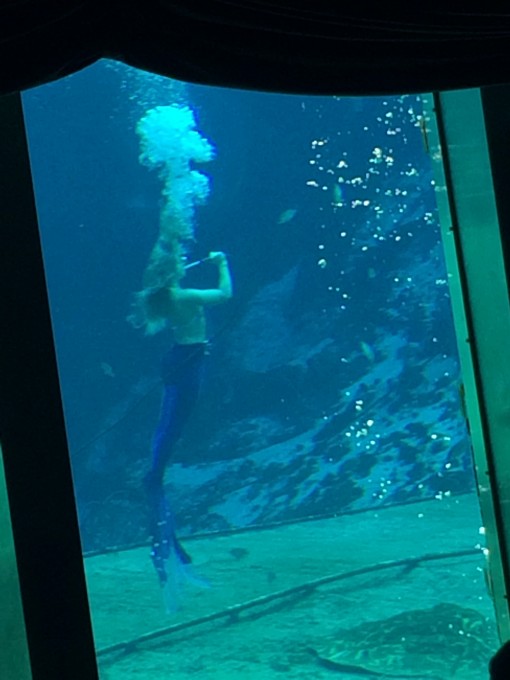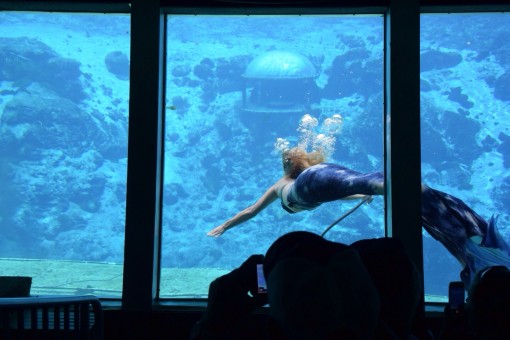 Best of all, the shows all take place in the natural spring, which stays 74 degrees F all year.  This means it is always full of wildlife.  While we were there a turtle was hamming it up and stealing this mermaid's thunder.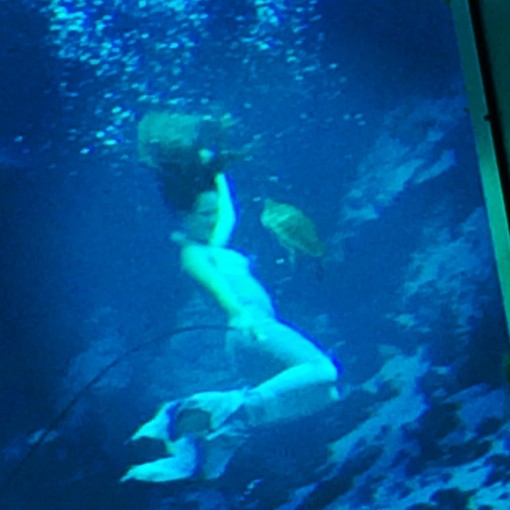 There is also a version of what they bill as "Hans Christian Andersen's The Little Mermaid", but is in actuality, pretty similar to "Walt Disney's Hans Christian Andersen's The Little Mermaid".  Not musically similar enough to be considered plagiarism (but close), but thematically very similar… compete with a sea creature calypso band!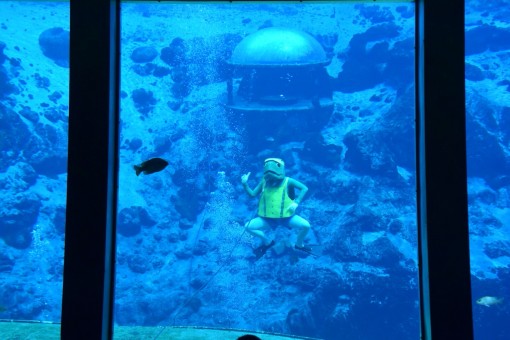 You didn't hear it from me though.  Those mermaids are on top of their PR!  They also shamelessly google themselves.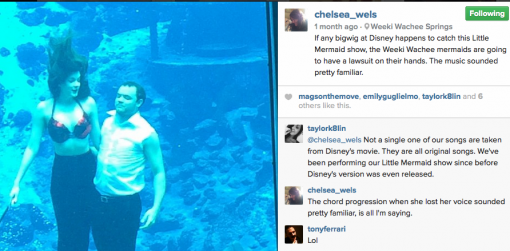 (Photo Credit chelsea_wels)
Even though the mermaid got a little sassy with my friend, I still really like it there.
You can tell it's been open for a long time, even the animals are show men.  The peacocks were real show offs.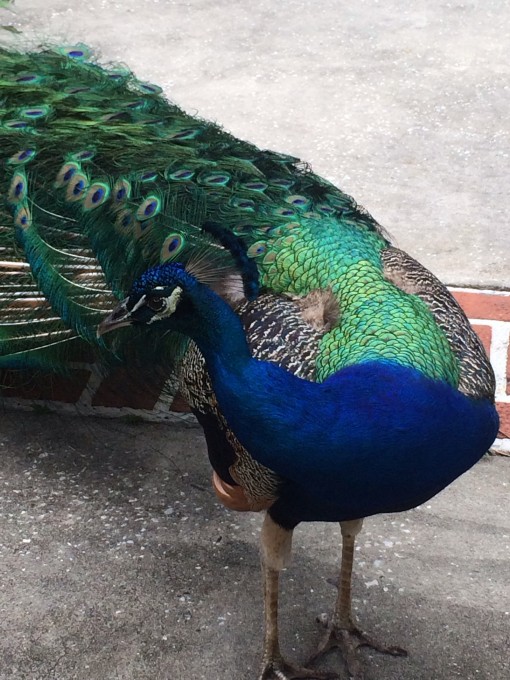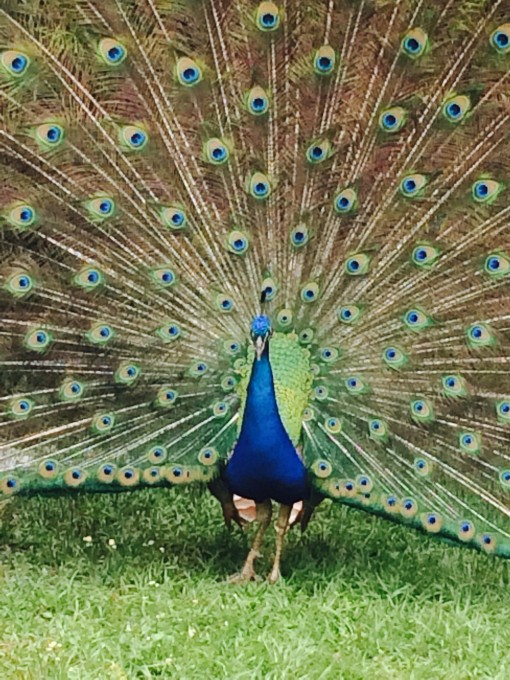 It's important to remember though, even show biz peacocks are large living dinosaurs.  Perhaps approaching it with your child for a selfie is ill-advised.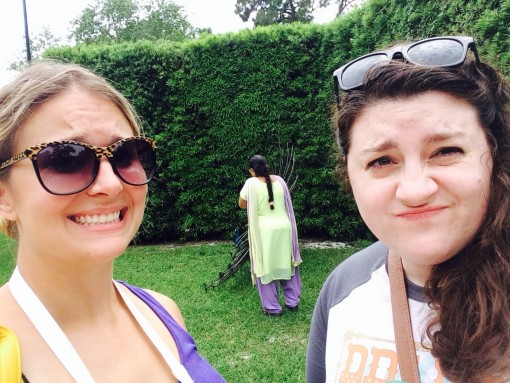 And as with just about every tourist attraction, my favorite part is the photo ops.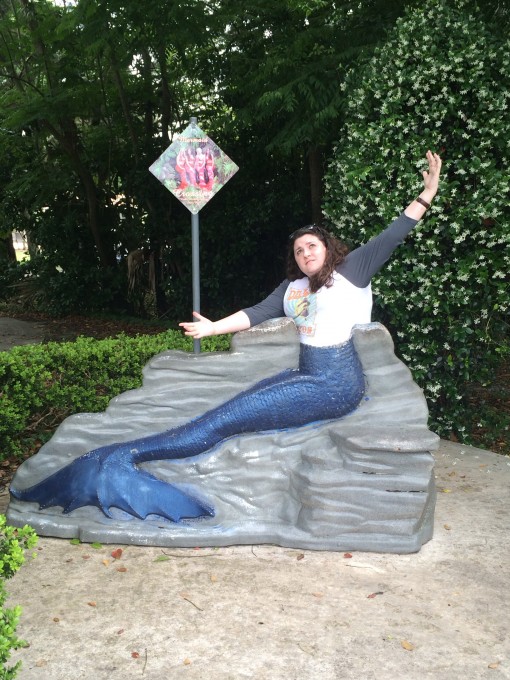 This machine is so amazing it gets it's own heading.  Mold-A-Matic is a machine I just found out about, but was apparently very popular in the 60s and there are a few still around.  The machine allows you to "make your own souvenir" by pumping molten plastic into a mold then dispensing it.  It's a lovely machine that harkens back to a simpler time when you could say "hot, hold by bottom" and not expect to get sued by parents of burn victims.   These machines also have quite the cult following… which I am now a part of.  I know that they exist in both Gatorland and Weeki Wachee, and it's now my goal to track them down in all corners of the world!  Some even go for quite a pretty penny on ebay!