So as you can tell from the title, I really covered some ground this 4th trip.  My cousin, Connor, stopped by to visit from Tennessee.  I always love when people come visit for Food and Wine.  Usually, the more people you take with you, the more food and wine you get to try, but unfortunately, my cousin is 19 so that did not translate into more drink samples.  Food it is.
Our first stop was Argentina, a favorite from years past.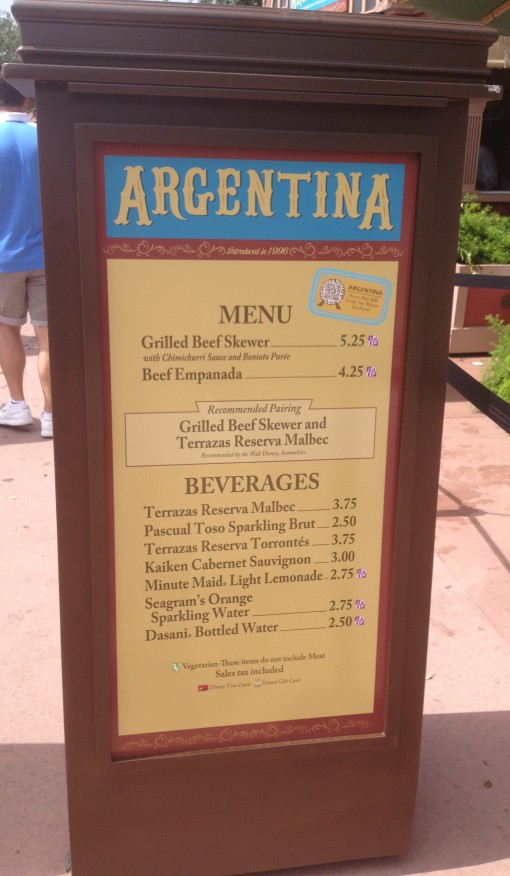 Here I tried last years favorite, the Grilled Beef Skewer with Chimichurri Sauce and Boniato Puree and Pascual Toso Sparkling Brut.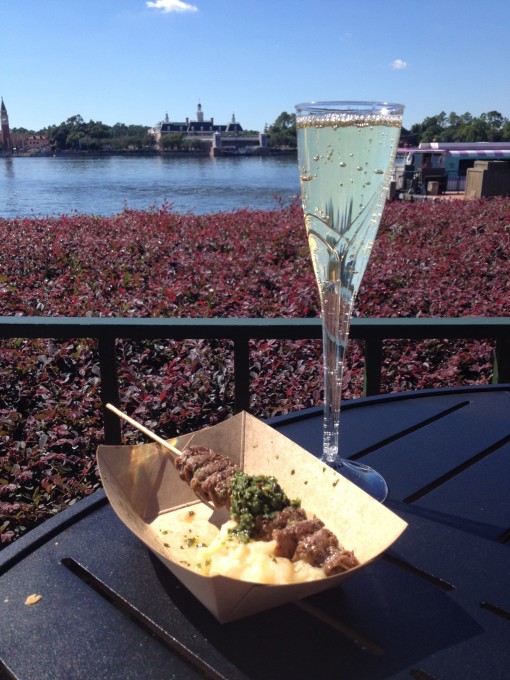 The beef skewer didn't disappoint.  This has been an offering for years now and is always great!  The wine was great also, mostly because it's only $2.50!  It's obviously not quite as good at the $12 Moet, but it's the cheapest bubbles in the world showcase!
Next stop, Singapore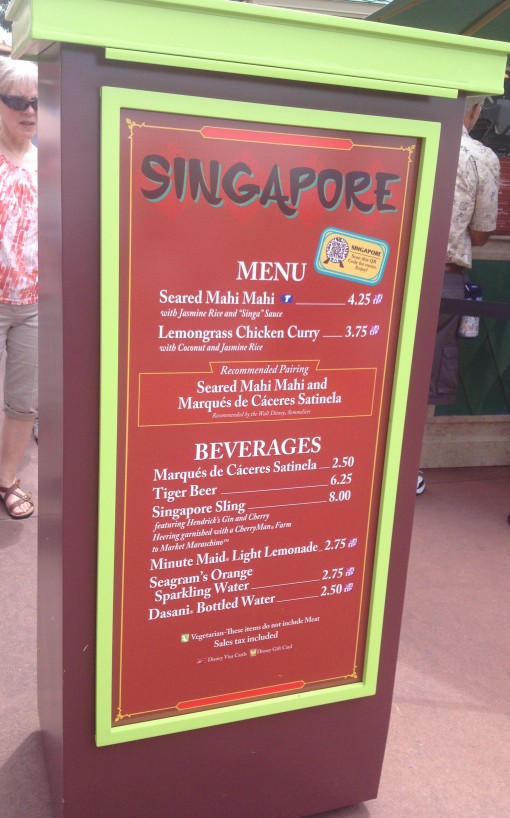 Singapore was a stand out last year, specifically the Seared Mahi Mahi!  I was so glad to see this return this year.  I love curry though so I had to try that too.  Here I sampled the Seared Mahi Mahi with Jasmine Rice and "Singa" Sauce, Lemongrass Chicken Curry with Coconut and Jasmine Rice, and Marques De Caceres Satinela.
The mahi was great, as expected, but I remember it being way way spicier last year.  This years had very little heat to it, but the sauce is so delicious that it's still one of my favorites.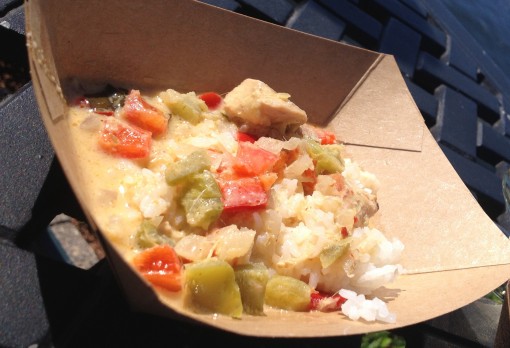 The curry was spicier than the mahi, but I still would have liked more heat.  Again, the flavor was good.
The Marques de Caceres Satinela, I'll be honest, I didn't know what this was, but I saw it was a recommended pairing so I got it.  This wine was way way way too sweet for my taste.  It was almost ice wine sweet.  It was hard to finish even the sample cup (don't worry, I rose to the challenge).
Next I made my second stop at China (I know, repeating countries already!)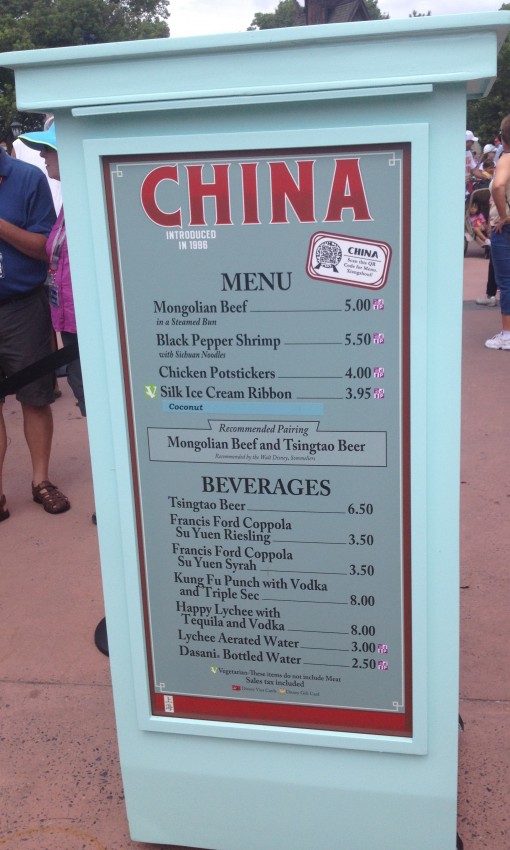 This time I tried the Mongolian Beef in a Steamed Bun and Silk Ice Cream Ribbon in Mango (depending on the day they also offer coconut or strawberry).
The ice cream was an interesting texture, but didn't have much flavor.  I could be convinced to try it again if I were there on coconut day.
The mongolian beef was actually very good.  The beef was cooked well, it had a spice sauce and crunchy noodles for texture.  This one was an excellent snack.   I even read one list where this one made the best of the festival.  While I wouldn't go that far, it was very good and definitely worth a try.
Next we made the short walk to South Korea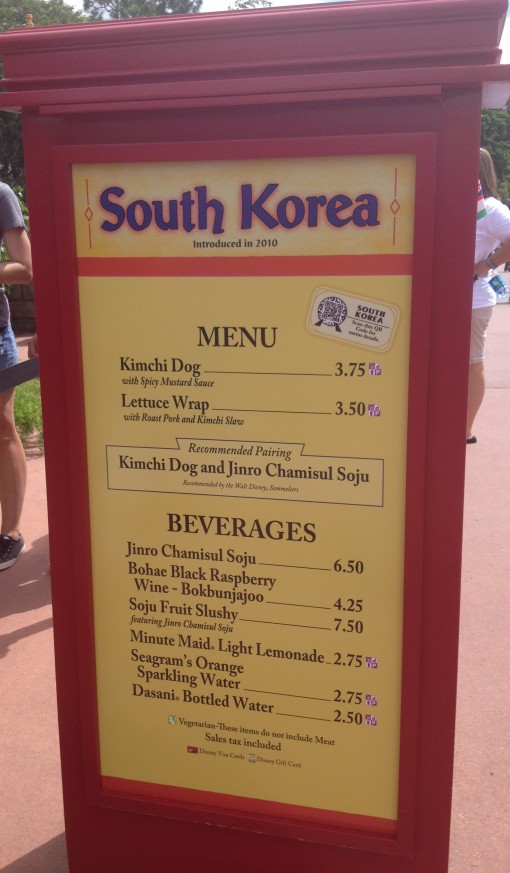 Here I tried the Kimchi Dog with Spicy Mustard Sauce, having heard a lot of buzz around it.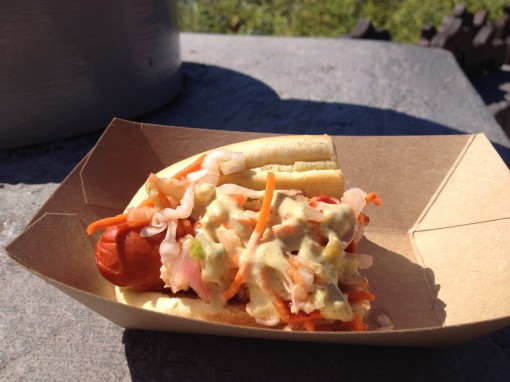 This doesn't look like much ($3.75 for 1/2 a hot dog?), but was actually really tasty. The dog itself has a little bit of spice which was nice, but the spicy mustard makes it.  The spice in the sauce was the perfect amount of kick without being overpowering.  The slaw also added a nice crunch.
Next stop Brewer's Collection to finish out my flight experience.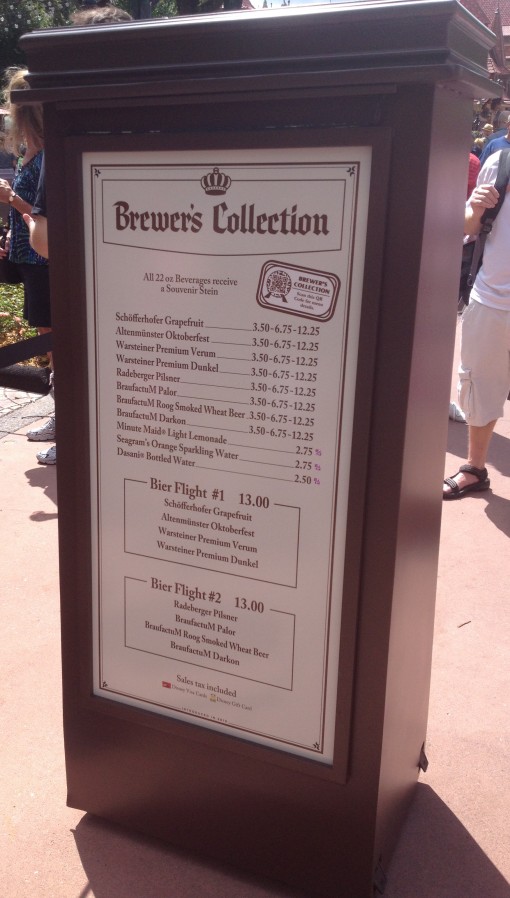 I had previously tried flight #1, so this time it was on to flight #2.  This flight included a 6oz sample of Radeberger Pilsner, BraufactuM Palor, BraufactuM Roog Smoked Wheat Beer, and BraufactuM Darkon.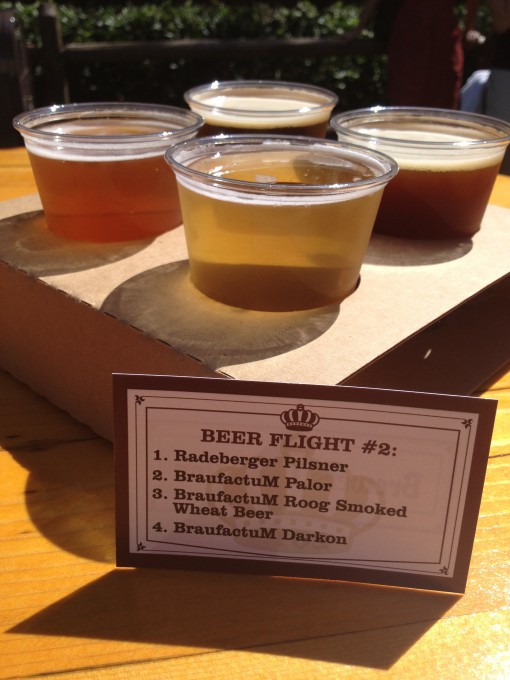 If I had to rank these I would say
1-BraufactuM Roog Smoked Wheat Beer
2-BraufactuM Darkon
3-BraufactuM Palor
4-Radeberger Pilsner
I guess you can tell that the BraufactuM stole the show.  The most interesting (and my favorite) of these was the Smoked Wheat Beer.  It has a very interesting smokey taste similar to that of a lapsang souchong tea.
We needed a break from all that beer and decided to check out the Chase Lounge.  I've touched on this in a previous post, but the Chase Lounge is a great resting spot in the middle of the world showcase exclusively for Chase Visa card holders.  Here you have access to free soda, a cash bar and some air conditioning.  If you would like to take advantage of the lounge just look for this sign.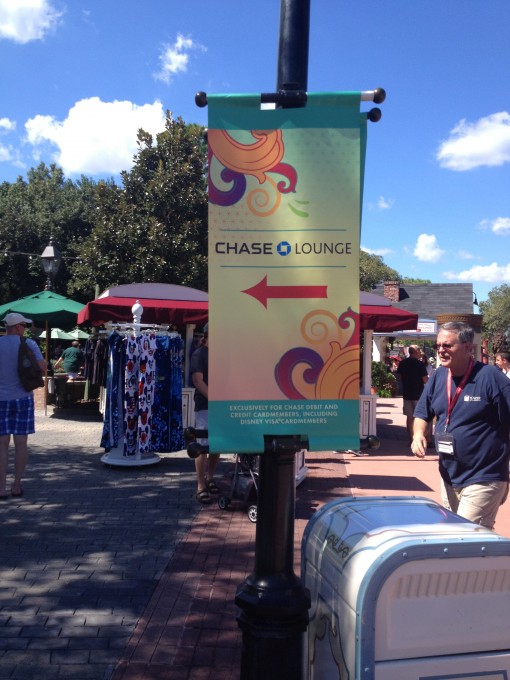 It's in America across from the stage. Go to the area to the right of the American Adventure and you will see a queue set up.  Once inside you have access to this sweet coke machine that my cousin is modeling.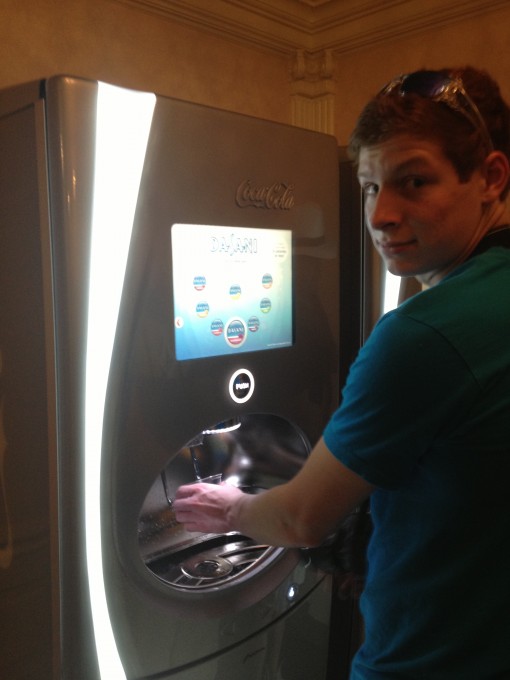 They also have a table for coffee service and a cash bar that sells beer and wine.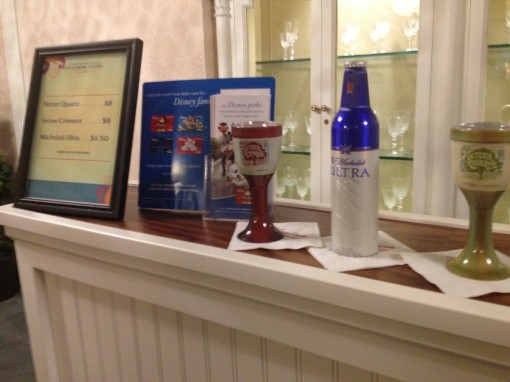 In a separate room there are tables and chairs set up with a phone charging station and various Disney board games.  This is excellent for parents that want to be annoyed that their kids would rather play a $10 board game indoors that enjoy the probably hundreds of dollars they spent to get into the park.  We choose to play Disney Memory, a pretty fitting drinking around the world game.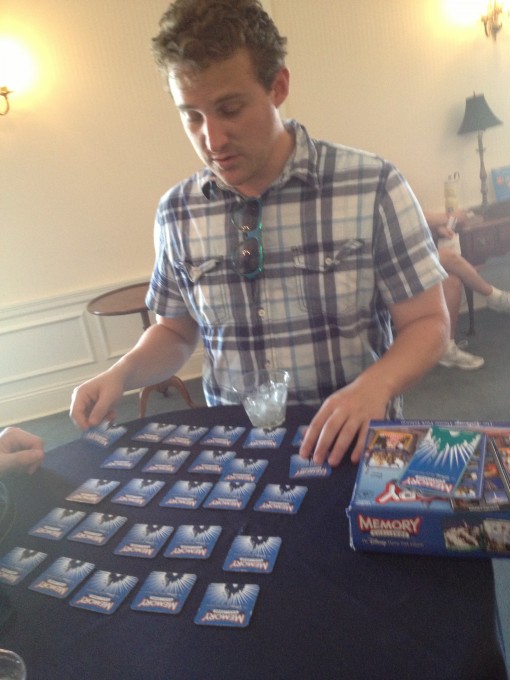 After wiping the floor with my opponents it was time to head to…
Florida Local!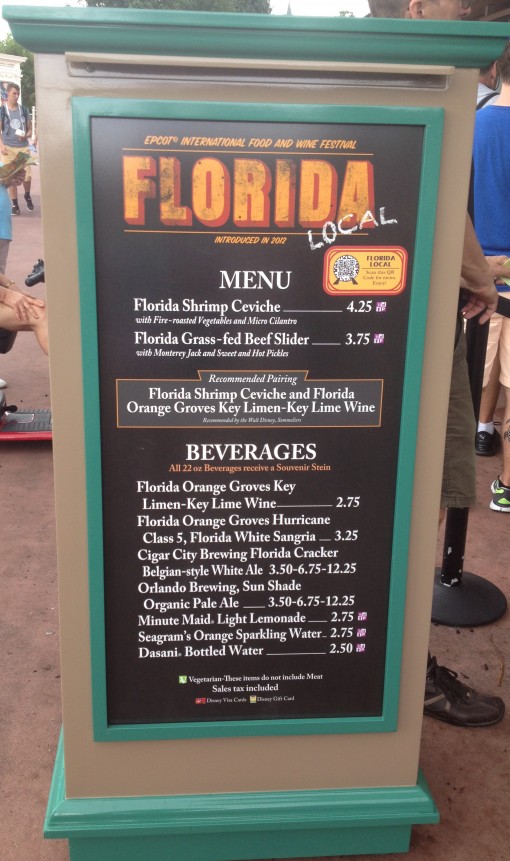 There has been a lot of buzz around this booth this year and I was very excited to try it.  Here I ordered the Florida Grass-Fed Beef Slider with Monterey Jack and Sweet & Hot Pickles and Cigar City Brewing Florida Cracker Belgian-style White Ale at the suggestion of Kasey from Kasey Knows Orlando.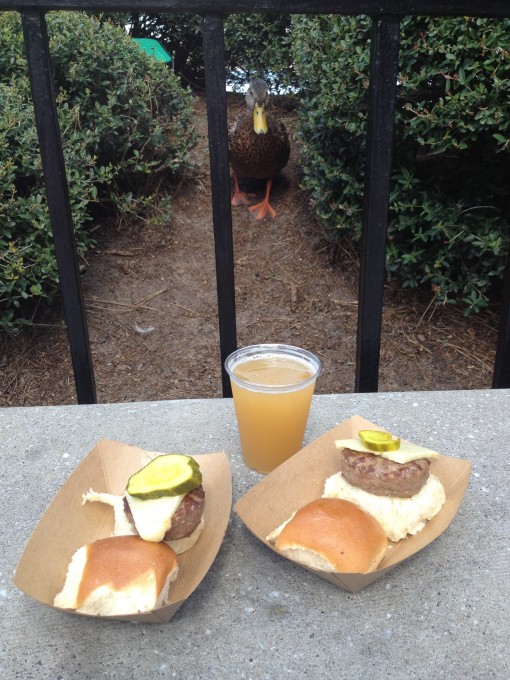 I was just as excited about this meal as this duck.  As you can tell the pickle size varies greatly.  Mine was the one with the almost non-existent pickle, which was fine by me.  Pickles are the one food I allow myself to absolutely hate.  I ate this pickle because it was part of the whole experience and it was small enough that I didn't find it disgusting.  Quite the opposite actually, this burger was really good.  If I had one criticism it would be that I would like some sort of sauce on the slider, but it was still enjoyable.  If I liked pickles though, I would have been upset that mine was so much smaller.
The beer was very good too and it complimented the slider perfectly.
Unfortunately I was getting pretty full by the time we hit Morocco, usually one of my favorites.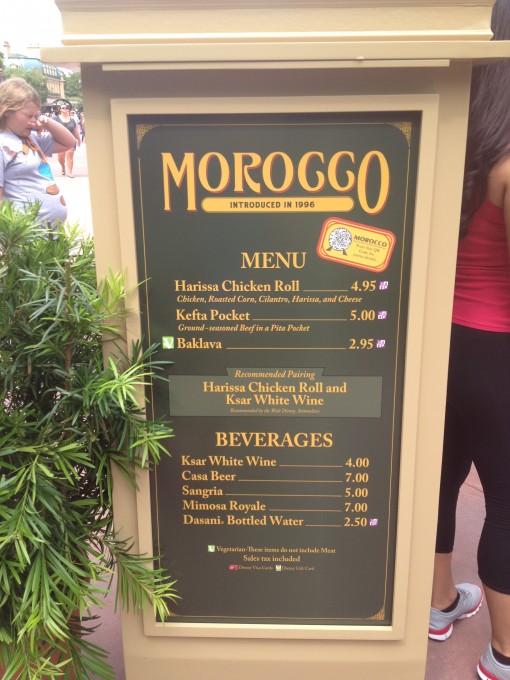 I did manage to find room for some baklava, but I can speak from experience in years past that every item here is delicious and I will definitely be back for more.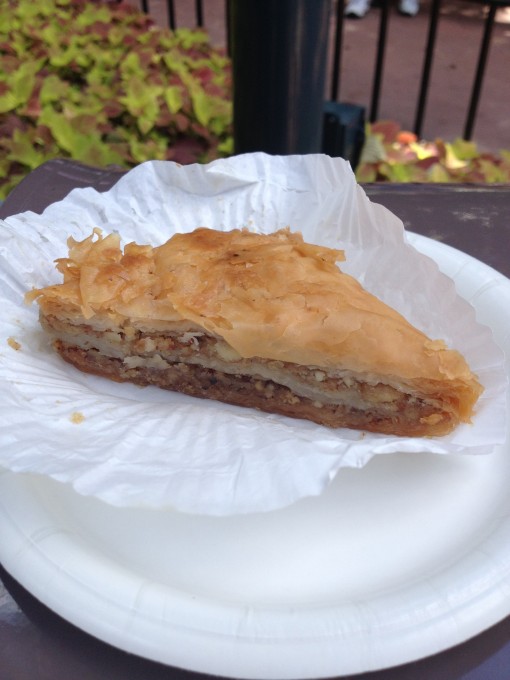 What can I say?  It's baklava!  It's the perfect combination of flaky chewy goodness. They have this year round in the bakery inside of the quick service restaurant in Morocco, but there's something special about getting it at the festival.
The next stop really blew me away,
Belgium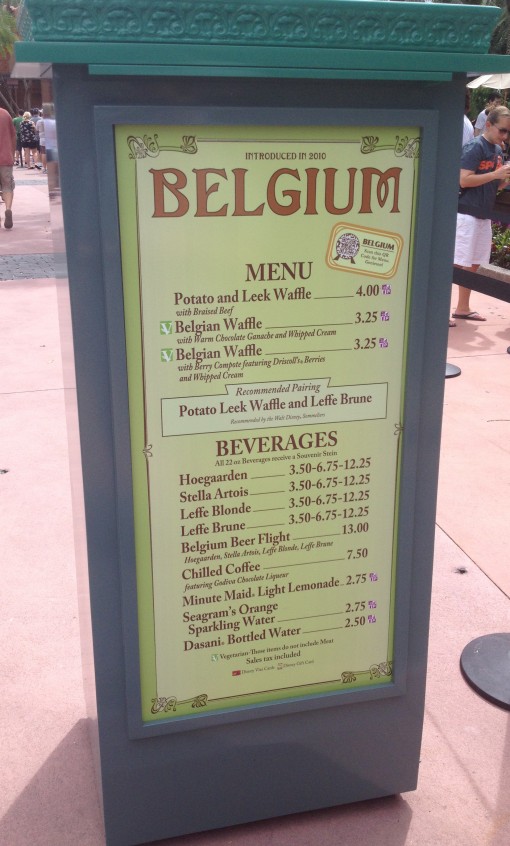 To be honest, I was a bit disappointed in Belgium's menu this year.  The last 2 years they have had great mussels, but this year they are only offering waffles (because that's all that Belgians eat right?).  I had heard good things about the Savory Potato & Leek Waffle with Braised Beef so I decided to go with that.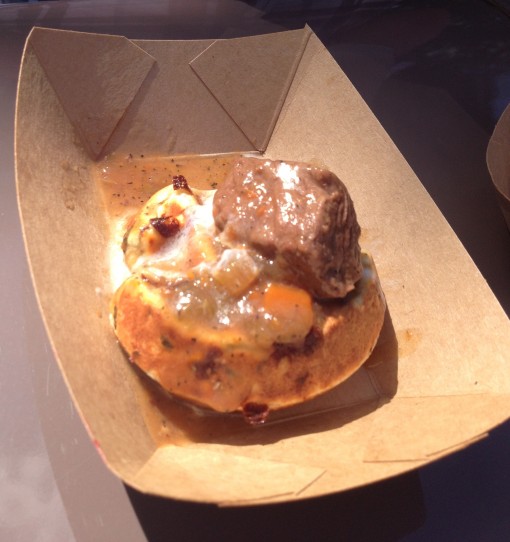 I was regretting my decision up until my first bite because the entire booth smells like delicious melted chocolate and I was beginning to think I ordered the wrong thing.  Wow!  I'm so glad I decided to try this one.  It was really interesting having a savory waffle and the beef was perfect and tender.  This one is definitely a contender for "best of the fest".
Final stop of the day, Desserts and Champagne.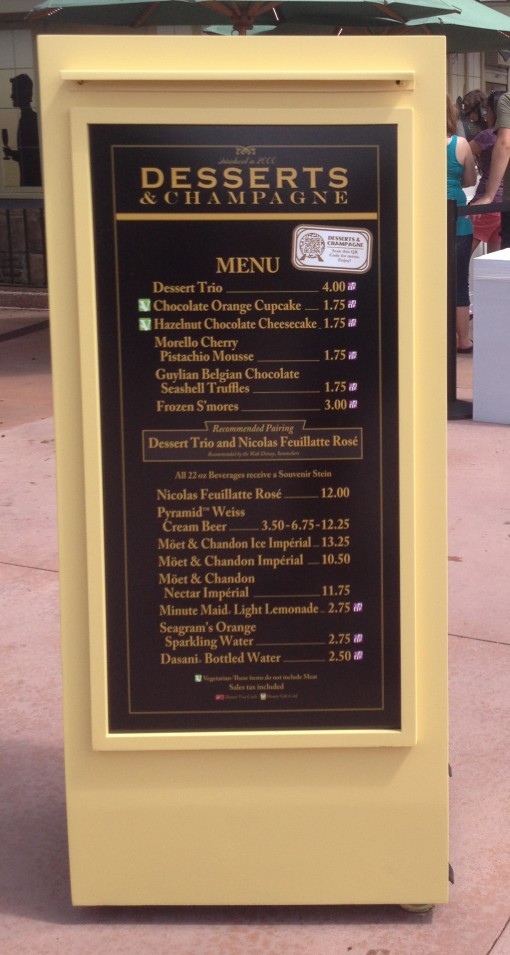 By this stop I was super full.  I will for sure try the trio next time, but I just couldn't take it today.  I decided to try the Frozen S'mores.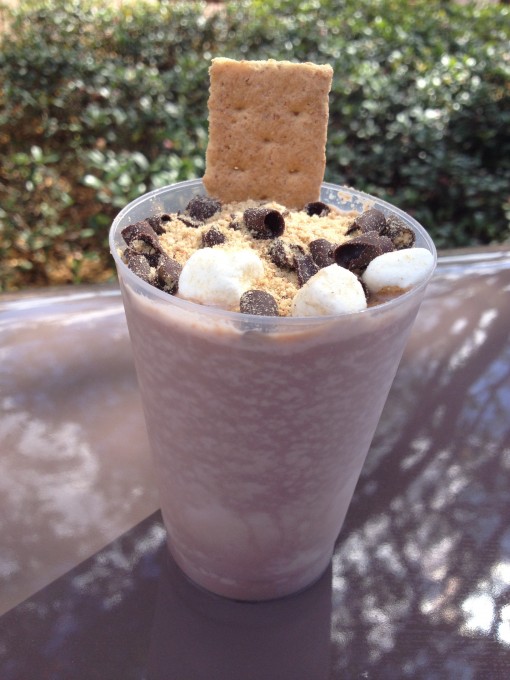 This was a fun take on the classic combination of chocolate, marshmellow and graham cracker, and was perfect for walking around on a hot day in the park.  It was basically a chocolate milkshake with marshmellows and graham cracker crumbs, but it was super tasty.  Maybe next year they'll offer an alcoholic version (please!).
Having had all the food anyone could possibly take, we decided it was time to head out.  No trip to food and wine is complete without a stop by the Ocean Spray Cranberry Bog for some free craisins.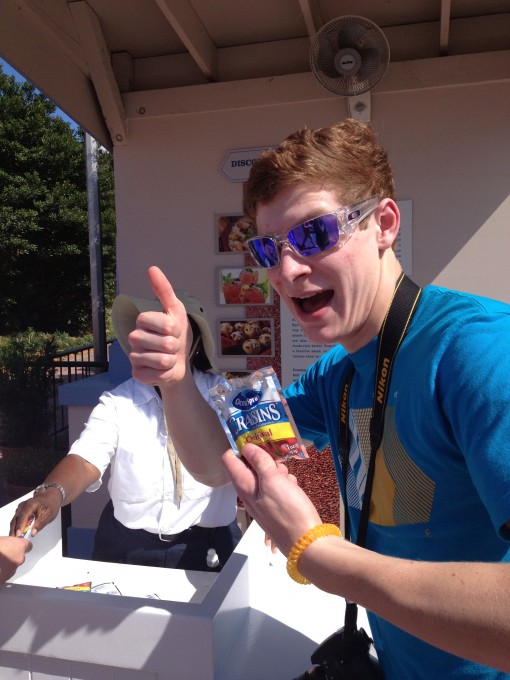 All in all a very successful trip, and it knocked out a few more countries from the passport!  That brings me to 17 countries down and 13 to go!  Did I miss any of your favorites?  Let me know and I'll be sure to try it next time!