I made my 3rd attempt at Epcot's Food and Wine Festival on a Sunday.  I was a little trepidatious after being so miserable on Saturday, but I had friends in town and it's still the food and wine festival so I didn't take much convincing.  Living in Orlando during the food and wine festival is great not only because I get to go all the time, but also because I have a pretty constant stream of out of town visitors that all want to go with me.
I arrived at the festival around 2pm and it was already noticeably less crowded than Saturday, which was a welcome relief.  I met up with my friends in China.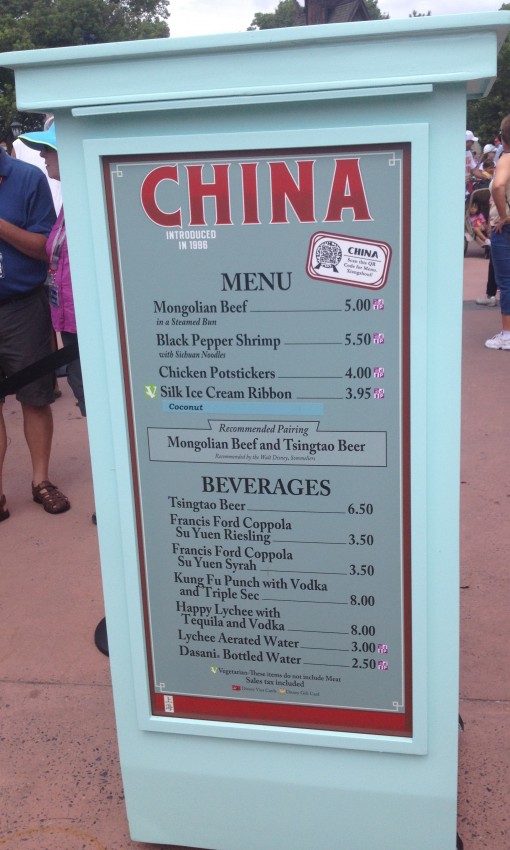 Here I ordered the Chicken Potstickers and the Francis Ford Coppala Su Yuen Riesling and my friend Laura ordered the Kung Fu Punch with Vodka, which I am assured is not racist, even if you ask for a fortune cookie with it.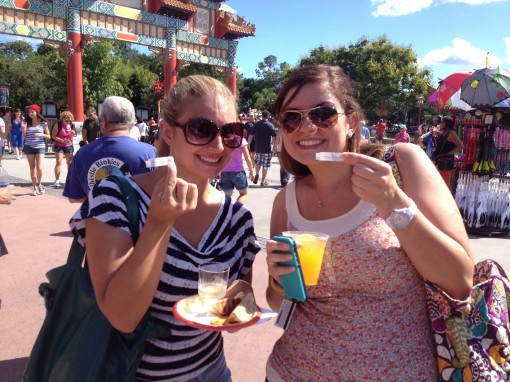 The potstickers are pretty great, but it's hard to mess those up.  They are not significantly different than potstickers you could get at most Chinese restaurants.
I ordered the riesling because I know in non-food and wine, traditional drinking around the world China is one of my least favorite stops.  Most of their drinks are super syrupy sweet, so I just wanted to go with what was hopefully a normal wine.  Yes, I do realize that riesling is a sweet wine and if I was trying to avoid that I should have gone with the syrah, however, it was a million degrees outside and I needed cold and boozy.  The riesling was a good choice.  It wasn't syrupy like China's plum wines and it hit the spot.
The Kung Fu Punch is a solid choice.  It's a fruity tropical juice cocktail (not sure what makes it particularly Chinese outside of the vaguely racist name).  It's citrusy, sweet, and relatively strong without tasting overly like alcohol.  This is a great drink for a hot day in the park.  It's refreshing and it gets the job done.
Unfortunately I didn't get the opportunity to take a good close up of the order at this stop because we all felt the need to leave rather quickly after Laura asked for a fortune cookie with her drink (which they actually gave us).  I assume everyone knows what potstickers look like though, so you're not missing too much.
Next stop Africa!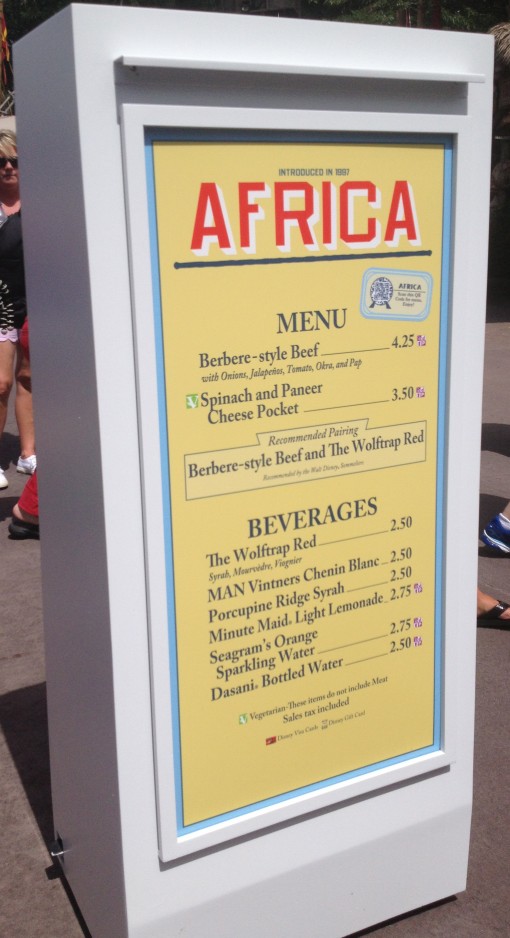 This stop was a really tough decision for me.  I ended up going with the Wolftrap Red wine and Spinach & Paneer Cheese Pocket, but I will definitely be back for the Barbere Style Beef.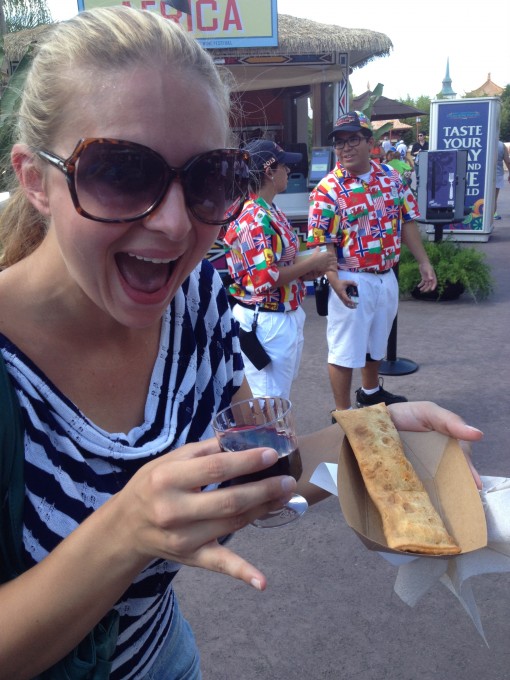 The spinach & paneer cheese pocket's resemblance to a hot pocket was initially a little off-putting, but it was actually pretty tasty.  It's definitely not one of my favorites, and I probably won't order it again, but wasn't bad.
The Wolftrap Red was actually very good.  That's one that I would definitely order again!  It was a spicier red, but still very easy to drink.  This is one of my favorite wines of the festival so far.  Here are the tasting notes from the website, they know a little more about it than me.
TASTING NOTES: Ripe blackberries and spicy pepper flavours are met with a soft and supple palate. Good density with lingering flavours and a hint of oak. Unpretentious and easy drinking, this wine should be drunk within three years.
The next stop was one of my favorites, The Brewer's Collection.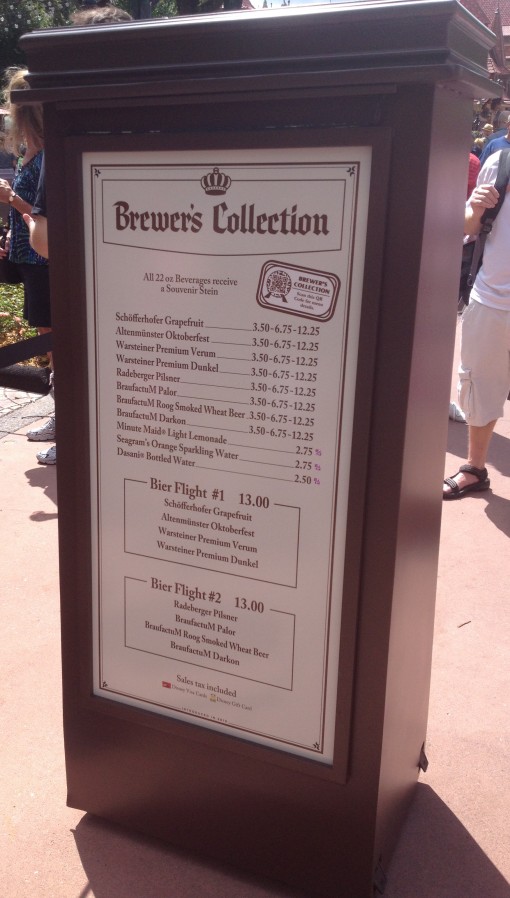 If you've read my previous post you know I'm a sucker for a sampler (and if not, you should).  The brewer's collection offers no food, but a selection of 8 beers, each of which you can order in 6, 12, or 22 oz. glasses.  The 22oz. glass even comes in its own plastic stein you get to carry around the park the rest of the day.  But alas, I will never have that stein because here they offer their 8 beers divided into 2 flights.  Each flight has 4-6oz. beers to try.  Now the smart thing for our group to do would have been to get different flights, but everyone who's ever tried it is absolutely in love with the Schofferhofer Grapefruit beer.  This was a stand out at last years festival and they actually sell it year round in the German Pavilion now.  So, everyone went for the Flight #1, which contains a 6oz sample of each, Schofferhofer Grapefruit, Altenmunster Oktoberfest, Warsteiner Premium Verum, and Warsteiner Premium Dunkel.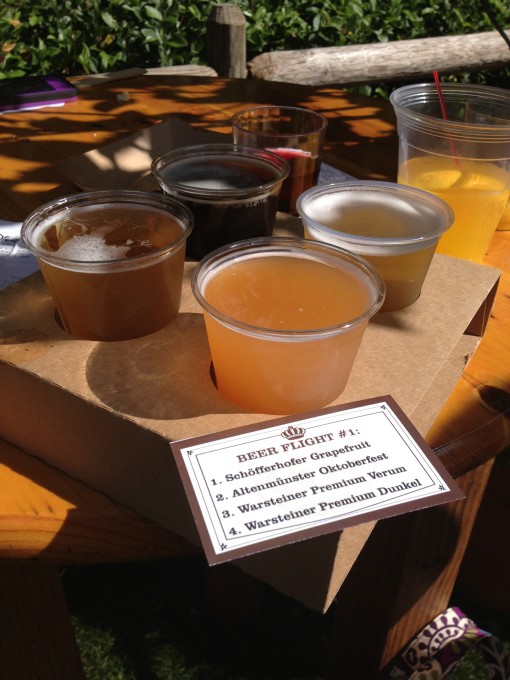 Honestly, I liked all of the beers, but the Verum seemed to be everyone's least favorite (which of course meant that I finished all of them.)  If I had to rank them, I'd say my list would be 1-Grapefruit, 2-Oktoberfest, 3-Dunkel, 4-Verum.  But like I said, they're all good.  I would gladly drink any of these beers if I didn't know a flight existed.  You can click the links above to find out what people that are better at beer than I am have to say about each of the beers.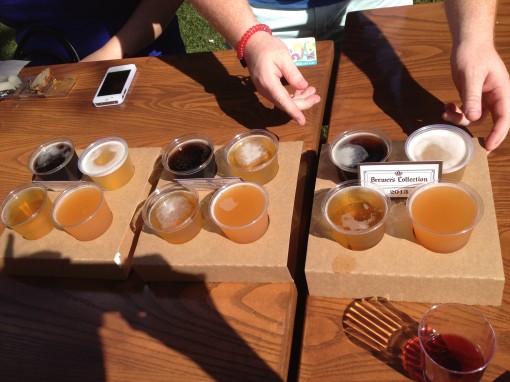 The Grapefruit beer is the clear stand out again this year.  The website is entirely in German and has this to say,
"Lass es fruchtig Prickeln: Mit Schofferhofer Grapefruit
Du hast Lust auf prickelndes Schofferhofer, kombiniert mit fruchtig-herber Grapefruit? Dann lass dich von Schofferhofer Grapefruit erfrischenl Mit nur 2,5 Vol.% schmeckt Schofferhofer Grapefruit am besten elsgekuhlt und direkt aus der Flashe."
Now, I took a year of German back in high school and this roughly translates into:
"Have a prickly, fruity, good time with Schofferhofer Grapefruit!
Do you lust after beer but wish it tasted more like grapefruit? Perfect, we made a prickly fruit beer.  Careful though, it only has 2.5% alcohol by volume so you should probably drink some other stuff first to get a good base buzz going."
Frau Briggs would be so proud.
Now, there are not many downsides to a flight or sampler of any sort, but here is one.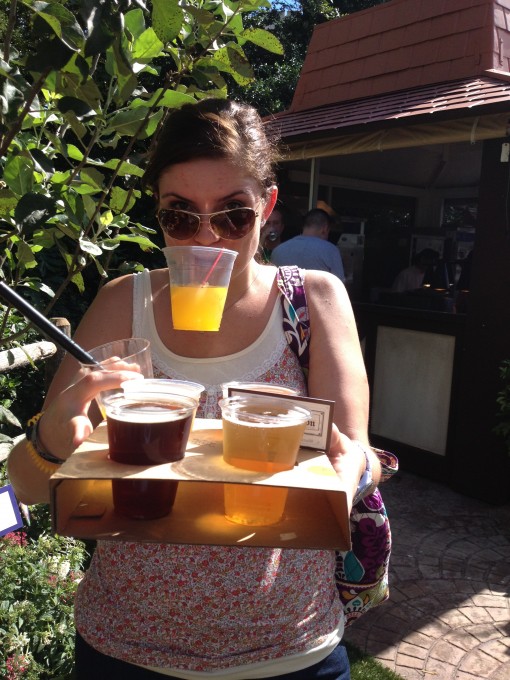 You almost always end up looking like this.  Luckily, Brewer's Collection is one of the few places in the world showcase that actually has a seating area set up with tables and chairs.  No trashcan dining here!
Next we hit the Chase Lounge.  This was a new offering in the festival center last year exclusively for Disney Chase Visa card holders.  This year they have moved the lounge to America, which is the perfect spot for a rest in the middle of the world showcase.  All you have to do is show your card to the doorman and be escorted up stairs.  Once in the lounge you are treated to free soda, a cash bar, a phone charging station, clean and less crowded restrooms, board games, the opportunity to get wristbands for priority seating at either the Eat To The Beat Concert Series or Illuminations that night, and most importantly… air conditioning.  It's a pretty great offering and only one member of your party needs a card to get everyone in!
I had to leave the party early and head to work, the downside of just pretending to be on vacation.  I did have time to stop by Hops & Barley on the way out though.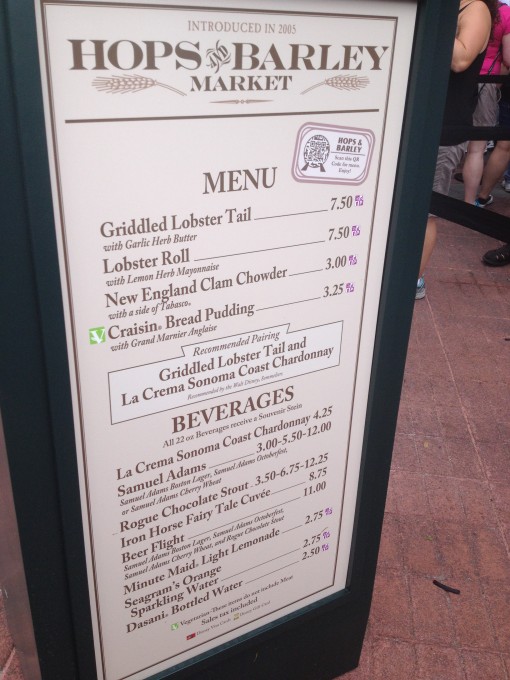 Here I tried the Craisin Bread Pudding with Grand Marnier Anglaise.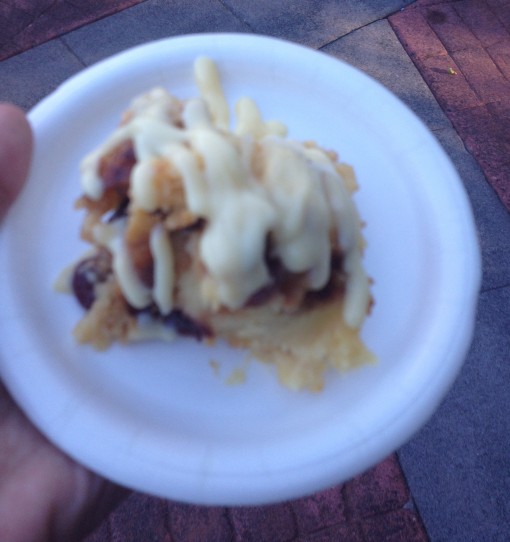 Not the prettiest of presentations, but good flavor.  You can't really go wrong with cranberry and orange, or with Grand Marnier on anything.  And on your way in or out if you need another cranberry fix on your way in or out you can stop by the cranberry bog in front of the world showcase where they have representatives handing out free sample packets of craisins.  Bonus, every year they get increasingly aggressive as the festival goes on and what starts out as a one per person policy quickly turns into a "fill your bag! Do you have any pockets?  Take your hat off and stuff some in there!" policy.  So, if you have any recipes that call for a million dried cranberries, this is the place to be!
10 passport stamps down and 20 more to go!  What are your must tries for Epcot's Food and Wine Festival this year?  I want to make sure I don't miss anything good!  Stay tuned for the next installment.