That's right, round 6.  I've never actually kept track of how many visits it took me to get around the world before.  Yikes!  Granted, I've been going at a relatively leisurely pace, but this is nearly impossible for the average vacationer.  I really thought I was going to be able to knock out all the stamps today.  I went in with high hopes and an empty belly.
and of course, what better way to start the day when you haven't had anything to eat?
Craft Beers!
Here I ordered flight#1 and was told they had run out of the Dogfish Head Brewery, Namaste.  I chose to replace it with the Widmer Brothers Brewing, Alchemy Ale.  So, my flight #1 is not entirely a flight #1.  Oh well, I guess I'll just have to go back and try flight #2 and some Dogfish Head.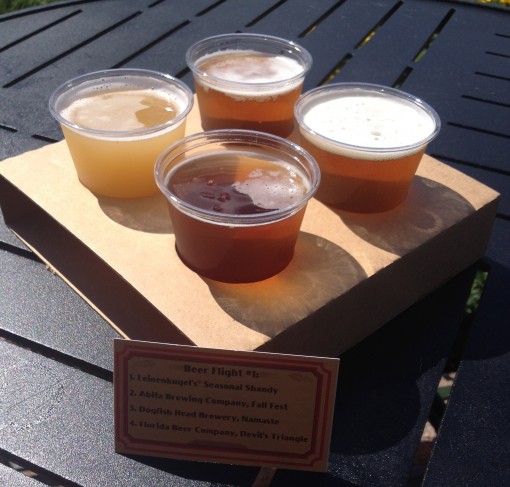 The flight as I enjoyed it contained Leinenkugel's Seasonal Shandy, Abita Brewing Company, Fall Fest, Florida Beer Company, Devil's Triangle, and Widmer Brothers Brewing, Alchemy Ale
This flight was pretty good.  My ranking from favorite to least would go something like this,
1-Widmer Brother's Brewing Alchemy Ale
2-Abita Brewing Company Fall Fest
3-Leinenkugel's Seasonal Shandy (in this case, Orange Shandy)
784,342,394-Florida Beer Company Devil's Triangle
I'll start with the good.  The Widmer Brothers beer was excellent.  The website describes it as follows;
"Alchemy Ale melds years of experimentation and our special Alchemy hop blend, in a pure expression of brewing art and science. Join us in unlocking the mystery to the perfectly balanced, perfectly hopped ale. Alchemy Ale has a bright, distinct hop character balanced with hints of caramel and a remarkably smooth finish."
All I know is it was yummy.
Now, the bad.  The Devil's Triangle was nearly undrinkable.  I say "nearly" because I absolutely finished it, but it was a chore.  It was very bitter and tasted like perfume, and the aftertaste was worse.  It lingered with you for a while.  I should not have save that one for last!
Next I hopped sides and went to Terra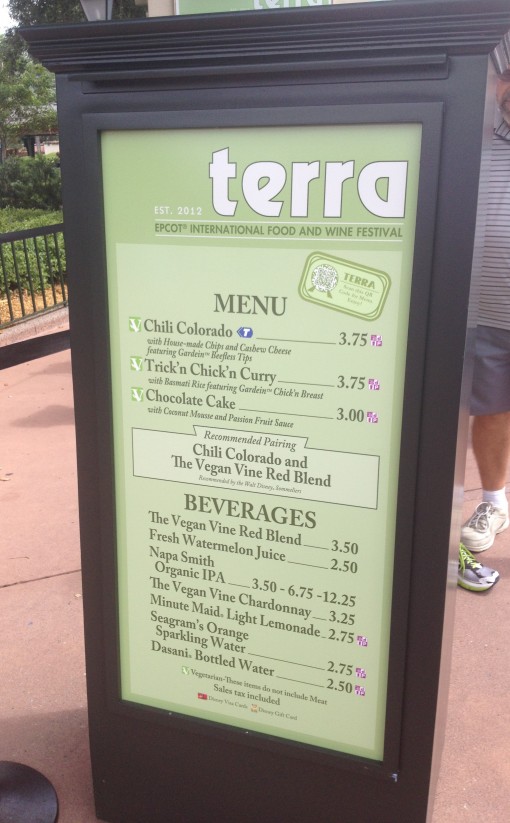 This was a new booth last year with the same offerings and I remember being pleasantly surprised.  I decided to try the Chili Colorado with House-made Chip & Cashew Cheese featuring Gardein Beefless Tips and the Chocolate Cake with Coconut Mousse & Passion Fruit Sauce.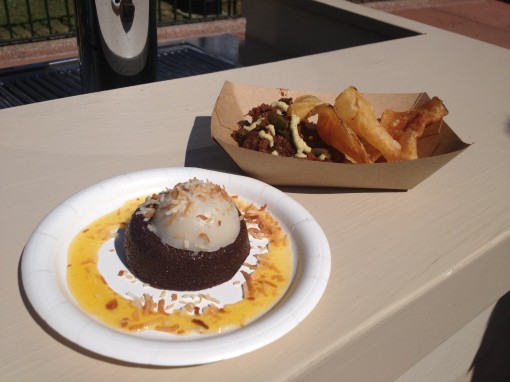 The cake was the most surprising item here.  Cake is already pretty vegetarian.  How do you mess that up?  I love love love coconut too, but this was the most bland combination of chocolate and coconut one could possibly imagine.  The only thing that had any flavor was the passion fruit sauce.  That was great, but not enough to carry the dish.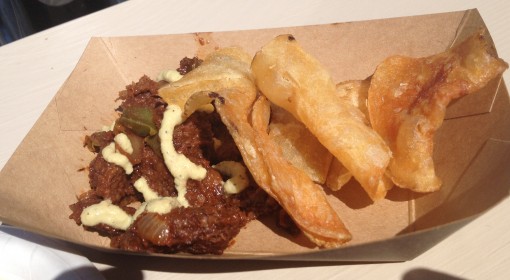 Like many of the items at Food and Wine this year, I remember last years incarnation of the Chili Colorado being spicier.  The flavor was still good and the texture is better than expected from meatless meat, but I would have liked a little more heat.
Next stop Brazil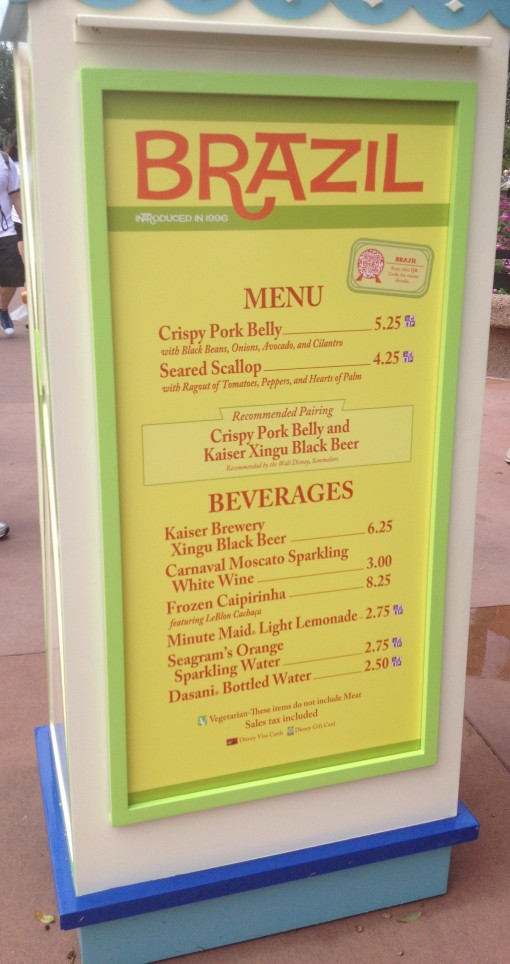 Here I decided to try the Crispy Pork Belly with Black Beans, Onions, Avocado, & Cilantro.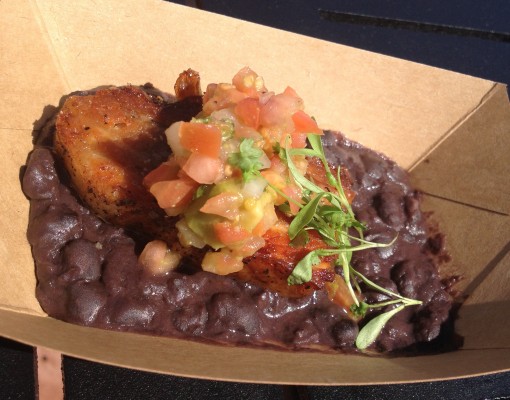 Pork belly is not something I usually enjoy.  I actually ordered this because I had read good things online.  Typically I find pork belly to be overly fatty and chewy and just not that great, but this was different.  This was absolutely fabulous.  Definitely the best thing I ate today and one of my favorites of the whole festival.  It was hands down the best pork belly I've ever eaten!
On to Mexico!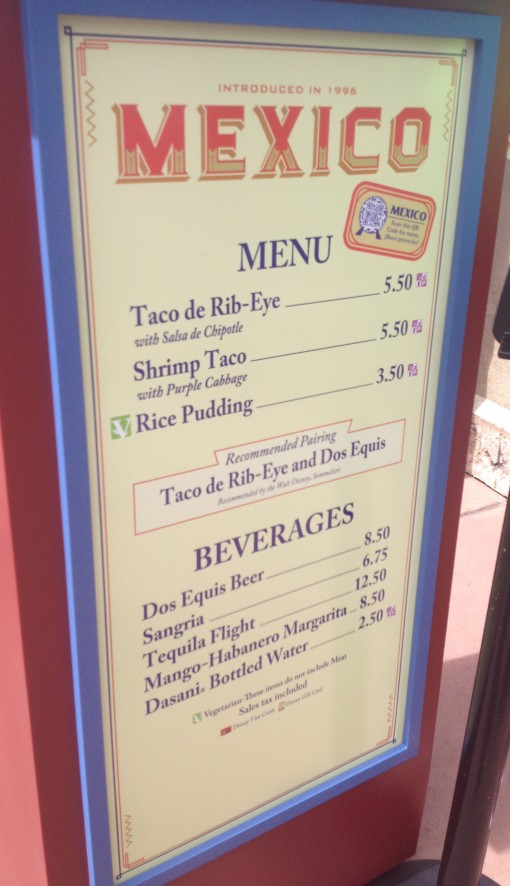 Here I tried the Taco de Rib-Eye with Salsa de Chipotle and the Mango-Habanera Margarita.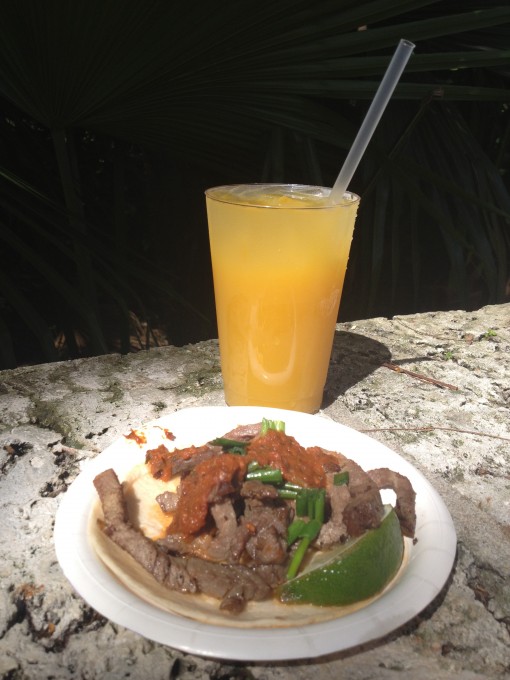 This is the only booth I've said this about so far, but it's totally skip-able.  The taco is just okay, no better than you could get at any Mexican restaurant and the margarita was weak and way too much mango.  I couldn't taste any tequila or habanero in it at all.  I just tasted like drinking mango mix, thick, syrupy, and way too sweet.  Which is a shame because I was eager to try tequila from Mexico. Tequila is my absolute favorite spirit and I feel like it's still very misunderstood in this country.  We've all had a rough collage night with the worm in the bottle, but  there's so much more to try in Mexico. This country is renowned for it's variety of tequila options
If you want a good margarita, do yourself a favor and go to La Cava Del Tequila inside the pyramid.  They'll take care of you.  Their margaritas have literally ruined other margaritas for me (my favorite is the Jalapeno Cucumber!)
Germany!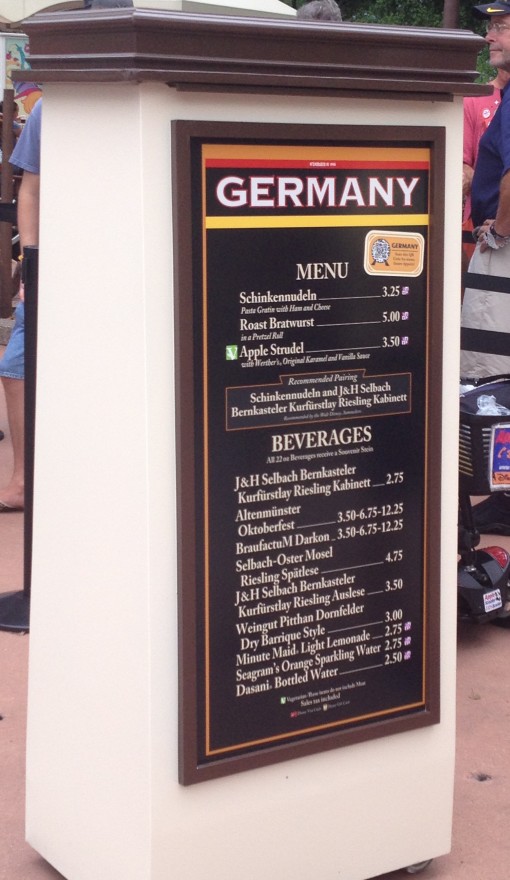 Germany has had pretty much the same menu for years now, but it's always good.  Here I got the Roast Bratwurst in a Pretzel Roll (they were doing it before it was cool) and a glass of the Weingut Pitthan Dornfelder Dry Barrique Style wine.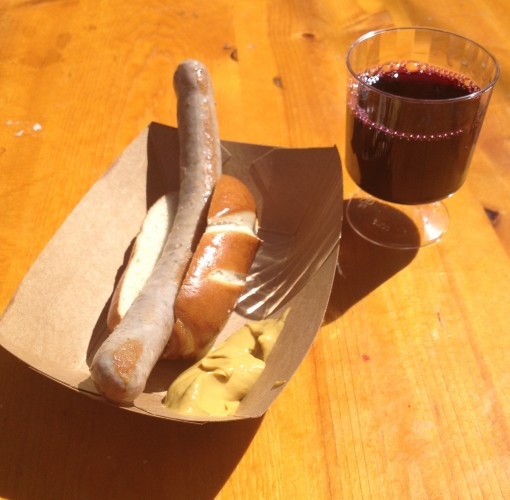 I get the bratwurst here every year.  It's very good, perfect level of spice and comes with a pretzel roll and spicy mustard.  You really can't go wrong.
The dornfelder was nice as well.  Dornfelder is probably my favorite wine in the world.  It's a softer red wine that's really easy to drink.  This one was not as good as my favorite, the Valckenberg Dornfelder (it's available by the bottle and glass inside the Germany Pavilion's wine shop).  It's another one though, that may not be the best pick on a super hot day.  Beer or one of their rieslings may have been a better choice.
Next Stop France!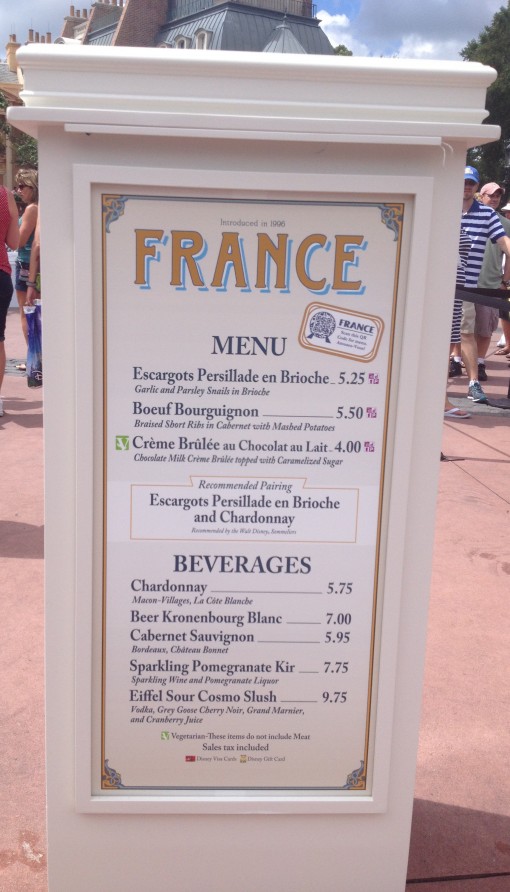 This is another one that has essentially the same menu every year, but they are crowd favorites.  If you can find France without a huge line you should definitely go!  Here I tried the Escargots Persillade en Brioche (Garlic & Parsley Snails in Brioche), the Creme Brulee au Chocolat au Lait (Chocolate Milk Creme Brulee topped with Caramelized Sugar) and the Sparkling Pomegranate Kir.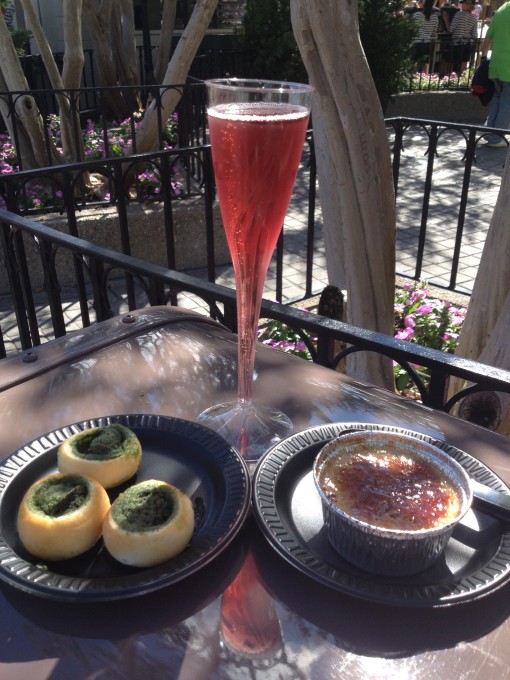 This was delicious as always.  The Escargots (as with any escargots in my opinion) taste more like garlic and butter than snails, which is probably a very good thing.
The creme brulee was perfectly caramelized on the top.  It's not overly chocolatey but rather more like a traditional creme brulee with a hint of chocolate.
The Pomegranate Kir is always one of my favorites.  They serve a Kir Royale at one of the permanent booths that's similar to this but with Creme De Cassis instead of the pomegranate liquor.  They are both very good, but I think this one is my favorite, perhaps because you can only get it at food and wine (or perhaps because it's half the price of the kir royale).  Anyway, I love champagne in most all its forms and this adds a nice fruitiness with out being overpowering or too sweet.
Added bonus, anything served in a flute makes you look bougie.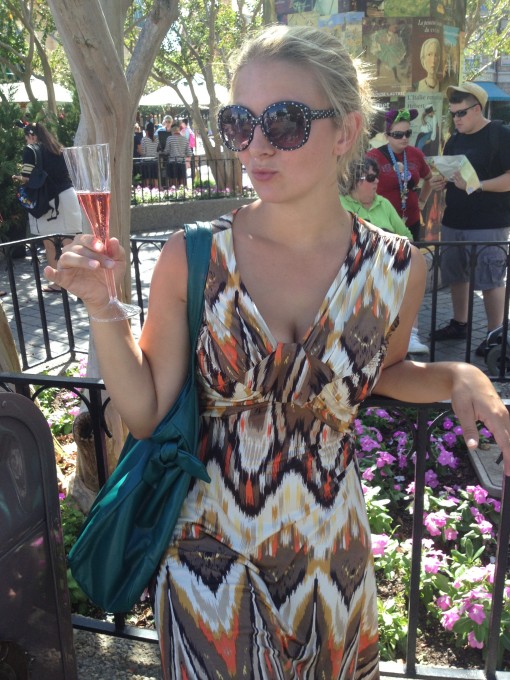 I had a good feeling about today, but alas, I was forced to leave 3 stamps short.  That means that next time (hopefully tomorrow) should definitely finish out the countries for me.  Now all I lack is Canada, Ireland, and the ridiculous American Adventure Coffee Cart, which serves only a Jamaican coffee drink, is in a permanent booth and makes no sense!
Save
Save