Friday September 27st, 2013- Epcot's International Food and Wine Festival opening day!
If you read my previous post, you know I plan on revisiting the food and wine festival about a hundred times before it's all said and done.  So, this first trip was not about making it around the world as much as it was about trying this year's new offerings (which was really challenging since Hawaii still has their Tuna Poke!).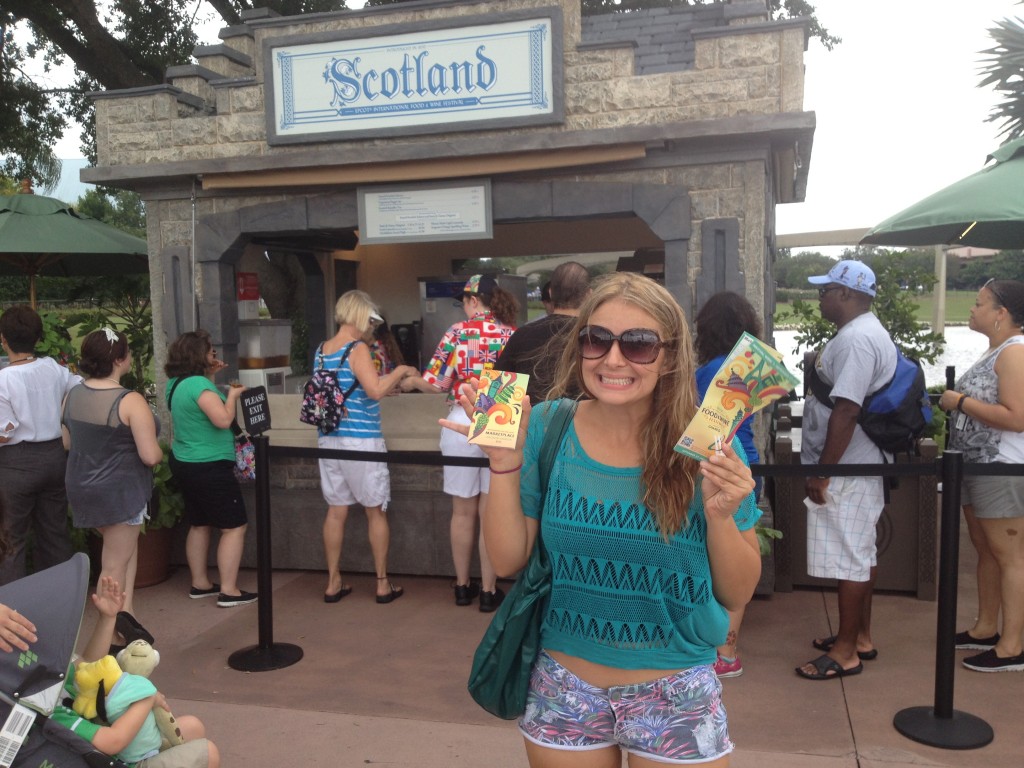 So, passport and festival guide in hand,  I made the choice to go right around the world showcase, as is my preferred direction so as not to get stuck in the Cava de Tequila in Mexico.  I have a tendency to linger when someone hands me a margarita.
First stop Scotland!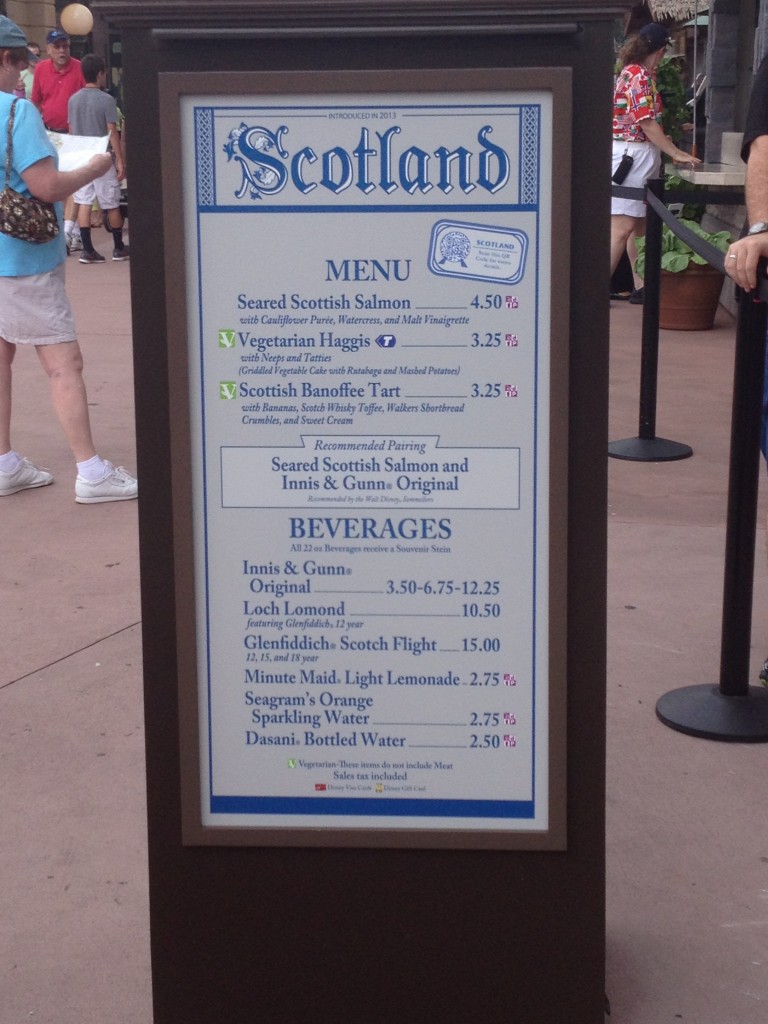 This is Scotland's first year to be featured in the Food and Wine Festival!  Above you can see the menu and get an idea of pricing, but I definitely recommend putting a set amount of money on a giftcard and then never looking at the prices again.  Trust me, you don't want to do the math on this.  Disney offers a very convenient giftcard attached to a wristband for the festival that can be purchased at any of the merchandise areas and reloaded at the booths.
I tried the Seared Scottish Salmon with Cauliflower Puree, Watercress and Malt Vinaigrette and the Scottish (they put "Scottish" in front of all the food names so you know it's authentic) Banoffee Tart with Bananas, Scotch Whiskey Toffee, Walkers Shortbread Crumbles, and Sweet Cream.  Pictured here on one of the many trash cans that pass for tables at the festival (there are a few actual tables available to the lucky and resourceful).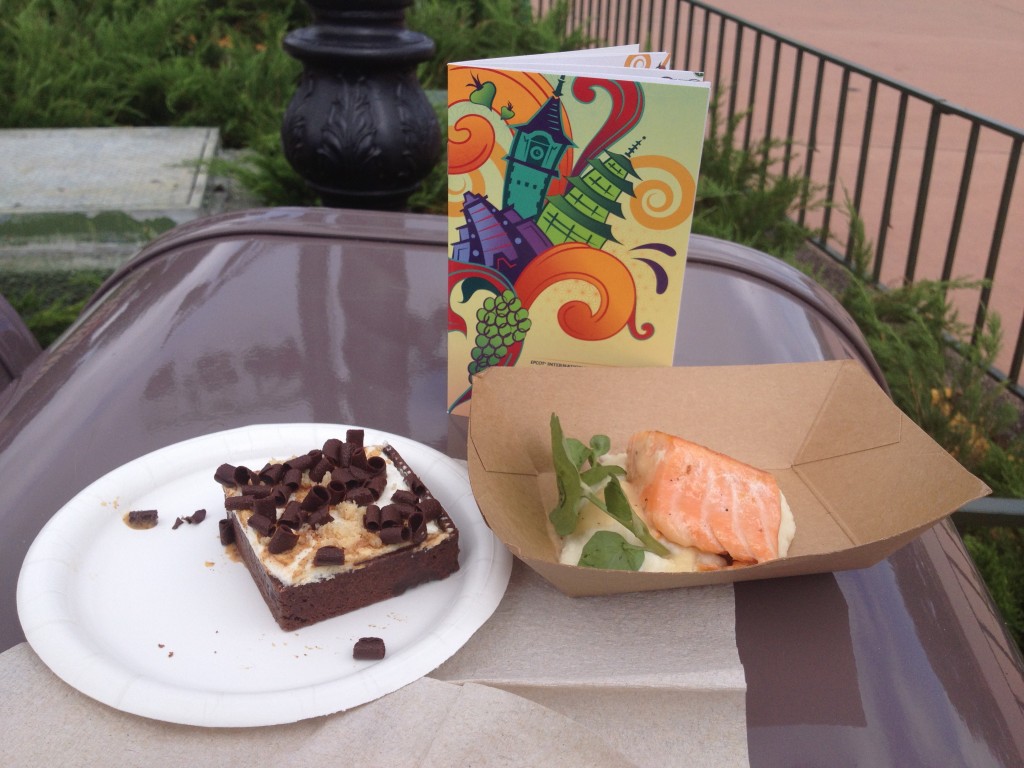 The salmon was surprisingly good.  The food at the festival is usually excellent, but cooked fish in a venue like this is risky.  It's hard to provide fish for a crowd.  That's why everyone was so impressed when Jesus did it.  It's the very reason I never have fish at weddings or on a plane.  I'll admit that I'm a bit of a fish snob, but even if it's well prepared at the time, once it's sat in a hot box you may as well be eating cat food.  That was not the case with this salmon.  It was a perfect medium.  I was very impressed.  If you're one of those weirdos that likes there fish cooked all the way through this may even be too underdone for you.  Also, you're doing it wrong.
I've been excited to try the banoffee tart for a while, ever since (like every American) I heard about banoffee's existence on Pinterest.  This did not disappoint.  It was also pretty boozy which is an added bonus.
Scotland was an excellent way to kick off the festival and I will for sure be back to this booth for the scotch flight.  I don't particularly care for scotch, but I'm a sucker for any sort of flight or sampler so it's happening!
And I got my first passport stamp!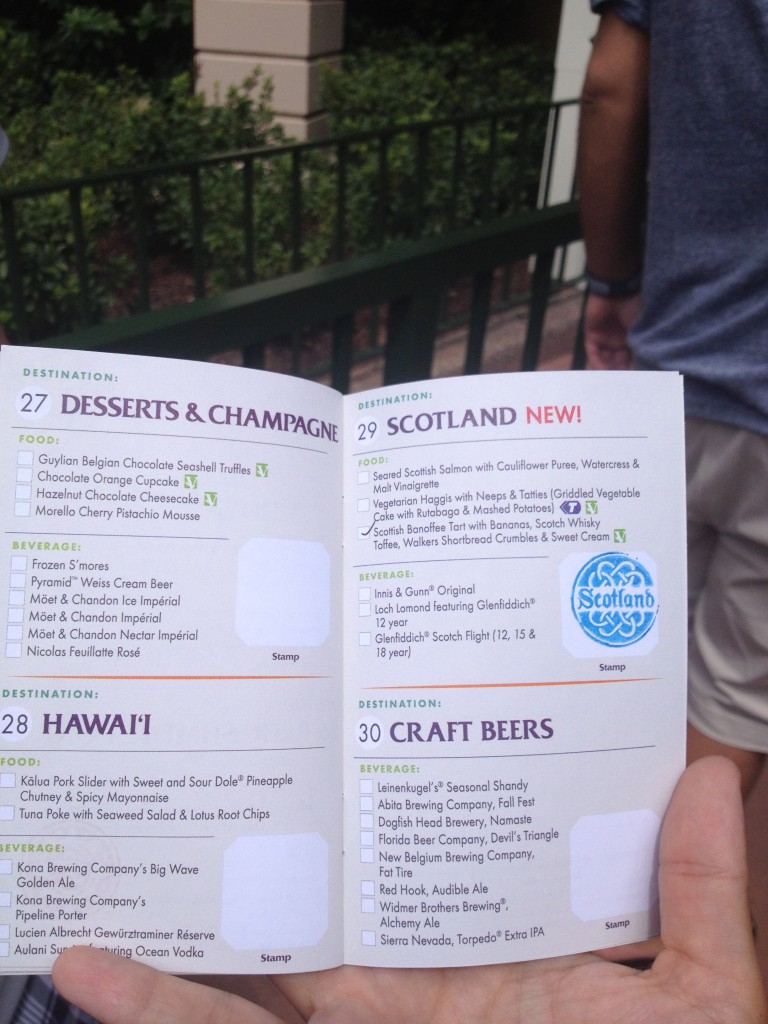 Stop 2-The Refreshment Port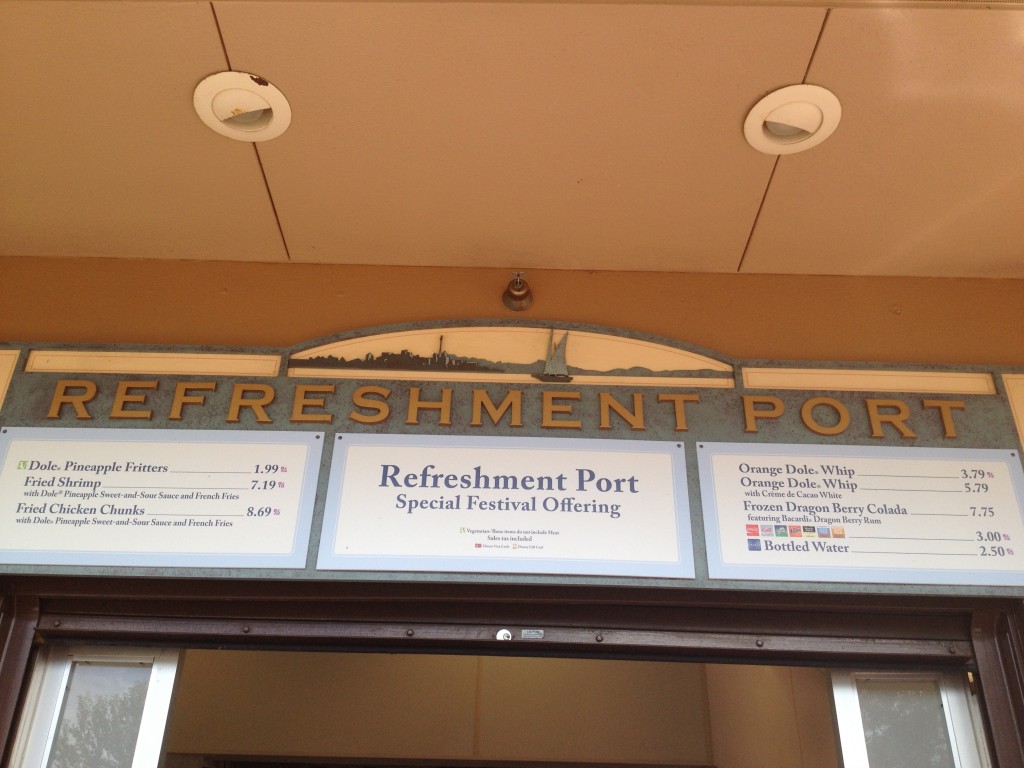 I was not as enthused about this stop.  Every year at the festival there are "new stops" added that are actually just repurposed old stops.  Disney takes an existing food cart and adds "special festival offerings" then forces you to stop there to get all your stamps in the passport.  To make matters worse, more often than not this happens in America, where I'm always a little reluctant to stop anyway (I eat in America all the time!)  So, I approached this stop begrudgingly, until I saw the menu.
Here I ordered the Dole Pineapple Fritters and Orange Dole Whip with Creme de Cacao White.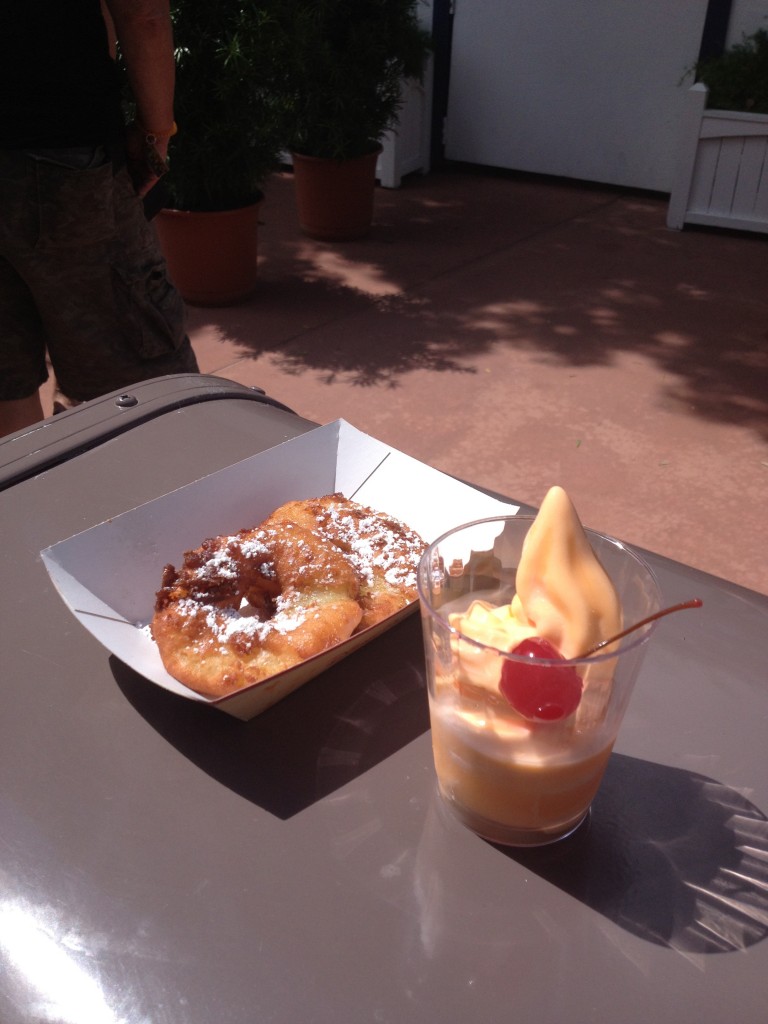 More fine trash can dining!
What can be said about pineapple fritters?  It's pineapple rings deep fried in funnel cake-esque batter and topped with powdered sugar.  It's absolute county fair food… delicious, delicious county fair food.
The Orange Dole Whip with Creme de Cacao White was obviously pretty great.  Not quite as great as the Pineapple Dole Whip with Spiced Rum featured at this years Flower and Garden Festival, but you can't really go wrong with liquor and ice cream.
Next Stop Greece!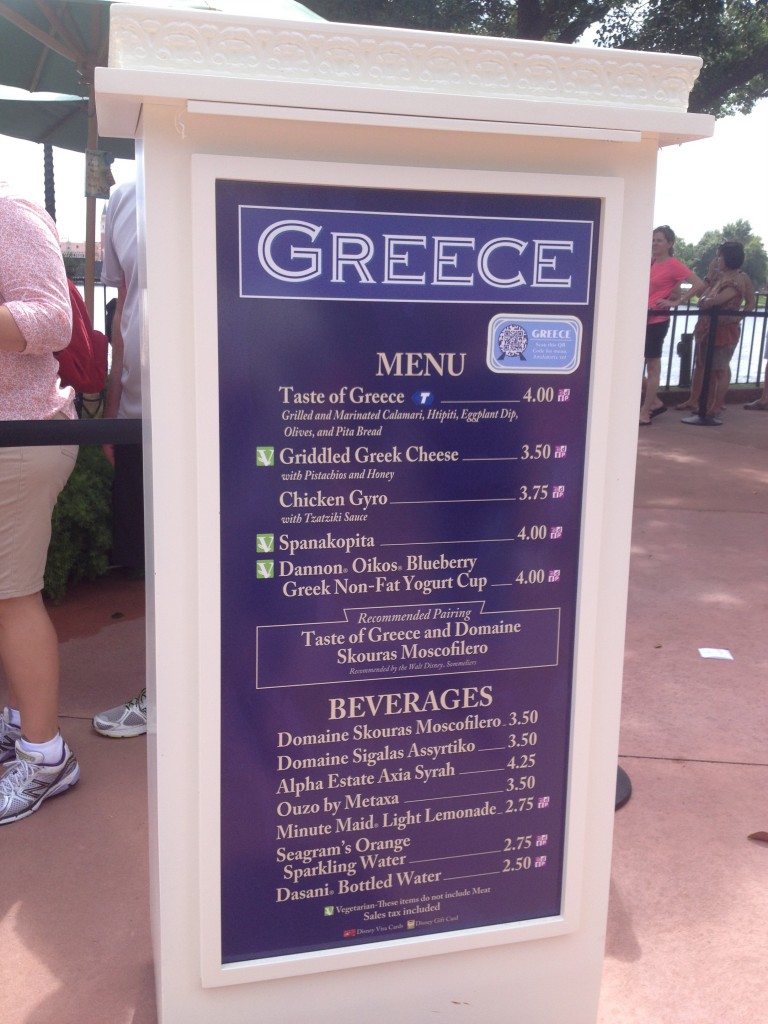 Greece is always an excellent stop.  You can choose from a variety of delicious foods, or if you'd prefer you can spend $4 on a yogurt you can buy at target.
I opted for the Taste Of Greece (sucker for a sampler) with grilled and marinated calamari, htipiti, eggplant dip, olives, and pita bread and the Chicken Gyro with Tzatziki Sauce.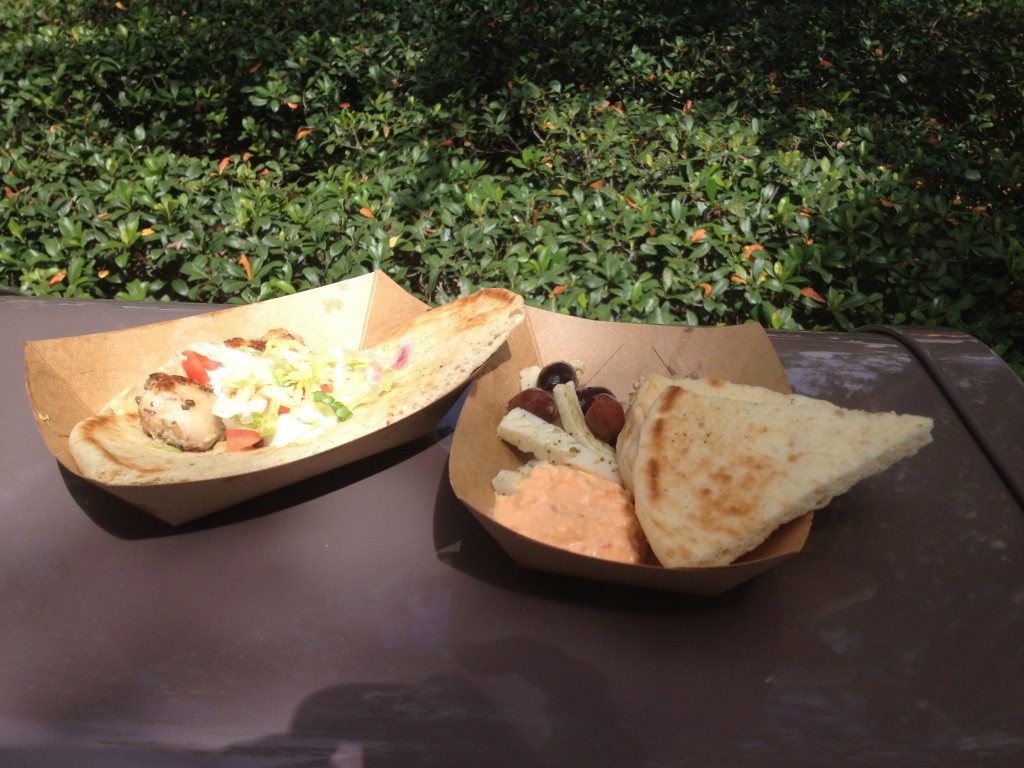 The gyro was about as expected.  Good, but nothing you couldn't find elsewhere.
The Taste of Greece was mostly great, the exception being the eggplant dip.  Maybe it's just personal taste, but there was not a lot of flavor coupled with a very off-putting texture.  Everything else on the plate was great.  Olives and calamari were good, but the real stand out was the htipiti.  It was fabulous.  I would order this menu item again just for that (and maybe see if the ducks like eggplant).
I hit it pretty hard in the beginning and was rather full by this point.  So, I didn't stop again until Japan.
Japan!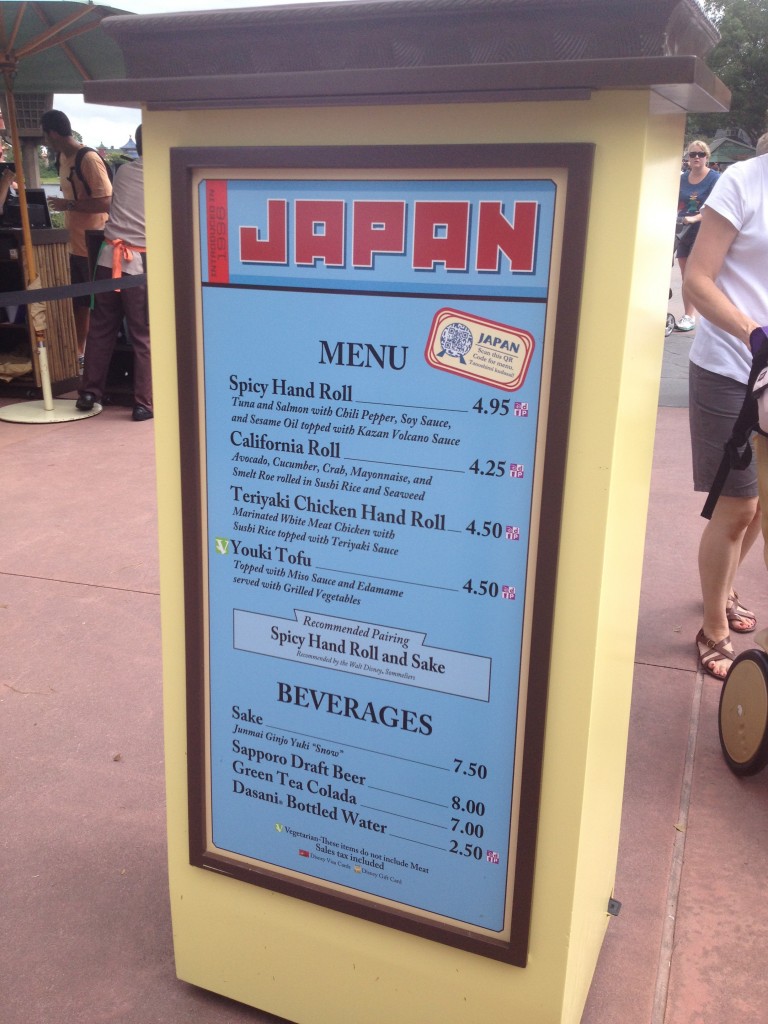 Japan is a very "safe" stop.  You'll find more exotic choices at your local sushi restaurant, but I can't turn down a spicy roll.
Here I ordered the Spicy Hand Roll and Green Tea Colada.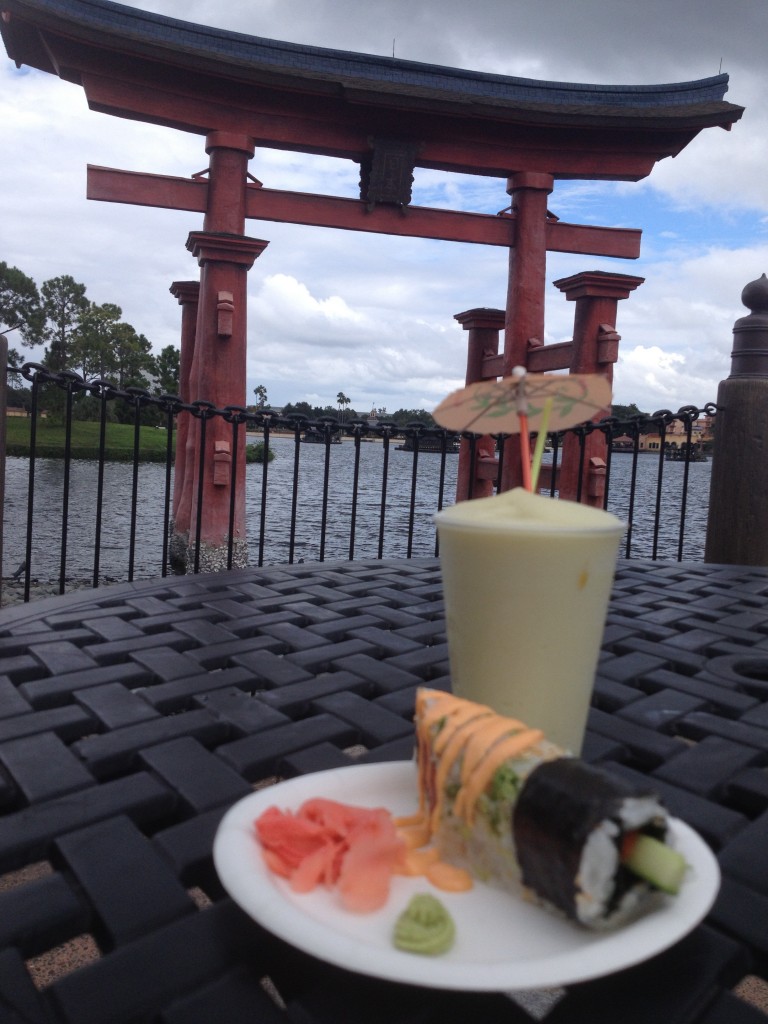 Here I also got a real table!!!!!!!!
The spicy hand roll was very good.  Flavor is about as expected, like ordering a spicy tuna roll at most sushi restaurants.  I love that they do hand rolls here so that you can eat while walking (for those that weren't lucky enough to score a table).
The green tea colada was delicious.  The green tea flavor is very subtle, it's more colada than anything, but it was very good and it comes with an umbrella so I'm in!
Next stop Cheese!  A whole booth dedicated to cheese!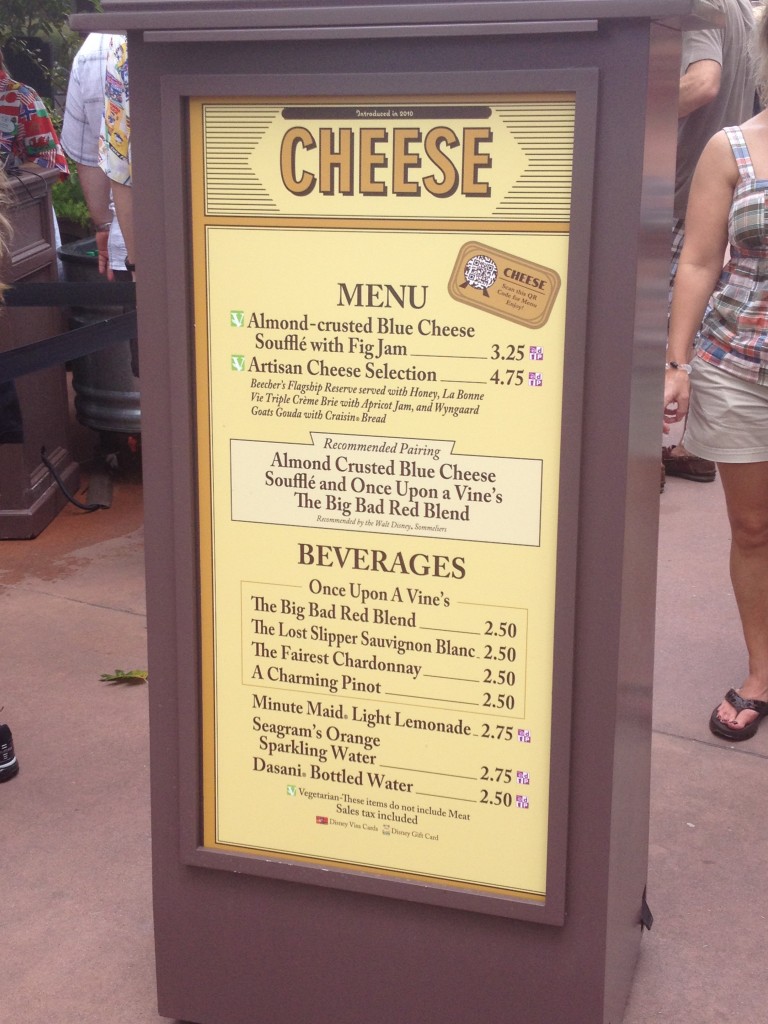 The choice here was easy, and about the only menu item that could win out over a sampler… Almond Crusted Blue Cheese Souffle with Fig Jam.  That's pretty much a combination of all the best things in the world.  So, naturally I ordered that with the Disney sommelier recommended pairing of Once Upon a Vine's Big Bad Red.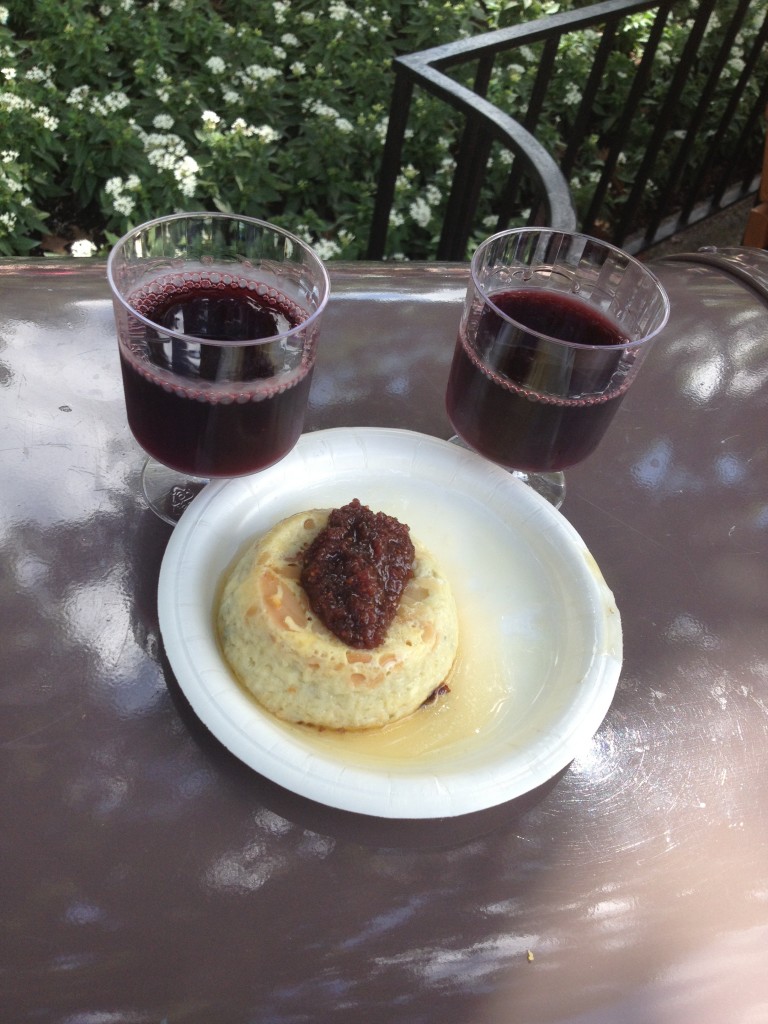 note: I didn't go by myself and both wines aren't mine, I promise.
This was perhaps my favorite stop.  Add blue cheese to anything and I'm there!  In the souffle the blue cheese was not over powering and the fig jam complimented it perfectly! (as did the wine).  The wine was very good too, I would order it again just for the name.
This seemed like a good stopping place on the food.  It wasn't going to get any better than blue cheese souffle and the wind blew over some of my wine while I was trying to take a picture.  It was time to go.
I made my way back around the showcase eyeing menu items for next time and decided to check out the festival center before heading out.  The festival center is kind of the food and wine hub.  Here is where you will come for most of your special events and tastings.  There is also a merchandise location inside where you can buy all manner of food and wine paraphernalia, including cookbooks if there was a stop you'd like to replicate at home.  There is also a wine and liquor shop where you can purchase a bottle of some of your favorites.  A lot of the wines here can be found at most liquor stores a good deal cheaper, but there are some unique and hard to find wines as well, including some Disney exclusives.  While it's not considered an actual stop (no stamp), there is a bar inside the festival center where I had what may be my new favorite beer.
Einstok Icelandic White Ale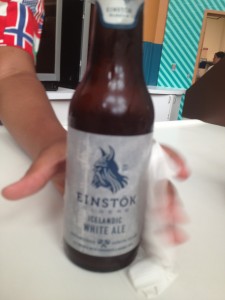 It has a viking on the bottle so you know it's good.  I already checked and it can be purchased at Total Wine at $12.99 for a 6 pack.  It's absolutely worth it.
In the festival center you will also find tucked away, a room full of Ghirardelli Chocolates.  Here you can get a free sample, buy chocolate and chocolate related cookbooks, and they even sell a warm drinking chocolate.  Perhaps the most impressive part of this section is the chocolate sculptures.  Here they have a display of different Disney related sculptures made entirely out of chocolate by the Disney chefs.
That where I left food and wine for the first day, but of course I will be back, probably tomorrow!
I can't leave a food and wine post without acknowledging the best plastic cutlery distribution system to date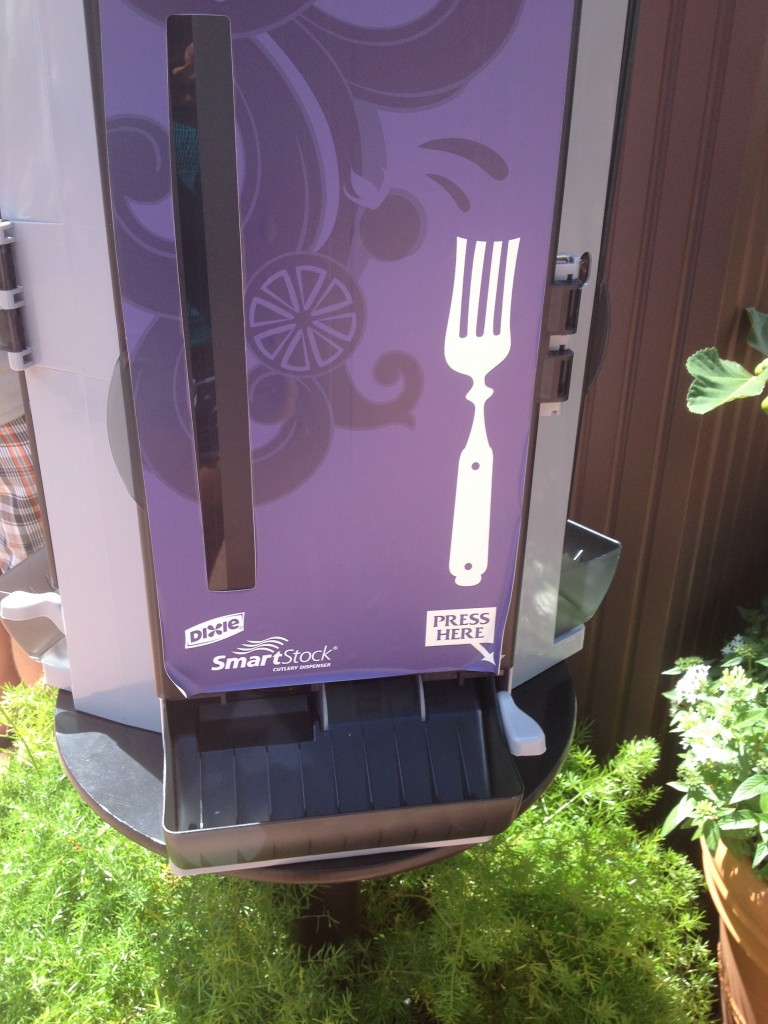 Push the lever and this contraption dispenses exactly one utensil, presumable untouched by sticky kid hands.  It's a way better system than the bucket full of plastic forks that someone probably sneezed in.  Thanks Epcot!