Well, it took 7 trips to the Food and Wine Festival this year, but I finally did it.  I finally got all 30 of my stamps!
Today was a short day with a mission.
First stop Canada,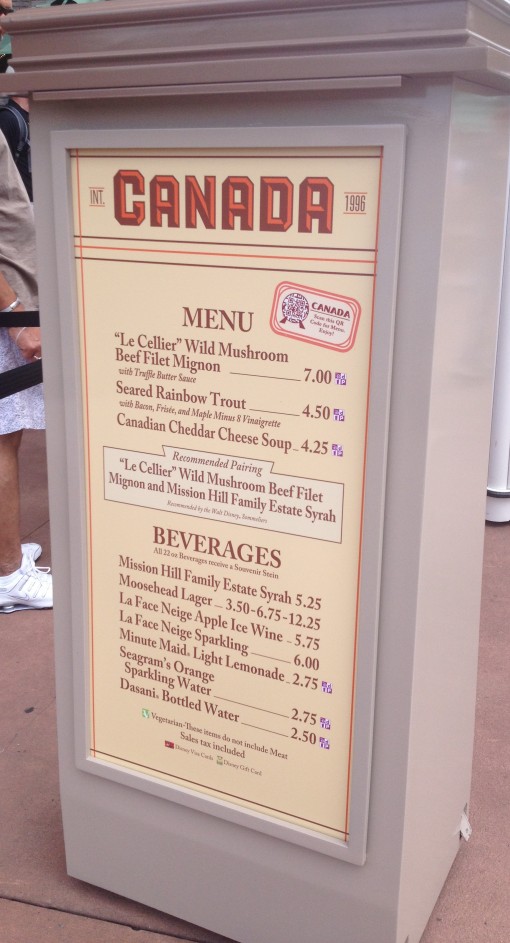 Canada is one of the most popular stops.  Luckily, I was able to stop by here on a Tuesday afternoon when there was barely a wait!  Here I got the Seared Rainbow Trout with Bacon, Frisee, & Maple Minus 8 Vinaigrette, and the "Le Cellier" Wild Mushroom Beef Filet Mignon with Truffle Butter Sauce.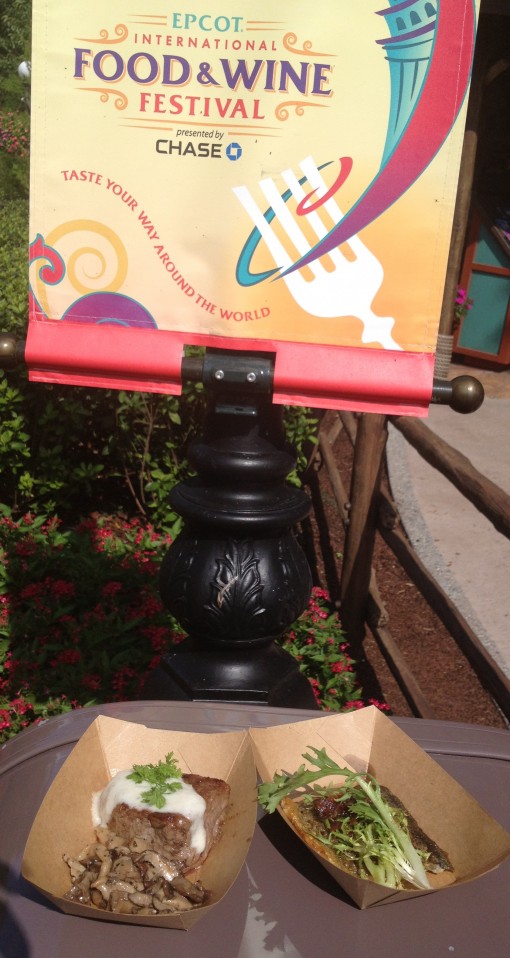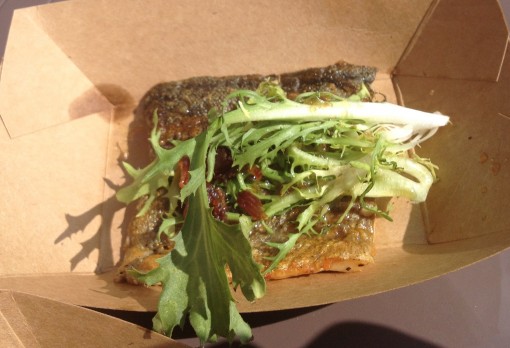 The rainbow trout was actually the first thing in the entire festival that I didn't finish. (What can I say?  I'm a trouper)  It was very bland and kinda dry.  The only good part was the bacon, and that's impossible to mess up.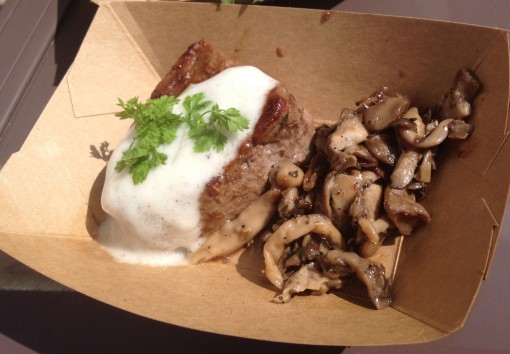 The filet was excellent.  Was it $7 worth of excellent for the 2 bites of steak they give you?  Probably not.  There are certainly booths where you can get more bang for your buck, but this was a really tasty piece of meat.
Now the Cheddar Cheese Soup, I didn't get it this because they have it every year and they have it at the restaurant, but it is excellent.  I just wish they gave you pretzel bread with it like they do inside.  The Cheddar Cheese Soup and Ice Wine is probably the most popular combo of the entire festival.  So, if you haven't tried it before, you definitely should!
On to Ireland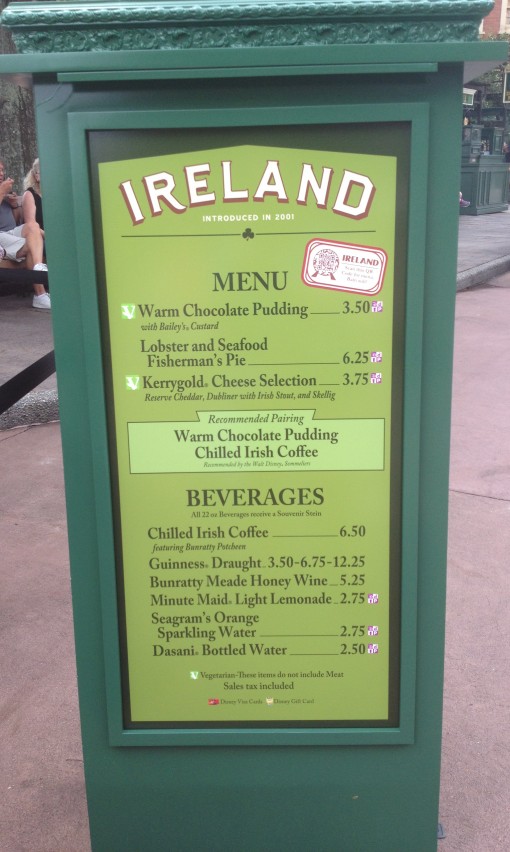 Here I tried the Kerrygold Cheese Selection: Reserve Cheddar, Dubliner with Irish Stout & Skellig and the Warm Chocolate Pudding with Bailey's Custard.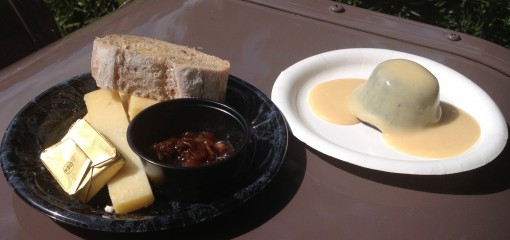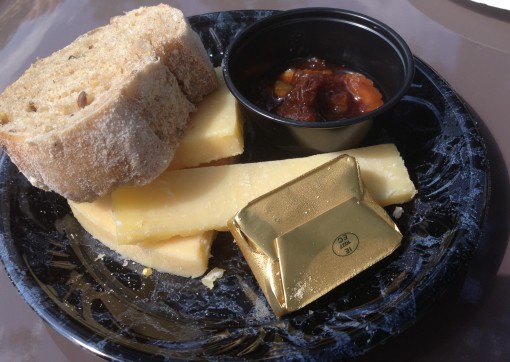 The Kerrygold Cheese selection!  I've mentioned before that I'm a sucker for a sampler.  So, obviously this was great.  I'll level with you, I'm not 100% on which cheese was which, and I don't think it really matters.  They were all great.  Frankly, I'm usually just impressed with myself if I remember to take a photo before I eat everything.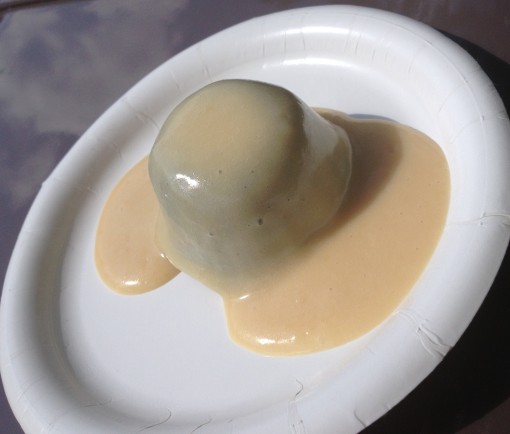 The Chocolate Pudding!  There has been much speculation on this, and much disappointment at the disappearance of the Baileys Lava Cake from previous years.  In fact, I still miss the flourless chocolate cake from years and years past.  This was very very very similar to the lava cake however, and it's topped with a Bailey's custard, so it hits all the same flavor notes.  Chocolate and booze, always a good time.
It's here, the final Stop!  The American Adventure Coffee Cart.
As you know, I'm a little bitter about this one.  This is a coffee cart that's their year round and not even operated by Disney!  It's Joffrey's and they are technically a 3rd party participant.  I have no idea how they added one non-American item to their menu and got a stamp!  Anyway I had to do it.
Shakin' Jamaican Coffee made with Kahlua, Vanilla & Caramel (Served hot or frozen).  I opted for frozen, as it was yet again a million degrees outside.  This was my last stop on my passport and I saved if for last since I have such a fundamental problem with this booth's existence.  The coffee was good.  A sweet coffee drink with Kahlua, we've all had them.  Here's what turned me around on this experience… I ordered a coffee and Brian behind the counter asked, "do you want a double?"  There are a few questions in life that no matter who asks them the answer is always "YES!"  This is one of them.  A few others include "Would you like the day off tomorrow?" and "Would you be interested in going (insert anywhere) with me?".  Anyway, there are very few instances where a "Yes" is universally appropriate and this is one of them.  "Absolutely I'll have a double."  And best news is it only took the price up about $2… until the manbarista asked "Are you a cast memeber?"   That's right, booze, double booze, and a cast discount!  Brian, you turned this experience around.
And most importantly…ALL THE STAMPS!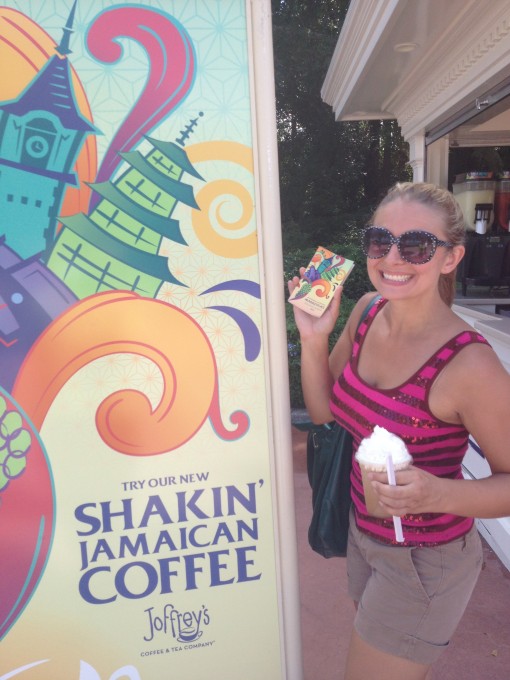 It's a good feeling after 7 attempts!
Time to take my victory lap to the festival center,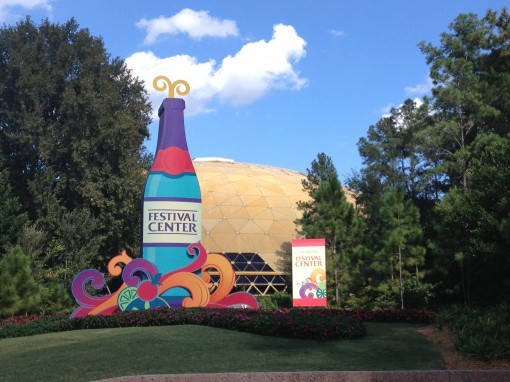 where I got my completion stamp (even though the guest relations lady didn't check my work!)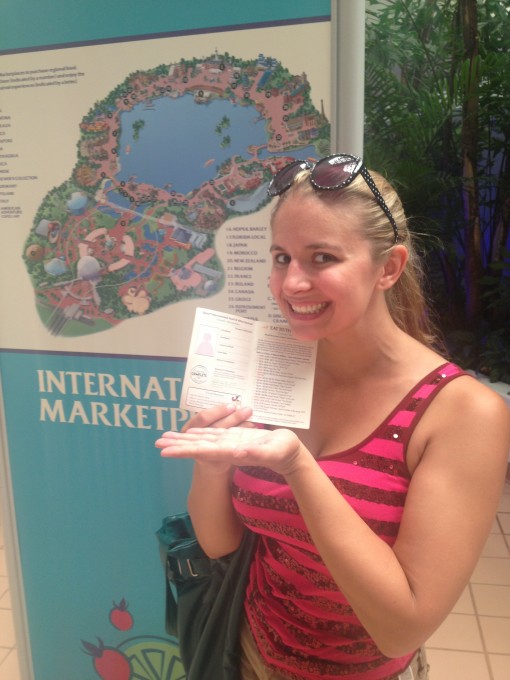 And one last victory drink at Intermissions Cafe in the festival center,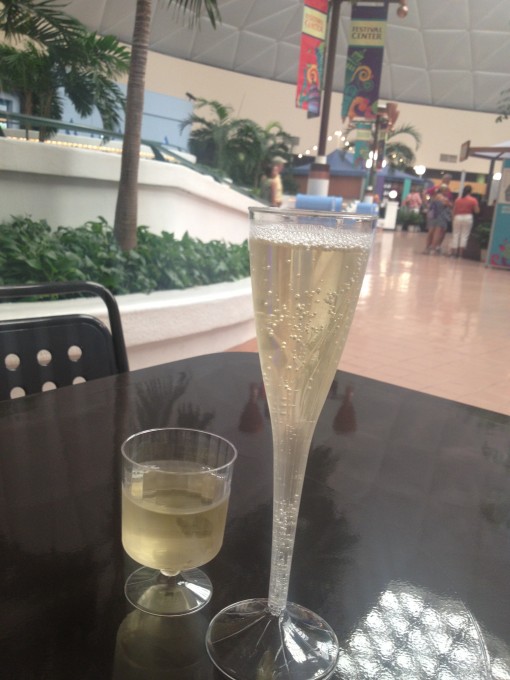 Capasaldo Sweet Sparkling Moscato, which was way way way too sweet but only $3, so you can't really complain, and Quantum Leap Chardonnay (Still unclear whether it's named after the second greatest television show ever made or not, but I like to think Scott Bakula's face is on the bottle)
Victory tastes sweet, or maybe it's the Moscato, either way it was a good day at food and wine!