With summer quickly approaching (in the Southern Hemisphere), it's the perfect time to start planning your road trips. What's not to love about the wind in your hair, belting out your favourite tunes with your favourite people, and the sun beaming down? If you're lucky enough to be in Sydney during the summer you're going to love these road trip ideas! And if you're not from Sydney, there's no better way to really get to know Australia. So compile the playlist, get packing, bring the sunscreen and shades, and head on a road trip from Sydney!

BYRON BAY
Sydney to Byron Bay is arguably one of Australia's most popular road trips, often travelled by school leavers, surfers, and those looking for an escape from the hustle and bustle of the city. Byron Bay is known for its chilled lifestyle that is essentially the embodiment of the Australian beach lifestyle. It's normal to see people walking around barefoot, sand in their hair, coming up straight from the surf.
There's no rush on this 800 kilometre drive, with plenty of stops during the trip, and stunning sights to take in. This trip ending with Byron is a surfer's paradise with multiple beaches along the way. It's no surprise that Byron Bay plays host to a magnitude of festivals like Bluesfest and Splendour in the Grass, with the relaxed lifestyle drawing punters in every year! Forget work e-mails, phone calls and meetings while you're here, the only important thing you'll need to remember is the sunscreen.

JERVIS BAY
If you love how Byron Bay sounds but you just don't have the time to complete an 8 hour road trip, the equally beautiful Jervis Bay is only a three hour drive from Sydney. Being only three hours from Sydney, Jervis Bay is the perfect road trip destination for those of you who don't have the time off and are looking for more of a day trip or a weekend getaway. Even during the busy summer weekends, you'll be able to find your own private section of the bay since Jervis Bay is NINE times bigger than Sydney Harbour.
In Jervis Bay, you'll find yourself in crystal blue waters, fine and white sands, and an environment so pristine and beautiful. The drive down is beautiful, following the coast line and with various stops on the way for lunch and a look out. I would recommend stopping in Wollongong for a morning tea break, and Stanwell Tops to take in the breathtaking views of hand gliders running off the cliff!

GRAND PACIFIC DRIVE – WOLLONGONG
Chances are you've probably heard of the Great Ocean Drive in Victoria, well the Grand Pacific Drive is Sydney's equivalent. Whether you're a fan of beaches or rainforests, this drive has them both. The Grand Pacific Drive is going to take you through the Royal National Park on the edge of Sydney, and then follows along the coast to Wollongong.
Only a 90 minute drive from Sydney, Wollongong is the perfect drive for those that have passengers that can't stand to be in the car for too long. The drive is quick and easy, and it's easy to complete for a day trip without putting on strain to make it back in time for bed time. I would recommend a day trip for Wollongong itself, but if you'd like to continue exploring the Grand Pacific Drive it leads down to Jervis Bay and more.

BLUE MOUNTAINS
A favourite amongst hikers, adventurers, and avid nature lovers, the Blue Mountains boasts stunning natural scenery stretching as far as the eye can see. This trip is not much about the two hour drive west of Sydney but more about the destination: the Blue Mountains. No matter what time of the year you visit there is plenty to do, with numerous walks and hikes taking you through the abundant forest, waterfalls, rock pools, and Aboriginal sites.
One of my personal favourite things to do in the Blue Mountains is do the National Pass hike at Wentworth Falls. The hike is approximate 4 hours return and it does require a decent level of fitness as the hike is steep when it follows down the side of the mountain. The walk down is relatively easy, and the view you get from the bottom of the waterfall is stunning, seeing the water fall from the cliff and glistening in the sun is a sight to remember!

—
So there you have it, a few of my personal favourite road trips from my time living in Sydney. Of course these are limited since I live in Sydney, but there are so many more road trips available in NSW starting from different points! So what are you waiting for? Gather your friends, get planning, and get road tripping!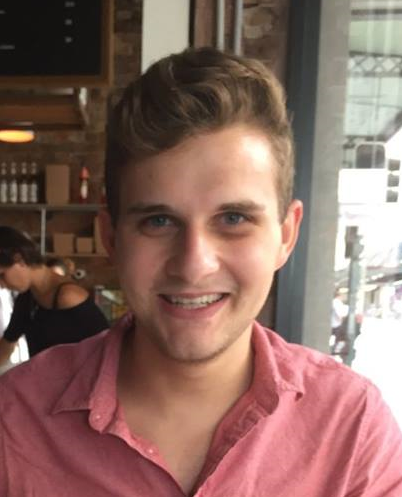 About the Author:
Alex is a 23 year old lover of life, interior design & adventure. After moving to Sydney upon finishing a journalism degree, he began his blog Inspire A Better Life to positively influence others to get out there and see all life has to offer.  Join Alex as he discovers this life one day at a
time,
documenting his thoughts along the way!
If you would like to be a guest contributor to Mags On The Move, head over to the "
Contact Me
" page and drop me a line.
Save
Save
Save