Here in the U.S., as in most places, we don't usually drive sober on the left side of the road.  One can argue the validity of both ways (Left v. right, not sober v. drunk.  We are all pretty united on the latter), but I think this map speaks for itself.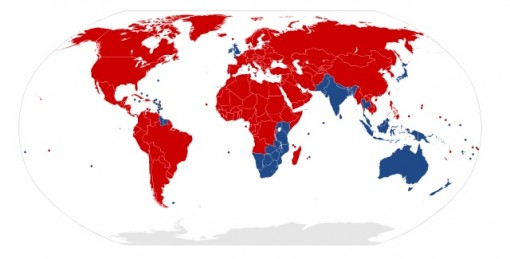 The red countries drive on the right side of the road, and the blue on the left side of the road.  With a few exceptions (the U.S. being one of them) it's basically former and current British territories.  I've been U.K. several times (though this was my first time in Scotland) and was of course aware that they drive opposite the U.S., but I've never attempted it myself.  I did have a brief foray into left side of the road driving in Tanzania, but that was nothing compared to the narrow winding roads I encountered as I made my was from Glasgow into the Scottish Highlands.  Oh, and of course it was raining!
Those elements do not make for a great first day in a new country, and as it turns out, there's a lot more car to your left over there.  So, my first hours in Scotland were spent on the side of the road waiting for a new tire to replace the one the horrible curb in the round-a-bout popped.
Now for some product placement that I'm not getting paid for, but probably should.  Having T-mobile's international plan saved the day!  So did Avis.  I have a feeling it may not work out like this in the States based on the time this exact thing happened to a friend and me in the States and I was ask if we "just picked up a nail or totally destroyed it" then was told we may be charged for the tire, but here I just called Avis and waited in the car for a new tire to be delivered.  After about an hour a man in a rain coat showed up and changed the tire no questions asked!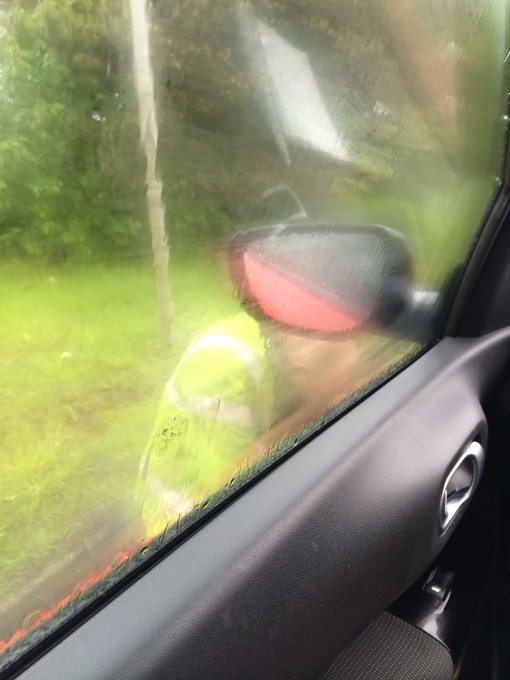 This is the only photo I got of my tyre knight.  As I said, it was cold and rainy and this guy was super nice and insisted I stay in the car.  After he was done, I signed some paper work and never heard about it again.  A small set back, but I was back on the road to the Highlands!
Obviously, this was inconvenient at best after an international flight, so I consoled myself with my first fish and chips of the trip.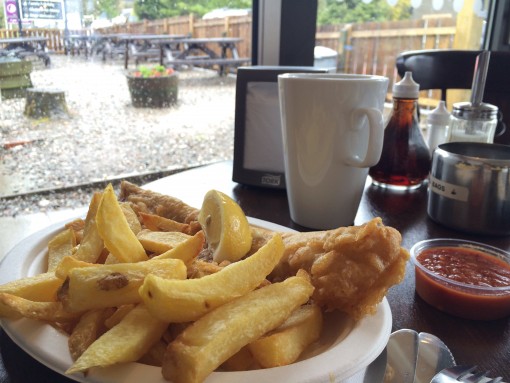 All is well that ends well I suppose, and this ended with an amazing first visit to Scotland.  We got off to a rocky start, but after a while I got the hang of it and by the time it was over it was hard to say goodbye the Cactus.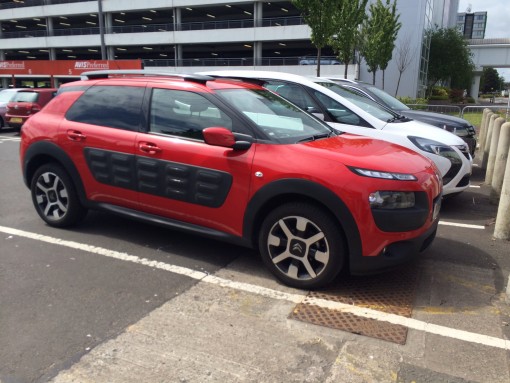 I'm going to add this too, I love traveling and experiencing different cultures.  I'm so glad that everywhere you go is a little bit different, but if you have to paint this on your streets,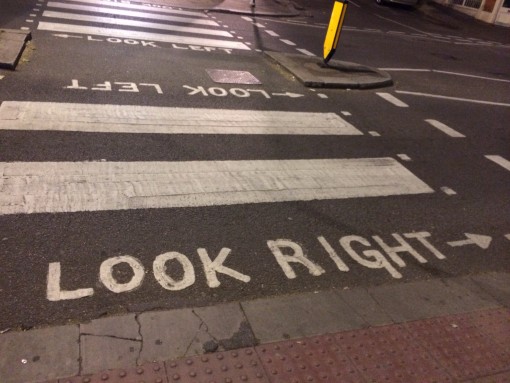 you may be doing driving wrong.
~
Anybody else have any harrowing tales from a time you drove on the opposite side of the road?