The hardest part of international travel on a budget is getting there.  Finding cheap flights can be daunting, especially if you have a job or other obligations to work around and can't be as flexible on dates.  I was faced with this very predicament this summer when invited to London at the most expensive time of year.  I only had 6 days to spare and the usual Expedia and Priceline searches were turning up flights at around $1300 RT.  YIKES!
That was a bit steep for 6 days, so it was time to get creative.  Here's what I did.  I'll let you know, sometimes it works and sometimes it doesn't, but this ended up saving me over $500 on flights.
1- Check Large Discount Travel Websites–
Skyscanner, Travelocity, Hotwire, Priceline (though even naming my own price was pretty unhelpful for this particular flight), and Expedia are good jumping off points.  You never know what you may find.
2- Check The Airline Directly
After doing a preliminary check on the discount websites, find the cheapest flight and compare it with the airlines own website. Often times, the airline website will offer a better deal than the discount websites.
*If you've already satisfied with the airfare you've found, you can go through cash back sites like Ebates to save even more.  Almost all major airlines work with them. If you want to save even more, read on.
3-CHECK SMALLER REGIONAL AIRPORTS–
Normally flights in and out of smaller regional airports are much more expensive than their bigger counterparts, but it never hurts to try. This is actually where my search got interesting.  I checked the Sanford/Orlando airport and found out about several UK and European carriers that I'd not heard of before.
4-CHECK THE WEBSITES FOR AIRLINES THAT FLY INTO YOUR REGIONAL AIRPORT-
This is where I discovered Condor, Thomas Cook, Monarch, and Thomson.  Monarch and Thomson only fly round trip out of the U.K. to the U.S. so they are more helpful once you're already abroad.  They also offer very cheap flights to the rest of Europe from the U.K.  If you play around with the dates a bit, sometimes the round trip tickets are cheaper than a one way return ticket and worth getting and just not using one leg.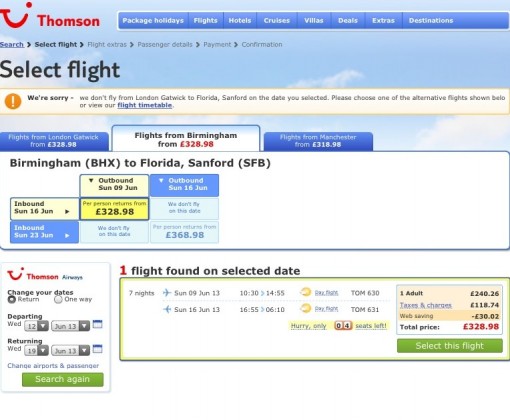 Condor and Thomas Cook were really the most helpful.  Neither of those sites will let you book a round trip ticket originating in the states, but if you book two separate one way tickets it works.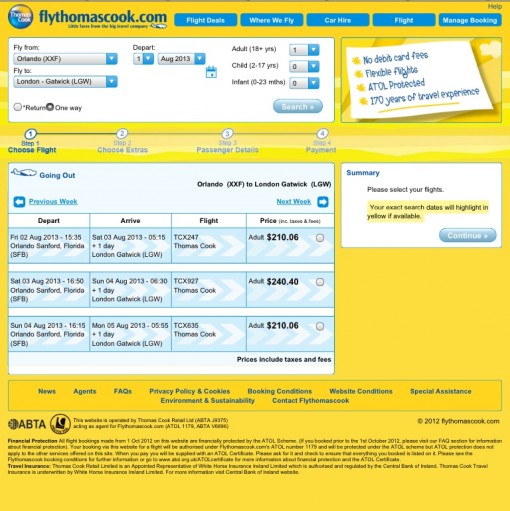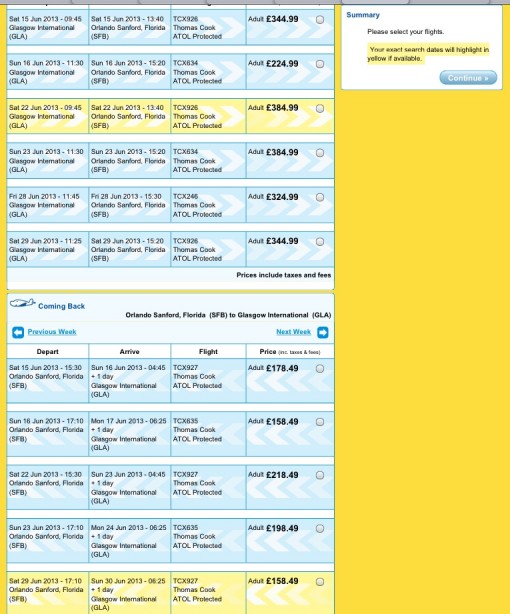 As you can see, if you play around a little bit you can save tons of money on international travel.  Once you're in the U.K., the rest of Europe is very accessible by either rail or very affordable flights.  I had a job and specific dates to contend with so I was only able to save $500 off of what I found on travelocity, but if I had a little more wiggle room I could have easily gotten a round trip ticket for $400-500!
I am at a bit of an advantage living so close to one of the select US airports that these airlines fly into, but for that amount of savings, it's worth traveling domestically to one of these airports!
I will also tell you that most of the U.K. operators only fly stateside between March and October, but those are the most expensive times to fly by traditional means, so it really helps out.
Happy Travels!
Save