I don't know how I made it to the ripe old age of 32 before my first Voodoo conjuring, but Tales of the Cocktail this year finally broke my streak.  Though, I have dabbled in some light Voodoo related vandalism, back when that was allowed at Marie Laveau's grave in the St. Louis I cemetery in New Orleans (now guests are only allowed on guided tours, and writing on the graves is strongly discouraged).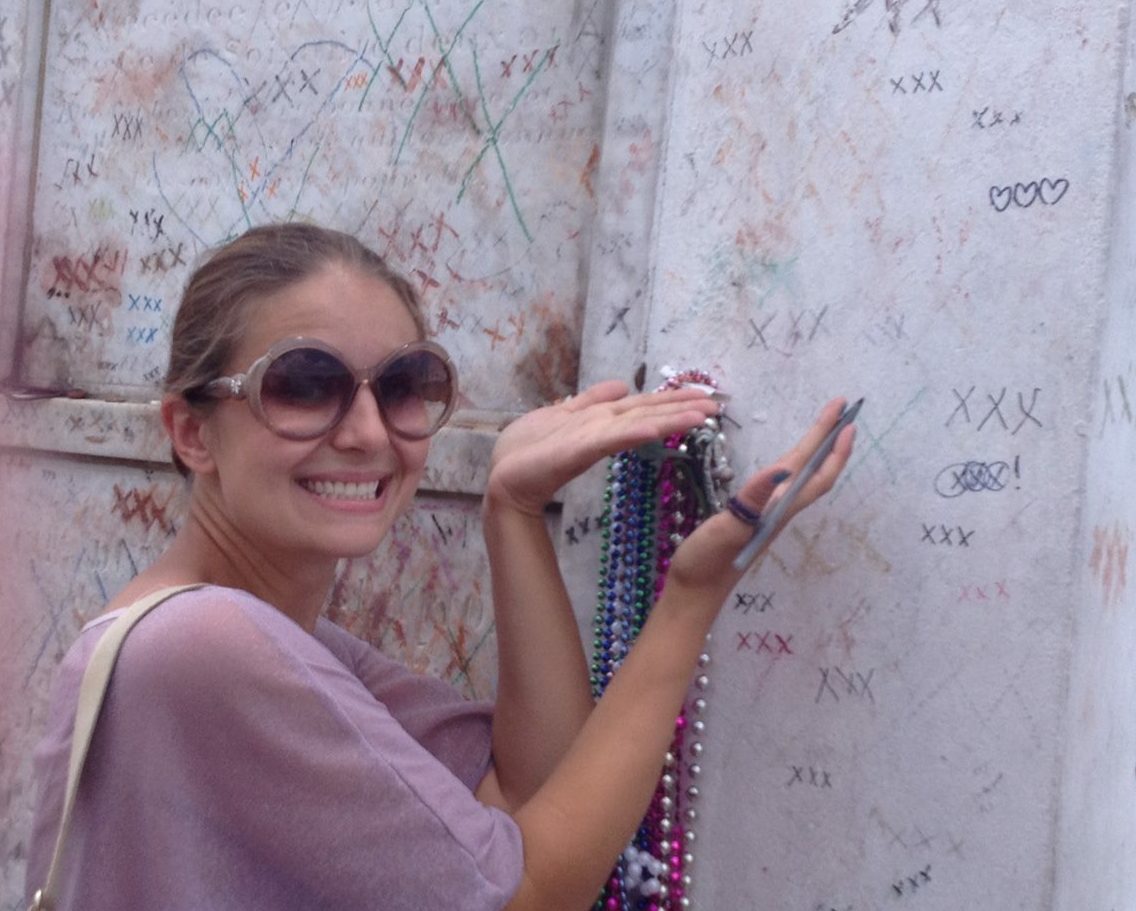 Tales of the Cocktail is a yearly gathering of liquor brands, bartenders, and cocktail enthusiast in New Orleans.  This was my 3rd year attending, but the first time I participated in their Spirited Dinner series.
The Spirited Dinners range in price and experience, but this particular dinner costs around $70 per head was comprised of small plates paired with creative cocktails, and of course some Voodoo entertainment. I don't know what took me so long, I love a good spirit pun and the 11th Hour Conjuring Spirited Dinner at one of my New Orleans Favorites, Napoleon House, delivered. Booze, Spirit Puns, Voodoo, and Napoleon House? Sold!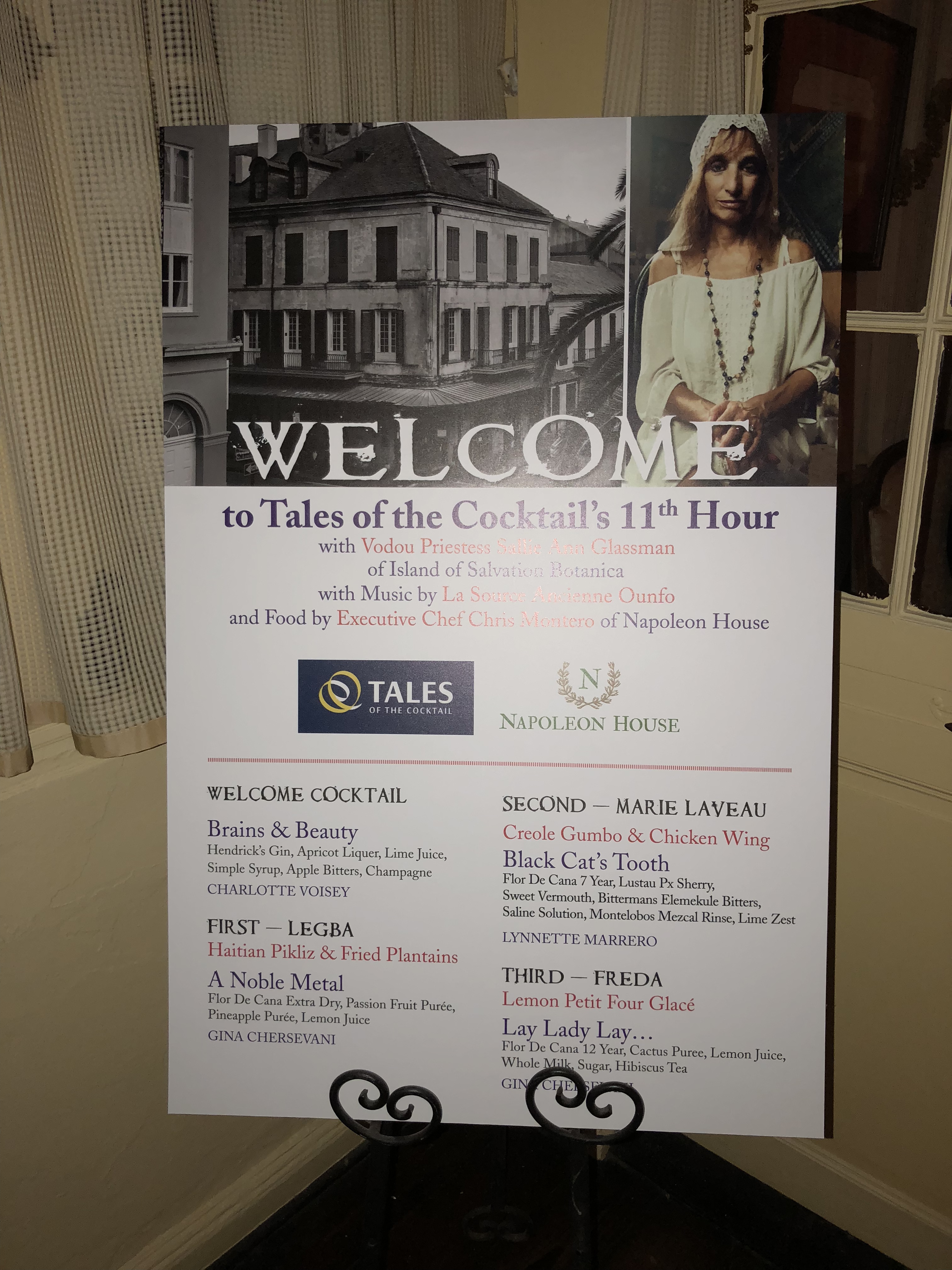 We started the night off with a welcome cocktail, the Brains & Beauty (Hendrick's Gin, Apricot Liquer, Lime Juice, Simple Syrup, Apple Bitters, and Champagne), before moving on to the food and drink pairings inspired by the spirits we would be conjuring; Legba, Marie Laveau, and Freda.
Now for the actual conjuring!  Our Vodou (her spelling) Priestess for the evening, Sallie Ann Glassman made cornmeal designs freehand on the floor, accompanied by La Source Ancienne Ounfo on drums and vocals.  Each spirit has a different design made of cornmeal and different song or chant used to summon them along with a ritual where the Priestess and singer poured small amounts of water on the centuries old wood floor that made me a bit nervous, but I'm sure  throughout history the floors have seen worse.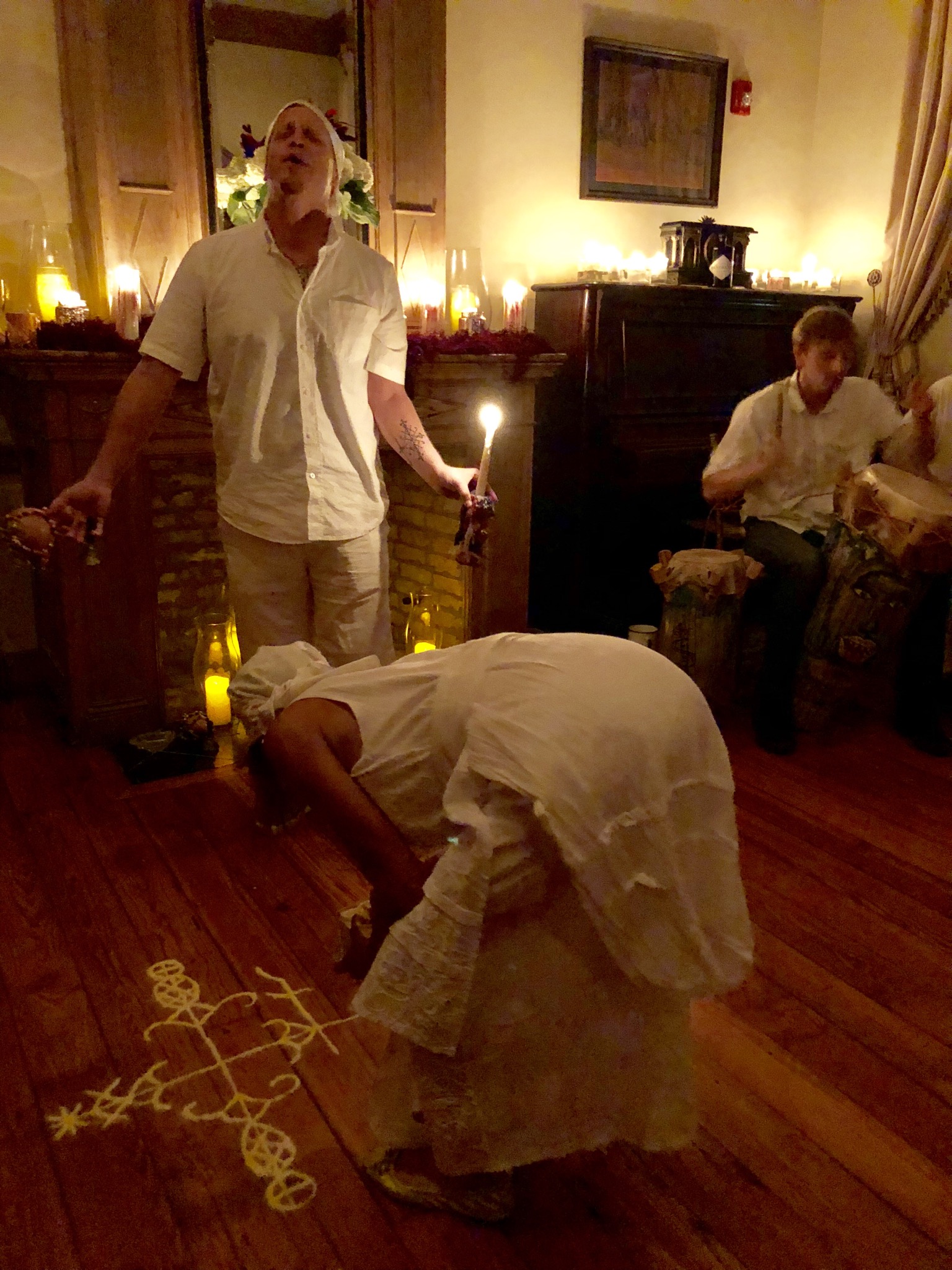 Papa Legba is a gate keeper between the human world and the spirit realm, so he must be summoned first before the rest of the spirits can come through.  Papa Legba is a Haitian fellow with a penchant for rum and loose change.  So to represent him in food and cocktail form, we were served Hatian pikliz and fried plantains with A Noble Metal cocktail (Flor de cana extra dry, passion fruit puree, pineapple puree, and lemon juice) served in a glass covered in copper leaf.  This was my favorite cocktail, but that copper leaf got everywhere and maybe shouldn't be consumed by humans, but what do I know?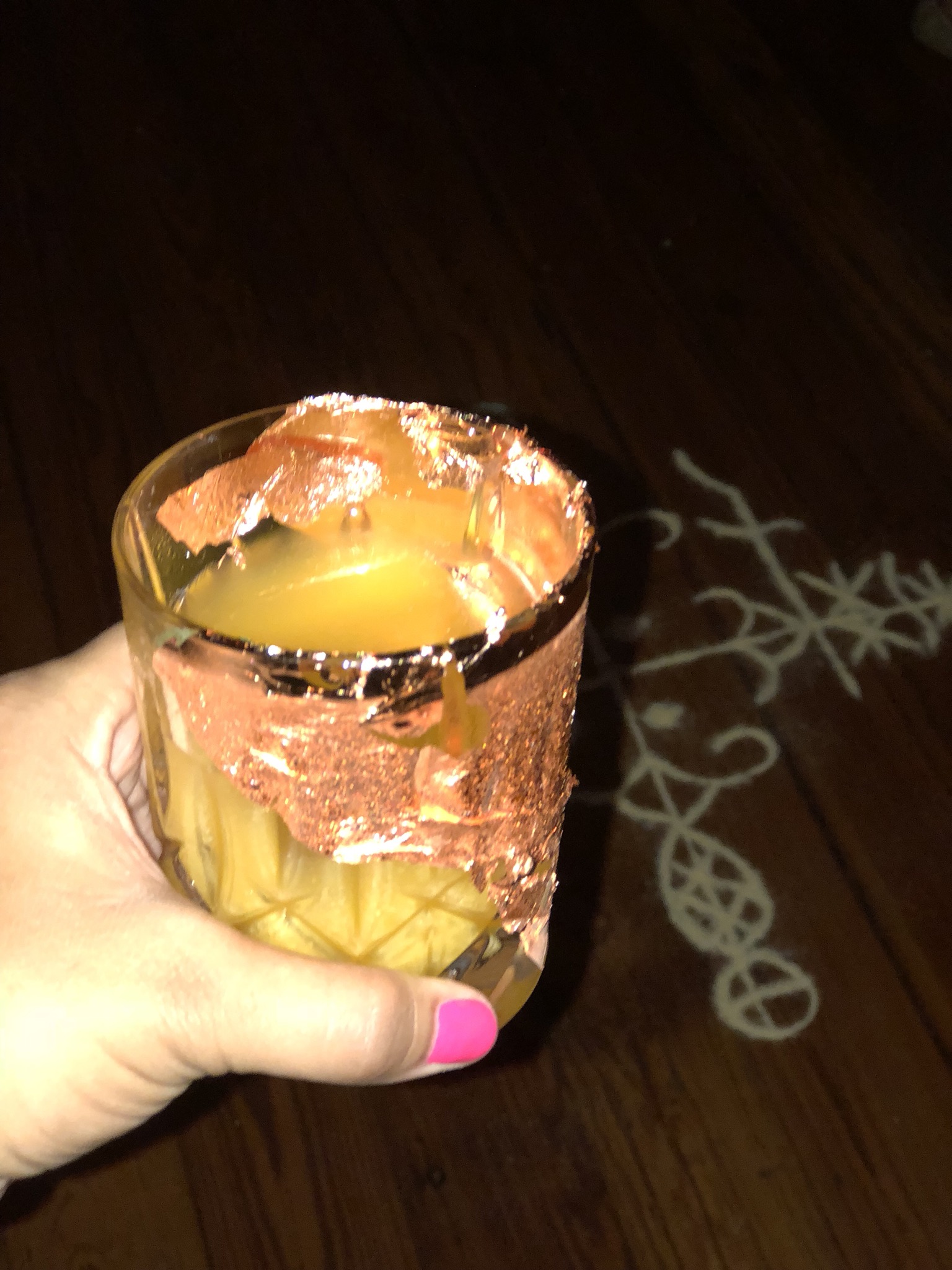 Next we conjured the most famous New Orleans Voodoo queen of all, Marie Laveau.  Marie Laveau needs no introduction, but I was excited to meet her in spirit.  Marie doesn't have an established cornmeal drawing, but our Voodoo priestess designed one for her based on her initials.  The Marie Laveau course was my favorite, a fantastic creole gumbo and chicken wing paired with a Black Cat's Tooth cocktail (Flor de Cana 7 year, Lustau Px sherry, sweet vermouth, Bittermans elemekule bitters, saline solution, Montelobos mezcal rinse, and lime zest)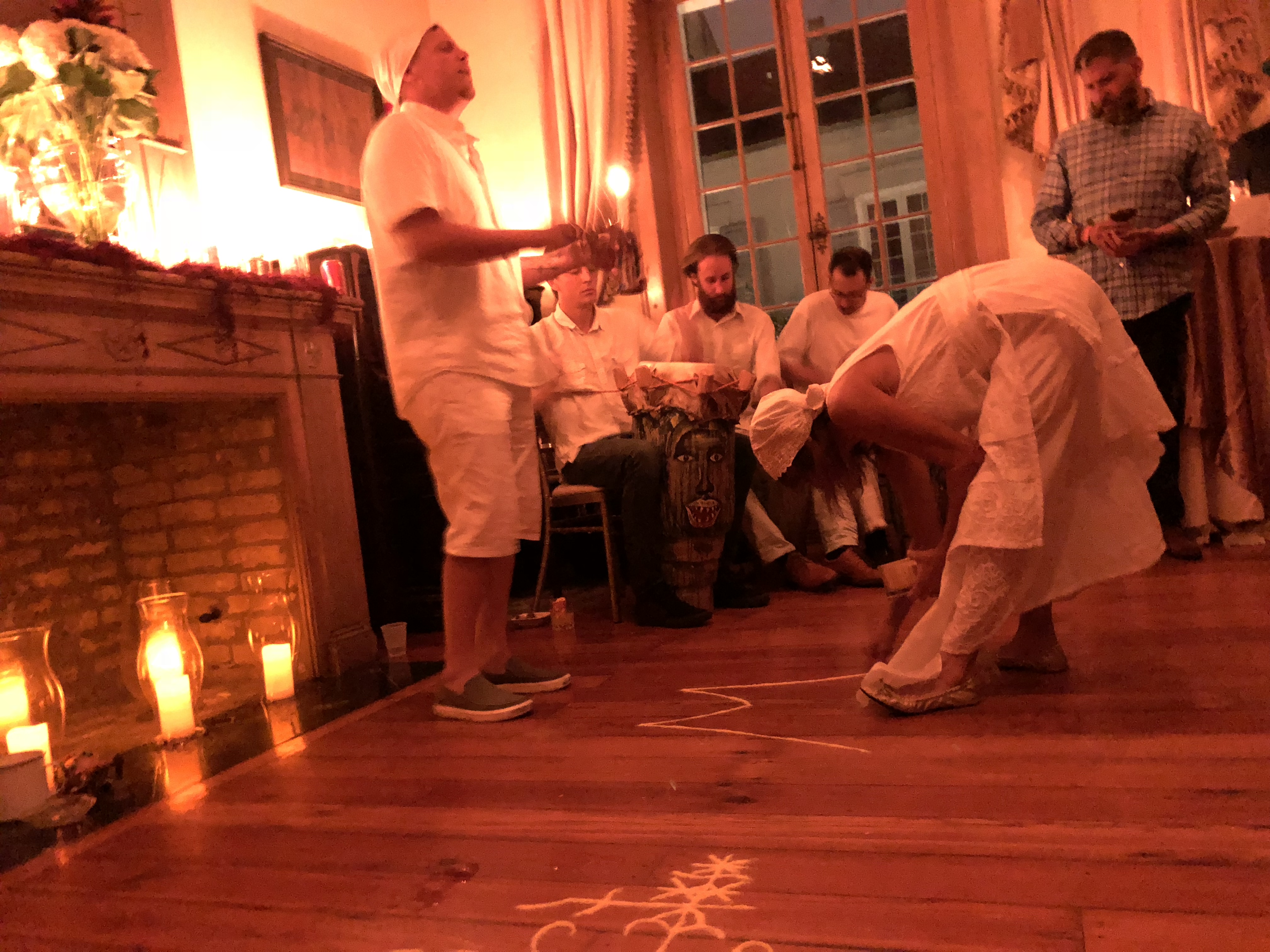 The third and final course and spirit was Freda, a feminine spirit who loves pink, men, dancing, and sweets, but has a jealous tendency towards other women (she's not very woke).  In honor of Freda's love of sweets, she was given the dessert course; lemon petit four glace with the Lay Lady Lay… cocktail (Flor de Cana 12 year, cactus puree, lemon juice, whole milk, sugar, and hibiscus tea).
The 3 cornmeal drawings were left on the floor for patrons to examine and they are certainly impressive.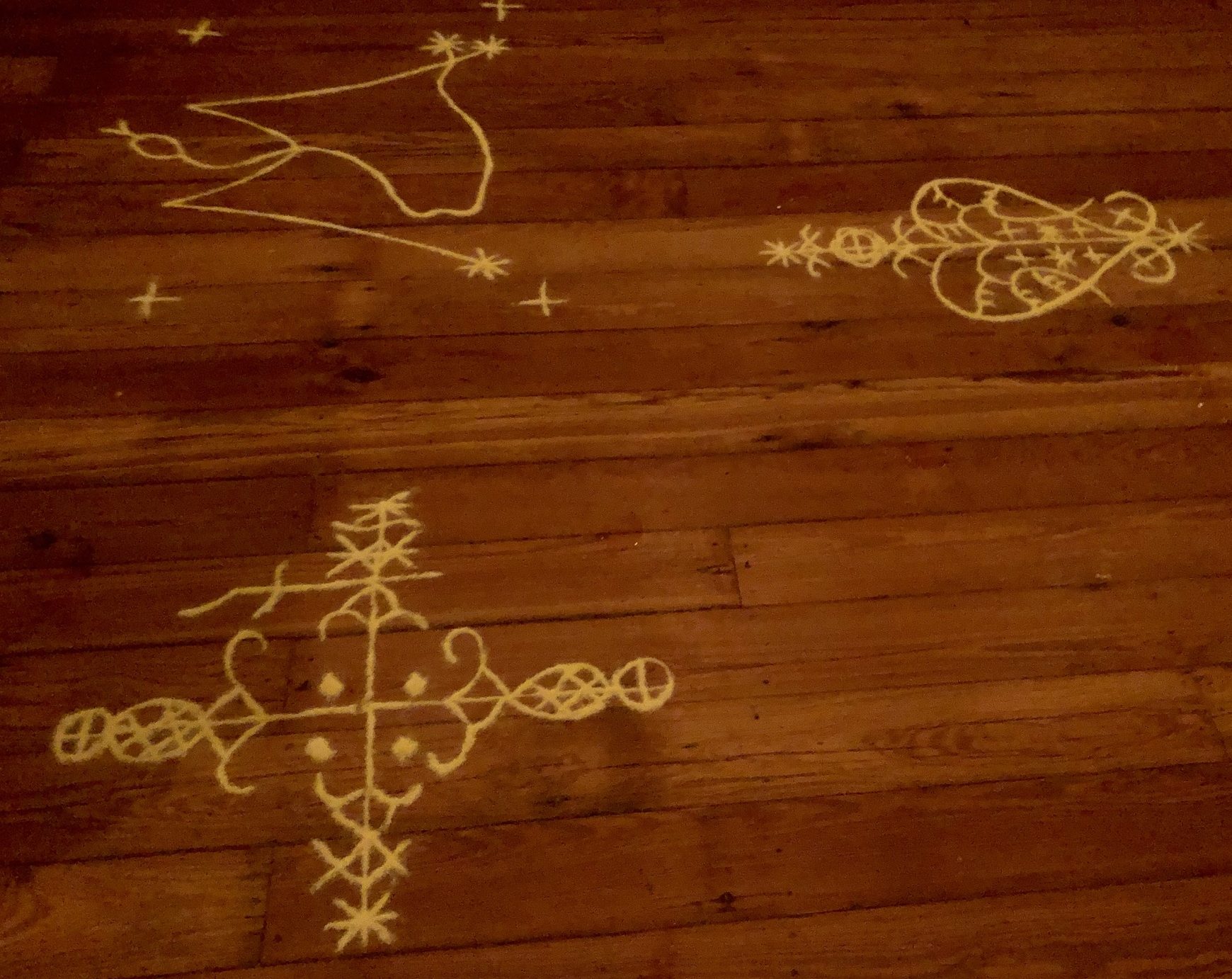 Now, the question on everyone's mind (or at least mine before I went), how much weird shit happened?  Answer; kind of none.  Full disclosure, I didn't really know a lot about Voodoo as a religion and was hoping for some disembodied voices and ghosty noises, knocks in on the floor, etc.  That didn't happen.  We were told to focus on the energy shift in the room, which I didn't totally get, but it was pretty crowded in there already and I had been drinking all day.  Still, the Voodoo rituals were fascinating.
I did go home with a Voodoo doll handmade by Priestess Sallie Ann, inspired by our friend Freda and now my refrigerator is making weird noises… coincidence?  You tell me.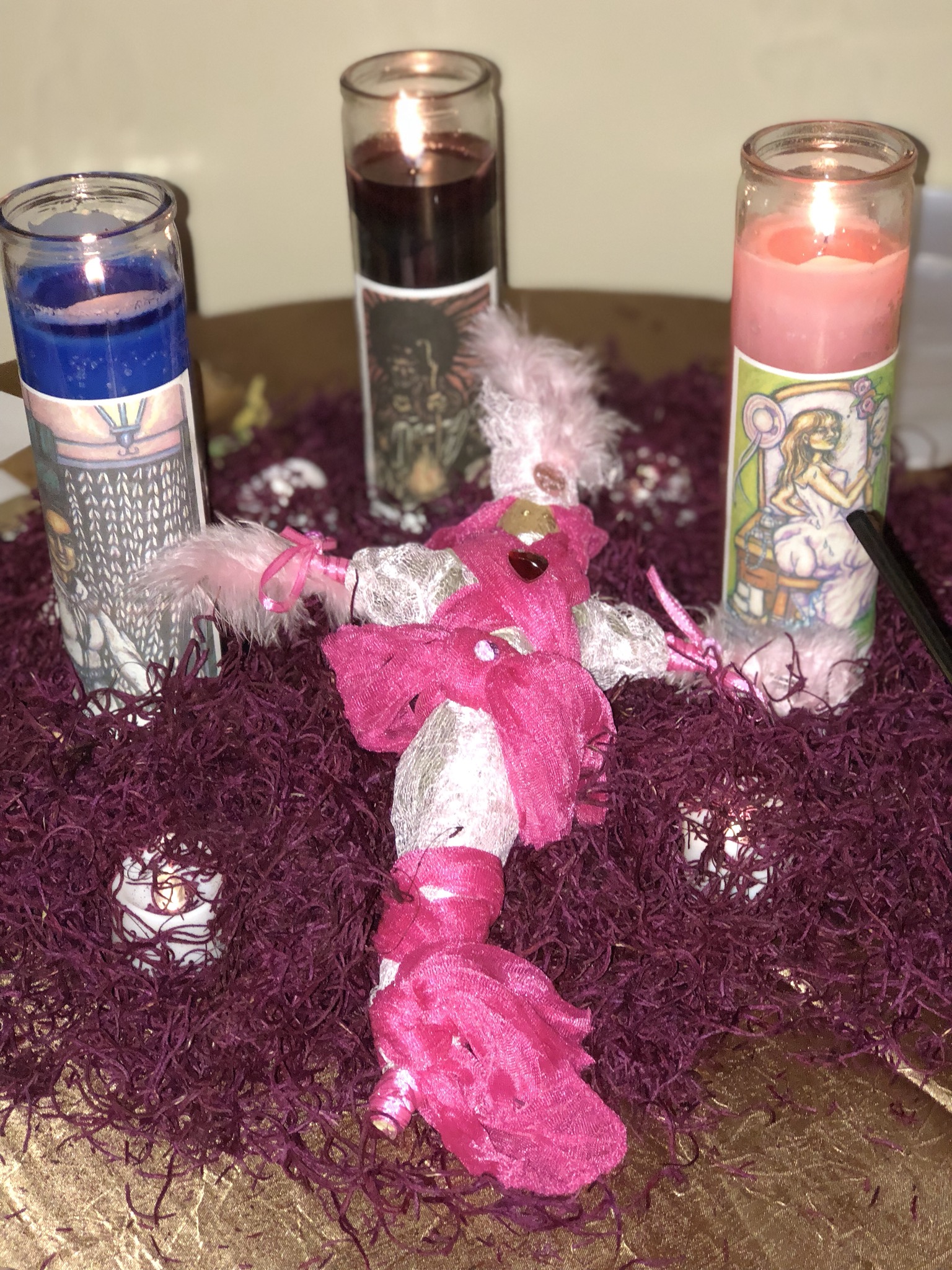 *I attended Tales of the Cocktail on a complimentary media pass, but I paid full price for this Spirited Dinner experience and all opinions are entirely my own.*