Judge away, I know it makes me the most basic of American tourists, but I couldn't go to Scotland with out visiting Loch Ness!  The unpronounceable (for me) town of Drumnadrochit in the Scottish Highlands boasts not one, but two monster hunting museums on Loch Ness!
~The Loch Ness Centre & Exhibition~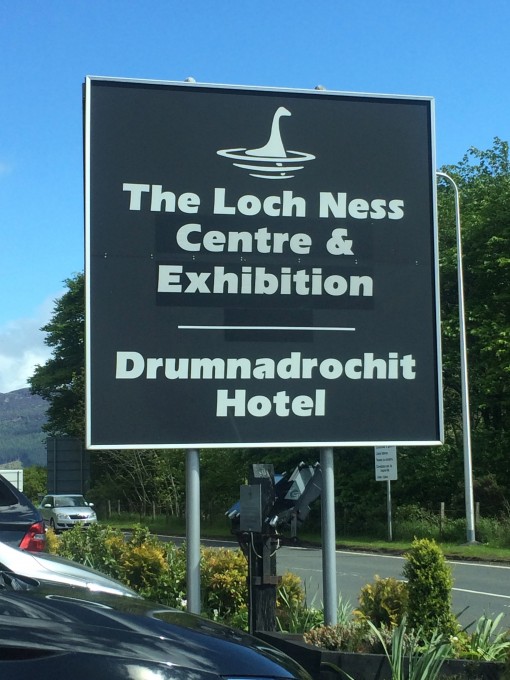 The Loch Ness Centre & Exhibition is the original and came recommended by Colin Mairs at Excursion Scotland, so that was my first stop.  In fact, it was my first stop in all of Scotland, and I almost didn't make it.  I was just thrilled that Scottish roadside assistance got me back on the road so quickly after my pretty dumb (but totally understandable) auto mishap.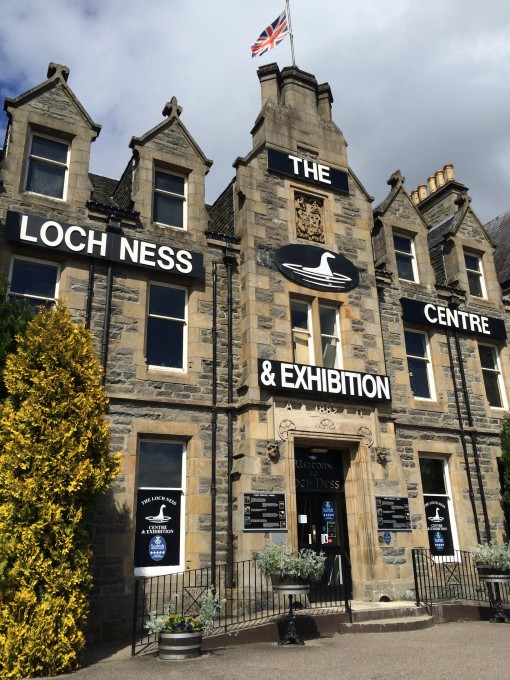 That's the stuff dreams are made of.  I can think of no better way to kick off a trip to Scotland.  The Loch Ness Centre  takes visitors through several themed areas focusing on the natural history of the loch as well as it's most famous potential resident and presents a wealth of evidence along side thousands of eye witness accounts and photographs.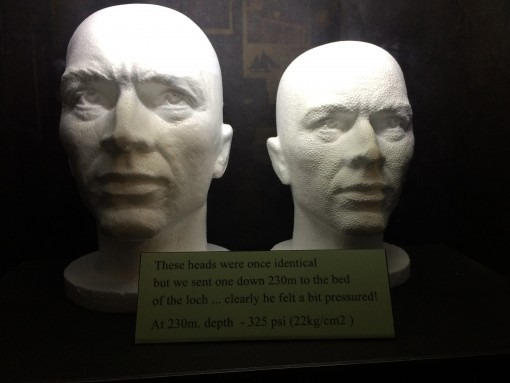 While the scientific evidence is interesting, it does leave the visitor feeling rather skeptical as to the existence of a monster at all, which is not what I want from my visit to Loch Ness. Of course, it's impossible to say one way or the other, but it definitely felt like the Loch Ness Centre & Exhibition debunked much of the Loch Ness monster lore.
It's not all bad though, they do sell this amazing whisky monster.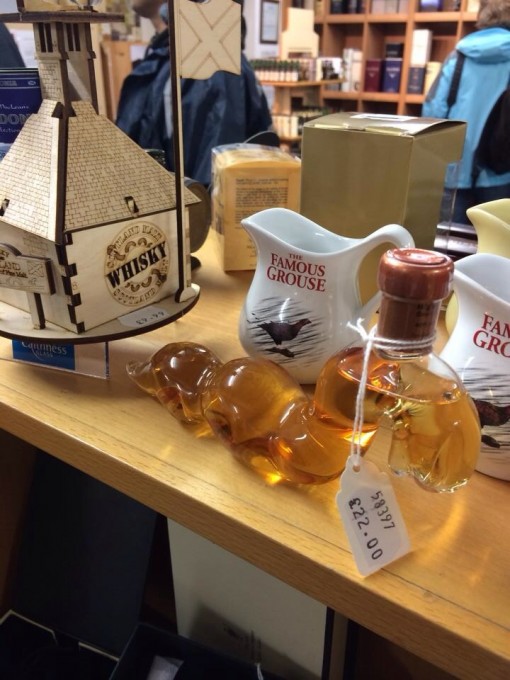 I'm not going to say I want to remain ignorant, but I do really really want there to be a monster in that loch!
This gap in the market is where Nessieland steps in!
~Nessieland~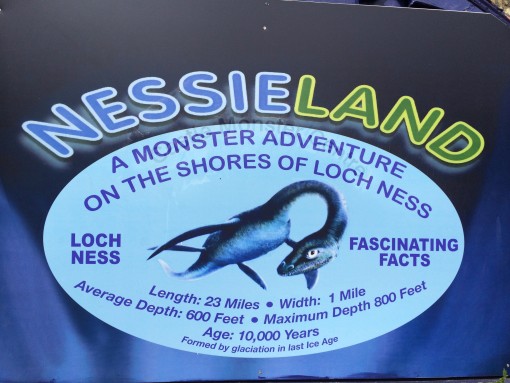 I hate to say, I almost missed out on Nessieland due to limited time and the assumption that it was just a poor man's version of the Loch Ness Centre & Exhibition.  I was so wrong, it's more like the Loch Ness Centre's wacky little brother.  As the name suggest, Nessieland takes a lighter approach to the Loch Ness lore.  Just one glance at Nessieland and I knew this place was more my speed!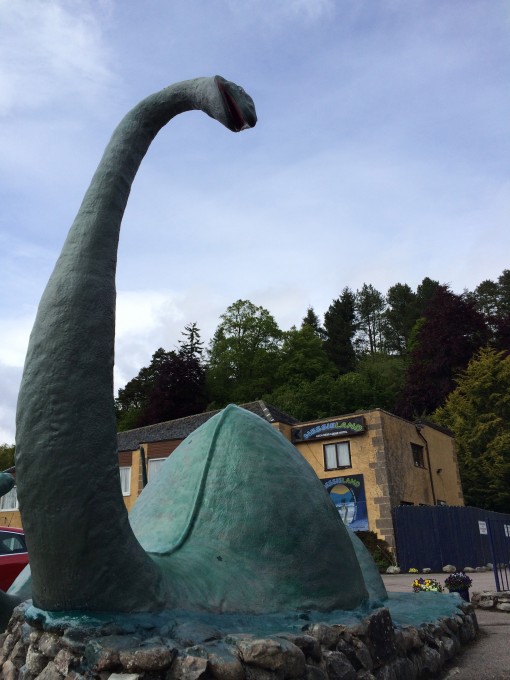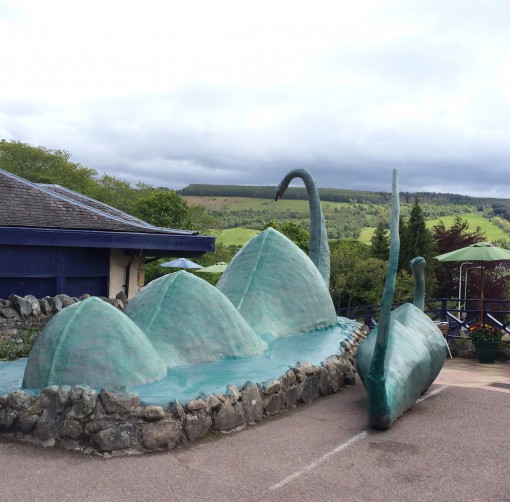 If you've followed me on some of my other adventures, you may already be familiar with my penchant for photos ops with giant fiberglass animals.  This place is heavenly.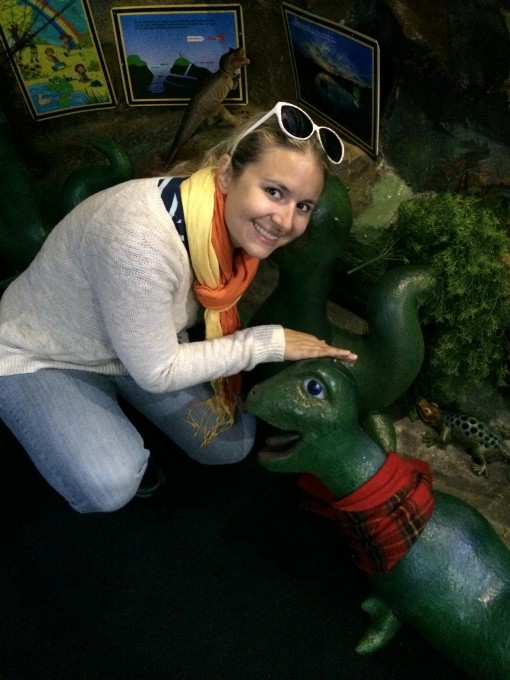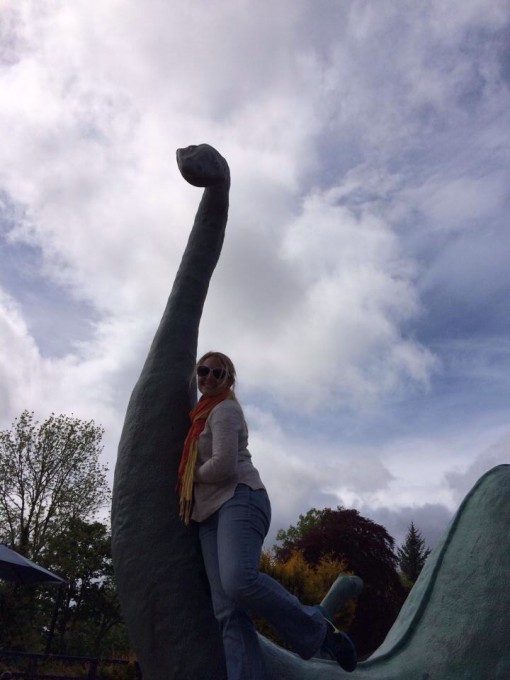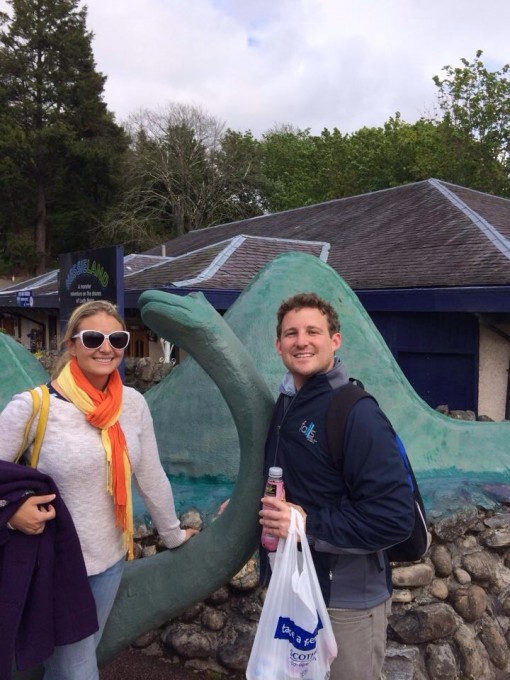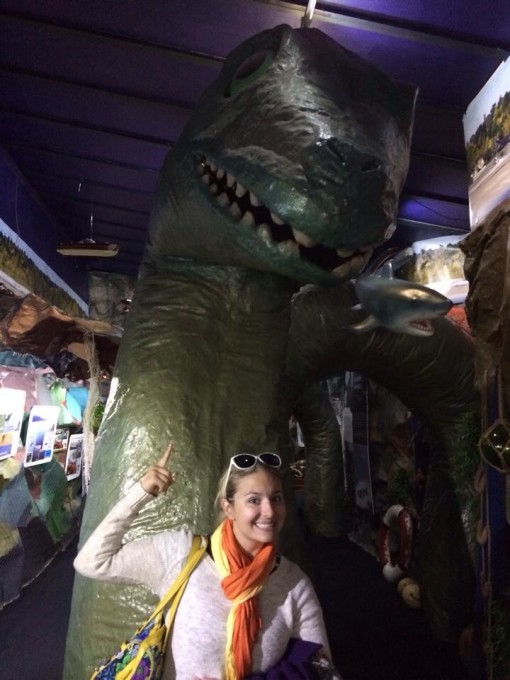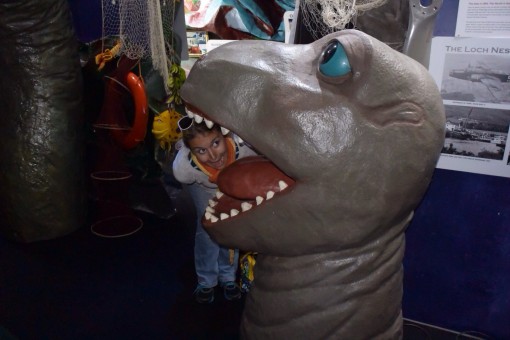 This is the kind of monster sensationalism I flew to Scotland for!  Nessieland takes you through simulated underwater caves much like where Nessie herself lives.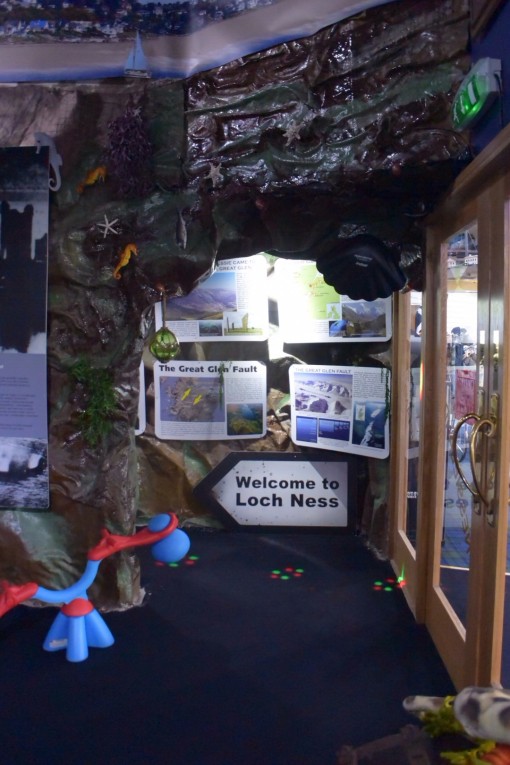 In addition to the fiberglass Loch Ness monsters, there are plenty of fun facts, and not-so-facts to be seen everywhere!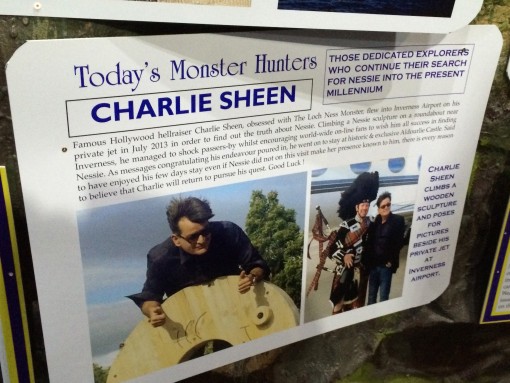 Apparently I have more in common with Charlie Sheen than I thought, he digs the Loch Ness Monster too!
Ever wonder how baby Loch Ness Monsters are made?  They cover that!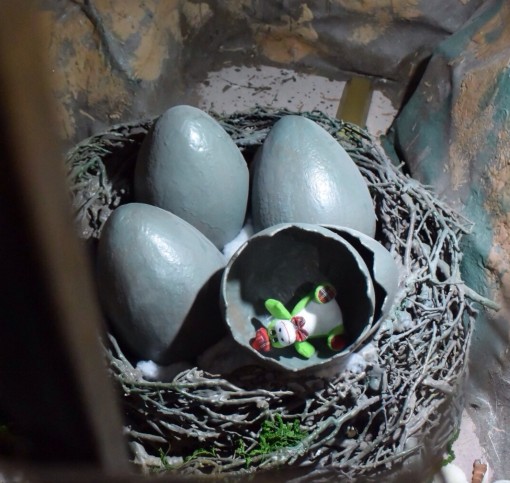 Of course it's not all fun and games, this is a museum after all.  Nessieland explores many of the theories surrounding the Loch Ness Monster, in a less skeptical (and arguably less scientific) manner.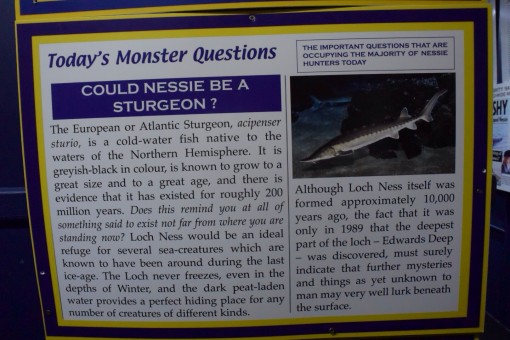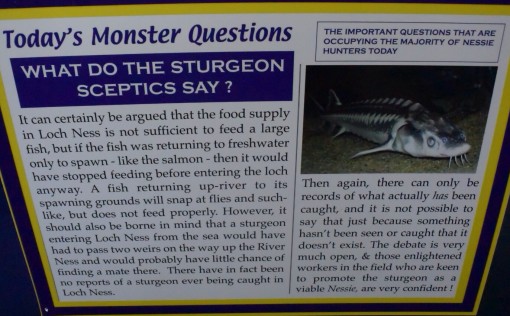 "It is not possible to say that just because something hasn't been seen or caught that it doesn't exist."
That's the attitude I want in a Loch Ness Monster museum!
And what museum would be complete without an educational film?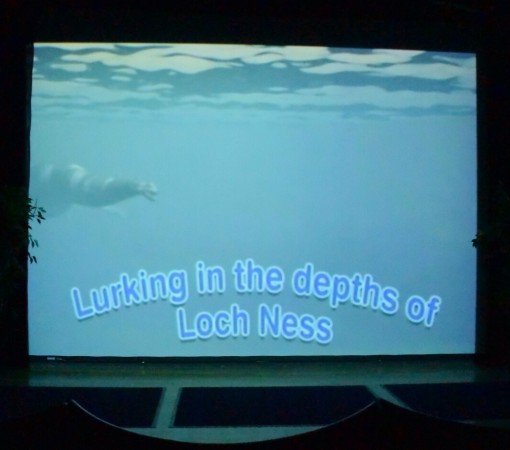 I almost left without seeing this gem, as it's pretty well hidden within the museum, but the nice man in the gift shop directed my attention to this painting of St. Columba and the Loch Ness Monster.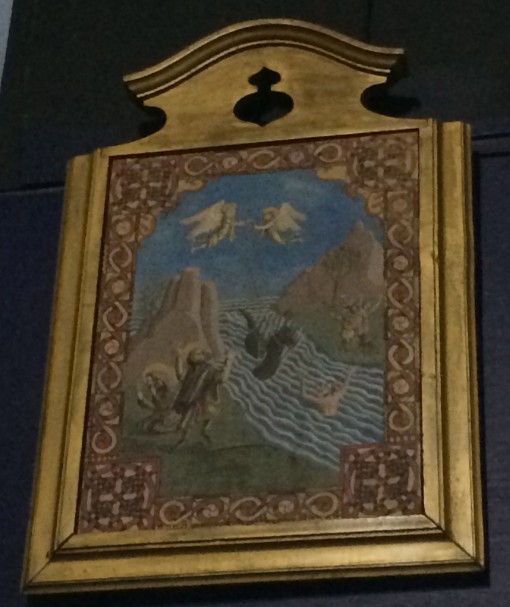 This is apparently quite popular with the Russian tourist oddly enough, but is a great story.  Apparently in 565 St. Columba had a run-in with a monster in the loch.  Legend has it that St. Columba witnessed the Pict people burying a man that had been bitten by a creature in the water.  He then sent his buddy, Lugne, into the water to retrieve a boat.  Apparently saints aren't always good friends, but Lugne went into the water anyway.  The monster came after him and and St. Columba evoked the name of God and told the monster not to eat his friend, which I guess redeems him in the most minor way possible.  Most claim that this is the earliest written account of the Loch Ness Monster.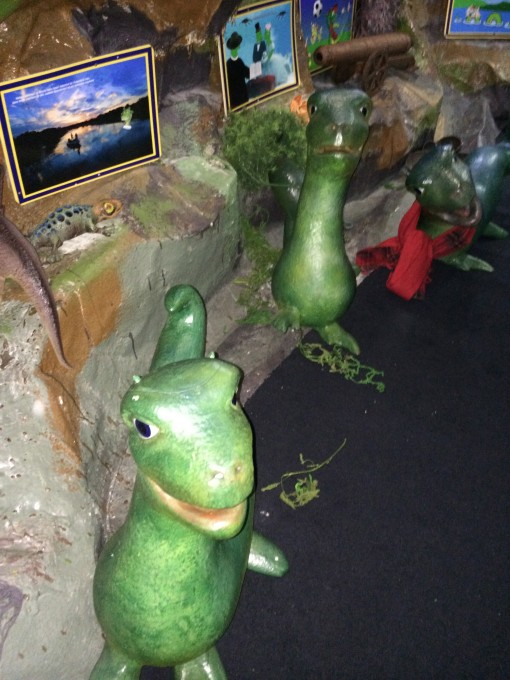 I have to side with Nessieland if you're only going to see one Loch Ness attraction, but I think the two work well in conjunction with each other if there is time.  As nice as it is to be presented with only what I want to hear at Nessieland, the healthy dose of scientific skepticism at the Loch Ness Centre & Exhibition is probably a necessary foil.
My opinions on the existence of the Loch Ness Monster have not changed.  There is definitely something in there, it's probably not the plesiosaur I want it to be, but as long as it's not a giant eel I'll be happy.  I just find it hard to believe that there would be that many eye witness accounts, well before media (social or otherwise), without any sort of justification.  Whatever your opinion, it's always fun to speculate.
The best part of course was being able to look through the thousands of photos of the alleged monster, caused by wind, giant eels, boat wakes, and the like and even take one of my own that definitely could have passed before high resolution cameras.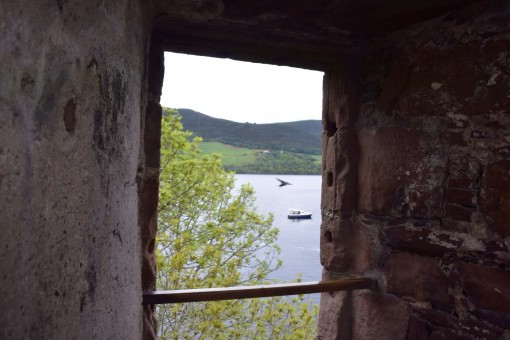 It's definitely a passing bird, but I like to think that I would be a notorious kook 80 years ago.
~
~
I was helped in the planning of this trip by Colin Mairs of Excursion Scotland.  As well as guided tours in 4 languages, Excursion Scotland offers a travel consulting service to help you plan your perfect self-guided tour of Scotland.  Learn more at www.ExcursionScotland.com and on Facebook at www.facebook.com/ExcursionScotland .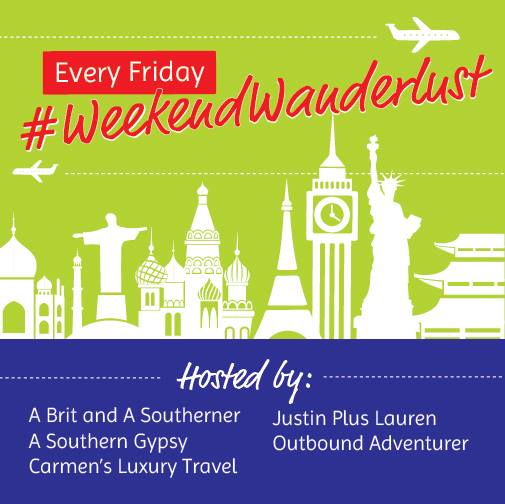 This post is part of the weekly blog link up, #weekendwanderlust hosted by A Brit and A Southerner, A Southern Gypsy, Carmen's Luxury Travel, Justin Plus Lauren, and Outbound Adventurer.