What better way to start a day of indulgent eating and drinking that with a stop at Starbucks?  This is actually my first time at the much anticipated Starbucks addition at Epcot.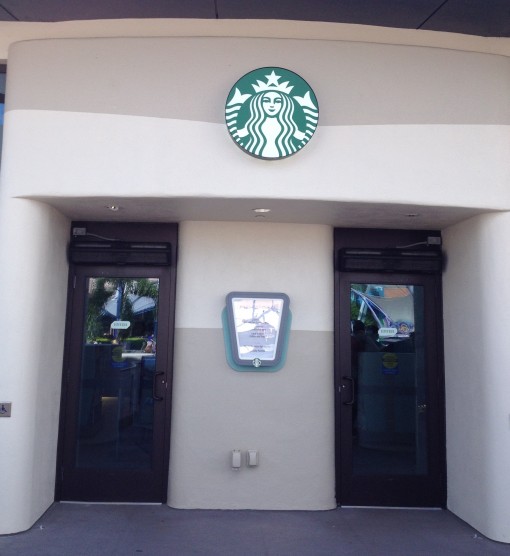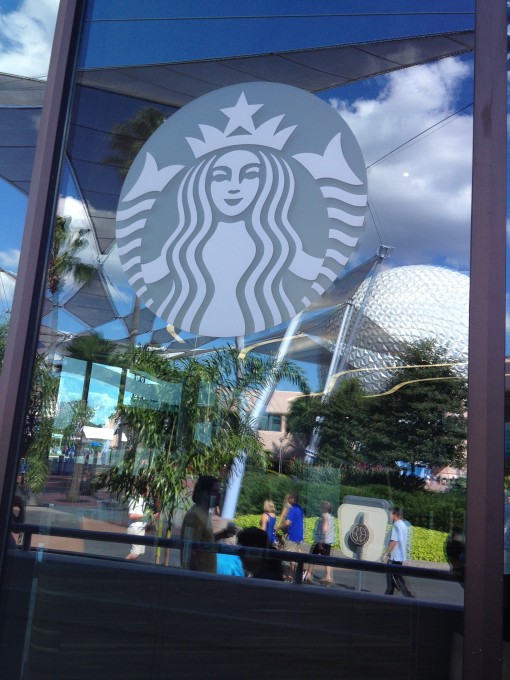 I know what you're thinking.  "Why do I need to go to Disney for Starbucks?  I'm sure they've just found a way to make already outrageously priced coffee even more expensive."  Well, you don't and they did.  However, prior to this Starbucks opening, Nescafe was really the only coffee option at the parks and that's terrible, so this is a welcome change.
The inside is much like any Starbucks anywhere, except there are Mickey Sprinkles on the cookies.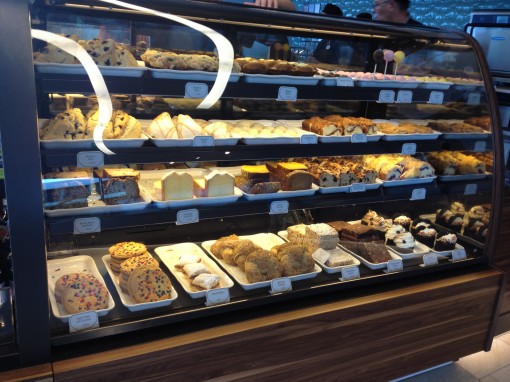 It's still probably a better idea just to stop at a regular Starbucks on the way to Epcot, but if you're staying on property this is your best option.  And where else can you get a shot like this?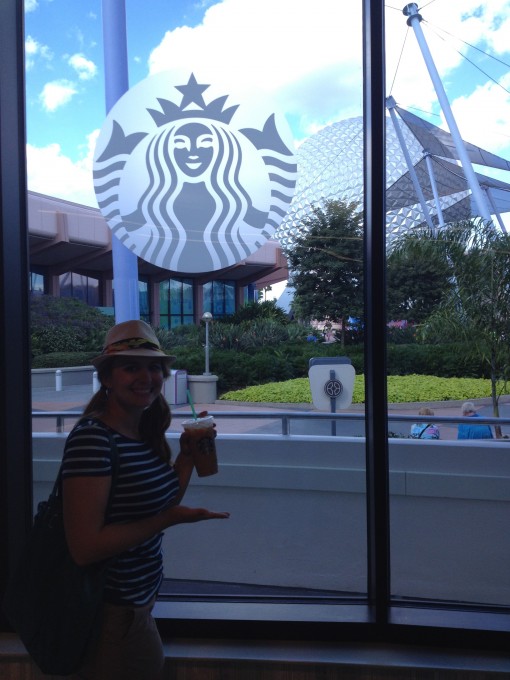 Now that I've had my coffee, it's time for breakfast scotch!
SCOTLAND!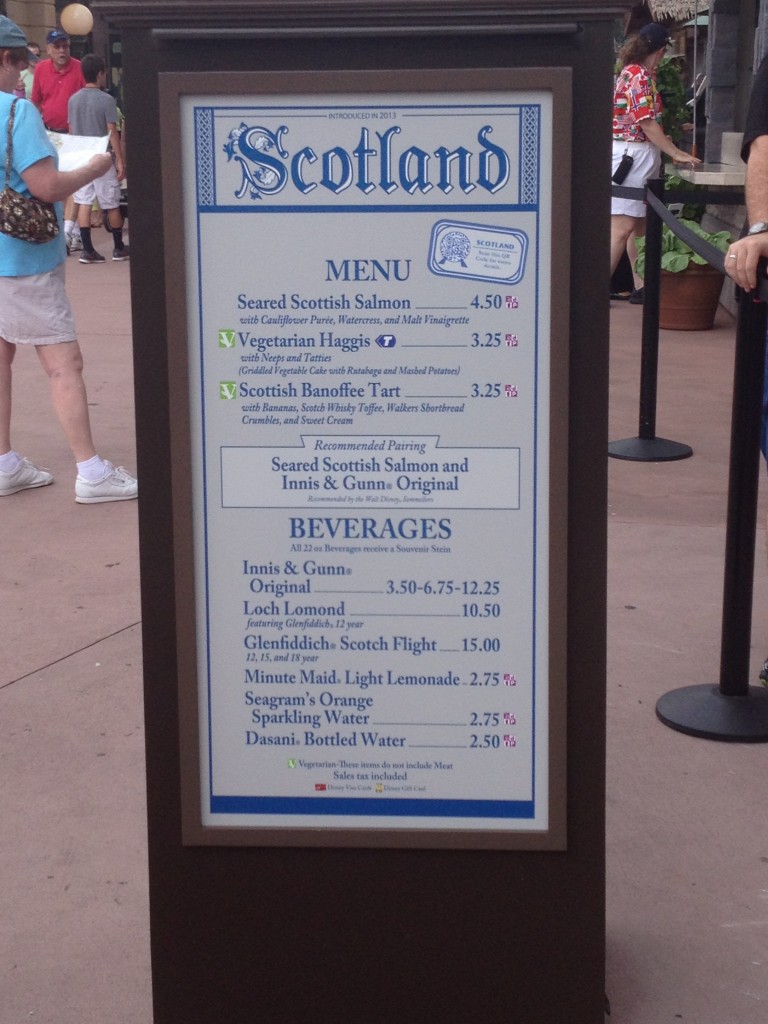 Here I finally tried the Glenfiddich Scotch Flight (turns out I still don't like scotch)!  I also tried the Vegetarian Haggis with Neeps & Tatties (Grilled Vegetable Cake with Rutabaga & Mashed Potatoes), and hit the Seared Scottish Salmon with Cauliflower Puree, Watercress & Malt Vinaigrette one more time.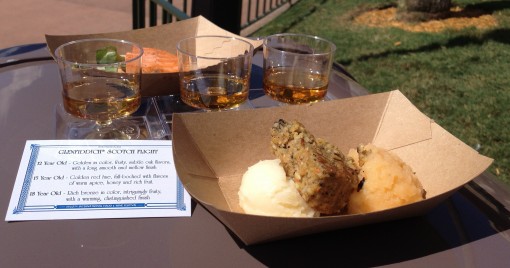 The haggis was an interesting one to try.  It doesn't at all resemble haggis, I think Disney just needed a vegetarian option that sounded Scottish.  This is more akin to a hearty veggie burger.  The taste was very good as were the accompaniments, but haggis it was not.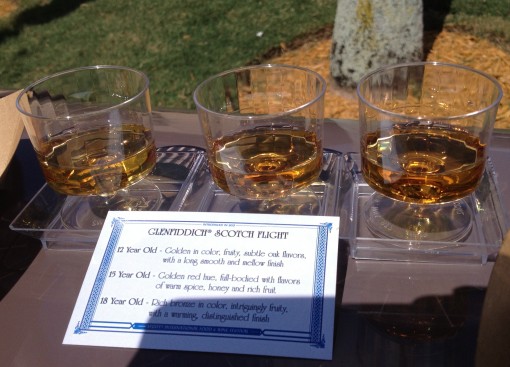 I'm not the best person to review this since, as I've stated, I'm not a huge scotch fan.  Having said that, the 15 year old was my favorite.  The 12 year old was just okay, and the 18 was very hard to drink.  As I suspected, I'm too old for the bottom rung scotch, but not quite sophisticated enough for the fancy aged scotch.  I could see drinking the middle one if it came down to it.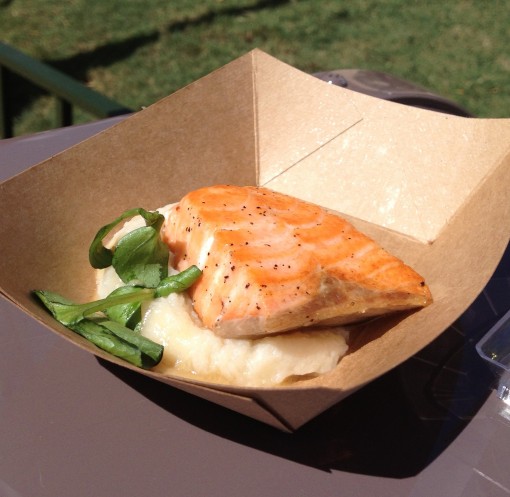 The salmon was the first thing I tried at the Food and Wine Festival this year.  I've reviewed it before at it was just as good this time.  One more try and we have a pattern!
Next Stop New Zealand!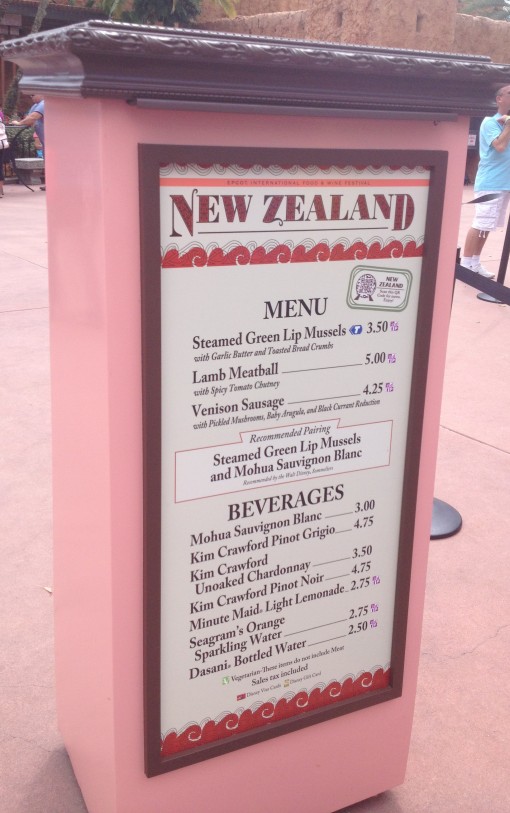 Here I tried the Steamed Green Lip Mussels with Garlic Butter & Toasted Bread Crumbs, the Venison Sausage with Pickled Mushrooms, Baby Arugula, and Black Currant Reduction, and the Mohua Sauvignon Blanc .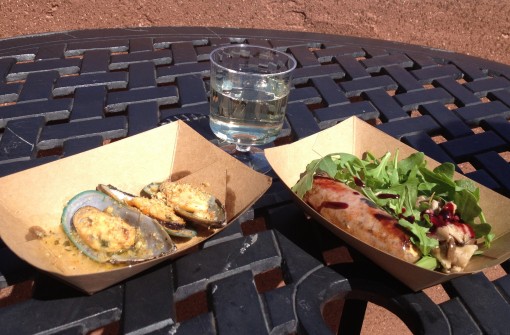 To be honest, I was hesitant to order the Venison Sausage.  It just didn't speak to me, but my cousin wanted to try it and who am I to say no?  I was so pleasantly surprised.  The sausage was not nearly as gamey as I had expected and the Black Current Reduction was fabulous.
The Mussels were what I was most excited to try since they had been a favorite item in Belgium in years past.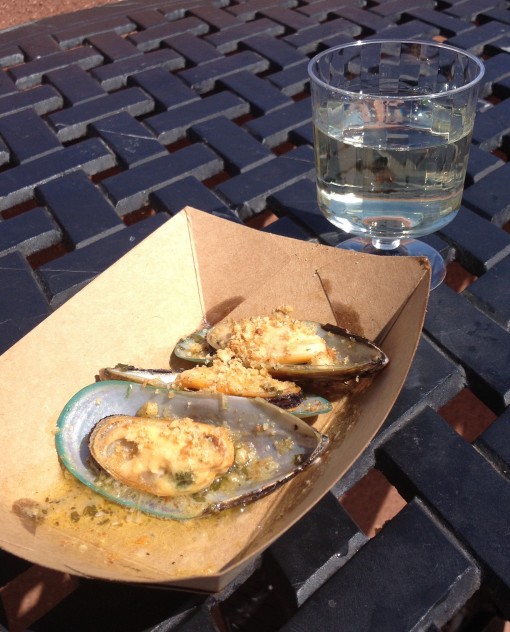 These Mussels were good, but not as good as I remember the mussels in Belgium being, and there were only 3.  It was my cousin's first time trying mussels.  I don't know how that took 19 years, but his assessment was that the flavor was good, but the texture was weird.  I did not find that to be the case, but I was eating mussels before he was born so I may just be used to it.
The real stand out at this booth was the Mohau Sauvignon Blanc.  It is without a doubt my favorite white wine of the festival so far!  It was very refreshing.  I thought it tasted like green apples, though the website's tasting notes had the following to say, so I'm probably wrong.
"TASTING NOTE: The 2012 Mohua Sauvignon Blanc exhibits lifted aromatics of lime and citrus zest, melon and lemongrass. The palate has pure intense flavours of passion fruit and white peach, ripe lemon and fresh herb."
What ever you taste in it, it was delicious.  Definitely one I will try to snag a bottle of.
Next stop Italy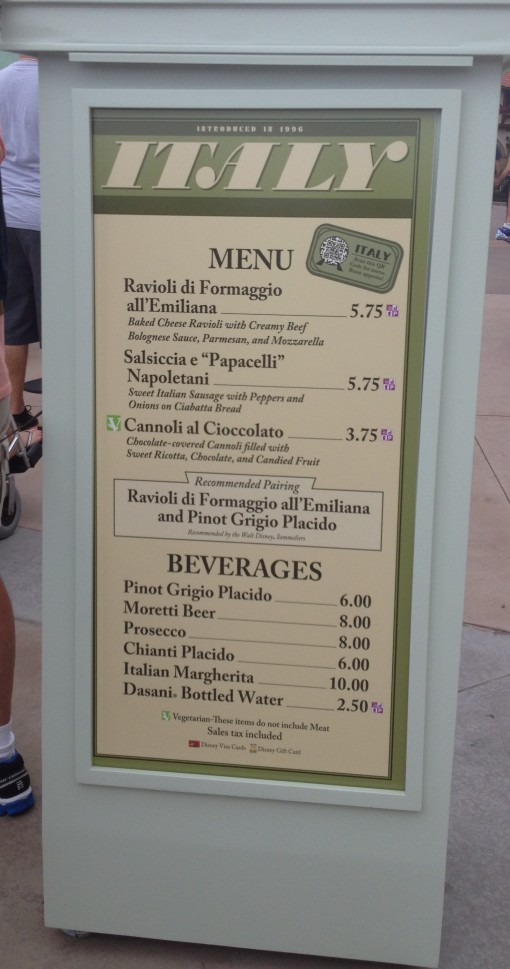 Here I tried one of each of the food offerings; the Ravioli de Formaggio all'Emiliana (baked cheese ravioli with creamy beef bolognese sauce, parmesan & mozzarella), Salsiccia e "Papacelli" Napoletani (Sweet Italian sausage with peppers & onions on ciabatta bread), and Cannoli al Cioccolata (Chocolate covered cannoli filled with sweet ricatta, chocolate, and candied fruit)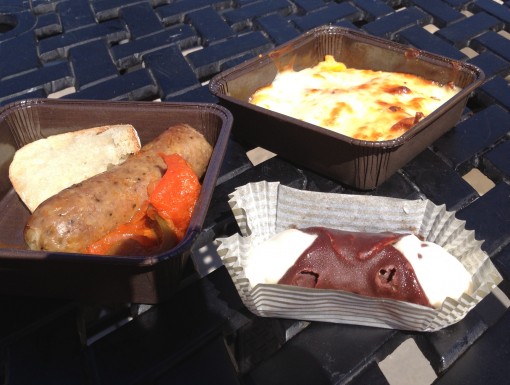 Italy is a booth I usually don't hit until last, just because it's so easy to get things like Italian sausage and ravioli anywhere and the line is usually insane.  I stopped at Italy this time at the suggestion of some friends I ran into in the park.  They said the Italian Sausage was one of there favorites so far, in flavor and value for the money.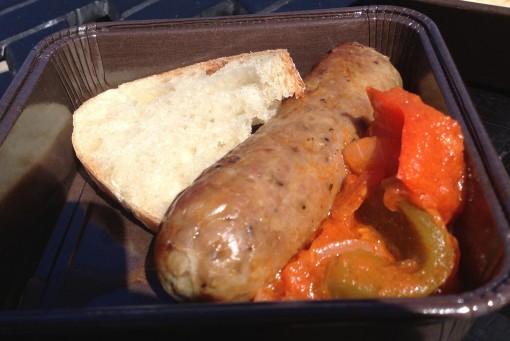 I have to agree as far as value.  It is one of the larger portions you'll find around the World Showcase.  The flavor was very good, but about what I expected.  Similar to what you could find in any Italian sausage and not worth it if there is a long line.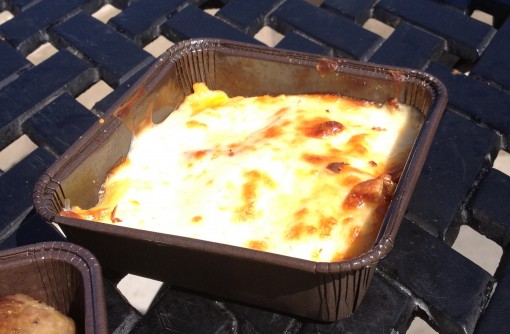 The ravioli was delicious.  I love being unimpressed with Italy, and it is definitely something you could find a million other places, but you really can never go wrong with that much melted cheese.
The cannoli, like everything else here, was just a cannoli.  As expected, and as happens every year, the Italian food is great, but not something you'd need to come to the festival for.
Next we headed to Poland (where there wasn't a standing sign and it kinda ruined my theme).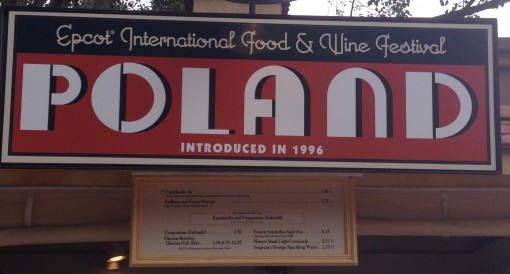 Here I tried the Zapiekanki (toasted mushroom, caramelized onion & cheese bread with house-made ketchup), Temptation Zinfandel, and Frozen Szarlotka (apple pie) featuring Zubrowka Bison Grass Vodka, and my cousin tried the Kielbasa & Potato Pierogi with Caramelized Onions & Sour Cream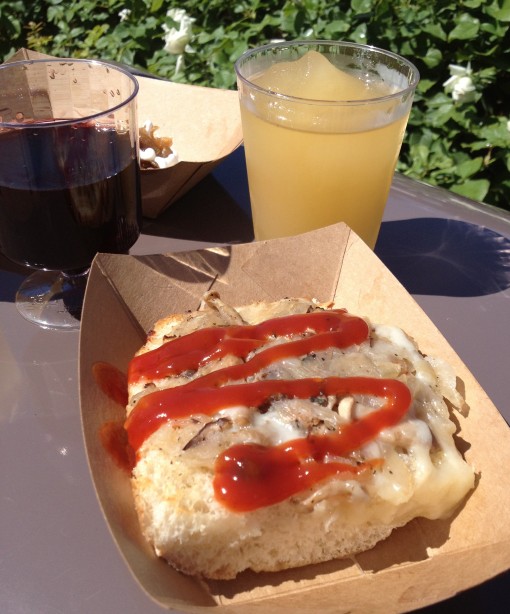 The Zapiekanki (which is Polish for french bread pizza…probably) was pretty good.  I wasn't super excited about trying it since it seemed like mostly ketchup on bread, and I've long held the belief that ketchup is a poor people condiment.  This ketchup was different though and a bit spicy.  This was not anything I would order again, but it was absolutely worth it because I got this awesome sticker for being adventurous and trying new things.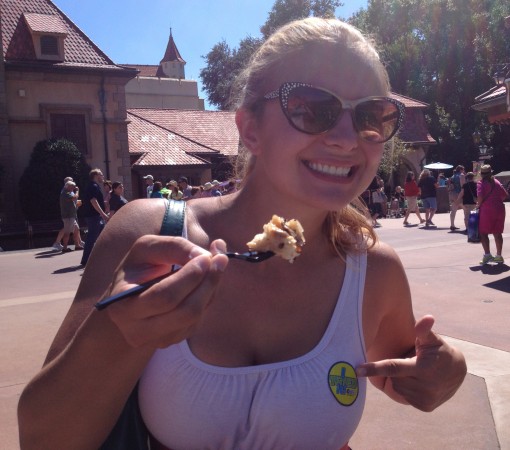 The Frozen Szarlotka was very good and did indeed taste like apple pie.  It was frozen, which was nice walking around in the heat.  It was a tasty drink and you couldn't taste the alcohol without being overly sweet.  I would order this again.  Definitely one of my favorite cocktails so far this year.
I don't have much to say about the Temptation Zin.  It was a bolder red wine that probably would have been better if it were not a million degrees out.  Also, it's not Polish.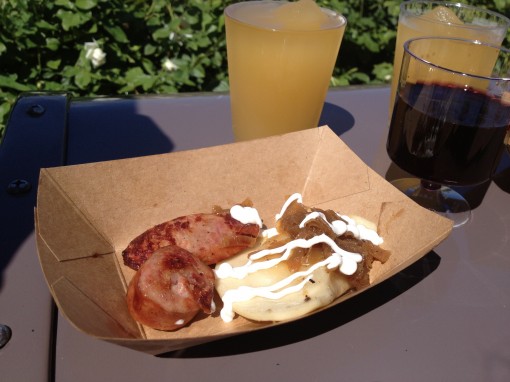 To be honest, I didn't try the kielbasa & pierogi this year.  I was getting pretty full, but it's a crowd favorite and it's the same every year.  I've had it many many years before and it never disappoints.
Next I went to the African Outpost.  This is not a stop for the festival so I won't go into too much detail, but I did try a cocktail I found out about in the festival cookbook so I'm going to count it.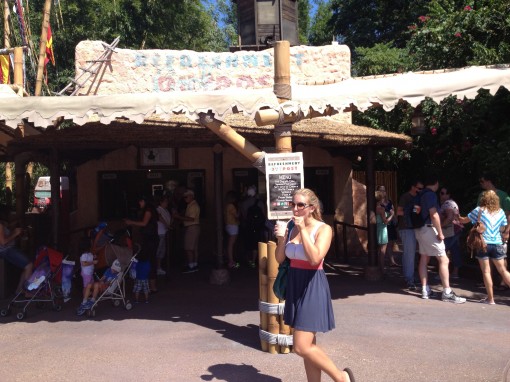 I've never been to the outpost before because they only advertise having hotdogs and frozen coke (just like real Africa).  I read about the Brown Elephant in the cookbook and figured I'd try to track it down.  Apparently it is a new offering that started at the same time as the festival, but is not an official stop.  It's a mixed drink with Amarula Cream Liquor, milk, and coke.  Sounds weird, but taste like a sweet boozy coke float.
Next we jumped around a bit and stopped at Hawai'i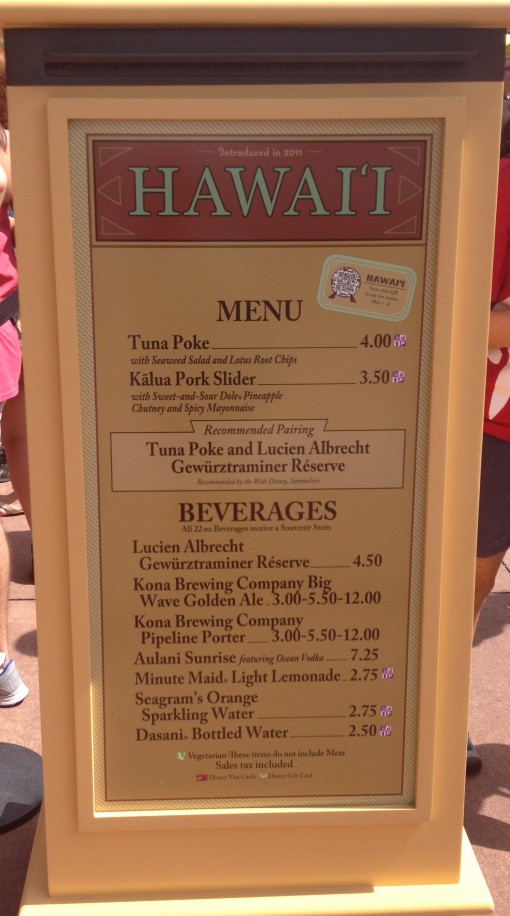 Here we sampled on of my personal favorites from the past 2 years, the Tuna Poke with Seaweed Salad and Lotus Root Chips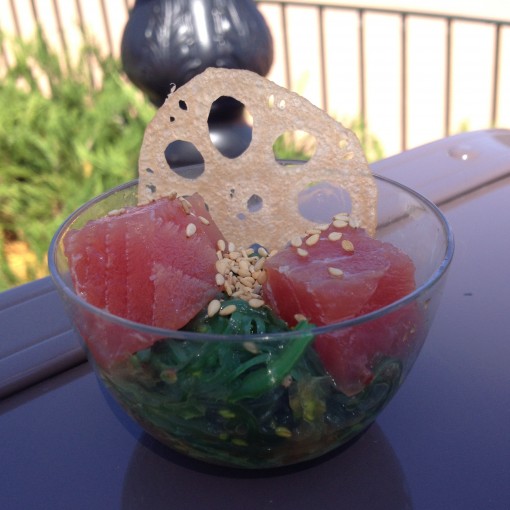 It's so good always!  You can't go wrong with raw tuna.  Actually, I guess there are a lot of ways you could go wrong with raw tuna, but this isn't one of them.  I'm pretty sure you could bite into an actual tuna and it would taste fantastic.  The seaweed salad is very good too.  Unfortunately the recipe in the cookbook calls for "fresh tuna, and your favorite seaweed salad".  Not super helpful.  Good news is, it doesn't look like the Hawai'i booth is going anywhere anytime soon since Disney is promoting their Aulani Resort.
Fittingly, our final stop of the day was Desserts & Champagne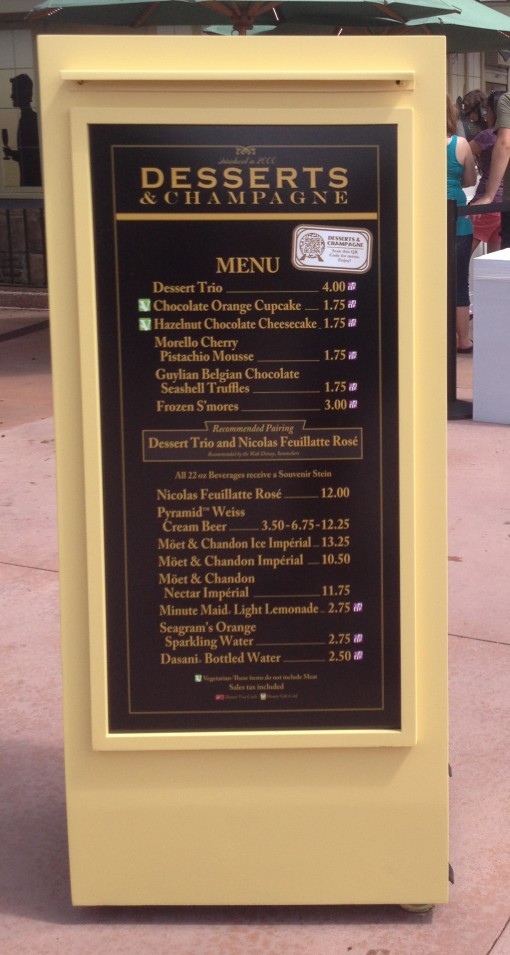 Here of course I had to try the Dessert Trio.  I also got the recommended pairing and went with the Nicolas Feuillatte Rose.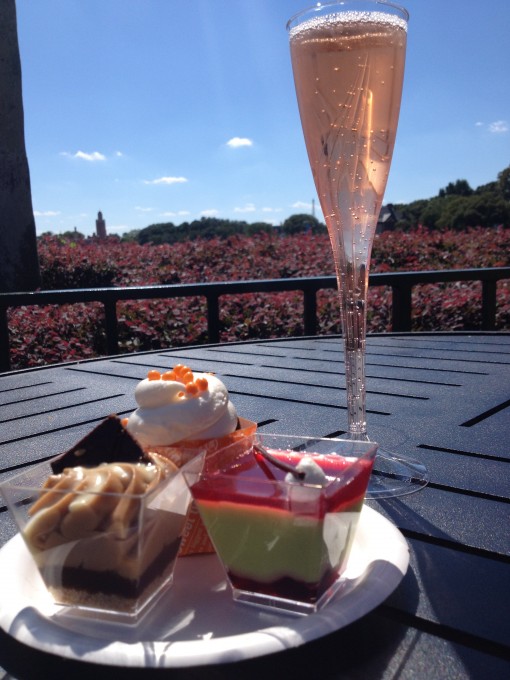 The trio consisted of a Chocolate Orange Cupcake, A Hazelnut Chocolate Cheesecake, and a Morello Cherry Pistachio Mousse.  The trio as a whole did not wow me as much as in years past, but the Cherry Pistachio Mousse was the stand out.  It was pretty great.  Were I to go back I would certainly get this one again.  And once again the Disney Sommeliers pointed me in the right direction.  The champagne complemented the desserts nicely.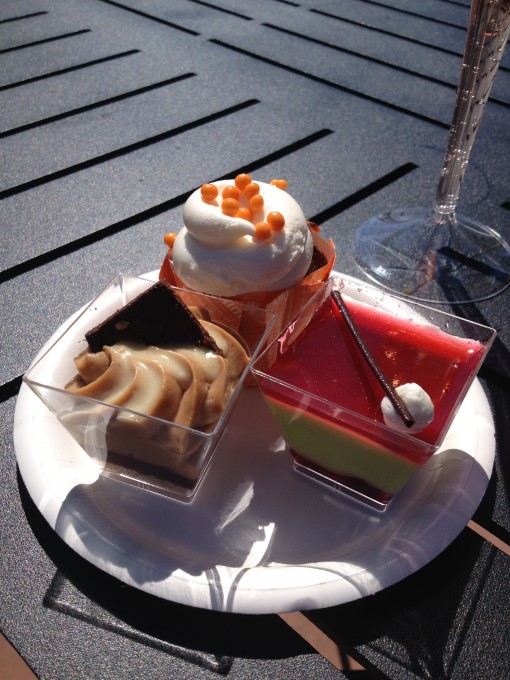 A solid finish to another day off eating and drinking around the world!  Of course, you can't take any Epcot newbie around the world without a stop at Club Cool for some free soda!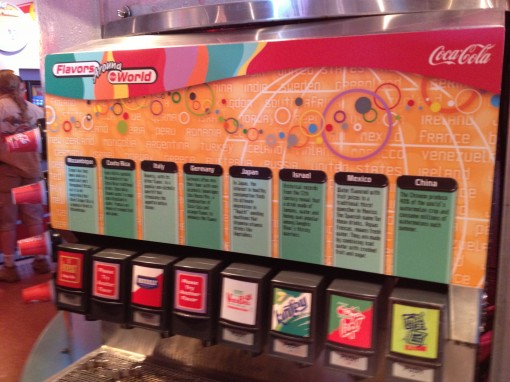 I recommended the Beverly from Italy.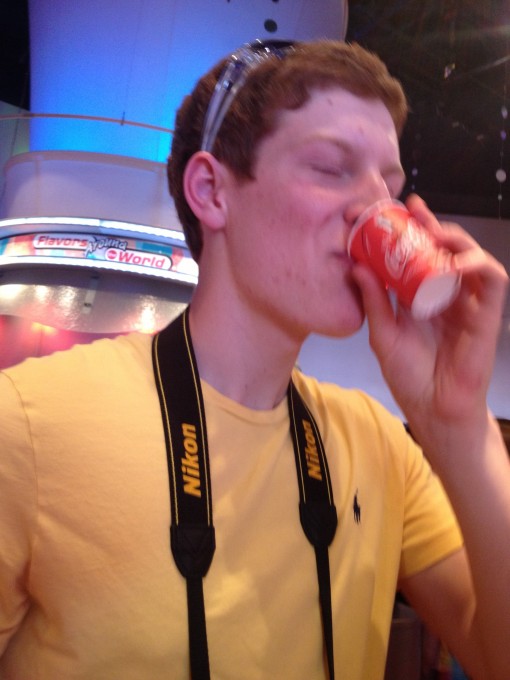 Always a good decision!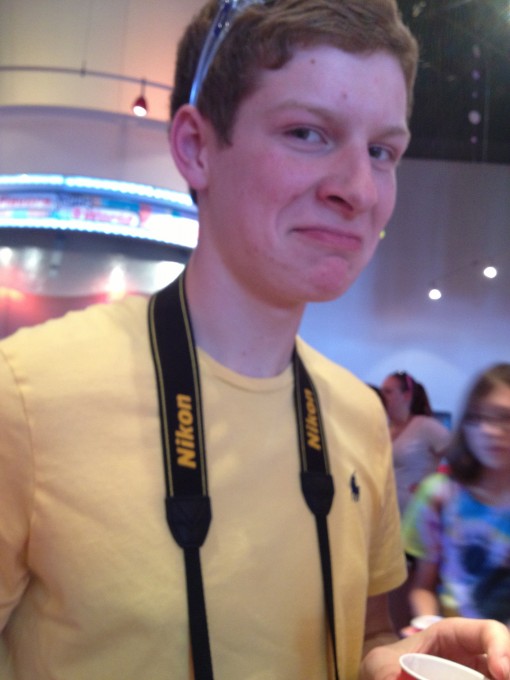 Stay tuned.  I'm getting closer.  21 countries down, only 9 more to go!