Contrary to popular belief, Disney World is not just a place for kids, this is especially evident at Epcot any time after say 4pm. Drinking around the world has long been a right of passage amongst the childless adults and irresponsible parents.  I fall into the former category, and living in Orlando for the past decade have had ample opportunity to partake in this timeless tradition.  I've made it around the world more times that I care to admit and have found a few fool proof strategies.
Epcot is comprised of two different "lands", Future World and the World Showcase (where the magic happens).  The World Showcase features 11 pavilions representing different countries, 12 if you count the "African Outpost", which I don't since it only offers the traditional African delicacies of hot dogs and Bud Light.  The World Showcase is a circle, so you can start at either end, but this route is my favorite.  Just remember to start early(ish) and make your peace with dropping some pretty serious cash.
.
~Canada~
.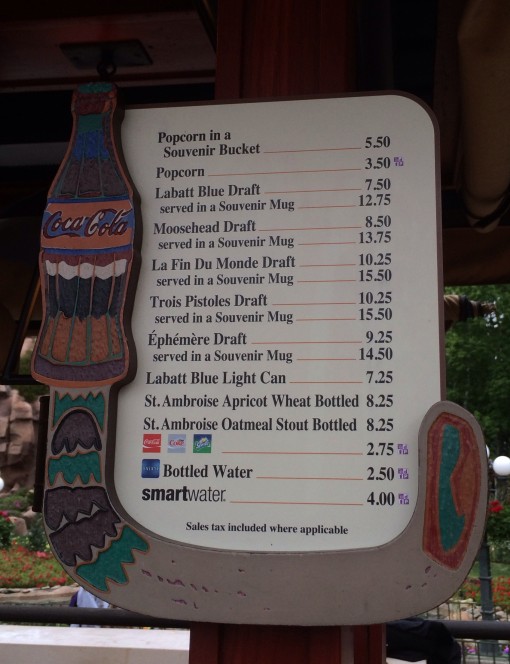 I like to start at the Canada end for two reasons.  The first being that the only thing you can reasonably get in Canada is beer, which gets harder and harder to drink the further you get around the world.  The second is that if you go the other direction then Mexico is first and I have a tendency to settle at the tequila bar.  If you eat at Le Cellier, Canada's steak house, then your options are a lot better.  Of course, the steakhouse will set you back about $40/ steak and is nearly impossible to get into, but if you do you can try the Blueberry Ice wine Martini for $12 or one of two whiskey flights for $10 (probably the biggest bang for your buck you'll get around the world).  If you're going the traditional route and just grabbing a go drink then your options are limited to beer, but Canada has started offering some unique craft beer selections.  Not to date myself, but back when I started drinking around the world (the day I turned 21) the only option was Labatt Blue, so this is an improvement.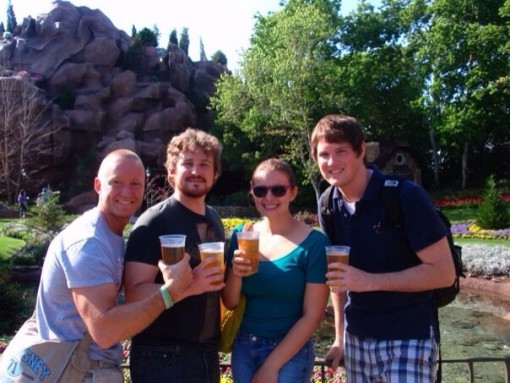 .
~United Kingdom~
.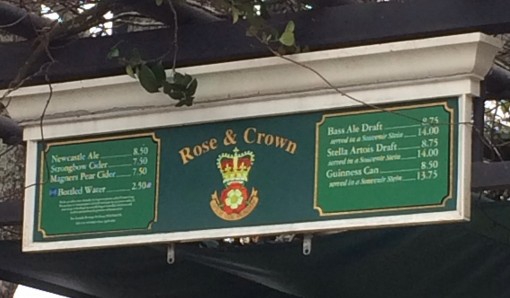 The U.K. is everyone's favorite spot because it's home to a pub where everyone can order whatever they want!  Of course, I'm a sucker for themeing so I still have to go with the British offerings.  The Rose and Crown is named because "Rose" and "Crown" are the two most used words in the names of pubs in the U.K., useless fact, but I just heard it from a friend of mine who I think usually tells the truth.  My favorite drinks at the Rose and Crown are Cider and Black, a mixture of cider and black currant juice, or the Pimm's Cup, which is really just a Pimm's and Sprite and not terribly similar to the Pimm's Cups in England, but still good. If you're looking for the cheapest passage 'round the world, you could always just get a Strongbow for $7.50.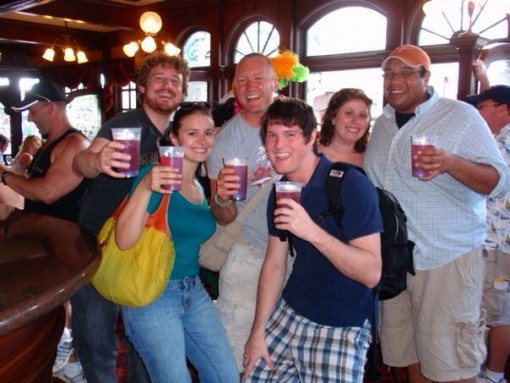 .
~France~
.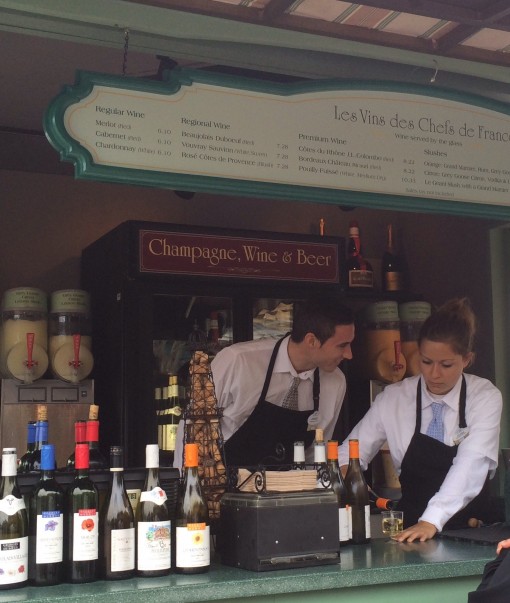 Call me a wino, but France is one of my favorite stops.  My pick for France is, unfortunately, the most expensive drink on the menu, the Kir Royal.  The Kir Royal is a mixture of champagne and creme de cassis and is delicious.  A fan favorite is also the Grey Goose slush, though it's a bit sweet for my tastes.  If you're looking to go more affordable, you can get a glass of house wine for $6.10.  If you're looking to go super affordable and have a few people to share with, they do sell a bottle of wine in their gift shop for $11.  You're not technically supposed to drink it in the park, but I've never had a problem.  You didn't hear it from me.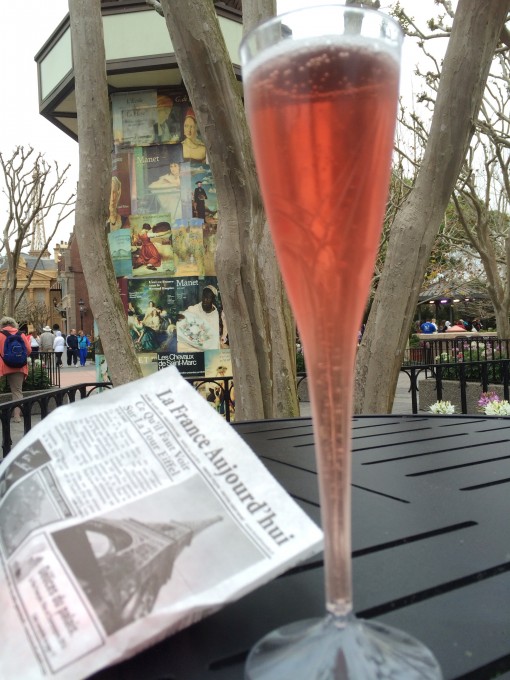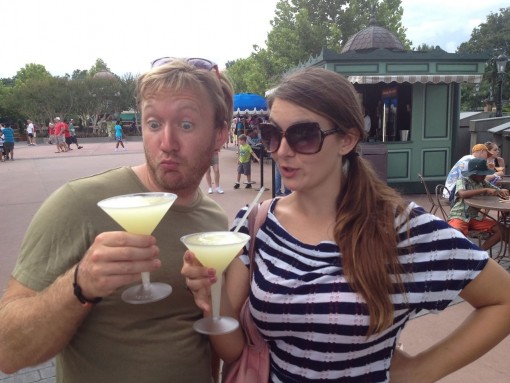 .
~Morocco~
.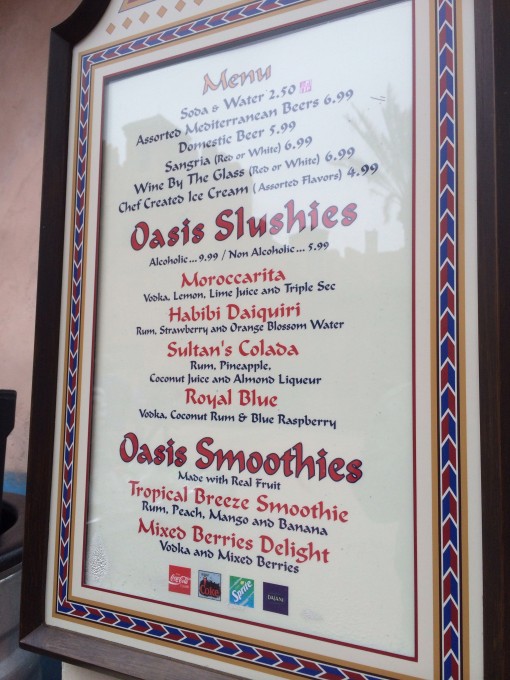 As you can see, this menu is perhaps less than accurate.  Morocco is still a worthwhile stop (plus you're kinda stuck if you want 'drinking around the world' bragging rights).  This is one of the few countries in the World Showcase where I actually think the cheapest option is also the best.  My pick for Morocco is their red wine for $6.99, specifically the Amazigh.  Another popular pick is from the bar inside the quick service restaurant, the tangerine daquiri.  It's yummy, but a bit too sweet and not the most attractive color.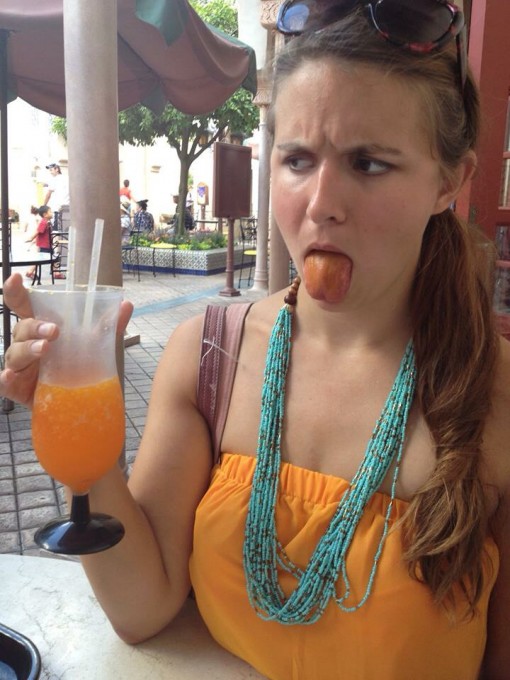 .
~Japan~
.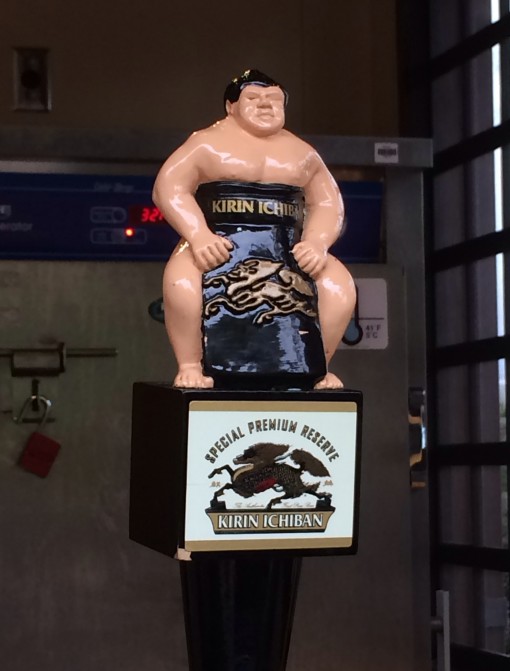 I'll admit that I'm never too excited about Japan.  Luckily it's in the middle of the World Showcase, so whichever direction you choose to start you'll be feeling pretty good by the time you get here.  I really really really don't like Japanese beer, but if you do then Kirin Ichiban is your best bet here.  My plan of action is usually to go into the store, where you will find a sake bar amongst a slew of Japanese candies and poorly translated souvenirs.  My favorite is the hana-awaka sparkling sake, though still not as good as sparkling wine, it will get the job done.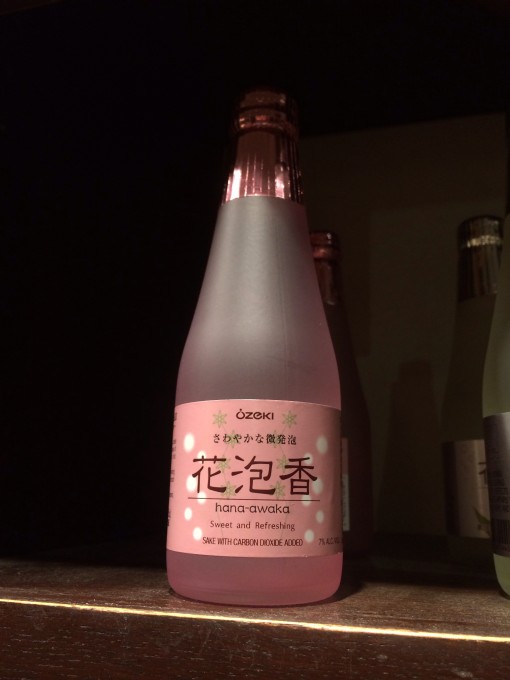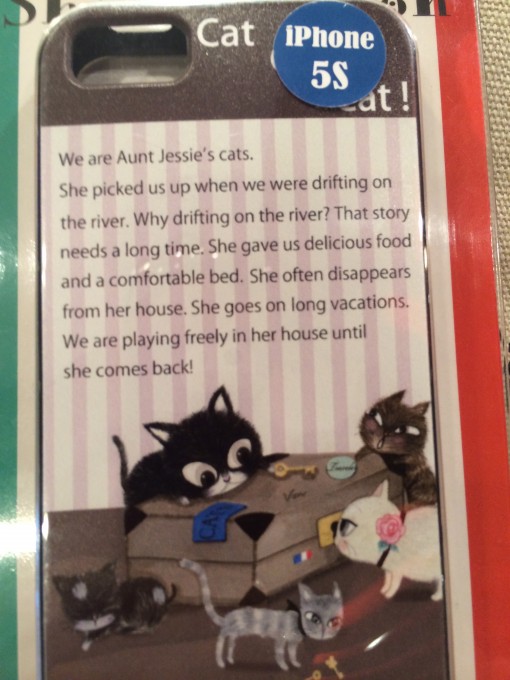 .
~America~
.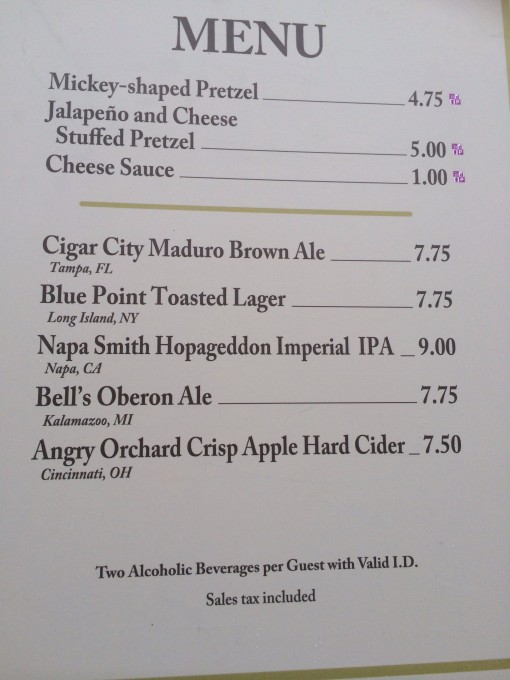 Oh America, why are you even in the World Showcase?  Everywhere else is actual America!  No one is happy about it, but you have to do it.  Again, at least it's in the middle.  Luckily though, unlike in my day (again), they now have craft beers here too.  The craft beers are the way to go, my favorite is the Bell's Oberon Ale, you can't go wrong with the jalapeno and cheese stuffed pretzel either.  USA! USA!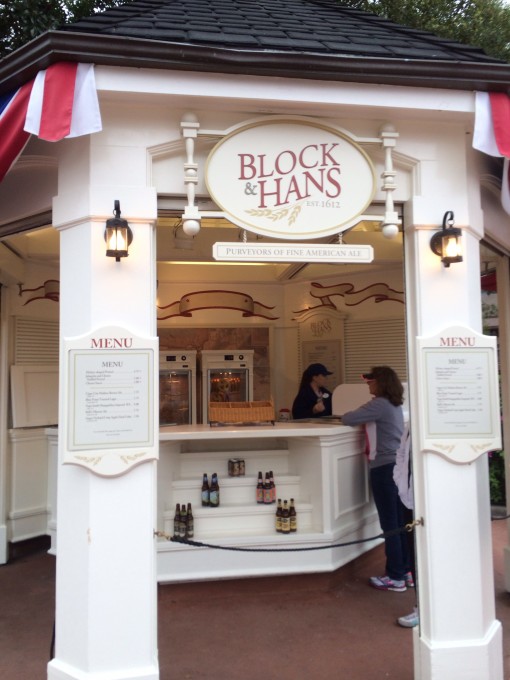 .
~Italy~
.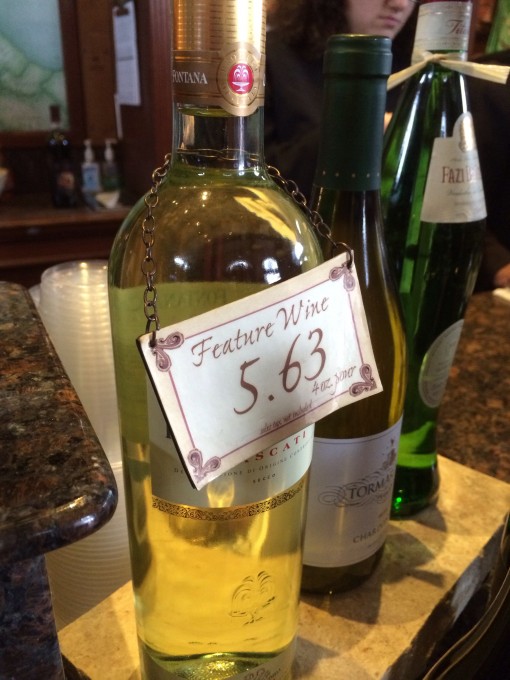 Italy offers a very affordable featured wine.  They change all the time, but it's always good.  My very favorite drink in Italy, and maybe the whole World Showcase, is in the wine bar at Tutto Gusto in the back of the pavilion.  The espresso martini is seriously great.  It's $14, but pretty worth it.  Treat yourself, you're on vacation.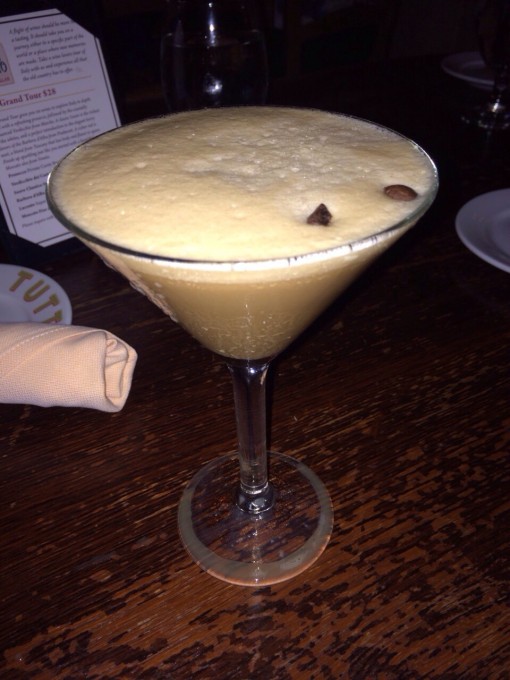 .
~Germany~
.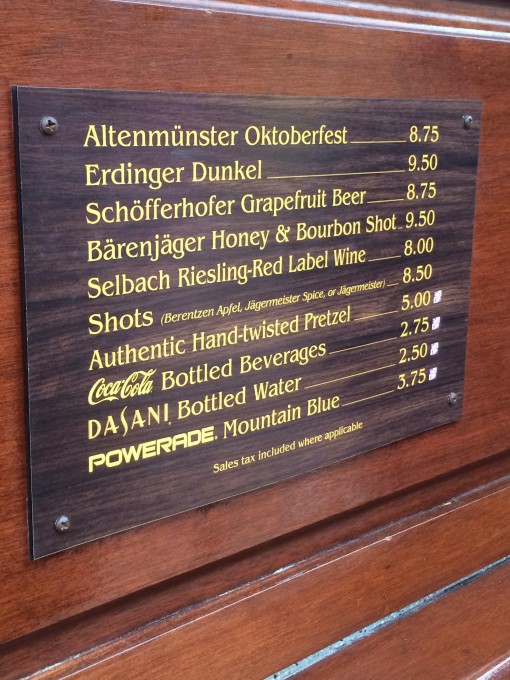 Germany is obviously known for their beer, and I think that's definitely the way to go.  The Oktoberfest is my choice, but the Schofferhofer Grapefruit is delicious too, however it only has 2.5% alcohol and that's not really my scene.  Germany also features a wine bar that serves wine flights, but this late in the game that gets dangerous.  One and done is the name of the game.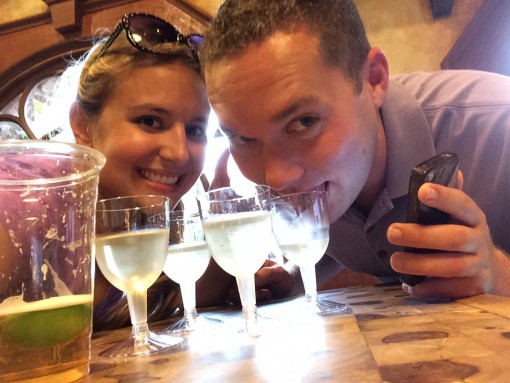 .
~China~
.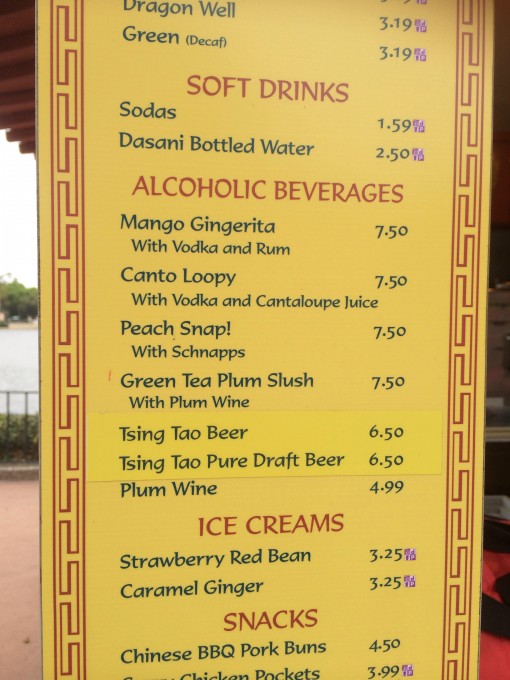 China is another one I'm never thrilled about drink-wise.  The best tasting drink is the Tipsy Ducks In Love, but it's a bit heavy for your 9th drink of the day.   Everything else is either super sweet (plum wine) or a mediocre beer, (Tsing Tao is just not good!) but go ahead and order yourself some curry chicken pockets.  You're welcome in advance.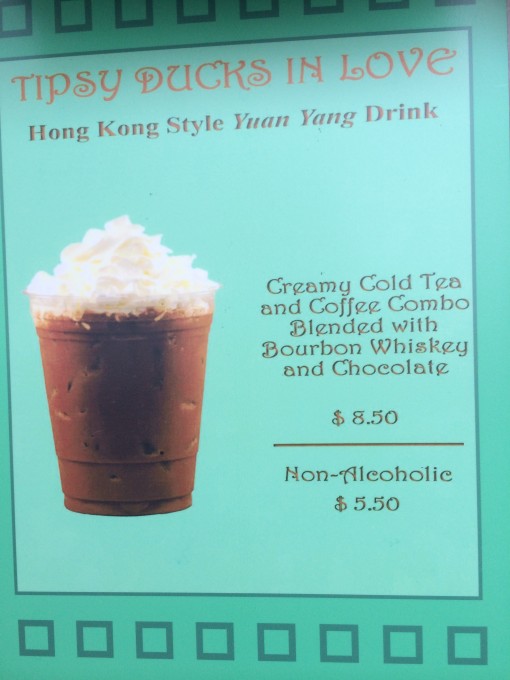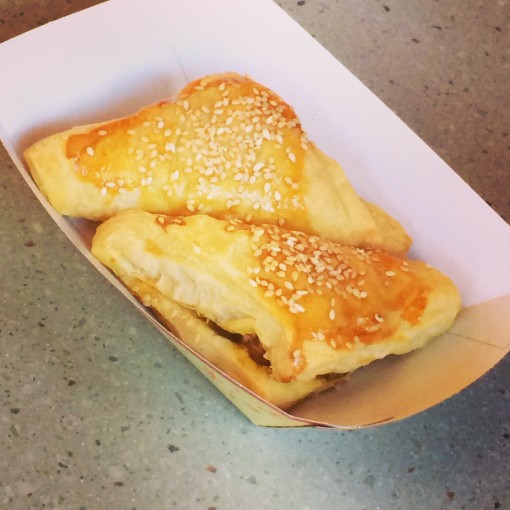 .
~Norway~
.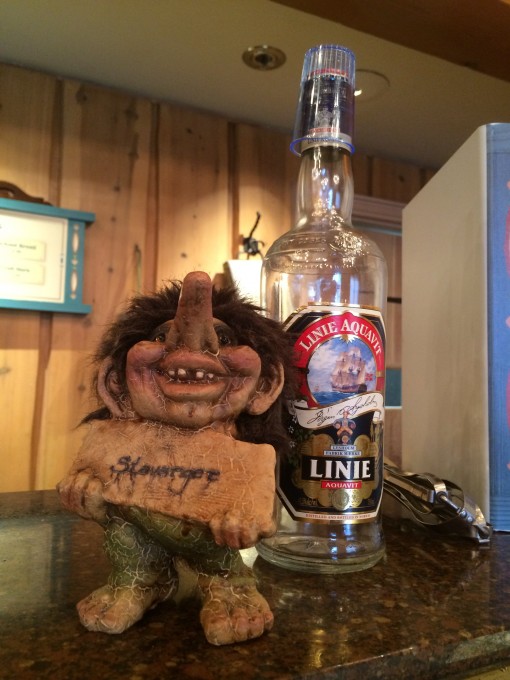 Viking Coffee, a mixture of coffee, Kamora Liqueur, and Bailey's Irish Cream is usually my go-to, but they now serve Einstock Icelandic beer on draft so I'm always torn.  What I don't enjoy doing is getting talked into taking a "Viking Challenge", where I have to take a shot of Aquavit and go 5 seconds without making a face to prove I'm a true viking.  After several tries I can say with certainty that I am not a true viking, because it's my 10th drink and Norwegians can be mean.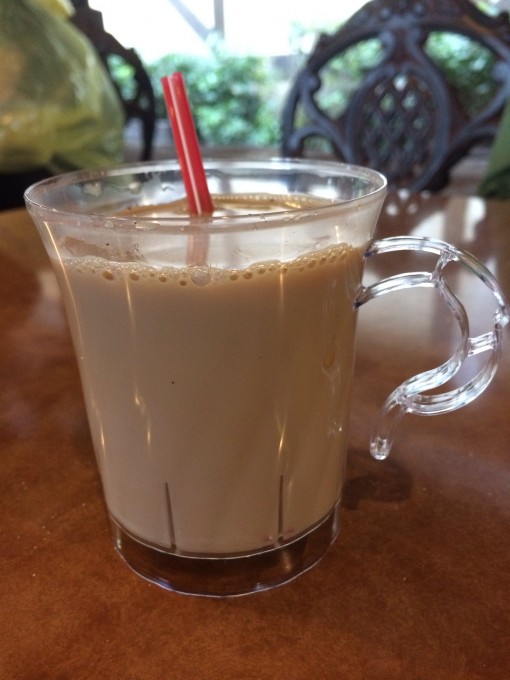 .
~Mexico~
.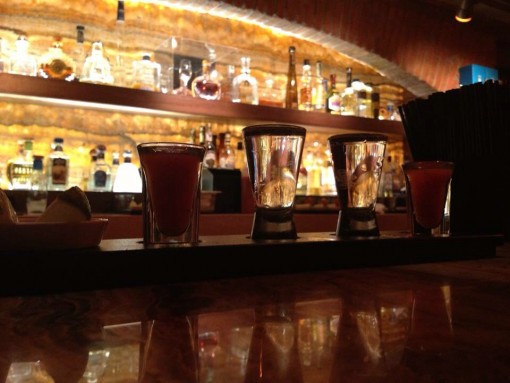 I always save the best for last.  La Cava Del Tequila is my very favorite stop, with the cheapest drink in the World Showcase (unless you cheated and bought that wine in France).  If you follow La Cava Del Tequila on twitter and show a bartender, you get a $5 shot of tequila that's served with a delicious spicy tomato sangrita.  I know the thought of tequila shots is not always met with enthusiasm, but this one is easy.  The sangrita really does help.  This is also where you will find my very favorite, the Jalapeno Margarita.  It's the perfect margarita, seriously the best ever.  Imagine the best lime margarita you've ever had, then smash up a cucumber and jalapeno in there.  It's another $14 drink, but it packs a punch.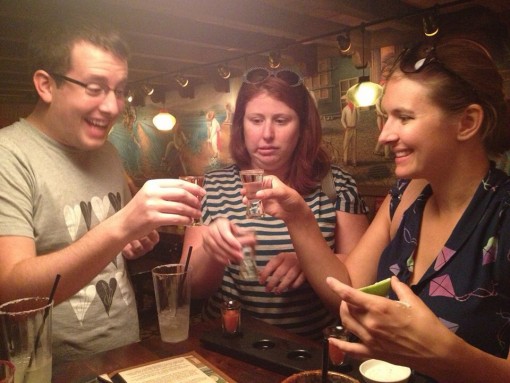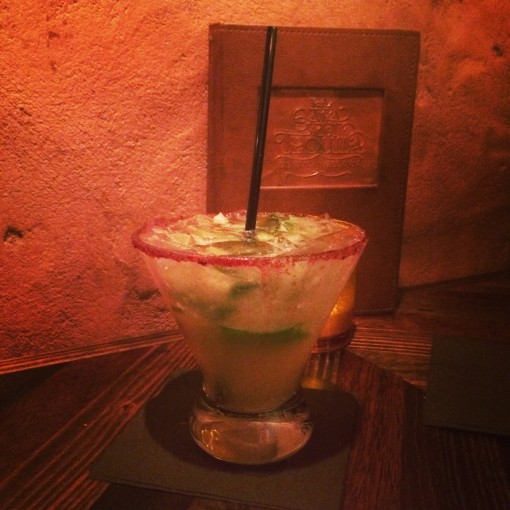 ~
 There is really no wrong way to drink around the world, so feel free to improvise!  Actually I take that back, once I tried "shots heard 'round the world…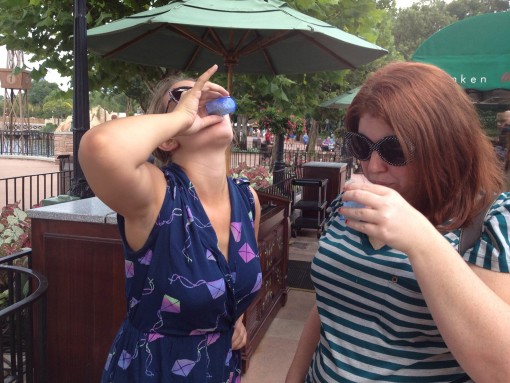 that is the wrong way to drink around the world.  But if you follow the aforementioned tips, perhaps you could avoid throwing up by 3 o'clock in the afternoon.  Trust me, there is no greater feeling that making around the world and still being able to stand.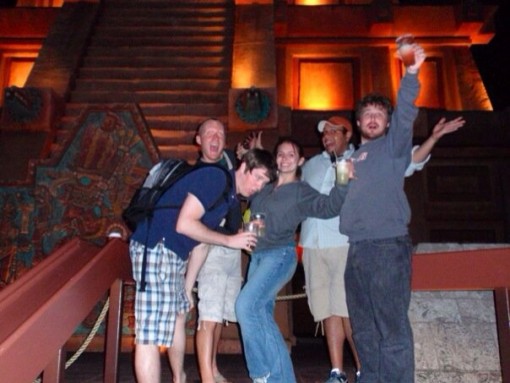 If you want extra credit you can top it off with a round of Looped on the Loop, at your own risk of course.