Savannah is one of my favorite cities, and luckily it's inhabited by one of my favorite (and only) brothers, so I get to visit fairly often.  Most recently I spent the night in Savannah on my way to Richmond, VA and was able to partake in one of the best road trip breakfast ever at The Funky Brunch Cafe!  Of course it's probably pretty good for non-road trip brunches as well.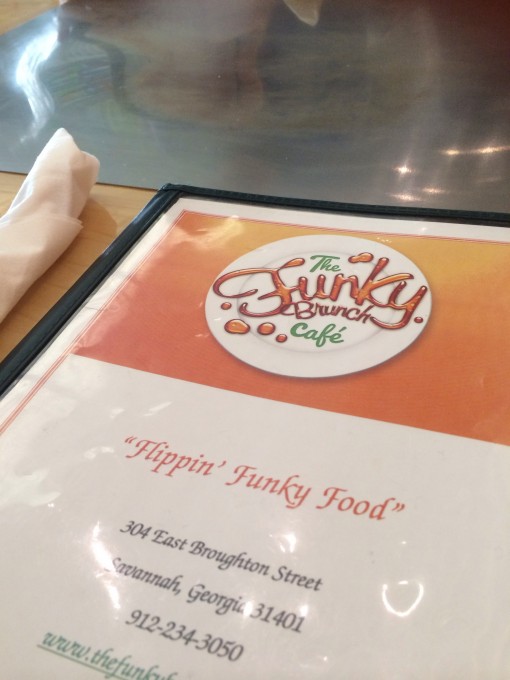 The interior of the Funky Brunch Cafe is playful and full of bright colors and paintings of spatulas,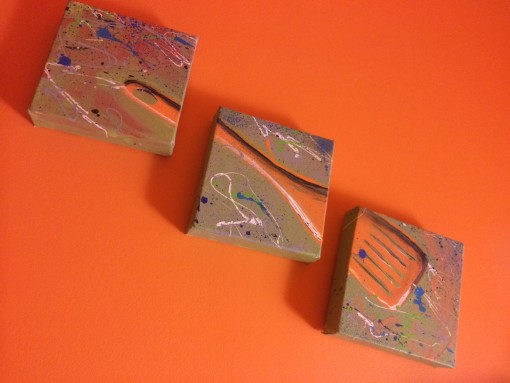 but the best thing about the Funky Brunch Cafe is their griddled tables for the "Flippin' Funky at the Table" pancakes.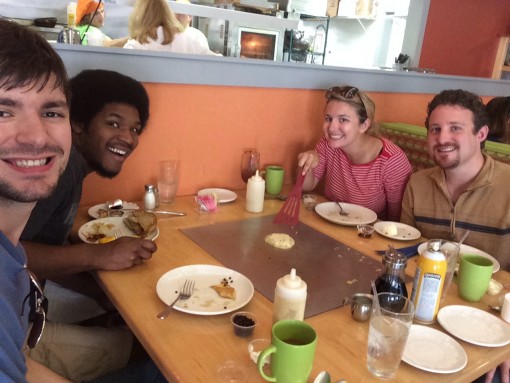 Pick your batter (buttermilk, gluten-free, or whole wheat) and then choose your toppings (fruit, nuts, peanut butter, chocolate… you name it) and knock your self out!  I went with buttermilk batter with pecans and coconut to mix in, I think it was a pretty solid choice if you're looking for a recommendation.
We all started off playing it safe with basic round pancakes.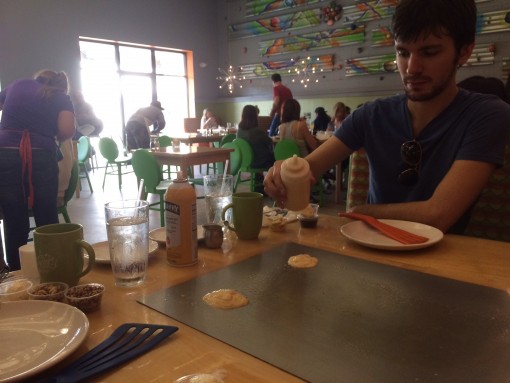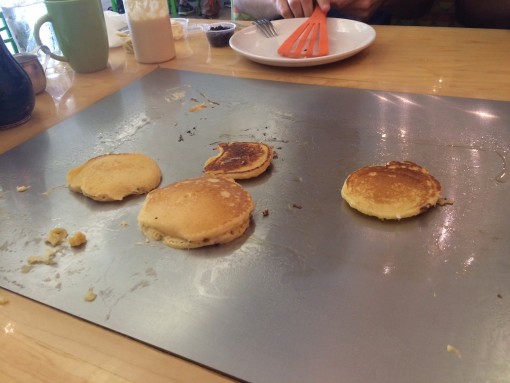 Of course the batter comes in a handy ketchup-esque squirt bottle, so it wasn't long before we started experimenting with shape, size, when to add the toppings, etc.  The results were well…. mixed.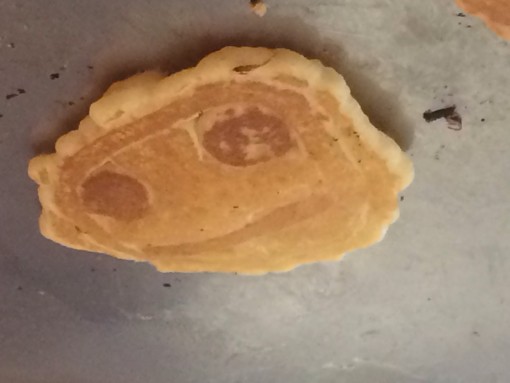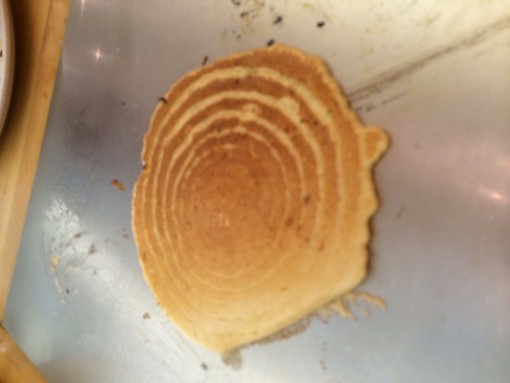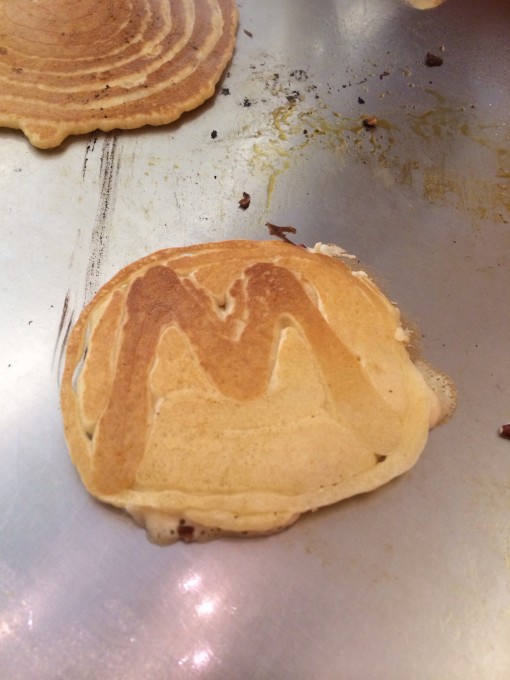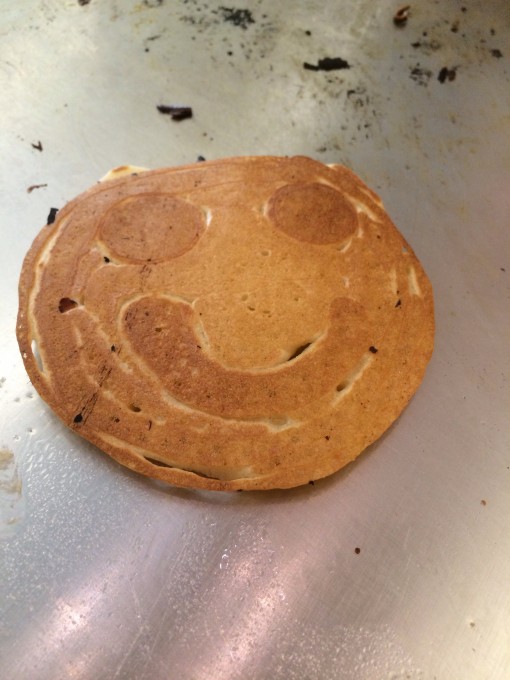 Then I had a breakthrough.  Oscar Wilde wrote that "only dull people are brilliant at breakfast."  I usually take Oscar Wilde's word as gospel, so I don't know what this says about me, but I created my greatest work to date.  I give you the pancake pup, my proudest creation.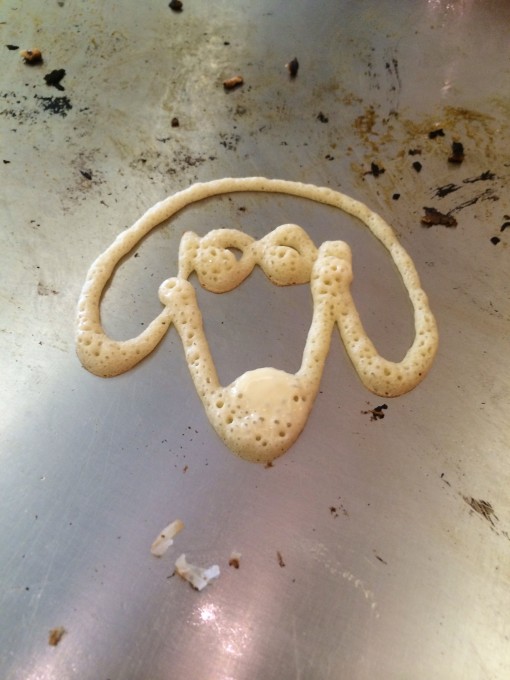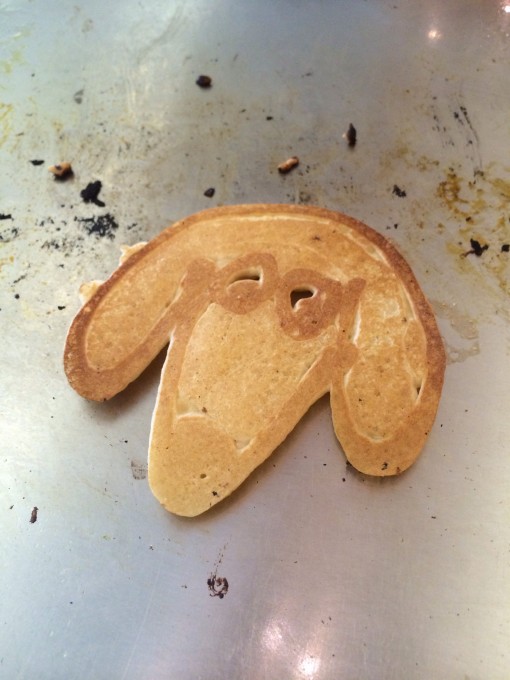 Good news for those of you salivating over this, I made this after I was already full and left it at the restaurant, which of course means you can probably find it on ebay now.  Just look at that art!  Whatever you pay for it, it's not enough.  However in the spirit of full disclosure, I got so excited about my work of art that I forgot to put the coconut and pecans in, so it's just a plain buttermilk pancake.  Still worth it.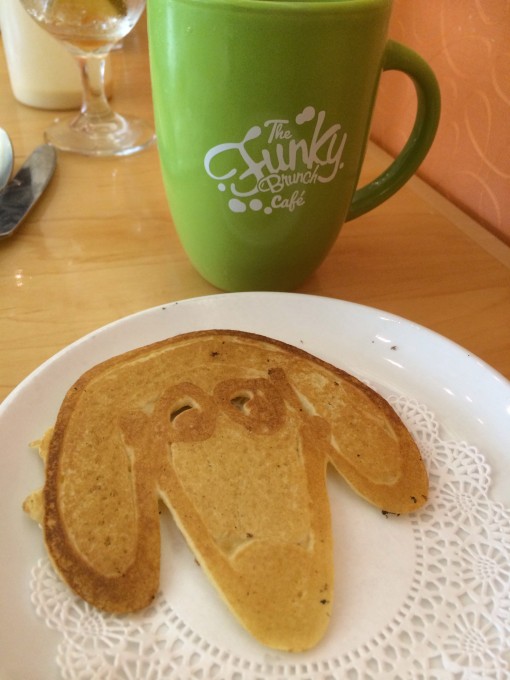 I'm not saying I'm some sort of pancake prodigy (I'll leave that to posterity), but one of these people is currently attending a big fancy art school and the other is entirely self taught.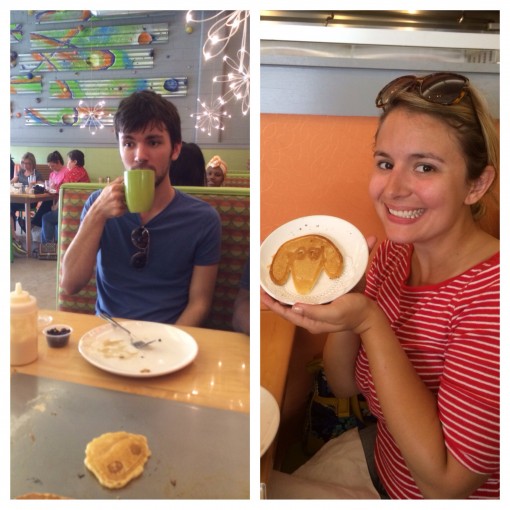 You be the judge.  (If you don't know who's who shoot me a message and I'll clear it up).
The Funky Brunch Cafe does have a full menu of breakfast and lunch offerings outside of their pancakes, though I don't think anyone's ever ordered them.  Just know that they are available to you if you hate fun (or pancakes).  I'm mostly kidding, the rest of the menu looked great… but griddle table!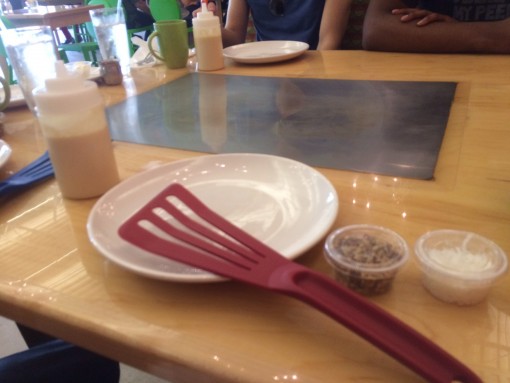 So, the next time you're in Savannah this is a must stop for brunch.  As an added bonus it seems to be quite a bit less crowded than Paula Dean's too!  Some tables don't have griddles (for those people that hate fun from before), so make sure you ask for a griddle table if you want to play with your food!  It's worth the extra wait.