I just returned from my first trip on the Disney Fantasy.  It's the first of many I hope.  I've been on the smaller ships, the Disney Magic and the Disney Wonder, and I was already smitten.  So naturally I was very excited about a bigger, fanicer, newer ship!  Disney has outdone itself again.  I worked for Disney for many years and have what I consider to be a pretty extensive product knowledge, but they still manage to impress me.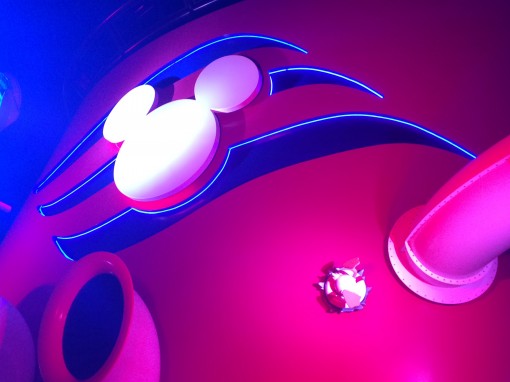 ~
~Design~
 The Disney Cruise Line fleet is clearly the most attractive on the high seas.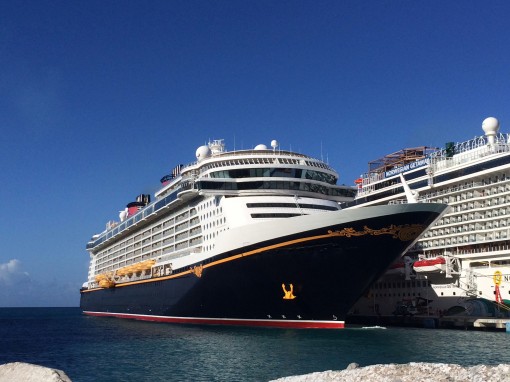 It puts other ships in port to shame, but the curb appeal is only half the story.  The inside of the ship is even better.
The ship is designed in an art nouveau style, harkening back to the golden age of ocean liners in the early part of the 20th century.  The star of the show is a gorgeous peacock themed atrium with a period style statue of Minnie Mouse.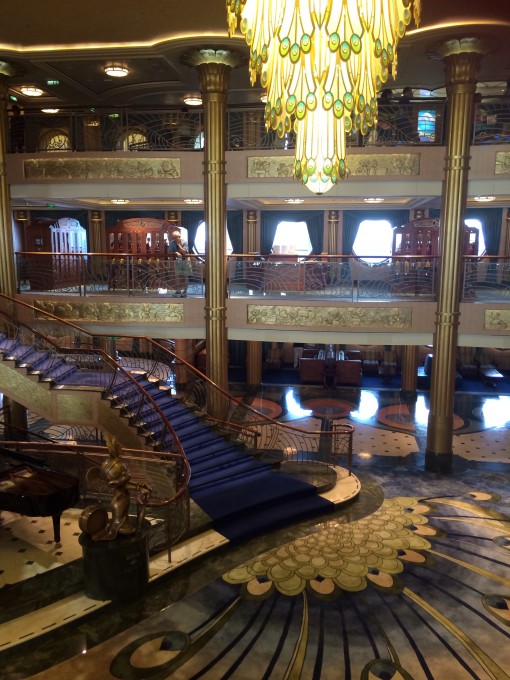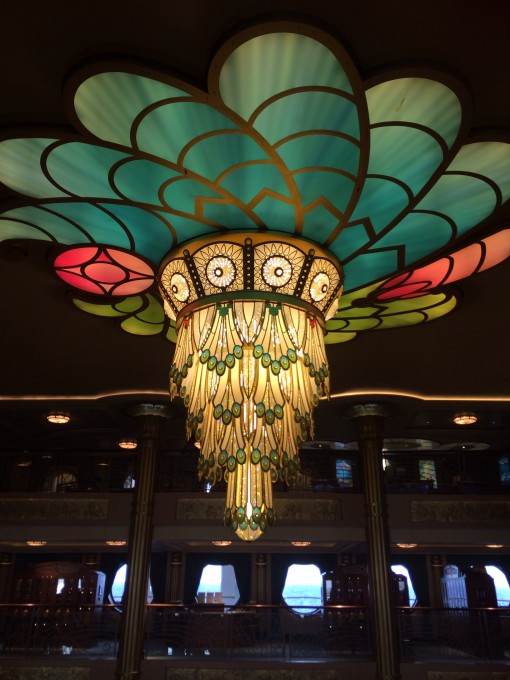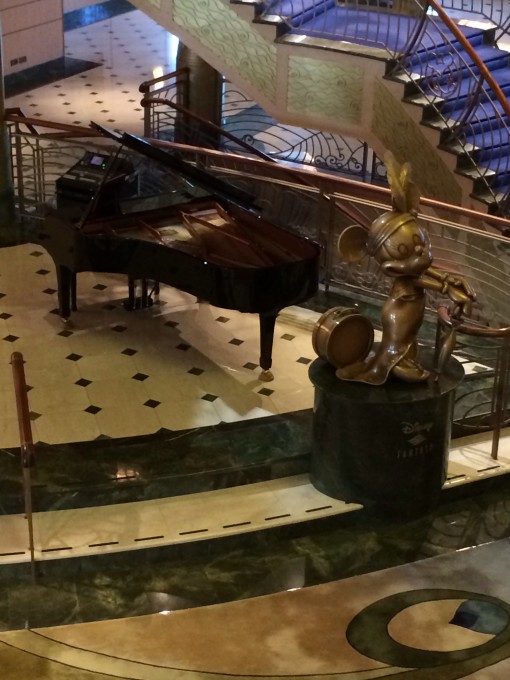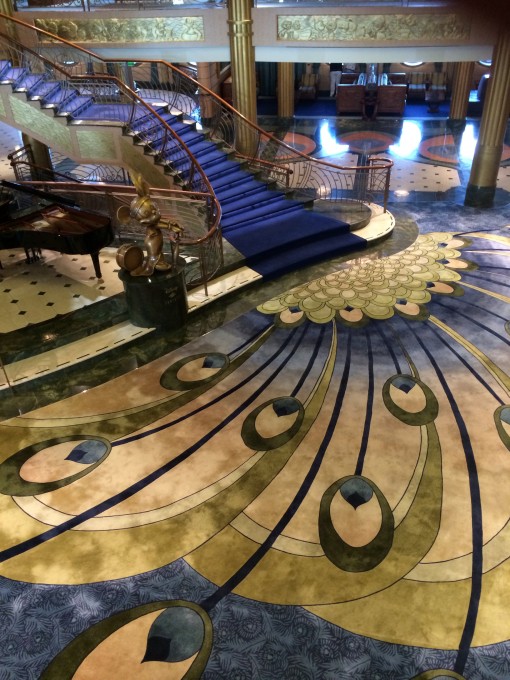 You can see the art nouveau influences all over the ship, with a few Disney touches.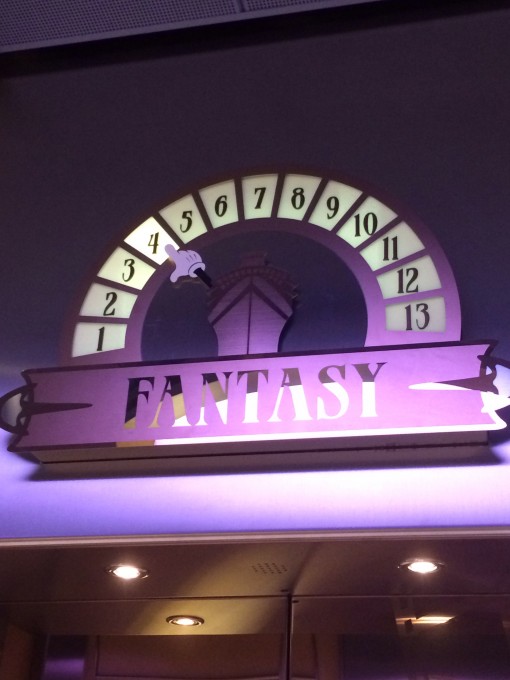 Another interesting design element I learned about on the ship tour was that deck 5 is the kids deck, so the ceiling is much lower and everything is smaller.  It didn't make much difference to me, however.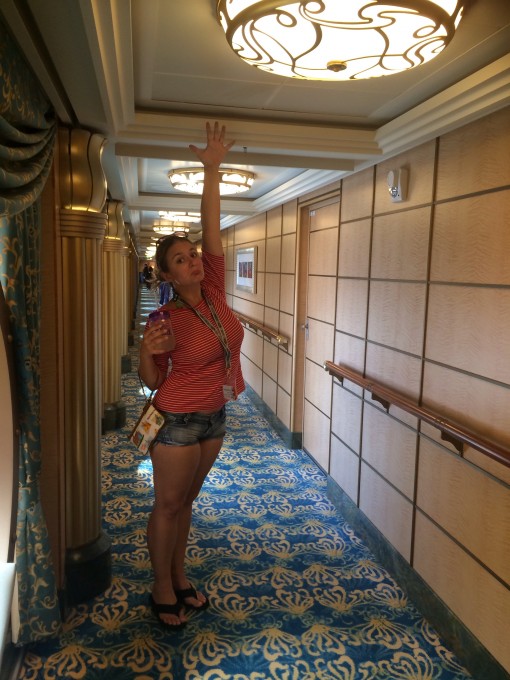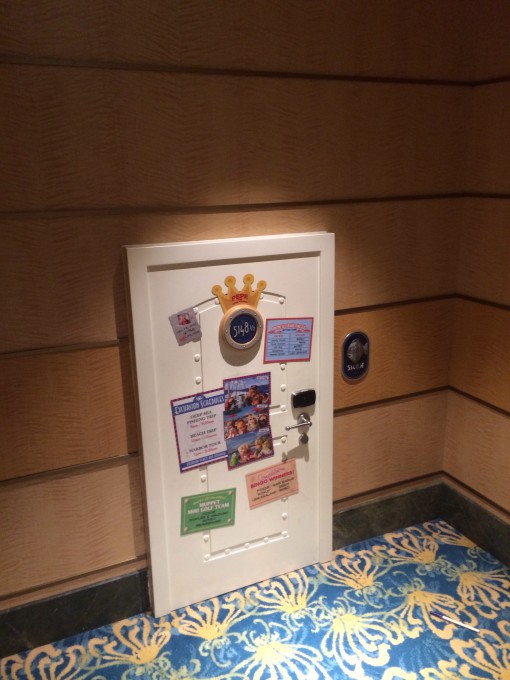 Enchanted paintings!– This is something you won't find on the Wonder or Dream, and it's pretty great.  Artwork that looks normal enough until you get up close.
~
~Restaurants~
The food on the Disney Fantasy (and all of the Disney Cruise Line for that matter) is amazing!  If you read my last post, you already know that their fancy French restaurant Remy, is gorgeous!  If not, maybe go ahead and read it 😉   But maybe the best part of a Disney cruise is that you can eat like a king without paying any extra.  There are 3 main "sit-down" restaurants that guest rotate through during their cruise.
Enchanted Garden– probably the most casual of the three restaurants, but still loaded with ambiance.  The theme is a garden (go figure) that subtly changes from day to night as your meal progresses.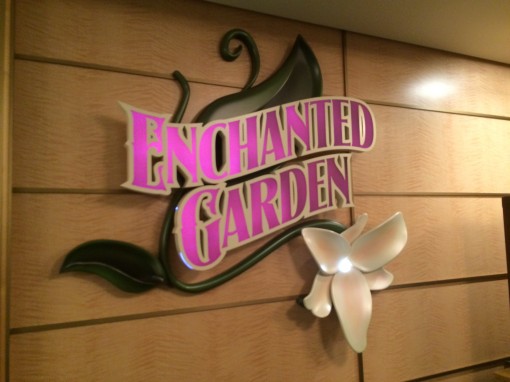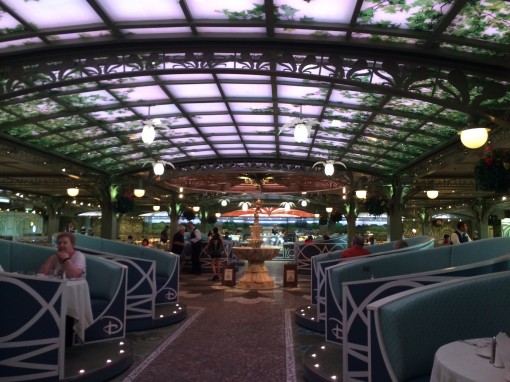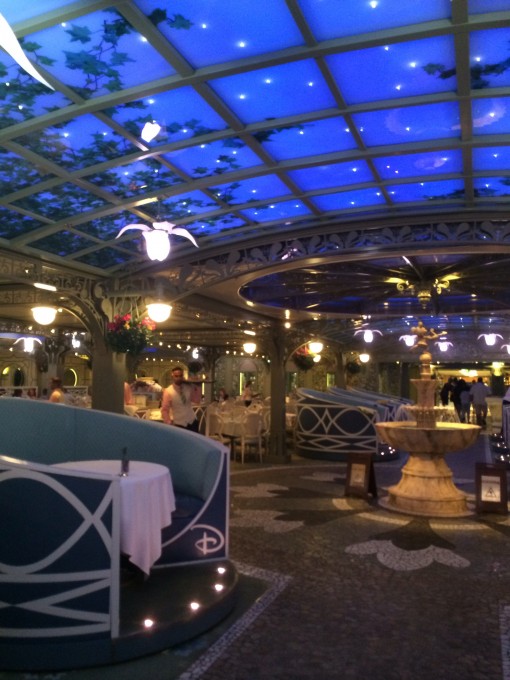 Royal Court- a bit more upscale.  This restaurant features mosaics of some of your favorite royal Disney scenes.  The food offerings here are a more hearty than that of Enchanted Garden.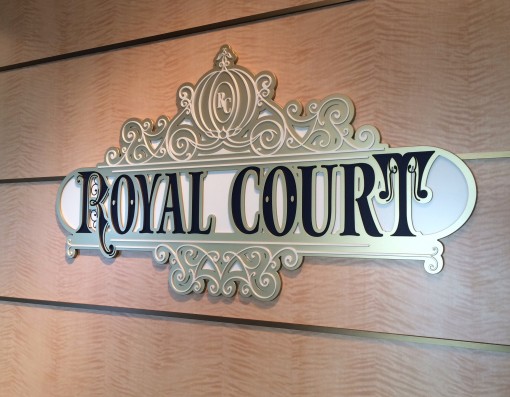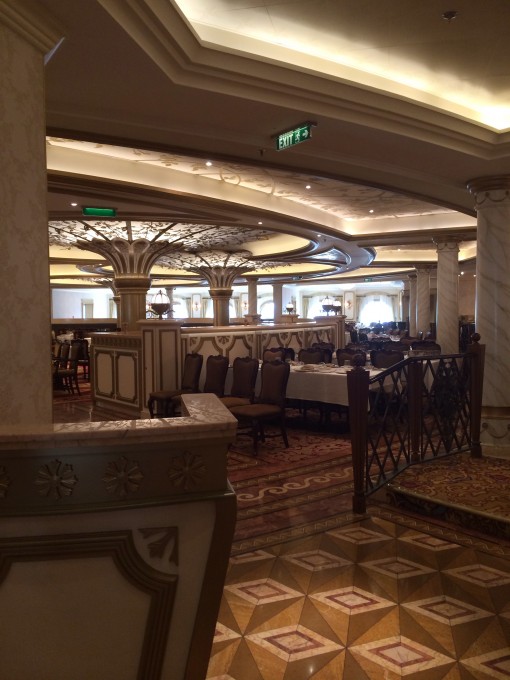 Animator's Palate– a nod to the Disney's animation heritage.  This is the most expensive restaurant in the world (in terms of production costs) and most unique restaurant at sea, they also have the cutest butter knives.  You will find a version of Animator's Palate on all of the Disney Cruise Line ships.  This one however, is very different to the Animator's Palate restaurants on the Disney Magic and the Disney Wonder.  While the Magic and the Wonder don't lack their charm (I love them in fact!), the Animator's Palate on the Disney Fantasy is far more technologically advanced.  I was on a 7 night sailing, meaning there were 2 different shows/meals (if you don't count pirate night) in Animator's Palate.  The first is pretty similar to Turtle Talk with Crush at EPCOT.  The second show is an animation show that everyone get's to take part in.  I don't want to ruin the surprise for anyone, but it's worth going on a cruise for.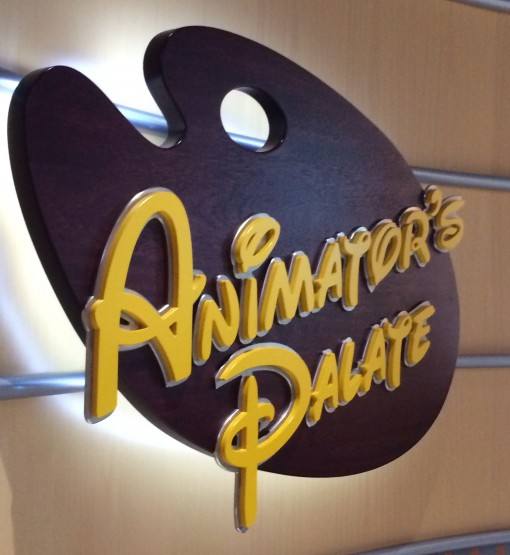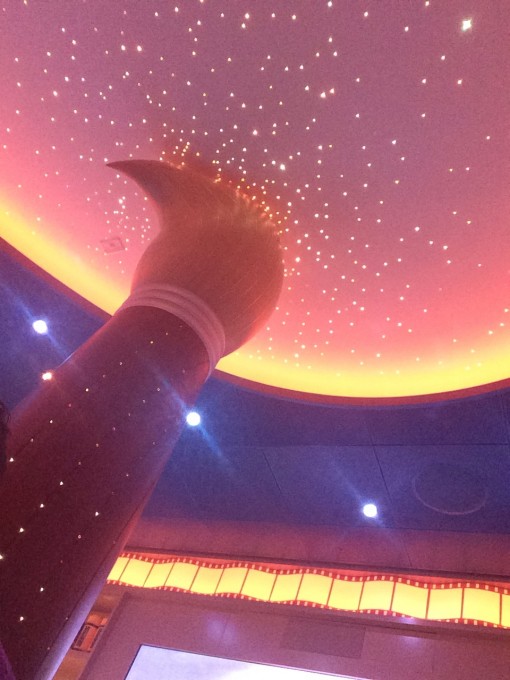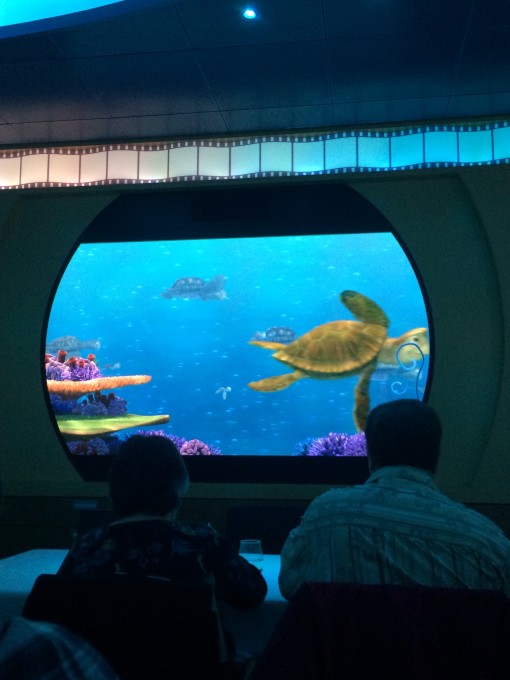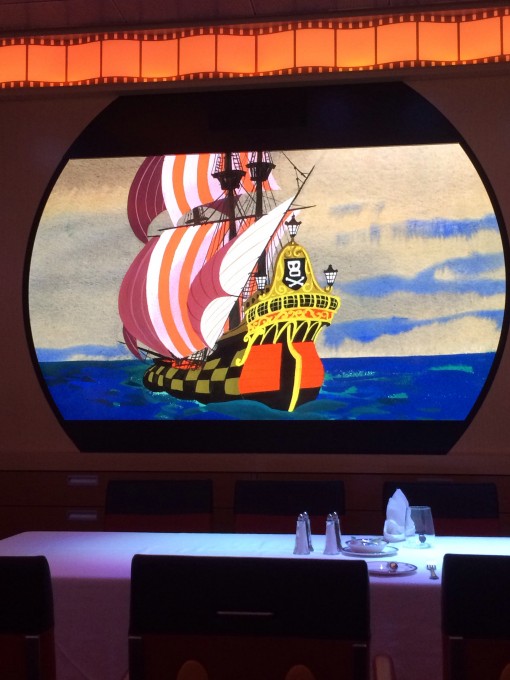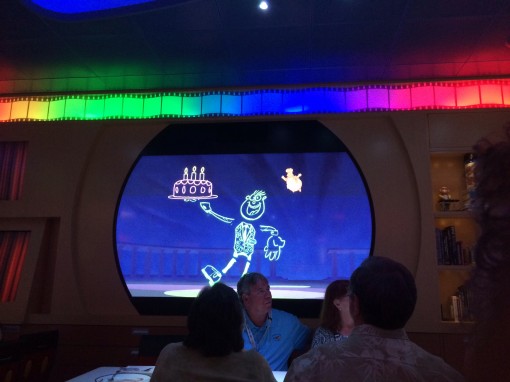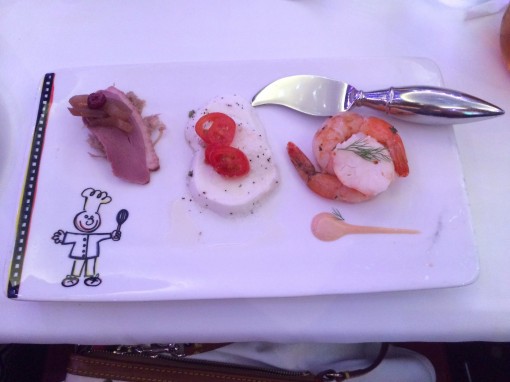 The Disney Fantasy also features two adults only restaurants for a nominal fee, Palo ($25) and Remy ($50-$75).
Palo– A delicious Italian restaurant that is so so so worth the extra money.  Palo is featured on all 4 different ships and offers an entirely different level of service from the regular dining rotation, (which is already a pretty amazing level of service) and no kids!!!  Palo is also home to the most amazing lamb and chocolate souffle (two different dishes) you'll ever taste. In the back of the parmesan crusted lamb photo you'll notice a delicious tuna steak with truffles, because cruise life.  Even at the fancy restaurants you can order two entrees, no shame.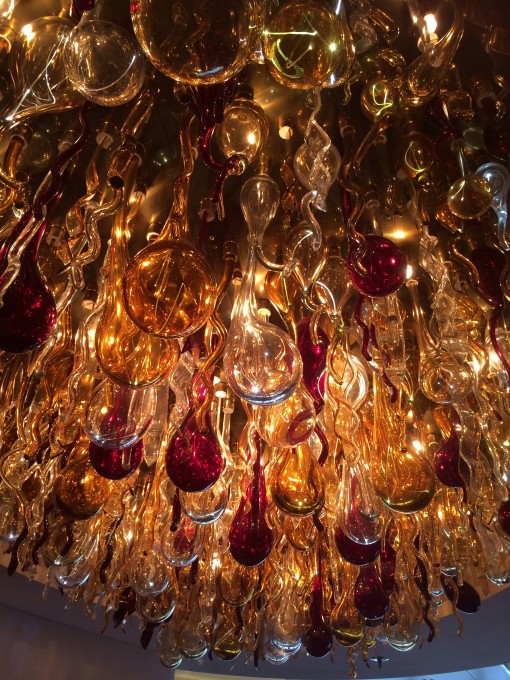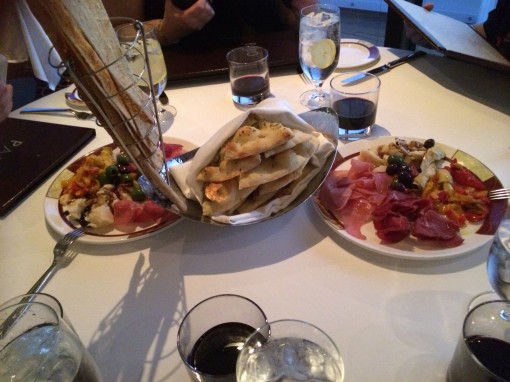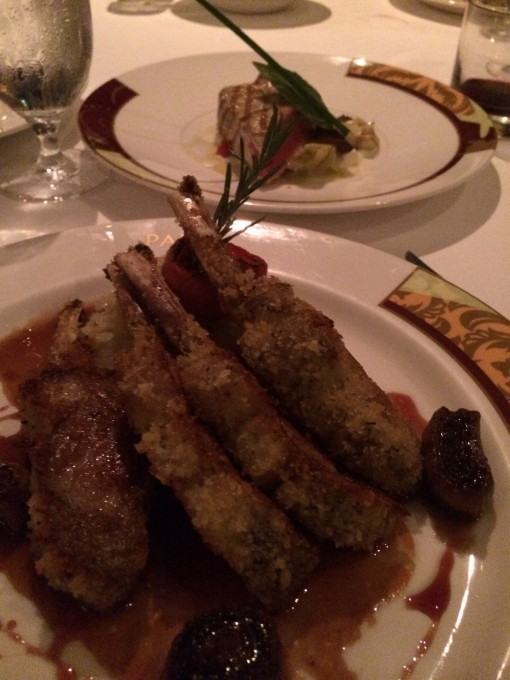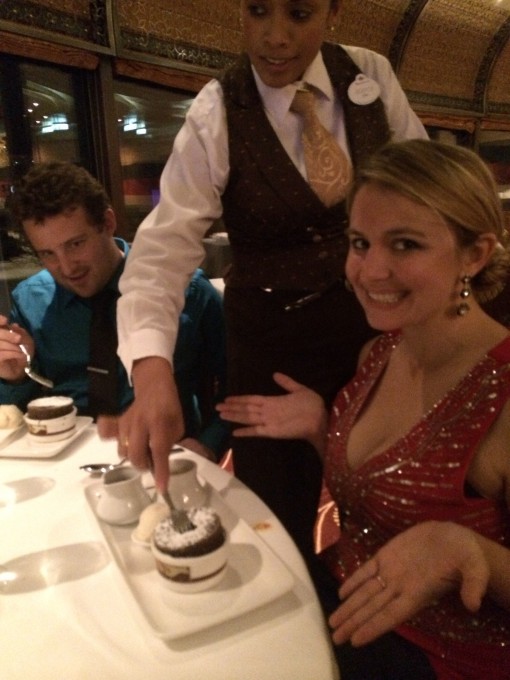 Remy– you can read my last post for my entire write up of the Remy champagne brunch (it's that good), but in summation, Remy is amazing and I'm definitely going to suck it up and pay the extra $75 to eat dinner there on my next Disney cruise.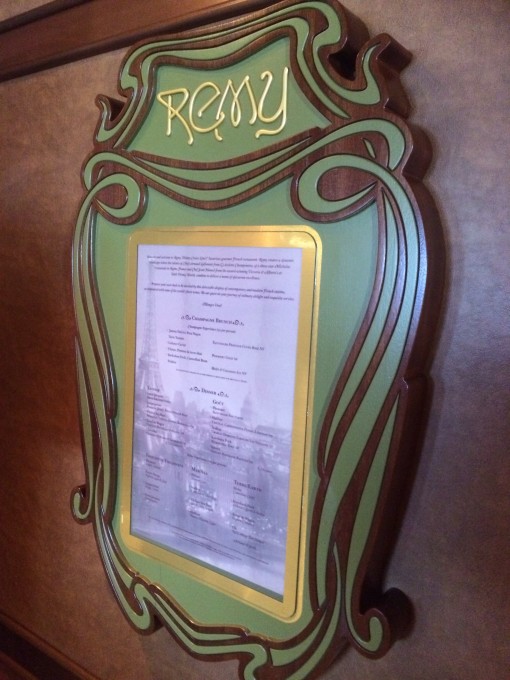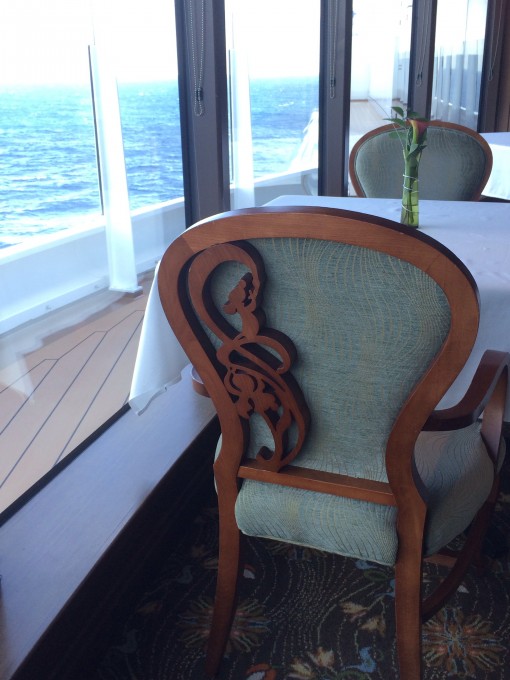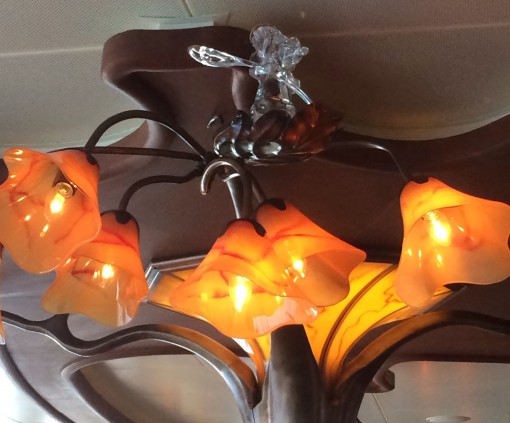 There are of course more casual options if you so choose (but you shouldn't).  The Disney Fantasy offers 24 hour room service, an amazing top deck buffet, and several outlets for burgers, pizza, and the like.
~
~Bars~
When everyone thinks of a Disney Cruise they usually don't think about much of an adult/nightlife scene, but that's so wrong.  There are some amazing bars on the Disney Fantasy.  The main adult section of the ship is called Europa and filled with several bars themed after different countries in Europe.
Ooh La La– This is the French themed champagne lounge and was my favorite place to hang out.  It was quiet and dark and full of tufted velvet sofas.  The perfect place to relax with a cocktail.  Ooh La La also has a wall of bubbles!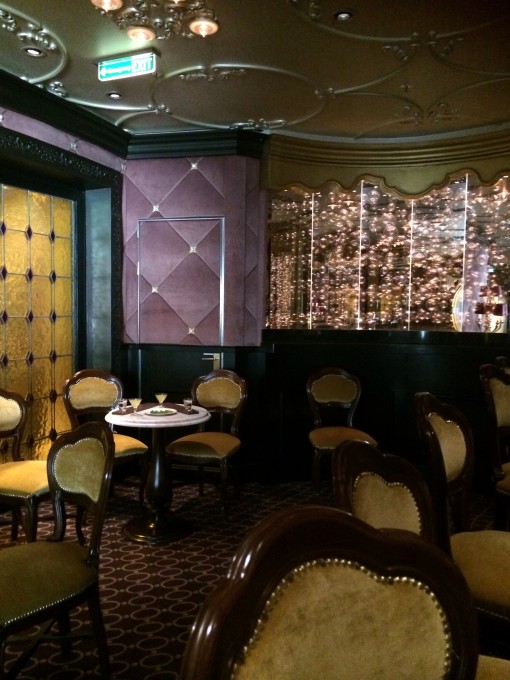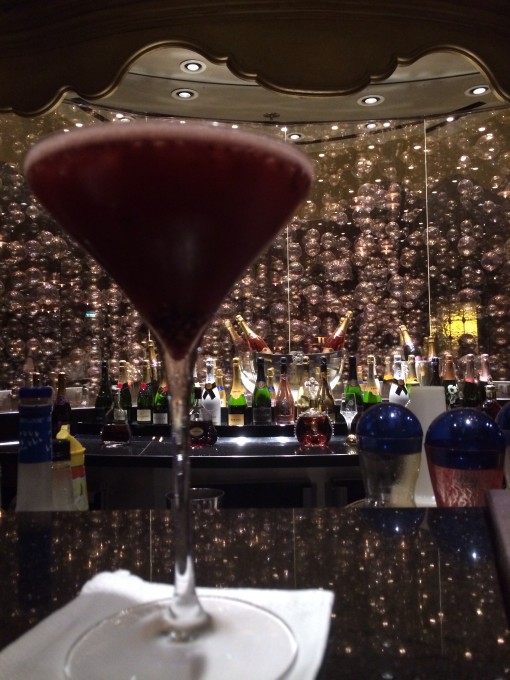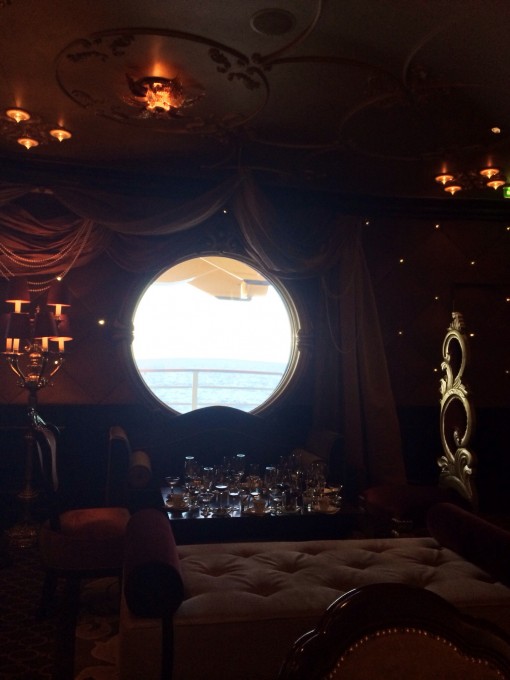 La Piazza– The Italian themed bar is in a central location between all of the bars and it's modeled after a Venetian Carousel.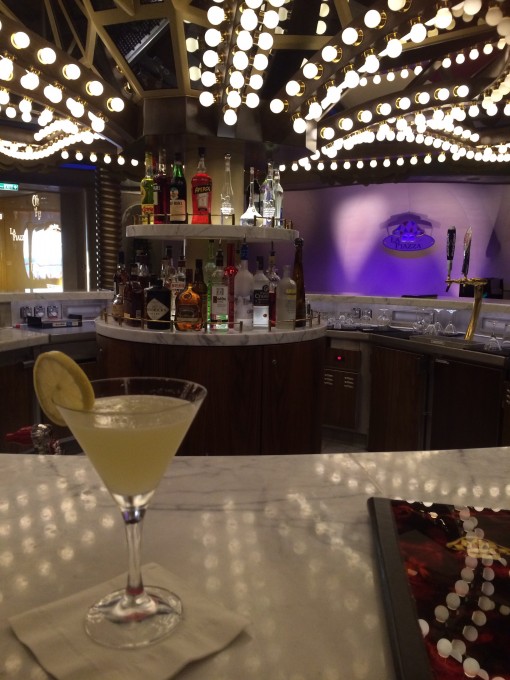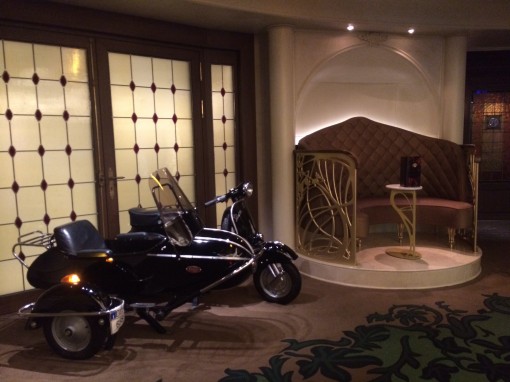 O'Gills– This is an Irish pub/ sports bar that I avoided like the plague since I was on the boat over Super Bowl Sunday and vowed to push anyone who mentioned it to me overboard. I'm happy to say I still don't know who won, or played.  On not so sport-centric weeks I'm sure the bar is lovely.  I've been to the one on the Disney Magic and it's fine.
The Tube– This one I just checked out to take pictures.  The themeing is great and everything looks nice, it's just a little more "clubby" than I was looking for on a cruise with my family.  It's a really neat club though, that's themed after the London underground…except clean.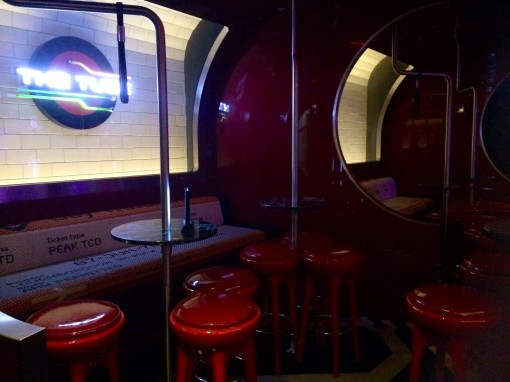 Skyline– The skyline bar ties all of the other bars together.  I read about this bar before my trip and thought it would be my favorite before I met Ooh La La (and OJ the bartender at Ooh La La).  Anyway, it's a sky bar on a boat with LCD screens that change the skyline to a different world city every 15 minutes.  They also offer a selection of cocktails inspired by each city and sell a "passport" that gets you 7 drinks for the price of 5!  Interesting fact I learned on the tour of the ship, all of the people moving around on the streets in the various cities are actually Star Wars characters, so keep an eye out.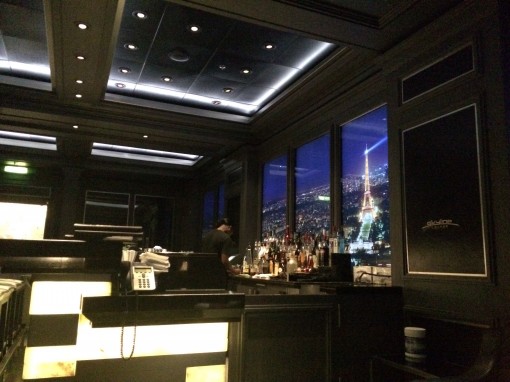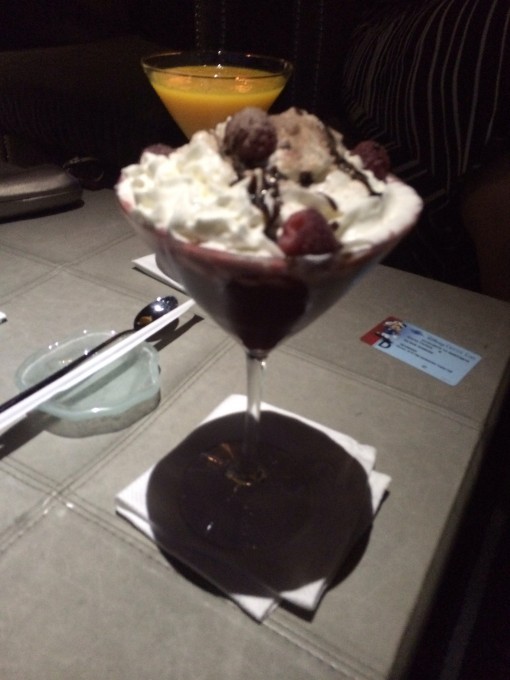 There are plenty of other bars around too for your requisite cruise pina colada or bahama mamma in a souvenir glass.  Disney Cruises also feature a fruity tropical "drink of the day" everyday that only costs $5.
~
 ~Entertainment~
Shows-The broadway-style shows were mostly great.  I missed Wishes sometime during my second entree at Palo, but the other shows were great.  I love that they do Aladdin as a stage show.  I will say the last night show did leave a little to be desired.  It was mostly our cruise director rubbing salt in the wound by reminding us that the next day no one would make us a towel animal or give us chocolate on our pillows.  Then it was about half an hour of a ventriloquist that seemed awfully Carnival Cruise-esque, and an ending number with explosions and unrelated Walt Disney quotes.  I will say though that most of the shows and just ambient music were Alan Menken compositions and that made me just so happy.  Not one song from Frozen the whole week!  I'm sorry Frozen fans, it's just not good and you're wrong. I know it's coming, but living in Orlando it's nice to see that Frozen hasn't taken over everything I love yet.
Movies– The Buena Vista Theatre plays first run movies (or close to it).  During my cruise it was Big Hero 6, Guardians of the Galaxy, and another movie I didn't particularly want to see.  I don't really remember.  I've wanted to see Big Hero 6, but I have a hard time justifying spending time in a movie theatre on a cruise.  Outdoor movies are a different story though.  You can check out Disney classics on the big Funnel Vision screen from the pool on the top deck.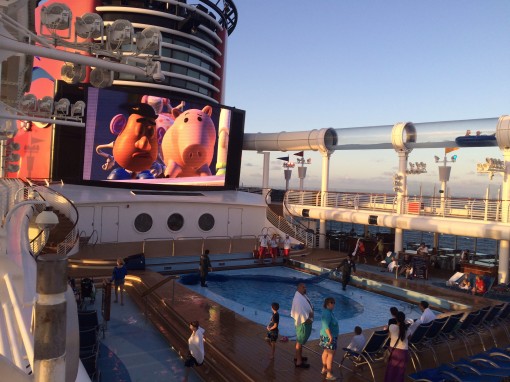 Live Music- There are several places board the ship, including the atrium and most of the lounges that you can find live music on the ship.  If that's not good enough they do karaoke almost every night so you can make your own.
Pirate Night– You can't miss pirate night.  It's the only chance you'll have to see fireworks on the open ocean.  Disney specially formulated a firework system that uses air pressure to launch fireworks made of vegetable matter so the fish don't end up full of gun powder.  Jack Sparrow is also there, which is always great.  Everyone turns up on the top deck for pirate night!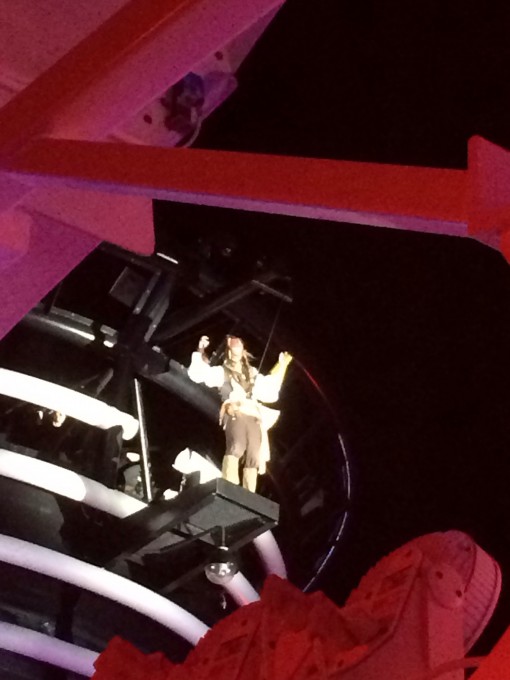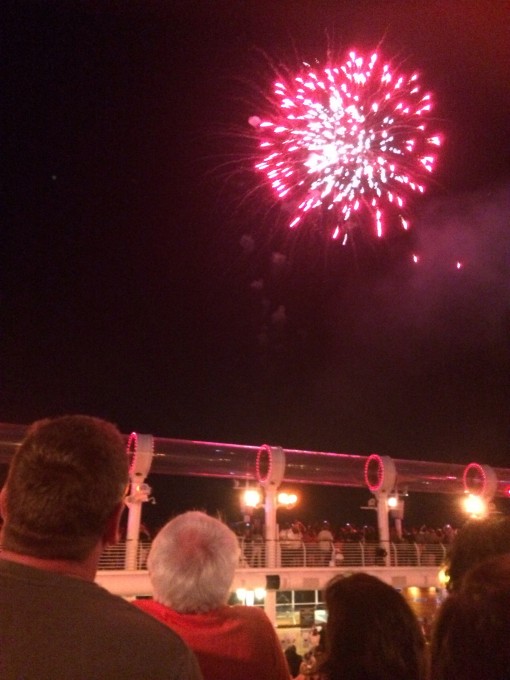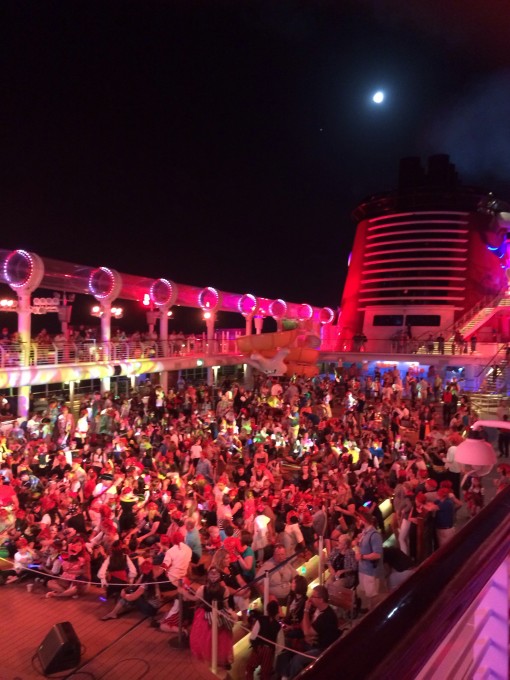 ~
~Activities~
There's no excuse to be bored on board on a Disney Cruise (see what I did there?)… even if your activity is just drinking by the pool.  If you prefer a more active vacation, there's plenty for you too!
Trivia, Karaoke, and Bingo– The cruise trifecta.  I didn't do too much of this on this particular cruise, only because I didn't want to embarrass everyone else with my amazing skills.
Goofy's Sports Deck– I'm not terribly sporty (if you couldn't tell by my violent reaction to the Super Bowl), but I can get on board (pun intended) with some mini-golf.  They also have table tennis, and for a fee golf and baseball simulators.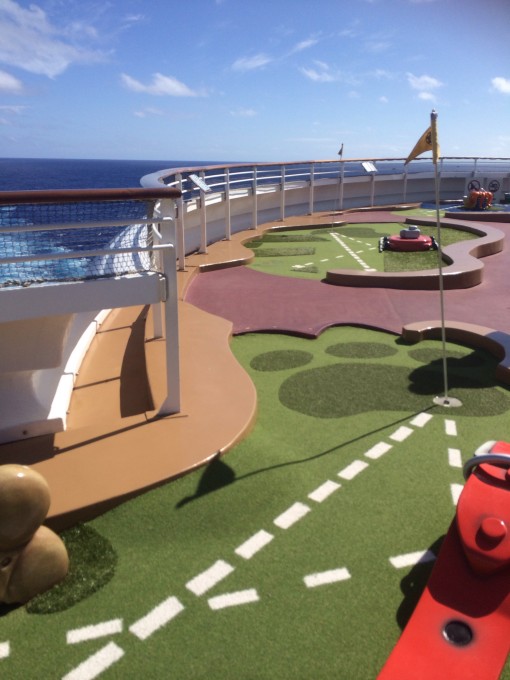 Liquor Tastings- I did plenty of this and definitely impressed everyone with my skills.  This is the best deal on the ship.  I've talked about this a lot before, but it really is just so good.  The tastings are mostly $20, with a few of the premium tastings at $35, and you get plenty of booze, an informative hands on class, and the bartenders leading the tastings are always amazing.  This time I did mixology ($20), tequila and margarita tasting ($20), and chocolate and liquor tasting ($35).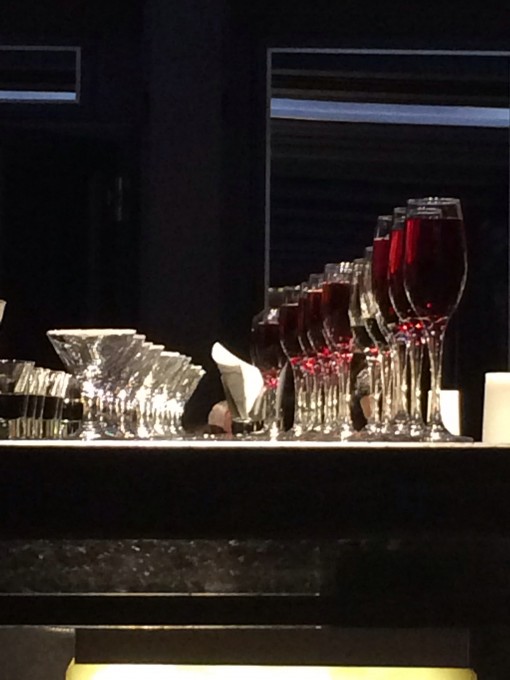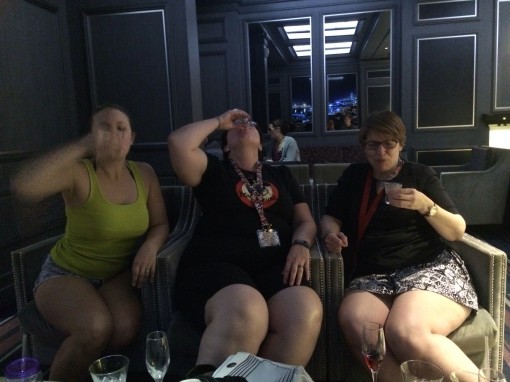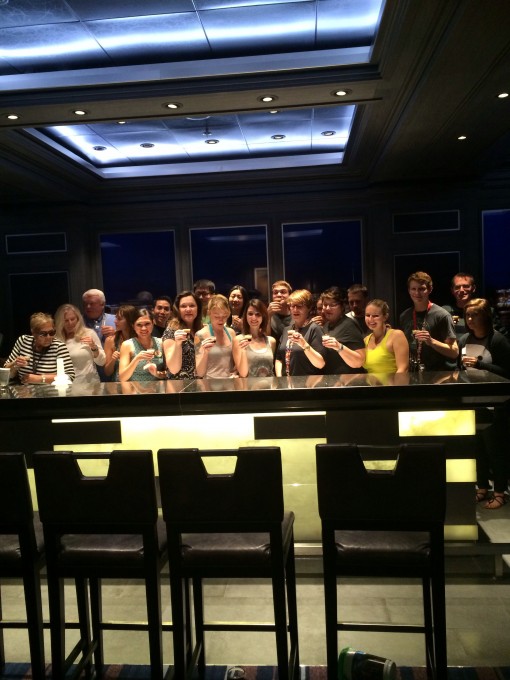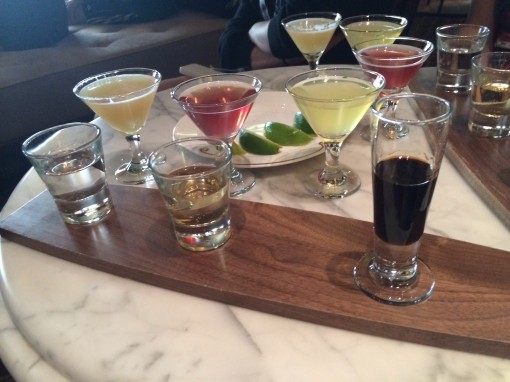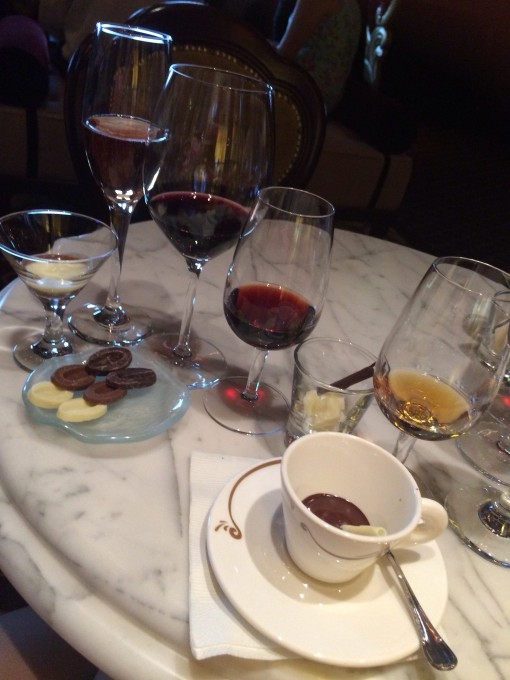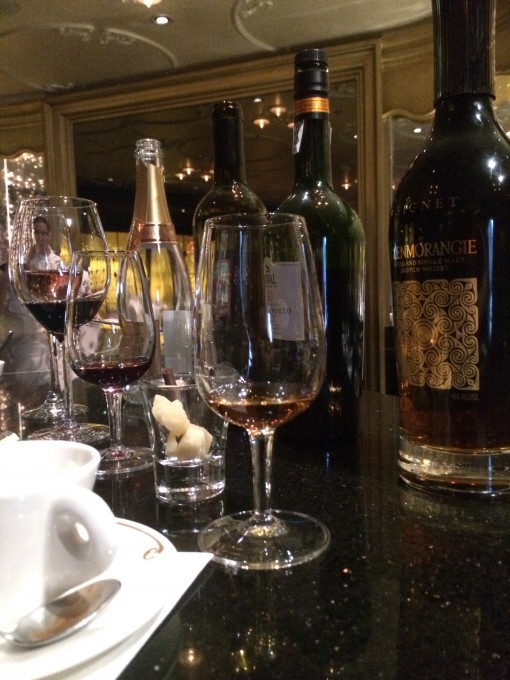 Pool, Hot Tub, and Aqua Duck– My time is spent almost entirely in Quiet Cove, which features an 18+ pool and hot tub.  The hot tub has a glass bottom that looks over the ocean, so that's pretty cool.  I did venture to the "family pool" to ride the Aqua Duck, the only water coaster at sea.  I won't lie, it was early Feb. and it was cold and unpleasant, but no regrets.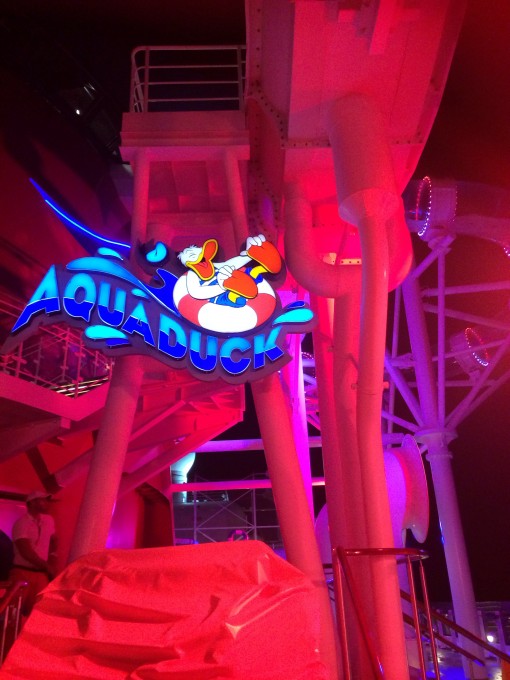 Spa- Fancy a massage, facial, or mani-pedi?  The Senses spa is amazing.  I've never had any of the services there, but I always enjoy looking around and it has an amazing view of the ocean.  Confession time, I've never actually had a real massage…weird I know.  I have let tiny fish eat dead skin off my feet, however.
Gym- No one knows what this looks like, but it's there if you want to be that guy.
~
The Disney Fantasy really is one of the prettiest things I've ever seen.  I'm just blown away.  The ship's design and Disney's legendary service work together to make you feel as though you've gone back to a time when cruising was truly a luxury experience and not just a drunken spring break trip.  If you're considering a cruise, it's absolutely worth the few extra bucks to go on a Disney Ship.
~
~
This post is part of the weekly blog link up, #weekendwanderlust hosted by A Brit and A Southerner, A Southern Gypsy, Carmen's Luxury Travel, Justin Plus Lauren, and Outbound Adventurer.