Ok, I get it now.  Lots of avid travelers I've talked to have been distinctly anti-cruise.  I assumed it was mostly because it's not the most authentic cultural experience.  I've been on mostly Disney cruises (and one kinda gross, but not un-enjoyable Royal Caribbean cruise), so up until now I didn't get it.  That's why when I saw an amazing last minute deal for a 3 night Carnival cruise out of Port Canaveral, I naively thought, "how bad could it be?"  Those words were almost on my tombstone.  Luckily I (just barely) survived my Carnival cruise experience and I can go back to my preferred epitaph, "diet starts Monday."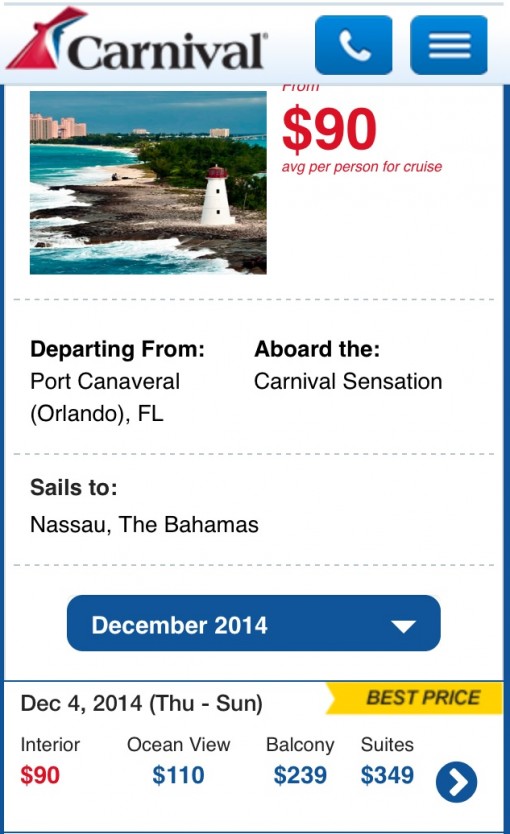 That's a really great deal.  I mean, I'll eat that much on the first day!  Now, if I can just convince someone to go with me we're in business.  I can't take all the credit for that one.  Partial credit goes to Stephano's happy hour and a night before phone call to Courtney at Carnival Cruise Line to assure that there would be access to a Guy Fieri Burger Bar.  After a few cocktails that's a deal breaker apparently.  Courtney assured us that there would be a Guy Fieri's and this was a price that would never never never happen again ever.  Even she can't get it this cheap.  What a deal!  With that my friend Mike and I were set.  We even convinced our friend Sean to go, but by the time we called to add him to our room it was $350, then $200, then not available.  We called a lot.
Cruise for two it is.  After a very thorough security check, a confiscated 6-pack, and complimentary pre-cruise groping, we were finally allowed on the Carnival Sensation.  The first thing you notice upon boarding is the smell of cigarettes (which are allowed inside… not even top deck, inside inside) and that odd feeling you get when you when you're inside an old shopping mall that everyone has forgotten about.  You know, the ones from your hometown that still have stores that all closed down 20 years ago in the rest of the world, but no one bothered to tell them.  Everything also had really porny names, like the Fantasy and Ecstasy dining rooms and looked like it was built in, and then not touched since 1985.  Which is peculiar since the boat was built in 1993 and then dry docked for refurbishments in 2009.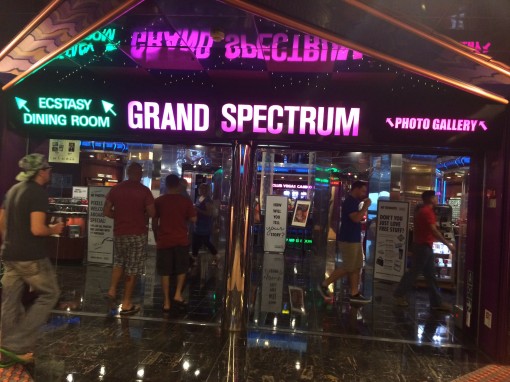 We made our way to the bar for the worlds weakest Long Island Iced Tea, and that set the tone for the rest of the trip.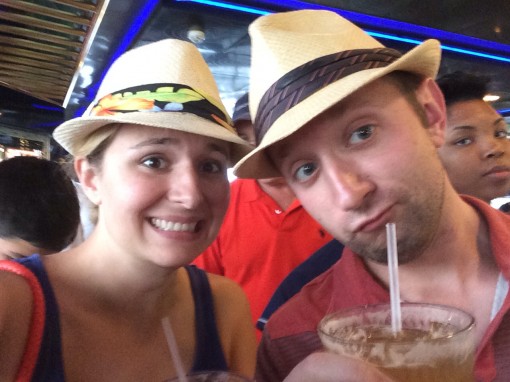 Everyone knows that the first thing you do upon boarding a cruise ship is to get food.  It's free for the duration of your cruise, so you have to maximize time.  Unfortunately, the only food options open immediately after departure was a "deli" that had soggy grilled cheese or some actually passable pizza.
Insider Tip– If you go on a Carnival Cruise (which you shouldn't) only eat the pizza.  It's not great, but it's edible.
Here's a fun fact about the Carnival Sensation- both dining rooms are on deck 8, but you have to enter from deck 9 and use stairs inside the dining room because the boat was apparently designed by a mental patient.
Another fun fact about the Carnival Sensation- none of the decks are actually numbered.  They are randomly named things like Riviera, Main (that's deck 5, which only has rooms and none of the things you would expect on a "main" deck, Upper (that's the 6th… so the middle), Empress, Atlantic, Promenade, LIdo, Verandah, Sports, and Sun.  That means that all of the elevators had non-alphabetical letters instead of numbers… except for deck 3.  That was deck 3. 3, R, M, U, E, A, P, L, V, S, other S.  Amazing design.
The dinner… I just can't.  Your choices, are steak, chicken or fish.  All over cooked with no seasoning, served with bland mashed potatoes and veggies.  I never though cruise food could be worse than airline food.  It's been a long time since I didn't finish my dinner out of shear boredom.  If this tells you anything about the crowd, there's a section on the menu called "didja" for wacky things you would only try while its free… like sushi or guacamole.  You'll also notice a severe lack of Guy Feiri's burgers… just saying.
When we got back from dinner we were greeted by a friendly towel animal that looked vaguely like a vagina.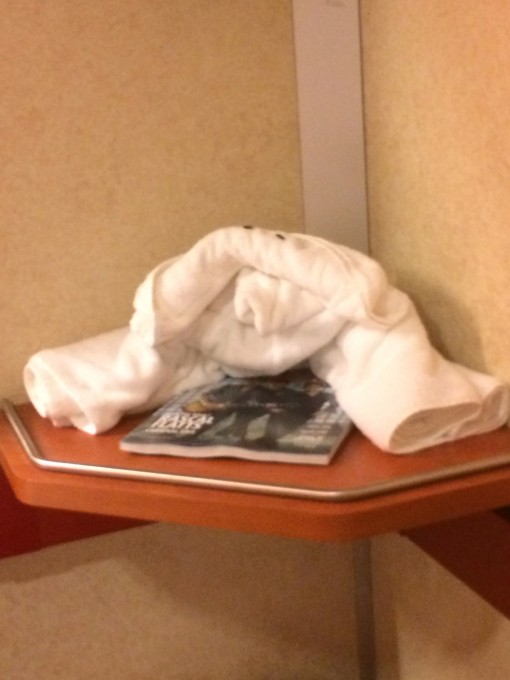 and it kept happening.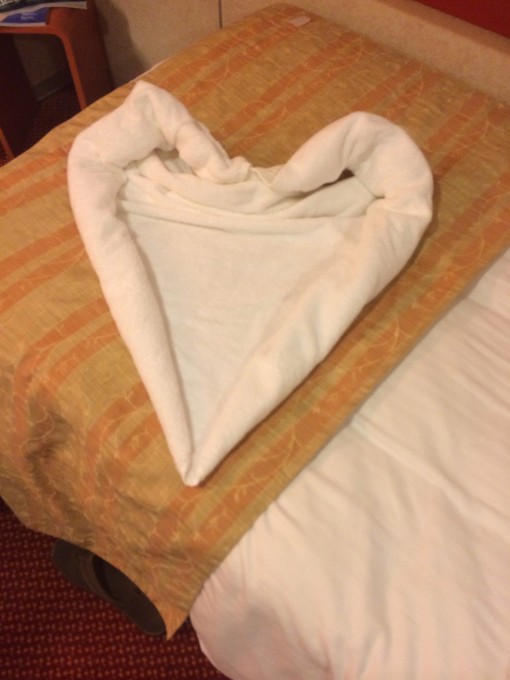 Do better guys.
If you're looking for activities on board and being groped in a smokey bar by a stranger in jean shorts isn't your thing, you can check out sad mini-golf.  A lot of the astro-turf has worn off and all of the obstacles are just large rocks, but you get what you pay for right?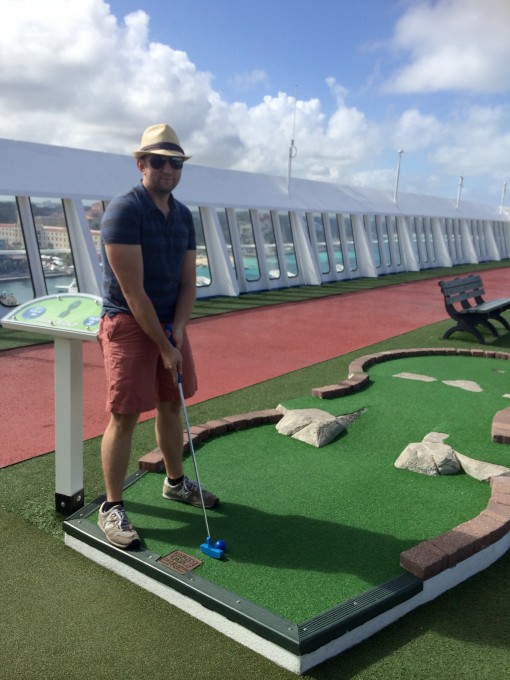 Feeling fancy?  Why not check out "A Touch Of Class", the only piano bar at sea designed by Tim Burton's 4 year old son.  It's definitely classy and not at all terrifying.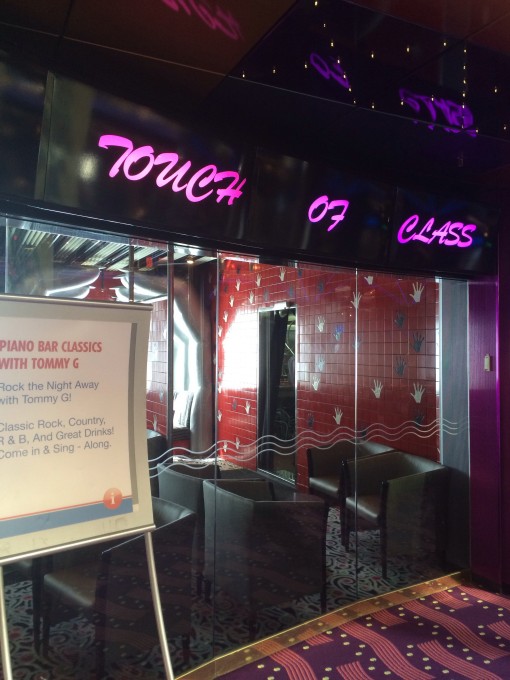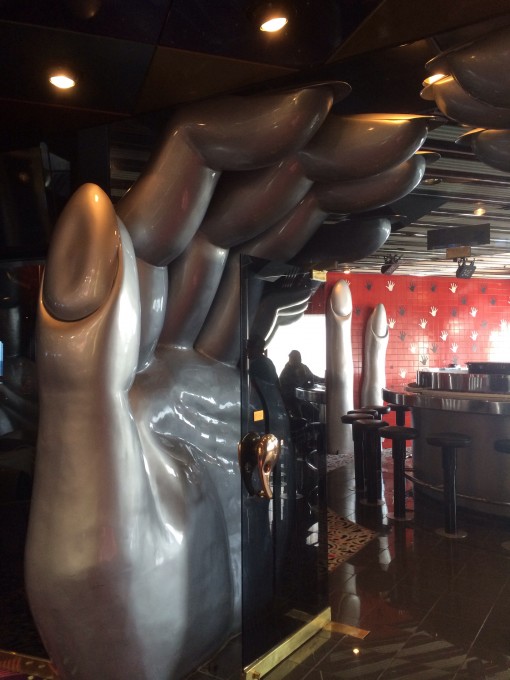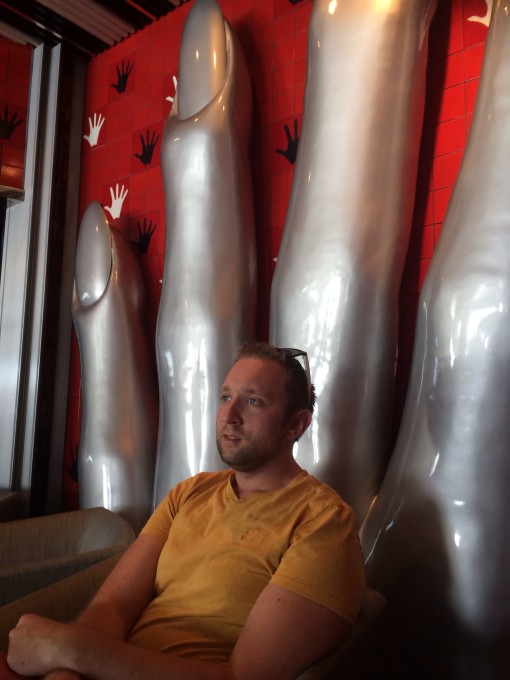 (that's how we felt the entire cruise)
We were lucky enough to cruise during the holidays, which of course meant some special events, like shaking bells while the Carnival entertainment staff butchers Christmas carols.  I don't say that to mean that they were bad singers.  I mean they actually didn't know any of the lyrics to any popular Christmas songs.  Like they didn't even have a rehearsal.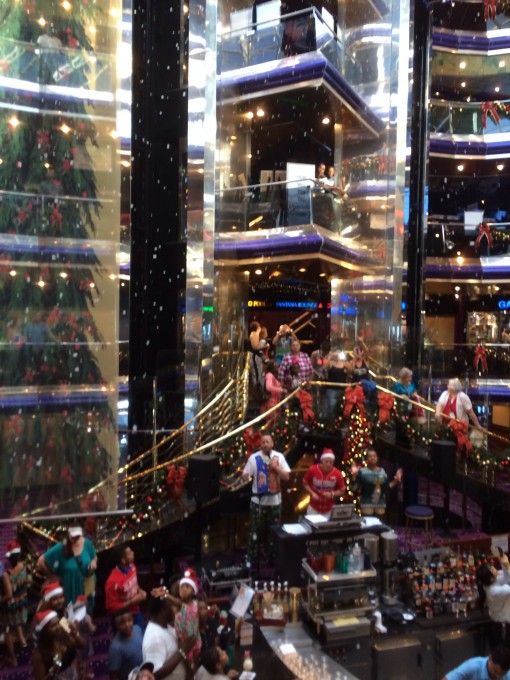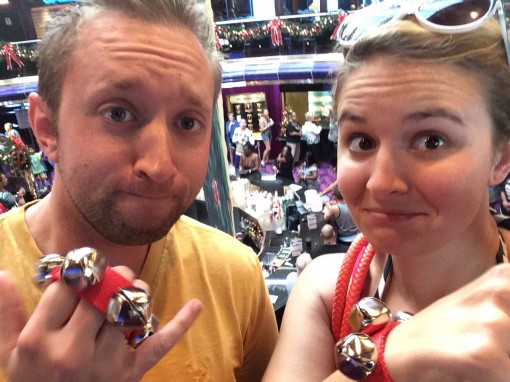 Of course, our favorite activity on board was taking sad pictures in front of the DIsney Cruise Ships we caught up with.  We made a horrible mistake.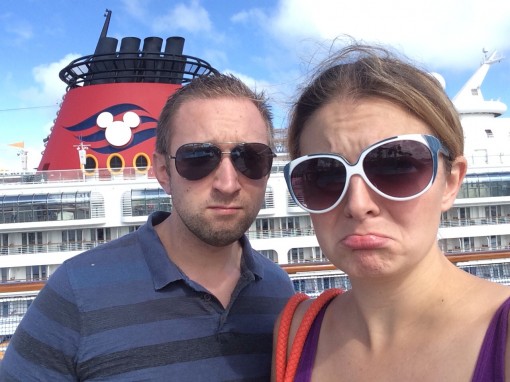 We were even excited to get off at Nassau.  I always get off at Nassau because of a crippling fear of missing out, but I'm never excited about it!  Nassau is better than a Carnival Cruise, and their are fewer people trying to sell you junk as you're walking by.  I even got drugged on Nassau (guess what my next post is about!) and I still liked it better than the Carnival Sensation.
The only good thing about Carnival Cruise Lines is that I'm pretty sure that these guys I don't remember work there and got us back to our room.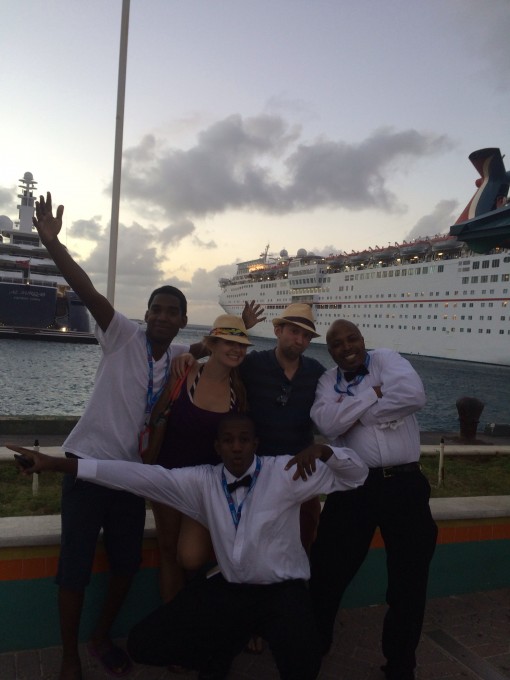 That was maybe pretty nice of them.
I'm going to conclude this with some things I thought I would never say on a cruise.
"At least it's not a 7 night!"
"I can't wait until I can pay for food again."
"Should we just watch 'What to Expect When You're Expecting' Again?"
"I wish they'd drugged us harder.  I still remember most of this cruise."
"Eh, let's just buy sushi later."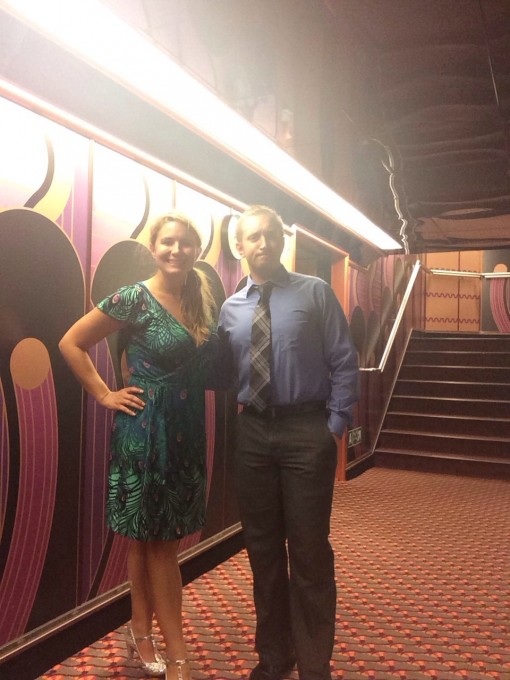 Here's a final example of just how bad it was.
It was finally my turn to get off that boat.  I could see the port.  I was so close, when my room key was flagged.  "You have a message at guest services.  You have to check there before you disembark."
Mike: "Ugh.  What if you won a free Carnival Cruise?"
Me: "I'd probably just give it to someone I hate."
I sincerely hope this serves as a warning and that someone else won't repeat my mistakes.  I know it probably won't.  There's no way I could have been talked out of it before hand.  But I couldn't live with myself if I didn't even try.  Worse case scenario it's 3 days of poolside binge eating right?  Wrong.  If you see a crazy good deal, just say no.  I would have felt ripped of if they paid me $90 to take their cruise.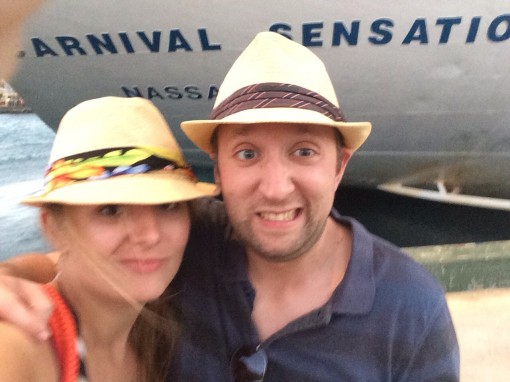 Bye Carnival Cruise Lines… See you never! (unless I'm judging you from my comfy spot aboard a Disney ship…. Which I will be on January 31 to get the Carnival Sensation taste out of my mouth!)