Back in April I was all packed up and ready to be one of the first passengers aboard the Fathom Adonia as she sailed into the Dominican Republic for a week of "impact travel", whatever that meant.  Of course, that voyage was not meant to be and lead to a great adventure in Colombia.  Fast forward to June 5th, when I was finally able to make up for lost time and board the Fathom Adonia.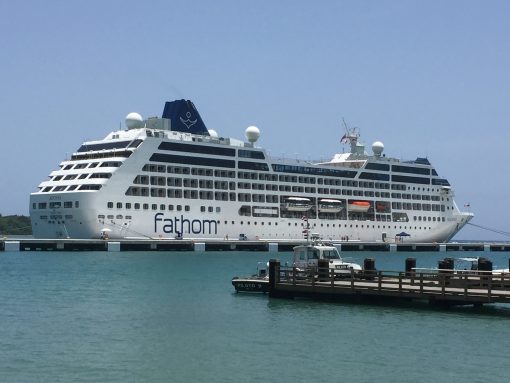 April 10th was slated to be the maiden voyage for Fathom, so no one knew quite what to expect.  A couple of months later, there had been 4 previous sailings on this exact itinerary and many of the people I had met on the first sailing had been rescheduled to those.  I had seen photos inside the beautiful ship and heard first hand stories about the cruise experience, but I still largely did not know what to expect.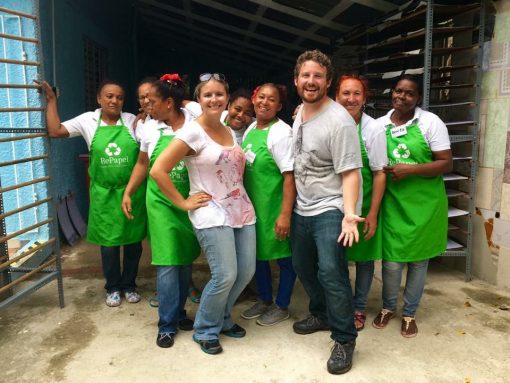 What is "Impact Travel?"
What makes Fathom different from other cruise lines, specifically on the Dominican route, is it's focus on impact travel.  The idea that you could travel and really connect with the people and the place, and perhaps even leave the community a little better.  This is a novel concept, especially on a cruise ship.  The typical cruise ship passenger spends their days sipping margaritas at a Senor Frogs in any nondescript port in the Caribbean.  This is not that kind of vacation.
Fathom does offer more traditional excursions, such as snorkeling or a city tour,  for a fee, but the emphasis is on their impact activities, which are mostly offered to guests for free though there are a few that cost around $20 for materials.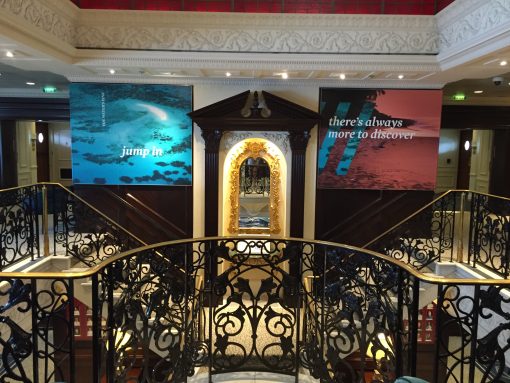 The Experience on Board
I already had high expectations for the staff based on their stellar handling of the cancelled cruise back in April.  Everyone was wonderful this time as well.
The boarding process was a breeze.  I drove straight from my brother's college graduation in Savannah to Miami to board the boat, in the nick of time.  I was able to walk right on with little delay, though that was maybe due to the boat's capacity.  The cruise line is still new and the boat was nowhere near full, which was actually pretty nice, kinda felt like having a ship to myself.
The Cabins are spacious and beautiful.  It's definitely worth the balcony upgrade.  There are a few amenities you don't see on most cruises too, like a tea kettle and stationary.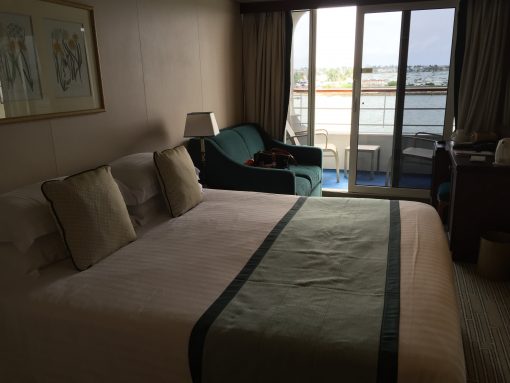 The Activities on board were mostly focused on impact travel.  There were Spanish classes to learn basic phrases to help communicate with the locals, photography courses, and courses on how to be a better storyteller.  There were also a lot of "new age feel good" classes such as guided meditation and an activity designed to help you find your spirit animal ( I skipped that one since a bar stranger in New Orleans already told me that mine is a ferret).  There were of course, some more traditional programs as well, trivia, karaoke, Latin dance (which was great!), and the like.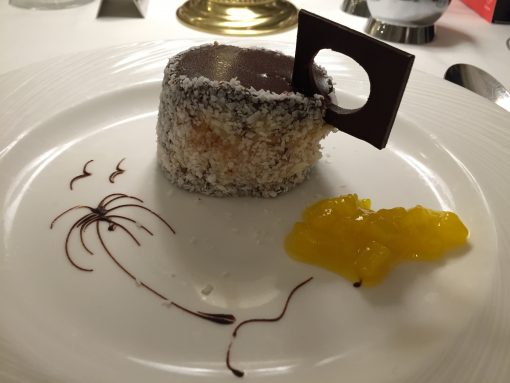 The Food on board was hit or miss.  I was immediately impressed with the poolside burger grill at the Lido Deck.  The Dominican Chimichurri Burger is the best thing on the ship.  The sit down dinners left a little to be desired.  I didn't go the the Ocean Grill (there was an upcharge and I'm poor), but the main dining room had food that varied from just okay to pretty good.  Nothing to write home about.
The Entertainment was sparse.  There is a band, but don't expect your usual cruise line up of dancers and comedians telling dad jokes.  They did play Casablanca top deck though, which I wholeheartedly approve of.
Impact Activities
This is what it's all about.  Each passenger can pick up to 3 impact activities from the following list;
Reforestation and Nursery
Recycled Paper and Crafts Entrepreneurship
Cacoa and Women's Chocolate Cooperative
Community English Conversation and Learning
Student English Conversation and Learning (school year)/ Creative Arts, Music, and Sports (Summer)
Water Filter Production ($20)
Concrete Floors in Community Homes ($20)
You now know as much about these activities as I did going into it.  Passengers are encouraged to sign up for activities and excursions through a portal online, though as many passengers (myself included) found out, that's not fool proof.  My reservations, and many others were lost.  I had to wait in a huge line with everyone else to re-book activities and by the time it was my turn, many were full.
I missed the chocolate cooperative, which still irks me a bit (especially on an empty boat), but I ended up with some pretty good activities.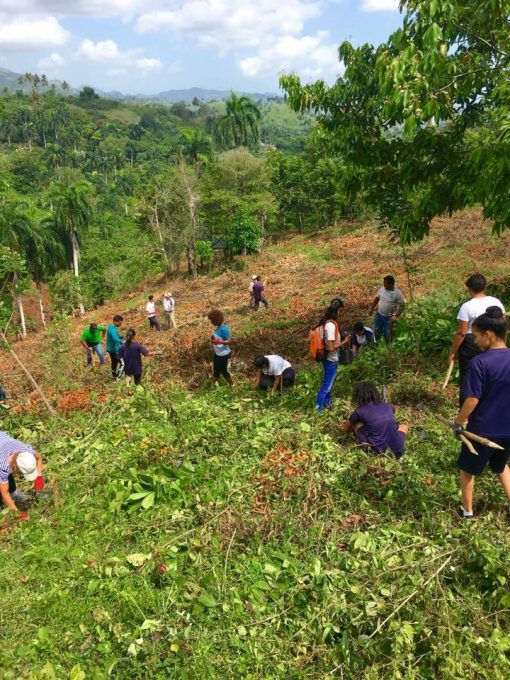 Reforestation and Nursery– This is not really divulged anywhere in the literature, but reforestation and nursery are, in fact, two different activities.  On Tuesdays and Fridays there is less time for impact activities, so volunteers stay in the nursery and plant seedlings.  The other days there is a rather arduous trek up a mountain side to do the actual planting.  I opted for the latter.  The view was incredible, but it was physically demanding.  I lucked out too, and our group ended up with a group of local school children volunteering their time, so we got some cultural interaction as well.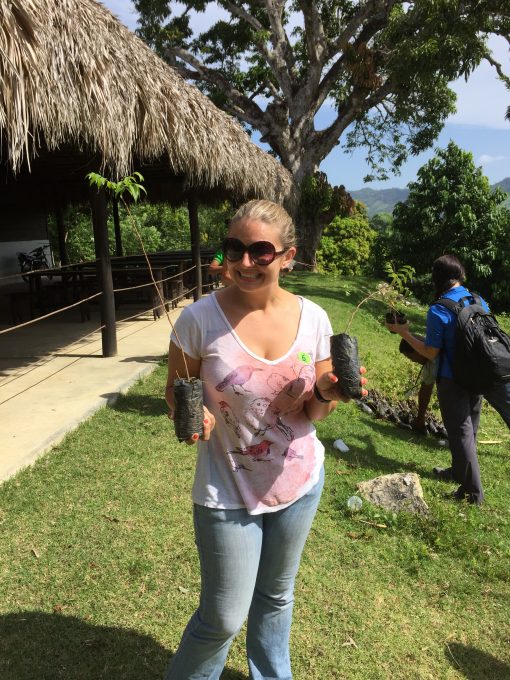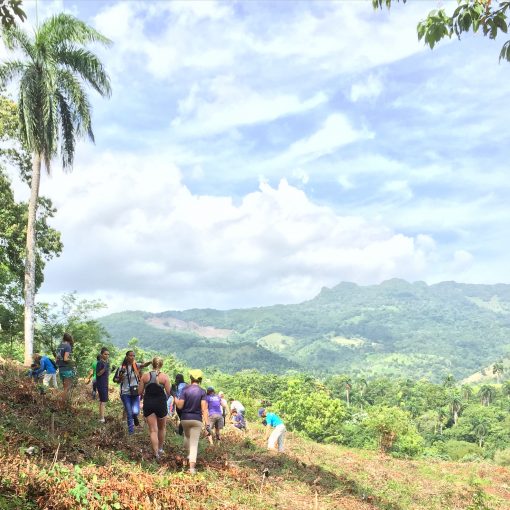 Creative Arts, Music, and Sports– This one makes me glad that I waited until summer.  This summer camp teaches kids English for a bit, then does some dancing and playing outside.  Each traveler pairs up with a local child to help them learn a bit of English.  I was paired with and 11 year old girl named Rosmerlyn, who already knew her alphabet better than me (in Spanish… I'm pretty on point with the English version), so we moved on to numbers before being told to stick to the curriculum.  Oops.  I don't know how much I actually helped her since most of the time she was just teaching me how to say things in Spanish, but it was a lot of fun.  I even sportsed a little, which I never do, and have the battle scars to prove it. (I will be going back to never sportsing again immediately).
Recycled Paper and Crafts Entrepreneurship, this was an amazing experience.  This group of women is so warm and enthusiastic, you can't help but have a blast.  Here they take old paper and recycle it into new paper to make business cards, stationary, and the like.  They also make jewelry and home goods out of everyday items like coffee beans and seeds and take plenty of dance breaks.  At the end of the experience you do have to opportunity to purchase some of their crafts, so be sure to bring cash (USD or Dominican Pesos).
I can't speak to any of the other activities, but they all got rave reviews from the passengers on board.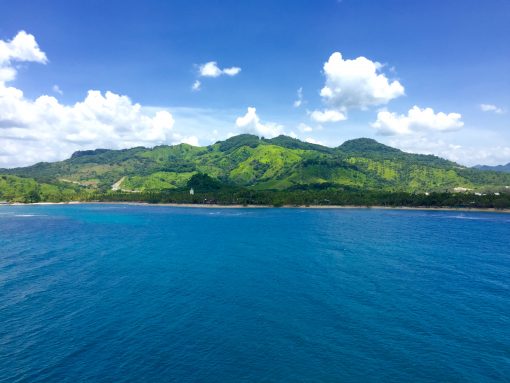 Amber Cove
Unlike most cruise ships, the Adonia stays in port for 3 nights.  Luckily it's a great port to be in.  The port itself is new and beautiful and features all of the things you've come to expect in a cruise port.  There's a restaurant that sells overpriced frozen drinks in souvenir glasses, Diamonds International, and a few souvenir shops.  What makes this port a bit better is that it also features a resort style pool, water slides, and a zip line that make it worth having a port day.  If port days aren't your thing, there are also towns and a beach that are walkable from the port, which is always nice.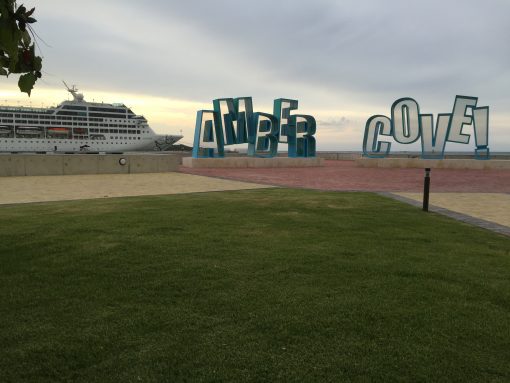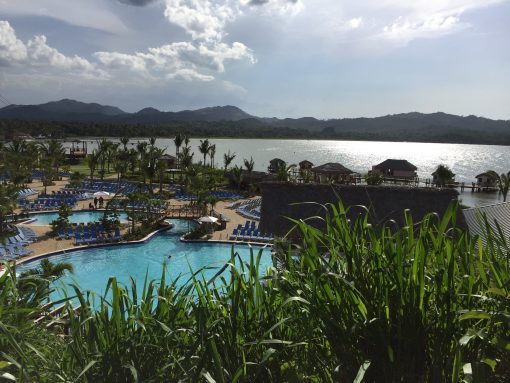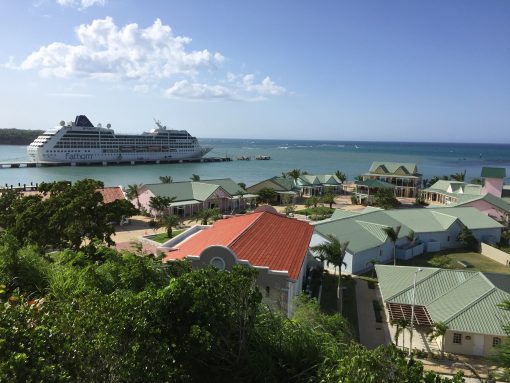 The closest major city to Amber Cove is Puerto Plata.  It's not really walkable, but it's worth the cab ride.  There are some great seafood restaurants, a few museums, and some really cool beach bars.
The Good
There are many pros to a Fathom Cruise, some of which I hit on already, but here's the cliff notes.
Impact activities are included in the price and really help travelers connect with the community.
Staying in port multiple days also helps with cultural experiences that are often missing on a cruise when you only have a few hours in a place.
Wine and paint night is offered as an activity on the boat… and it's free (except for the wine)!
Foreign language classes should be offered on every cruise!  There were several "Spanish Phrases" classes that were offered to learn a few basics to help in communicating with the locals.
You can get back on the boat with liquor bought on the island!  Some cruises hold it for you until you get back to port… not Fathom!
Free wifi while in port at Amber Cove.  It's terrible unreliable wifi, but it's free wifi!
The staterooms are spacious and well appointed.
All of the toiletries are fair trade
I still have dreams about the Dominican Chimichurri Burger
The Latin dance classes with Laura and Garcia were amazing. We got to learn Salsa, Bachata, and Cha Cha routines.  There were also Merengue classes, but I missed that one for wine and paint night.
Classic movie, mojito, and flan night is a weird theme party… but I love it.
Fewer people on the boat = fewer people in the hot tub!
The staff are great!
Postcards to your future self!  Aboard the Adonia there are postcards that will be sent free of charge and delivered to your future self.  I can't wait to get mine!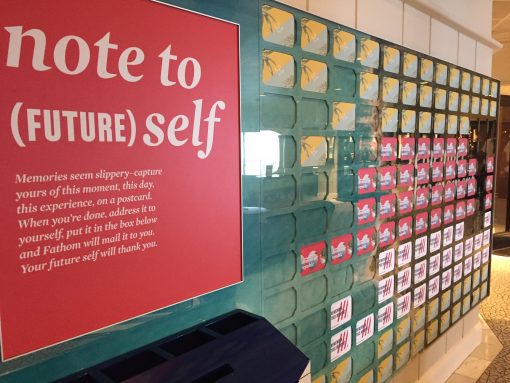 The Bad
There were a few frustrations and issues that could use a little improvement.  Many of these issues were to be expected on the first cruise, but after 5 sailings, these kinks should be worked out.
The App.  Fathom has an app that we were all encouraged to download, however as far as I can tell it's completely useless.  Basically the app has a schedule for activities on the boat and you can add the activities you want to your personal schedule.  This is only for personal use and does not actually register you in any activities, which caused confusion among many passengers.  Oh, and also the schedule is super wrong.
The schedule. As I mentioned, the schedule on the app was very wrong almost every single time.  The schedule passengers were to go by was the Soundings, which was dropped at the stateroom every night.  This schedule was a bit more accurate, but still not 100%.  We surprised many staff member by showing up for activities that were on the passenger schedule, but had not been relayed to the staff.
The website.  I mentioned before that the activity sign up on the website didn't actually register many people, forcing them (and me) to wait in line and sign up for whatever activities were left.  This was probably the most frustrating part of the cruise, and the staff member assisting us with this issue was pretty "meh?" about the whole thing.
The wifi… oh the wifi.  You would have seen many more social media updates from my time aboard the Adonia if their wifi game were Stronger.
This is a minor suggestion, but the Cocktail Class could use some improvement.  the class is limited to 10 participants and costs $15.  I love a cocktail class and it's my favorite part of a Disney Cruise, so maybe I had unrealistic expectations (other people raved about this class).  It was okay, but what I thought was a bit bizarre was that the bartenders made two or three of each drink and then the 10 people passed it around and tried it by the straw full.  Sometimes if one person particularly liked a cocktail they would sloppily pour part of it into a small glass then give the rest of the drink to someone else.  It just seems like it would make a lot more sense to make smaller versions of every drink  for the participants to try.  The drinks were also mostly very very sweet which isn't really my thing, but like I said, other people loved them.
Who is this for?
This is the question I asked myself and overheard others asking as well.  Who is this for?  How do you sell this experience.  It's hard to answer.  I really enjoyed the cruise and would certainly do it again, but how do you sell people on a totally new concept like this, and who is the target audience?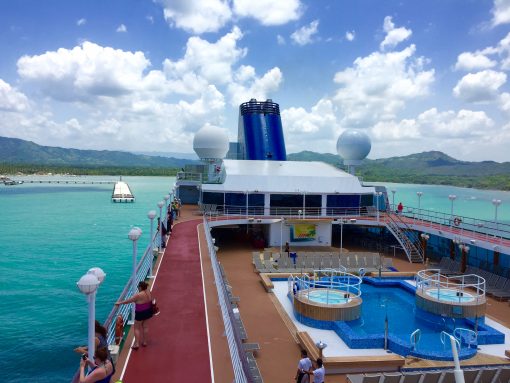 The Millennial crowd eager to change the world is the first place I went, but I think Fathom has priced themselves out of that.  Right now Fathom is running a lot of promotions to get people on board, so that works out well, but their "rack rate" starts at $999 + port fees for a shared inside room.  They are currently running a $499 special for the inaugural season, but that ends in November and then the price for a shared inside room with port fees and taxes will run you about $1500 per person, a price that will get you just about anywhere in the world.  Not to mention, the volunteer crowd is probably just going to travel to a place to volunteer for a few days at least, not 4 hours at a time in the middle of a cruise.
Retirees?  There did seem to be a few of this crowd on the boat, but I didn't see them at the impact activities.  The cruise line is still new, so many of the people aboard were travel writers, agents, or bloggers, but those I spoke to that were not, just found a cheap fare for a week long cruise and took it.  I saw them at dinner, but never out "in the field."  I imagine that crowd will also dwindle once the price jumps up.
Schools, church groups, or sports teams is a suggestion I heard and I think that's a great idea, but I don't know if that's enough to sustain an entire cruise line.
I do know a few people who have been on multiple Fathom cruises even in the short time they have been around, so maybe they are banking on repeat business. Hopefully enough people will try it out early on so that Fathom develops a fan base.
It is a really cool concept and I definitely recommend trying it out, and while it's cheap there's no reason not to!  I don't mean to come off as critical, it's just always hard to market a new concept.  I certainly wish them all the success and I would go back on this exact cruise in a heart beat… and on their cruise to Cuba in half a heart beat!
Disclaimer:  I was offered a reduced rate for this experience, but as always, opinions are 100% my own.
Save
Save
Save