Lakeridge Winery is one of my favorite places to go when I need to escape the tourist nonsense that always takes over Orlando around the holidays.  It's about a 45 minute drive from the tourist attractions and I don't think many out-of-towners know about it, which is great!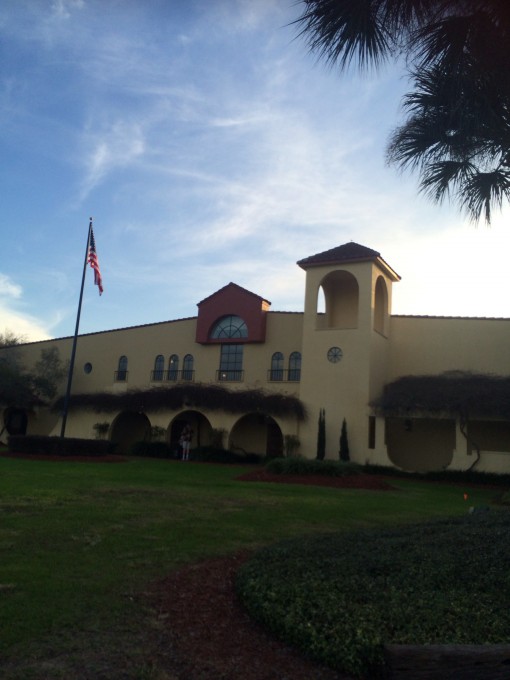 I got off to a rocky start with the Lakeridge Winery.  Before I ever went to the Winery and Vineyards, I bought a bottle of one of their most popular wines, Sunblush.  I like supporting local business, and I love wine, so why not?  It's to date one of the only two bottles of wine I've ever poured out.  I thought something was wrong with it.  It tasted like licking a monorail seat.  That reference may not make much sense to those of you that don't frequent Disney World as much as I do, but imagine the smell that thousands of sweaty tourist make on vinyl seats.  It's alarmingly barnyard-esque.  Now imagine that smell on your tongue.  That's what I think the Sunblush tastes like… and I've tried it sense, there sadly wasn't something wrong with it.
That being said, I'm very glad I gave the Lakeridge Winery a second chance.  While their wine still isn't my favorite, most of it is way better than the Sunblush and it's still a great outing.
Lakeridge host events almost every weekend, but they do free tours and tastings all week.  The tour starts with an educational video on the history of the Cox family, the owners of the vineyard, and the general wine making process.  After the film and a brief Q&A, guest are guided through the fermenting and bottling areas.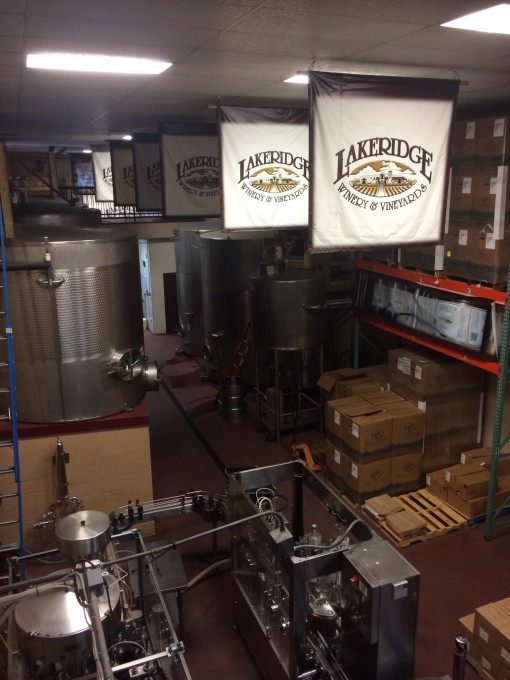 While it's always interesting to see behind the scenes, everyone is waiting for the main attraction; the tasting.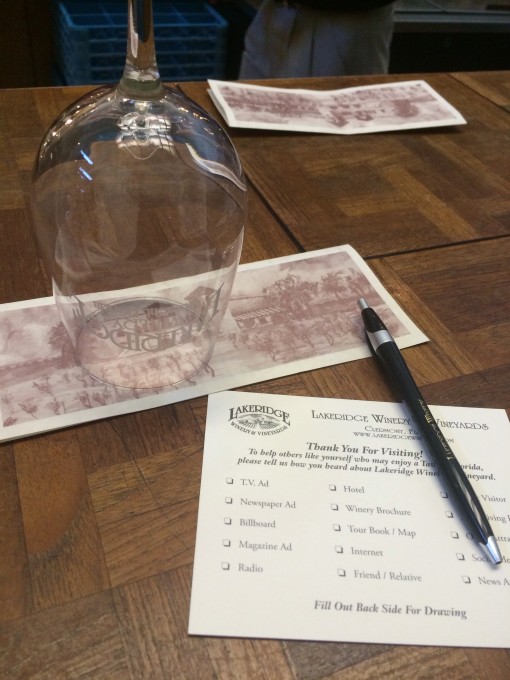 The tasting is free an is an excellent way to sample the wines without having to commit to a bottle.  Every guest is given a wine glass and a list of the wines being sampled to make notes on.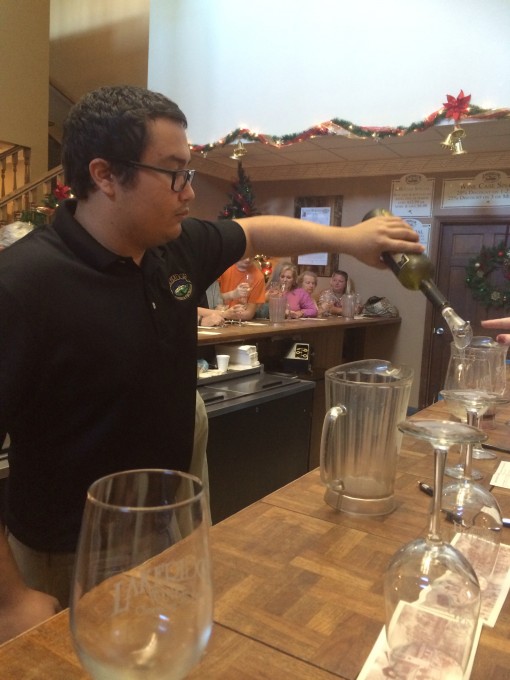 Like I said, the wine is not my favorite, but it's still a fun day.  I tend to prefer the big full bodied reds that just can't happen in such a warm climate.  It's the tradeoff I make for living amongst palm trees (and totally worth it I might add).  To me, most of the wines are sickly sweet, but others seem to love them.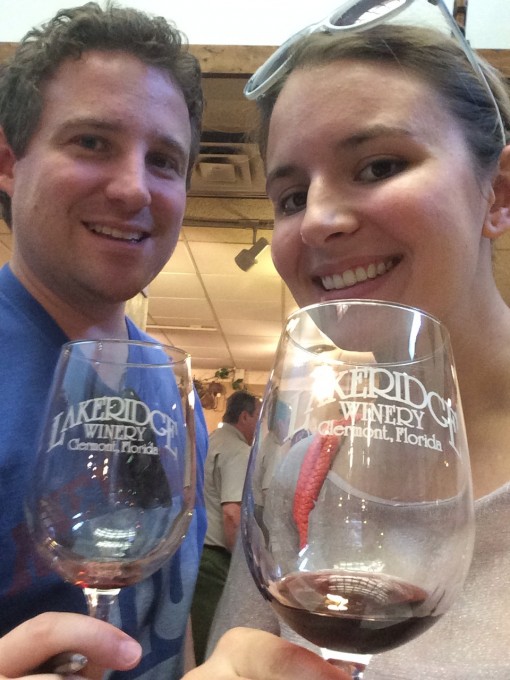 The whites are the best bet and my favorite was the Blanc Du Bois Reserve.  It's still a little sweeter than I'm used to, but was perfect for drinking outside while watching the sunset over the vines.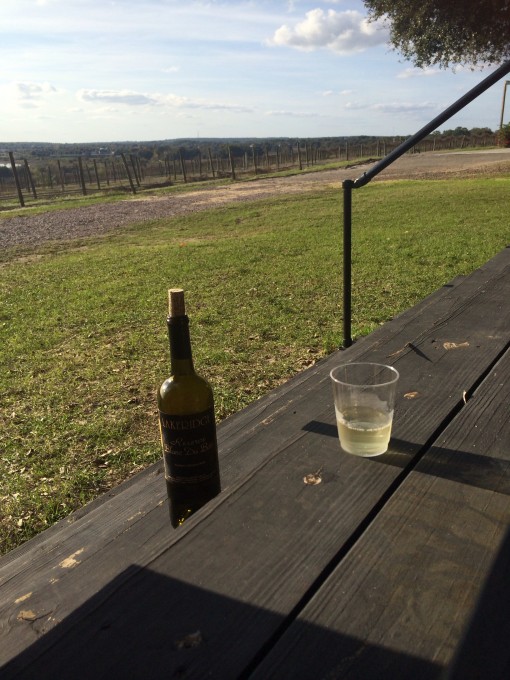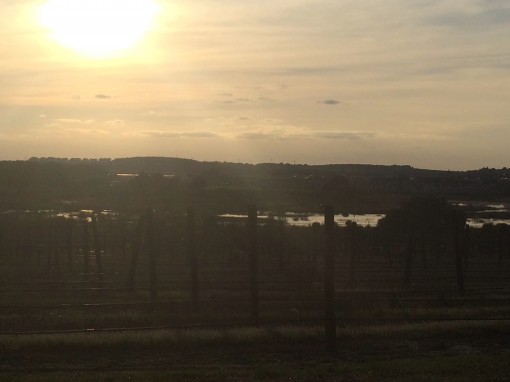 While the holidays are a great time to escape the Orlando tourist, they are not the best time to look at the vines, which are bare during this time of year.  For that you should visit in late summer when the winery hosts a harvest festival and grape stomping contest.   Any time you can make it out the Lakeridge Winery though, there is sure to be something fun going on.  They have year round festivals and music events, and of course, Central Florida has great weather most of the time.  The same weather that has made it difficult to produce more complex wines also makes it much nicer to visit the winery itself.  A fair trade off I think.  You can check out the Lakeridge Winery & Vineyards website for an up to date calendar of events…. and no matter when you go you can't beat the view!