Savannah, GA is one of the most beautiful cities in the country.  Savannah brings to mind trees dripping with Spanish moss lining cobblestone streets, stately historic homes, and some amazing cuisine; a throw back to a simpler more genteel time.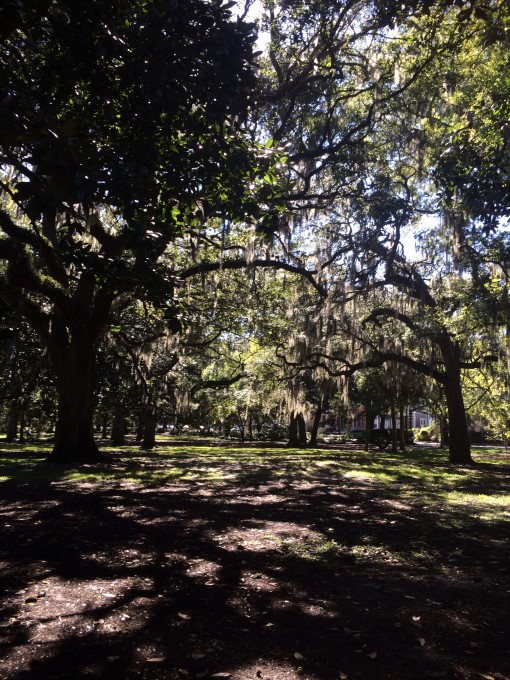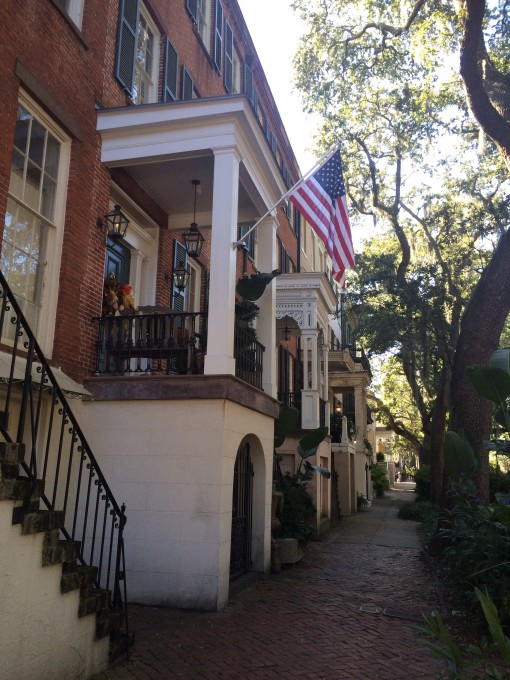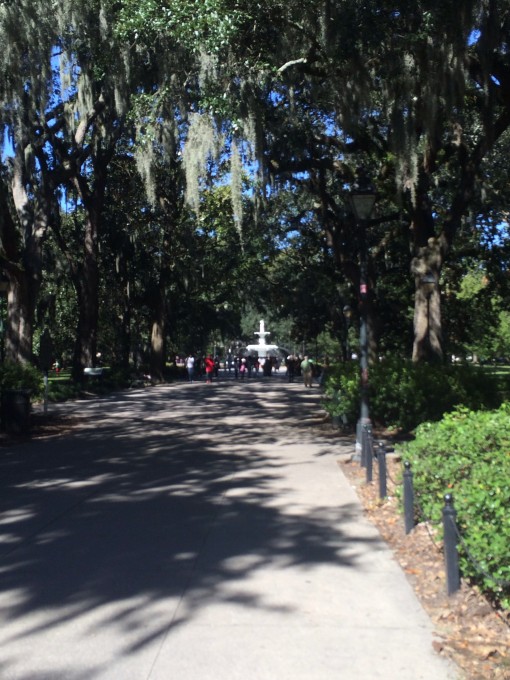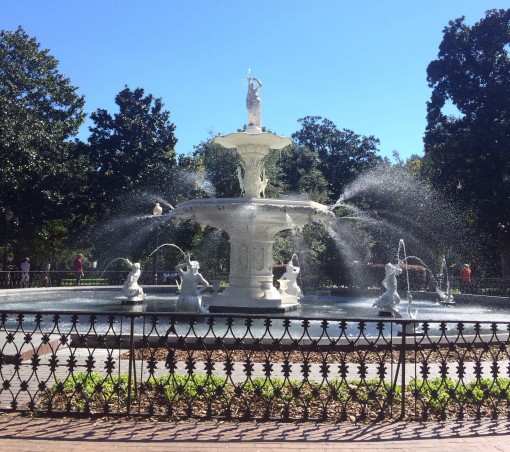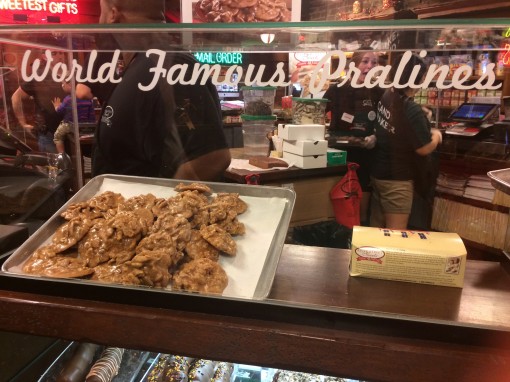 Of course, Savannah does offer all of this, but they also know how to throw one hell of a party.  Every year the Savannah Waterfront Association hosts several fun events and most recently I was able to attend their Oktoberfest.  From October 3-5 Savannah's River Street was alive with music, polka dancing, and the smell of German sausages and beer.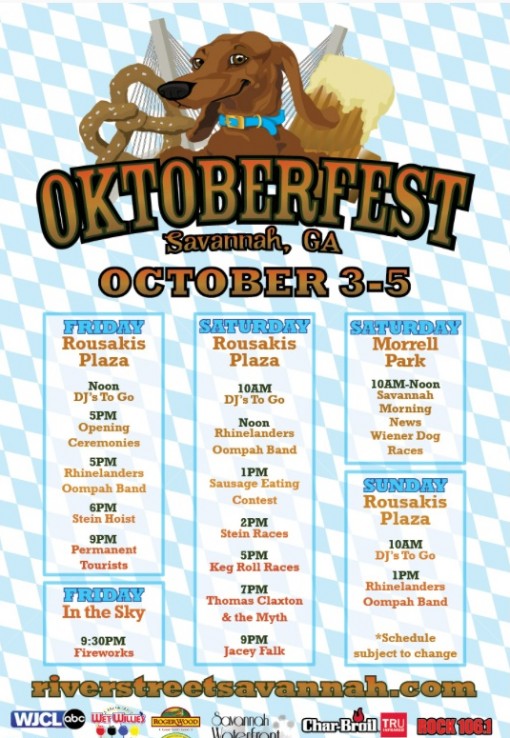 Unfortunately, I did not arrive in Savannah until Saturday morning, so I missed the Friday night fireworks.  Though years of living near Disney World have left me pretty jaded about fireworks, so I'm kind of okay with it.  I got there in time for the Wiener Dog Races, which were obviously the highlight of the entire festival!
By the time I arrived the stands were already packed with onlookers as the dogs and owners were preparing for the pre-race costume contest.  That's right, dachshunds in costumes.  This was the perfect greeting after a 5 hour drive that commenced before dawn.
The dogs were paraded in front of an adoring audience dressed as everything from pirates to fairies, and of course the obvious (but still adorable) hot dog, but all bets were off when Quimby entered the ring.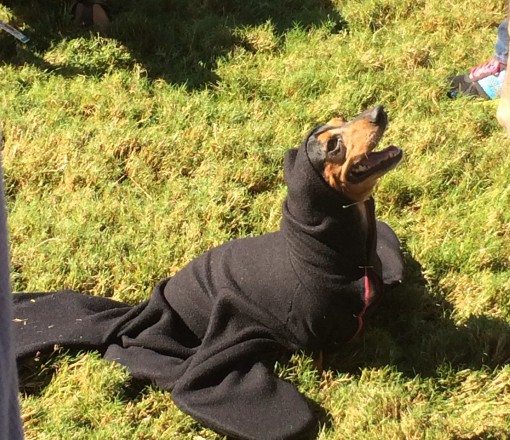 This little guy was dressed as a seal, which may have been enough to secure a win on its own, but then he started to walk.  Well, really it was more of a hop.  Quimby is a handicapped dachshund that can't use his back legs.  He usually utilizes a tiny adorable dachshund wheelchair on his back legs, but in this costume he hopped around like an actual seal.  Naturally this sealed the deal (pun intended).  Quimby was no doubt an audience favorite.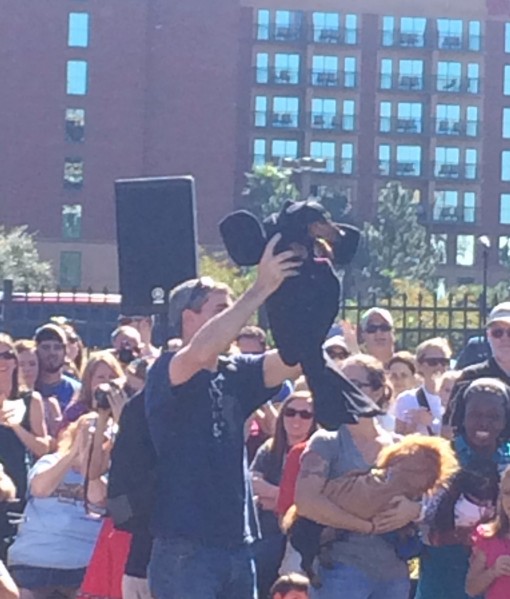 Quimby was the clear winner and deservedly so, but there was also a top five that did not feature this Mr. Peabody, that I personally feel was robbed.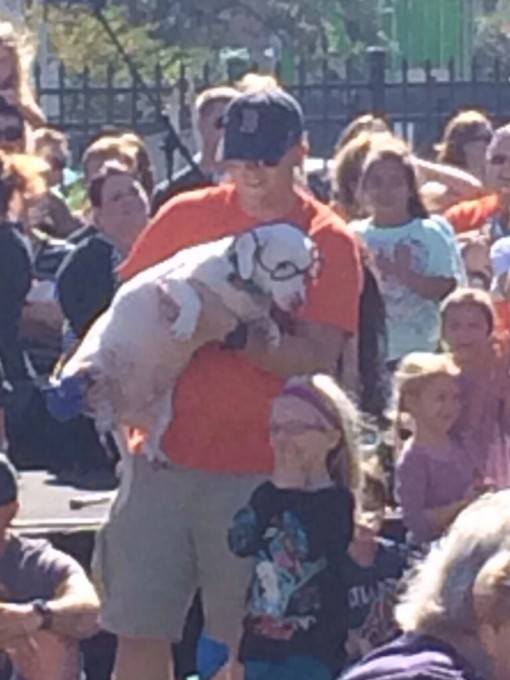 After the costume contest, it was down to serious business, the races.  I'll take a moment to say that, as the owner of two retired racing greyhounds, dog racing is not something I typically support.  This was different however, these are pets entered by their families.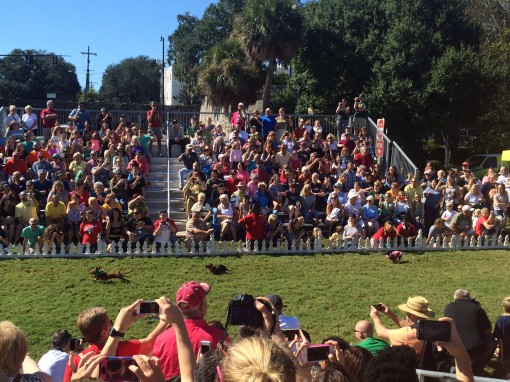 In fact, a good portion of them didn't even move when the gates were lifted, and still had someone to go home to.
Quimby also competed in the races with his wheelchair.  While obviously not the fastest, he had the audience in the palm of his paw.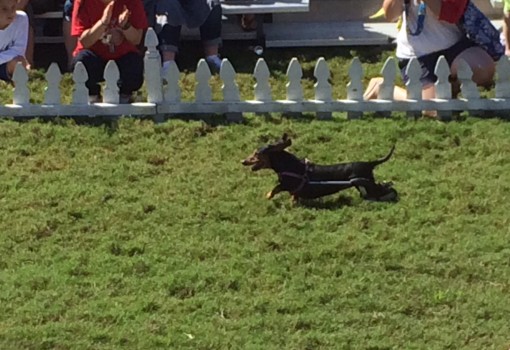 Frankie the dachshund won for the 3rd year in a row.  There is an excellent trophy case, and probably a resentful teenaged underachiever at Frankie's house.
After the wiener dog races the festivities moved to Rousakis Plaza on River Street.   Time for German food, beer, and general silliness.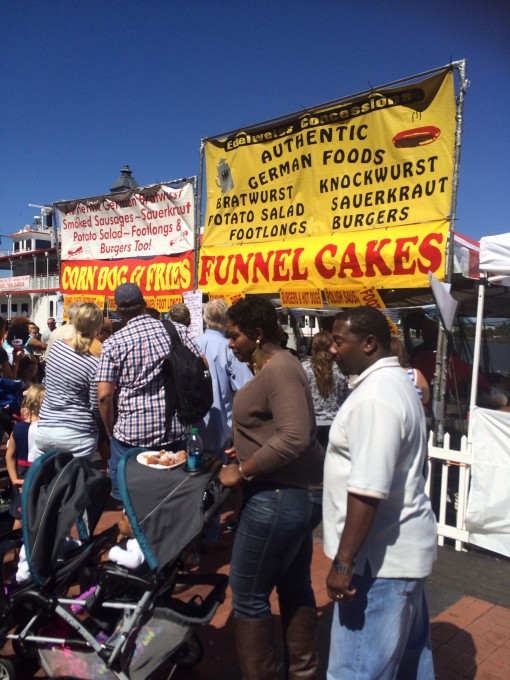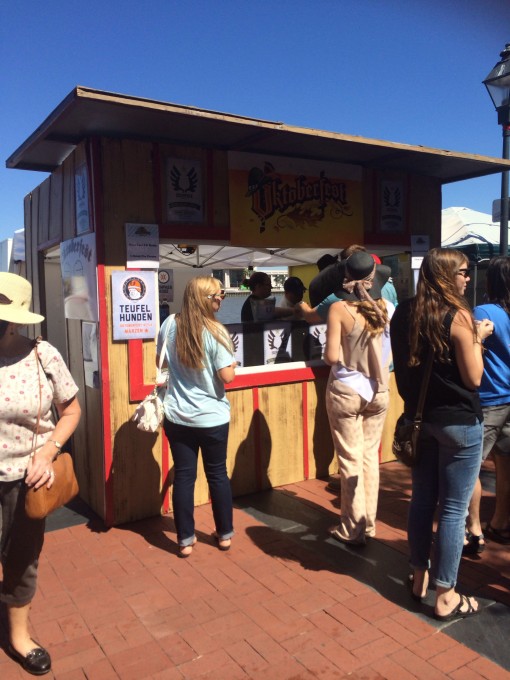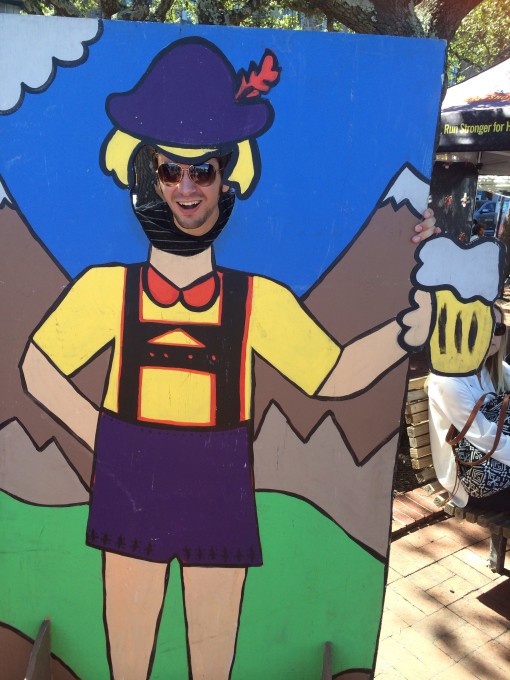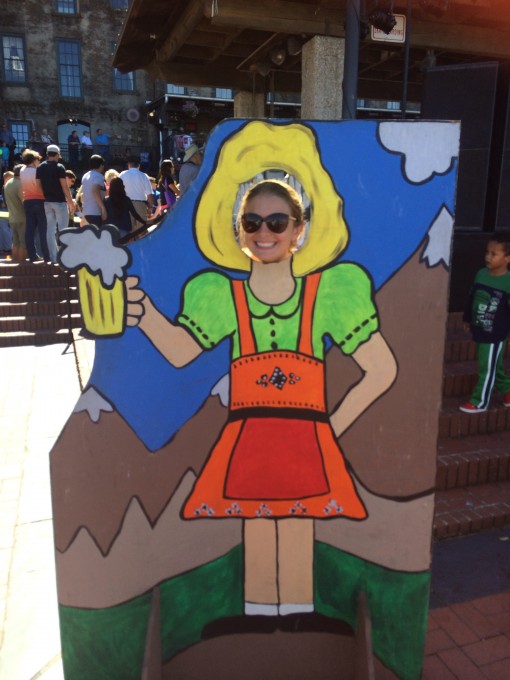 Of course, no Oktoberfest would be complete without an Oompah band.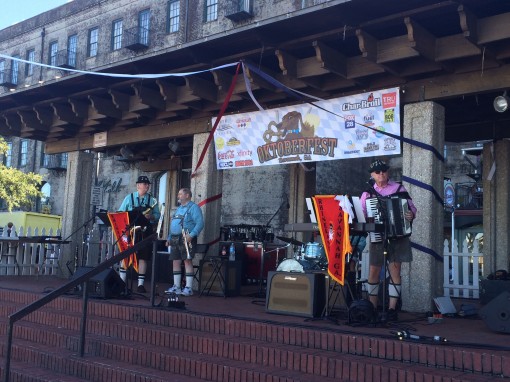 They also had some pretty cute and clever merchandise.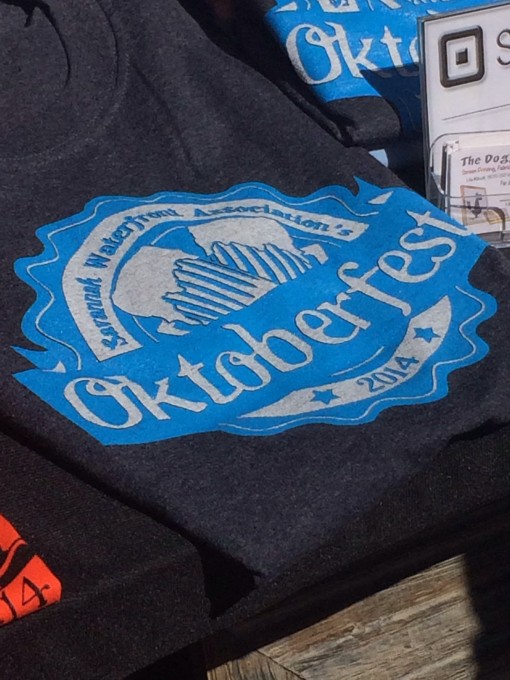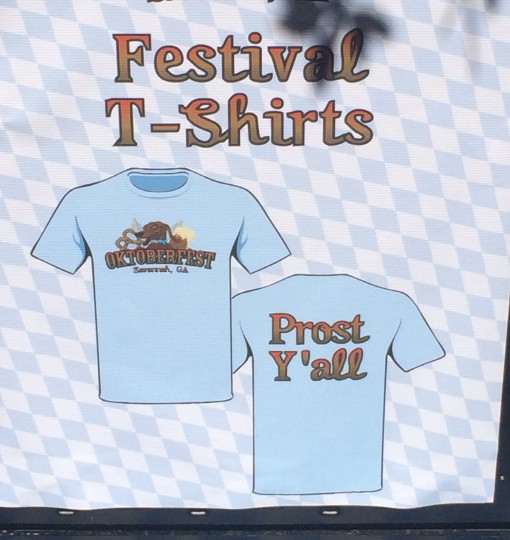 Now, for my money (at this free event) the wiener dog events stole the show, but there are several other exciting German themed events too!
The festival kicks off with a Stein Hoist that was postponed due to rain, so I actually got to see it!  There is also a Sausage Eating Contest and Stein and Keg Roll Races.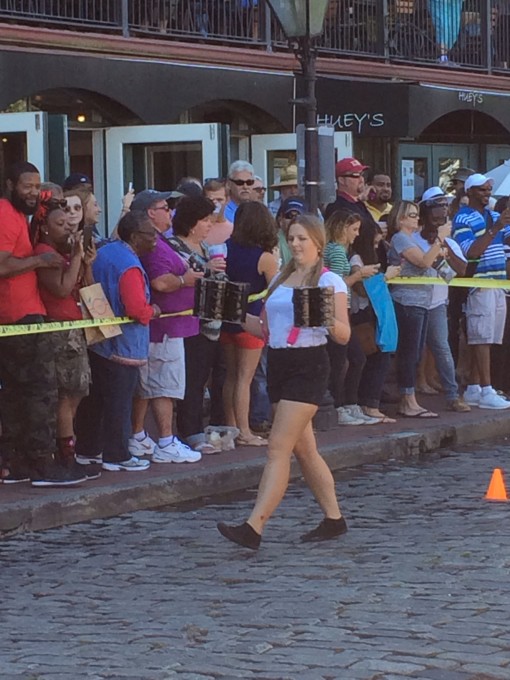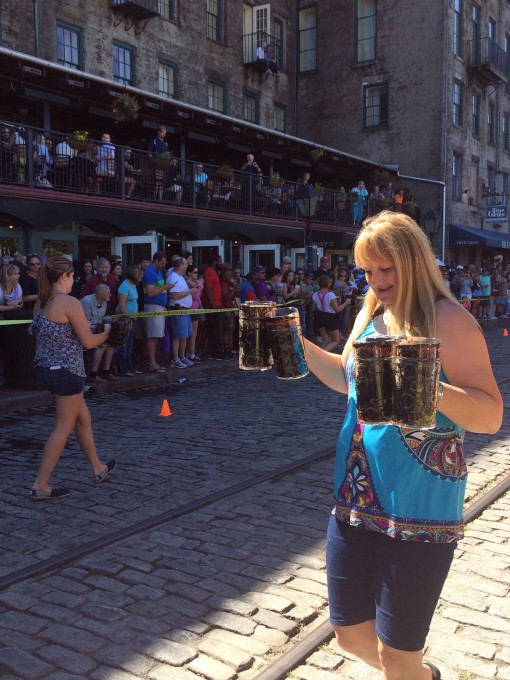 Root beer was used for the stein races, so no actual beer was spilled.  That's responsible tourism.
Oktoberfest wrapped up on Sunday with a final afternoon of beer, sausage, and music and sadly it was time for me to go home.  I'm sure I will be back in Savannah soon though.  The Savannah Waterfront Association host tons of fun events through out the year, but there is plenty to see between events too.  Savannah is one of the most beautiful and historic cities in the country that offers something for every kind of traveler.