Prior to my visit, I did not know much about Bimini.  I had heard of it and knew it was in the Bahamas, but I had no idea it was only 50 miles from Miami!  The ease of getting there had me wondering why I don't spend all of my time there!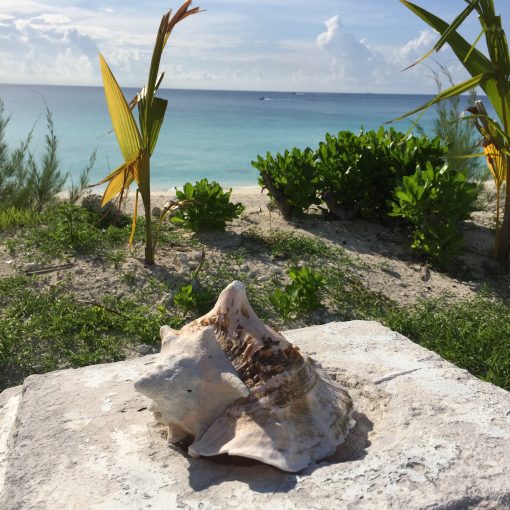 Getting to Bimini:
There are a different few ways to get from Florida to Bimini.  Being that it's an island, boats are a popular choice.  The distance is so short some have even attempted the journey by jet ski.  I'm adventurous, but not THAT adventurous;  I arrived by seaplane!  Cape Air flies from Fort Lauderdale to Bimini on their small 9-seater seaplanes.  I have to admit, a plane that small is a bit nerve-wracking, but the flight is only 25 minutes and the views are fantastic!  There is something exciting about landing on the water too.  Best of all, Cape Air delivers you right to customs, and within walking distance of Resorts World Bimini (though there is a shuttle if you don't want to walk with your luggage).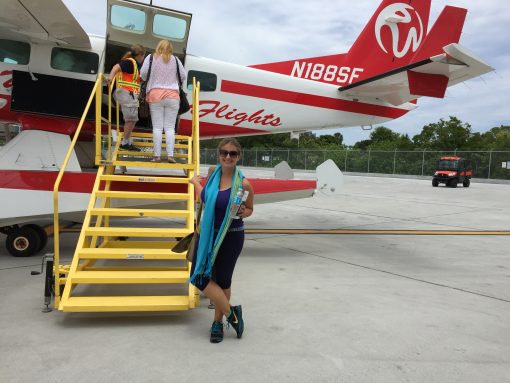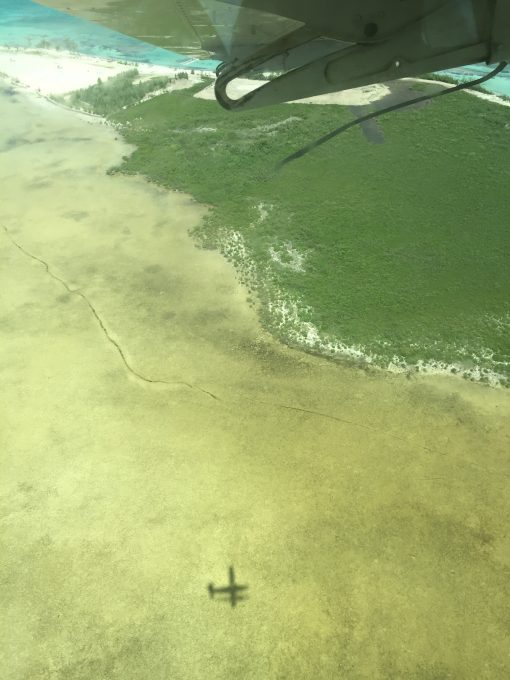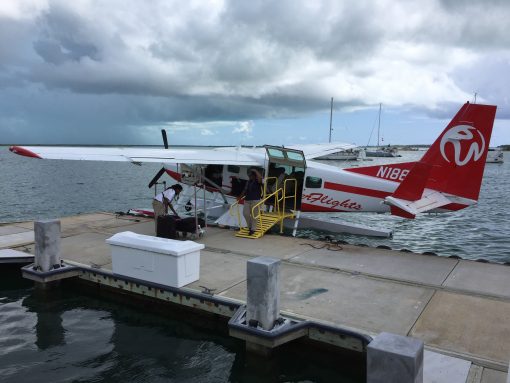 If seaplanes aren't your thing, Silver Airways flies larger jets to the island, but they land at the airport in South Bimini and then you must arrange transportation to the resort by ferry.  Though the island is only 7 miles long, so that's certainly not a huge deterrent.
The Resort: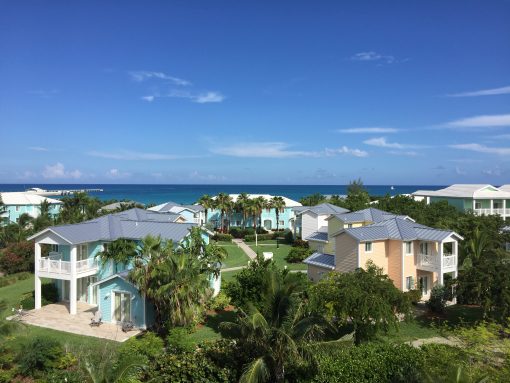 Resorts World Bimini offers condos from studio to 4 bedrooms perfect for traveling with a large group, but I stayed at the newly completed Hilton.  The Hilton at Resorts World Bimini has everything you would expect from a luxury island resort and makes for a perfect base to explore the island or just chill at the hotel and relax by the pool.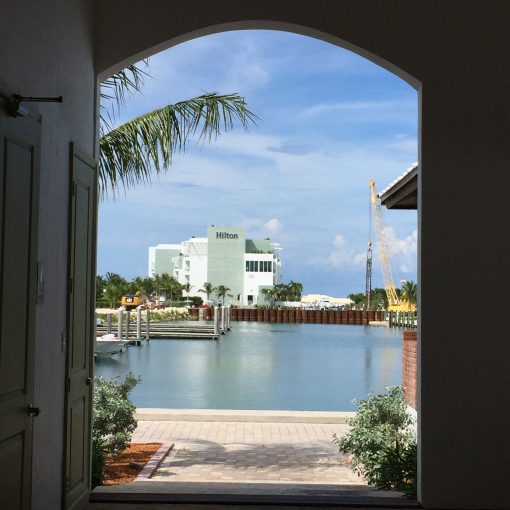 The Room: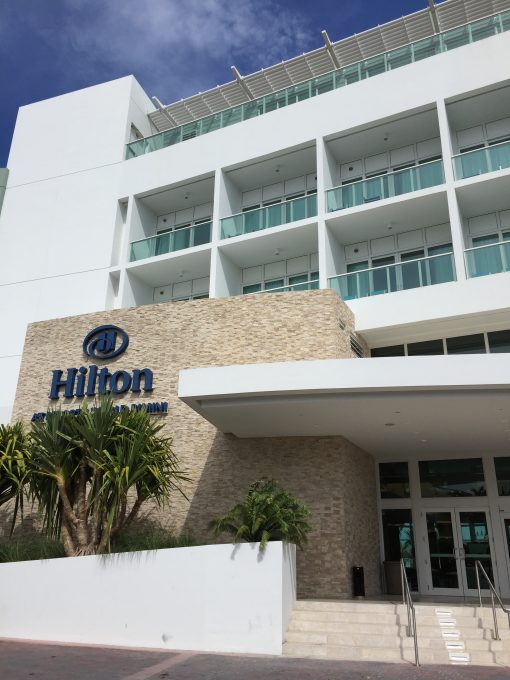 With water on all sides, every part of the Hilton at Resorts World Bimini offers stunning views.  I stayed in a standard room, but there are also a handful of suites available for larger parties ( or just people who are a little bougier than me).  The standard room is very nice,  includes all the expected amenities (coffee, toiletries, even robes!), and has a balcony overlooking the water. The bed is insanely comfortable.  Getting up every morning was a challenge!  I guess if the hardest choice of the day is whether to sleep in or go to the beach, your life is going pretty well.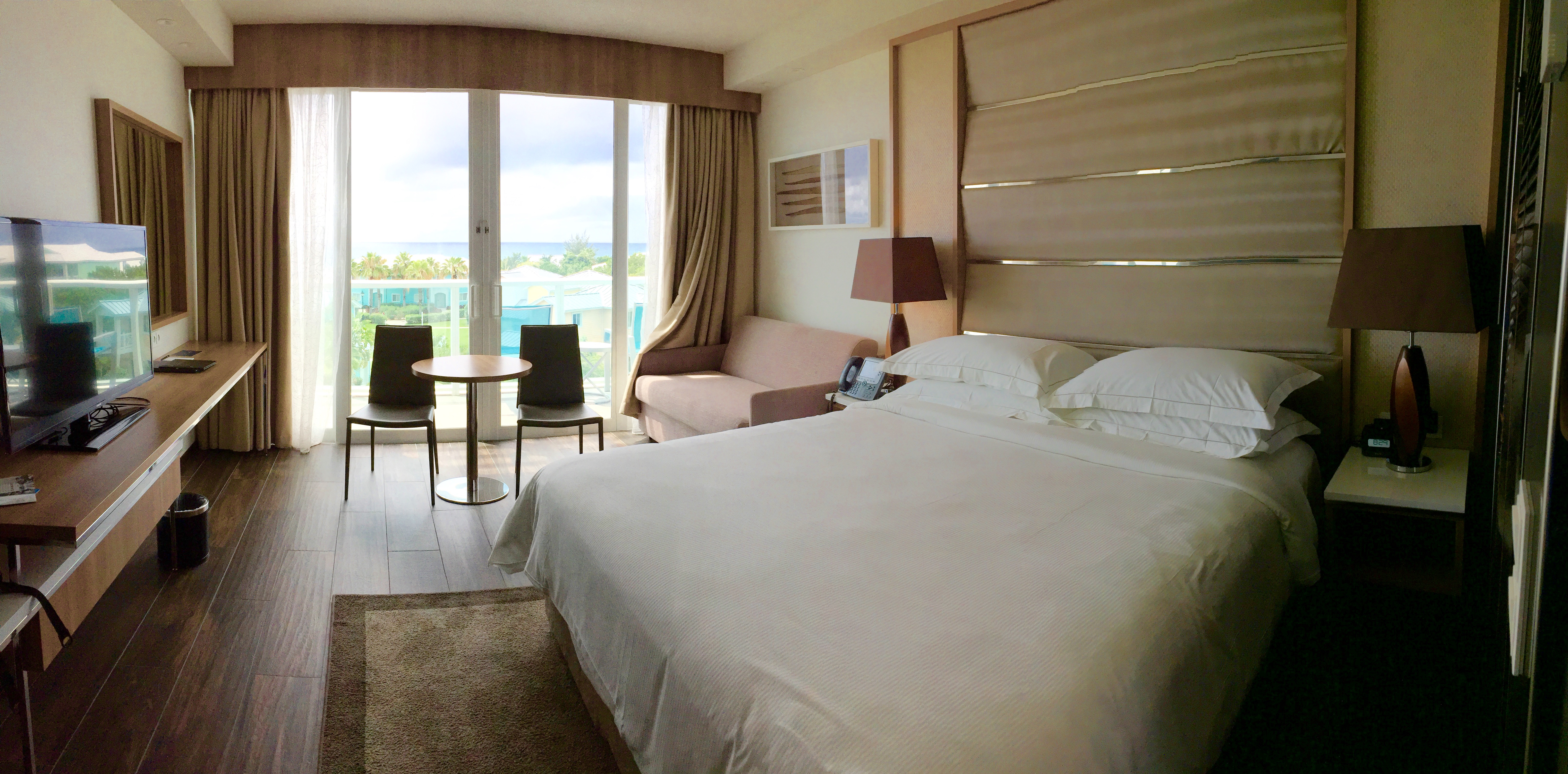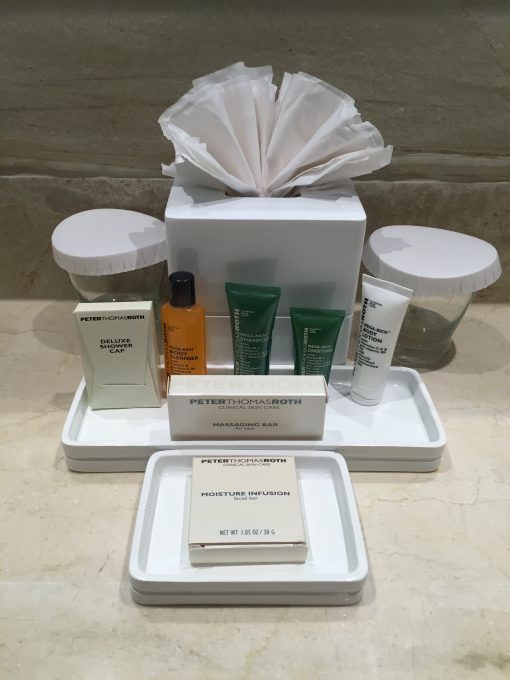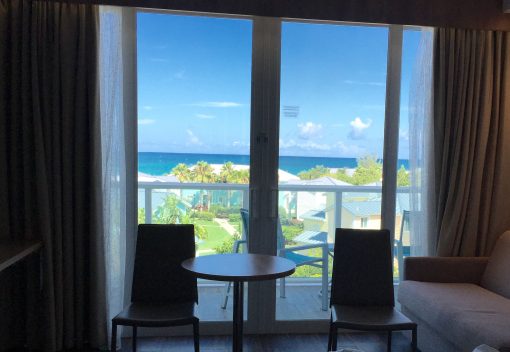 The Food:
The Hilton at Resorts World Bimini offers a choice of 9 different restaurants.  I was only there for 3 days, so I didn't have the opportunity to try them all (though I made a pretty good dent in it!).  This is the only area that I was not 100% blown away by the Hilton.  Most of the food was good, but I do feel like it was very expensive for what it was.
Tides is the main lobby restaurant.  I ate breakfast here twice and dinner once.  Dinner was good, but breakfast left a little to be desired.  For breakfast there is an a la carte menu as well as a buffet.  The buffet is pretty standard, good even, but $30 is a bit much for eggs and bacon, in my opinion.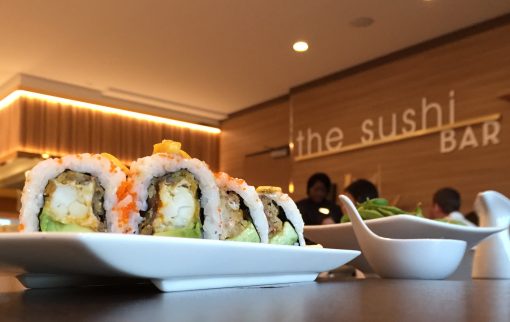 The Sushi Bar is great.  They are only open for dinner and offer a variety of creative sushi rolls as well as other Asian cuisine, like Pad Thai, and noodle soups.  I was impressed with this restaurant and wish I had eaten here every meal!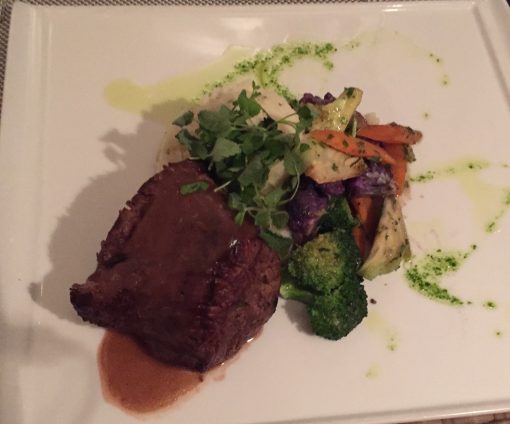 Sabor Restaurant is the Hilton's signature restaurant.  The menu features aged steaks and seafood in an upscale environment on the water.  I spent my last night dining here and I'm glad I did.  This is the only restaurant that I felt like had the atmosphere and food quality to warrant the higher price tag.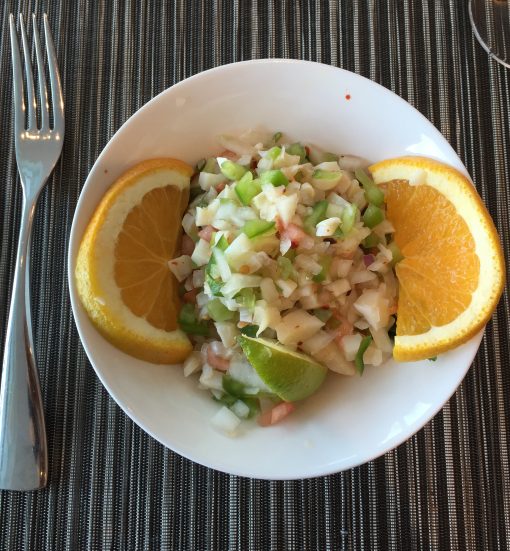 Overall, I would recommend taking the free shuttle from the resort into Alice Town and sampling more authentic local cuisine.  Bimini is known for it's amazing conch salad and there are loads of places in town to order it up fresh for a fraction of the prices at the resort.  Of course this is to be expected with a luxury resort, so I can't be too upset.
The Activities:
The one rule every good resort knows, is to provide enough activities to keep guests on property and the Hilton at Resorts World Bimini does this well!
-Pools-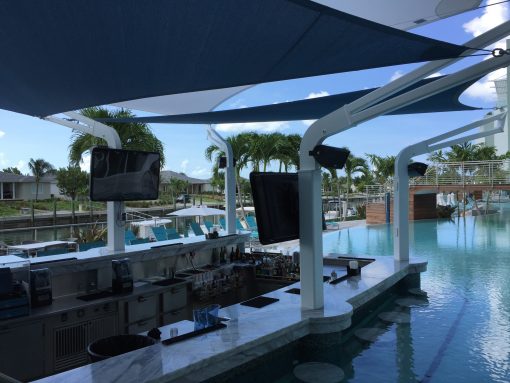 There are two main pools at the Hilton; the "lazy river" pool, the main pool on the ground floor, got it's name because it runs the length of the resort and winds around like a "lazy river", although there is no current, so it's not a true lazy river.  But who need a current when you have a swim up bar?

The rooftop pool was my pool of choice, largely because it's adults only.  To access the pool, guests must have a wristband obtained at check-in assuring that they are over 18.  The Monkey Business Bar is also up there, though it closed at 6pm when I was there.  I did stay mid-week, but there were plenty of people at the pool to warrant keeping the bar open.  Still, a rooftop, adults only, infinity pool with a bar has my name all over it!  I also enjoyed my amusing wristband.
-Casino-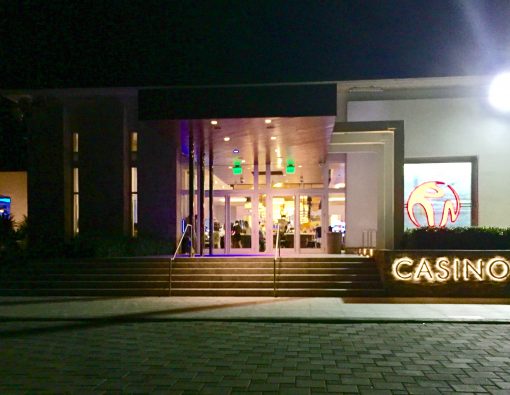 I'm not a big gamer.  I don't know how to play table games and I find slots boring, so I can't really speak to the quality of the casino games.  I did spend some time at the casino restaurant and bar just to check it out.  What really impressed me about the casino was that it didn't have a casino "smell".  I have stayed at casino hotels and cruise ships that make the entire place smell like cigarettes.  This was not the case at the Hilton.  I could enjoy a nice cocktail and not feel like I was inside an ashtray.
-Excursions-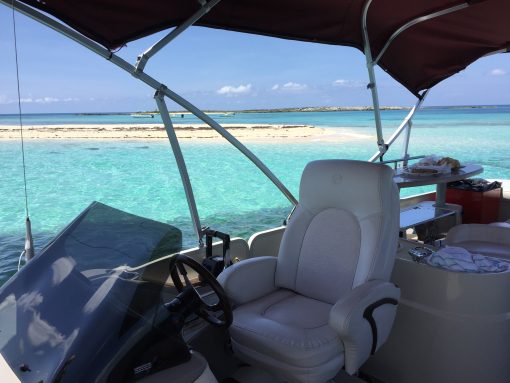 The Hilton at Resorts World Bimini can arrange a variety of excursions around the island.  With their own fleet of boats for rent with our without a captain, there's plenty of snorkeling and deep sea fishing to be had in the waters around Bimini.  I highly recommend the excursion I went on to Honeymoon Harbor, to swim with friendly local stingrays and nurse sharks with a stop for some snorkeling at the wreck of the SS Sapona, a ship that ran aground during a hurricane in 1926.  Unfortunately the weather took a turn for the worse shortly after we got to the Sapona and we had to head back to the hotel, but I would love to go back and really explore.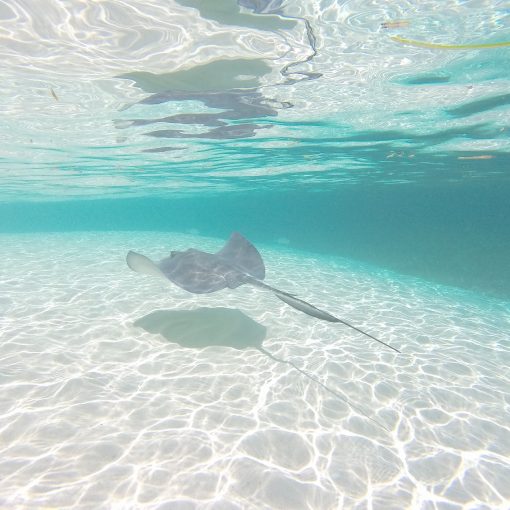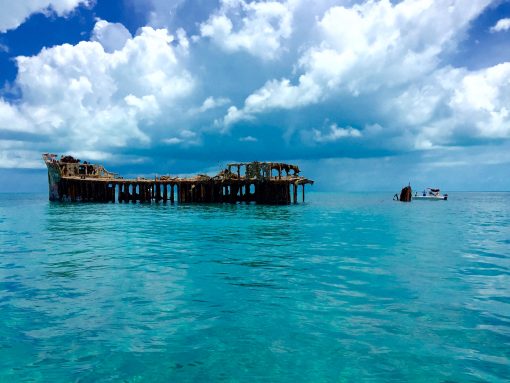 The Grounds: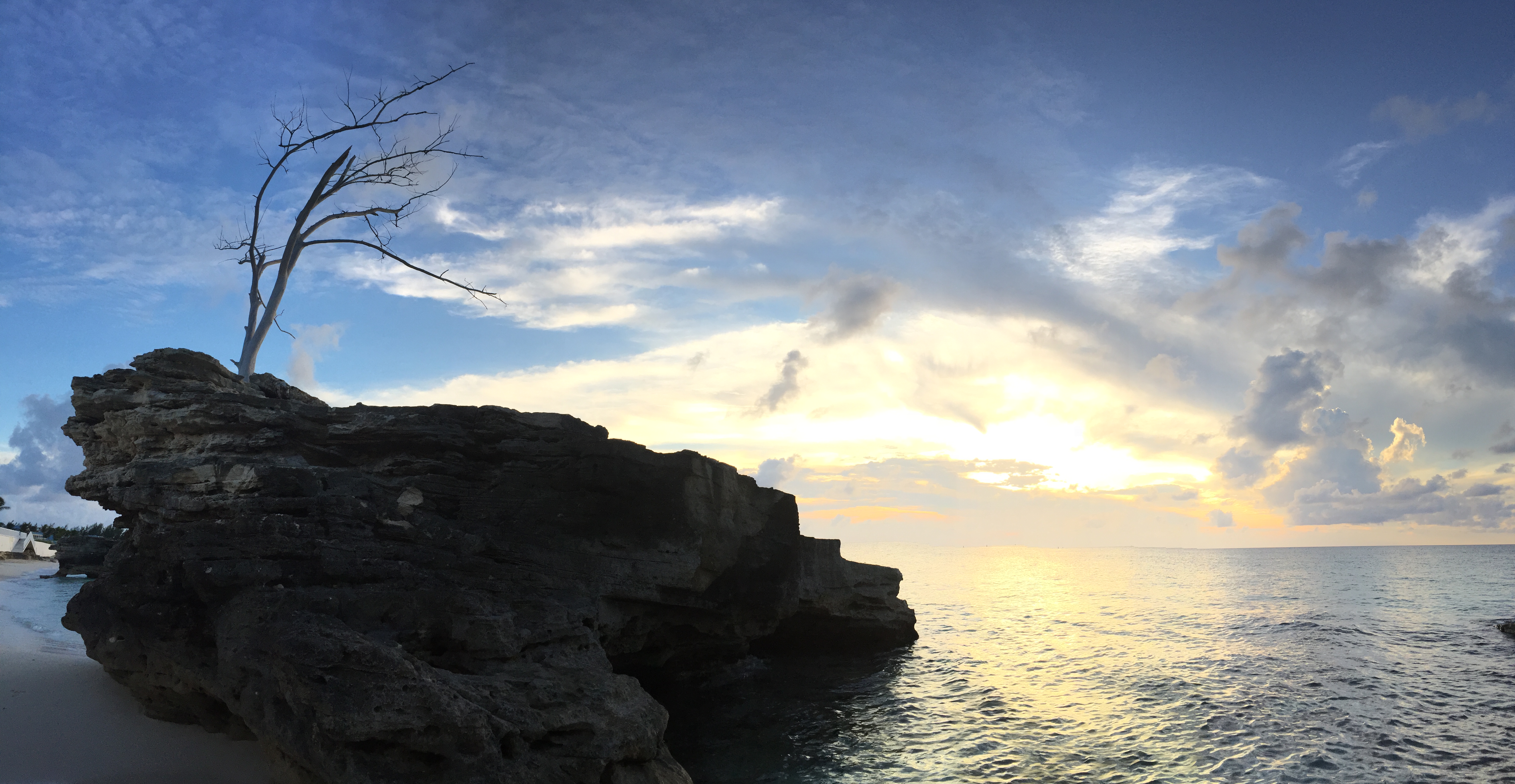 This is where Resorts World Bimini really shines.  Across the street from the Hilton, you'll find the most stunning beach.  I'm a huge baby when it comes to swimming in cold water and this water is perfect!  The beach has plenty of white sand perfect for setting up camp and sunning yourself all day, but there's also striking scenery accented by large boulders and a single tree.  This is easily one of my favorite beaches that I've been to.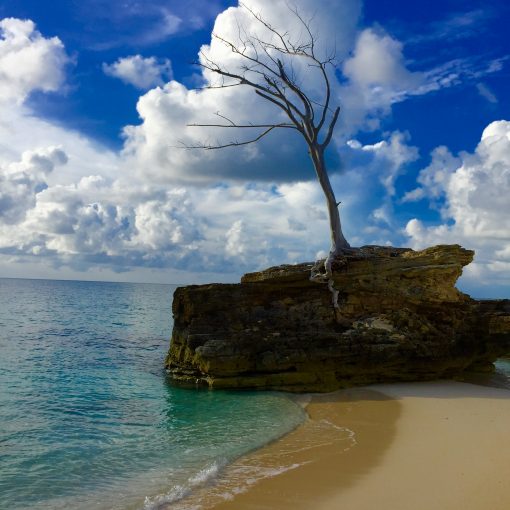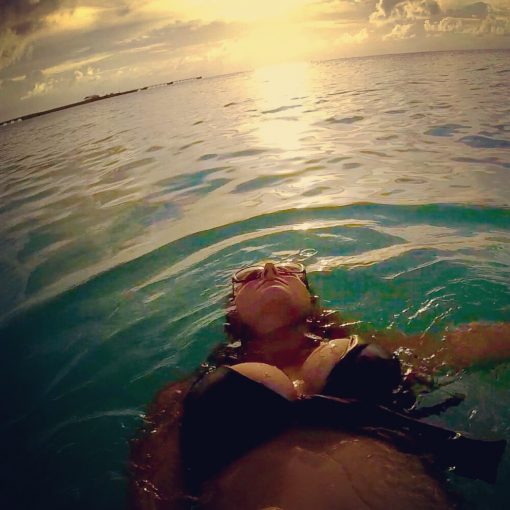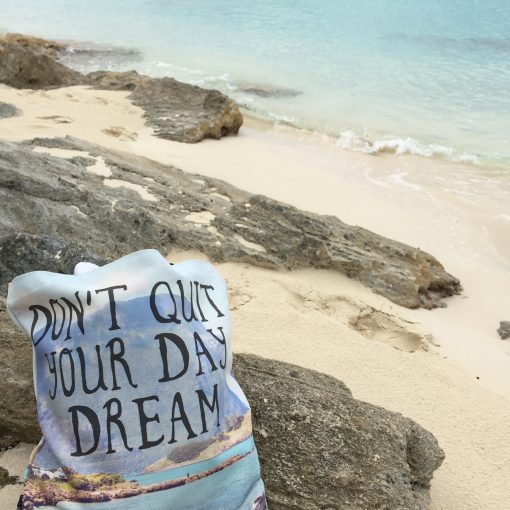 ~
I was given the opportunity to break for Bimini as a guest of Resorts World Bimini, but as always all opinions are my own.  I can't wait get back and experience more Bimini Bliss at the Hilton At Resorts World Bimini.
~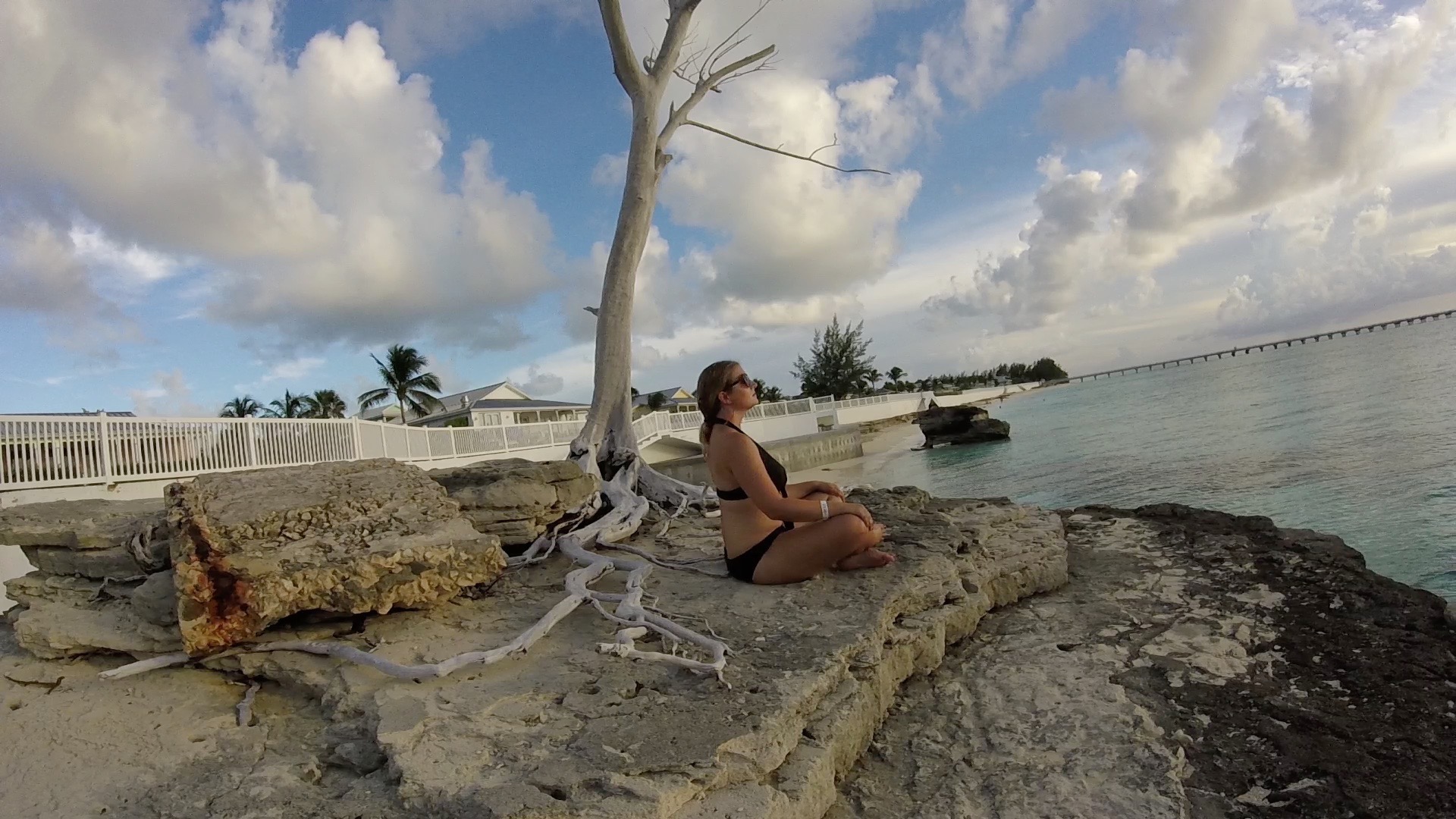 Save
Save
Save
Save
Save
Save
Save
Save
Save
Save
Save
Save
Save
Save
Save
Save
Save
Save
Save