I've written a couple of pieces over the past few weeks highlighting some reasons to explore the relatively little known city of Shreveport, LA.  Now, here's the catch.  It's extraordinarily difficult to get to.  Of course if money is no object, you can get just about anywhere, but it's the kind of difficult you don't realize still exists in the USA is 2016.  The 3rd most populous city in Louisiana is still a 3 hour drive to the closest major airport.
I have a history with Shreveport that keeps me coming back fairly often.  Both of my parents were born in the Shreveport/Bossier area; one in Shreveport and one in Bossier, which is apparently an important distinction.  Growing up, all of my grandparents still lived in the area, as did I during summers when my parents were gallivanting around Norway without me (but that's a story for another day).  I've seen Shreveport evolve in some very interesting ways in my almost (but not quite!) 30 year history with the city.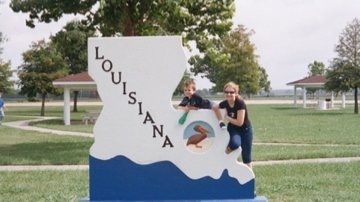 (Baby Mags and my brother on one of our many family road trips to Shreveport)
At one time, Shreveport was a pretty heavy player in the oil and gas business.  The United Gas Corporation was headquartered there until it was taken over by Pennzoil and moved out of state, devastating the local economy.  Since then, Shreveport has been forced to shift it's eggs to other baskets.  In the mid 90s, Shreveport got in on the gambling game and several casino riverboats moved in, revitalizing, but forever changing the local economy.  In classic Louisiana fashion, gambling is not allowed in Shreveport or Bossier City, so large casino hotels are attached to stationary riverboats where the actual gambling occurs, because if it's on the river it doesn't count.  They're notoriously corrupt, but they're resourceful. Since Hurricane Katrina, thanks to state wide tax incentives, Shreveport has played host to many film and television studios, filming major projects and bringing new revenue to the city.
So since at least the mid-90s, Shreveport has relied on casinos and the film industry, both very closely tied to tourism, more specifically both heavily reliant on people's ability to get to Shreveport.  I would argue that 20 years is plenty of time to shift your cities infrastructure to a more "tourist friendly" model.  In fact, on of the most impressive things about Shreveport is it's opportunistic nature.  Casinos are a money maker, rather than take the time to change local legislation, they just put them on the water to bypass the problem entirely.  They were able to capture New Orleans' displaced film industry immediately after Katrina, because they saw dollar signs and quickly jumped at the opportunity.  So why, is it still so hard to get to Shreveport?
Actor, Sean Hayes, said of filming in Shreveport, "getting there is like the beginning of an Indiana Jones movie."  You know, the part where you get on a rickety plane and make tracks on a map from Orlando to Shreveport via Cairo and Timbuktu?  Yeah, it's like that.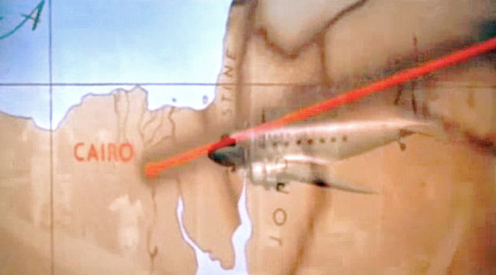 Let's use Orlando as an example, because that's where I live.  Say I really like casinos and want to spend the week gambling.  Where should I go?  Vegas is pretty far, but wait, doesn't Shreveport have casinos 1500 miles closer?  Let's compare shall we?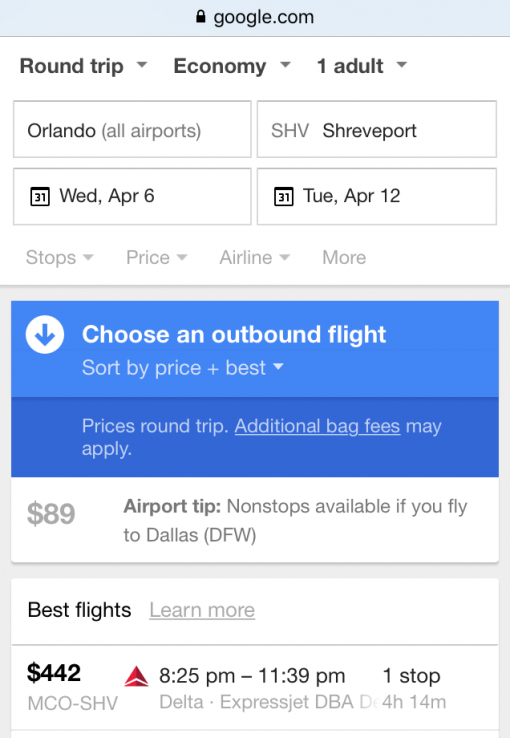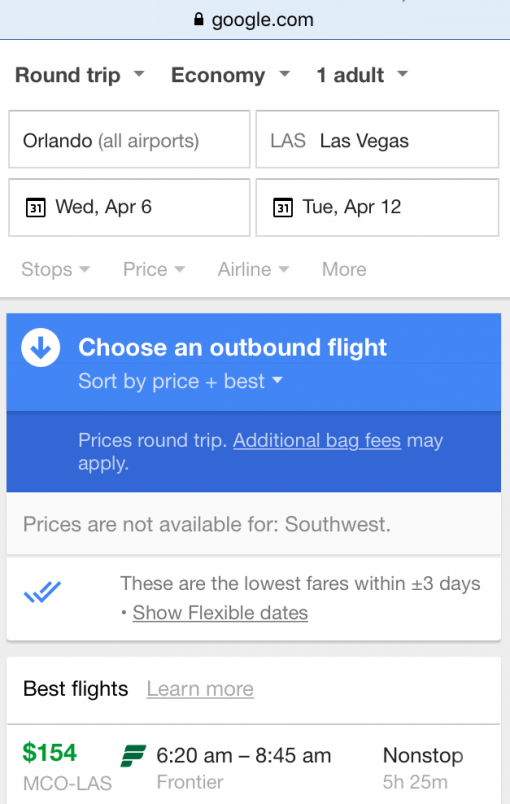 Where do you think is a more viable place do go gambling on this random week in April?  Just for argument's sake, let's not just take the first options for each, pick your favorite flight.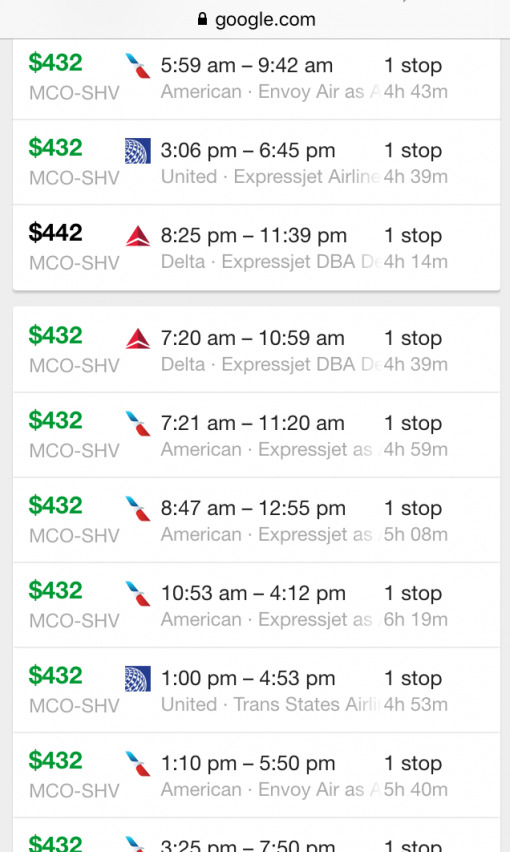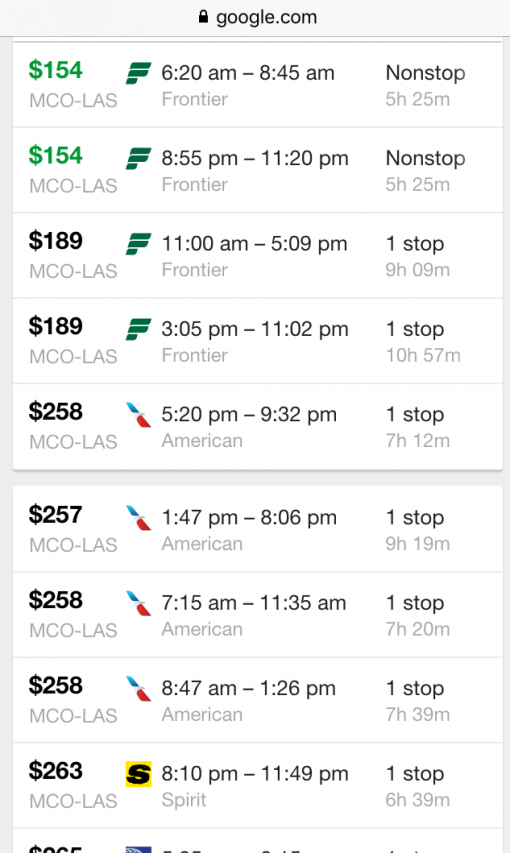 Vegas it is, right?  But surely if I'm interested in the film industry Shreveport would be a much more reasonable choice than Hollywood right?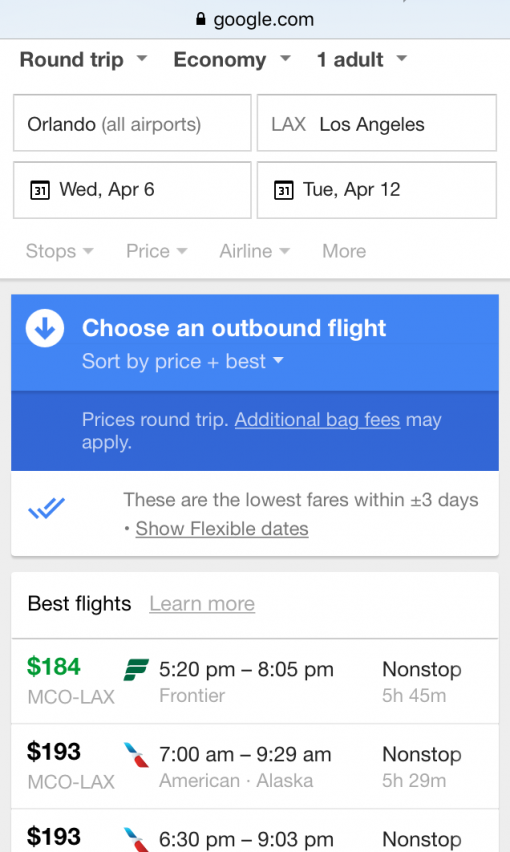 Wrong again!
There are few places domestically to which I'm willing to pay $400+ for a ticket.  I like Shreveport, and my family is there and they are pretty great, but it's hard to justify a trip to Shreveport when I could get to Europe or South America for the same price.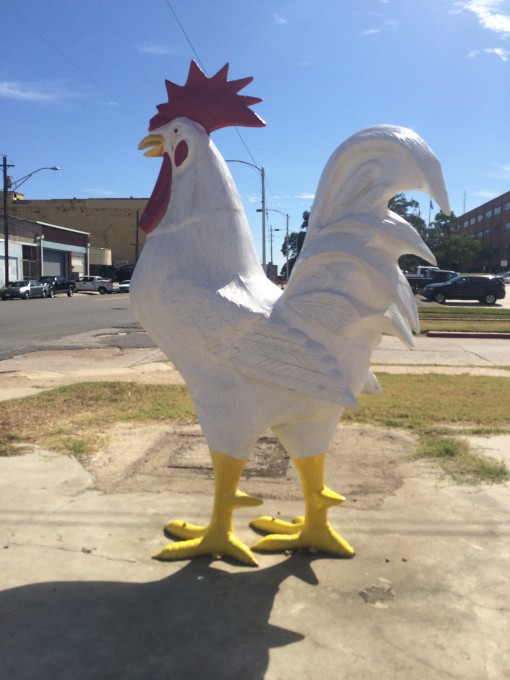 I have to go to Shreveport, and I do it gladly, but when I do I usually fly into Dallas or Houston, rent a car (make sure it's one that can cross state lines, I've made that mistake before), and drive to the 3-4 hours to Shreveport.  I have family there and I'm obligated to show face every so often, but that's a lot of inconvenience to expect out of your average tourist, most of whom are unfamiliar with Shreveport and could visit just about anywhere else with more ease and less expense.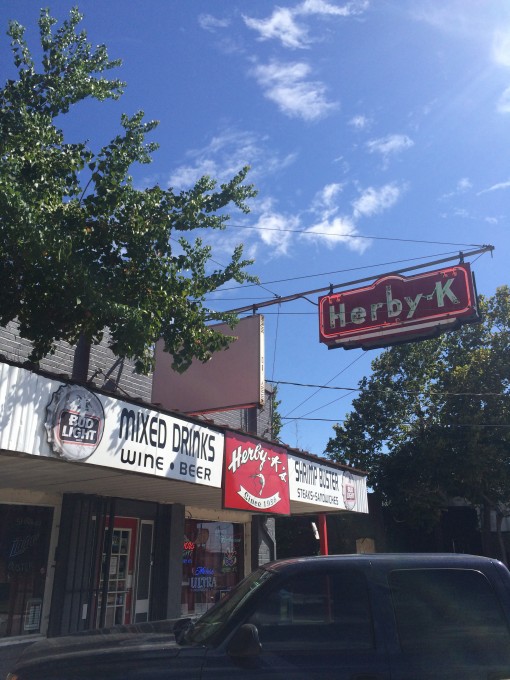 To Shreveport's credit, I will say that part of it's charm is that it is more like visiting a time period than a place.  The town is somewhat of a time capsule of the American South that's probably been able to remain that way because of it's relative isolation.  While Shreveport is the 3rd largest city in the state of Louisiana, it's still a small town.  You're likely to meet people that have been in the area for generations and you're unlikely to go a day without hearing a Fats Domino song or the story of how Elvis performed at the Louisiana Hayride in 1954.  I suppose these are the kinds of things that are preserved in a place that's not easy to get to, but still, if you're trying to draw a tourist trade to your city, the most expensive airfare in the country is not the way to do it.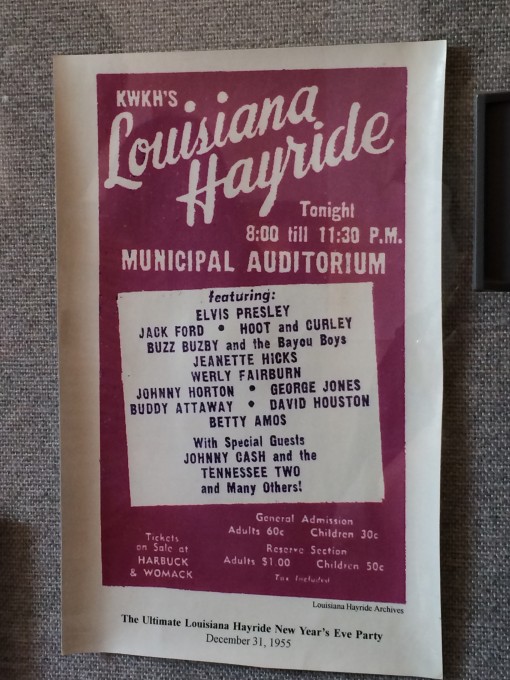 So Shreveport, you have tourist draws, you rely on an influx of people for your economy, Why are you so hard to get to?