So I only recently found out travel hacking was a thing by reading several blogs on the subject.  So far everyone is a lot better at it than I am, like this guy that traveled the world for $418, or this guy that flew to Brazil for $5.  If you do a quick search on travel hacking many tips, suggestions, and courses (that cost more than airfare) on the matter will present themselves.  I'm a sucker for a money-saving scheme.  I decided this was worth at least a little more research.
There are many ways to get travel miles that can add up to free trips, but the quickest easiest way seems to be signing for credit cards with large sign up bonus.  Many people are "churning" these cards, signing up for several at a time, earning the bonuses and then closing the cards and starting over.  This is a really quick way to get tons of miles that can be redeemed for free travel.  Most travel hackers recommend applying for several of these cards in one day to minimize the hit to your credit score and likelihood that you will be denied based on number of recent applications.  The problem with this is that is that most of these huge sign up bonuses are conditional upon a spending limit.  Most of the limits are pretty attainable, usually between $1000 and $3000 in the first 90 days after opening the account.  Applying for several cards at once may be better for your credit score, but a $1000 spending minimum on 10 different cards is a problem for the chronically poor like myself.  So I decided, against the advice online strangers who seem much better at this than myself, that I would just sign up for one card at a time, meet the spending minimum, then open a new card 90 days later.  Fool proof right?
As you may imagine, that's not going as smoothly as planned.  I did a little research and found out that the Barclaycard Arrival Mastercard was near the top of most of the best travel reward card lists.  It gives you 2x miles on everything you buy, 10% back when you redeem for travel, the annual fee is waived for the first year ($89 after that), and best of all 40,000 bonus miles when you spend a very attainable $1000 in the first 90 days after opening the account.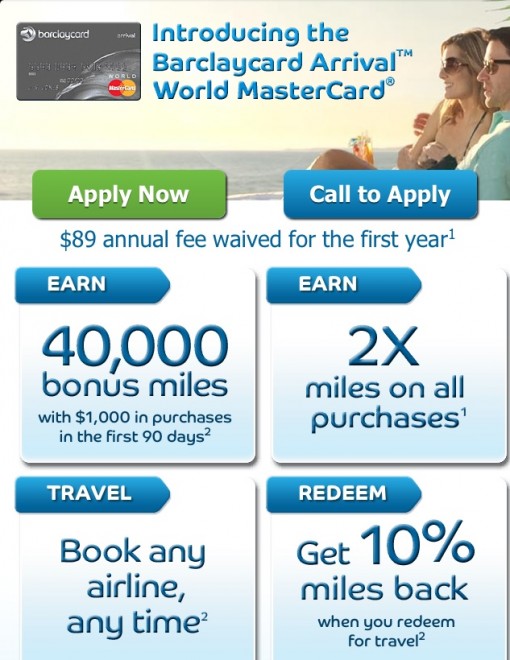 This card seemed like a pretty good start.  Here's my experience with the card so far,
9/27- applied for the card online.  Many people get an instant approval, which is really the only way that the applying for several cards in one day thing works, but my application was pending further approval.
9/28- Checked my application status online and was told that there was no application on record for me.  I figured maybe it was too soon to check.
9/29- Checked again online, still no record.  I called Barclaycard and was told that my application was still pending.
10/4- Received my rejection letter in the mail.
10/7- Called the reconsideration line at 866-408-4064.  I didn't know this line existed until I read noobtravelers article on the matter.  The man I talked to on the phone was very helpful and got me approved right way after a couple of questions (which I had already answered in the original application)
10/11- My new Barclaycard was on its way and would be delivered to me in 7-14 days!  Today I also found out that the card opening process dropped my credit score 21 points, taking me from an "excellent" 767 to a "good" 746.
10/21- It's been two weeks since I was approved for this card. So, I called customer service to find out where it might be.  I was asked to confirm my address and told the card was sent out 10/11 and would arrive by 10/25.
10/25- Card has still not arrived.  I called customer service again and was told it definitely should have arrived by now and was asked to confirm my address again.  "You said the city was Kissimmee?  Can you spell that?"  This is not good.  "We have the city listed as Groveland?  Is that ok?"  Well, I live in a different city and don't have my card so, "no".  I was put through to security where I had to change my address and was issued a new card that would arrive in 7-14 business days.  After I told the lady on the phone that this was unacceptable, I got the card overnighted and it arrived the next day!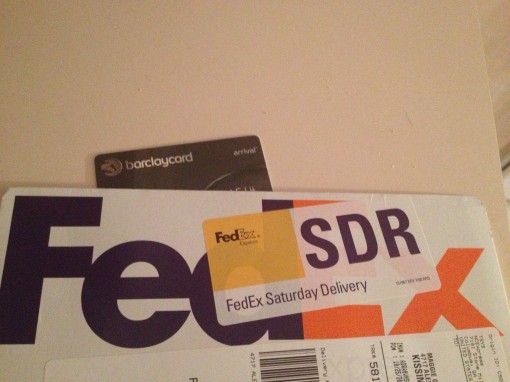 10/26-  FINALLY GOT MY CARD!!!!!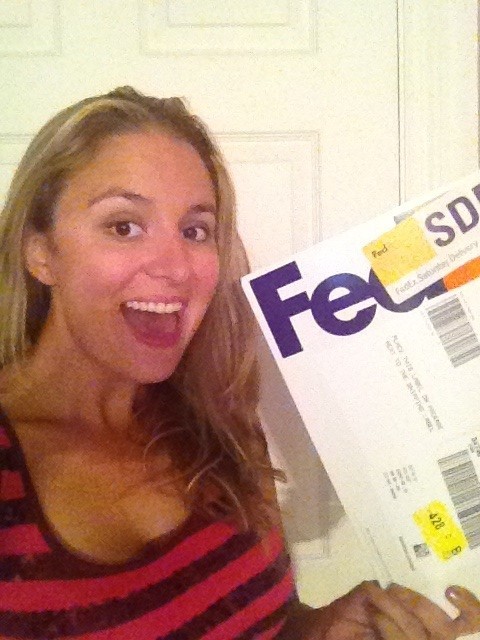 10/27- made my first purchase on the card.  Airfare to Shreveport for Thanksgiving!
So, this seems like a great card, and $1000 in 3 months seems pretty attainable, assuming it doesn't take 3 months to get your card.  My case may be (and probably is) unusual, but so far my adventures in travel hacking are not going super well.