About six months ago, around the time this blog was born, I was dabbling in the exciting world of airline miles.  I read others accounts of travel hacking and credit card churning.  They earned hundreds of thousands of miles and traveled the globe staying in 5 star resorts for free.
That sounded pretty okay, but I'll admit that I didn't quite understand how it worked and found it a little intimidating.  In fact, I still don't fully understand just how it works and find it a bit intimidating.  I decided to take baby steps and applied for 3 different credit cards that offered generous bonuses, the Barclaycard Arrival Mastercard, British Airways Visa Signature, and my personal favorite, Chase Sapphire Preferred Visa.
I'll start with this one since it's my favorite.  The Chase Sapphire Preferred Visa offers a very generous sign up bonus, 40,000 bonus points for spending $3000 in the first 3 months and an extra 5,000 miles for adding an authorized user!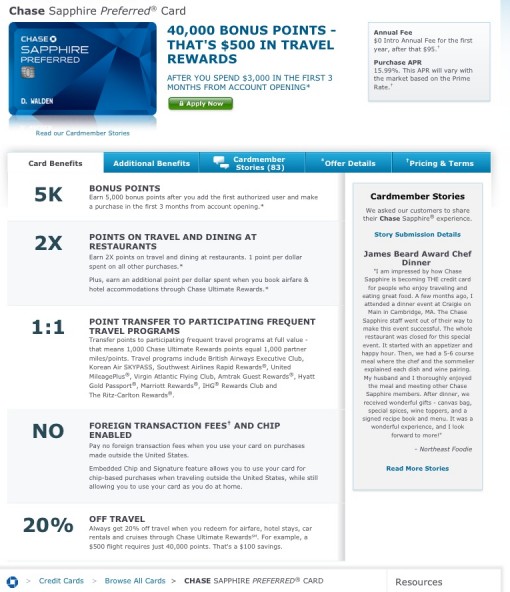 Here are a few of the reason this card is my favorite,
Appearance.                 I know this is not the most important thing in a credit card, but this card looks really cool.  Everywhere I use it people notice.  It's very sleek and much heavier than most credit cards. I definitely makes you feel important.
The travel booking tool!  This is the only card's points I've used so far, and the travel booking tool on their website is great!  The prices are right in line with every website I checked (kayak, travelocity, orbitz, etc.) and you get 20% off if you use your points and extra points/$ for the money you spend.
The website also has a shopping section where you can earn extra points/$ for the things you're buying anyway.
They waive the annual fee for the first year.
Barclaycard Arrival Mastercard
This card is a close second to the Chase Sapphire Preferred.  It's the first one I applied for, which at the time as offering a 40,000 mile bonus for spending $1000 in the first 3 months.  The promotion has terms have changed to a spending requirement of $3000 in the first 3 months.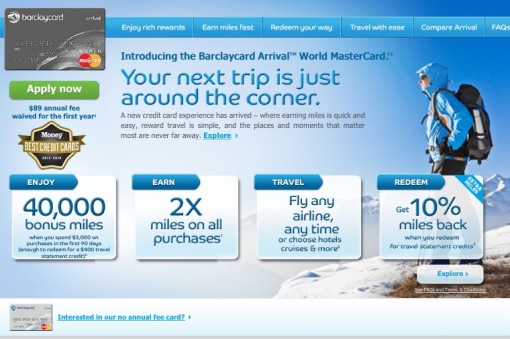 I wrote about it at the time, but getting this card was a pretty huge ordeal that took about a month.  I was initially denied for the card, but after calling the reconsideration line, 1-866-408-4064, I was approved and told my card was in the mail.  After waiting a few weeks without the card showing up I called and was told it was still on the way.  A few weeks more passed and I called again only to find they had shipped it to the wrong address and it had to be cancelled and reissued.  Luckily, I had no problem meeting the $1000 spending requirement, but if it had been higher I would have been very upset at the month that I couldn't use the card.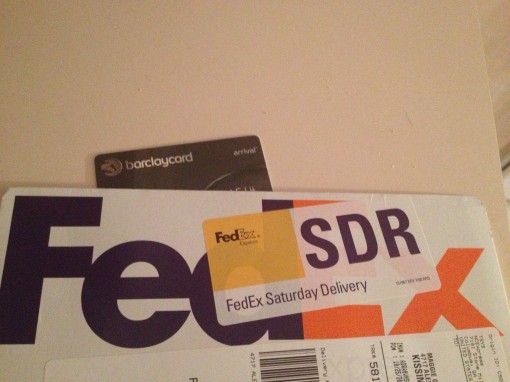 All of that was a pain, but it was worth it once I got the card.  I've been very satisfied with this one.  The point system is very generous, 2 miles/$ spent on anything, and a 10% bonus on miles redeemed for travel.  It also comes with a subscription to tripit pro.  Apparently, this is a $49 value, but I don't really see why anyone would pay for this service.  It's handy, but there are lots of similar apps that do the same thing for free.
This card does have a lot of great features though,
2 miles/$ on every purchase is the best rate I've seen on a card so far.
You can use the points to reimburse money spend on travel, so you can use your miles for smaller airlines and hotels that might not show up on a larger search like that on the Chase site.
Barclaycard also has a shopping site that rewards you with miles for online purchases
The Barclaycard travel community connects you to other travelers that share travel tips, stories, and q&a and rewards contributors with extra miles.
The annual fee is waived for the first year.
I plan on keeping this card even after the first year.  I have a feeling it will be worth the annual fee.
I applied for this card the same day I applied for the Chase Sapphire Preferred Visa, both cards are Chase cards and are managed through the same website, but are vastly different.  This is only card that I applied for that didn't waive the annual fee, but sign up bonus was so enticing that I thought it was worth it.
At the time I signed up for this card, the offer was 100,000 avios; (which I wrote about here) 50,000 avios for spending $2000 in the first 3 months, 25,000 avios for spending $10,000 in the first year, and 25,000 avios for spending an additional $10,000 in the first year.  This deal has now expired and the current offer is 50,000 avios for spending $2000 in the first 3 months.
I have been very disappointed with this card.  Well, not the card exactly, but the rewards.  So far I've amassed around 59,000 avios and had such a hard time using them.  The website is complicated and the avios don't cover the taxes and fees, which it seems on most of the reward flights cost more than an entire flight on other airlines.   For example, getting from Orlando to London, would run me in the range of 50,000 avios plus 828GBP.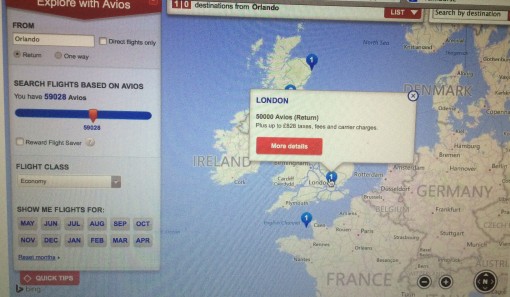 The current exchange rate has 828 pounds at about $1395.01.  Travelocity currently has flights from Orlando to Heathrow at around $1400.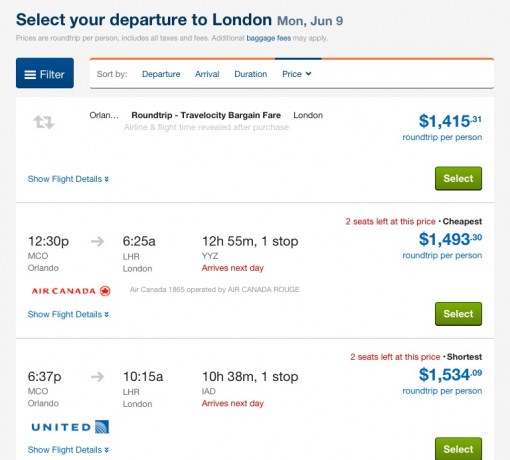 So, I would have to use all of the avios I've amassed with this card, to save around $20 on a flight.  It doesn't seem worth it at all.  I've heard that transferring avios to American Airlines reward miles is a better way to go, but all in all using the benefits of this card seems overly complicated.  The only positive I see for this card is that it has a chip and pin so it doesn't confuse people in Europe, of course, the Chase Sapphire Preferred card has that too. I plan to keep this card to see if I can make the $10,000 or $20,000 spend to get the extra avios, but I don't see keeping this card past the first year.
Save