To say Philadelphia is serious about the Philly Cheesesteak is putting it lightly.  Everyone has their favorite spot and there are literally hundreds to choose from.  I chose Pat's and Geno's for comparison since Pat's is the originator of the Philly Cheesesteak and Geno's is right across the street, making it the city's longest standing rivalry.  I also stuck to just these two so I wouldn't be forced to pay for an extra seat on the plane ride home.
I'll preface this article with a quick disclaimer that I am by no means a cheesesteak expert, but I am great at eating!  In fact, I didn't really know what a cheesesteak was prior to this trip to Philadelphia.  I thought I did, but my idea of a cheesesteak was always sauteed peppers and onions, grilled up with sliced meat, and topped with melted cheese.  It was close, but apparently the peppers are not actually a part of the traditional Philly Cheesesteak.
~
Pat's
King of Steaks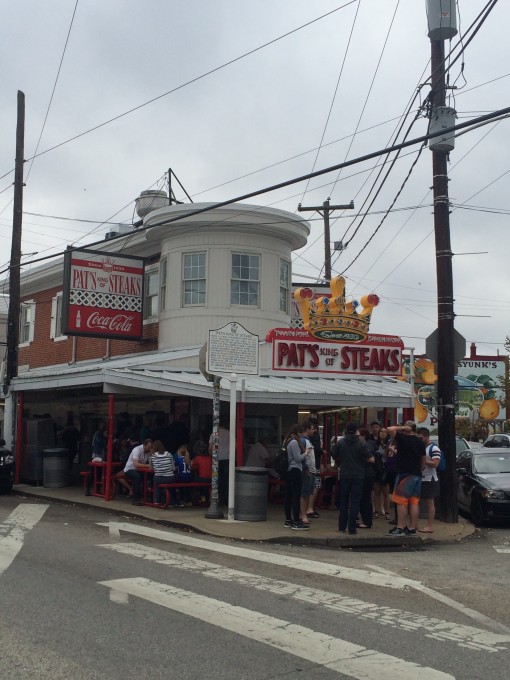 I tried out Pat's first, as he is the "King Of Steaks" and also the originator of the Philly Cheesesteak in 1930.  I got lucky and visited on a slow day.  From what I am told that line has been known to stretch around the block.  In fact, I wished the line were a bit longer so I had more time to both decided what I want and practice my order.  Ordering here is serious business, and a bit intimidating.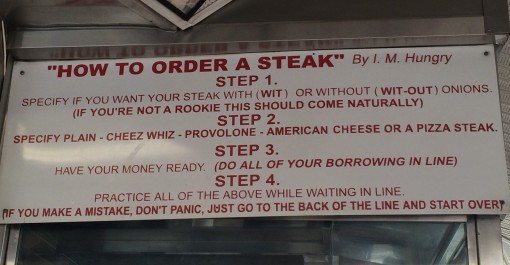 I decided to go classic for comparison's sake, though I really want to try whatever a "pizza steak" is.  I landed on "One Wit Provolone", meaning one cheesesteak with onions and provolone cheese, which is how I would really have preferred order it.  I don't know, something about that dropped "h" makes me uncomfortable.  I'm still not sure it's not just to trick tourist.  While many people swear that Cheez  Wiz is the way to go, to my way of thinking, real cheese has to be better than processed cheese food, right?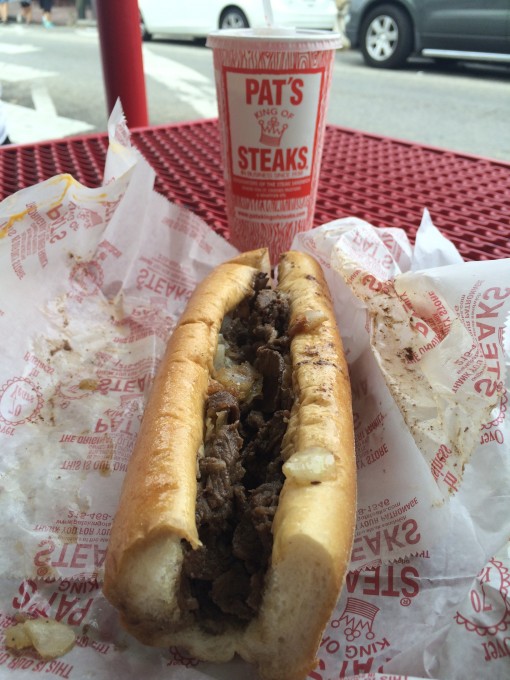 The verdict- While the picture makes it look like a drippy mess, I actually found the sandwich to be a bit dry.  The meat was flavorful, but I think it could have benefited from a condiment of some sort, or maybe some au jus.  Sacrilege, I know, but I'd have preferred this as a french dip.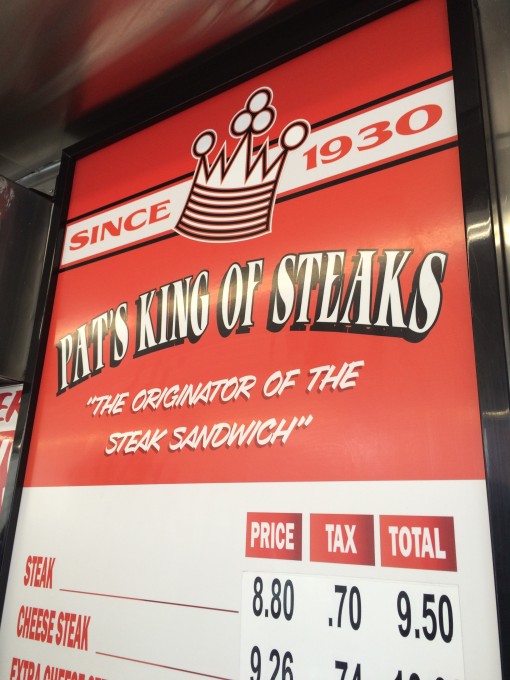 ~
Geno's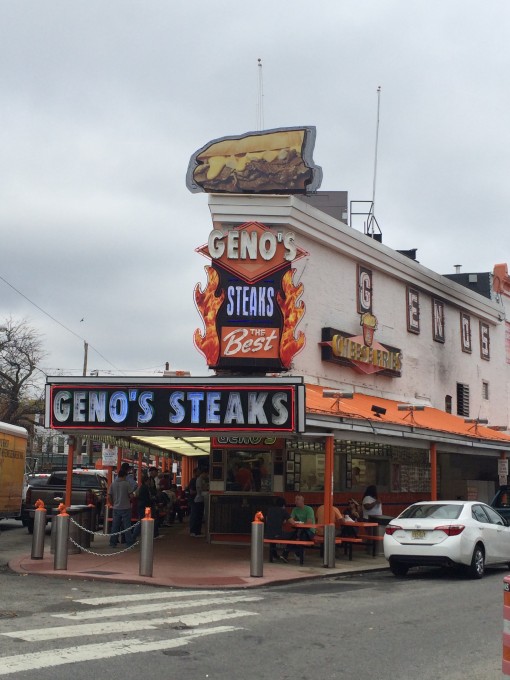 I have to admit, I was not as excited about Geno's as I was about Pat's.  Pat's is the original and I found the decor a bit more appealing. The harsh colors and neon lights, the flames on the side of the building, opening literally across the street from the home of the original cheesesteak (30-some-odd years later) and proclaiming yourself the "best", seems a bit aggressive.
Even the ordering process was inflammatory (and I found Pat's intimidating enough!)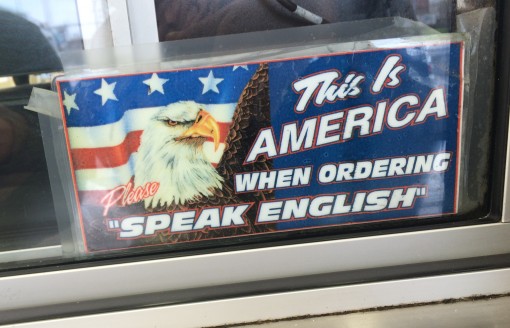 Geno's proudly displays this gem at the register, which is not only needlessly aggressive, but also pretty bold for an establishment demanding you order your sandwich "wit or witout" onions.  Not to mention the questionable grammar of the sign itself.  Literally the only punctuation in this run on sentence is a pair of confusing quotation marks.  Who is speaking? The eagle?  Do eagles speak English?  And that "please" was clearly an afterthought.
Needless to say, I went in to this a little biased, but prepared to give Geno's a shot.  Here, I probably should have ordered the same thing I got at Pat's for comparison's sake, but I found Pat's to be dry so I decided to mix it up and actually try the Cheez Wiz.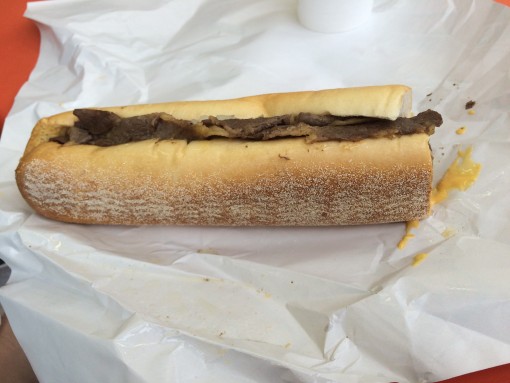 The Verdict- I'll admit, this sandwich doesn't look like much, but I'm glad I got over my hesitation and ordered the Cheez Wiz, it helped immensely with the sandwich's overall moisture level.  I know that doesn't make for a fair comparison, but I actually think the meat was better at Geno's too.  I would have to go back and try steaks done a few different ways to really make a fair judgement call (it's a tough job, but somebody's got to do it), but for now….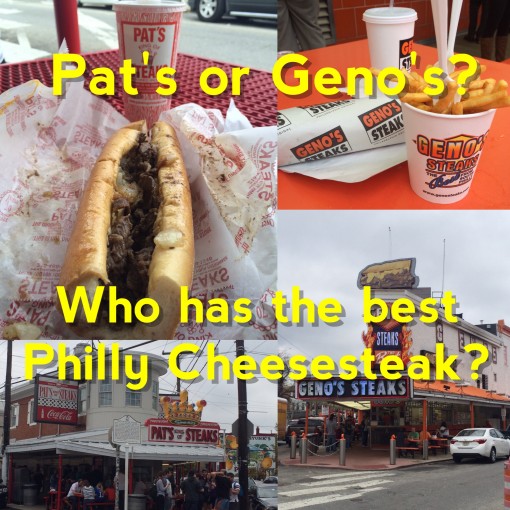 Sorry Pat's, Geno's steaks were a little better.
I'll open myself up to some criticism here too, but while I liked Geno's steaks slightly better, I don't really understand what all the excitement is about… and frankly, I missed the peppers.