I thought I knew Mexican cuisine before my recent trip to Cancun.  I grew up on Mexican food.  Where I lived in Franklin, TN, La Hacienda was the only restaurant open past 8pm and therefore became a staple.  I'm fairly certain my first cocktail was a margarita at that very restaurant.
Comedian Jim Gaffigan has a bit that embodies what most Americans think about Mexican food.
"Mexican food's great, but it's essentially all the same ingredients, so you'd have to deal with all these stupid questions. "What is nachos?" "…Nachos? It's tortilla with cheese, meat, and vegetables." "Oh, well then what is a burrito?" "Tortilla with cheese, meat, and vegetables." "Well then what is a tostada?" "Tortilla with cheese, meat, and vegetables." "Well then what i-" "Look, it's all the same! Why don't you say a Spanish word and I'll bring you something." You can view it here.
It's funny and pretty true.  The Mexican food we as Americans are typically exposed to, is usually just some configuration of tortillas and cheese, which is great, but Mexican cuisine is so much more.  My recent trip to Cancun changed all I thought I knew about Mexican food.
I experienced approximately 7 billion courses of Mexican goodness and countless variations on the margarita in my week in Cancun.  Of course 7 billion is a lot to keep track of, so I'll just be hitting the highlights.
My Mexican culinary adventure started just a few hours off the plane at Xoximilco Cancun, which I mentioned briefly in a previous post and still intend to elaborate on.  Perhaps it was the thrill of being a foreigner alone in a strange land, or perhaps it was the all you can drink tequila, but I had my first non-roller coaster or convertible related taste of insect.
Chapulines– crickets or grasshoppers fried with lime, chili, garlic, and salt.  A popular treat in the summer and early autumn in Mexico.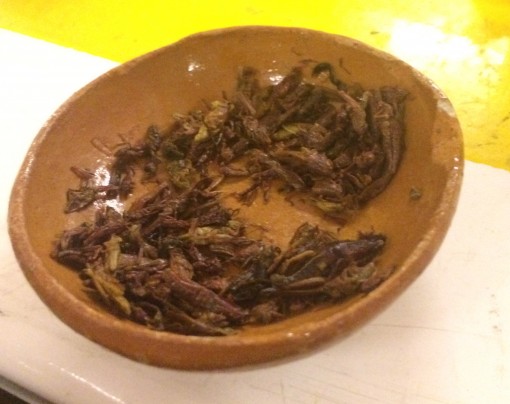 I don't remember that on the menu at Taco Bell (at least not on purpose)!  So, it can only get better from there right?  Actually, they weren't too bad.  In fact, they would have been good if they didn't look so much like crickets.  They were small and fried and seasoned enough that they just tasted like corn nuts, or pork rinds.  I found them much more enjoyable in flavor than the other fear factor food they were being served with, dried fish eaten whole… eyes and all.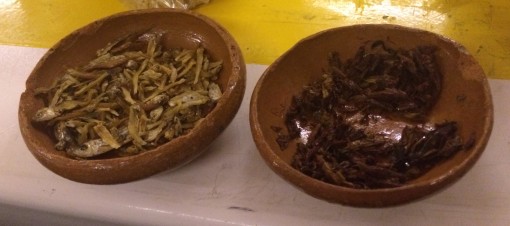 Those weren't bad either, but very fishy (go figure, huh?).  Glad I tried it, don't need to do it again.
Fresh Seafood– Much of Mexico is coastal, and that's certainly the case where I was in Cancun.  It only makes sense that they would make good use of their access to delicious fresh seafood.  Why that hasn't been translated to "American-Mexican" food I will never know.
Grouper Al Ajillo (with chile guaillo) at Isla Contoy at the Fiesta Americana Grand Coral Beach.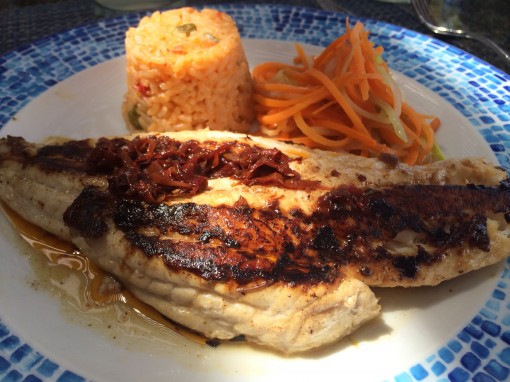 As an added bonus, this restaurant has maybe the best view in the world, in addition to amazing seafood.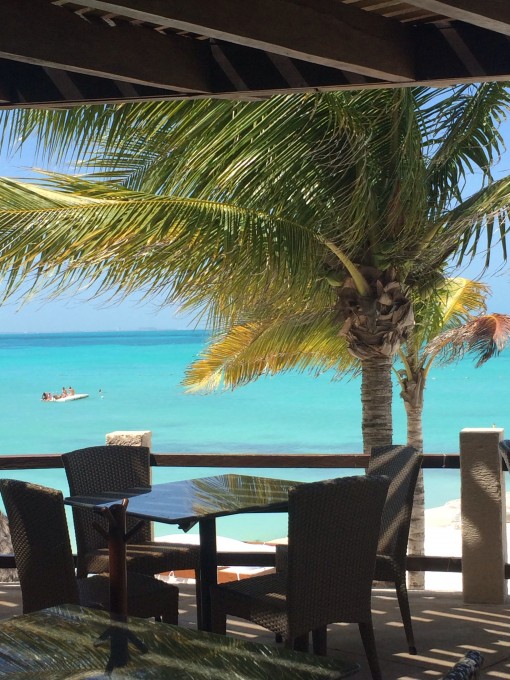 Lobster Tail served on sweet plantains at Ramona in Nizuc Resort and Spa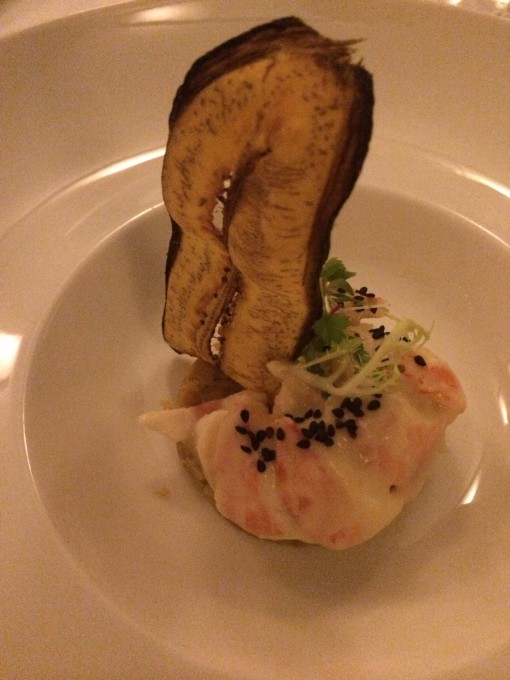 Orzo Pasta Seafood Stew at El Cafe Mexicano at The Ritz Carlton, Cancun– Small oval shaped pasta, local seafood, tomato chipotle broth, lemon, arugula.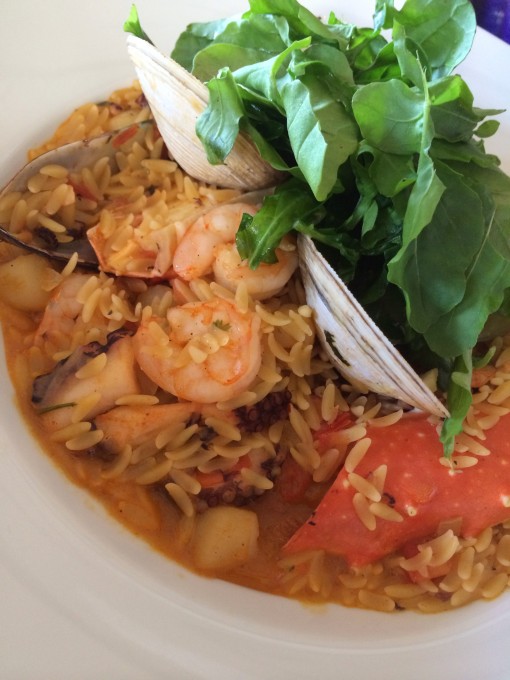 Adobe Jumbo Shrimp at El Cafe Mexicano at The Ritz Carlton, Cancun– Huitlacoche (known as the Mexican truffle and my new favorite thing!) rice, fresh corn, fava bean sauce.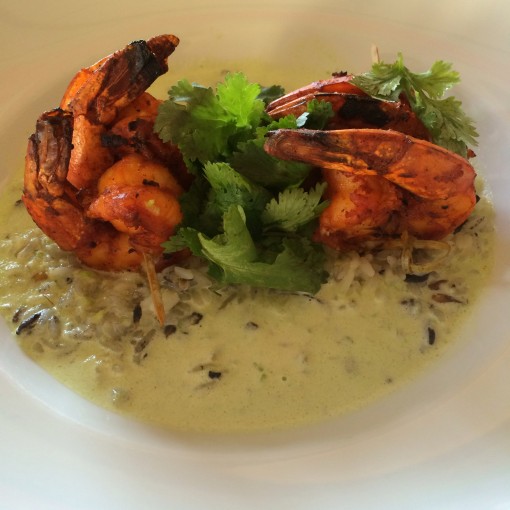 Holy Mole!-
(sorry, couldn't resist) Okay, so I was well aware of mole before visiting Cancun, but I had forgotten how much I loved it.  It's not super common here in the States and has certainly taken a backseat to tamales, burritos, nachos and the like.  Mole is one of my favorites and I had some of the best mole I've ever tasted while in Cancun.
Kobe Steak with Dark Mole, Charred Vegetables, and Coriander Foam at Ramona at Nizuc Resort and Spa.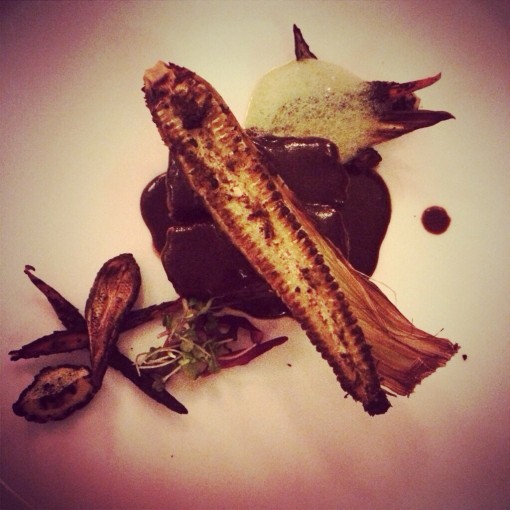 This was perhaps my favorite single dish at any of the amazing restaurants I visited in Cancun, closely tailed by the seafood stew at The Ritz.  It's a tough job, but someone's got to do it.
Simply titled, Chicken with "Mole" at Benazuza Restaurante at the Oasis Sens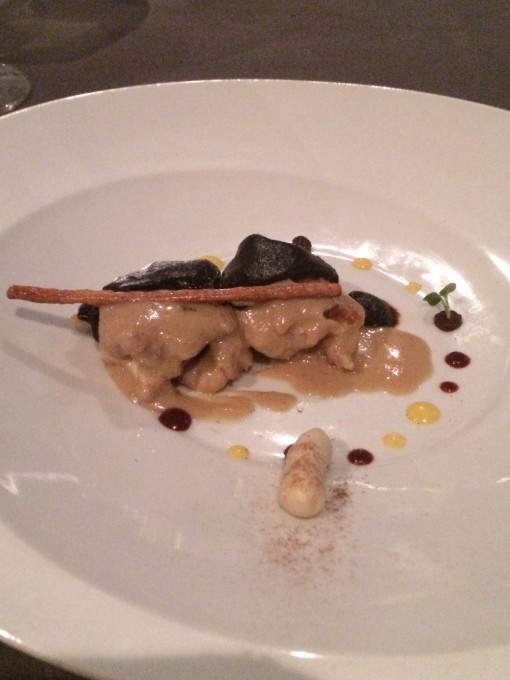 Here the chef paired mole with a spicy peanut sauce, which is nothing short of genius.  Maybe it's that peanut sauce and mole are two of my favorite things, maybe it's the seemingly obvious "why didn't I think of that" combination of peanut and chocolate, I don't know, but … mind blow.  In fact, the whole Benazuza experience was so extraordinary that it warrants (and will be getting) it's own post.  So for now I will just say, if you visit Cancun and don't eat here, you're missing out.
Desserts- As with most Americanized versions of ethnic foods, the Mexican desserts we're regularly offered here leave a little to be desired.  Mexican food is way more than churros and fried ice cream!
Pastries and macaroons at The Fiesta Americana Grand Coral Beach.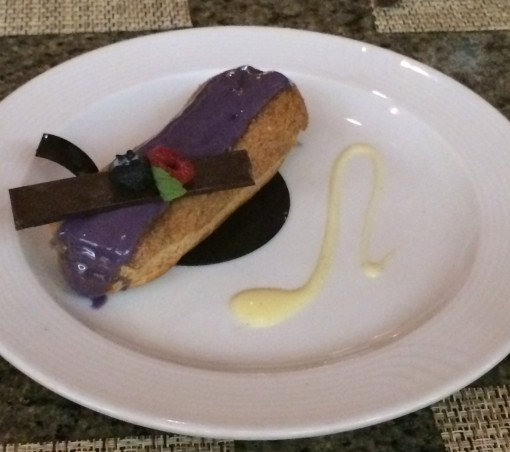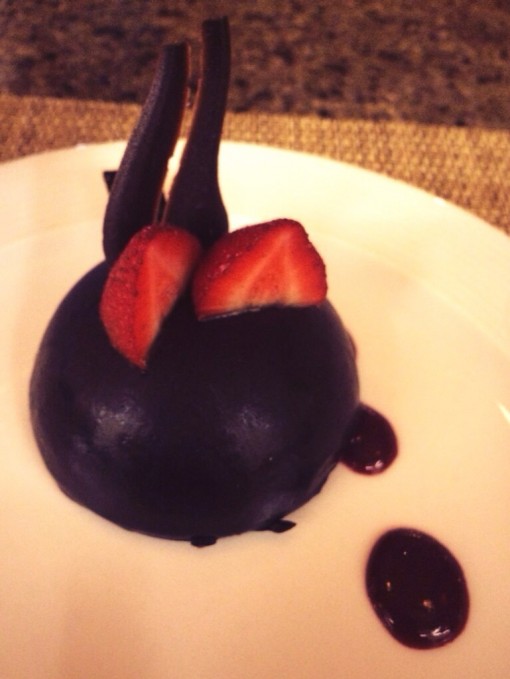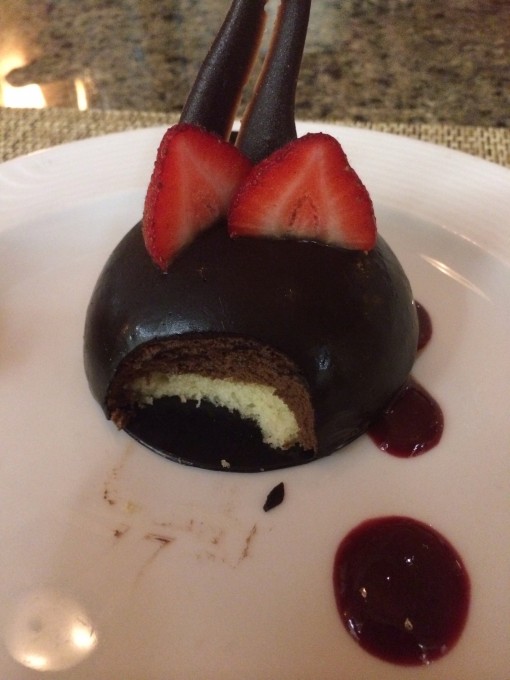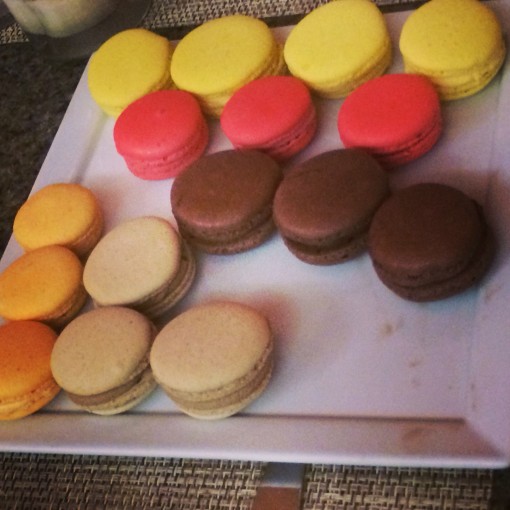 Okay, I know they are not classically Mexican food, but I had them in Mexico and they were great. So, I'm counting it.
The Fiesta Americana Grand Coral Beach is also where I discovered the Carajillo.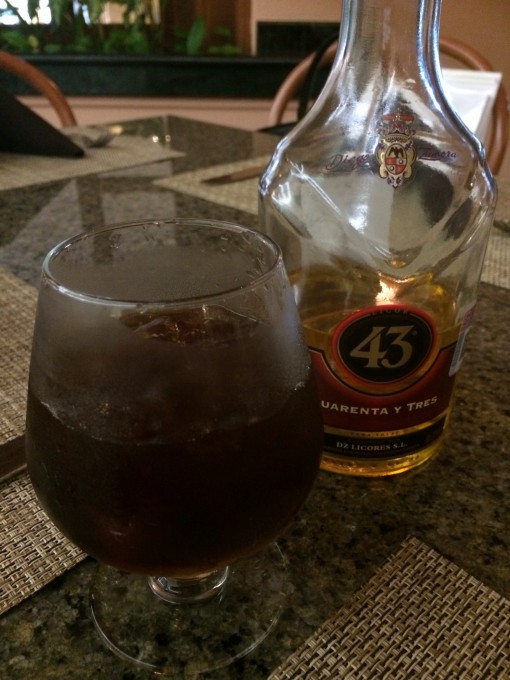 After a bit of research the "carajillo" seems to be a catch-all name for a cocktail of espresso and any liquor or brandy, but the local preference was Liquor 43, a vanilla flavored Spanish liquor.  This particular cocktail seems to be called a carajillo 43, but I ordered several at different places as just "carajillo" and this is what I got.  Also, it's delicious.
Flan– I know this is one we have here, but this one was coconut, and at The Ritz, and the Caribbean Sea was outside, so obviously it's the best.
Coconut Flan at El Mexicano Cafe at The Ritz Carlton, Cancun.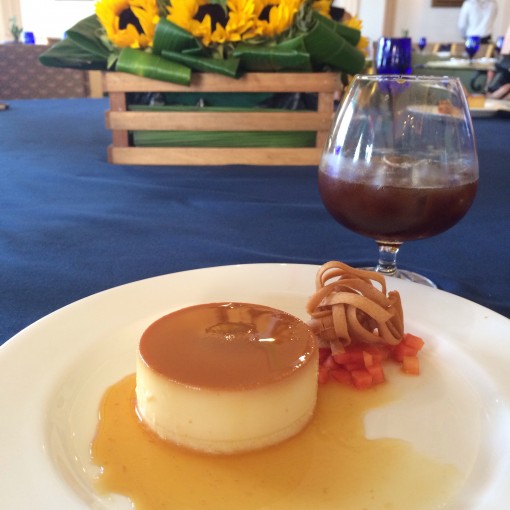 (Notice the Carajillo!)
Everything that happened at Benazuza- I know this post is a bit of a tease.  I'm saving most of the info for my post on Benazuza, but there were about 24 courses there so I think I've left plenty to cover.  Here's a sneak peak.
Maracuya Pinata at Benazuza Restaurante at Oasis Sens.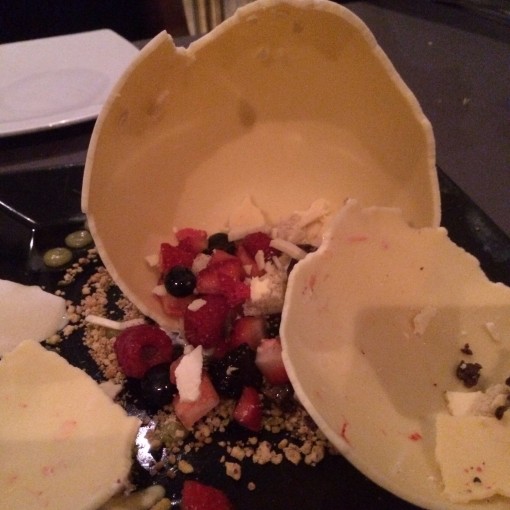 This is passion fruit ice cream that comes out in a sphere that you whack open with a bat revealing fresh berries.  AMAZING!
Fruits and Vegetables Box at Benazuza Restaurante at Oasis Sens.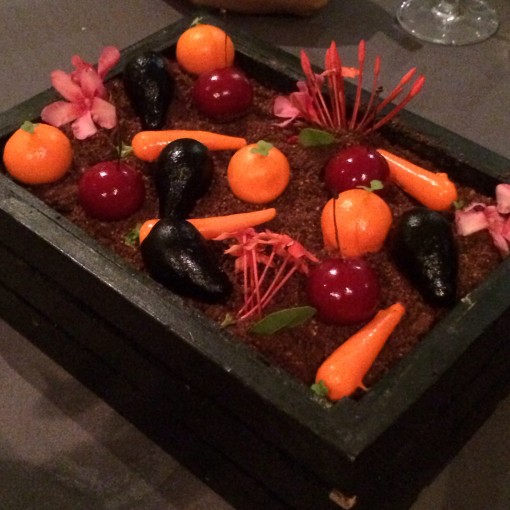 All of the "fruits and vegetables" are filled with different flavors of mousse or cream and laying in a crumbly nutty-chocolate "dirt".  Really, this restaurant is so much fun!
And of course, plenty of margaritas!
Smokey Mezcal Margarita at Ramona at Nizuc Resort and Spa.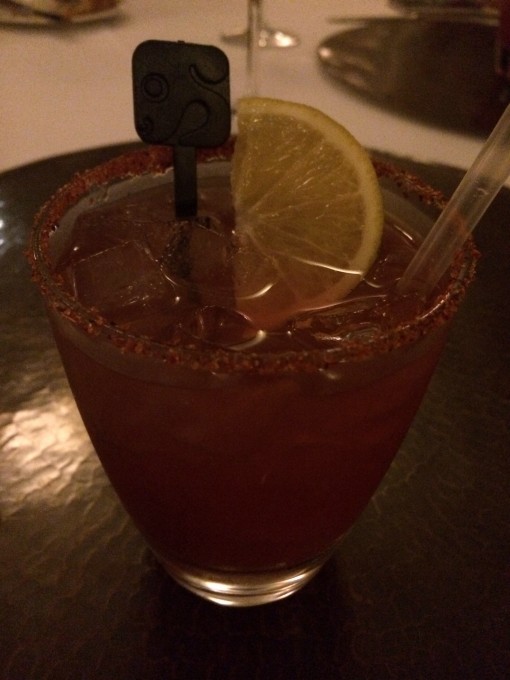 Midori Margarita at The Ritz Carlton, Cancun.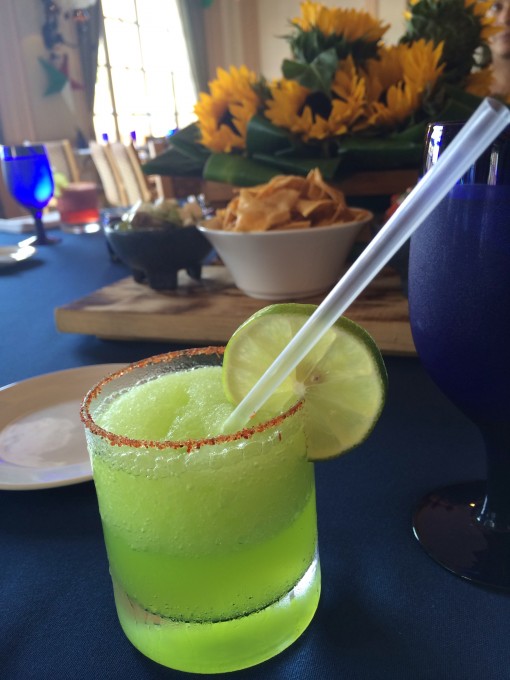 Invisible Margarita at Benazuza Restaurante at Oasis Sens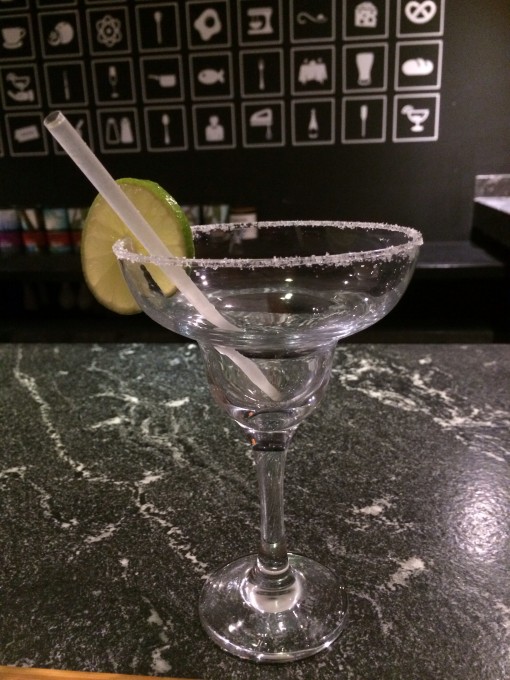 Hot and Cold Margarita at Benazuza Restaurante at Oasis Sens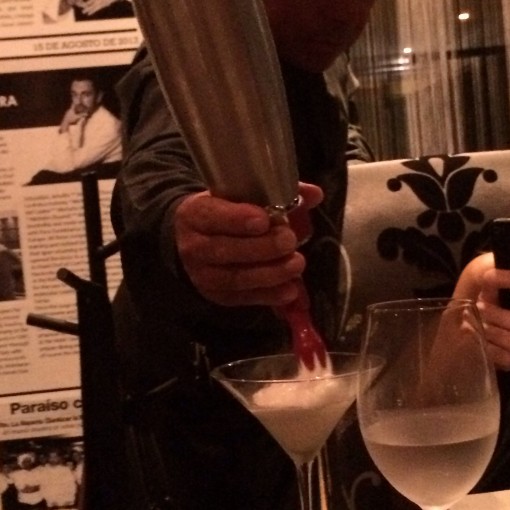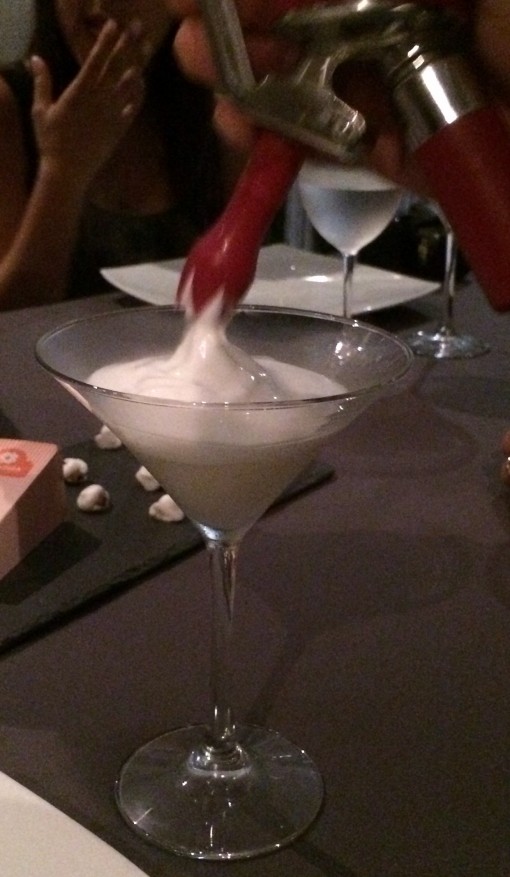 Paloma at Fiesta Americana Grand Coral Beach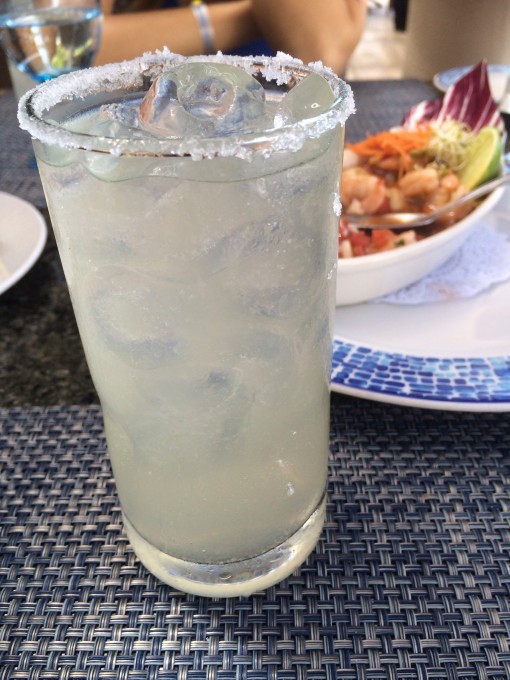 (That last one is not technically a margarita, but palomas need love too)
I was very pleasantly surprised by a lot of things on my first trip to Cancun, but most of all the food.  It is not all street tacos and tequila shots (though I had my fair share of those too).
Tequila Shots with LIme Jello Chaser at Benazuza Restaurante at Oasis Sens,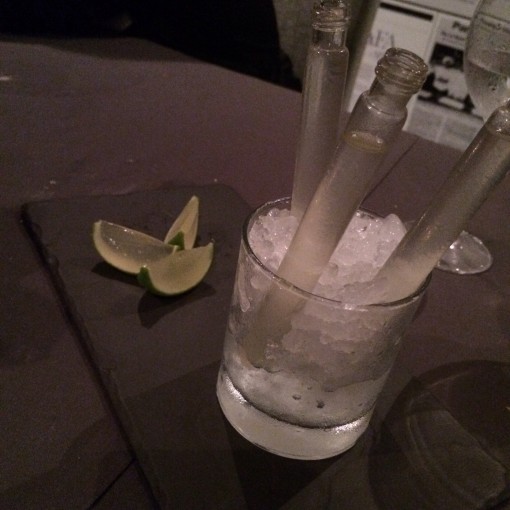 There's everything from street vendors selling roasted corn to haute cuisine and molecular gastronomy.  I made a promise to myself long ago to never use the phrase "a land of contrast", so let's just say there was a lot more diversity in this city than I had anticipated.
Having spent the first part of my stay at the Mezcal Hostel downtown and the last few days at the lovely Oasis Sens Resort in the Hotel Zone, I got a small dose of all the different things Cancun has to offer and it definitely left me wanting more.
Many thanks to the Cancun Convention & Visitors Bureau and Experiencias  Xcaret/Xoximilco for inviting me to all of the amazing culinary experiences in Cancun.  As always, all opinions are my own.
Save