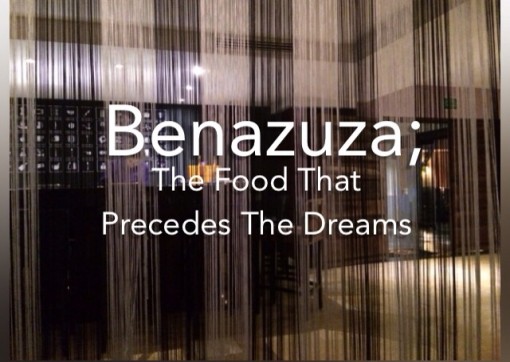 During my time in Cancun, I was fortunate enough to have one of the most memorable dining experiences of my life twice in one day.  Benazuza Restaurante is a molecular gastronomy restaurant located in the Oasis Sens resort in Cancun's hotel zone.
This day of gastronomic pleasures started at breakfast.  Benazuza is open for both breakfast and dinner and it's available at an additional cost to the all inclusive package at the resort.
BREAKFAST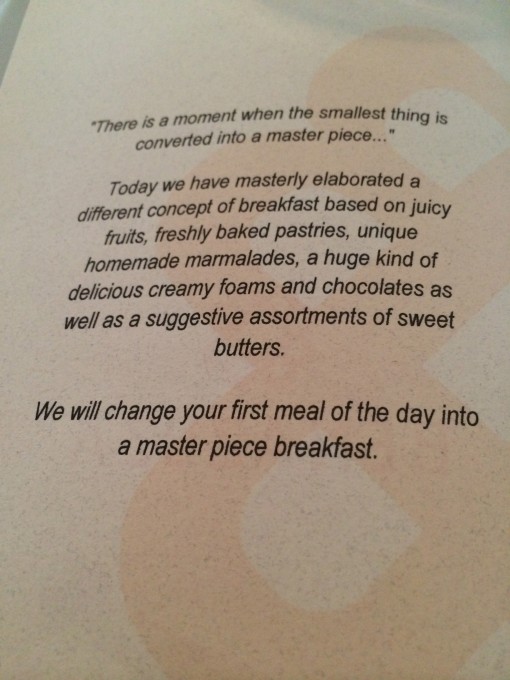 Breakfast was a teaser for what we would be getting into for dinner, but even breakfast included several courses and champagne.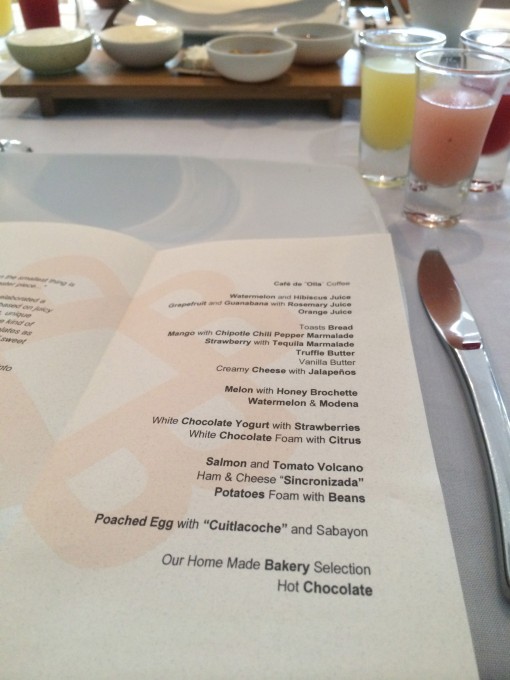 Everything on the menu was unique and spectacular, even the coffee.  Benazuza Restaurant's breakfast was started off with "Cafe de 'Olla' Coffee.  A sweet coffee spiced with cinnamon, orange, and sugar.  I don't typically like sugar in my coffee, but this was an exception.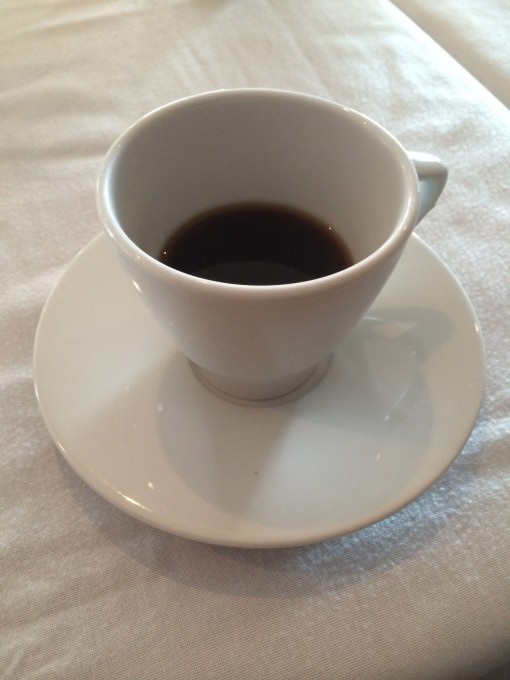 (I wish you could smell this picture!)
Then a trio of fresh and uniquely flavored juices were served, Watermelon and Hibiscus Juice, Grapefruit and Guanabana with Rosemary Juice, and Orange Juice (for the classicist).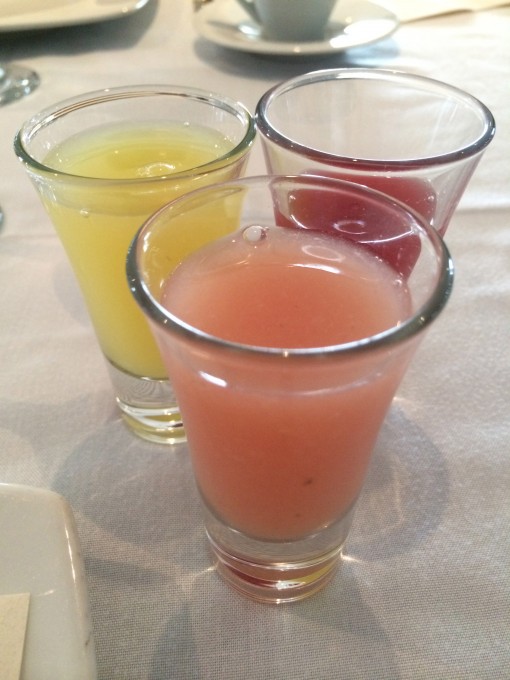 The grapefruit, guanabana, and rosemary juice was my favorite, but I'm a sucker for Grapefruit.
The first food course was warm toasts served with various jellies, spreads and butters; Mango with Chipotle Chili Pepper Marmalade, Strawberry and Tequila Marmalade, Truffle Butter, Vanilla Butter, and Creamy Cheese with Jalapenos.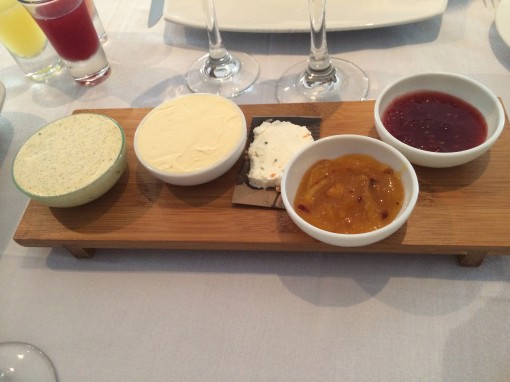 I think my favorite was the Mango Chipotle marmalade, but it was fun to mix and match to find unique combinations.  Vanilla butter with Strawberry Tequila Marmalade was particularly delicious.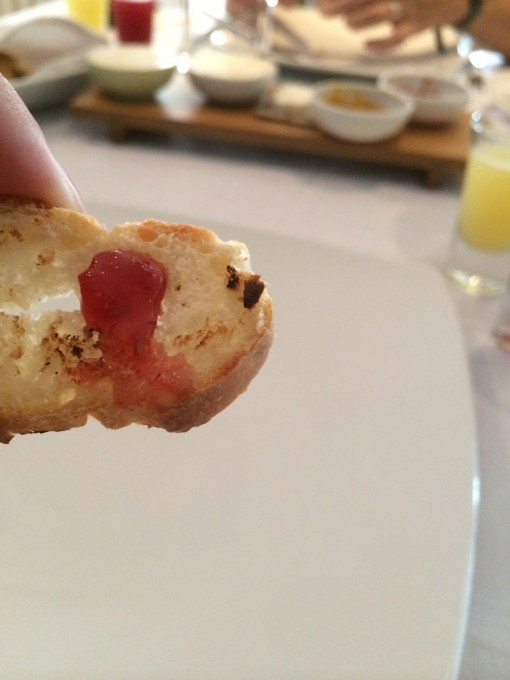 After the toasts, the servers brought out Melon with Honey Brochettes, and Watermelon & Modena.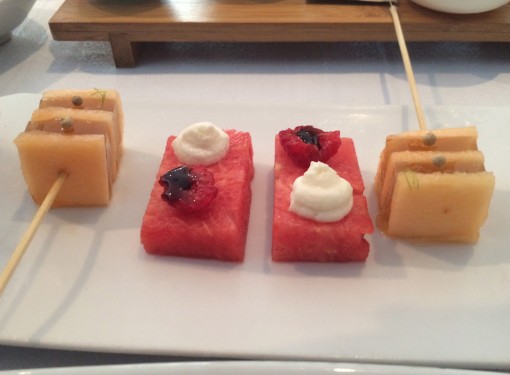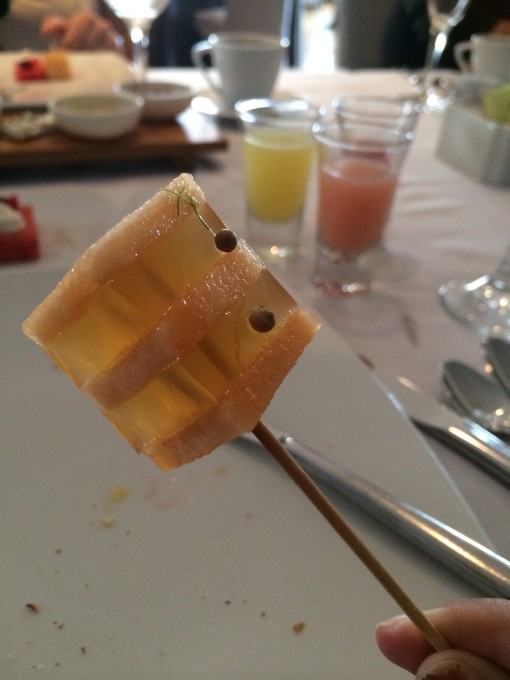 This was a really interesting fruit course.  The honey jelly in the melon and the balsamic vinegar with the melon and raspberry was unexpected, but great.
Next came the yogurts, White Chocolate Yogurt with Strawberries and a Layered Chocolate Mouse with Chocolate Crispy Rice on top.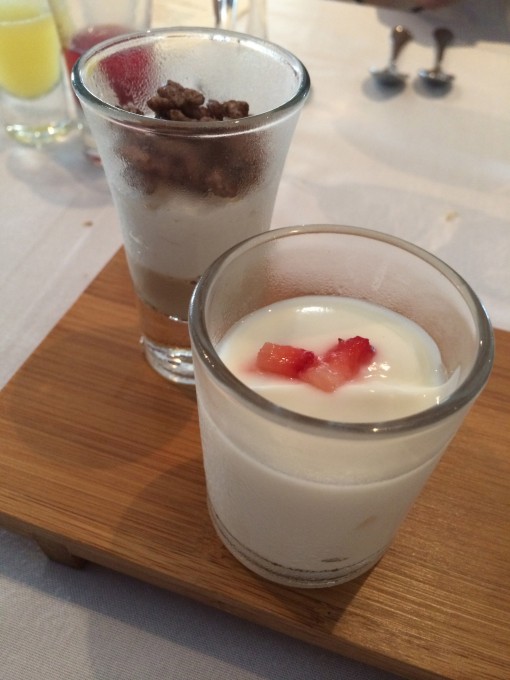 The White Chocolate Yogurt was a stand out but both were great.
Next was some protein, Salmon and Tomato Volcano,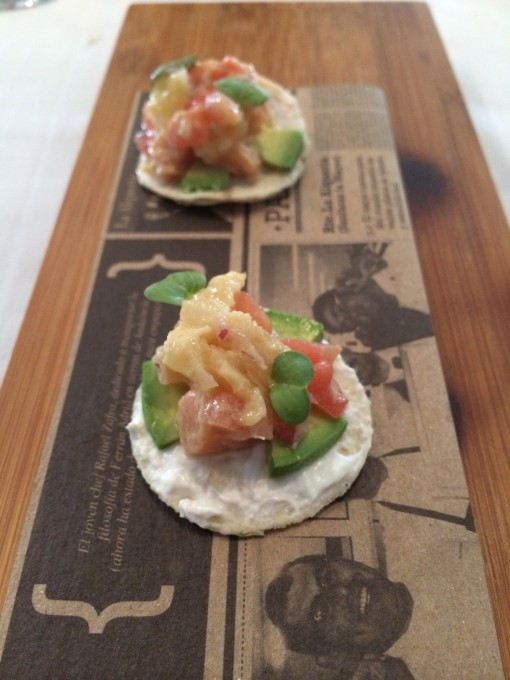 (this is also the point in the meal where the champagne was served)
The salmon was very good, a slightly spicy mexican-asian hybrid.  I just wish there were more than one bite!  Though, I guess with this many courses that's probably a good thing.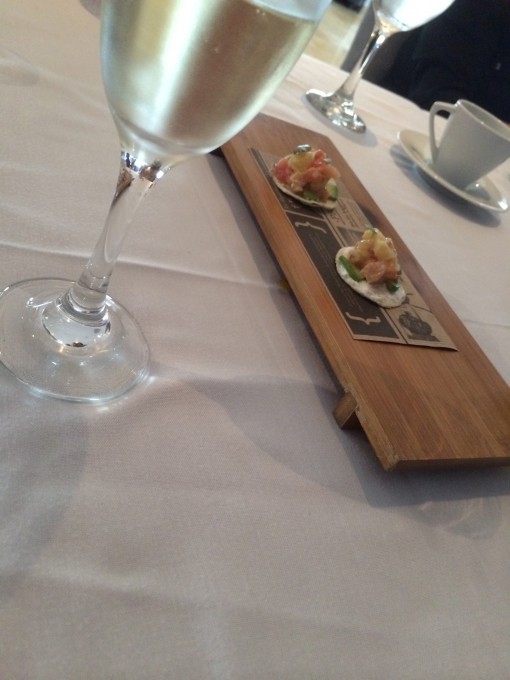 Ham & Cheese "Sincronizada"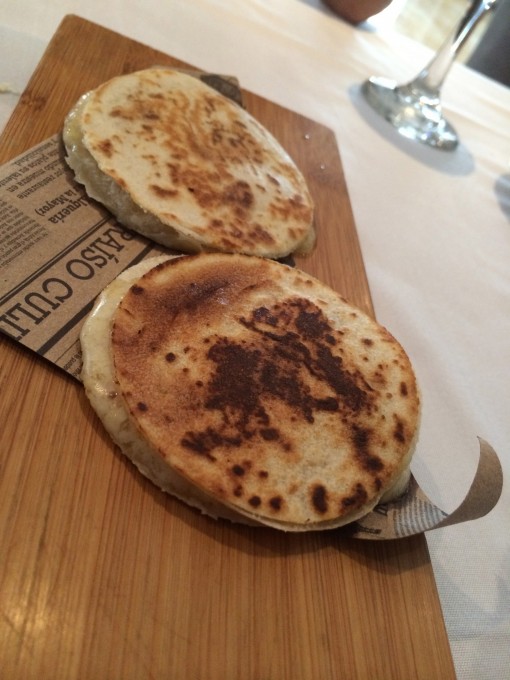 This was similar to a quesadilla filled with ham, mushrooms, and the most flavorful cheese, then cooked perfectly crispy.
Potato Foam with Beans.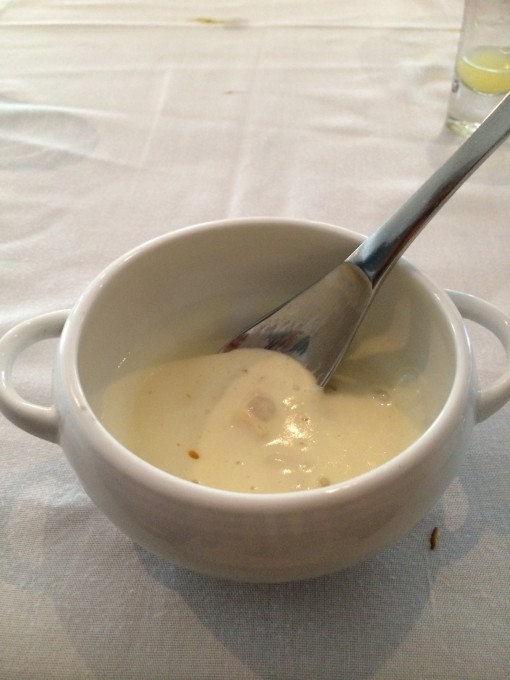 This trip to Cancun was my first experience with "foams" after years of seeing them on Top Chef.  It was very exciting.
Next came the Poached Egg with "Cuitlacoche" and Sabayon.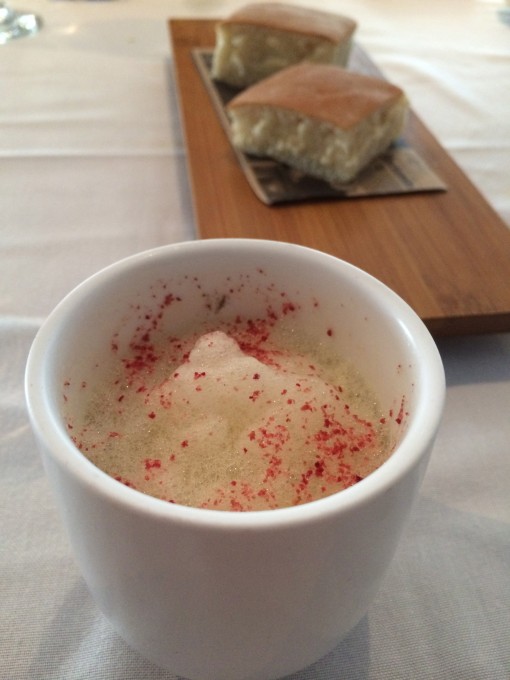 Here I'll be completely honest.  I'm not proud of this, but I'm weird about poached eggs.  I know that's a terrible foodie thing to say, but runny yolks just freak me out.  I want to like them, I just can't help it.  Luckily for me, this egg was poached hard.  No runny yolk!  I also found out that I love love love Cuitlacoche!  I loved it a lot more before I googled what it was and found out that it goes by it's way less sexy english name, "corn smut".  It's still delicious and I have no regrets.
The final course was a Home Made Bakery Selection served with Hot Chocolate.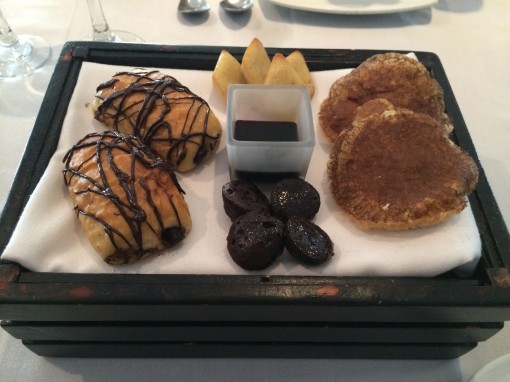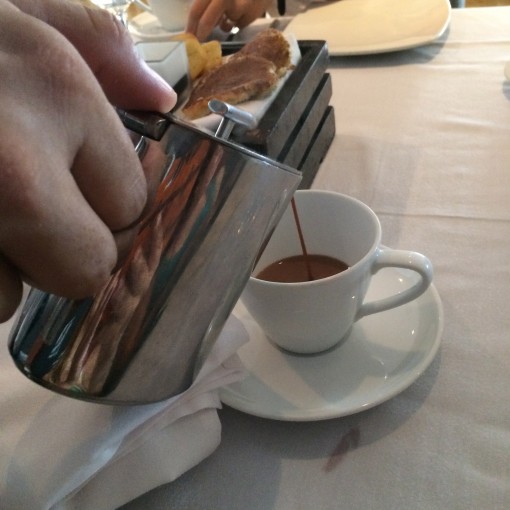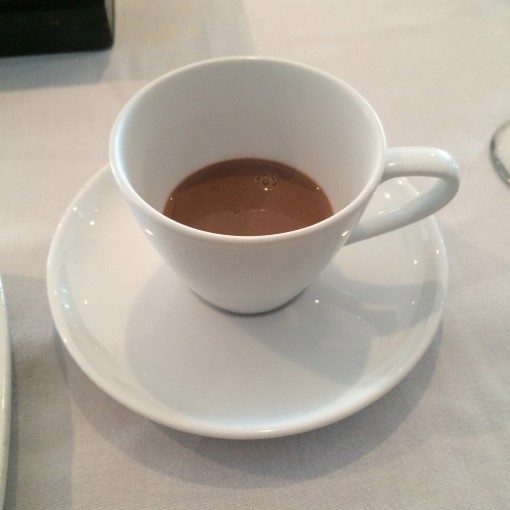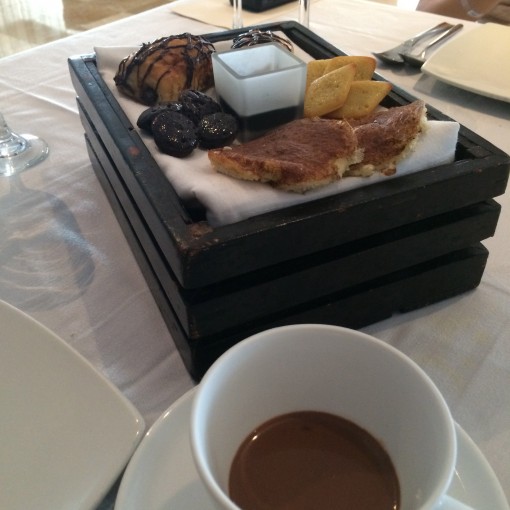 Just look at that!  This one deserved 4 photos.  The hot chocolate was a thick rich drinking chocolate and paired amazingly with the pastries and desserts offered. Nothing like dessert with your breakfast!
I'll be the first to admit that I'm not typically a "breakfast person".  I find that it's typically just a reconfiguration of the same thing; bacon, eggs, toast, orange juice.  After 28 years on this planet that just doesn't seem worth waking up for.  This meal changed my mind.  It's so rare to find a unique and different breakfast option, and this was nothing compared to dinner!
DINNER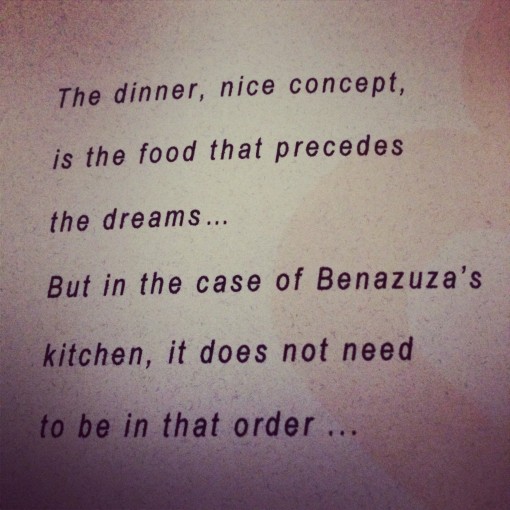 Dinner started off, as most great meals do, at the bar.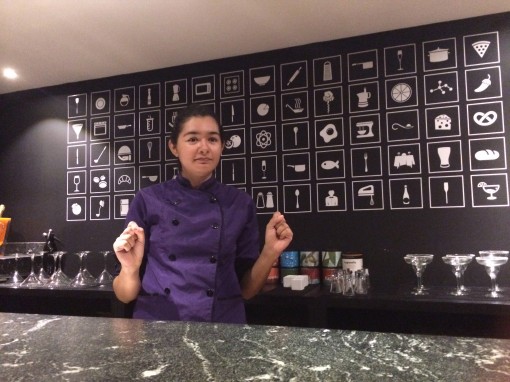 THE COCKTAILS
The bar at Benazuza was nothing short of amazing.  Here our bartender, Carla, whipped up some imaginative takes on traditional cocktails, starting off with the Caipirinha.  This version was served inside of a piece of sugar cane that you chew on to get the flavor of the cocktail.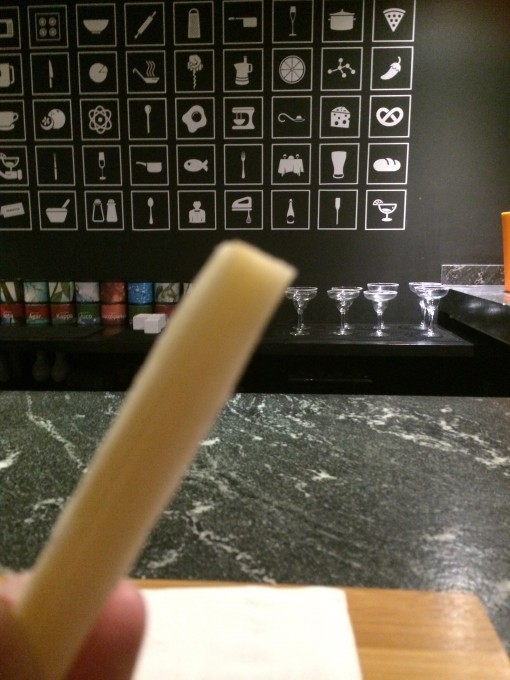 Up next was the Mojito.  This version of one of my favorite cocktails was reimagined with a sweet rum jello on top of a lime that you had to bite into to mix the flavors.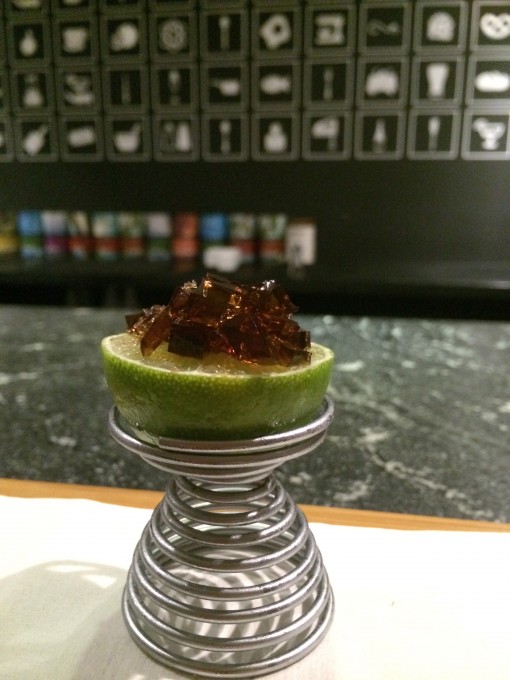 Next came a Mexican tradition, Mezcal with a worm.  Of course, this was a little different.  Carla served a Mezcal Foam with Rice Cracker Worm, that I believed was a real worm for way too long, even after I ate it.  To be fair though, I was fed crickets earlier in my trip, and I've adopted a pretty "when in Rome" attitude about trying new foods when I'm traveling.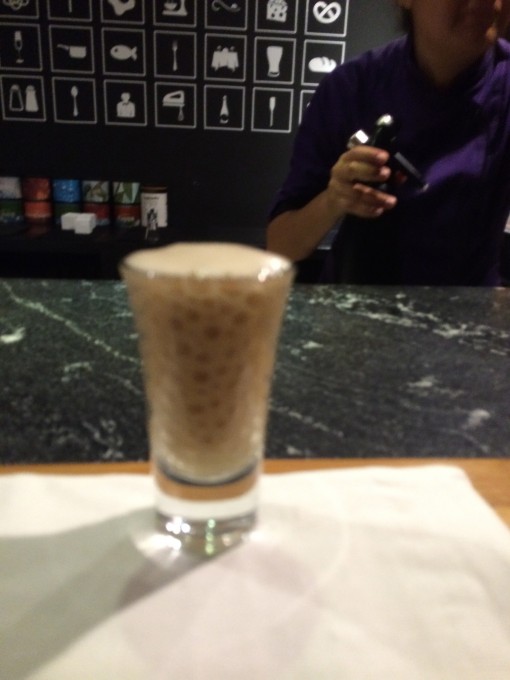 This one you had to drink quickly before it went flat.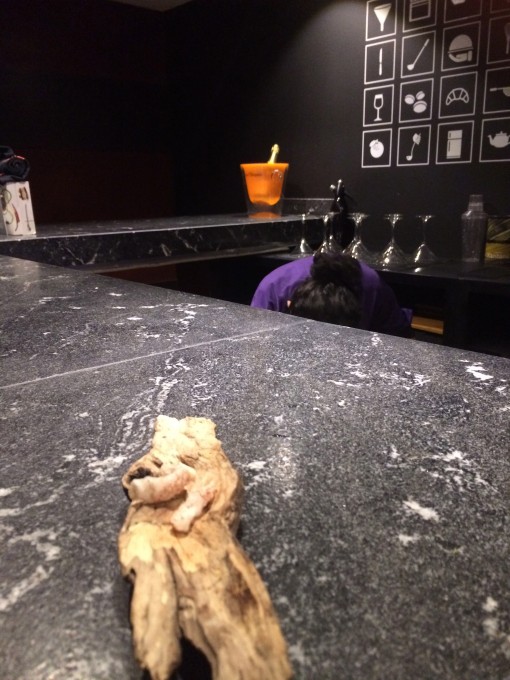 Next on the menu was another Mexican classic, the Margarita.  Of course this is Benazuza, so there is a twist… this one is invisible.
First, the empty glass is set out.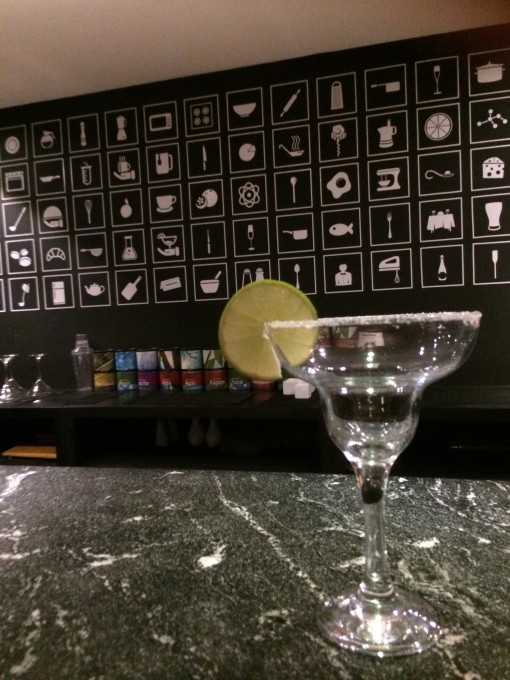 Next Carla comes by and fills it with Invisible Margarita,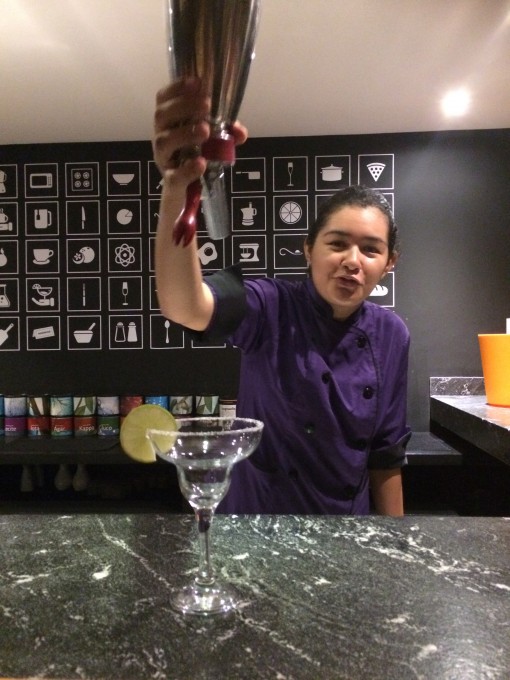 (Mine was extra tall!) Then as a final touch,( and most important 😉 ), the straw.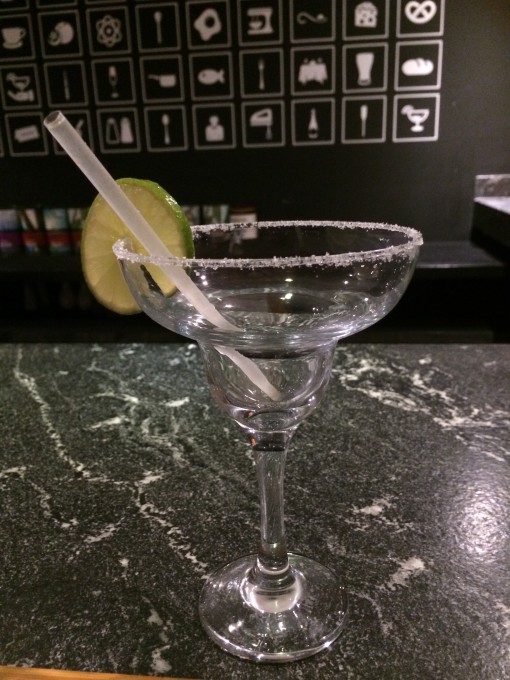 The final cocktail on the menu was a Pina Colada.  Here rum balls were added first,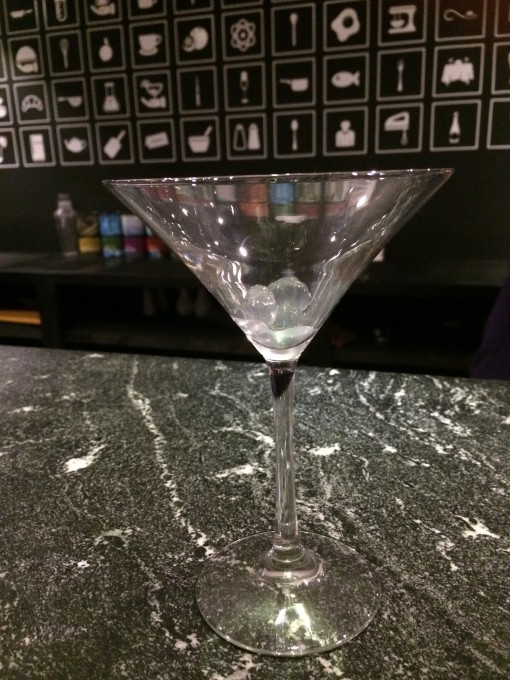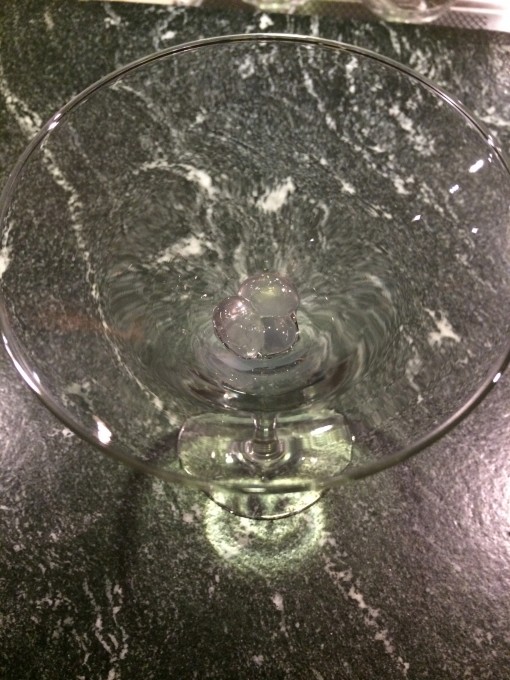 Then coconut milk,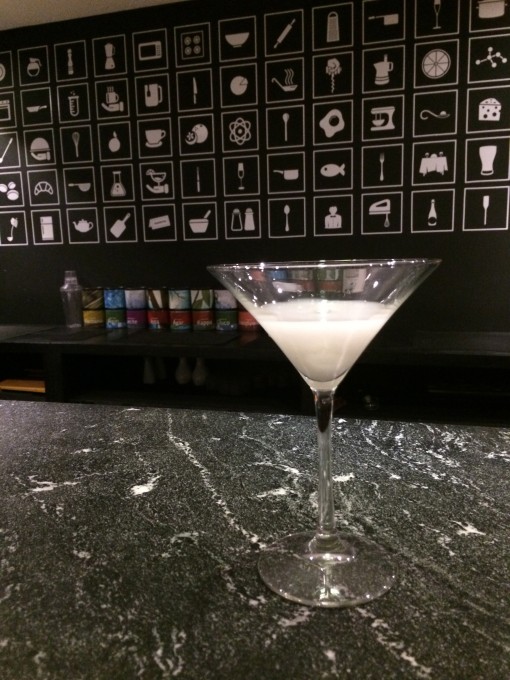 and Cotton Candy.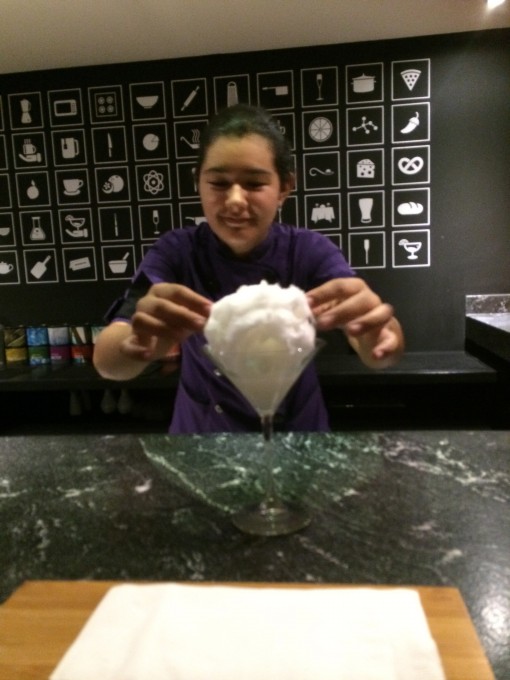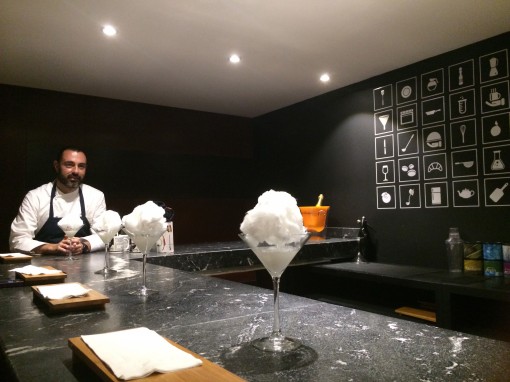 (pictured with Chef Rafael Zafra)
Finally, pineapple juice was poured on top to melt the cotton candy.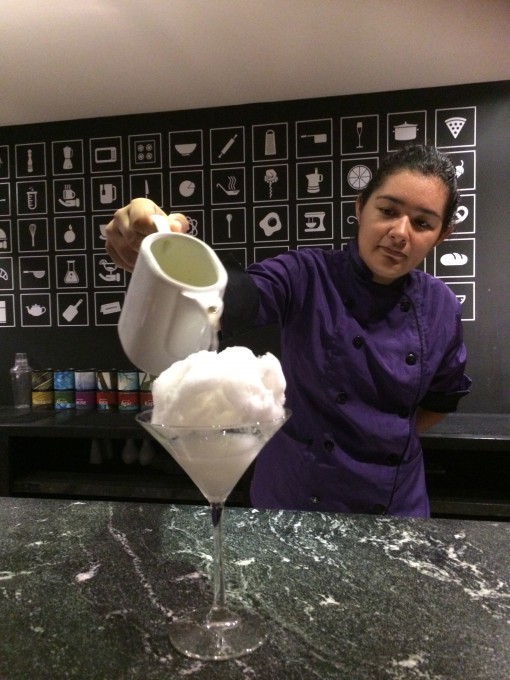 Now, it's ready to enjoy.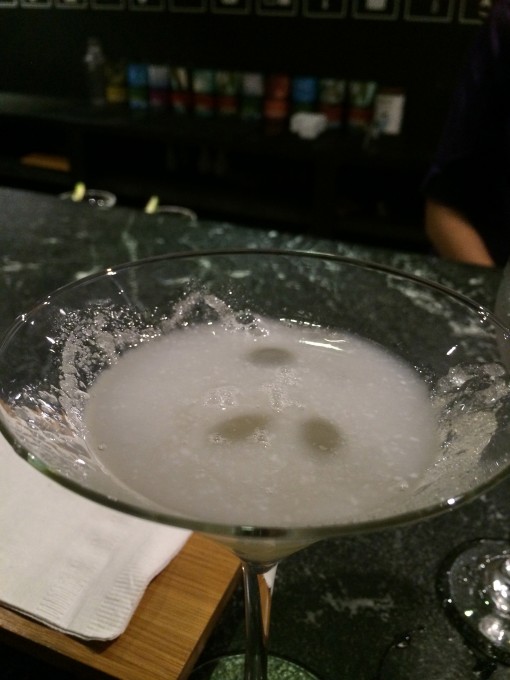 Just bite in to the rum balls and you're in business.
THE MEAL
After cocktails we moved into the dining room.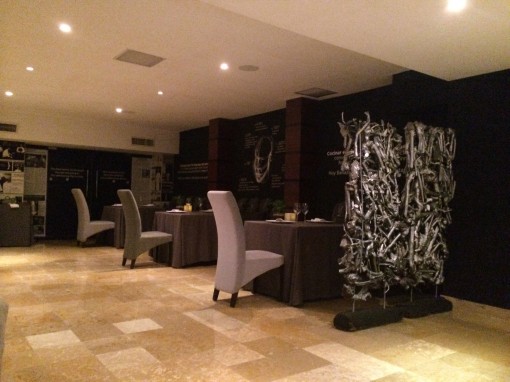 This is where the show began with Damiana & Nitro,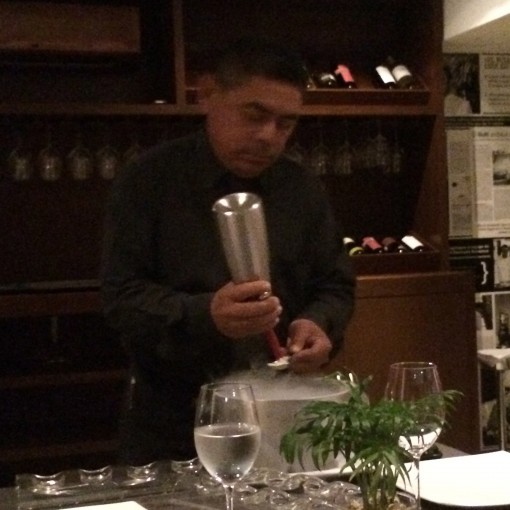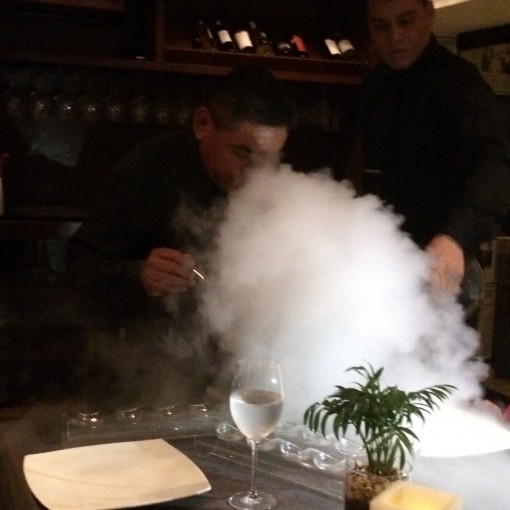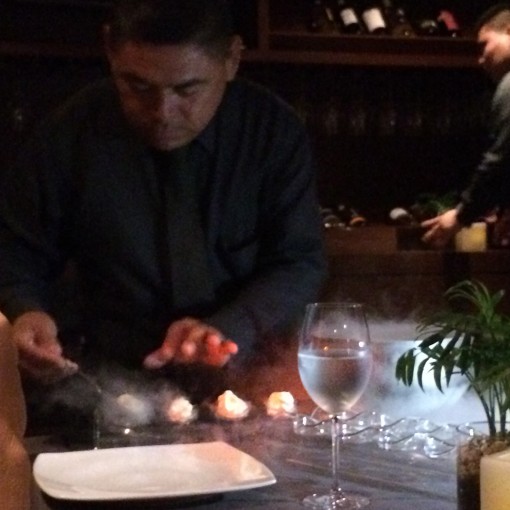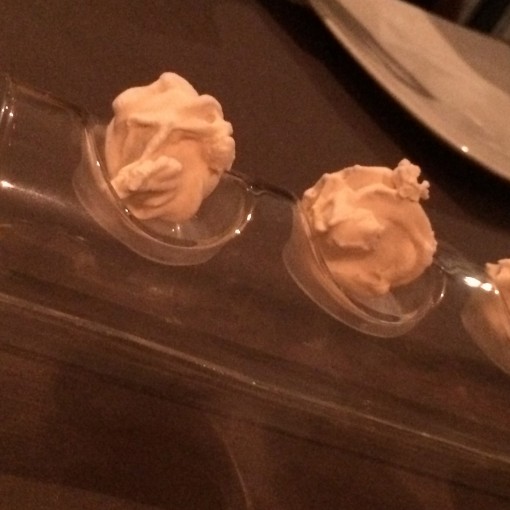 This was a passion fruit flavored ice cream frozen so cold that it made the tongue tingle.
Next was even more cocktails!  A Hot and Cold Margarita!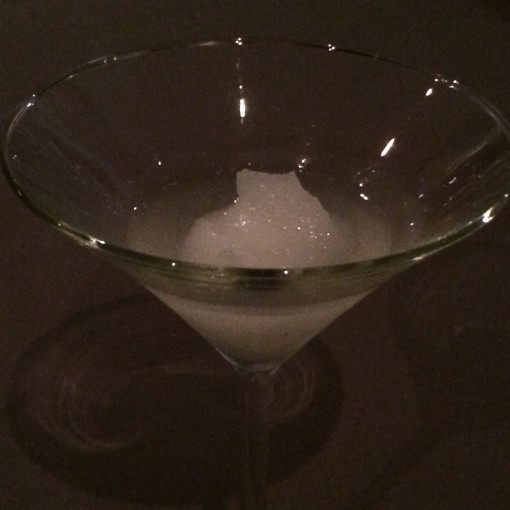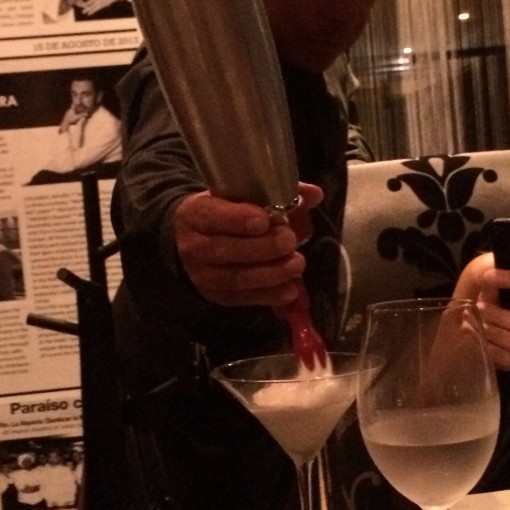 Followed by Coconut Popcorn.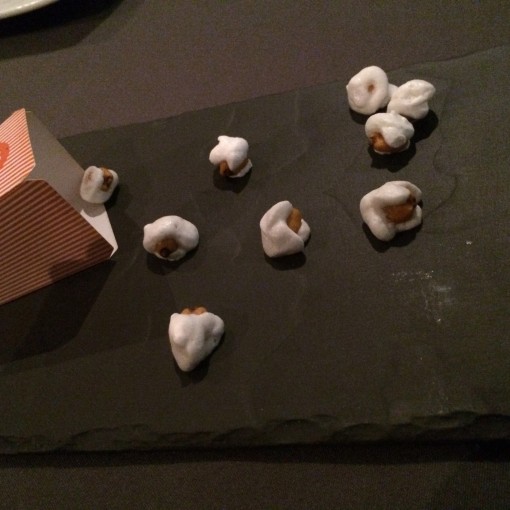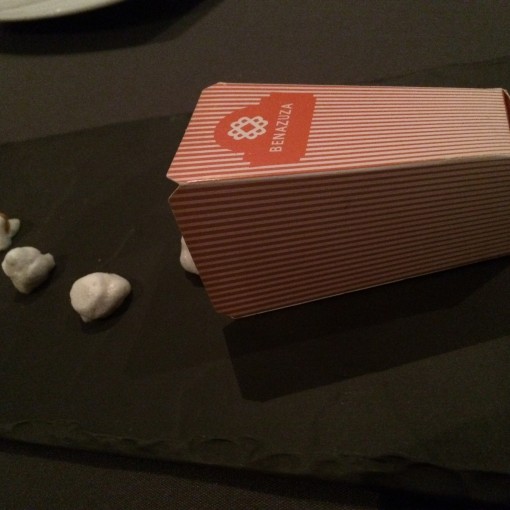 The "popcorn" was made from nuts in a sweet coconut flavored coating.
Next came the snacks.
The Snack with Sour Cream,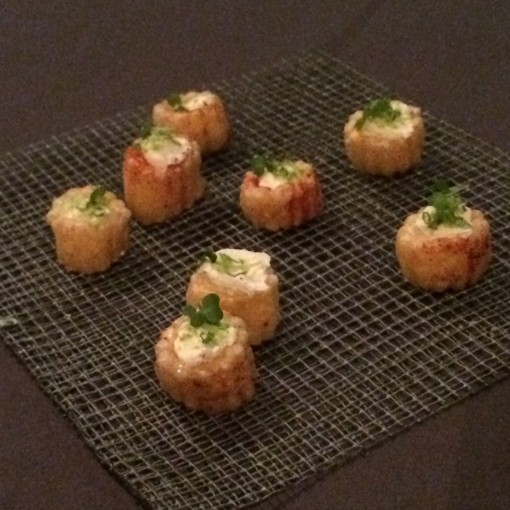 One of my favorites, the Rice Cracker Reef.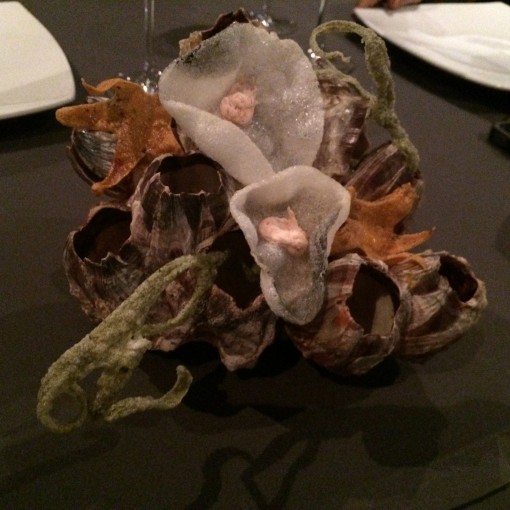 Pinata with Guacamole (this was a fun one too!),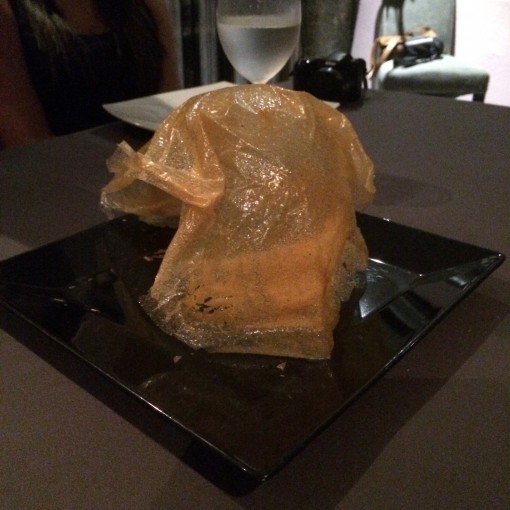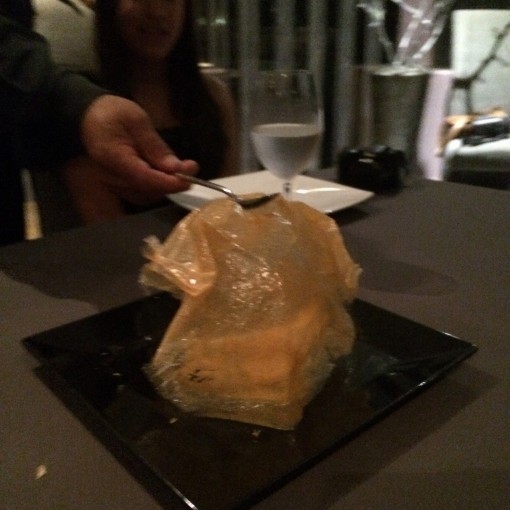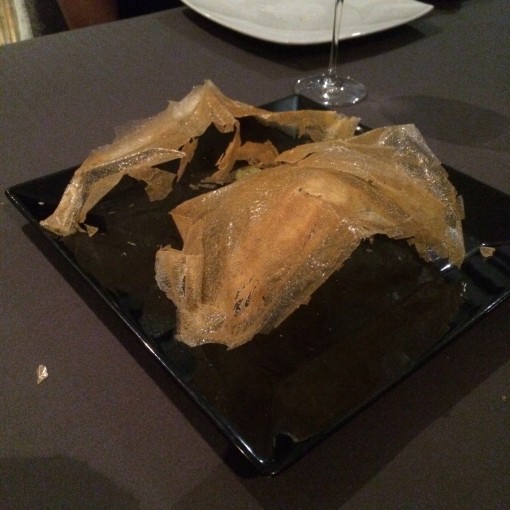 The next 4 items were served at the same time; Steamed Taco, Avocado in Tempura, Pork Toast, and Gordita/Brioche with "Chicharron".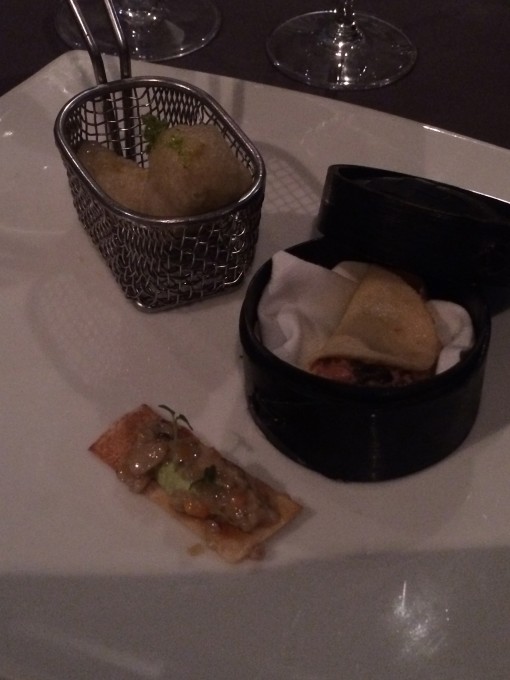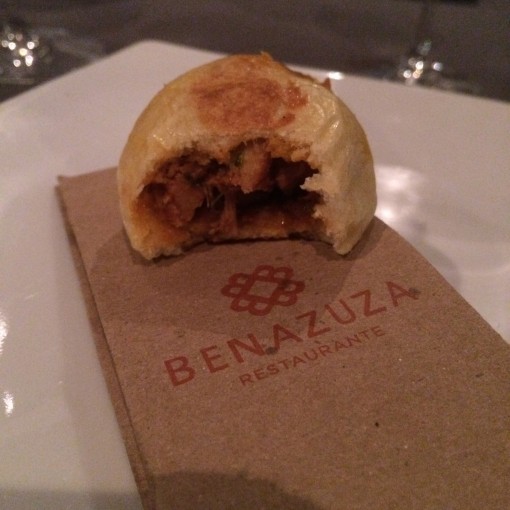 Next on the menu was Tapas.
Corn Cob with Vanilla Mayonnaise.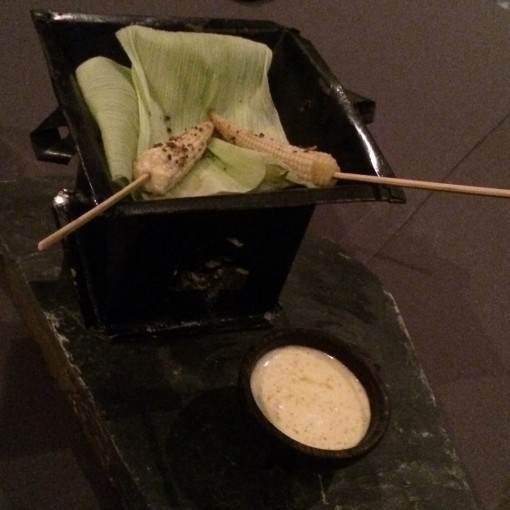 The Corn Cob,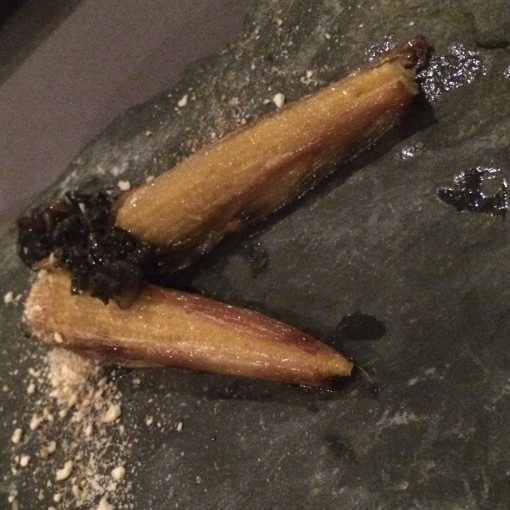 (This one was served with fois gras!)
Poblano Rice Kellog's.
(Love all of the table side presentation!)
Benazuza Fajitas,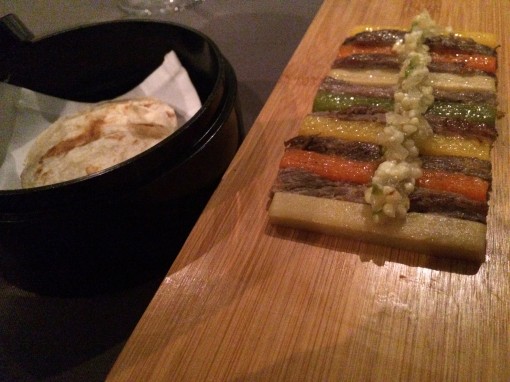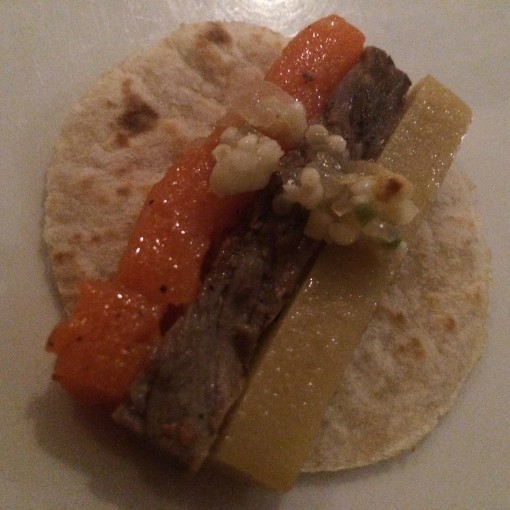 Small strips of peppers and meat were served with mini home made tortillas.  This was a lot less messy that a regular fajita.
White Asparagus with Pipil.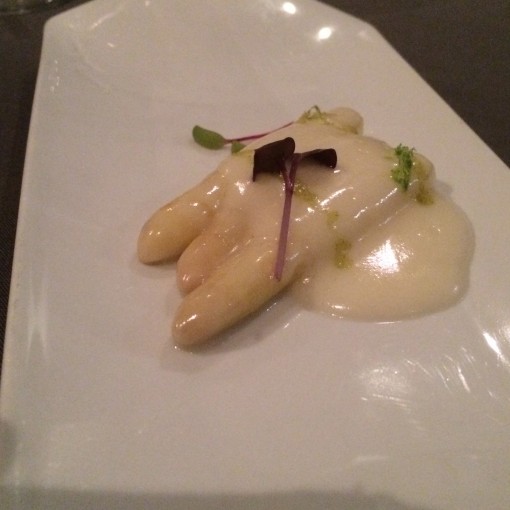 Just the right amount of tart and creamy.
Potato Foam with "Valladolld Sausage"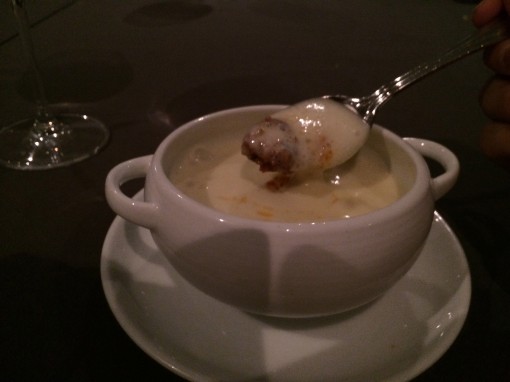 This was similar to the potato foam with beans served at breakfast, but with the welcome addition of spicy sausage.
After much ado, time for the main dishes!
The first dish is the Chef's Garden.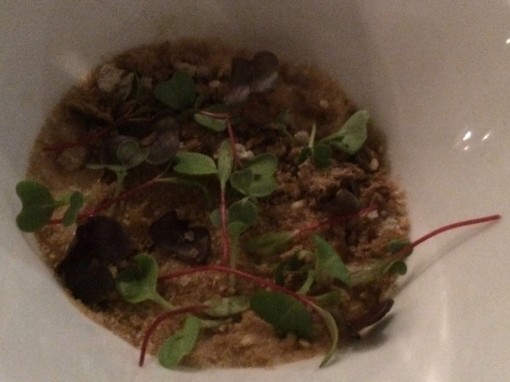 A creamy veggie cassarole.
"Tatemado" style fish.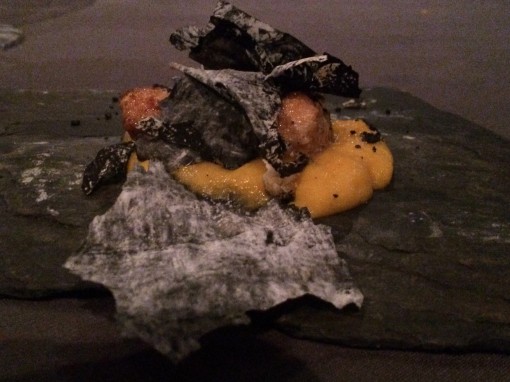 Served with mashed sweet potatoes and burnt ashes.
Then my personal favorite of the evening, Chicken with Mole.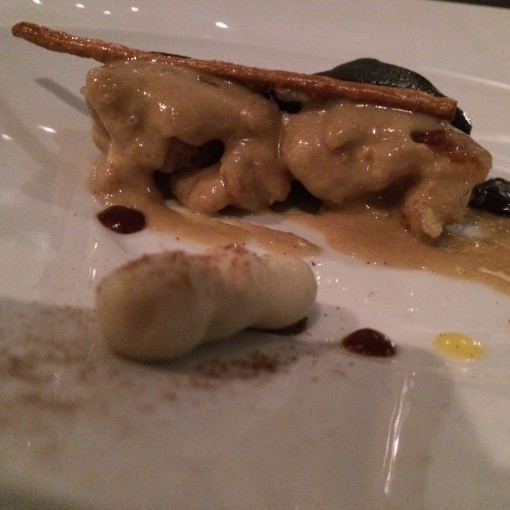 This was dark mole pair with peanut sauce, which is such a good idea.  I don't know why I didn't think of it!
Can I just say, I love that "pre dessert" is a thing.  This time it was a Guanabana Mollusk.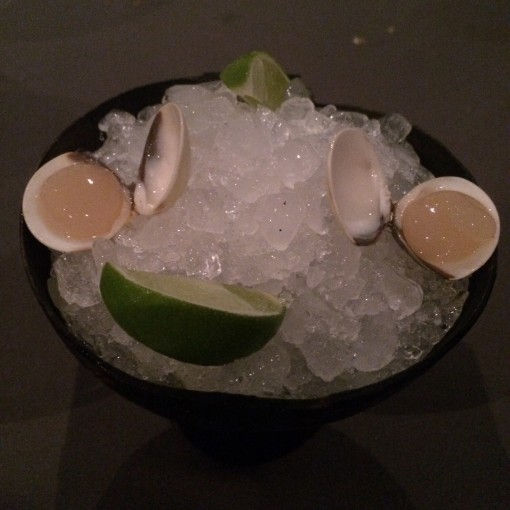 This was a fruity jelly served inside of a clam!
Then it was time for the real dessert.
A Maracuya Pinata (they really like pinatas at Benazuza)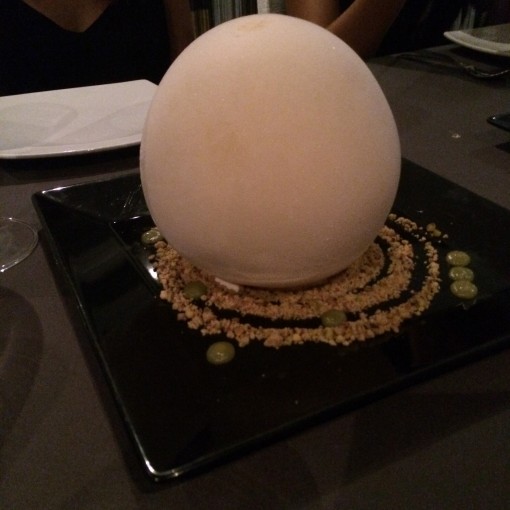 This is a sphere of hard frozen passion fruit ice cream you whack open with a bat!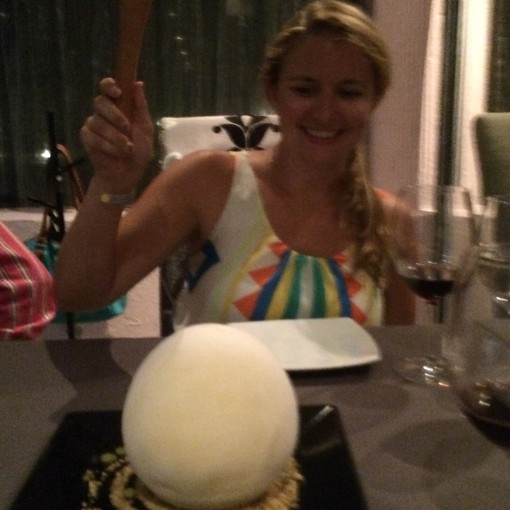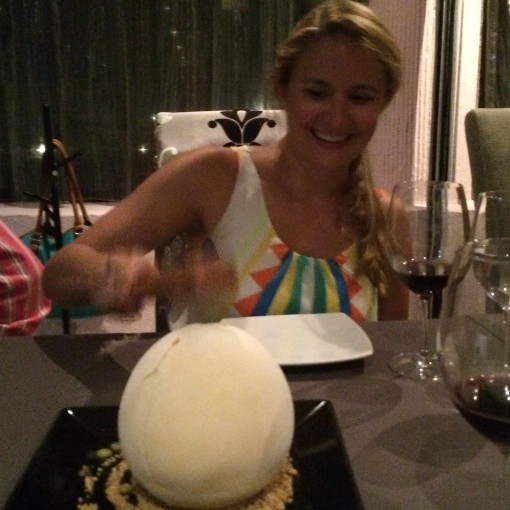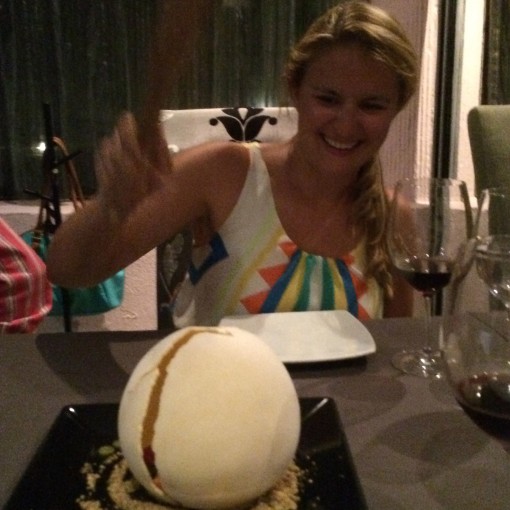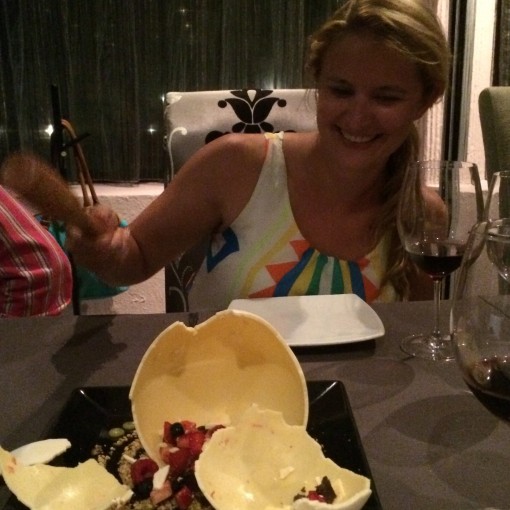 Inside you'll find fresh berries and coconut!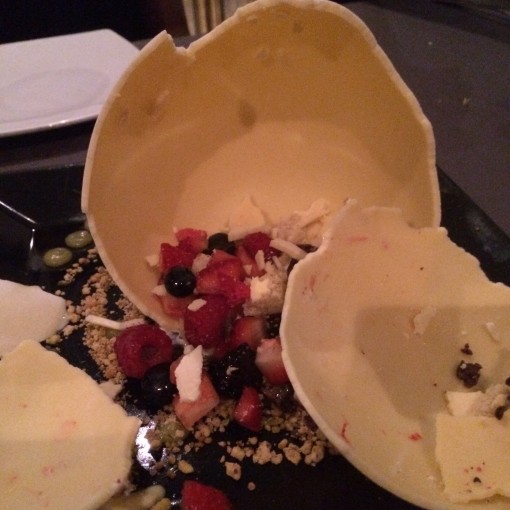 I don't know how they did it, but I love it.
I also love that even after dessert, dinner is not over.  There's another course of "Morphings"
Fruit and Vegetables Box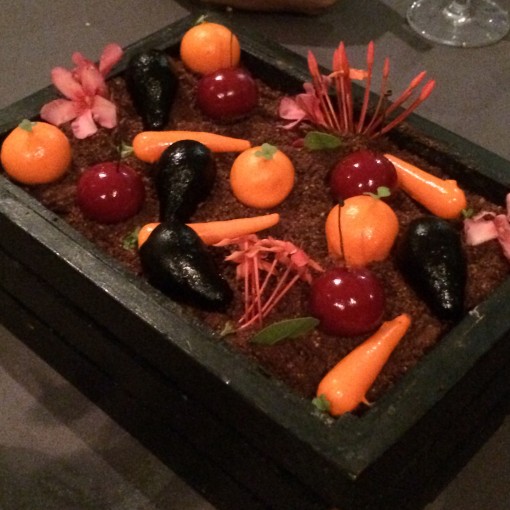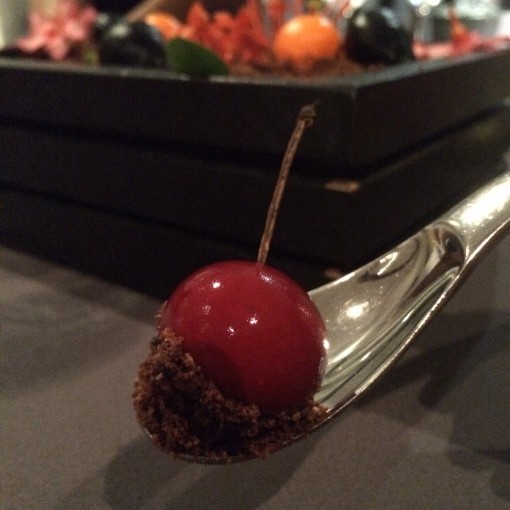 This was various fruits and veggies filled with mousses and creams and served in crumble chocolate and nut "dirt".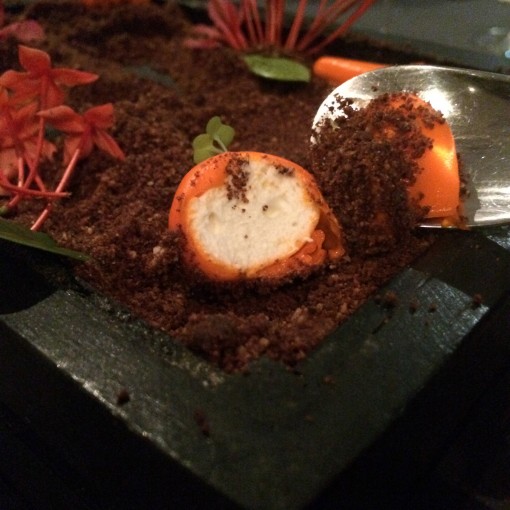 And finally, the perfect way to end this meal is exactly how you began it… booze.  Full circle.
Time for tequila shots with lime jello chaser.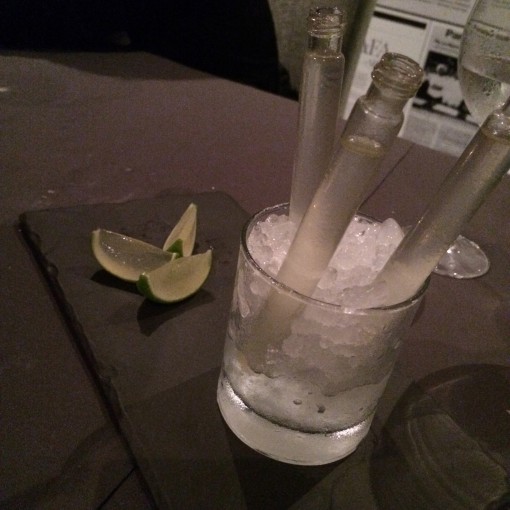 This was the most playful and creative restaurant I've ever been to and when it was all over I had the pleasure of meeting the man behind it.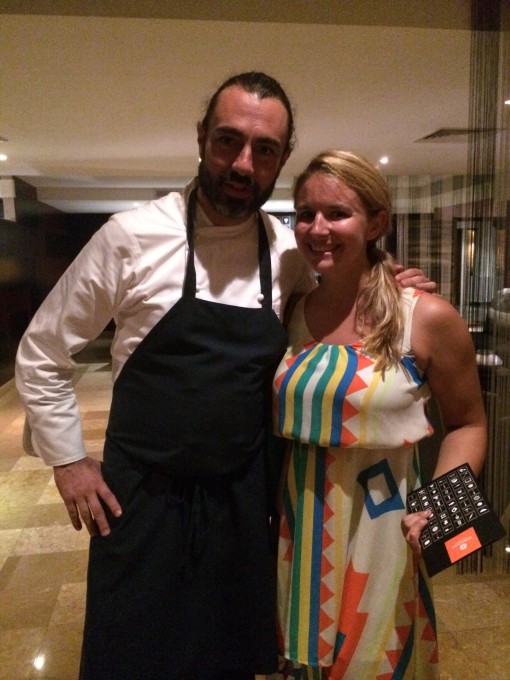 Chef Rafael Zafra studied (and clearly thrived) under the famous Ferran Adria at El Bulli.  He learned molecular gastronomy from the master and was kind enough to pass it on to us.
Benazuza is a truly magical place and I for sure will not make another trip to Cancun without a visit there.  This is the very definition of a "can't miss".  Foodie or not, you have to appreciate the imagination in every course.  It's great to have fine cuisine with a sense of humor.  Finally a fancy restaurant where it's okay to play with your food.
Thank you to the Cancun Convention & Visitors Bureau as well as the staff of Benazuza and the Oasis Sens Resort for inviting me to partake in this wonderful meal.  As always, the opinions are my own.
Save