DFDS Seaways runs two ferries from Copenhagen to Oslo (among other routes), the Crown and the Pearl.  After pricing out various options, I found that DFDS Seaways was by far the most economical choice.  For the two of us, plane or train tickets would have been a little cheaper and faster, but once you factor in an extra night in a hotel (it's a 17 hour over night ferry ride) this ends up as a much better option, especially if you are traveling with multiple people.
Unlike a lot of American cruise lines, DFSD Seaways doesn't charge per person, but rather per room like a hotel.  The room I booked on the Pearl for two people ran about 119 Euros for an indoor room, however the room was very basic.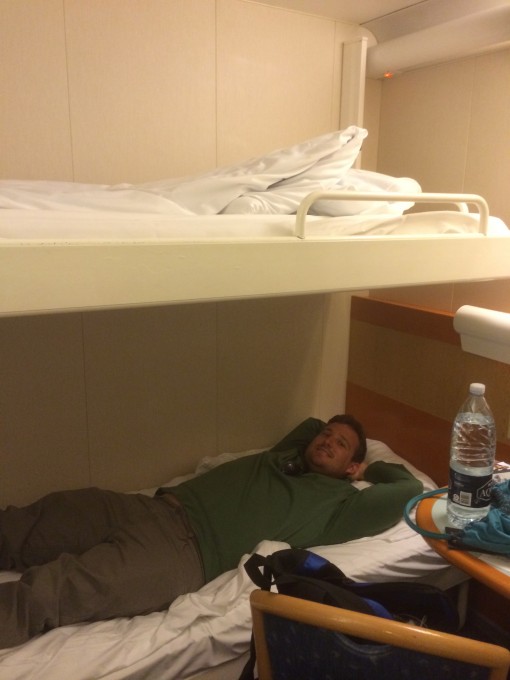 Once on board there was an announcement that the boat wasn't full an upgraded rooms were available.  We upgraded big, to the owner's suite with a Jacuzzi (and about a $400 extra price tag)!  That's one thing I will say for DSDF Seaways is that there are titanic differences in their room classes (see what I did there? That boat pun works on two levels!)  For real though, check out the before and after.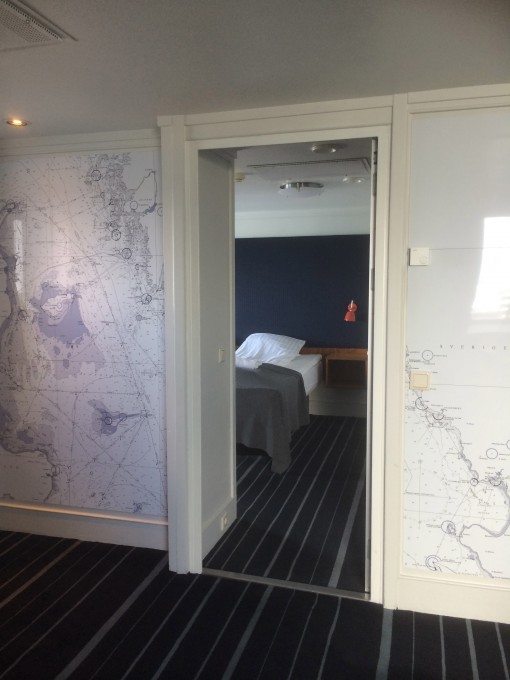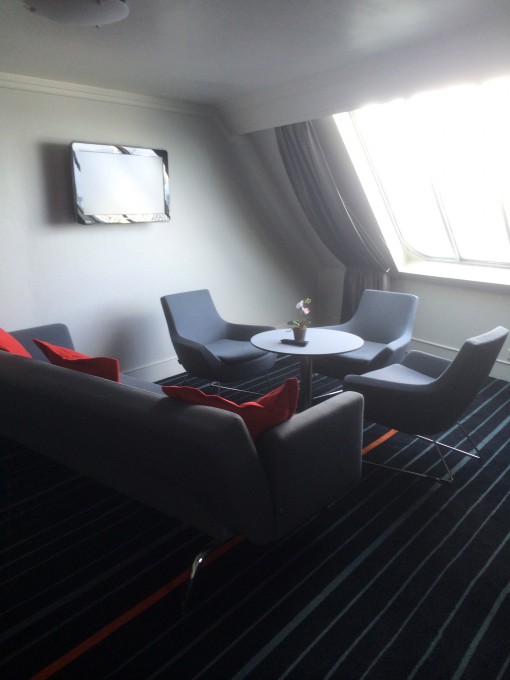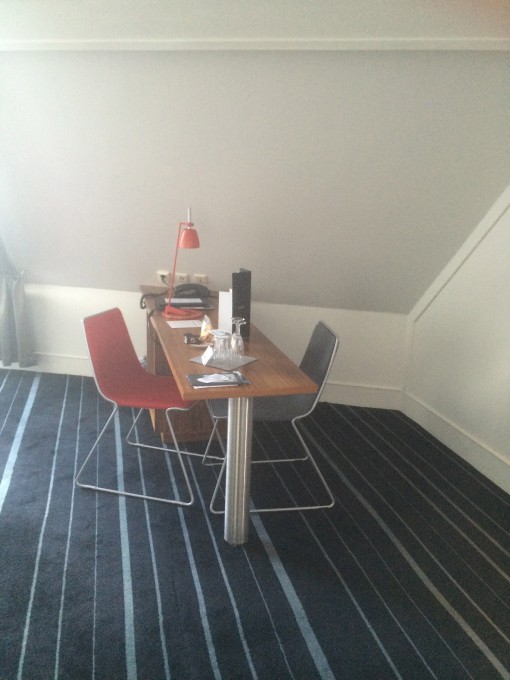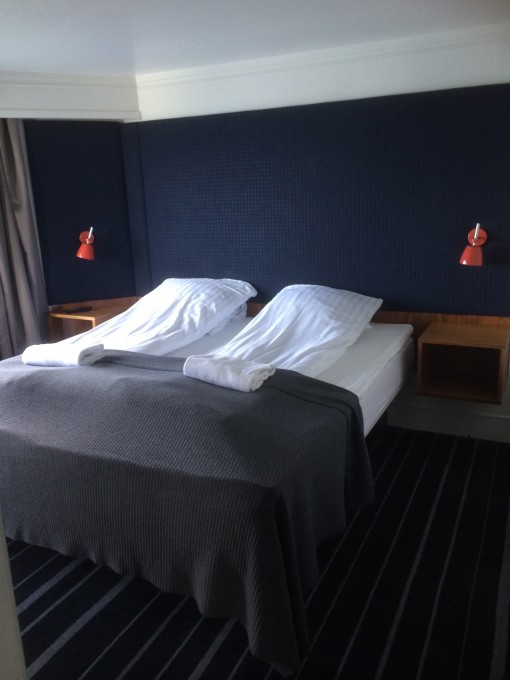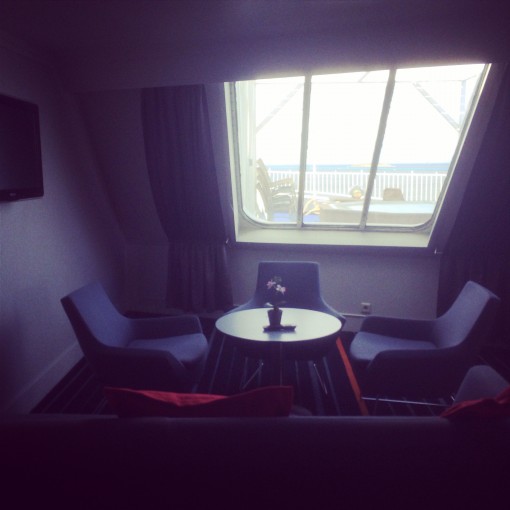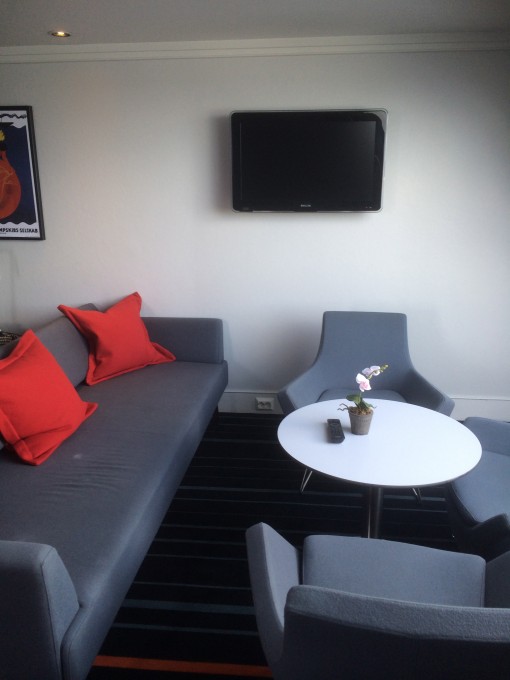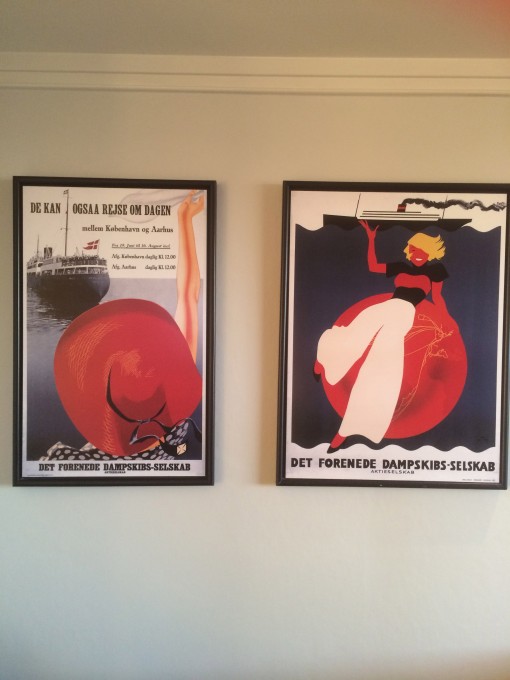 It was a serious upgrade, and that's just the interior.  The main attraction was the deck and hot tub, and of course, that view!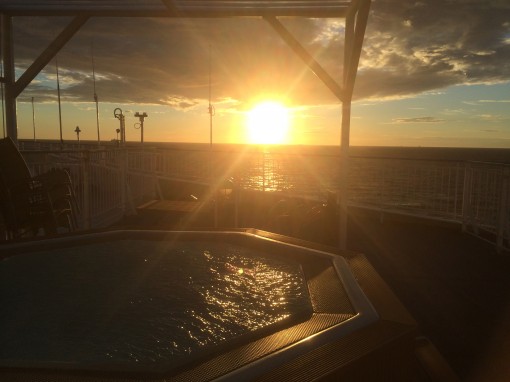 Here's the catch however, outdoor jacuzzis are great obviously.  This would have been amazing in the Caribbean, but this was Scandinavia.  In fact, it was pretty great before we started moving, but once we were on our way it turned into an episode of the Deadliest Catch.  Picture the strongest coldest wind you've ever experienced.  I was fine in the jacuzzi from the neck down, but I was pretty concerned that my face was going to blow off into the North Sea.  Not to mention the comical run to the towels and back inside after getting wet and frozen in the jacuzzi.  So, as gorgeous as this room is, I would recommend an indoor jacuzzi for the Nordic route.  It did make for an excellent sail away party though.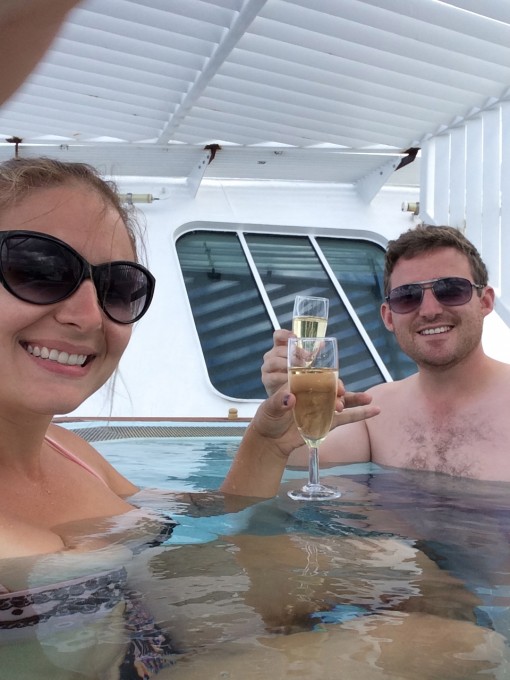 The room was worth it for the extras.  This was a Commodore Class room which came with a lovely welcome package, including a mini bottle of champagne, a bottle of beer, dried fruit, weird chocolate covered licorice (sorry Europe, I just don't get it), and two free breakfast tickets, as well as access to some overpriced room service.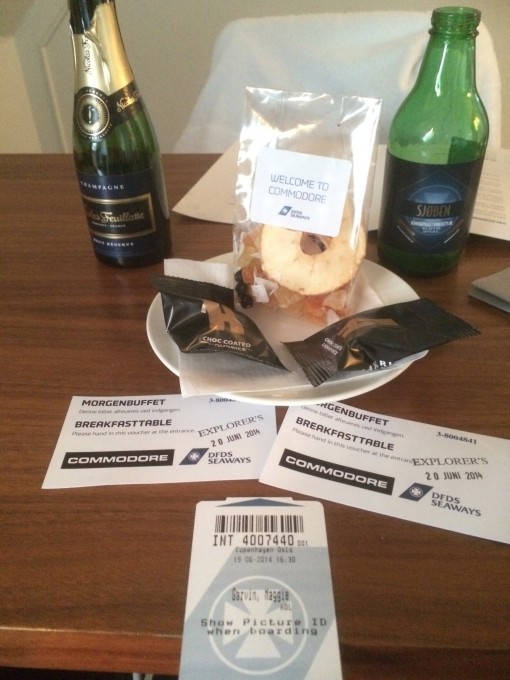 Commodore De luxe rooms also have access to the Commodore Lounge, which offers light snacks, beer, wine, soda, and coffee as well as free wifi, a courtesy computer and nice view.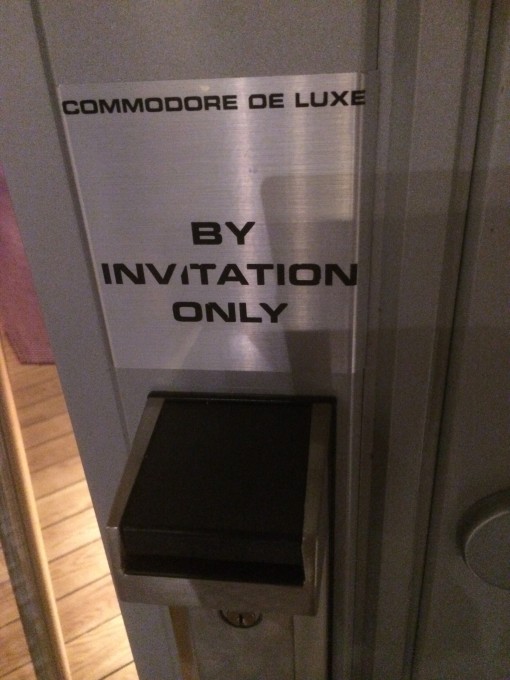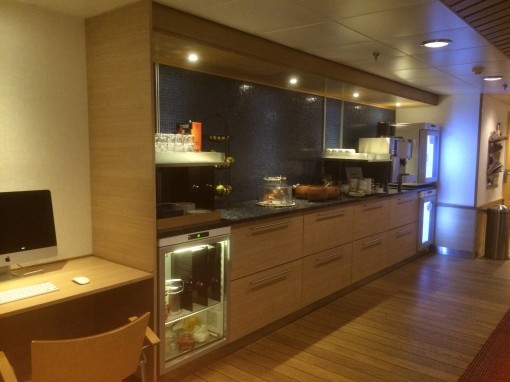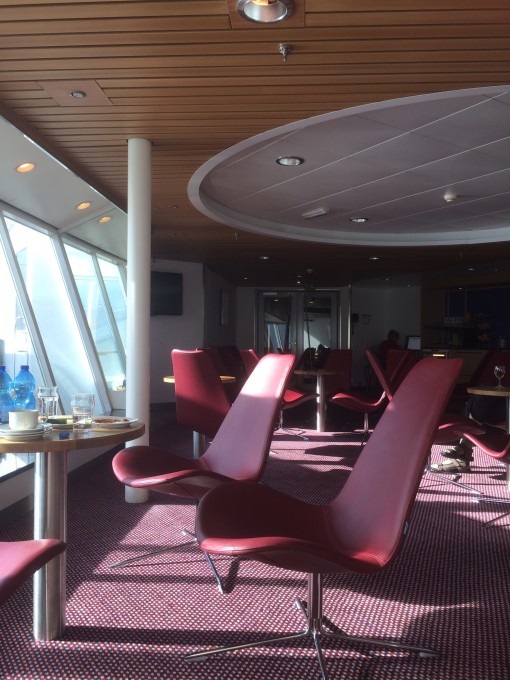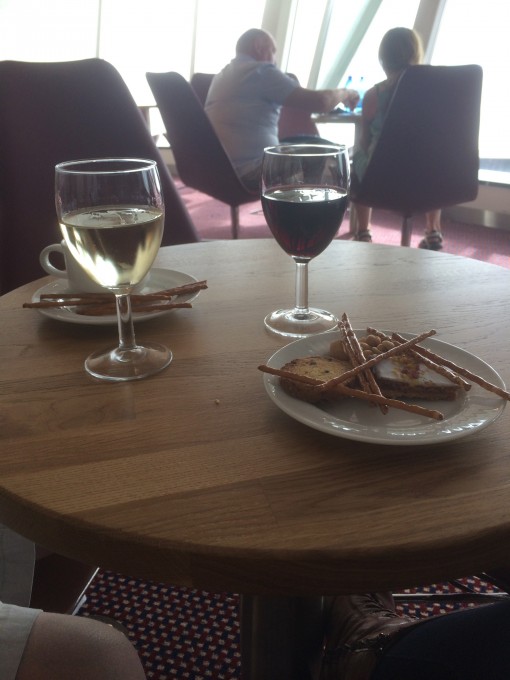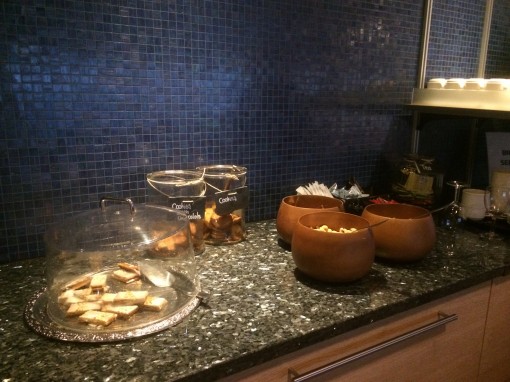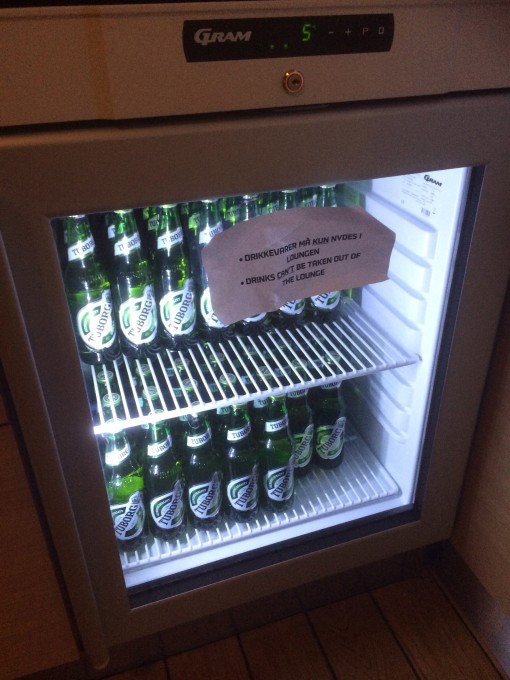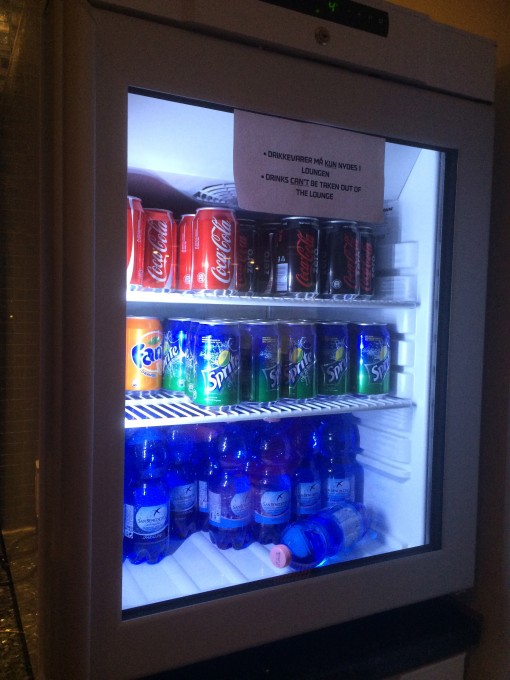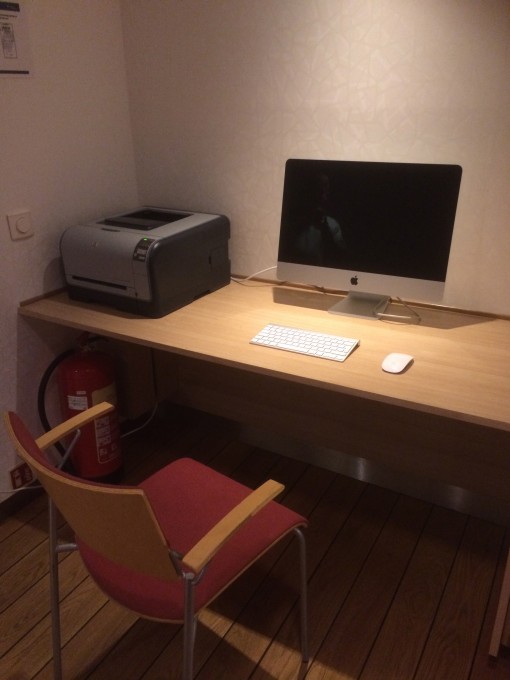 This lounge almost made up for my least favorite thing about this ferry, all the food was sold seperately.  I'm a self proclaimed cruise fatty and I'm used to American cruises where I can order several entrees just because.
There are several dining options to choose from here, but all are rather expensive, even if you pre-order online.  To bypass this, I stopped by a supermarket (there's one very close to the port in Copenhagen) and loaded up on wine and cheese.  I did explore the restaurant options on the boat, though.
The DFDS Pearl features, Little Italy- an Italian Restaurant that I did end up trying on the way back to Copenhagen, even after being warned against it, and was fairly impressed.  Plus, it didn't seem expensive at all after having spent time in Oslo.  I think "bad food" for Europeans is pretty different than "bad food" for Americans.  There is also Marco Polo, which features mostly prix fixe menus, Explorer's Steakhouse, 7 Seas Buffet, and Baresso- a coffee shop/ cafe.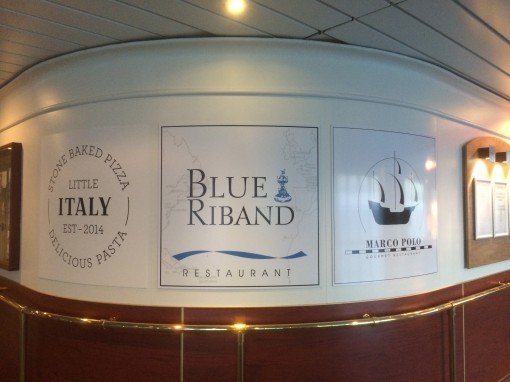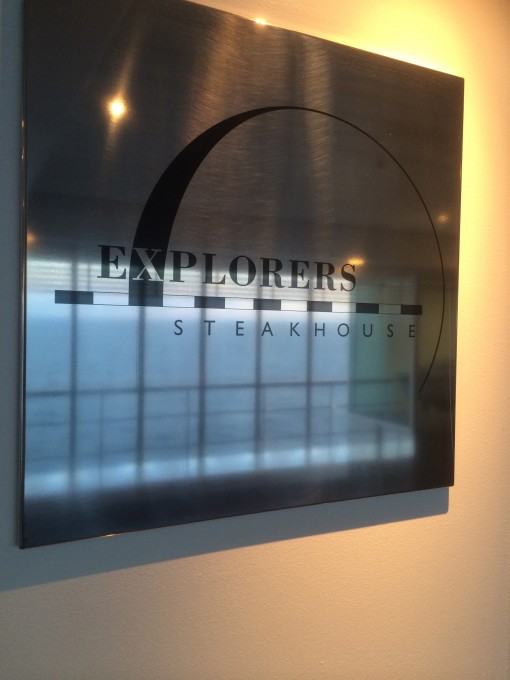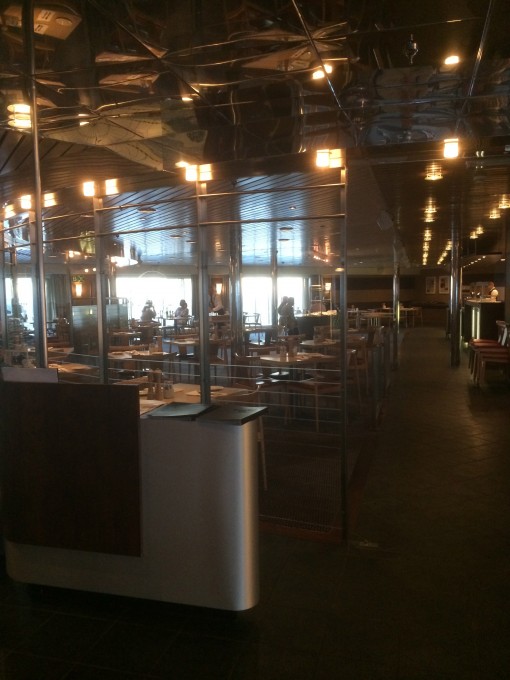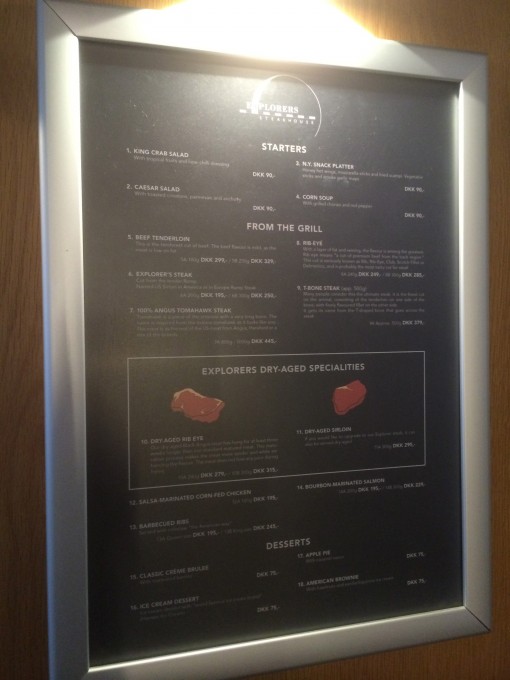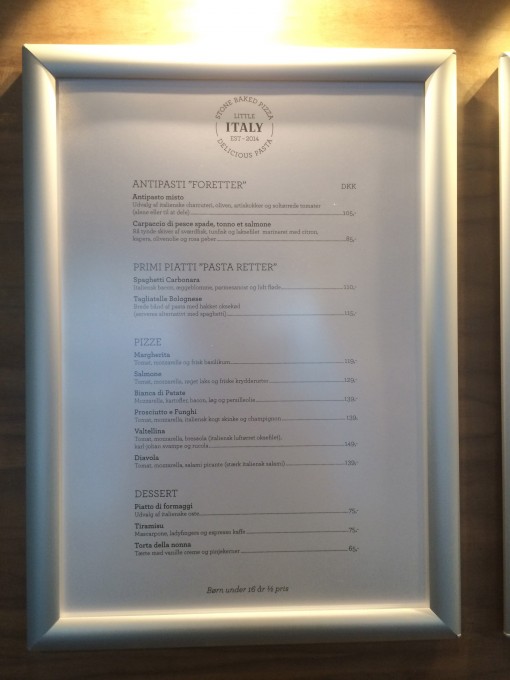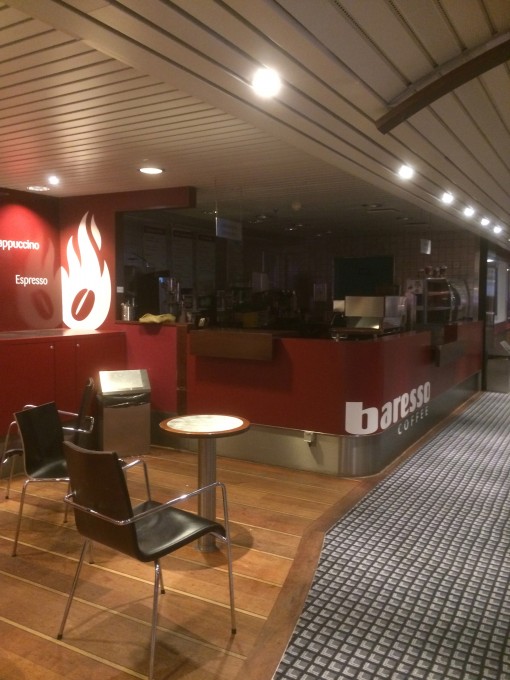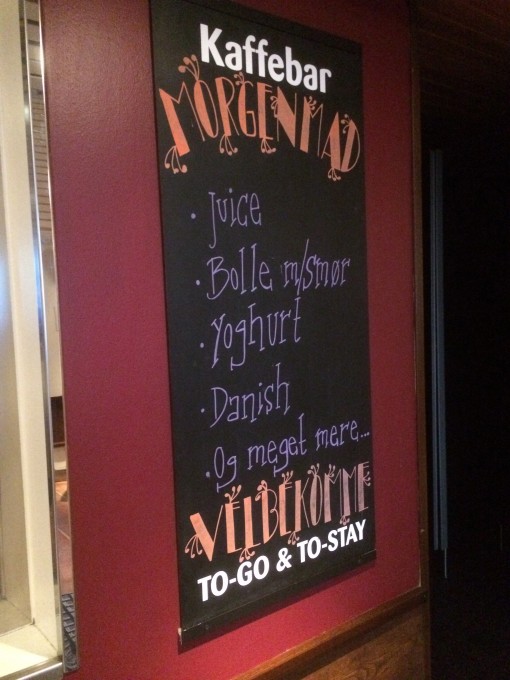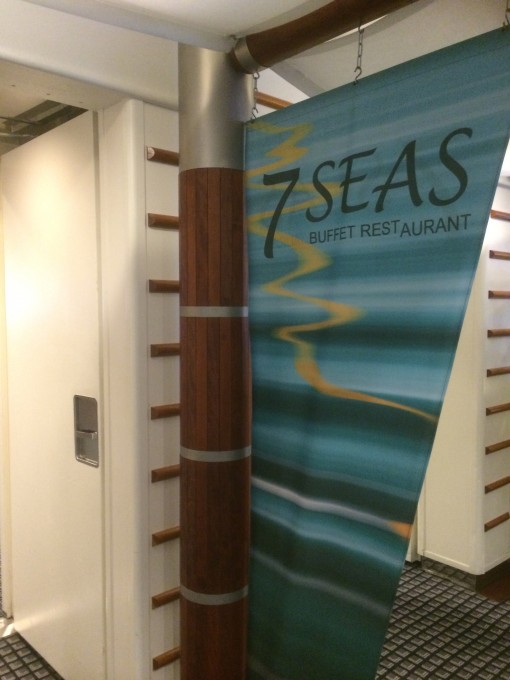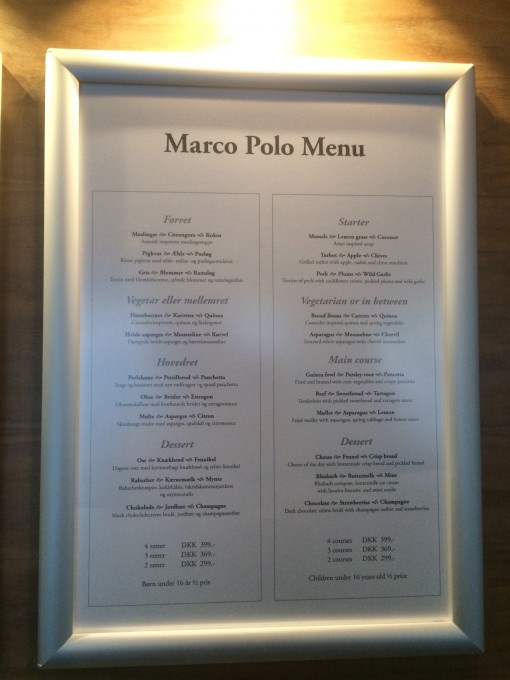 A word of warning with the food though, much like the rest of Scandinavia, nothing is on any sort of schedule.  Most of the restaurants list opening times (many of which are 1pm, even though the earliest boarding is 3?) and no closing times, and seem to just close whenever they're tired of being open.  Of course, after having spend some time in Copenhagen, I knew that opening times didn't mean much either.  I guess it's something you get used to.
If you are too late for the restaurants, there are many entertainment options that offer liquid dinner and probably some bar peanuts.  The DFDS Seaways Pearl has several indoor and outdoor bars and nightclubs, as well as a casino.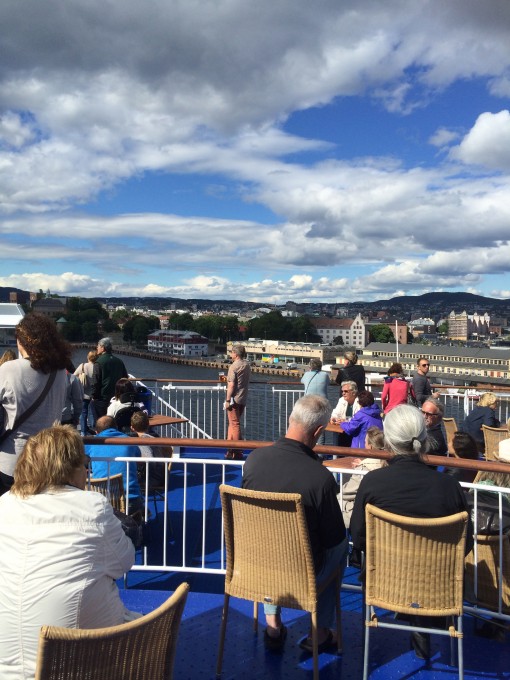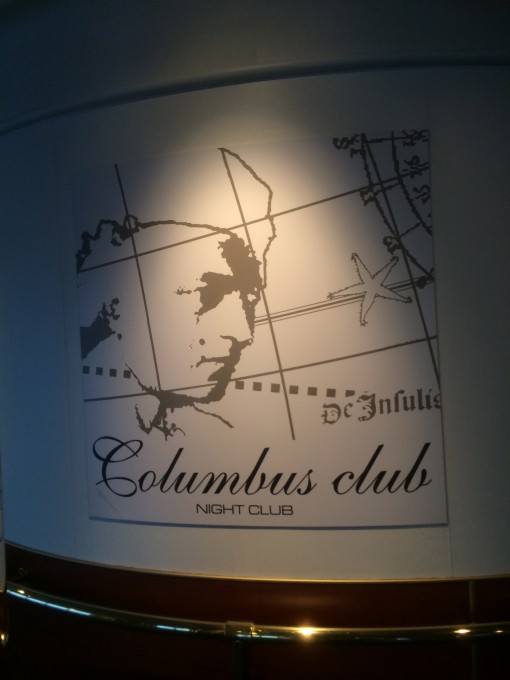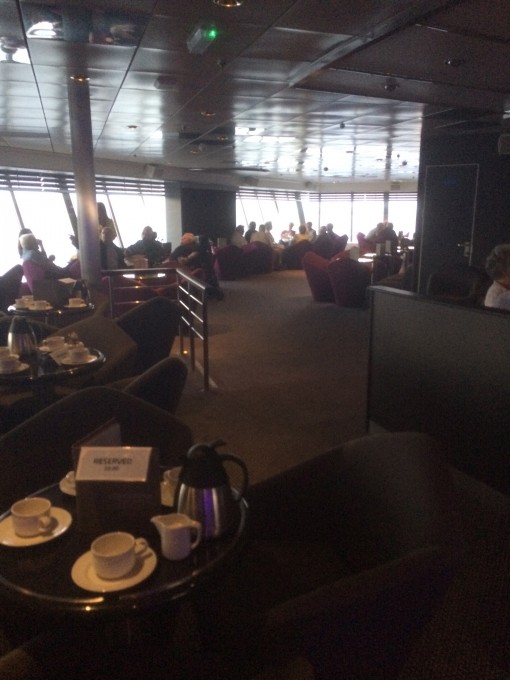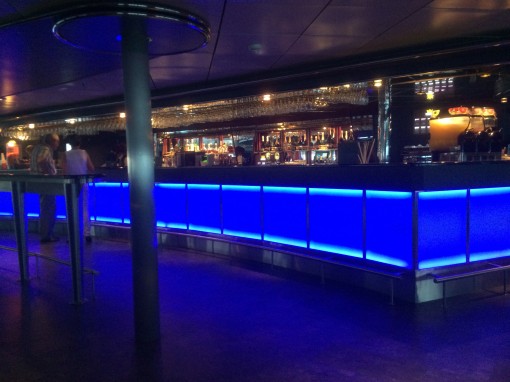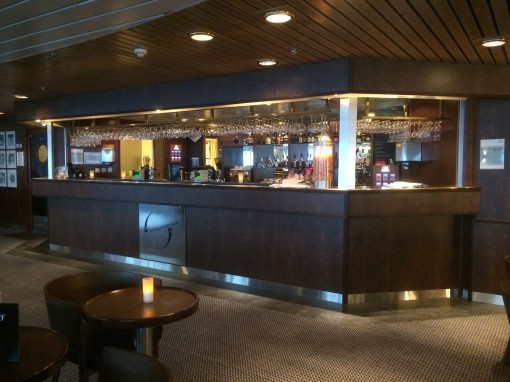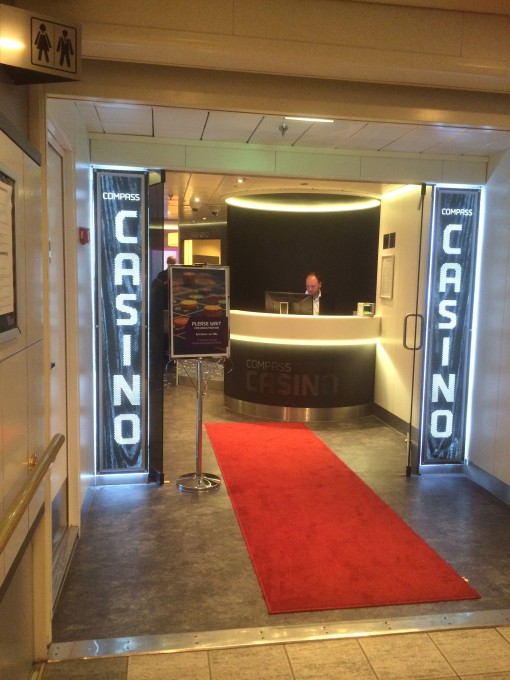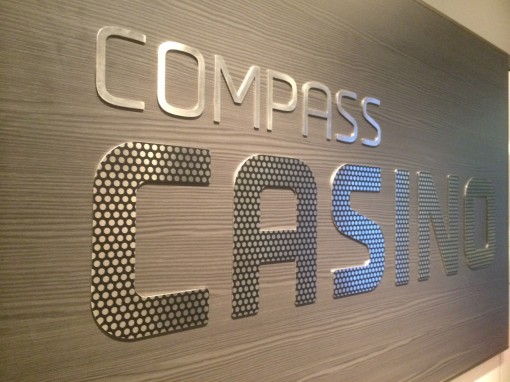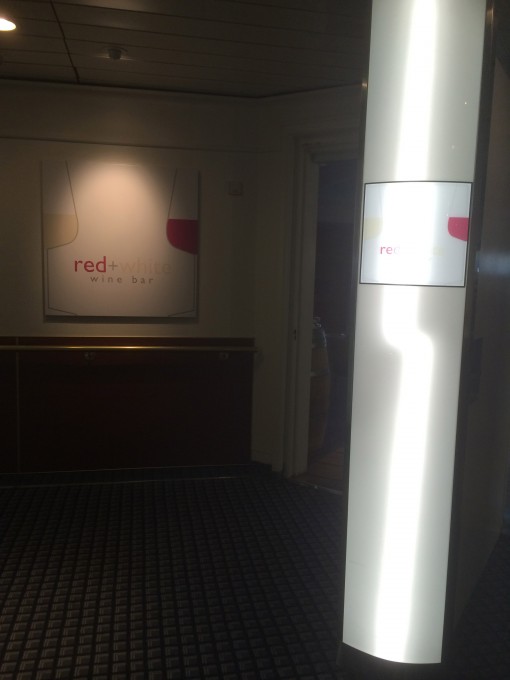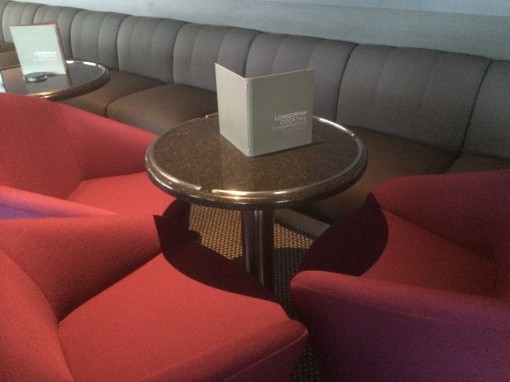 As I mentioned before, my upgrade came with a free beer and wine lounge, so I didn't experience many of these night time options, but on the way back from Oslo to Copenhagen, I did stop by the Columbus Night Club, which offered gorgeous midnight sunset views,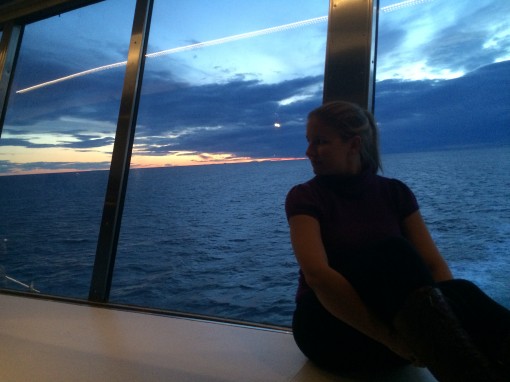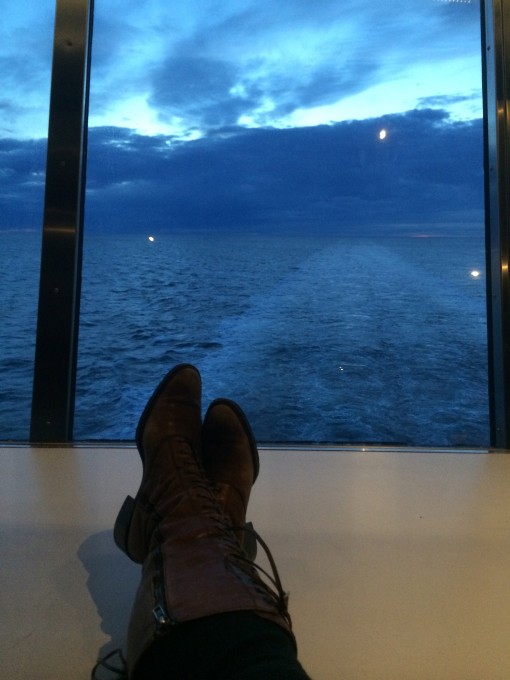 the most Scandinavian drink selection,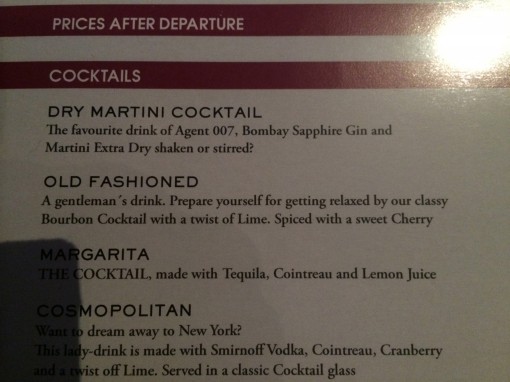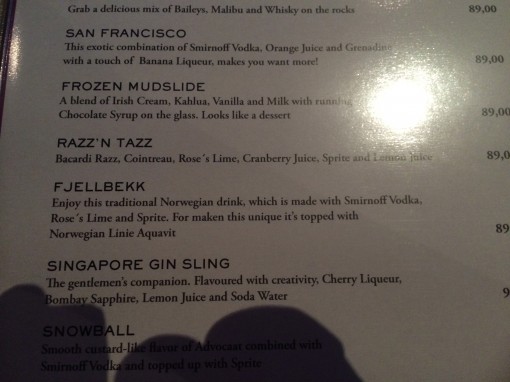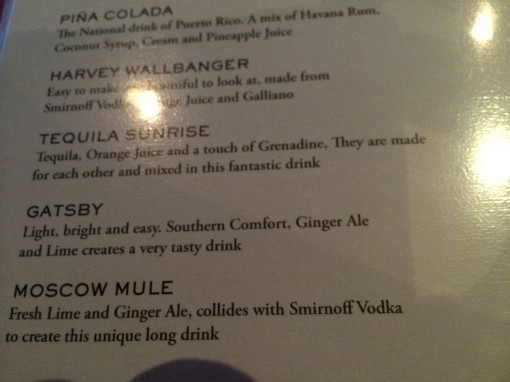 and of course, a happening dance floor featuring Scandinavian lounge singers performing Mambo # 5 (among other things that were upsettingly not Abba).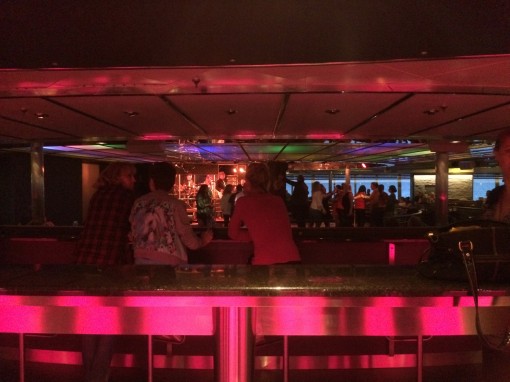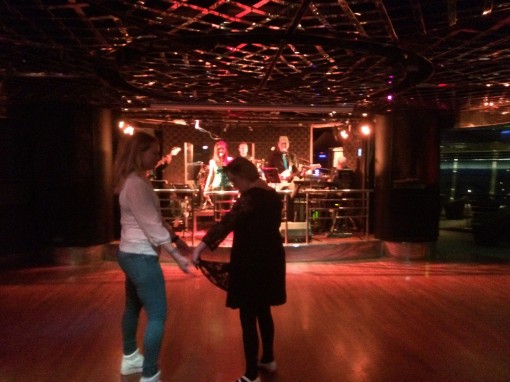 I also stopped by the Navigators Bar long enough to see this guy singing The Gambler to some drunk Norwegian Ladies.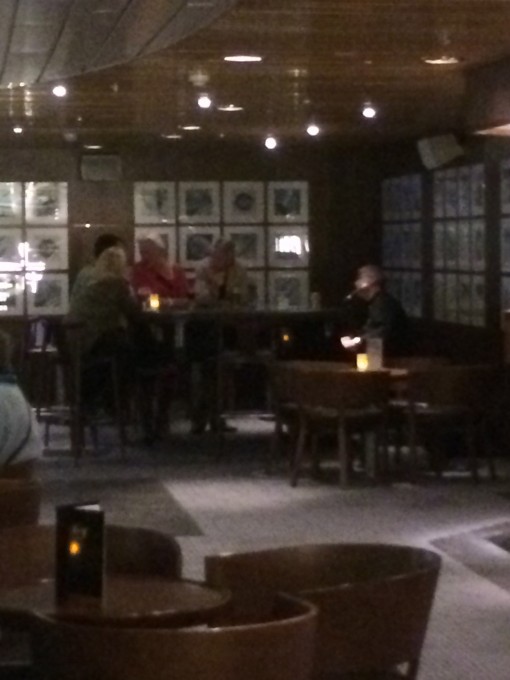 All excellent options.  Of course, if you're more of a homebody than a party animal the DFDS Pearl also has a pretty impressive Duty free, that seems a lot cheaper on the way back from Norway!  It's a great place to stock up for your own private party.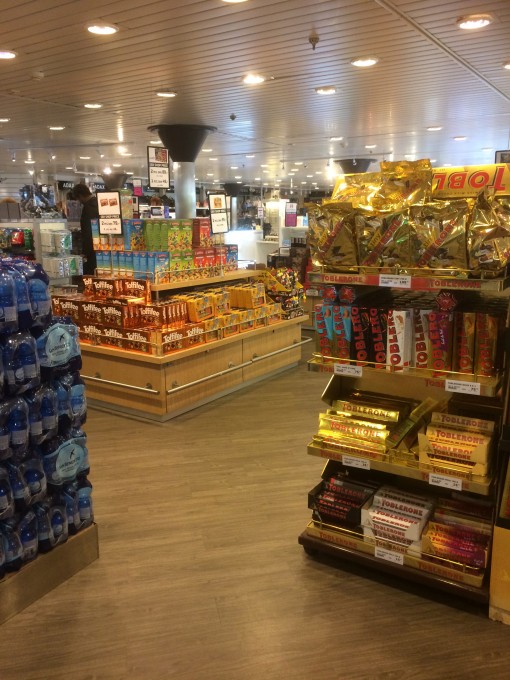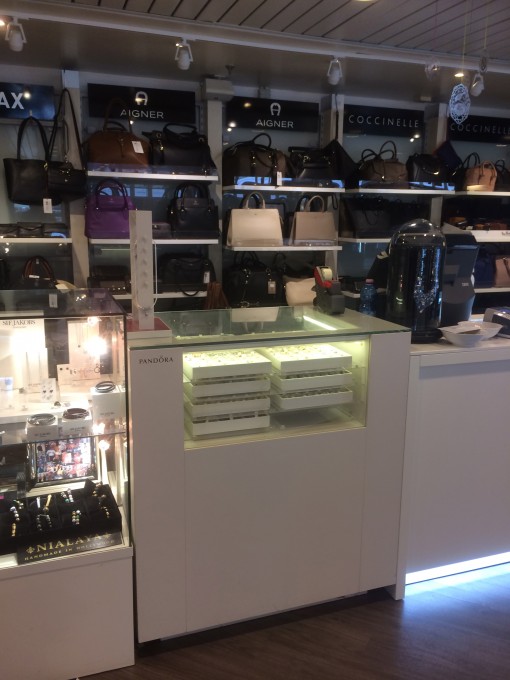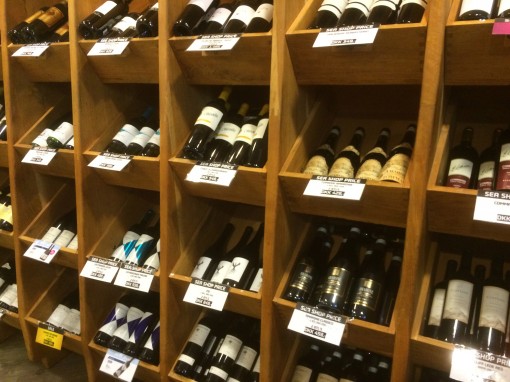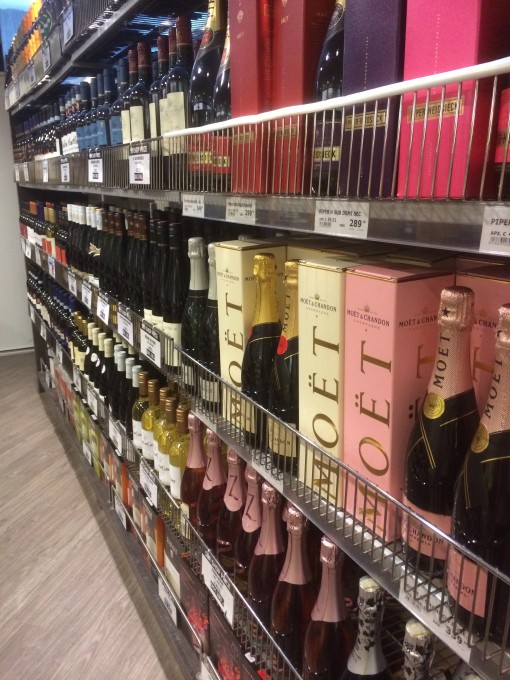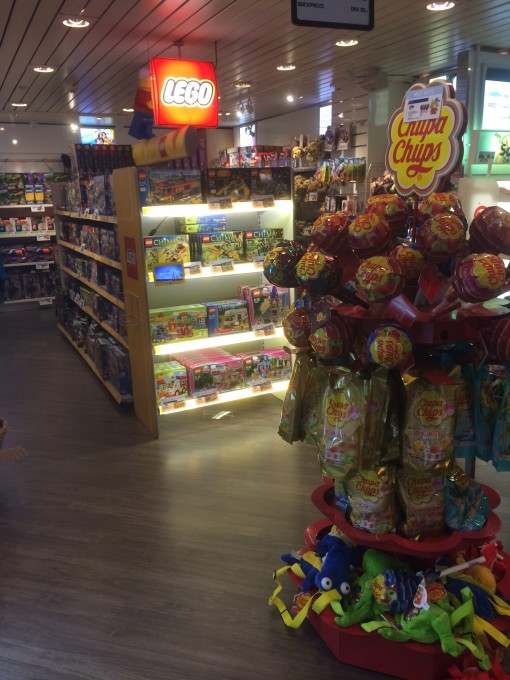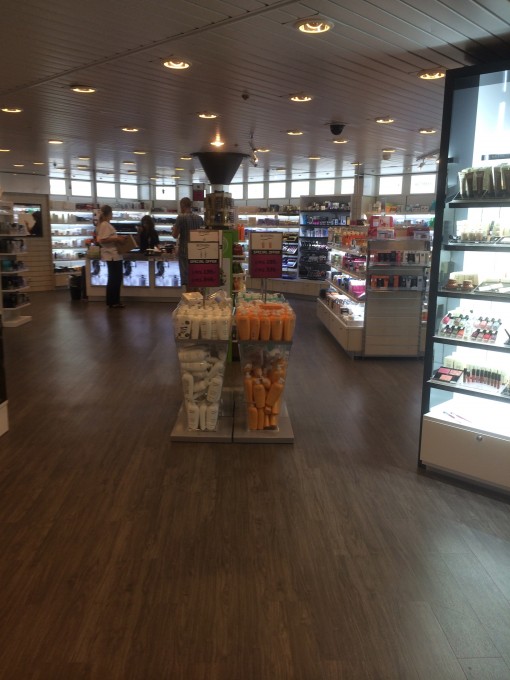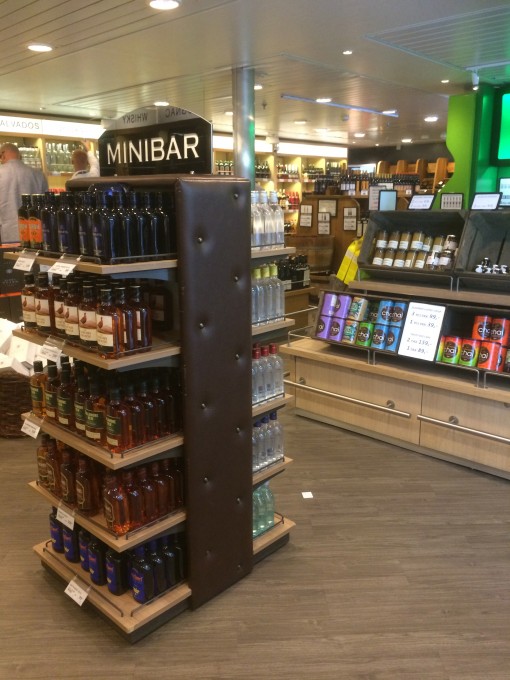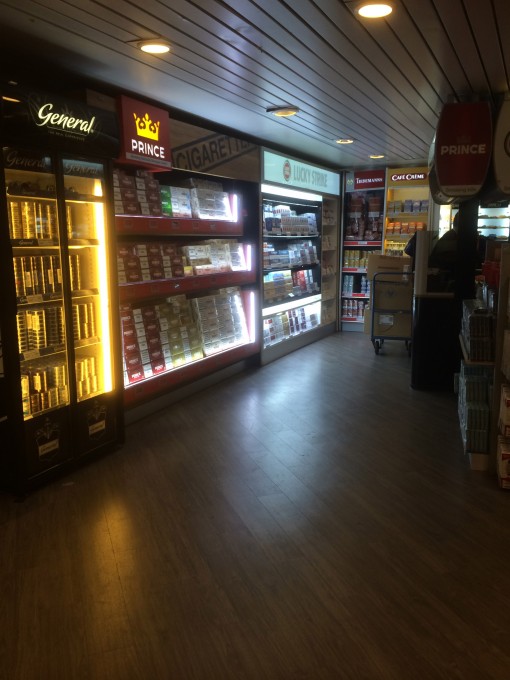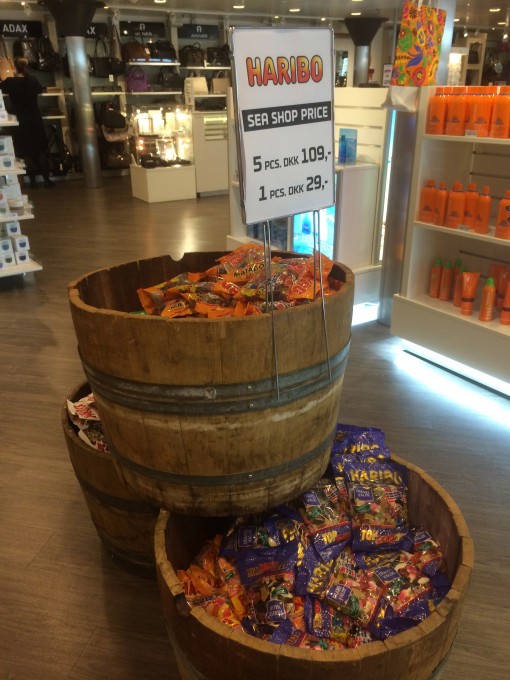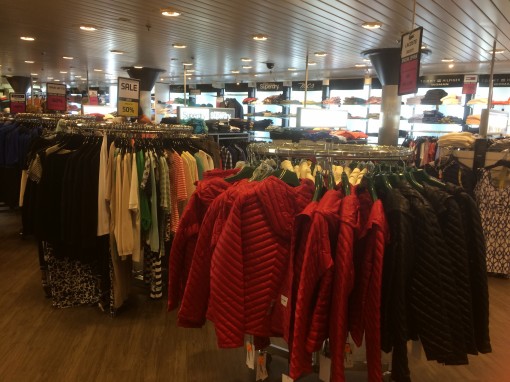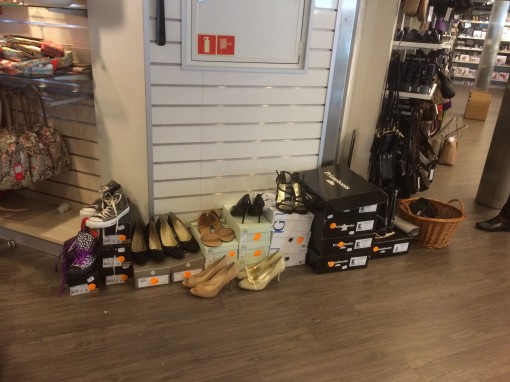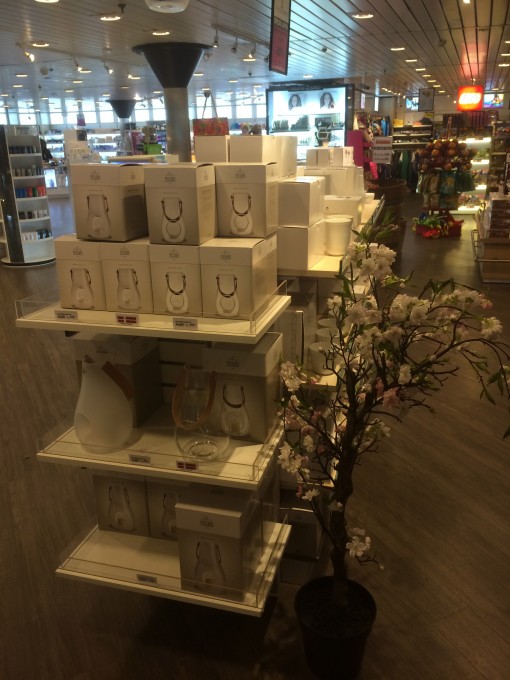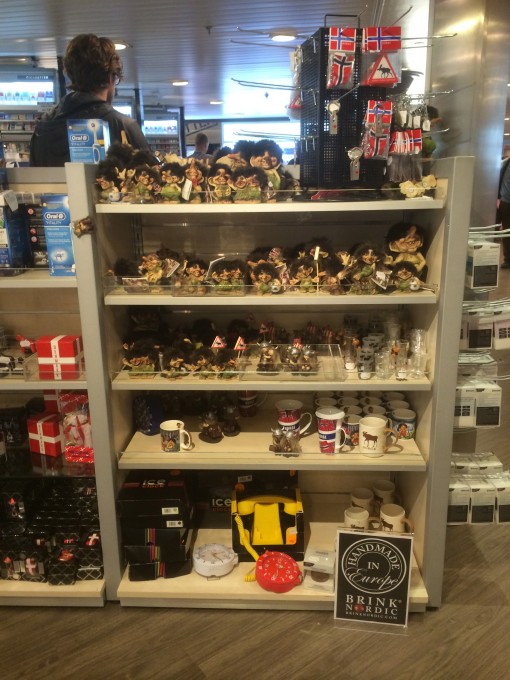 My main concern with DFDS Seaways was that taking 2 ferry crossings of 17 hours each would eat up a lot of time on a week long vacation, but with views like this, those concerns were quickly squashed.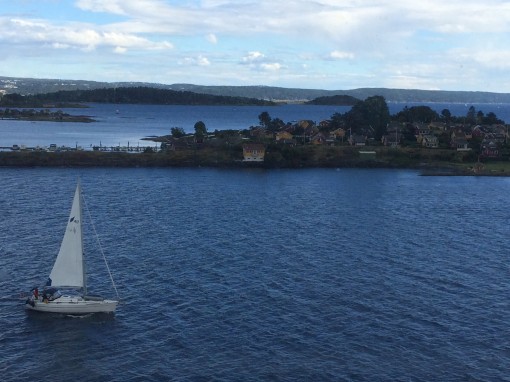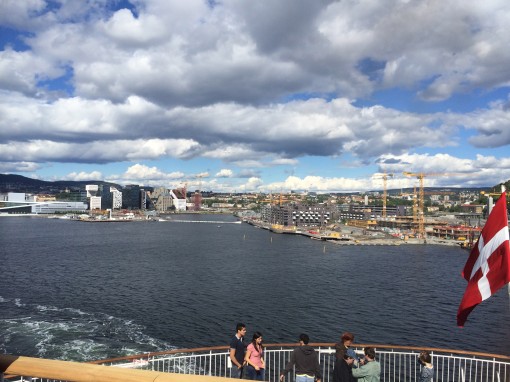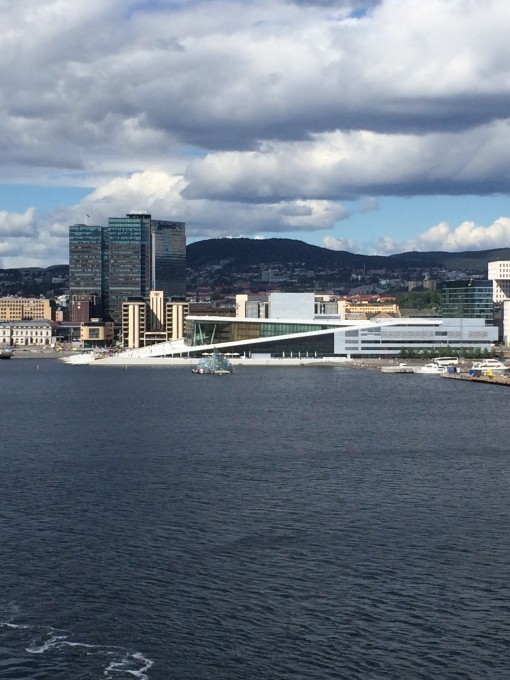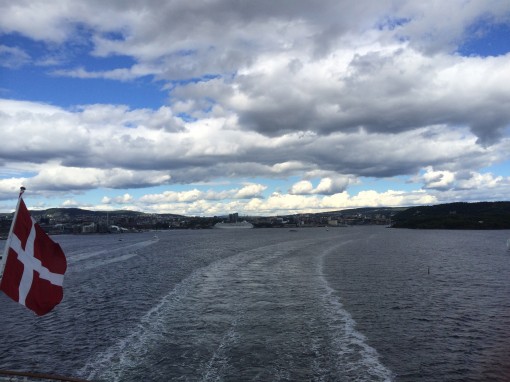 The ferry ended up being a great way to see Norway and Denmark!  And it's Europe so there are no rules.  You can bring all sorts of liquor on and off that ship, which is one of the first things I look for in a cruise ship.  In fact, after leaving Copenhagen and arriving in Oslo (a totally different country) customs and security was just a guy with a dog.  No questions asked!  Of course, that guy with the dog did detain some friendly Norwegians that I had helped to break into the Commodore Lounge the previous night in exchange for champagne, so don't go too crazy!