I recently got to spend Bacardi's 153 birthday in the best place I can think of to celebrate, the Distillery at Casa Bacardi in San Juan, Puerto Rico.  The Distillery was the only thing on my absolutely must see list on this trip.  I was content to just wander around the Disney Fantasy and St. Martin, but I'm a sucker for a distillery and rum in Puerto Rico seemed like a no brainer.  I didn't even find out it was their birthday until my arrival, but that was a happy accident.
There was an excursion to the distillery offered through Disney while on the boat, but it was sold out before I even booked my cruise.  That was a tour for those that are a little better at planning than I am I guess.
Don't let a lack of official tour discourage you.  I was there with my family and we made our way to the distillery on our own.  Cabbing it from the port was terribly expensive, but if you're feeling adventurous, you can catch a ferry from terminal 2 (very near the cruise port) for only $.50 per person and from there it's just a $3/person cab ride to the distillery, or about 45 minute walk if the heat doesn't bother you.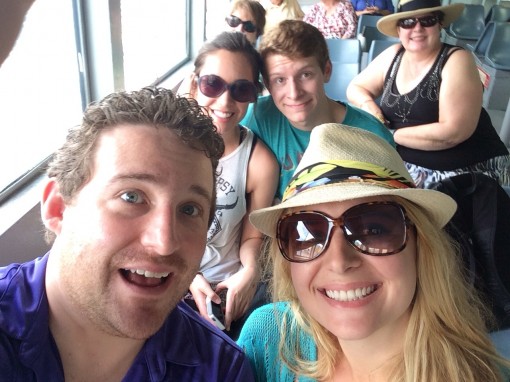 Once there, the distillery is quite affordable.  There are a few options to tour Casa Bacardi, the basic tour is $12, or you can add on a rum tasting or mixology class for an extra $23 in addition to the basic tour.  All packages come with a tour, a souvenir glass, and a welcome drink from their amazing bar; either a cuba libre, rum punch, pina colada, or "drink of the day", which in our case a "jolly rancher".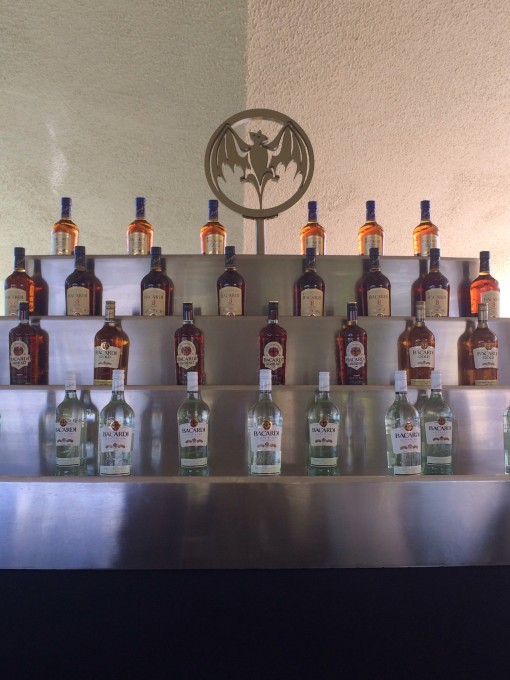 We opted for the mixology class add on, which was certainly worth the $35/person.  It started off with an extended tour of the distillery.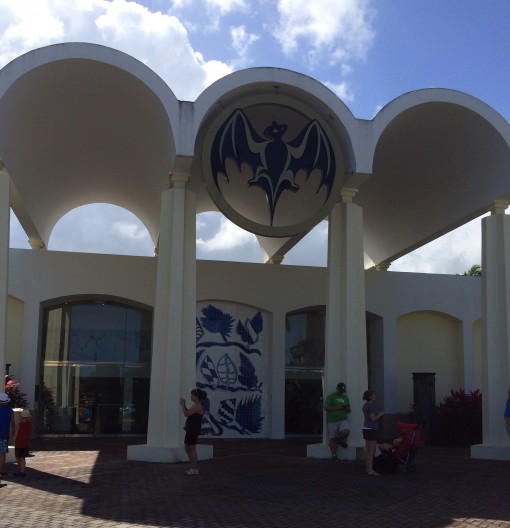 The first section housed a statue of the famous Bacardi bat, surrounded by murals depicting the history of the Bacardi Company as well as the history of rum itself and the processes used to make it into a drinkable substance.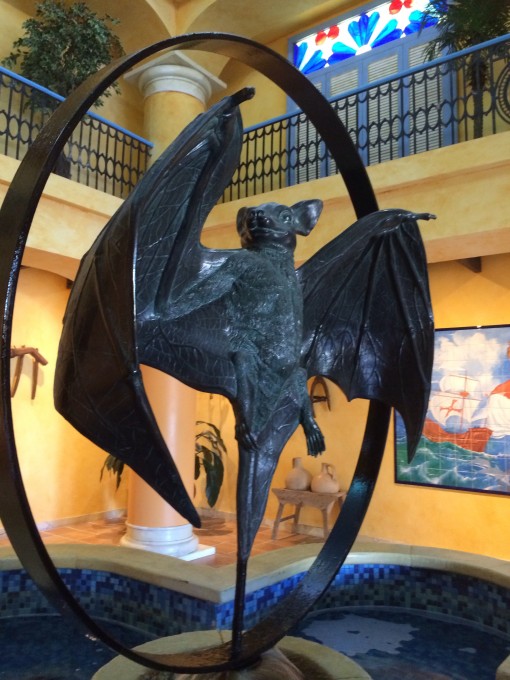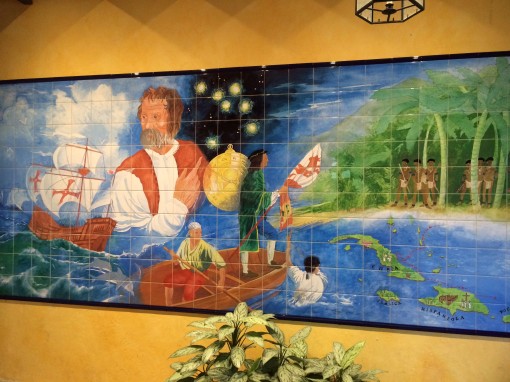 Next we moved into a theatre to watch a short film about the evolution of Bacardi rum.  Here there is an amazing star-lit ceiling that portrays all of the stars and constellations as they would have appeared when the company was founded Feb. 4 1862.  That was pretty cool to see on their birthday.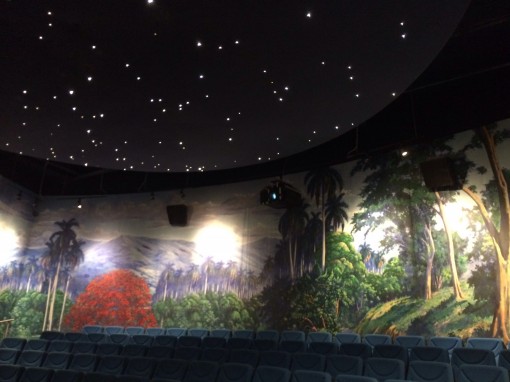 Next we went to the actual building where the magic happens and got a look at the distillation process past and present.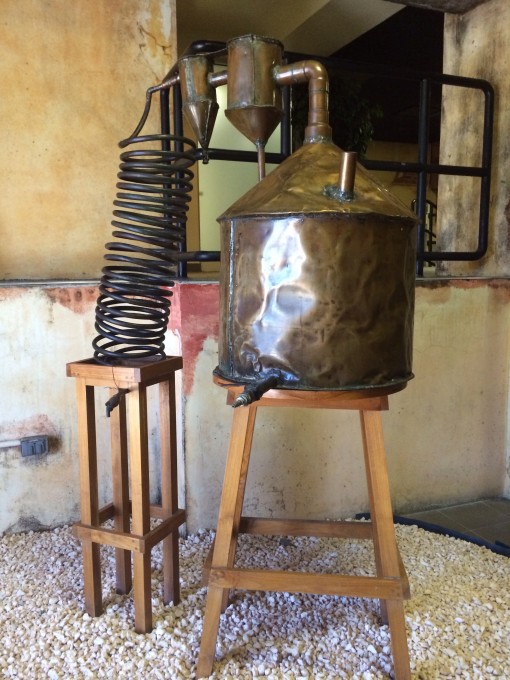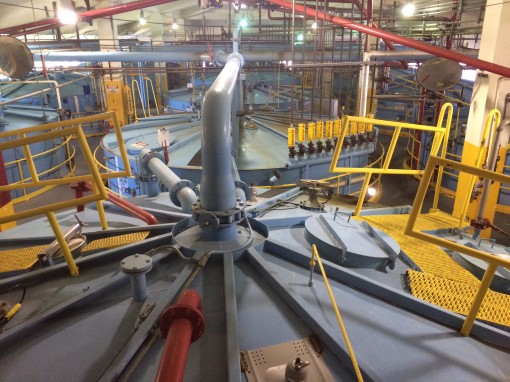 The best part was the view from the top, though.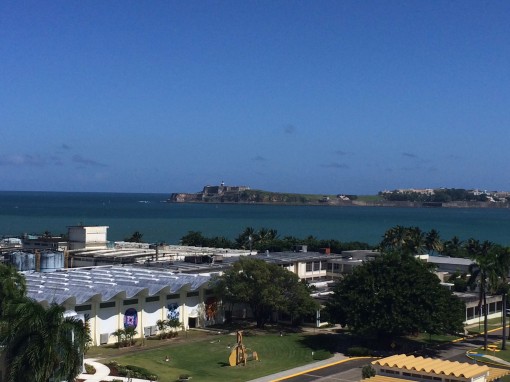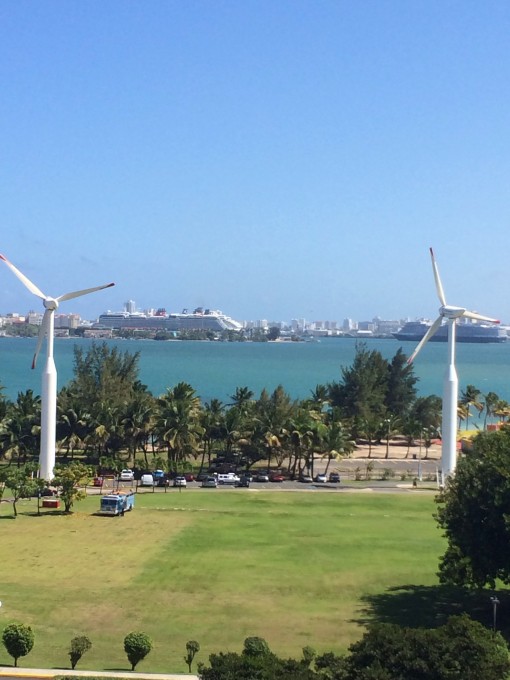 We also learned some surprising facts about how environmentally conscious the Bacardi Company is.  You'll notice in the above photo that they are harnessing wind power.  The also have a unique anaerobic treatment system, meant to harness and use all of the byproducts and waste from the rum making process.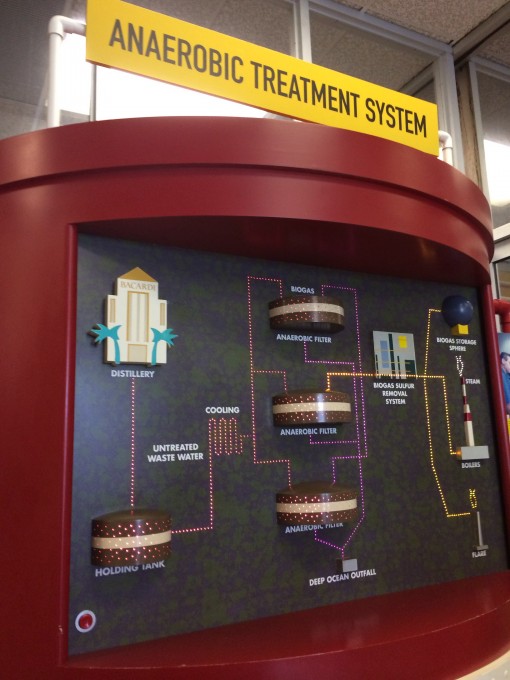 After touring the distillation building, we moved on to a replica of the art deco bar that was in the original building in Old San Juan. Including a sampling of some of their higher end rums and an introduction to the cocktails we would be learning to make later.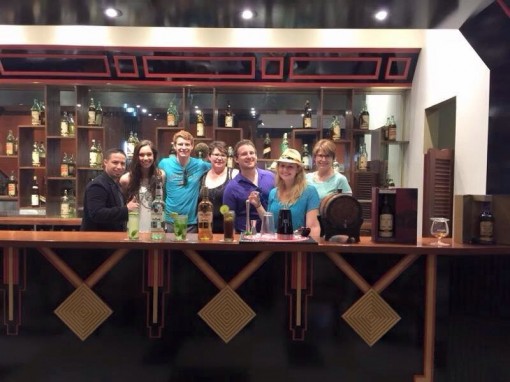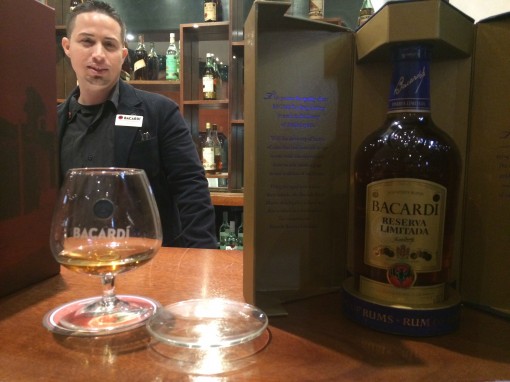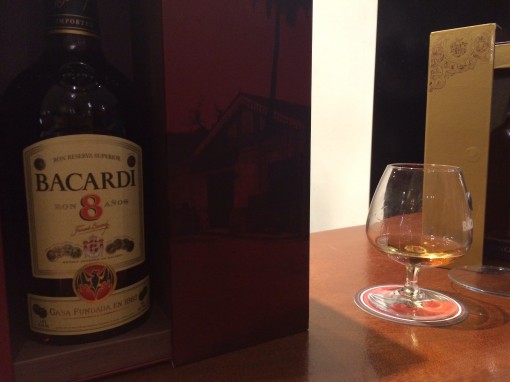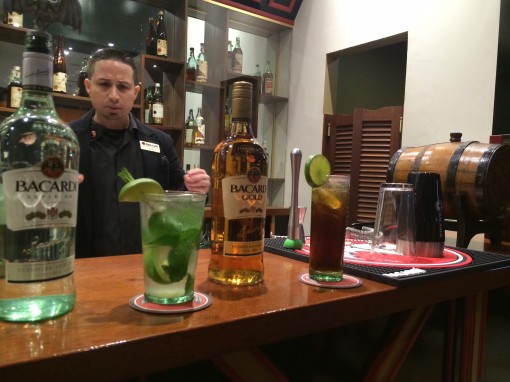 Then on to the fun part; Mixology class!  Here the amazing Bacardi bartender Thomas,  guided us through the making of 3 classic rum cocktails, as well as a history lesson about the origin of the drinks.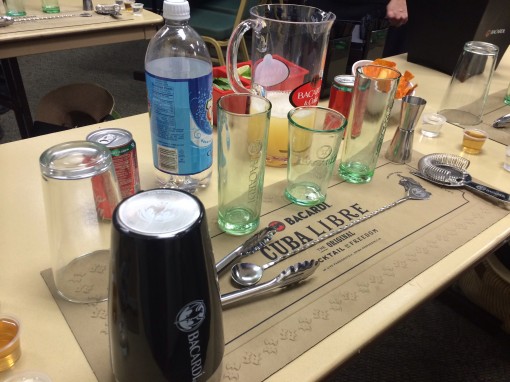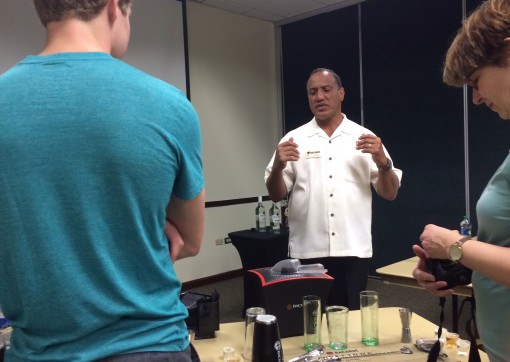 We started with the easiest of cocktails, the Cuba Libre.  The Cuba Libre is basically a rum (we used Bacardi Gold) and coke with lime.  This popular cocktail is said to have originated in Havana during the Spanish-American War when U.S. soldiers ordered the cocktail and toasted to a free Cuba (Cuba Libre).
Next up was the Daiquiri, which is not what a lot of us think of as a daiquiri.  There were no frozen blended sugary-sweet strawberry concoctions to be found.  This version of the original daiquiri was much better, in my opinion.  Here we mixed rum (Bacardi Superior), a lemon juice (though traditionally it's made with lime), and sugar.  This cocktail was also invented in Cuba around the same time as the Cuba Libre.  It was named for the people who supposedly first ordered it, who were miners from the near-by Daiquiri iron mines.
The third and most involved cocktail we made was one of my favorites, the Mojito.  Here we muddled limes, fine white sugar, and rum (Bacardi Superior) in the bottom of a glass.  Don't muddle the mint!  This is a common mistake that leads to those annoying tiny bits of mint that get sucked up in your straw and turn a lot of people off of the mojito.  Instead, give the whole mint leaves a good smack in your hand to express the oils.  Then, add the mint leaves to the muddled concoction, fill the glass with ice, add soda water and mix together.  Voila, perfect mojito.  Plus, every bartender may disagree, but muddling is fun!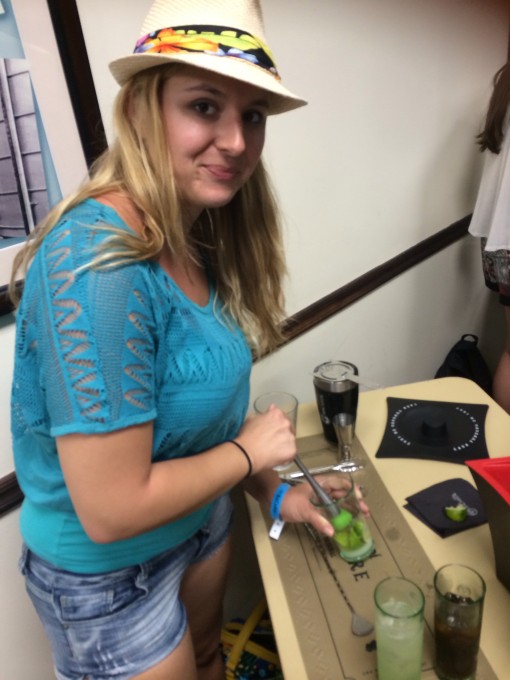 The history of the mojito is a long and interesting one, though widely disputed.  A version of the cocktail was likely invented in the golden age of piracy when rum used for it's (debatable) medicinal qualities.  However, at the time rum didn't taste quite as refined as Bacardi and was much higher alcohol content, so they used mint and other herbs to conceal the taste of the liquor.
The finished products were all pretty great, I'm still partial to the Mojito though.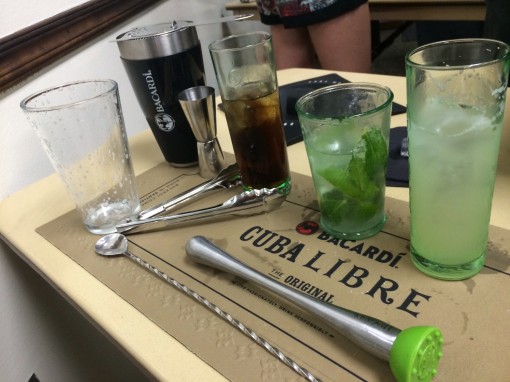 I'm not a bad bartender if I do say so myself.  In fact, we were all pretty proud!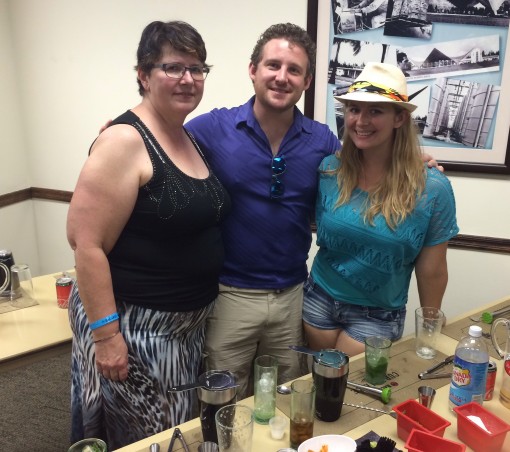 We all made a bit of a mess and perhaps don't follow instructions all that well, but I like to think Thomas was proud of us as well.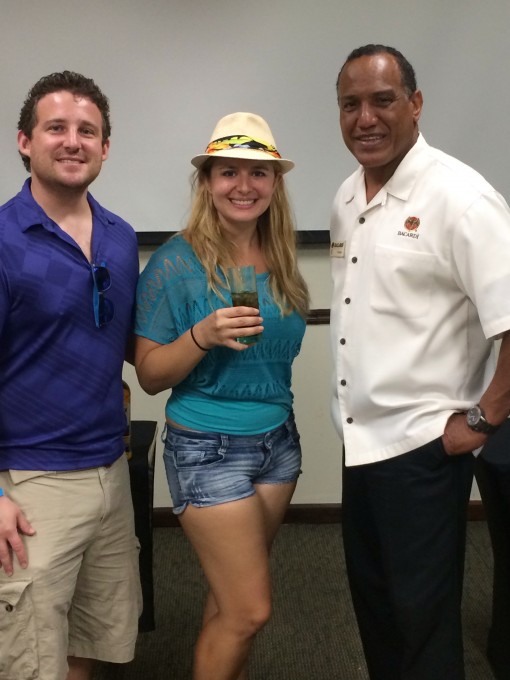 If my time living near Disney World has taught me anything, it's that every good attraction ends in a gift shop and Casa Bacardi is no exception.  It's a pretty good gift shop too!  Here you can sample various flavors of Bacardi Rum, but I'm still partial to the original.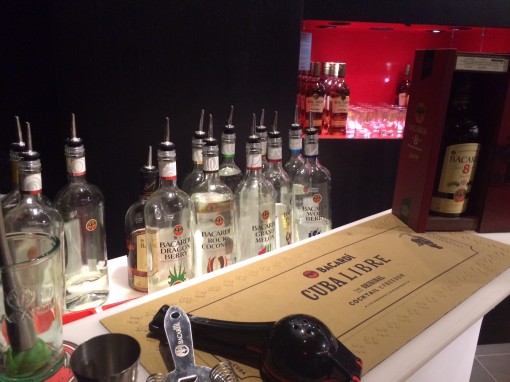 There are literally walls of rum at the gift shop,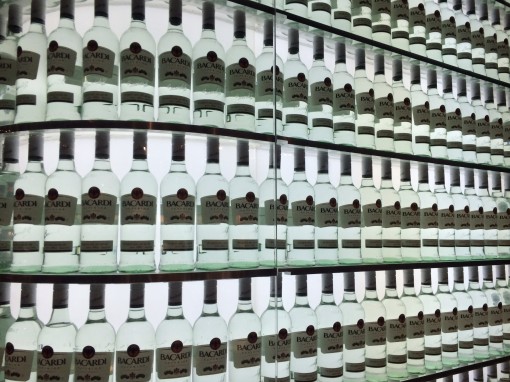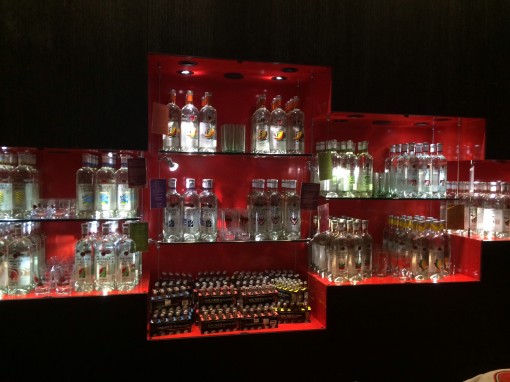 but the main attraction is the Bacardi Reserva Limitada.  Bacardi's finest (and most expensive) rum.  This rum has been aged in barrels for 10-16 years and tastes amazing!  It's export to the U.S. is very limited and much more costly than buying it at Casa Bacardi.  Here they sell bottles for $85 and include a certificate of authenticity and a free engraving, which makes for a pretty cool souvenir.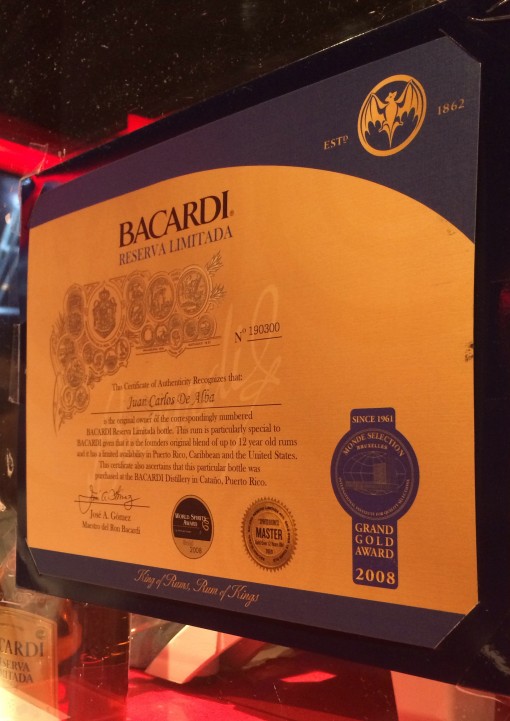 This is where the tour ended, but we got pretty caught up at the bar… again.
We had to try the free drink included in the tour, and then some.  Like I said before, the tour includes a Pina Colado, Rum Punch, Cuba Libre, or "Drink of the Day".  All well and good, but I needed another Mojito… when in Rome right?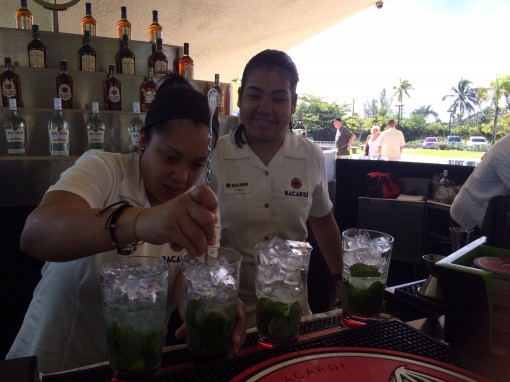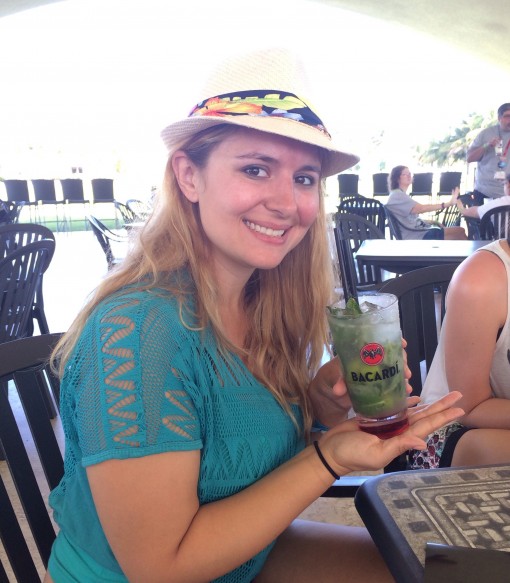 I also found out they they had quite a deal here.  Their luxury spirits (Bacardi 8 and the Reserva Limitada) cost $15, or $17.50 for two.  How do you pass up a deal like that?  It also comes with a free snifter.  So I left nicely tipsy and with all new glassware.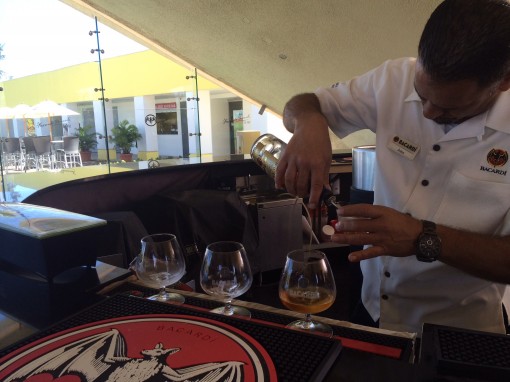 It made for a pretty interesting cab ride back into town.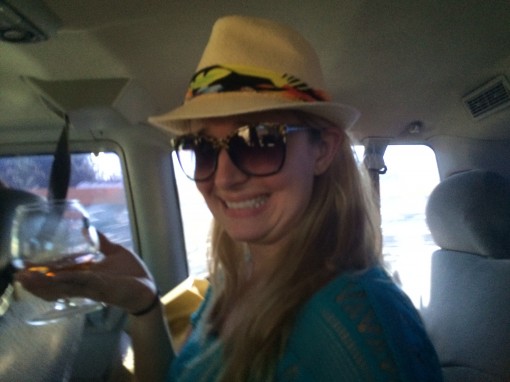 It also lead to a few broken ordinances at the ferry port.
We spent all of our time in port at Casa Bacardi Distillery and left very little time to explore Old San Juan, but in my opinion it was totally worth it and I would go back and do it over again in a heartbeat.  The day was made better by the fact that everyone on staff of Casa Bacardi was incredibly friendly, helpful, knowledgeable, and mostly just fun.  I can't think of anything I would rather do in Puerto Rico.  As much as I want to explore more of the town I fear I would probably just repeat my exact day at Bacardi again.  I'll have to come back on my own when I have more than a day to experience everything.