Colorado, and Denver specifically, has made a name for itself recently in the craft beer scene.  Denver has even earned the nick-name, the Napa of Valley of Beer. I've written about breweries in Tampa, Richmond, and Brussels before and it seems like the craft beer movement has exploded all over the country and world, which is excellent news for someone who just can't stomach any more Bud Light!
When visiting Denver you can check out the Beer Trail, a self-guided tour of 14 breweries, with suggested beers to try at every one.  This is especially fun given how many of the breweries utilize Molly Brown puns, but I went one better, BruFrou.
I was lucky enough to be visiting Denver, Colorado during the 2nd annual BruFrou craft beer and culinary pairing event.  I won't lie, the beer trail may have been cheaper.  At around $100 a pop, I was expecting a lot, but I was not disappointed.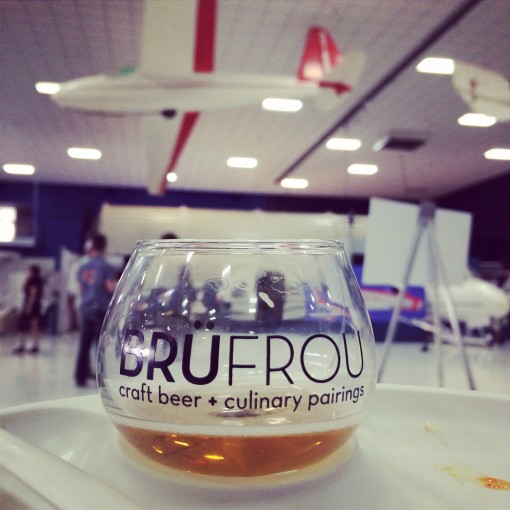 Instead of just the 14 breweries featured on the Beer Trail, BruFrou introduced 40 local breweries, paired with restaurants, many of them featuring a couple of pairing options, making it impossible to try them all in the allocated time (3 hours in either the afternoon or evening).  I made it to over half, which I consider a pretty big win!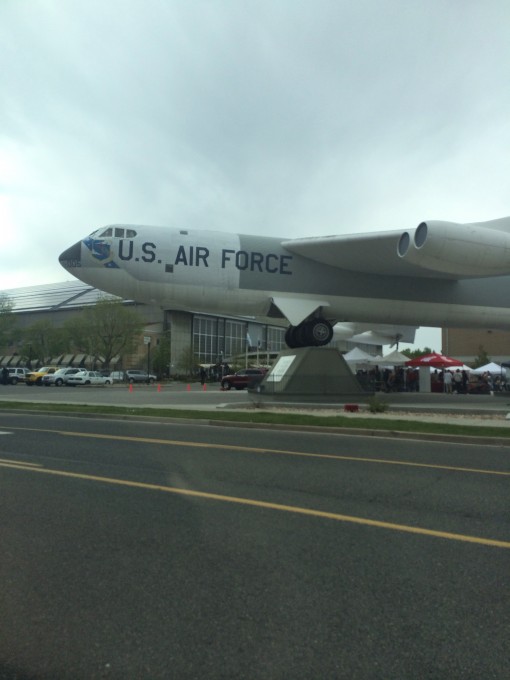 BruFrou is held at the Wings Over the Rockies Museum, a WWII hangar housing all manner of aircraft, so admission to the museum adds some value to the ticket as well.  If nothing else it's a really great venue for the photo ops alone.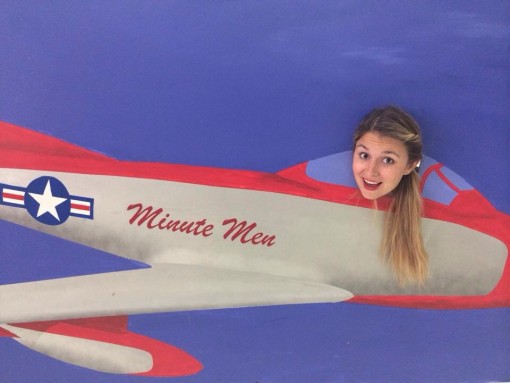 Upon walking in to BruFrou you're handed a tasting glass and party plate…with a place to hold the tasting glass.  Genius!  And you get to keep it!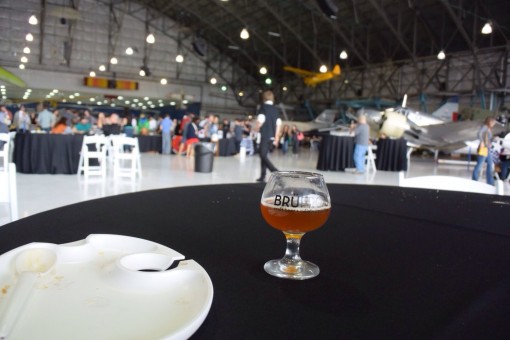 The inside of the hangar is set up with 5 booths hosting the 40 breweries and restaurants, as well as plenty of places to sit and mingle.  It's really a great and unique event venue.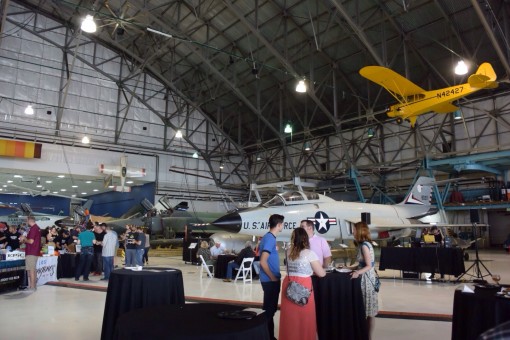 Of course, the beer and food are the stars of the show, and there is no shortage of it!  Each of 40 breweries and restaurants offers up their own pair of, usually handsome, bearded, hipsters to hock their wares.  This isn't your usual beer and wings either (not that I'm above that).  Here at BruFrou, breweries like Fiction Beer Co. (pictured below) team up with local restaurants, in this case Denver's own Table Top to serve Waves and Ripples German Style Sour Wheat with sea salt, coriander, and cardamom fermented with Brettanomyces paired with citrus scallop carpaccio with radish, jalapeno, and microgreens.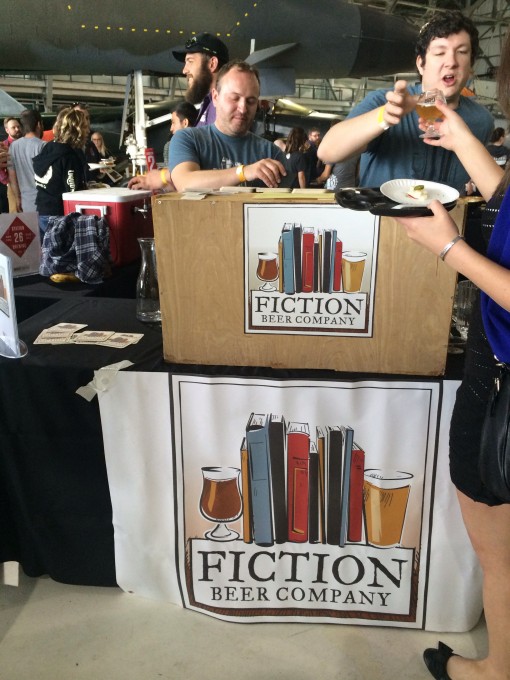 Or you could try Crazy Mountain Brewery's Roland Junior India Brown paired with Denver Biscuit Co.'s The Franklin Slider; chicken buttermilk fried chicken, tender belly bacon, and cheddar cheese smothered in sausage.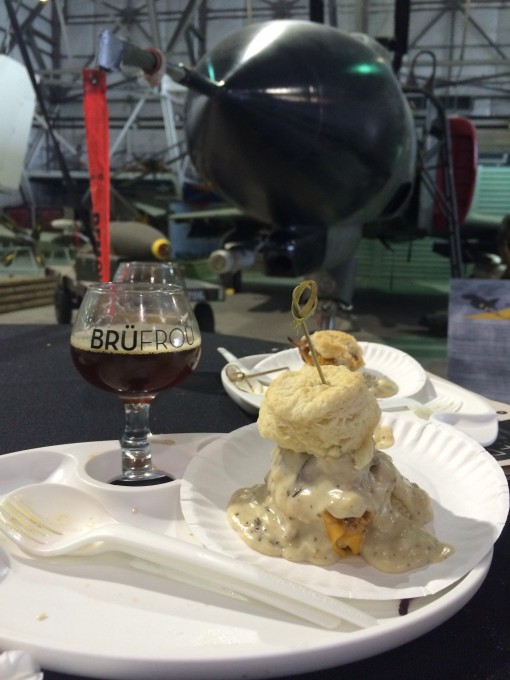 Obviously I can't list all of the offerings and they vary each year, but you can check out last years menu on the BruFrou website to get a general idea of what you're in for.
The creators of BruFrou are also hosting a new event this year, MMMixer; similar to BruFrou, but with craft cocktails instead of beer.  That event is scheduled for November 20th, 2015.
BruFrou also offers TastyTalks, 90 minute seminars on various beer and culinary topics for an extra charge.  The tickets themselves were a little pricey though, so I decided to just get down to business!
Next year's event is scheduled for April 30th, 2016 and I highly recommend it.  You can purchase tickets on the BruFrou website (and if you check in this year's gallery you may spot yours truly).
 Here's one last BruFrou tip; before and after (and presumably during) outside of the museum there are several tents set up as a farmers market or street fair where local vendors sell their wares.  I love checking out local flavor so obviously I had to hit it up!  I didn't want to carry a bunch of stuff around while I was trying to enjoy my beer and food (and didn't have enough hands), so I opted to wait until after the 'Frou… big mistake.  After trying to make it to all 40 booths, unsuccessfully, I was in no shape to make sound shopping decisions.
To whoever found wherever I put my jar of rosemary infused pears; enjoy and pay it forward!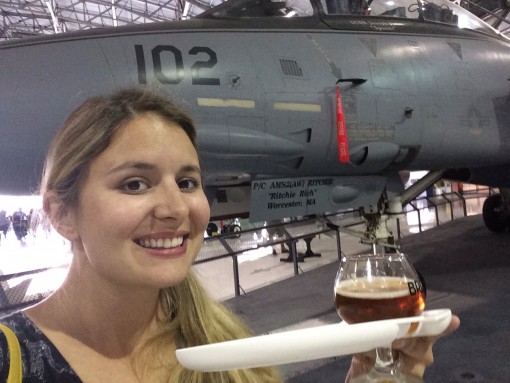 Cheers!