The Galapagos Islands are a bucket list destination for many people, I know they were for me.  Unfortunately, the Galapagos remain a dream because they are largely viewed as being cost prohibitive.  Great news though, you don't need to take a luxury yacht to visit the Galapagos (though that particular mode of transport is still on my bucket list).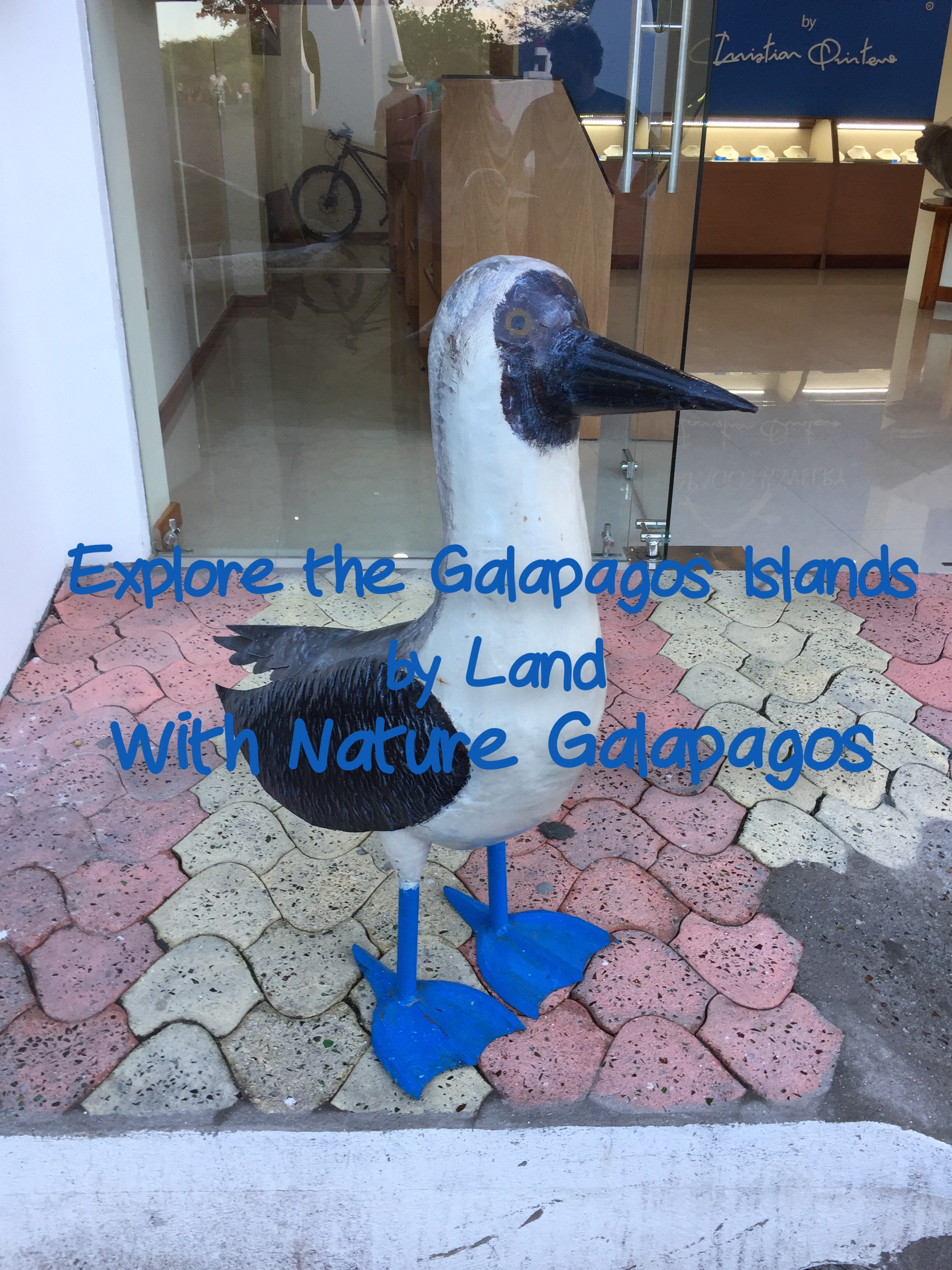 While there are certain islands that are still best/only reached by boat, you can explore the main islands with a land based tour.  I spent last week on the 4 day "Magic of Isabela" tour with Nature Galapagos and it was a great way to see a lot of the islands (both Isabela and Santa Cruz) within a limited amount of time.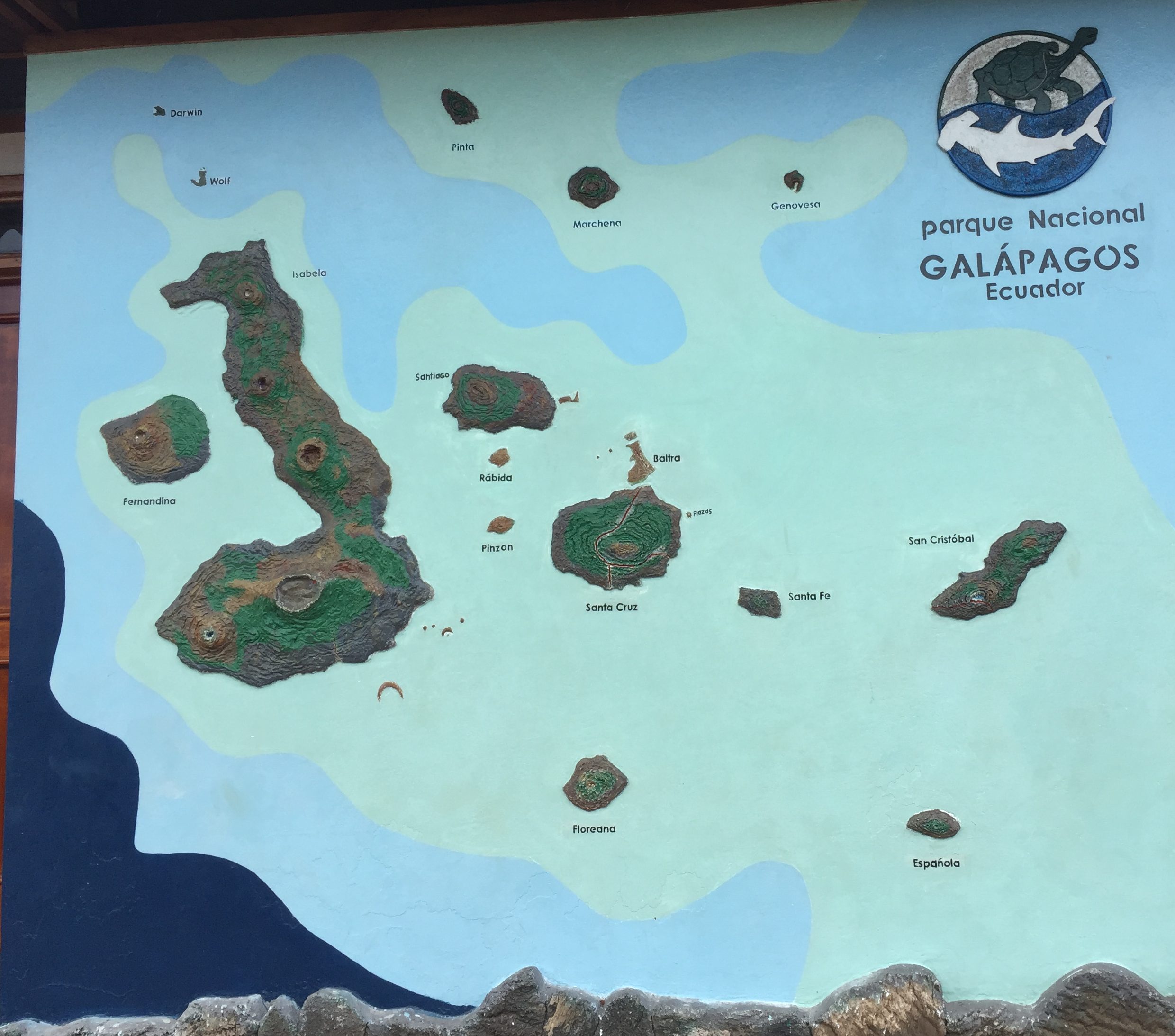 I went on a short tour and just got a sampling, but Nature Galapagos offers 4-8 day tours.
So what can you expect on a Nature Galapagos tour?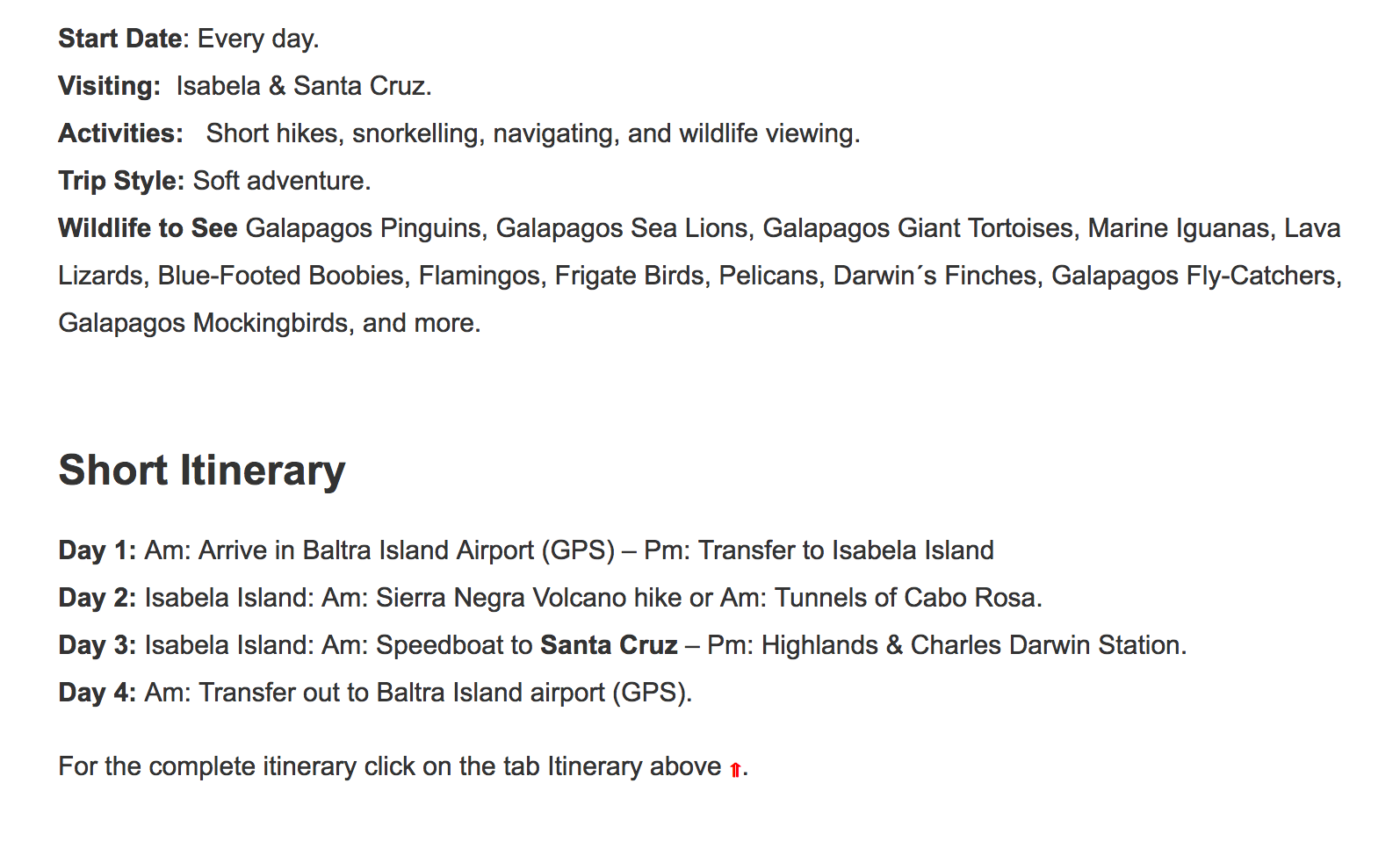 One of the main selling points of these tours is that, unlike cruises, these tours go everyday so you can start when you're ready.  That's a huge bonus for someone like me, who only had 6 days in the Galapagos.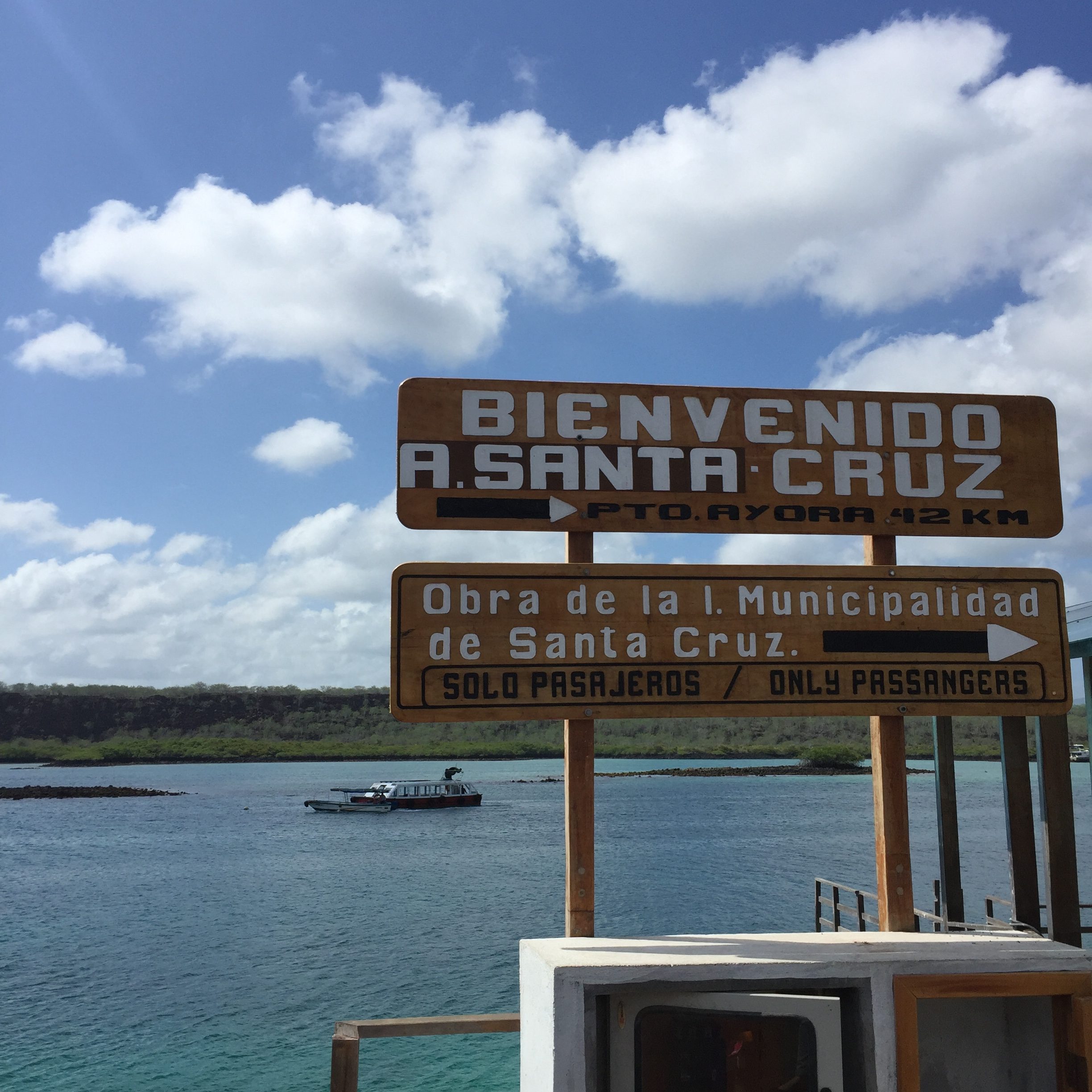 Day 1
This was a long one.  I flew in to the Baltra airport around 9am and was met by Stephania, our local guide for our brief time in Santa Cruz.  It was great having a guide to help navigate the airport.  The island of Baltra is uninhabited and basically just a landing point to get to Santa Cruz, the most populated of the Galapagos Islands.
From the airport, after a very thorough check of all arriving luggage (by the most adorable German Shepherd) to make sure no one smuggles anything that could be harmful to their unique ecosystem, everyone is put on to buses bound for the port, where they must take a ferry to Isla Santa Cruz, so it was certainly helpful having a guide for this portion of the trip.
Once in Santa Cruz, it's about a 30-45 minute cab ride to Puerto Ayora on the South side of the Island, the home base for the Santa Cruz portion of the tour and the departure point for the speed boat to Isabela.  The cab ride and speed boat is covered in the cost of the tour.  All you'll have to pay for today is the water taxi from the dock out to the speedboat in Santa Cruz and from the speedboat to the dock in Isabela, which cost about $1 per person, and of course any souvenirs or drinks.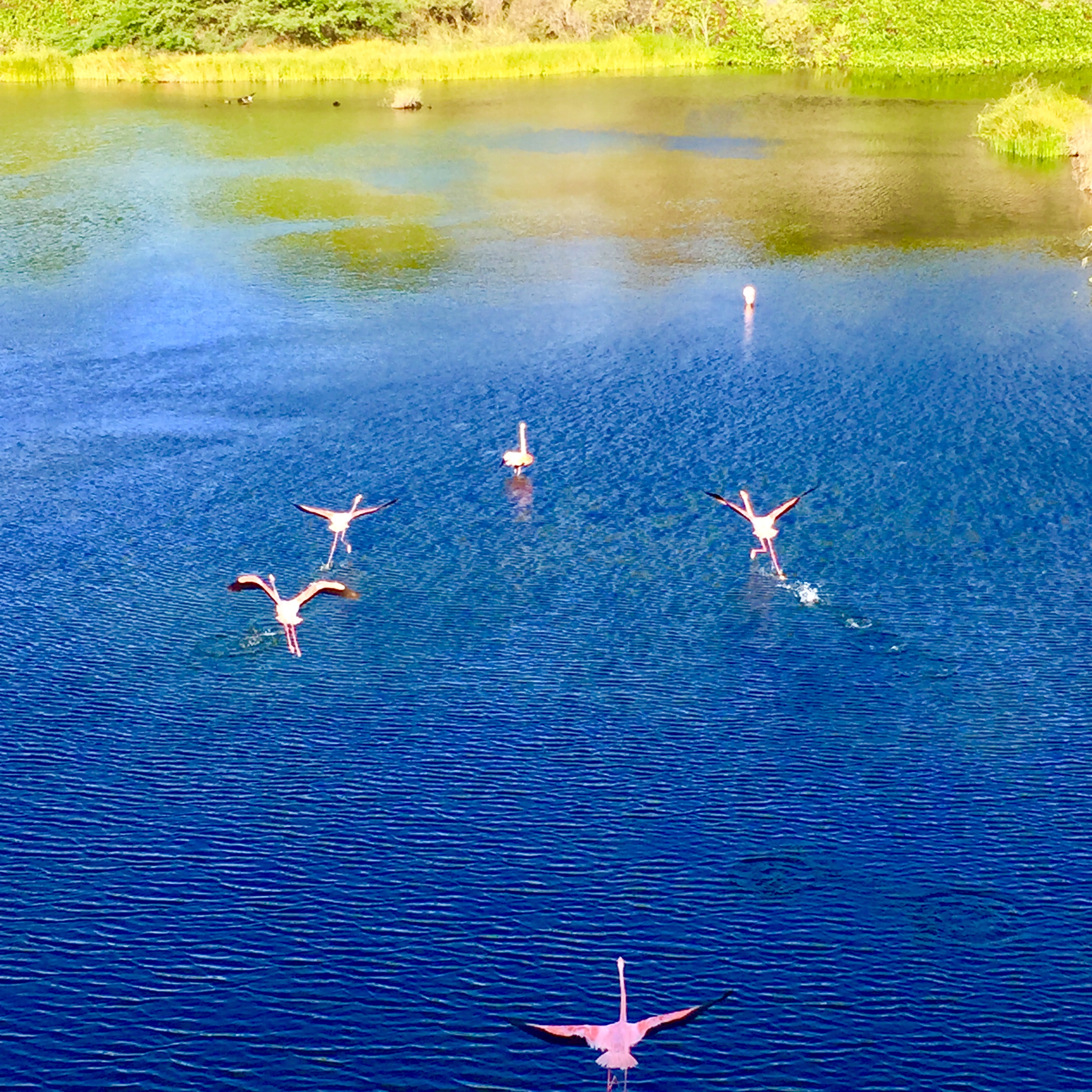 Once on Isabela I was met at the port by our local Isabela guide, Ricardo, who took me to see Flamingo Lagoon on the way to the hotel.  Flamingo Lagoon is exactly what you'd think.  While flamingos are not one of the native species on the islands, they do quite well here, pose no threat to the naturally occurring wildlife, and are super pretty so they are allowed to stay.
There are different categories of hotel to choose from on the islands; Economy, Tourist, Tourist Superior, and First Class.  I stayed in the Tourist Class of hotels, because I'm poor but I'm also 30.  The tourist class hotel on Isabela is the Hotel San Vincente, which was charming, though if I'm being honest, part of the reason I chose the Tourist Class instead of Economy (aside from being 30) was the hot tub featured on the website.  Once at the hotel, I was informed that the "hot tub" was more of an "ambient/cold tub" an would need at least a half a day's notice to set up.  I suppose that's part of the charm of South America, though, and with only two days at the hotel packed with tours and other things to see, I didn't really notice it's absence.  Other than that though, the hotel was fantastic.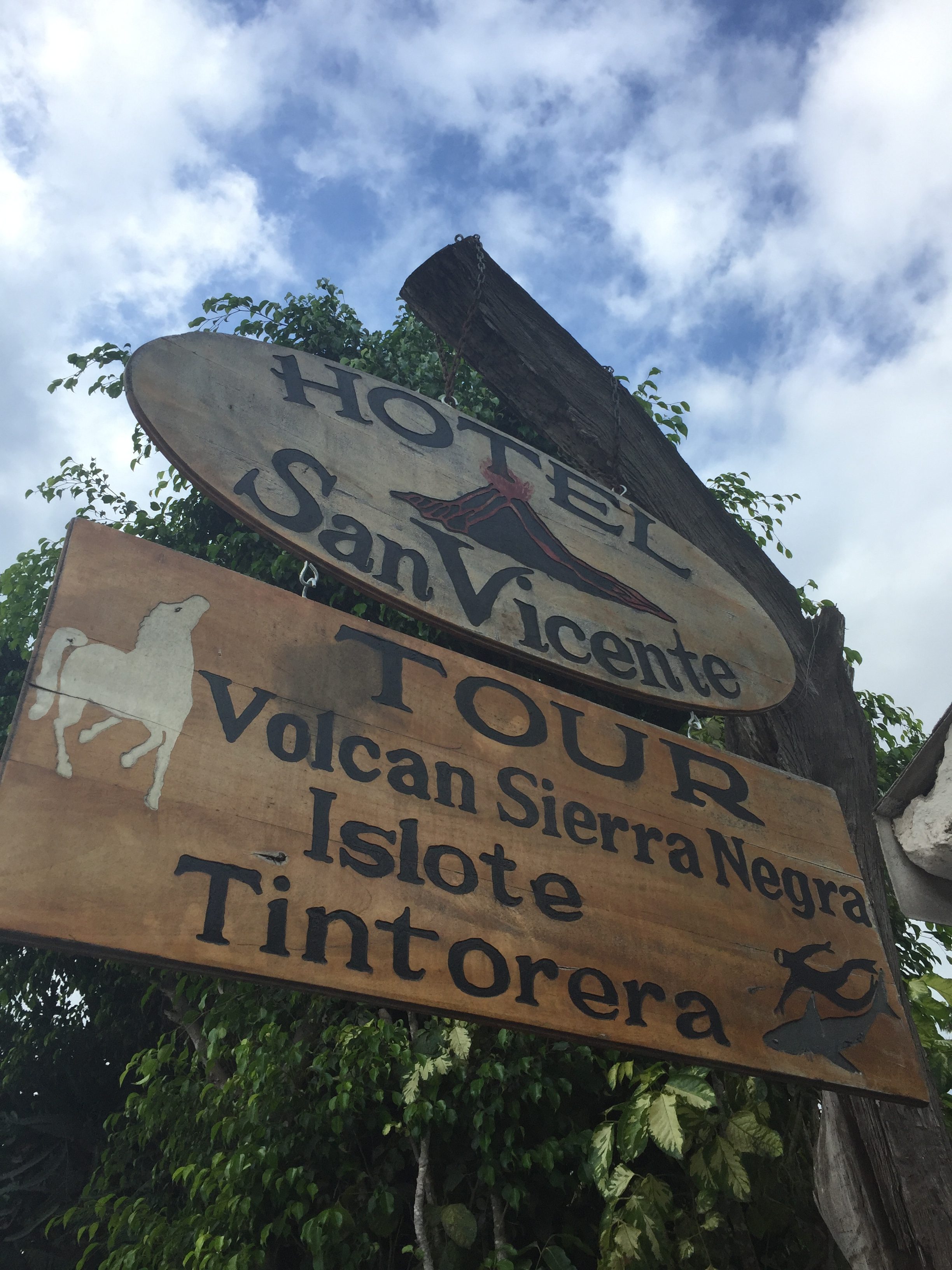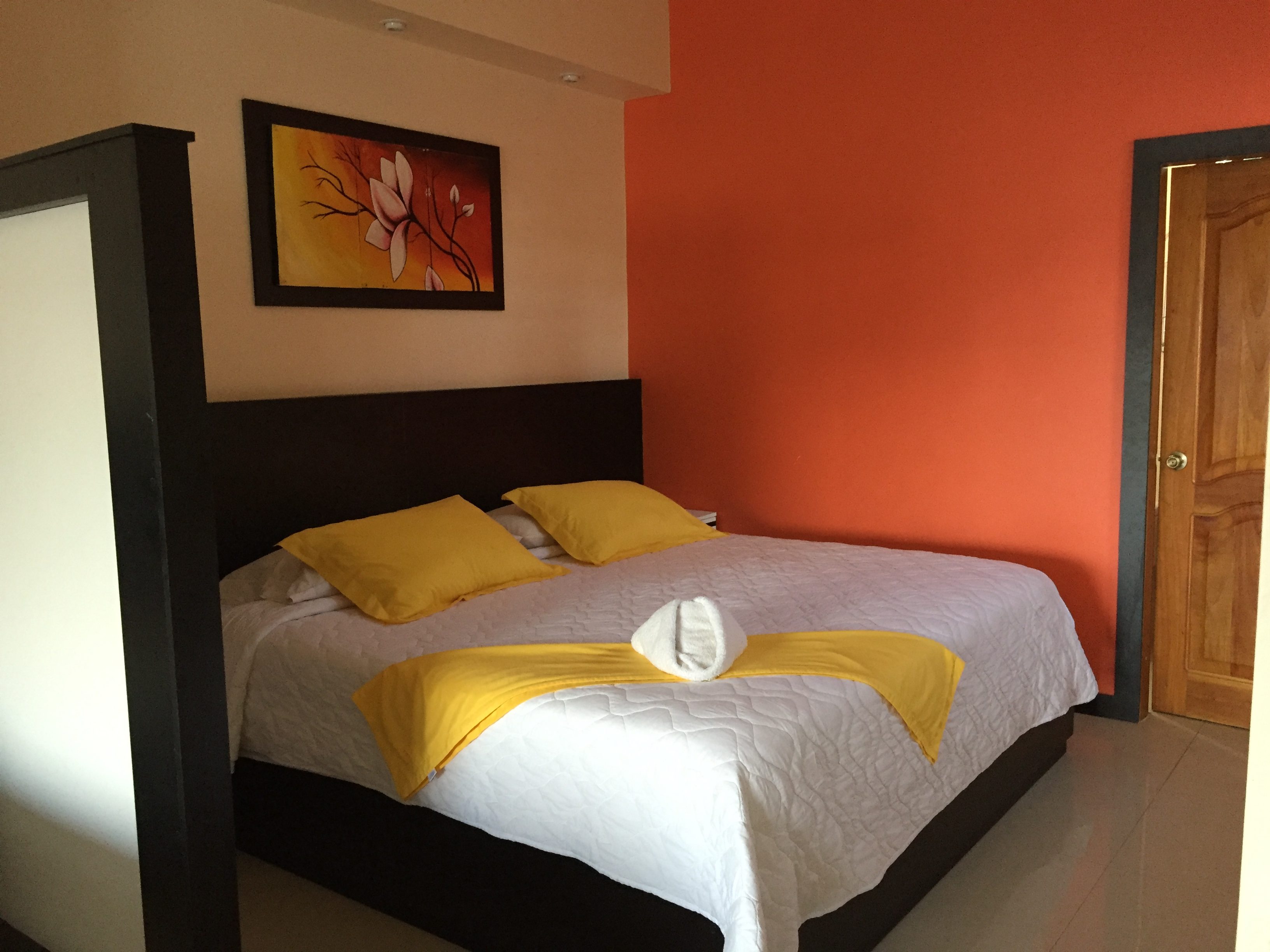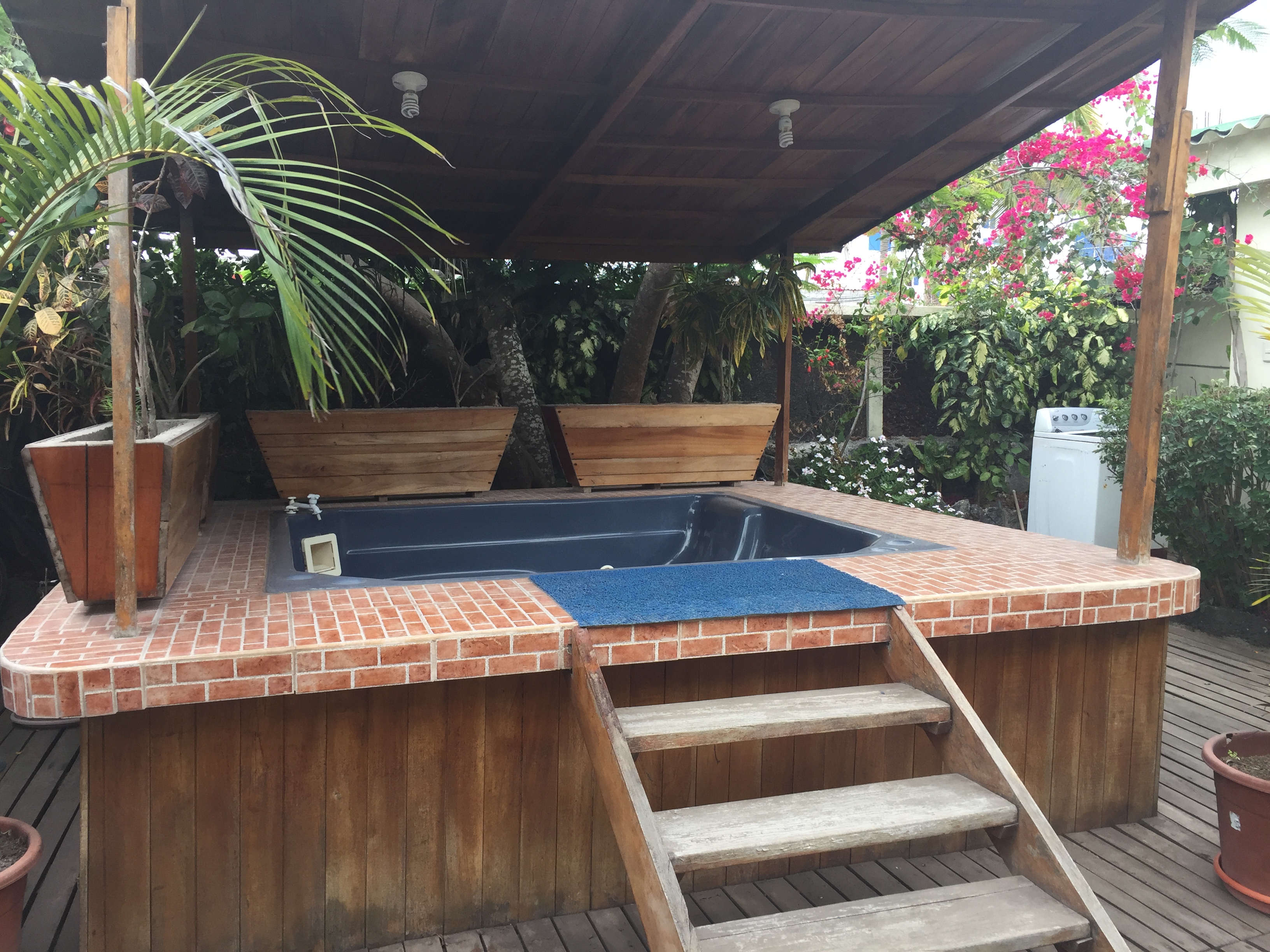 Dinner was served at the hotel for all nights of the tour.  That would probably be my one minor complaint about the package.  The itinerary online reads, "Dinner will be served at the local restaurant specified by the guide" every night.  While the dinner at the hotel was good, I would have liked the opportunity to try some of the local restaurants as well.  In fact, one night I went to a sushi place our guide for the day recommended after dinner at the hotel.  That's right, two dinners! (Don't judge, I'm on vacation.)

Like I said though, the food was good, just lacked variety.  Lunch and dinner at both hotels consisted of a soup starter course, then either fish or chicken with veggies and potatoes, and a small cake or fruit plate.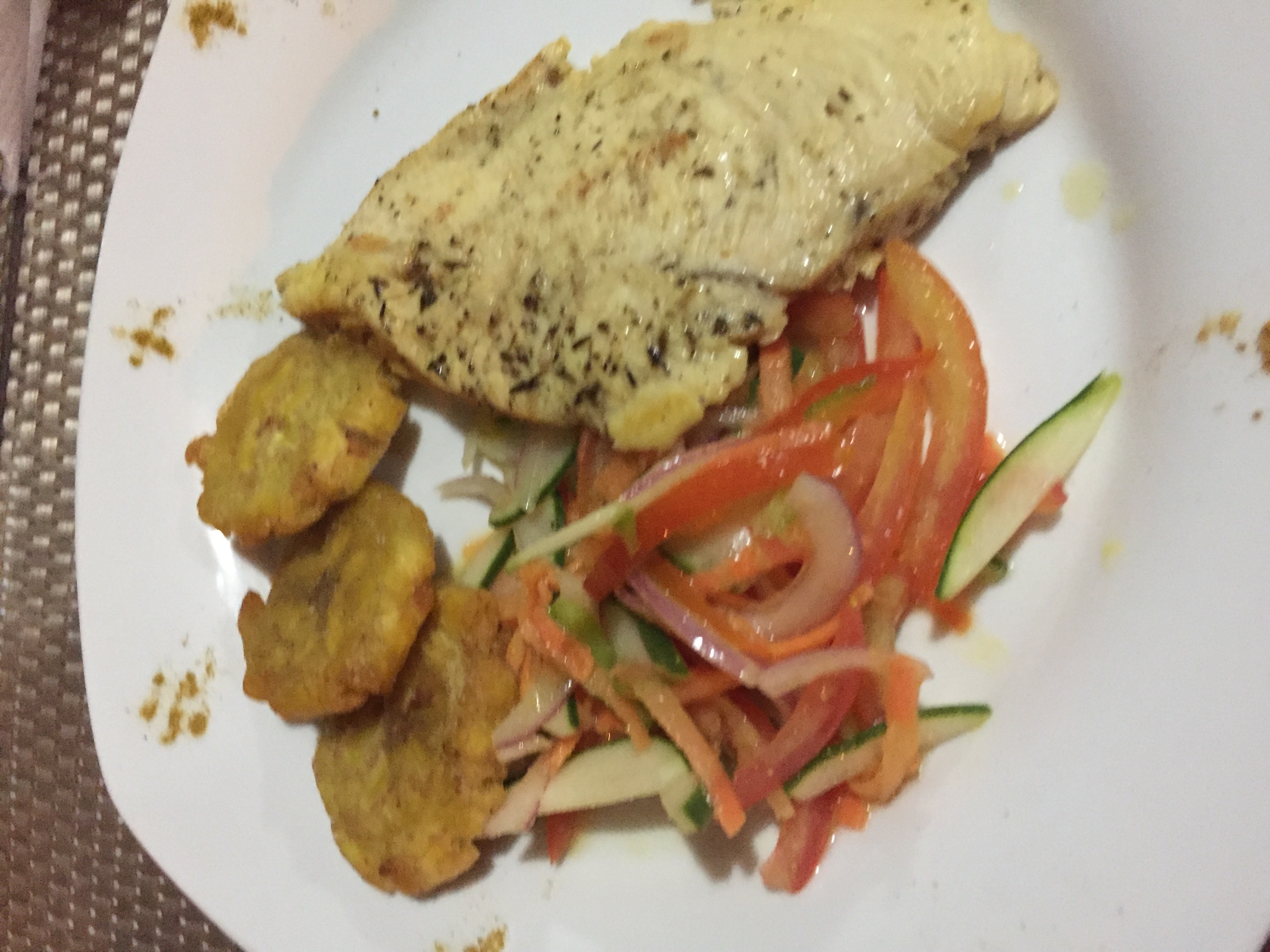 After dinner there was a bit of time to wander the town.  The town is small but adorable and full of great beach bars, that are unfortunately closed on Sundays (guess what day this was!)  It was sunset on a beach full of nesting marine iguanas, so I can't complain too much, and you can still buy beer at markets.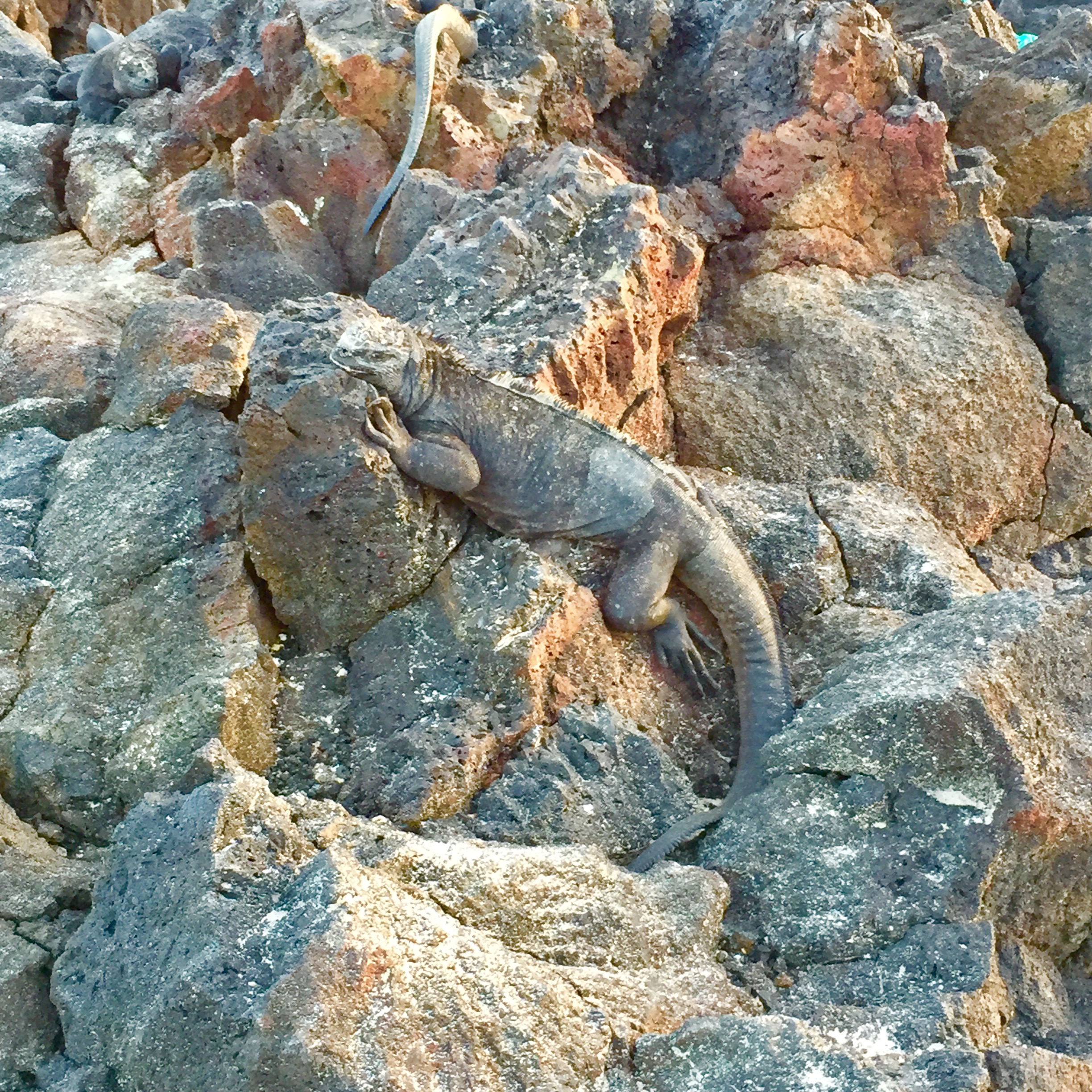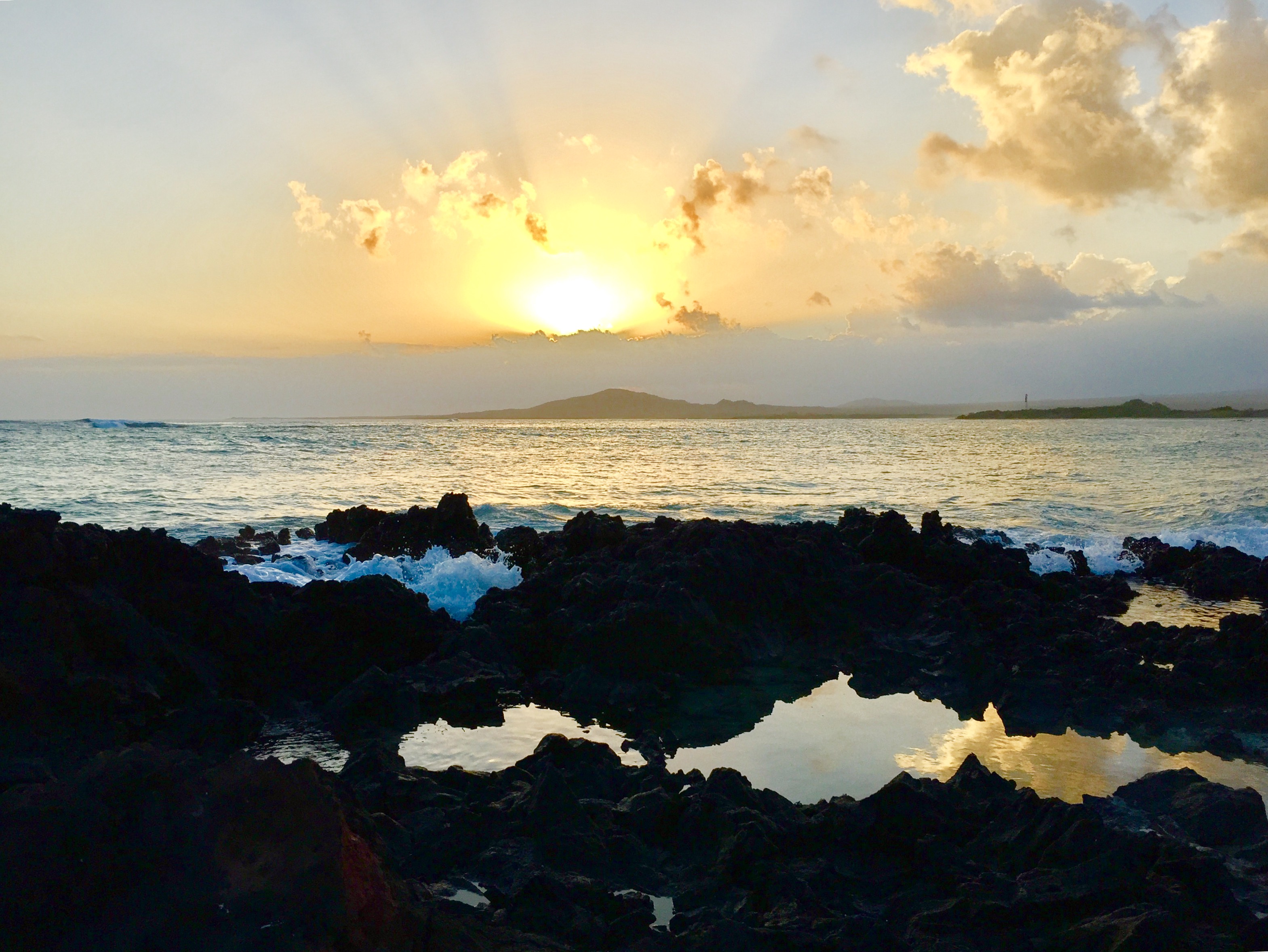 Day 2
The first full day in Isabela starts bright and early with a 16 kilometer hike up a volcano at 8am!  This tour is billed as "soft adventure" and I will say that the Nature Galapagos website has a slightly different definition of "soft" than I do.  This hike was hard, but the views from the top were totally worth it.  The main attraction is the Sierra Negra volcano crater, and I may have been a sweaty sunburned mess in terribly unflattering pants, but I still had to get a photo at the top.  Pics or it didn't happen right?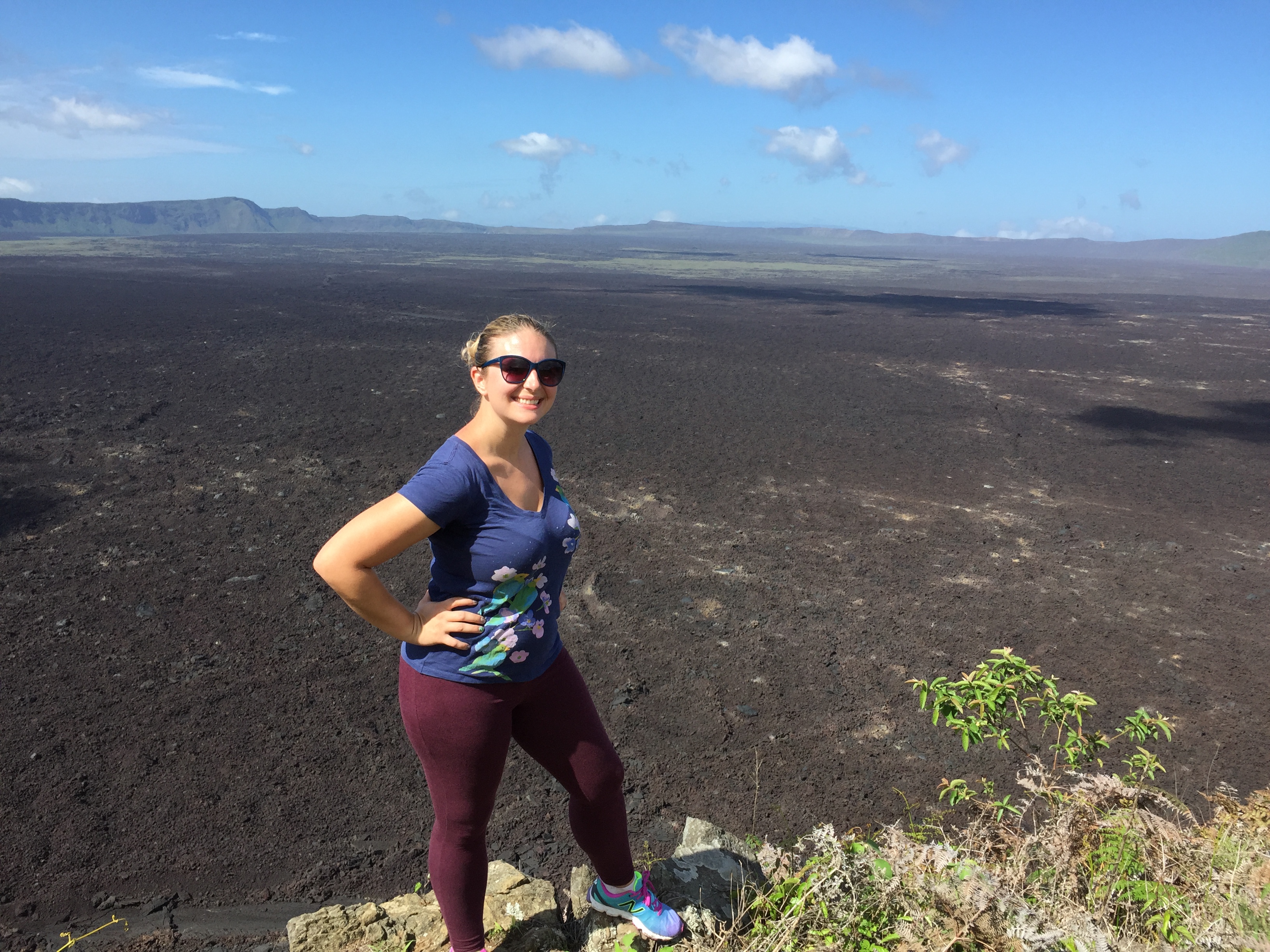 After Sierra Negra, our group continued on to Volcan Chico, an incredible landscape of lava rocks.  The Volcan Chico portion of the hike felt like walking on another planet.  Lava lizards navigate jagged rocks way more gracefully than I do, but still a cool experience.  The terrain kind of looks like the American Southwest had a baby with the moon.  There's even a part where you can see where the new lava (the black from an eruption in the 1970s) meets the old lava (red).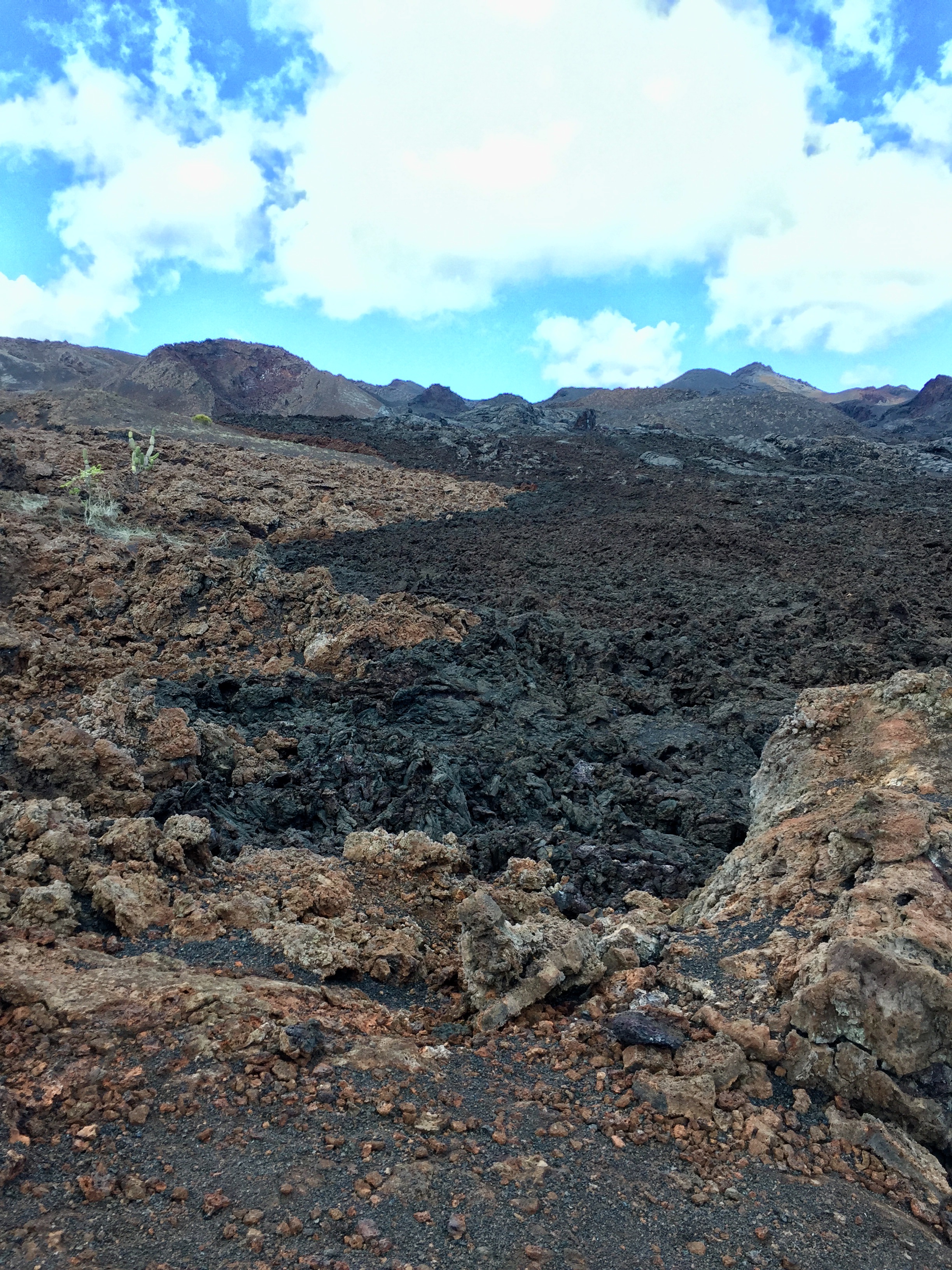 If I'm being completely honest, this was the part of the itinerary I was least excited about, mostly because it was my first day in the Galapagos and I was going to be so far away from giant turtles and just looking at rocks.  Obviously, I was wrong.  It's great and I never would have gone if it weren't for the Nature Galapagos tour.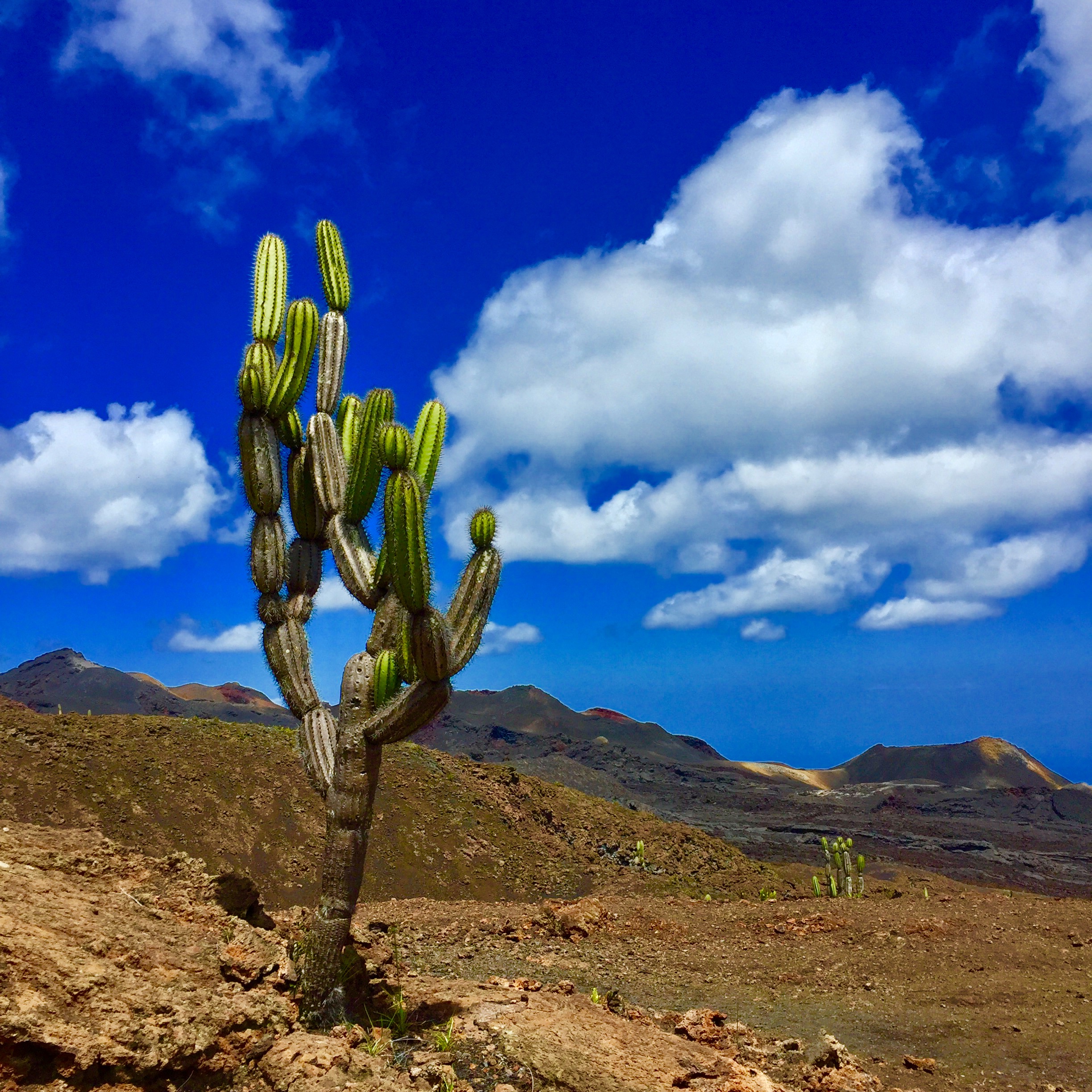 That being said, my skin is still falling off from the sunburn I got up there.  The equator is no joke.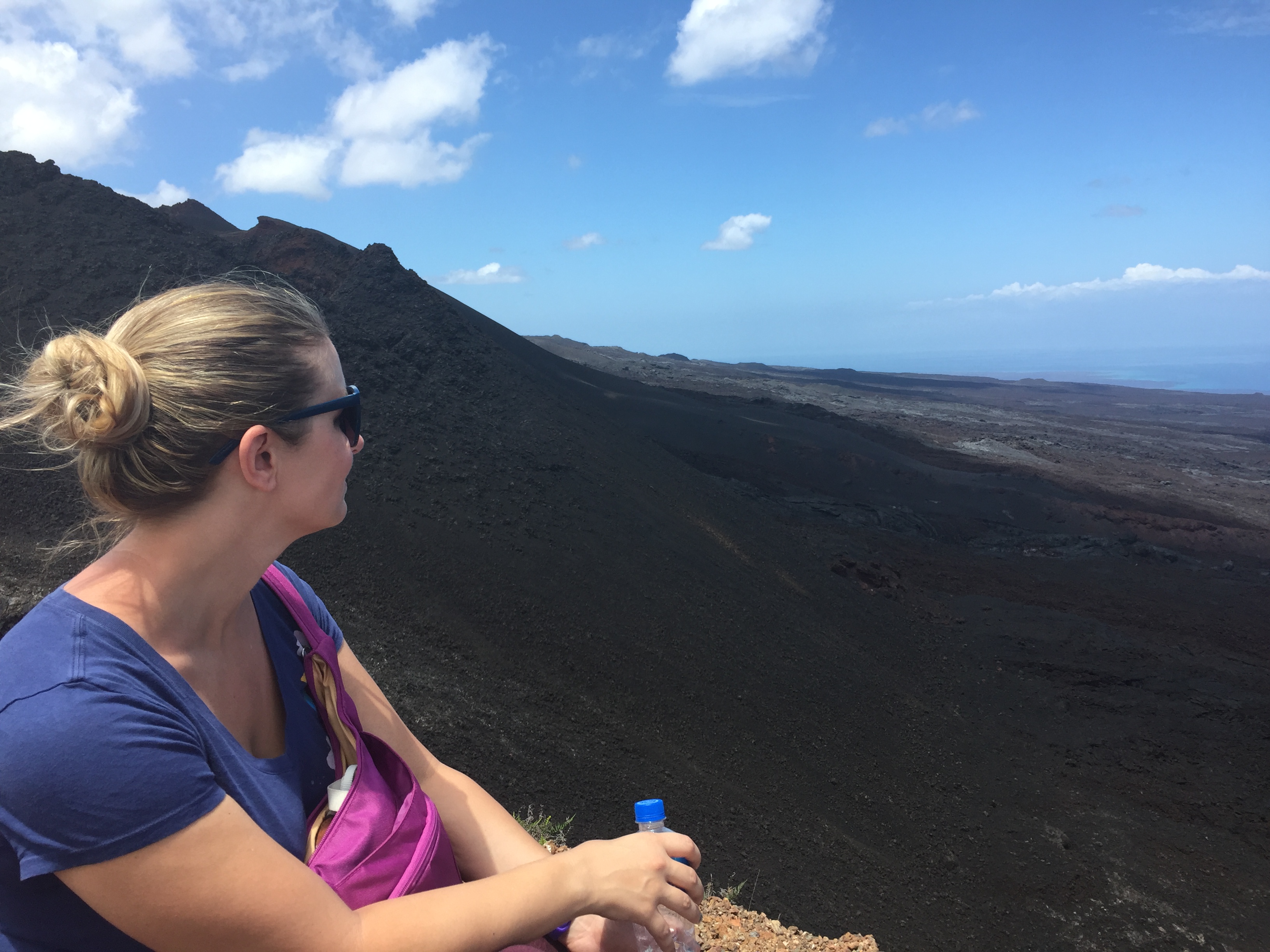 After cooking up nicely in the volcano it was time for snorkeling!  Near the port in Isabela there's a small snorkeling area called Concha Perla.  Now full disclosure, snorkeling is not my favorite.  I love the beach.  I love the water.  I'm just always aware that I'm better at breathing outside of it.  However, I really want to like snorkeling and this time there was a promise of swimming with sea lions!  Once I got there however, the sea lions had other ideas.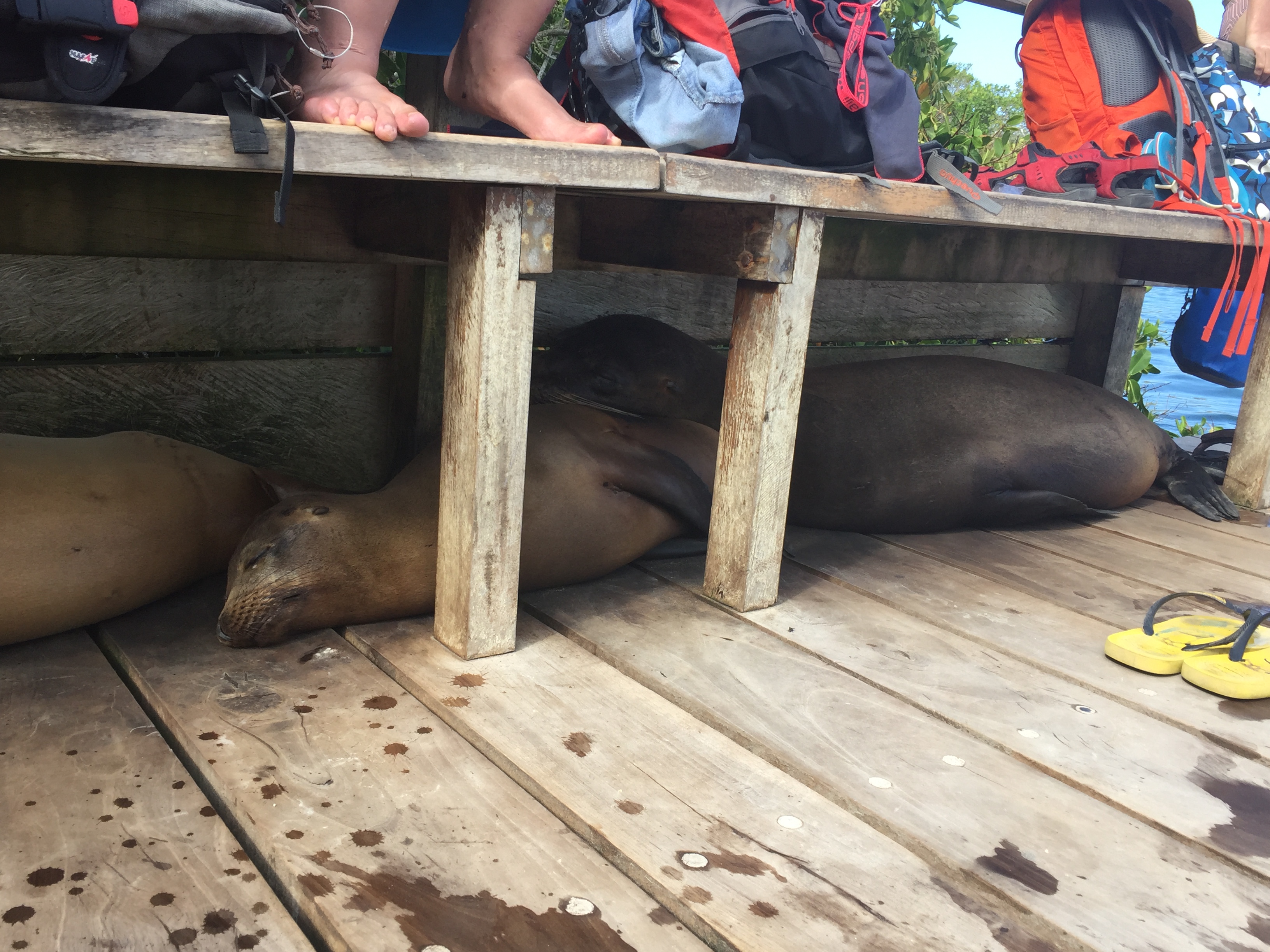 I snorkeled a bit like a champ, but mostly I just wandered around bugging these guys with photo requests while they were trying to nap.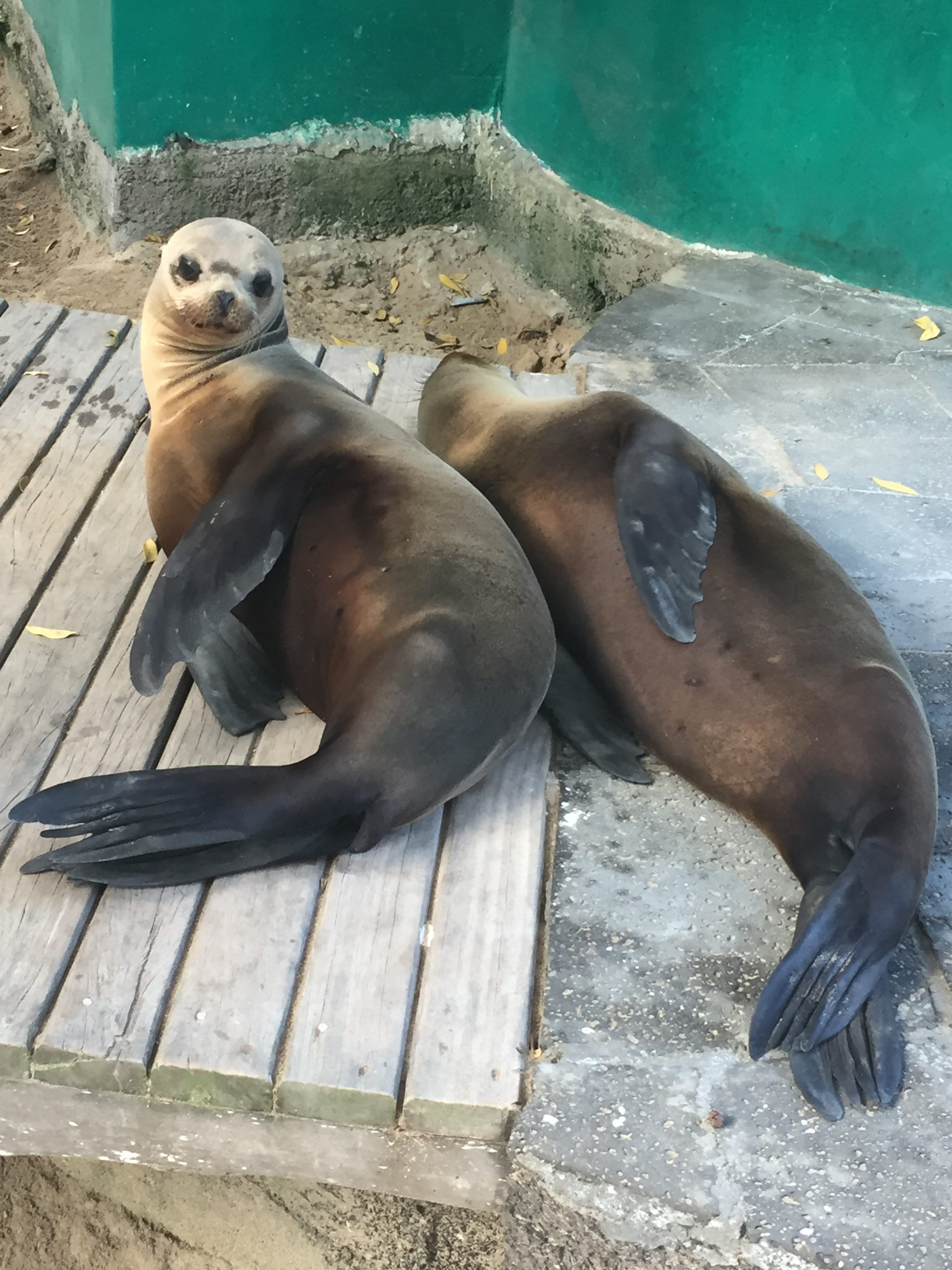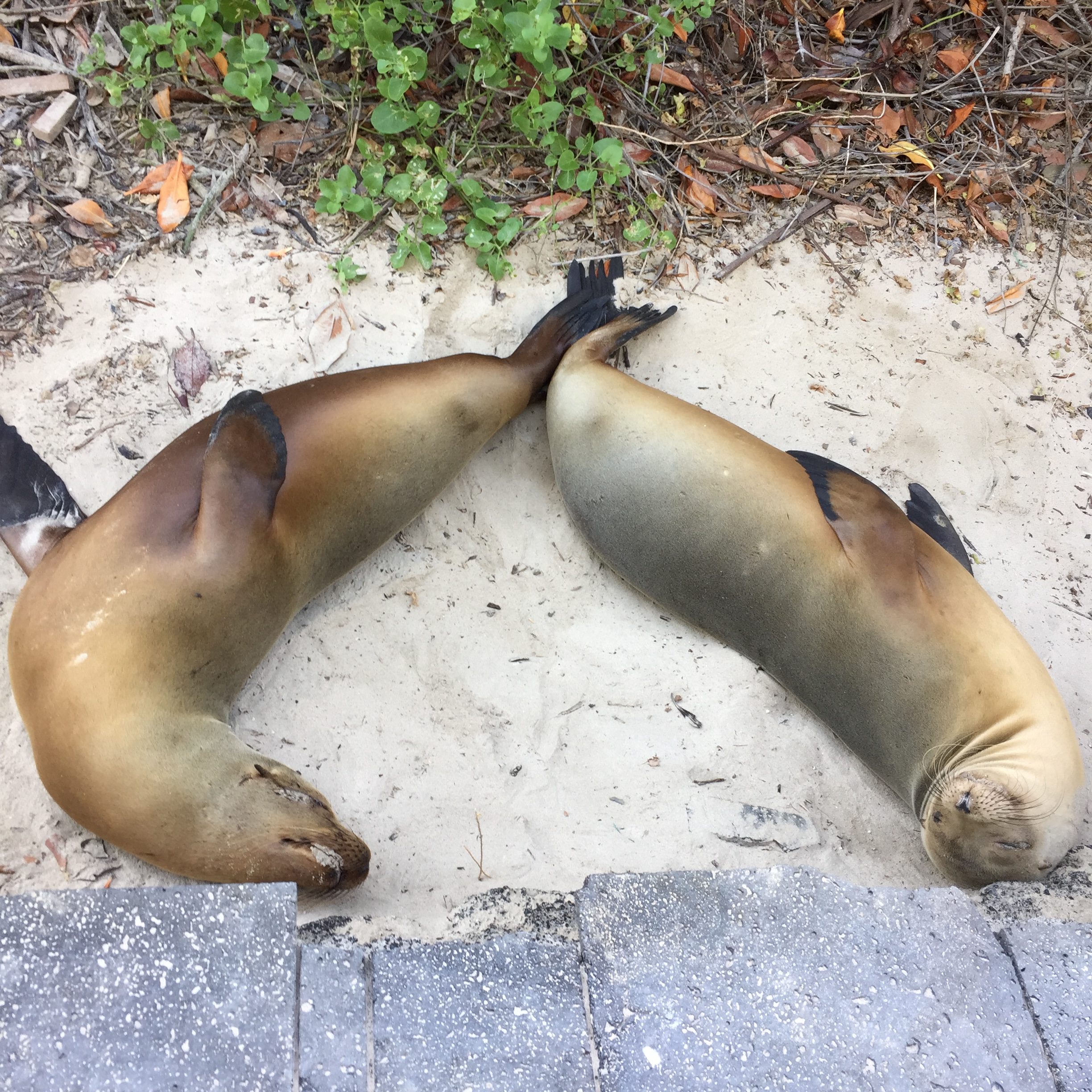 After dinner at the hotel, I was able to finally hit those adorable beach bars!  I have never felt more entitled to drink 100 passion fruit mojitos in a hammock.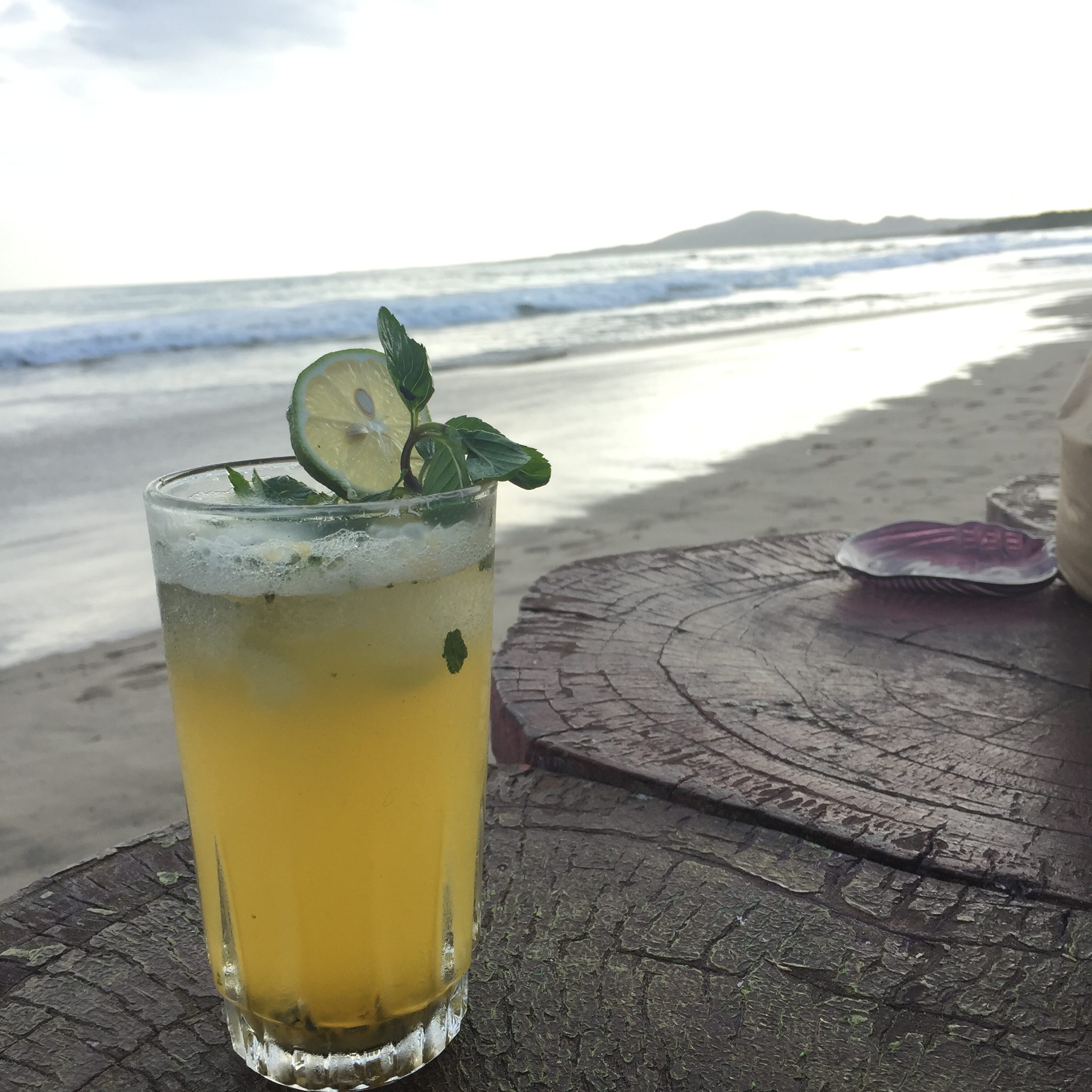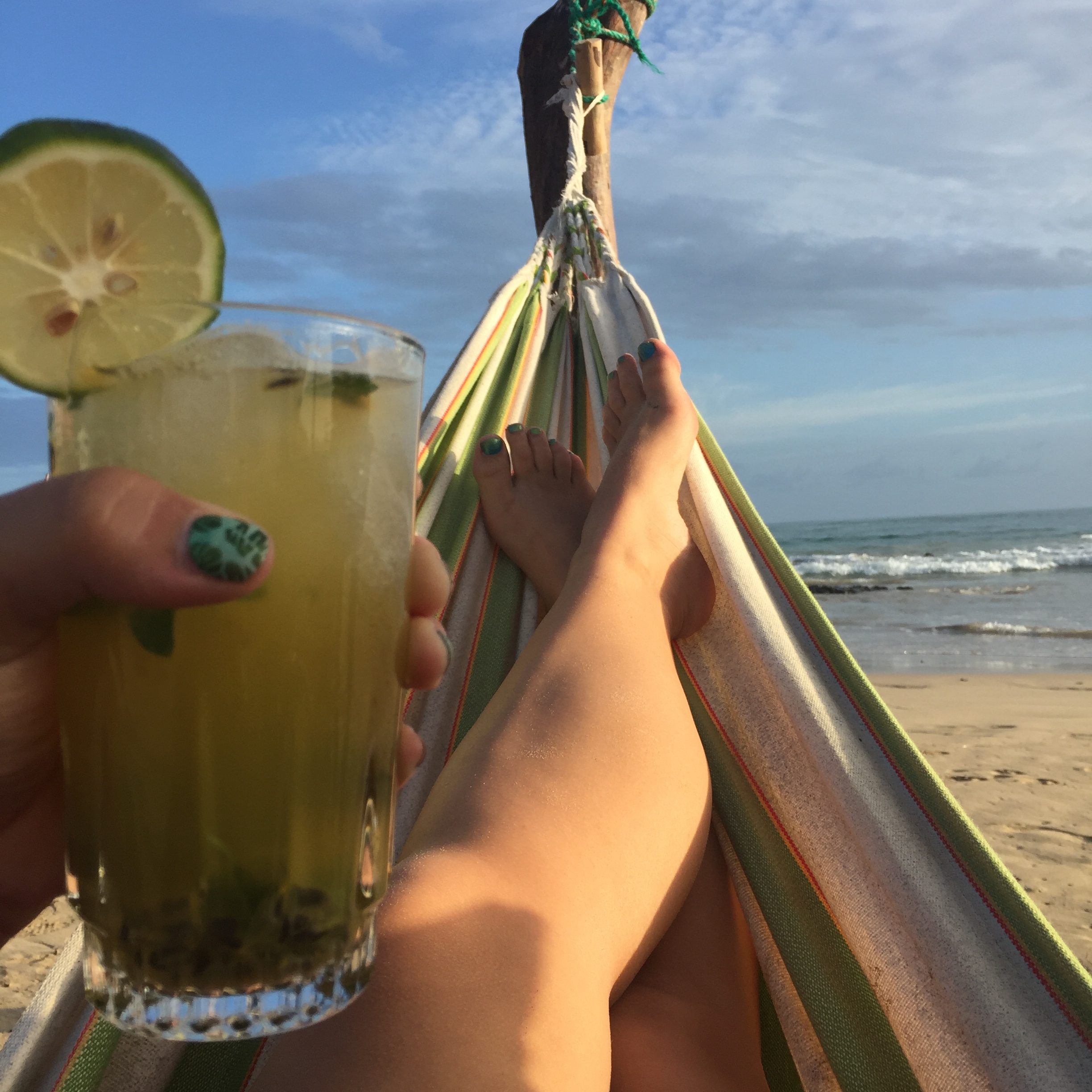 I've also never felt so entitled to an early bed time.  My Apple Watch tells me that it's the most I've ever exercised.
Day 3
Another early morning, this time to catch the 6am departure of the 2.5 hour speedboat back to Santa Cruz.  I had heard horror stories about these speedboats being rough and full of hot, pukey tourists which did not sound like a dream at 6am, but it was actually very pleasant.  *Insider Tip* head for the back of the boat, it's a nice breeze and the people on the inside of the boat were packed in like sardines.  They really push the boundaries of a "full" boat on these things.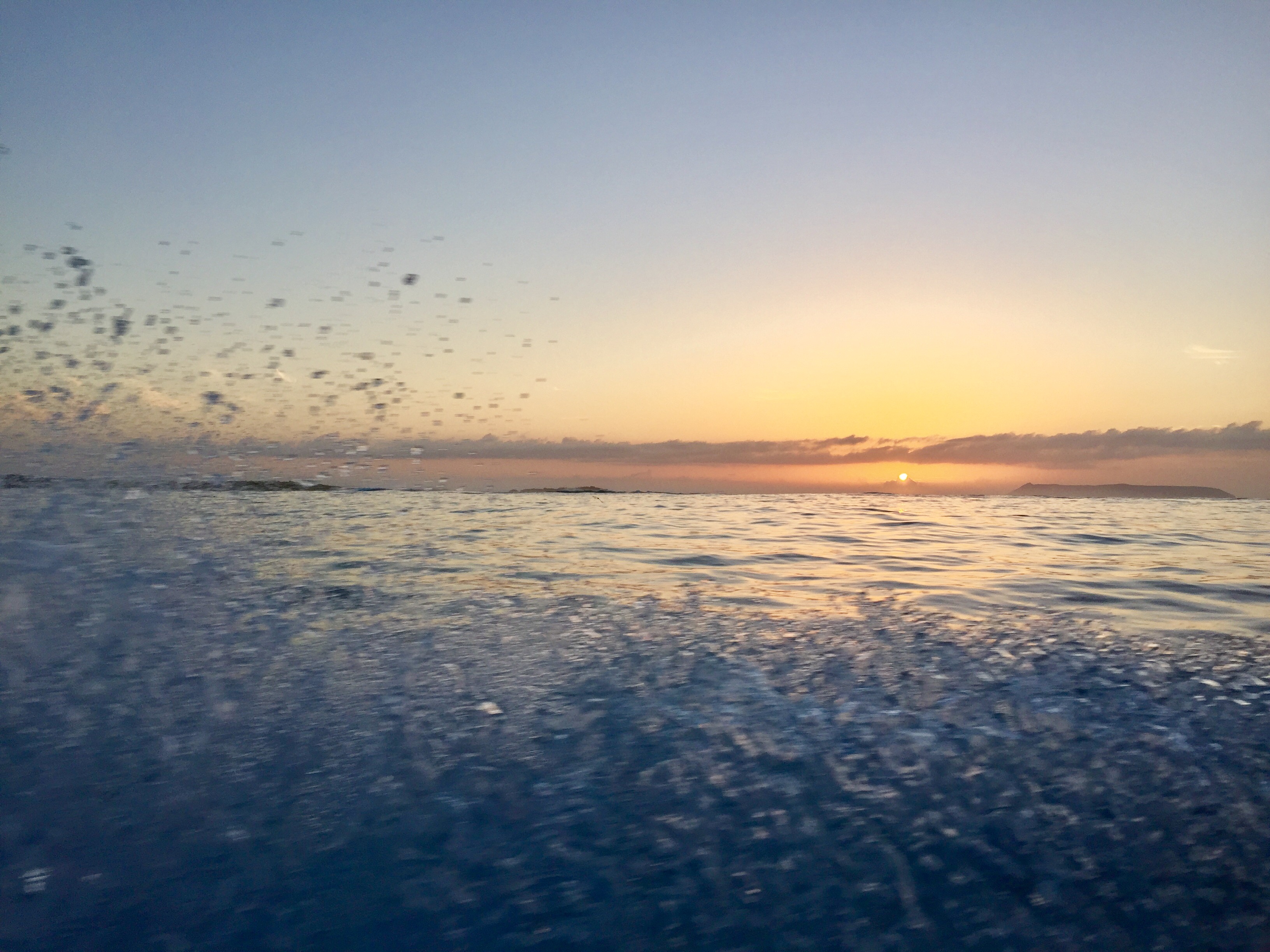 Once in Santa Cruz a new guide met our group and and drove us to our new hotel for breakfast.  This time I was staying at The Hotel Fernandina.  The Hotel Fernandina is just as charming as the San Vincente in Isabela and was located walking distance to everything you could want in Puerto Ayora.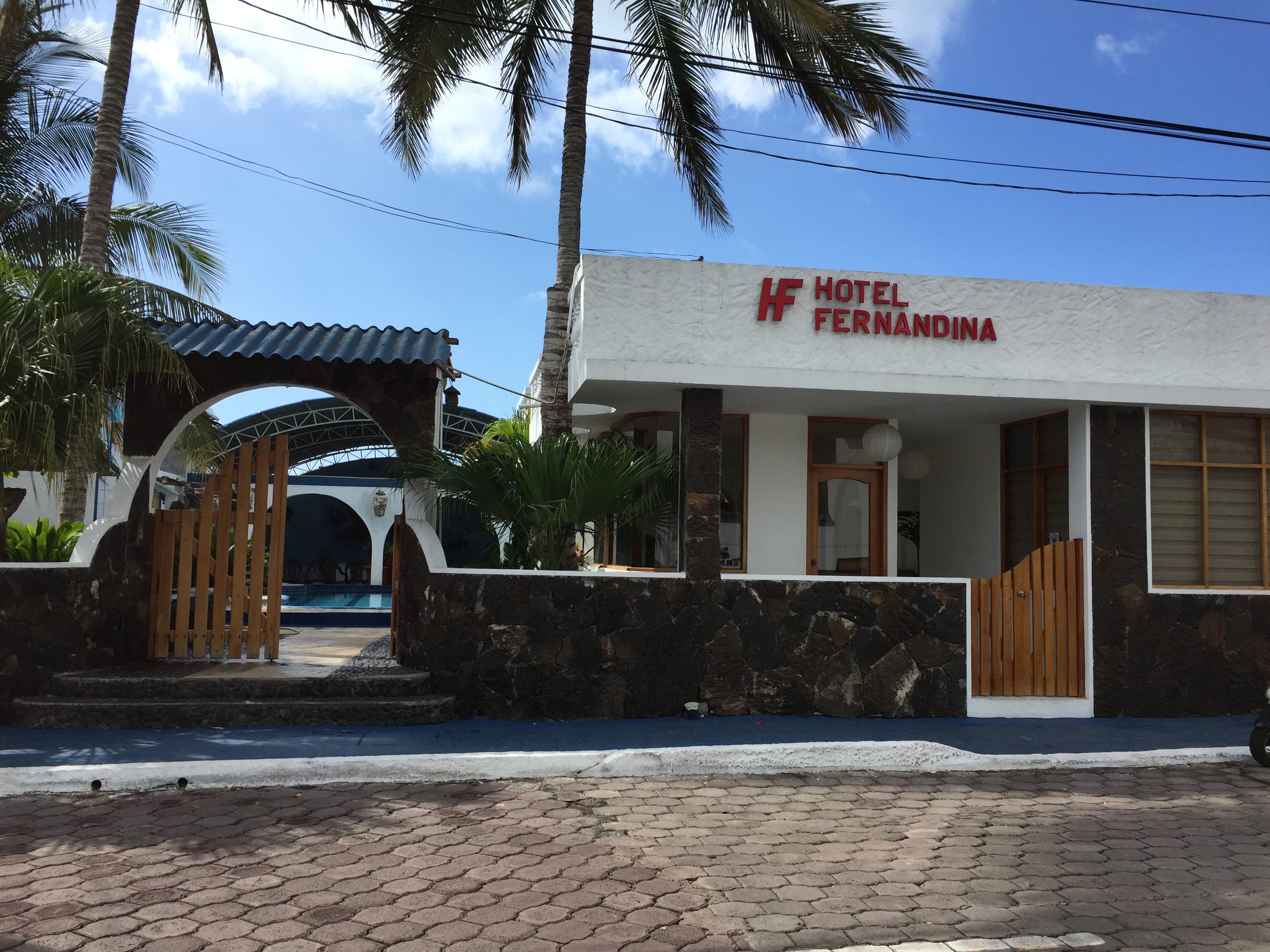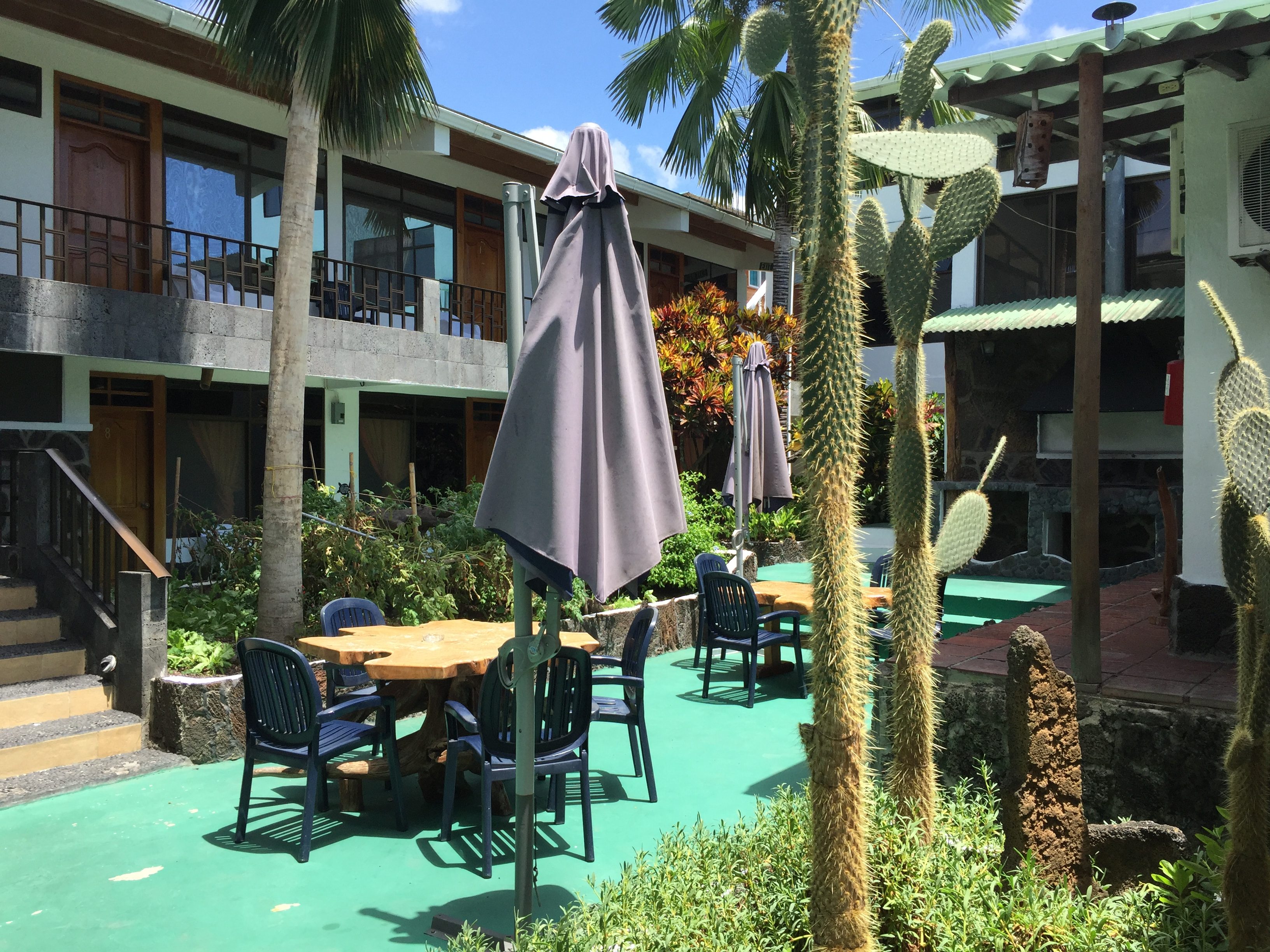 Best of all, I arrived on Valentine's Day and the place was really decked out!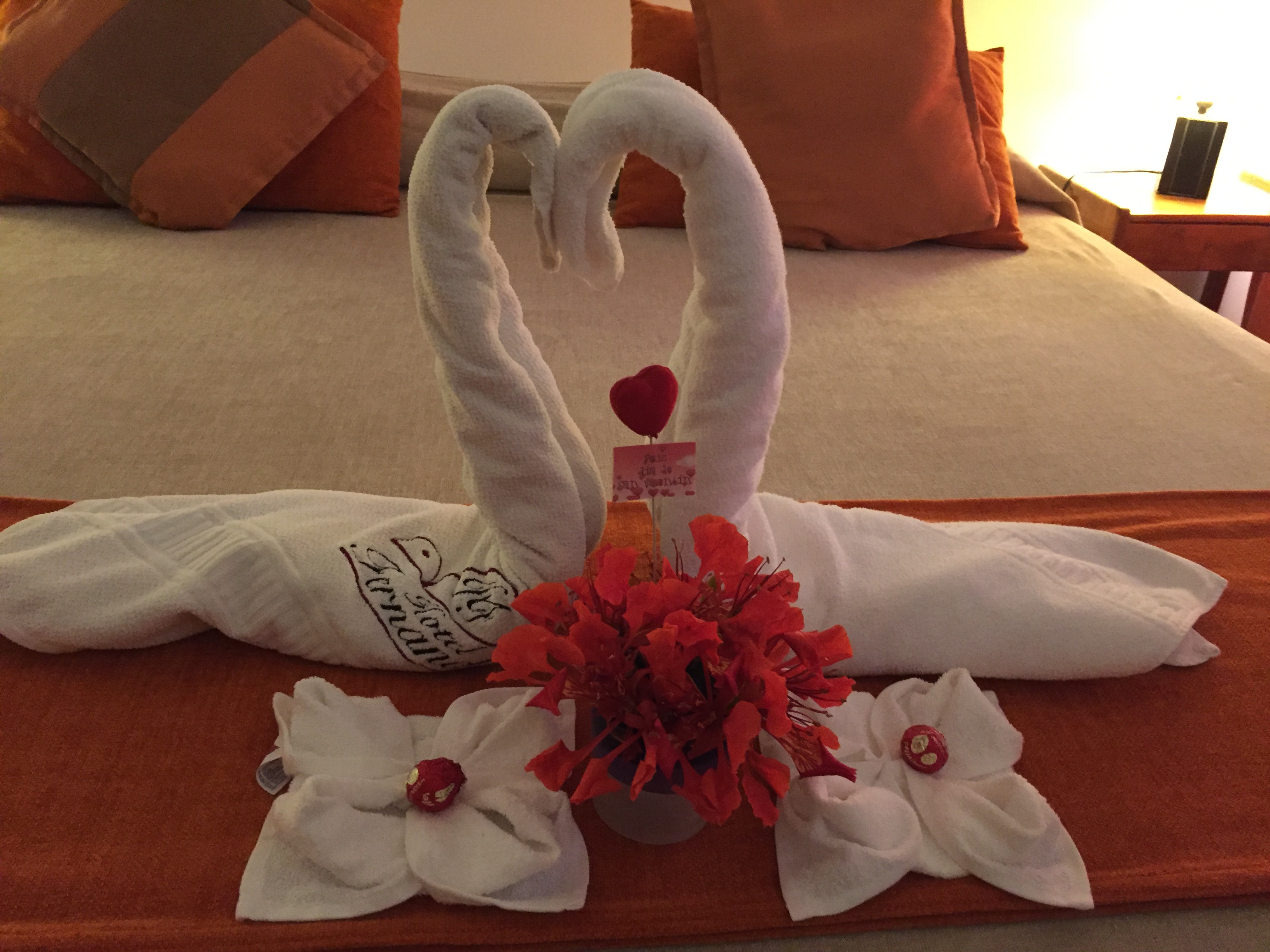 Oh yeah, and there are turtles everywhere!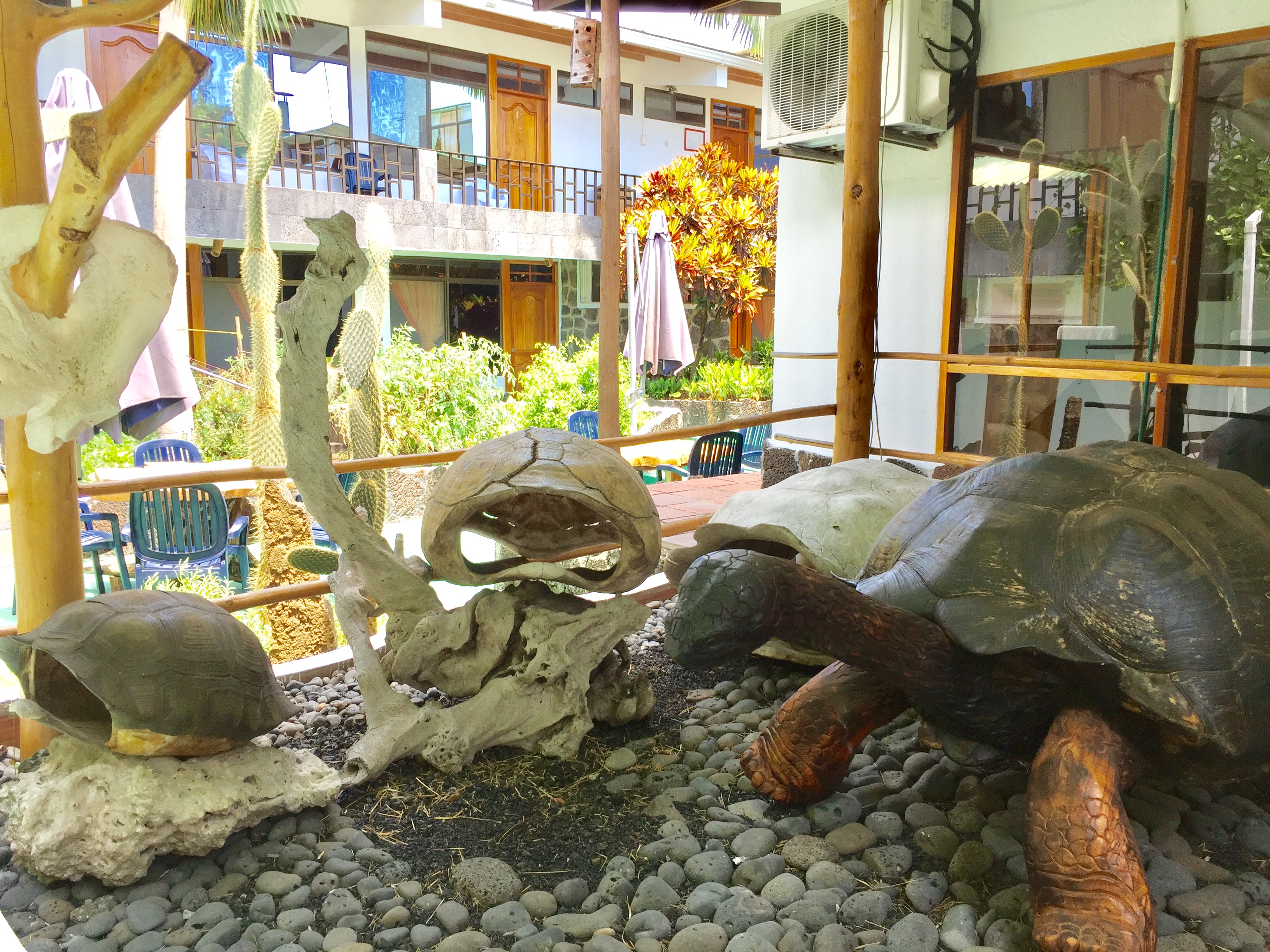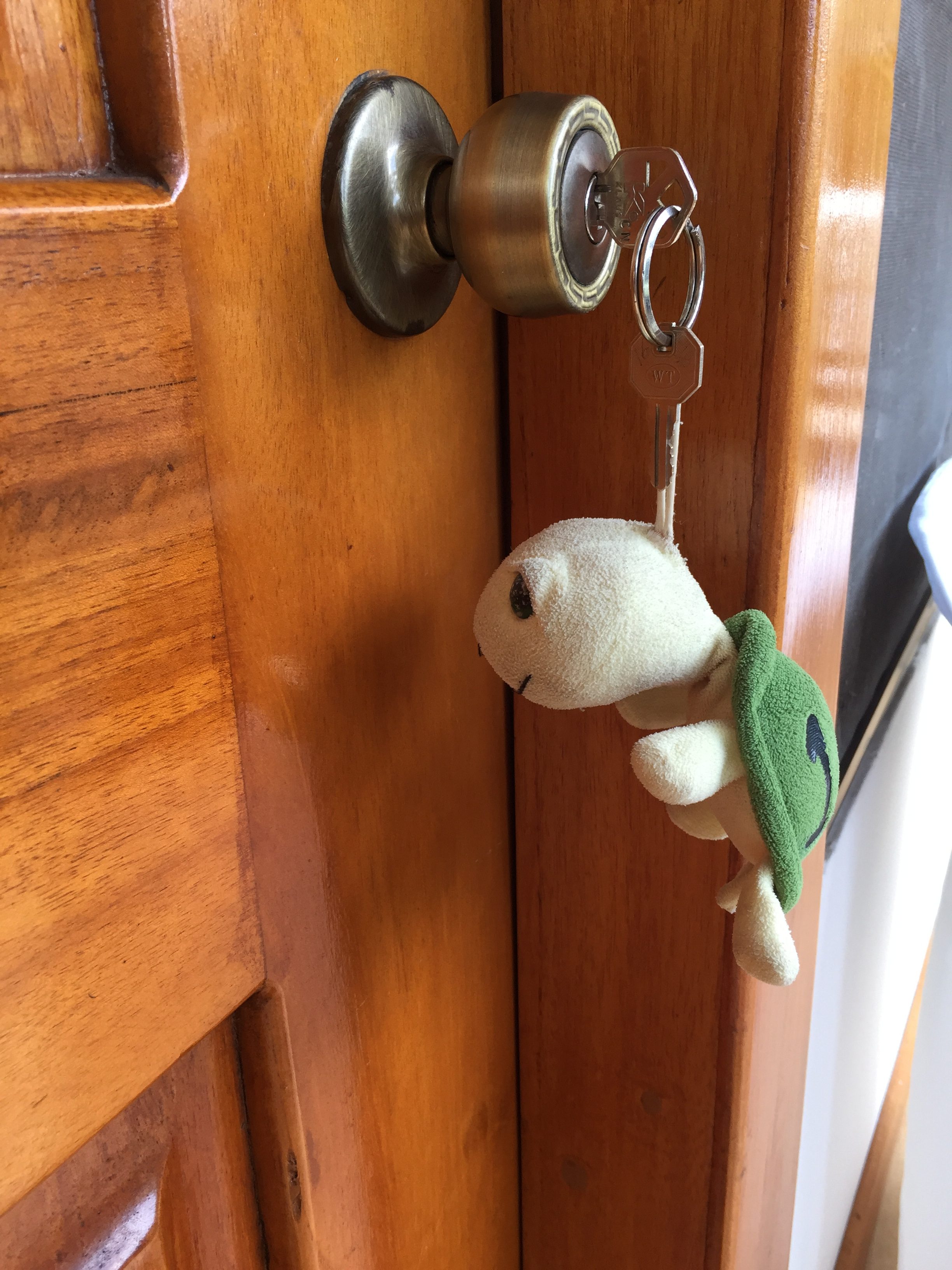 Which was really exciting since I had been in the Galapagos for two days now without seeing a giant tortoise!
After breakfast, the real fun started.  A guided trip to the Charles Darwin Research Station to see all of the tortoises!  (AHHHH!).  This is what I came for.  I've wanted to hang out with these guys since I was a kid.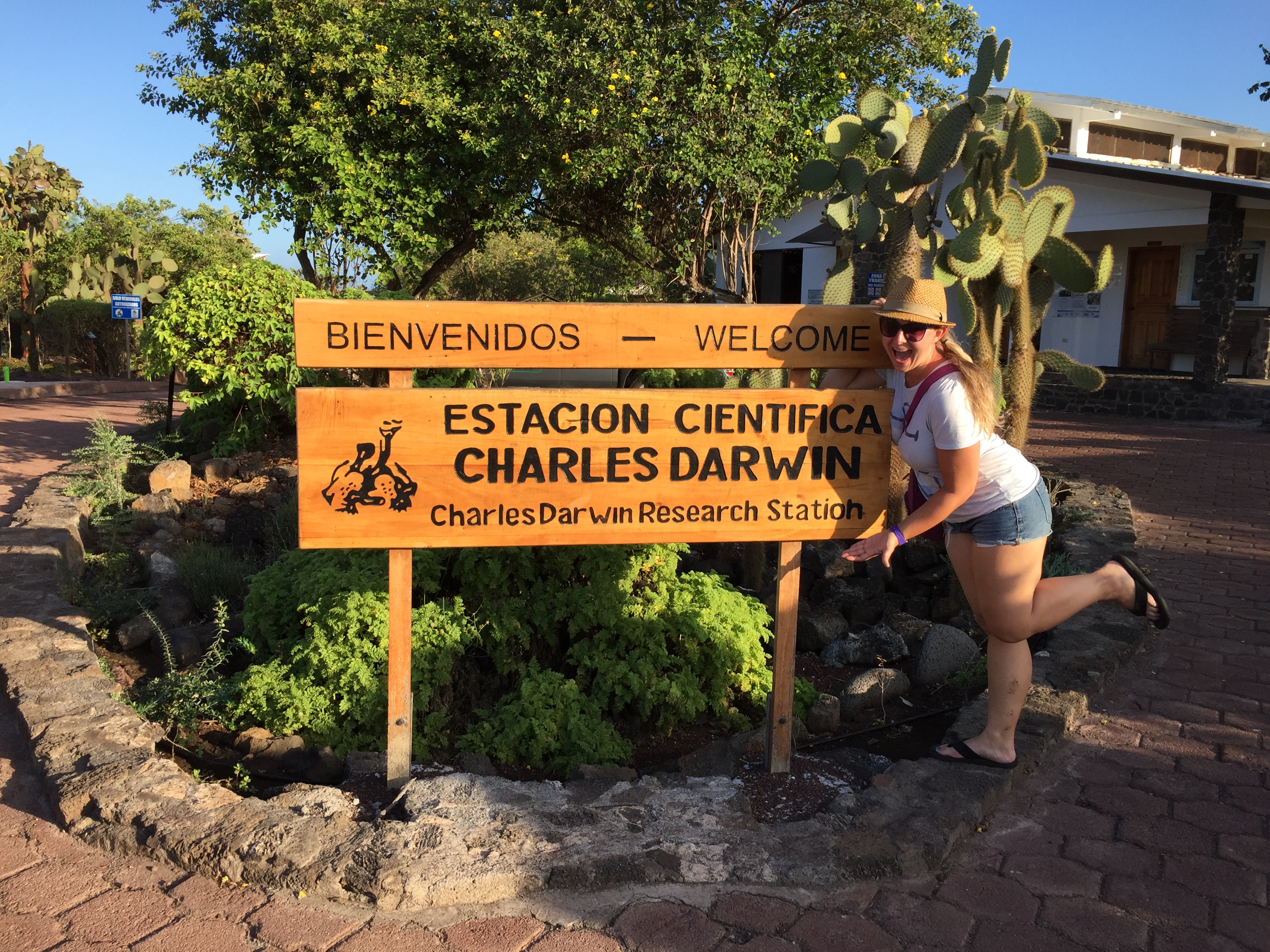 They even give you a passport stamp!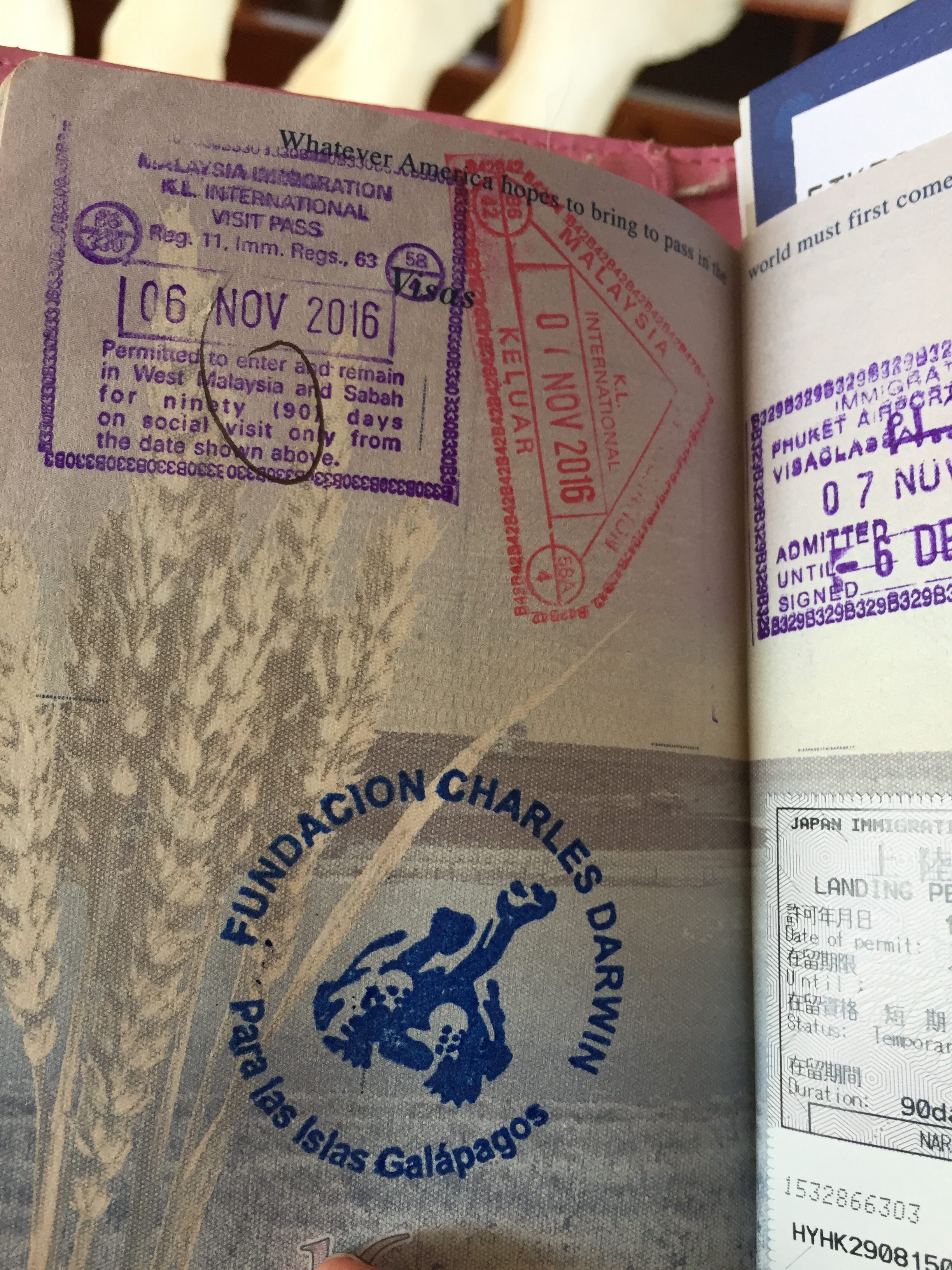 After learning about these awesome guys at the research center, our guide, Caesar, took us into the highlands to see them in their natural habitat.   I don't think I could ever see a 150 year old giant tortoise crossing the road without squealing with joy .  Up in the highlands we visited El Chato Ranch Reserva Ecologica and saw so so many tortoises (who really didn't seem to care we were there)!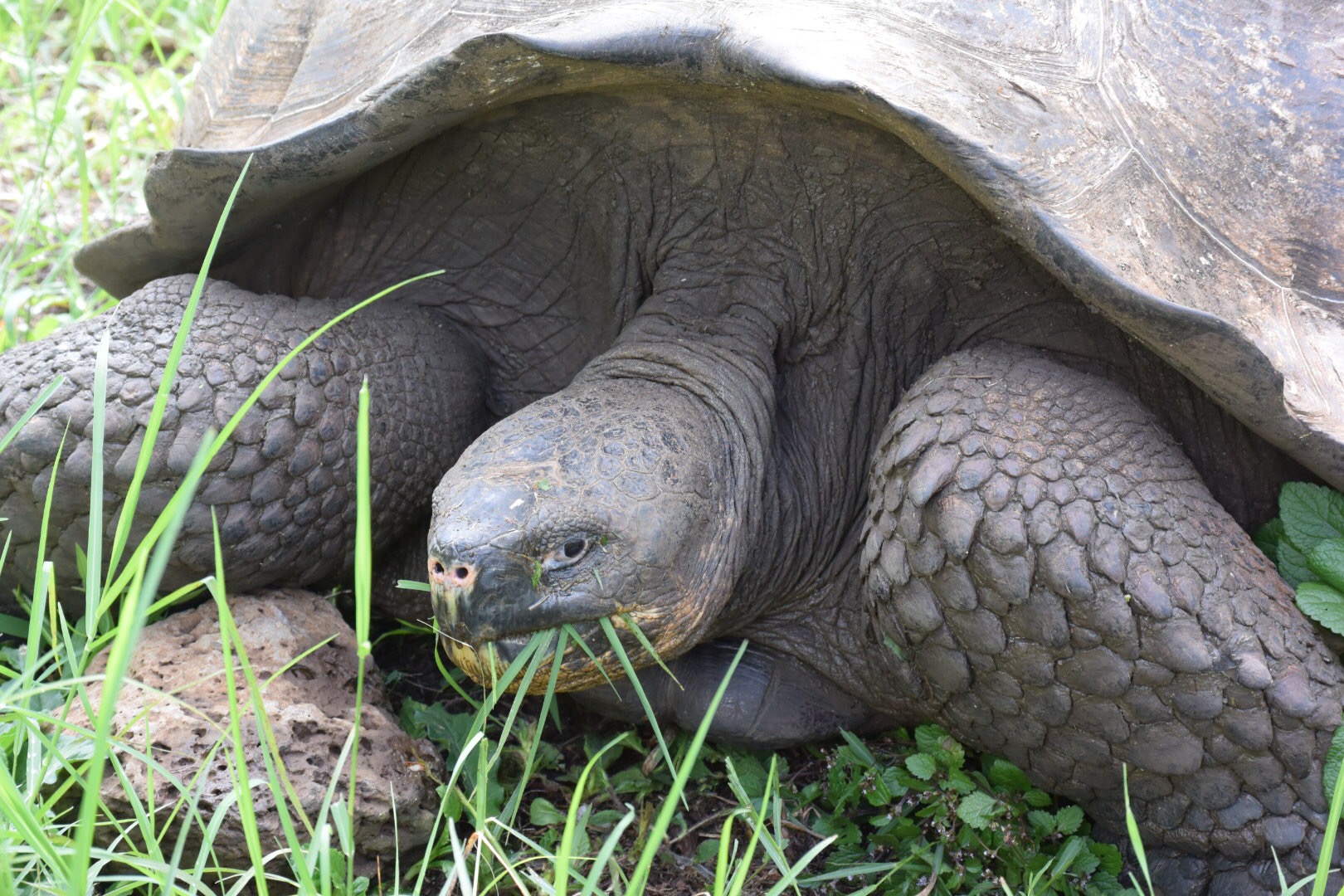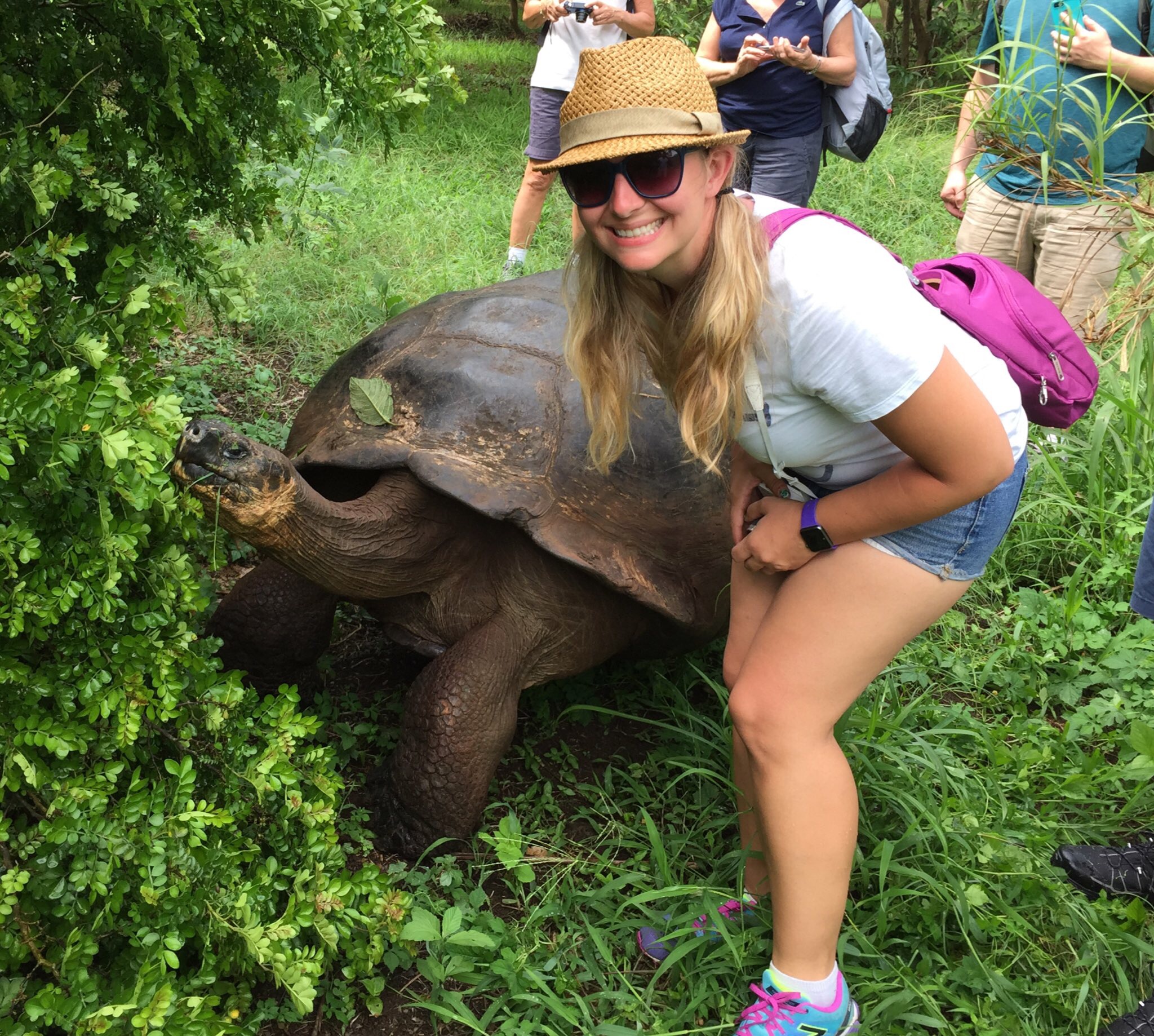 There were some amazing photo ops and free lemongrass tea at the end too.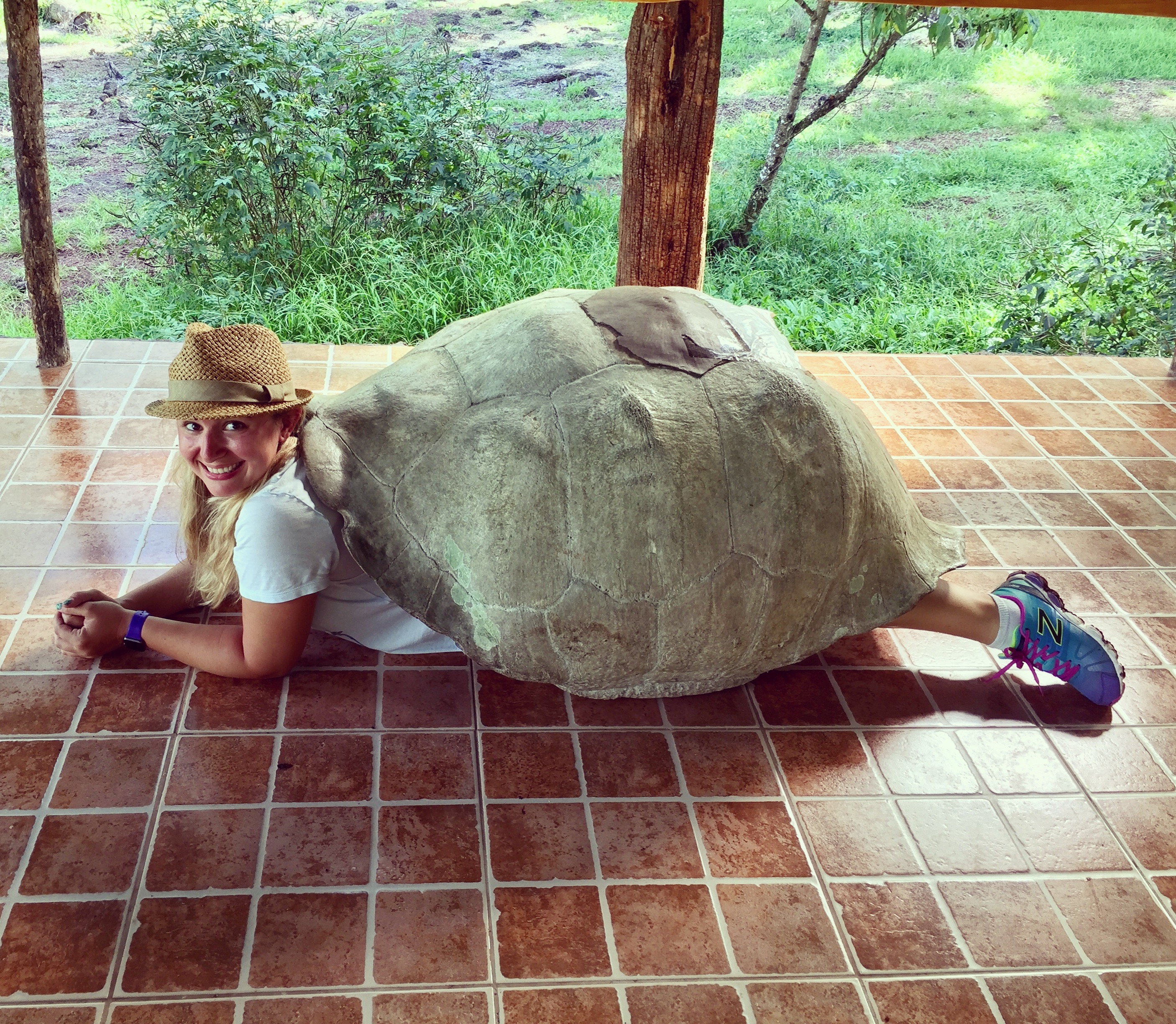 Climbing into that giant tortoise shell was not as easy as it looks, in case you were wondering.
After a dinner at the hotel, there were no more planned activities on the tour, but the town really went all out for Valentine's Day.  There was an outdoor concert near water and more people that I had seen in a week.  Seriously, I don't know where they were all hiding, but they sure love Valentine's Day.  I also followed a neat tip from Caesar and went out to the pier at night.  The lights on the pier at night illuminate the water and make the Black Tip Sharks visible.  This begs the question no one really wants the answer to; are they attracted to the light, or are they always there and just visible now?  I was re-thinking the snorkeling.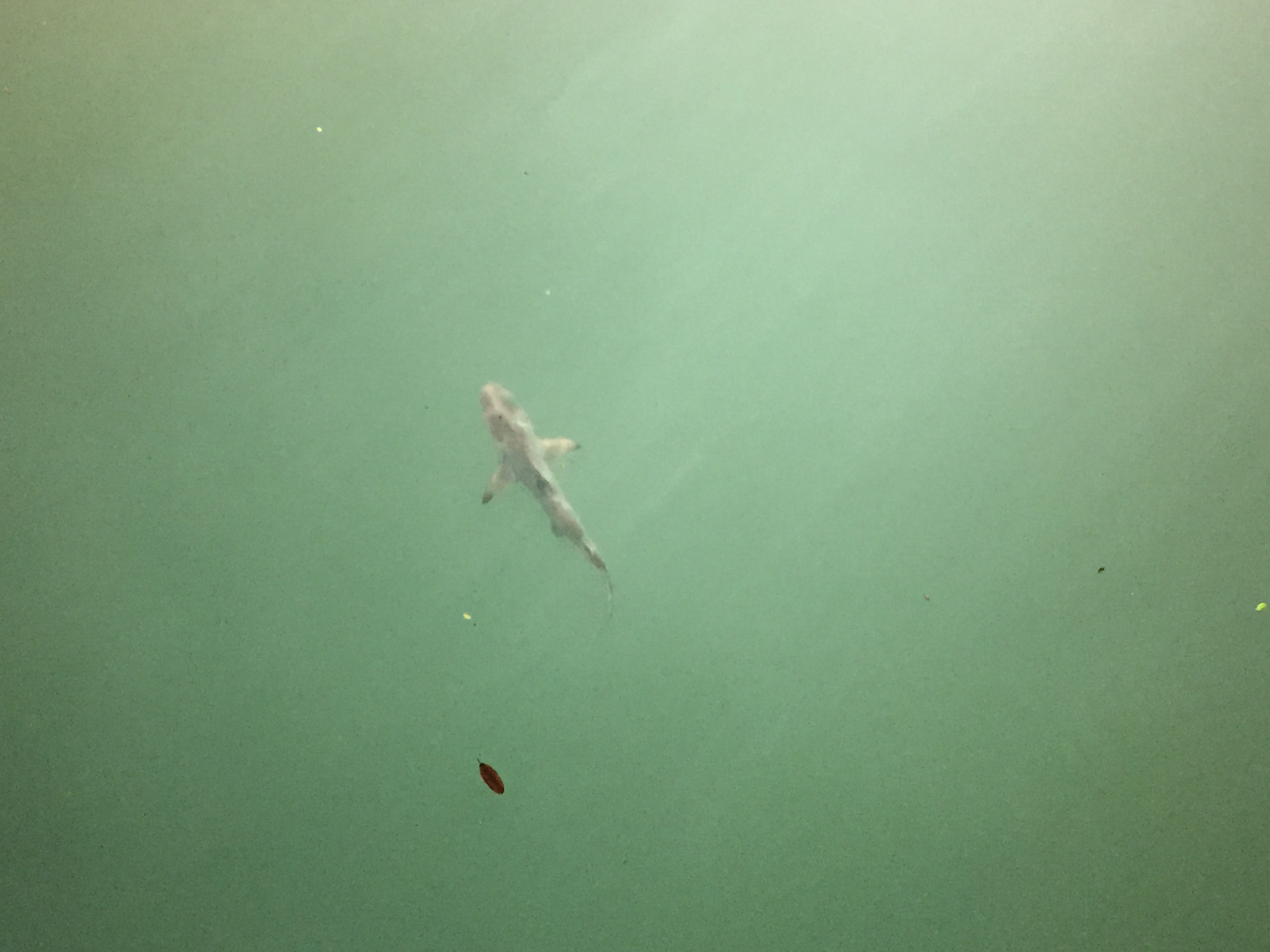 Day 4
The final day of the tour includes transportation to the airport, however I skipped out on this part and stayed an extra day, which I highly recommend.  The tour was great, and really jam-packed, but there was much more I wanted to explore and I'm glad I had a little time at the end to explore on my own.  Doing a Nature Galapagos tour is a great way to get a lay of the land and participate in several activities and excursions without having to worry about planning (and paying for) them all separately.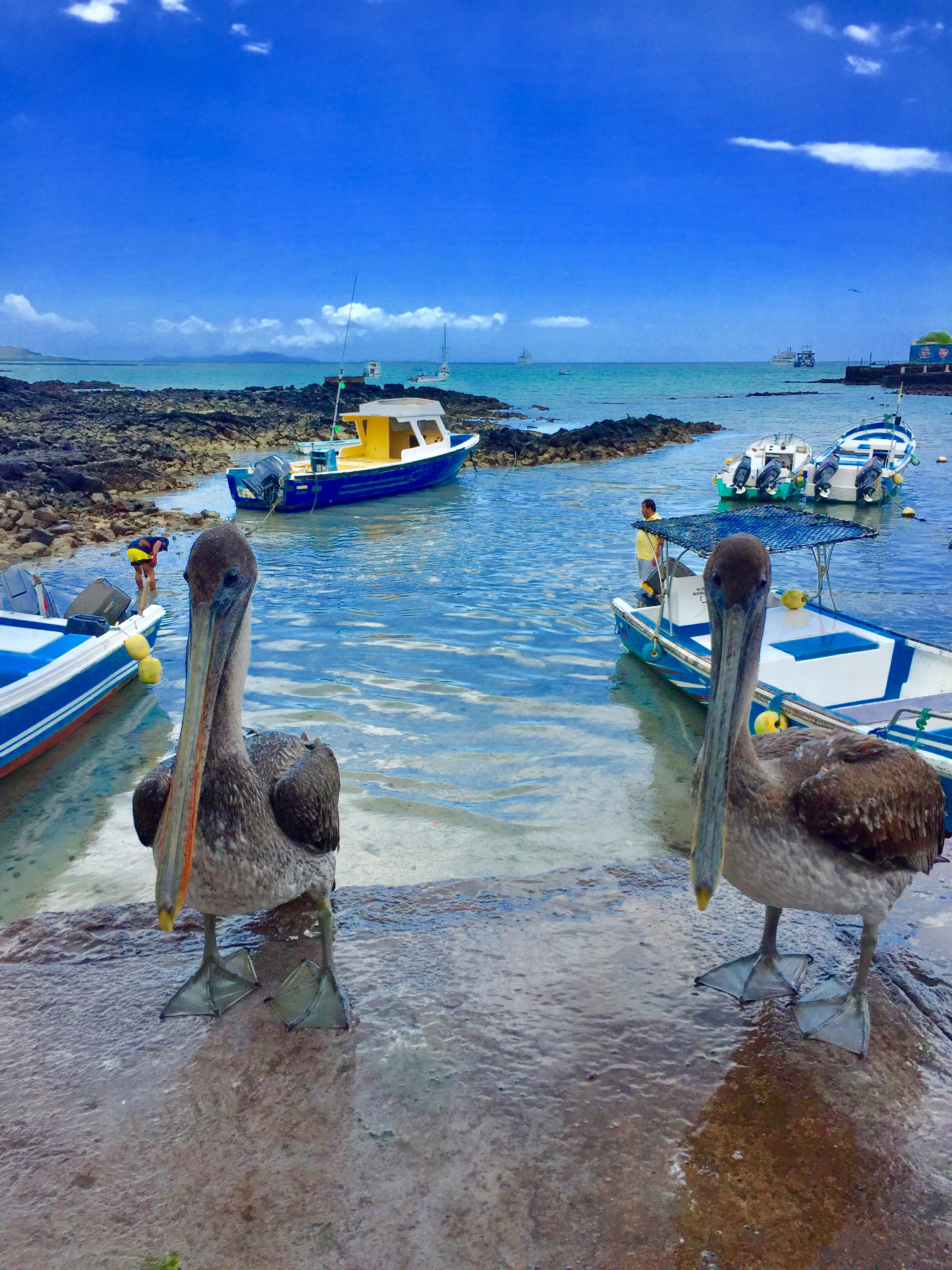 I would definitely recommend booking a tour through Nature Galapagos.  They displayed nothing but professionalism, the excursions were great, and all of the guides were personable and spoke great English.  It was the perfect introduction to the Islands.  They offer tours year round for every interest group and are a great alternative to a cruise.  If you're like me and terrible at advance planning, they even offer last minute discounts (and we're really good sports about all of my last-minute flip-flopping).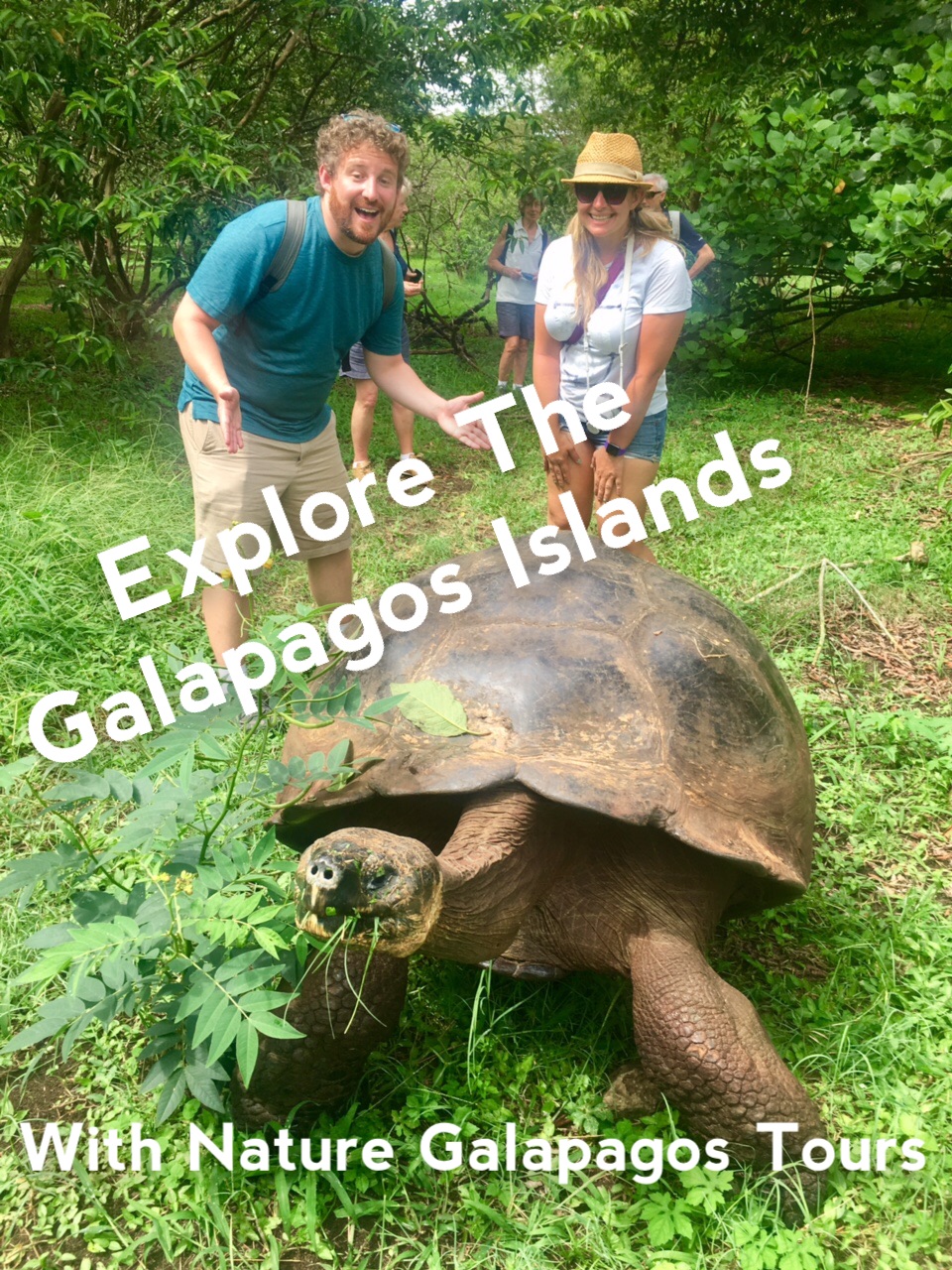 I was graciously invited to by Nature Galapagos to participate in the Magic of Isabela tour at a discount in exchange for a review, but as always all opinions are my own.
Save
Save
Save
Save
Save
Save
Save
Save
Save
Save
Save
Save
Save
Save
Save
Save
Save
Save
Save
Save
Save
Save
Save
Save
Save
Save
Save
Save
Save
Save
Save
Save
Save
Save
Save
Save