If there is anything I love in this world, it's quirky museums and other people's dirty laundry and The Museum of Broken Relationships in Zagreb, Croatia has just that!  As you would imagine, the museum is dedicated to artifacts from love gone wrong.  People from all over the world donate mementos and tell the stories that go along with them.  Some are funny, some are heartbreaking, but all of them are fascinating.  What's more fun than poking around in someone else's pain?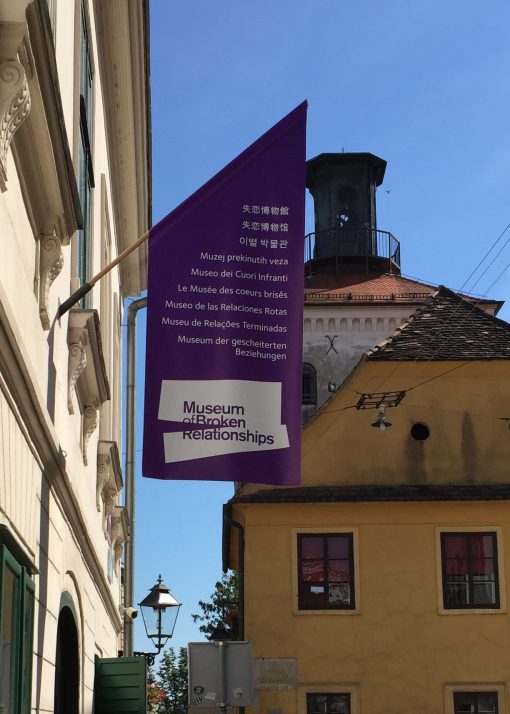 The museum describes it's history and mission better than I ever could,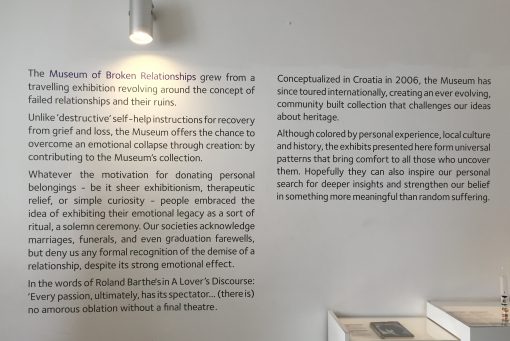 "The Museum of Broken Relationships grew from a traveling exhibition revolving around the concept of failed relationships and their ruins.

 

Unlike "destructive" self-help instructions for recovery from grief and loss, the Museum offers the chance to overcome and emotional collapse through creation by contributing to the Museum's collection.


Whatever the motivation for donating personal belongings- be it sheer exhibitionism, therapeutic relief, or simple curiousity – people embraced the idea of exhibiting their emotional legacy as a sort of ritual, a solemn ceremony.  Our societies acknowledge marriages, funerals, and even graduation farewells, but deny us any formal recognition of the demise of a relationship, despite it's strong emotional effect.


In the words of Roland Barthe's in A Lover's Discourse: "Every passion, ultimately, has it's spectator… (there is) no amorous obligation without a final theatre.


Conceptualized in Croatia in 2006, the Museum has since toured internationally, creating an ever evolving, community built collection that challenges our ideas about heritage.


Although colored by personal experience, local culture, and history, the exhibits presented here form universal patterns that bring comfort to all those who uncover them.  Hopefully they can also inspire our personal search for deeper insights and strengthen our belief in something more meaningful than random suffering."
Of course, the reason everyone goes to the Museum of Broken Relationships… the stories.  I've collected a few of my favorites.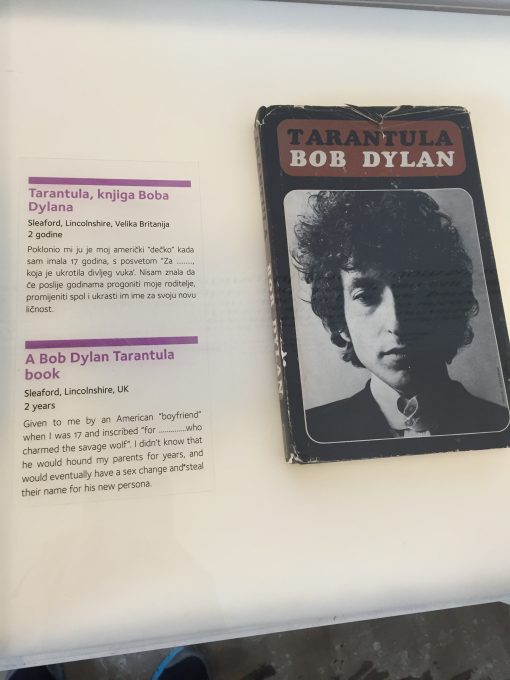 "A Bob Dylan Tarantula book

Sleaford, Lincolnshire, UK

2 years

Given to me by an American "boyfriend" when I was 17 and inscribed "for………… who charmed the savage wolf".  I didn't know that he would hound my parents for years, and would eventually have a sex change and steal their names for his new persona."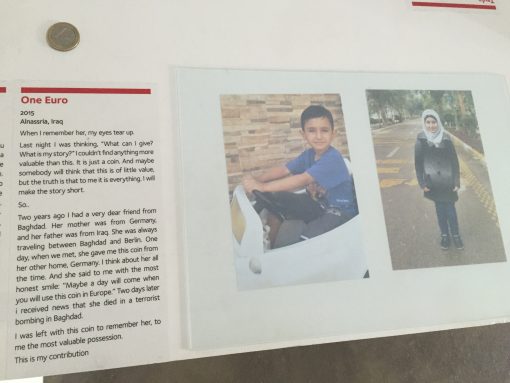 "One Euro

2015

Alnassria, Iraq

When I remember her my eyes tear up.

Last night I was thinking, "What can I give? What's my story?" I couldn't find anything more valuable than this.  It is just a coin, and maybe somebody will think that this is of little value, but the truth is that to me it is everything.  I will make the story short.

So.

Two years ago I had a very dear friend from Baghdad.  Her mother was from Germany, and her father was from Iraq.  She was always traveling between Baghdad and Berlin.  One day, when we met, she gave me this coin from her other home, Germany.  I think about her all the time.  And she said to me with the most honest smile:  "Maybe a day will come when you will use this coin in Europe."  Two days later I received news that she died in a terrorist bombing in Baghdad.

I was left with this coin to remember her, to me the most valuable possession.

This is my contribution."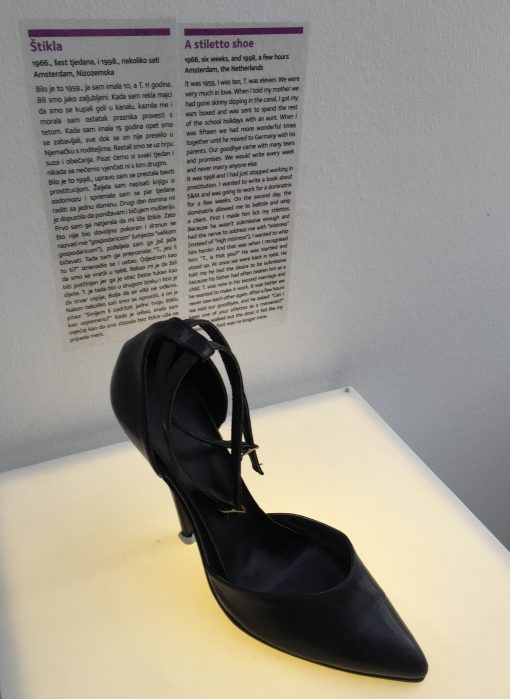 "A Stiletto Shoe

1966, six weeks, and 1998, a few hours

Amsterdam, The Netherlands

It was 1959, I was ten, T. was eleven.  We were very much in love.  When I told my mother we had gone skinny dipping in the canal, I got my ears boxed and was sent to spend the rest of the school holiday with an aunt.  When I was fifteen, we had more wonderful times together until he moved to Germany with his parents.  Our goodbye came with many tears and promises.  We would write every week and never marry anyone else.

It was 1998 and I had just stopped working in prostitution.  I wanted to write a book about S&M and was going to work for a dominatrix for a few weeks.  On the second day, the dominatrix allowed me to belittle and whip a client.  First I made him lick my stilettos.  Because he wasn't submissive enough and had the nerve to address me with "mistress" (instead of "high mistress").  I wanted to whip him harder.  And that was when I recognised him; "T., is that you?"  He was startled and stood up.  At once we were back in 1966.  He told me he had the desire to be submissive because his father had beaten him as a child.  T. was now in his second marriage and he wanted to make it work.  It was better we never saw each other again.  After a few hours we said our goodbyes, and he asked; "Can I keep one of your stilettos as a memento?"  When he walked out the door, it felt like my stiletto-less foot was no longer mine."
Pretty good stuff right?!  Those are just a few of my favorites, but all of the stories are great and the museum is every bit as quirky and interesting as you would want it to be!  Of course, one of the best parts of any museum is the museum store, and The Museum of Broken Relationships in no different.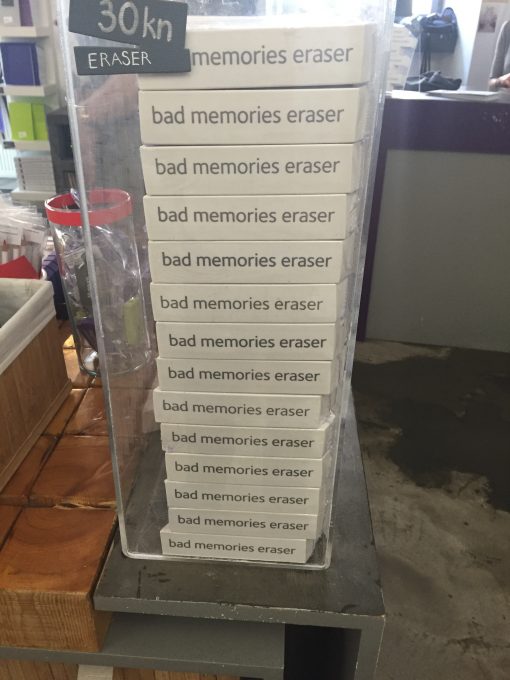 The whole museum feels like Facebook stalking people you don't know, but it is oddly cathartic.
I had only one afternoon in Zagreb and I cannot thing of a better way to spend it!  Zagreb is a beautiful city and as much as I enjoyed walking around and taking in the sights, I have no regrets about spending some time inside getting to know a few strangers.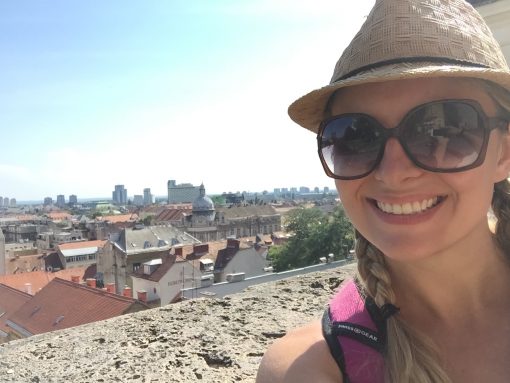 It seems appropriate to end with a few words etched on the wall at the Museum of Broken Relationships,
"To live in this world you must be able to do three things:

to love what is mortal;

to hold it against your bones knowing your own life depends on it;

and, when the time comes to let it go

to let go.

From "In Blackwater Woods American Primitive by Mary Oliver"
Save
Save
Save
Save
Save
Save
Save
Save