I don't even know where to being with the amazingness that is The Mini Bottle Gallery in Oslo.  It's certainly the best place in all of Norway, and probably the world.  I'll start with the reason I ended up there.  Something called The Mini Bottle Gallery would not normally hold a ton of appeal for me, but I'm so glad this was one of the few times in my life I actually read a guide book.
The Oslo Guide 2014 from visitoslo.com that was available free in every hotel lobby describes The Mini Bottle Gallery as follows;
"The world's only mini-bottle museum is found in Oslo, and contains the largest collection of mini-bottles: 53,000 bottles in 50 installations on 3 floors!  Here you can see bottles filled with fruit and berries, worms and mice, what a Scotsman has under his kilt is revealed, and what a brothel looks like from the inside.  And if you're the fearless type we recommend you take the slide down to the horror chamber!"
What?  How do you pass that up?  Luckily, I didn't.  The admission in 85NOK (about $13.75) and includes a free mini bottle! (Unless they're out, which they were when I went.)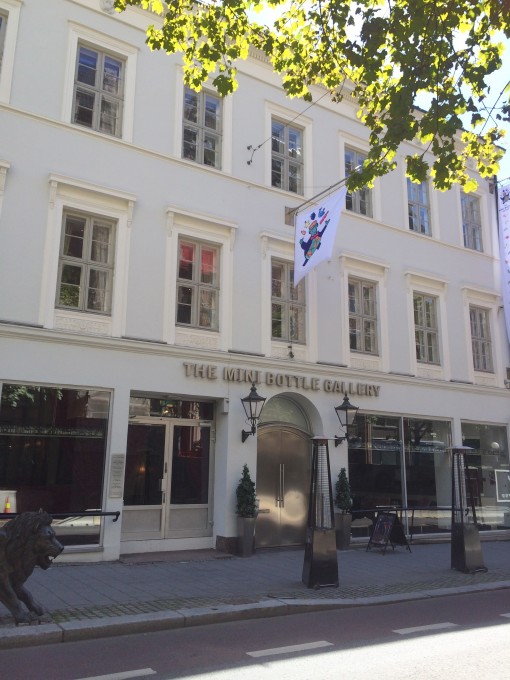 As with every public building in Norway, The Mini Bottle Gallery has enormous, imposing doors.  These ones are steel and look more like a bank vault than a quirky museum.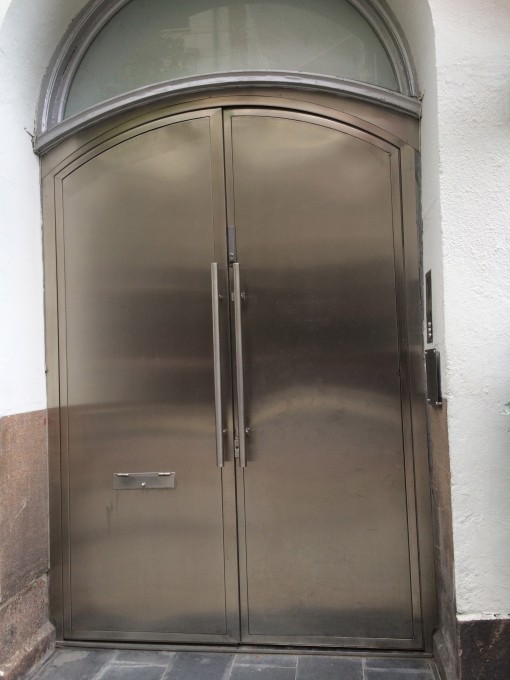 This is what it looks like when it's open and they (presumably) want customers!  It should be noted, however, that more often than not when you attempt to visit the MIni Bottle Gallery, they will in fact be closed (though you could never tell the difference from across the street).  The museum is open Saturdays and Sundays from 12pm-4pm except school holidays, which if I learned anything about Norwegian businesses, pretty much means "open when we feel like it."  Which is such a shame for the greatest museum on the planet.  I'm just lucky I happened upon it during the 8 hours a week (if that) that it's open.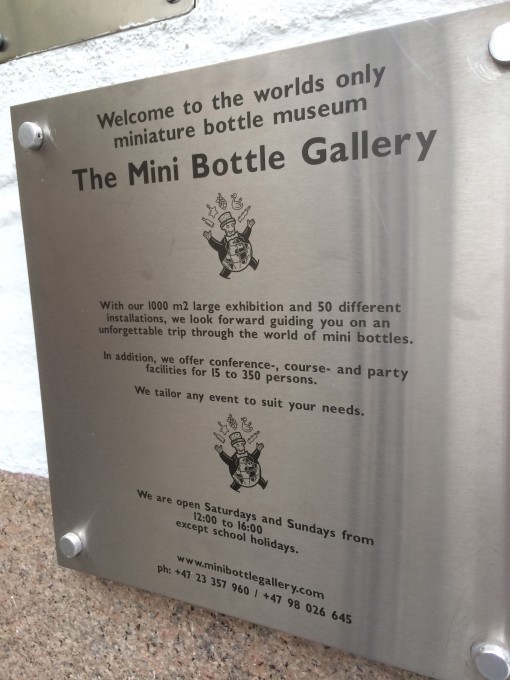 The important thing is we got inside.  And once inside, you're in for a treat.  You enter the museum through a bar, hosted by a disinterested statuesque blonde.  I found the Norwegians to be very nice, they just don't care about much.  As with most everyone I encountered in Norway, you have to approach them, and until you do they look at you as though you've wandered into their living room.  After you announce your intention at their place of business everything is friendly, there's just no "can I help you" "hi, welcome to.." greeting.  I guess it's hard to be too involved in your work when you're forced to work an 8 hour week during the only time of year you can semi-comfortably be outside.
Once inside you'll see, you guessed it, mini bottles everywhere!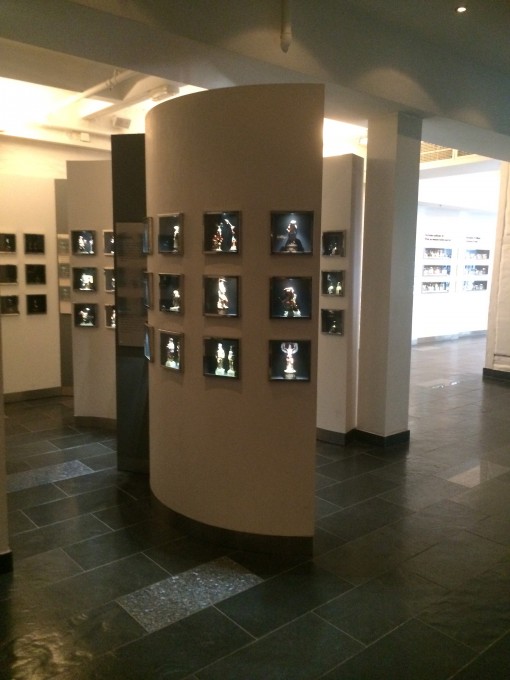 Even in the light fixtures.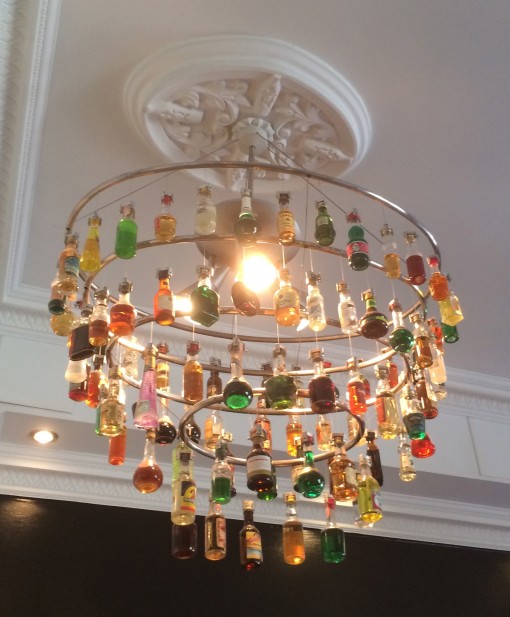 I never knew I liked Mini Bottles so much.  In fact, I had never really thought about mini bottles much except as a way to sneak booze onto airplanes and cruise ships. But here at the Mini Bottle Gallery, I forgot all of that and entered the wacky and wonderful world of mini bottles.
Here is a sampling of the things you can see and do at the mini bottle gallery.
Check out some interesting mini bottles;
some are kinda pretty,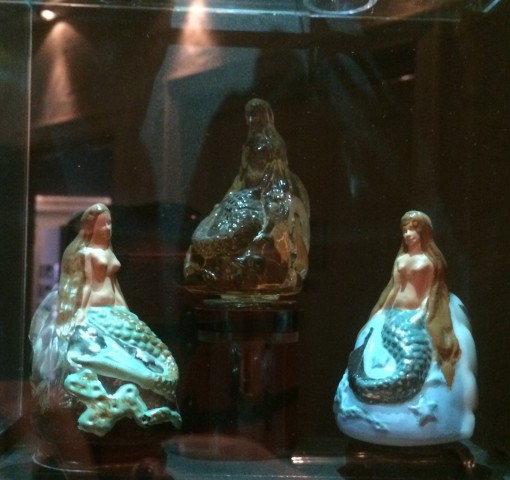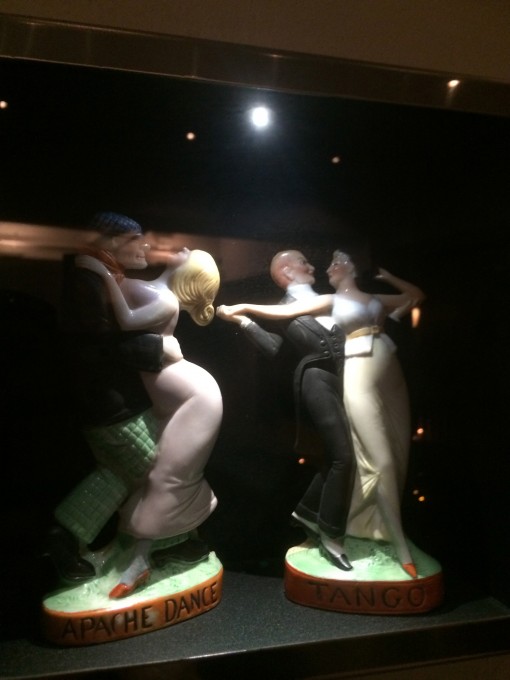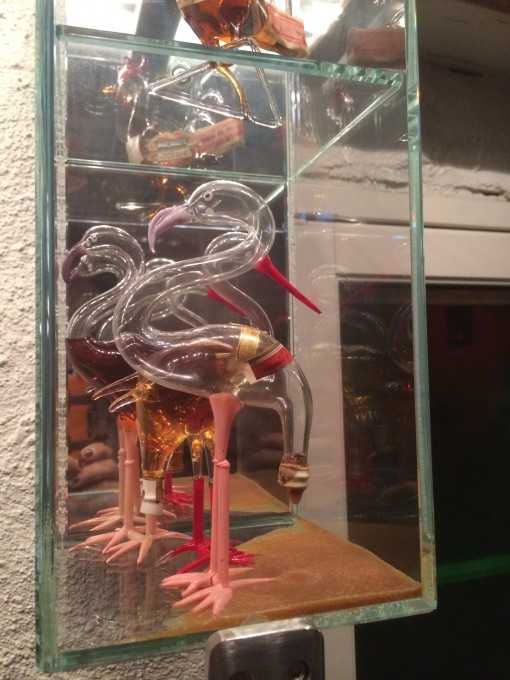 some are historically relevant,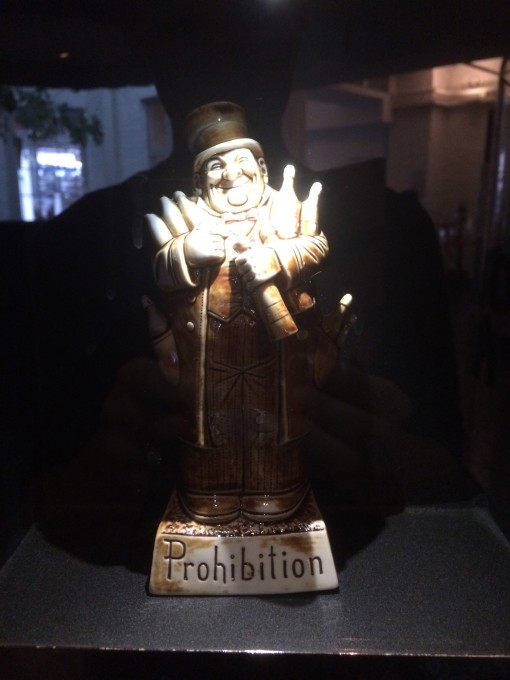 some offer helpful advice,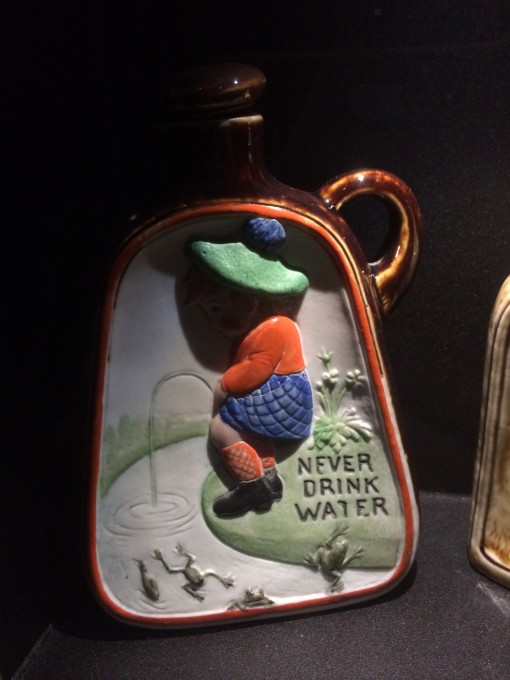 some are just confusing,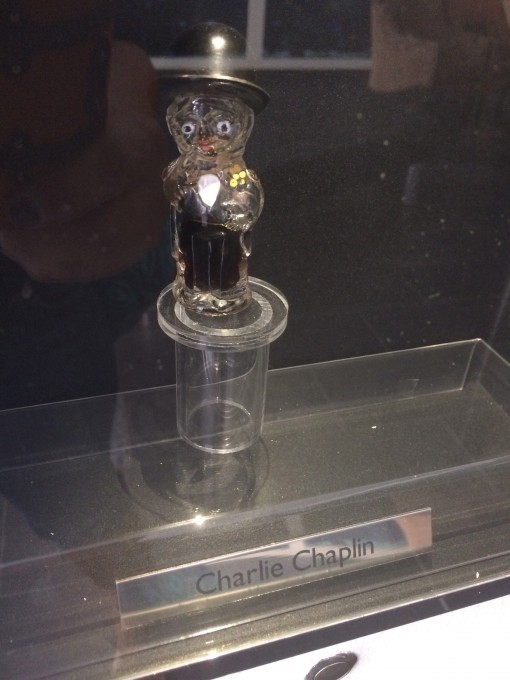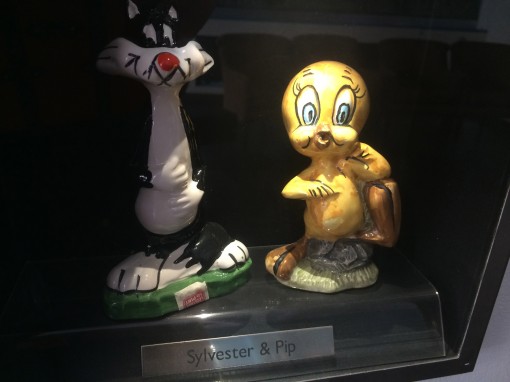 and some are inexplicably full of gross things.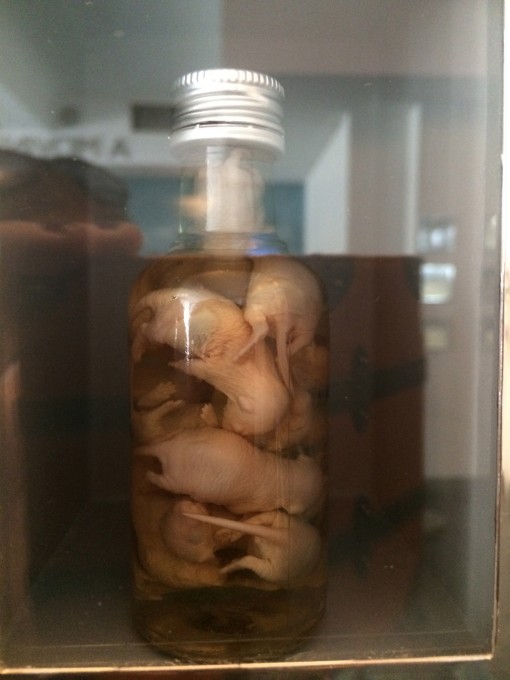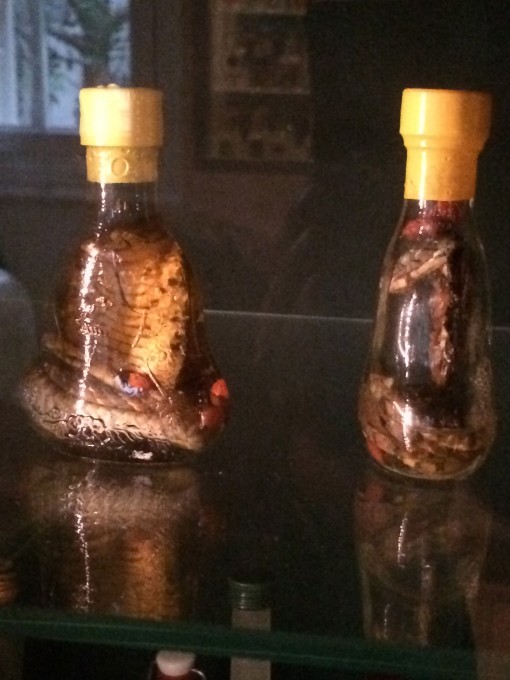 Get trapped in a larger bottle.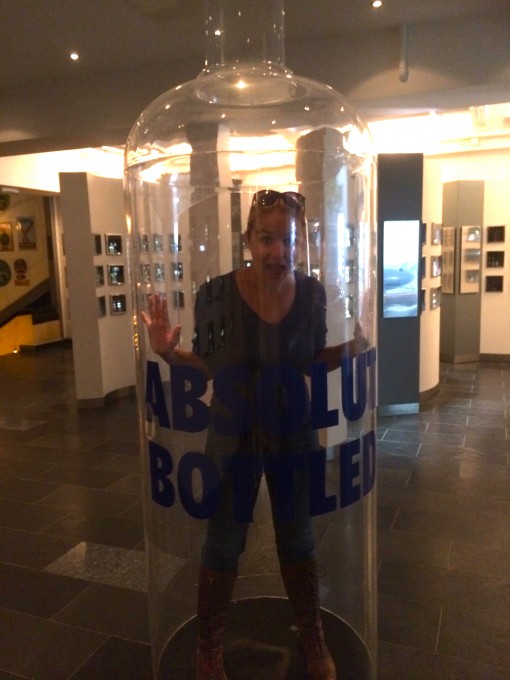 See a beer waterfall (a beerfall?).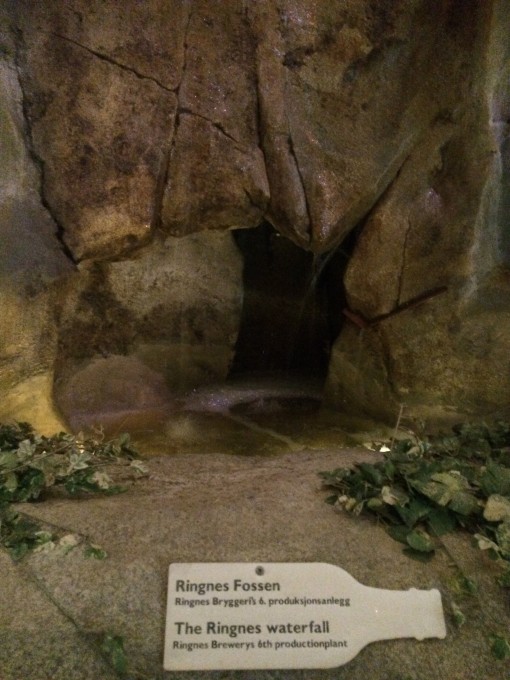 Find out about this month's Tackiest Bottle!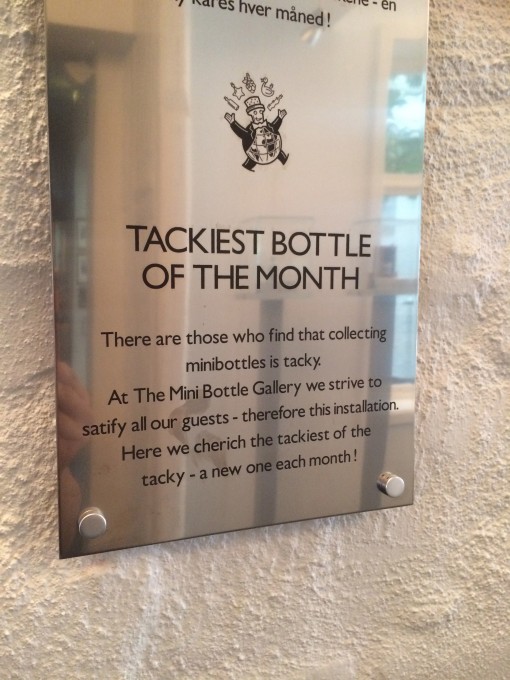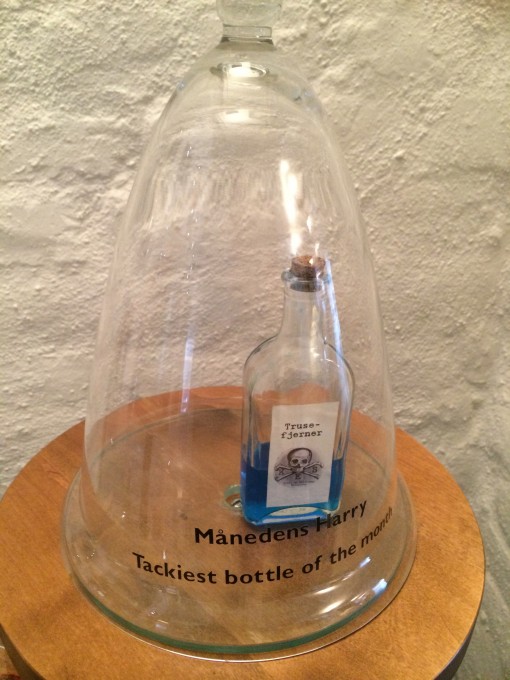 (maybe it's tackier in Norwegian?)
Learn about the mini bottles of the world through this Euro-centric mini bottle map.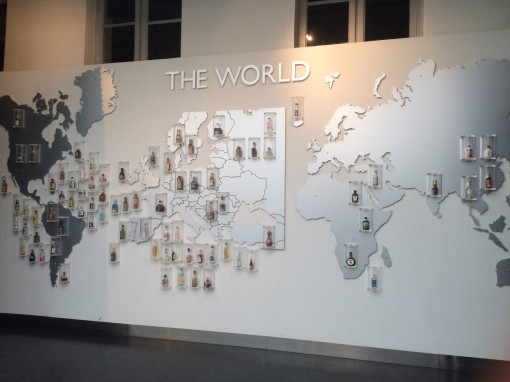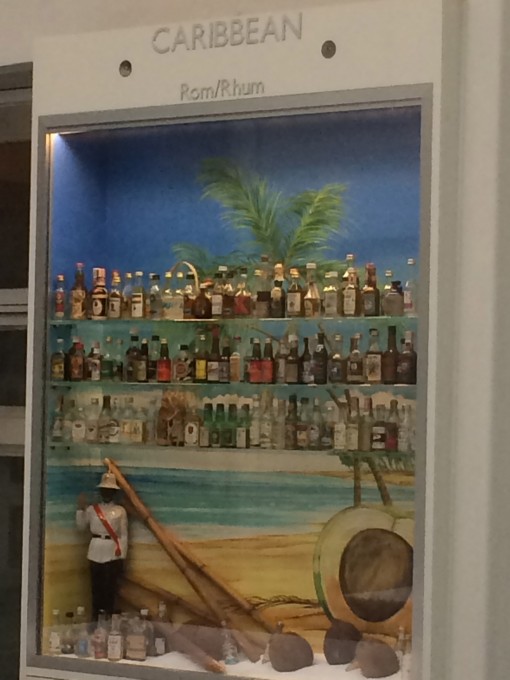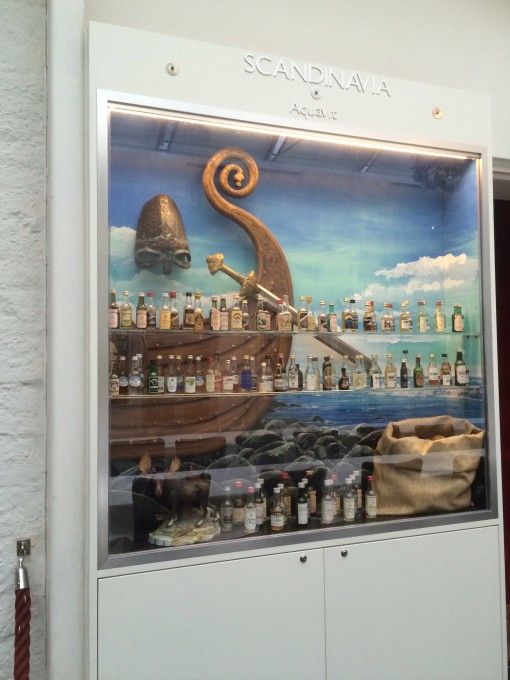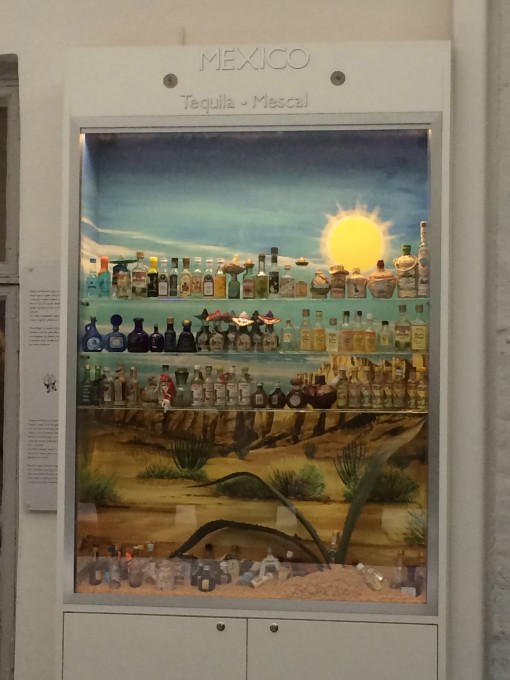 Play a rousing game of "Guess the Smell."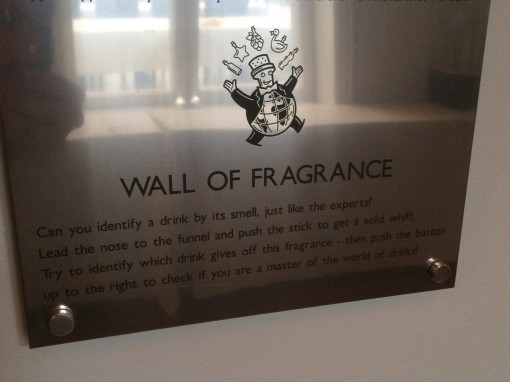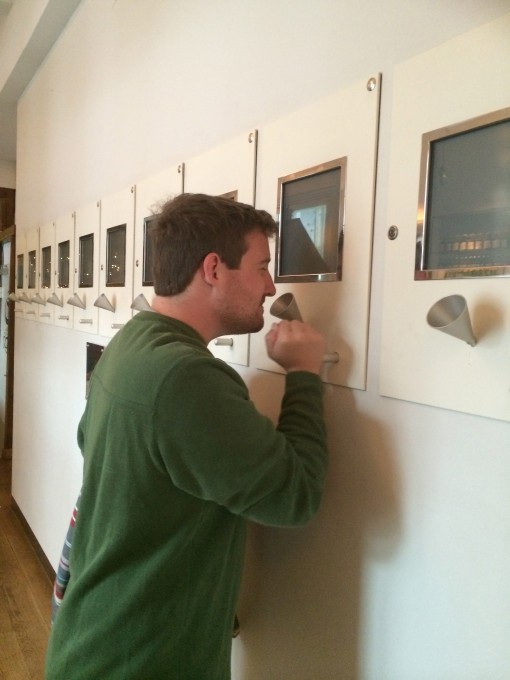 Learn what Norwegian cowboys say.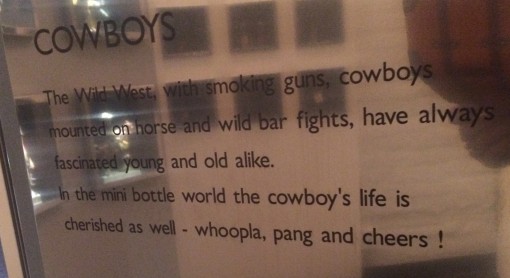 Check out what seemed to be a self-service bar.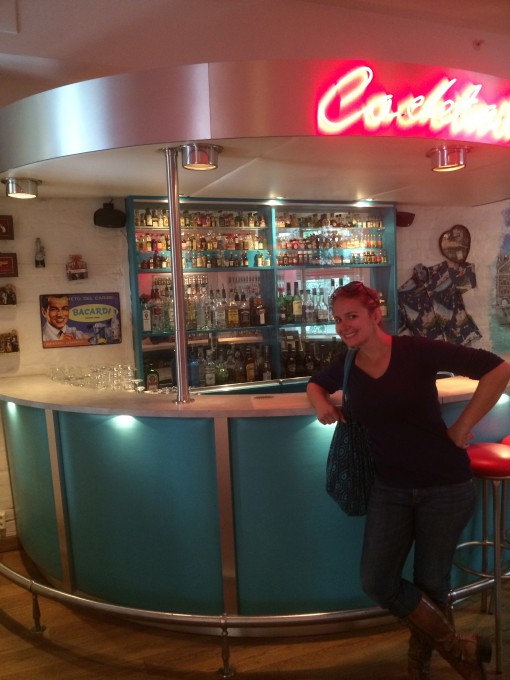 and as promised….
Find out what's under a Scotsman's kilt,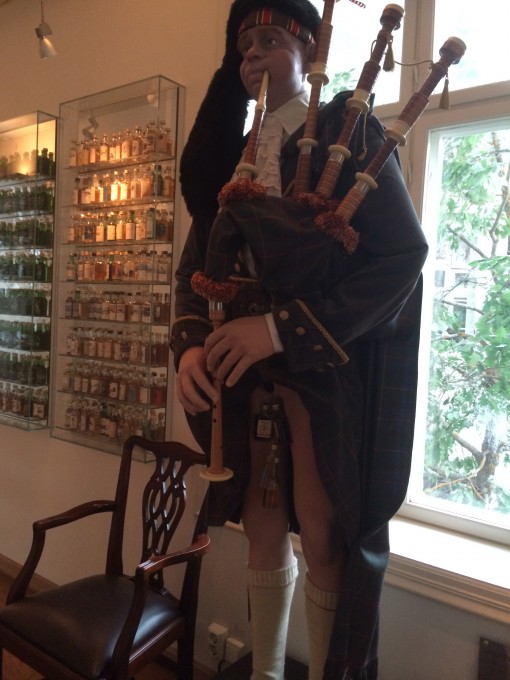 Check out a brothel,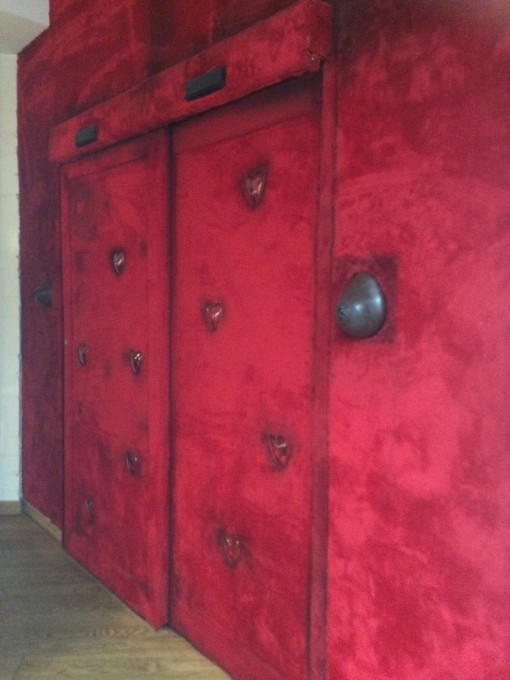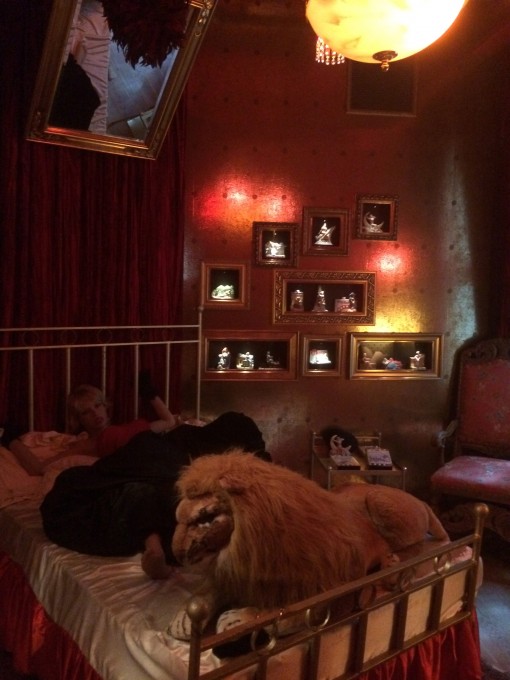 (don't worry, there's a brothel mini bottle display, so it totally makes sense.)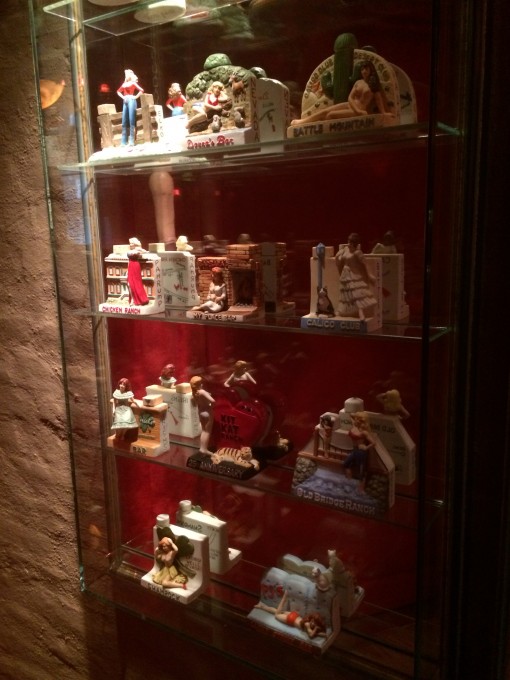 (and a pretty interesting way out)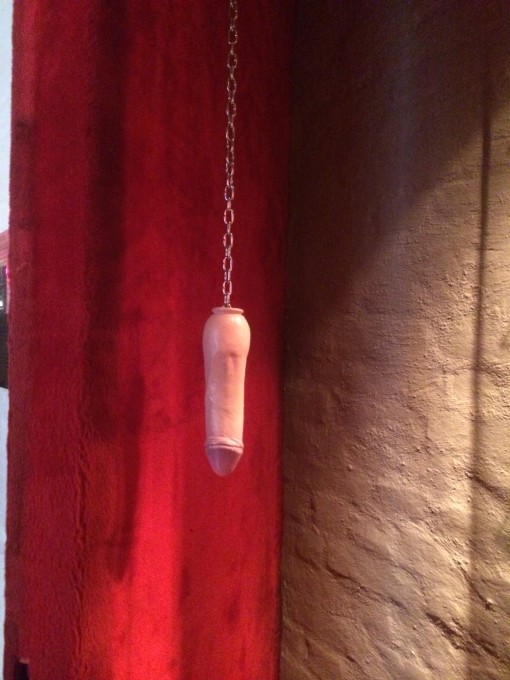 And of course, take a slide down to the chamber of horrors!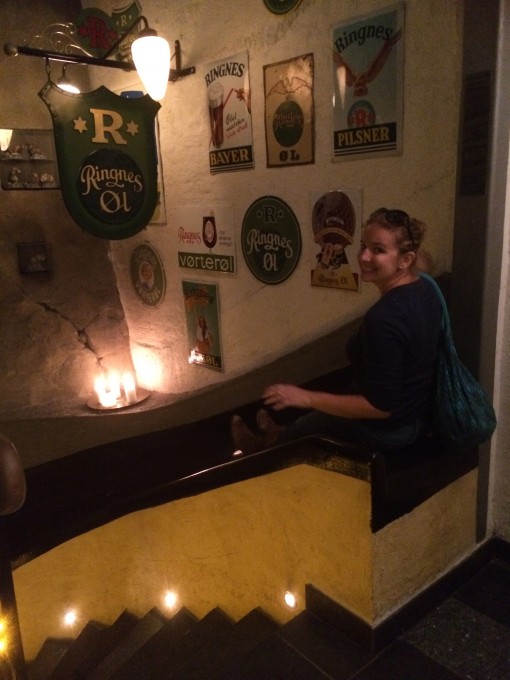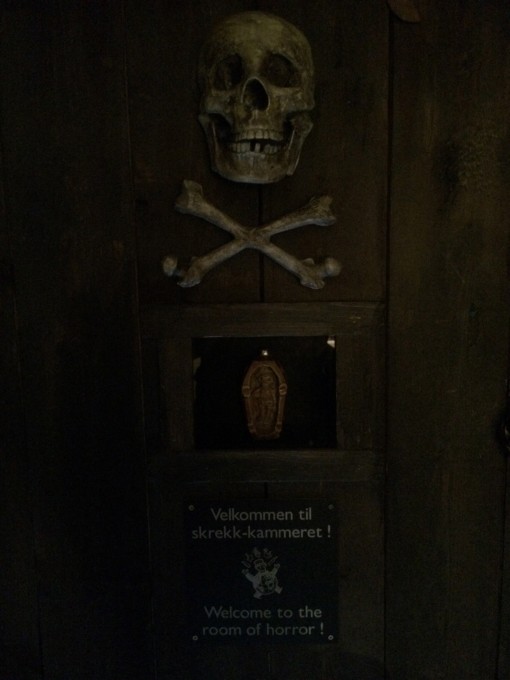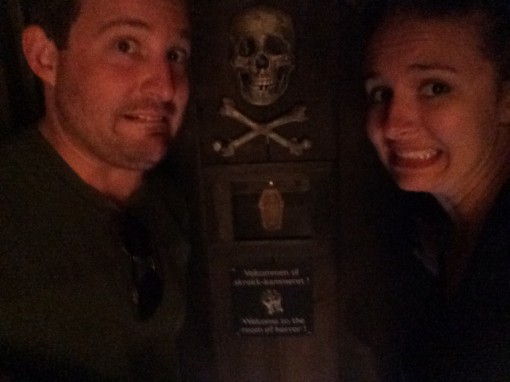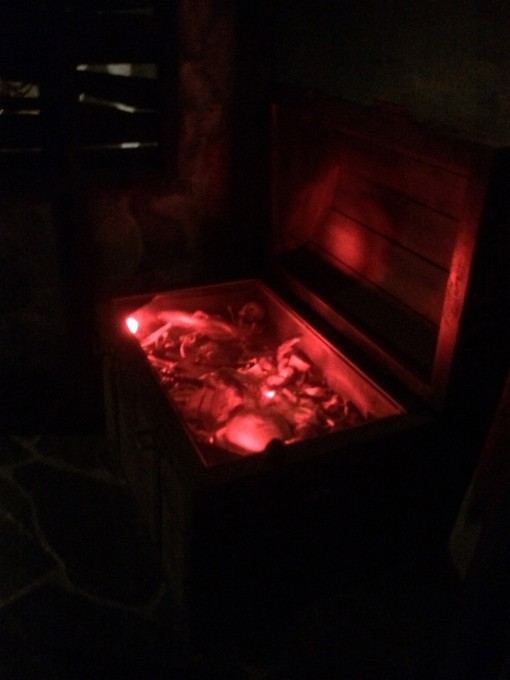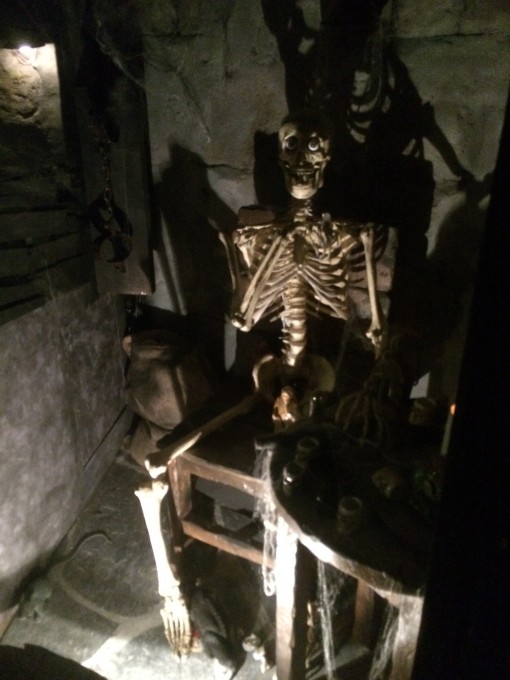 The horror chamber is something that seems uniquely Norwegian too.  Most every museum and cultural attraction I visited featured a chamber of horrors that seemed to be pretty similar to a cheap carnival attraction.  I don't know why a museum of any sort would ever feature a plastic skeleton and a strobe light, but I saw several.  I guess its a Norwegian thing.
Naturally, you'll want to spend hours in the Mini Bottle Gallery and will probably need time to relieve yourself at some point, but even if you don't you should head to some of the greatest restrooms I've ever seen.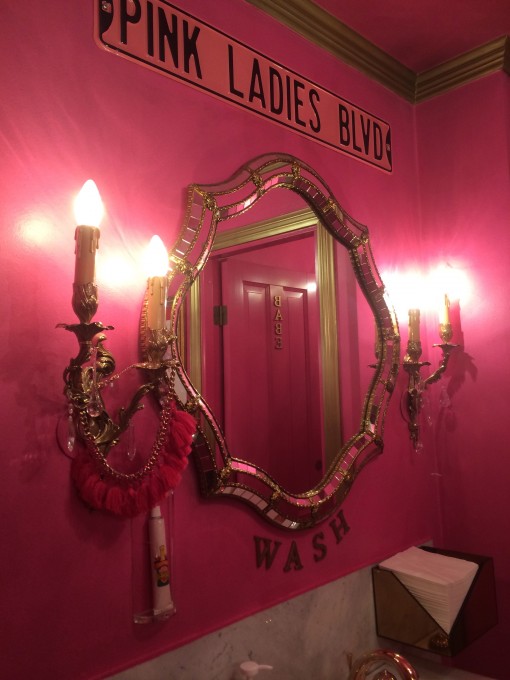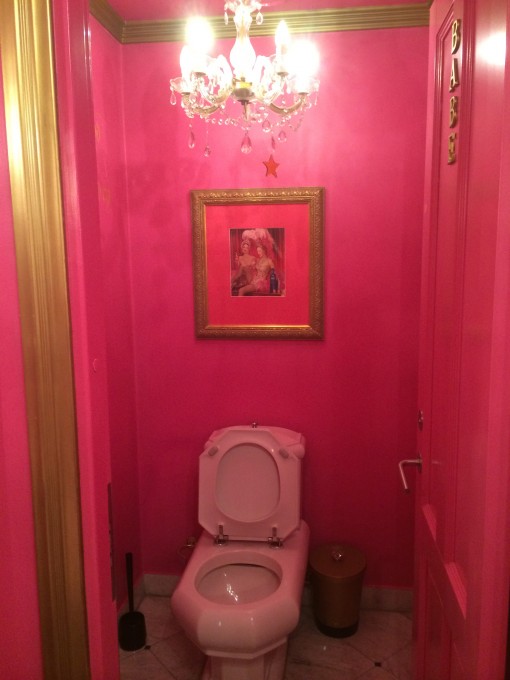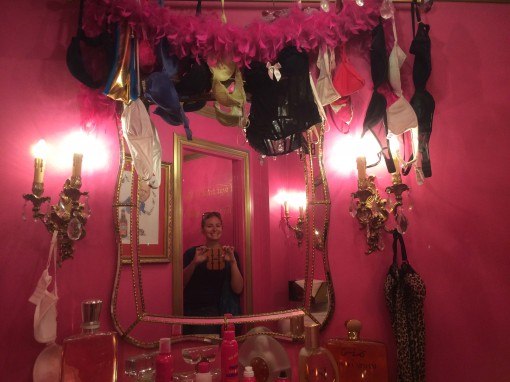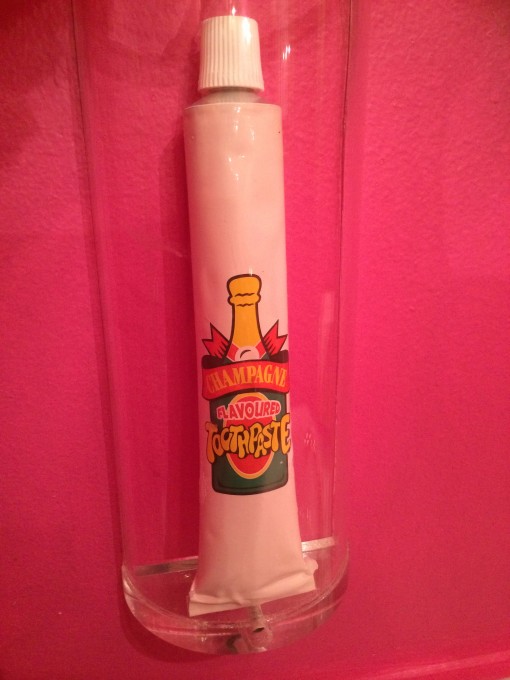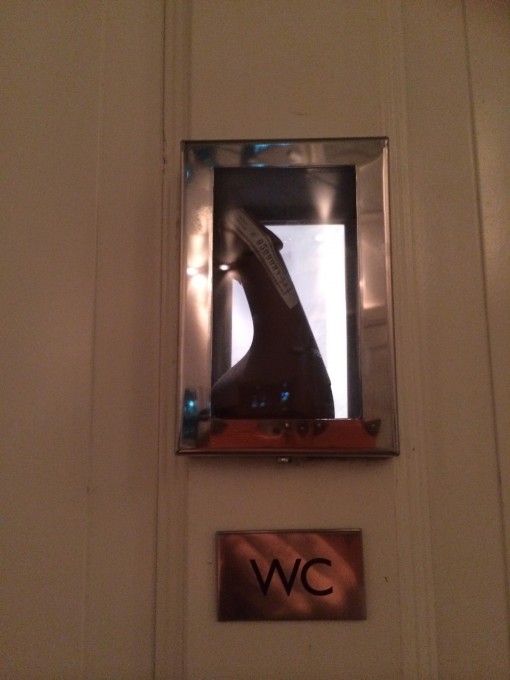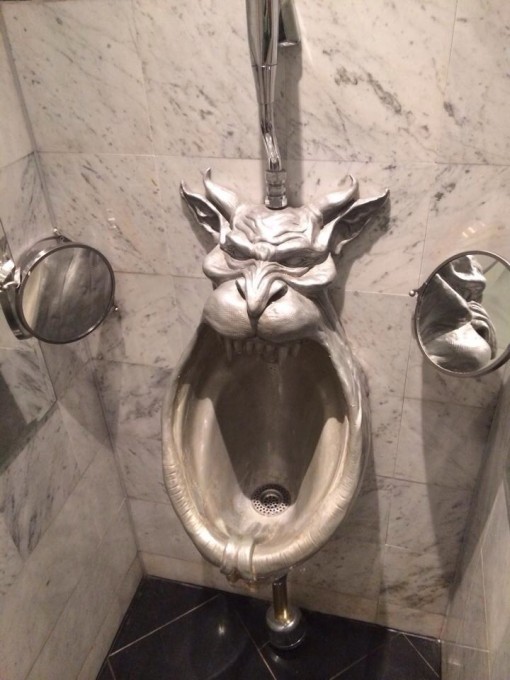 So as you can see, The Mini Bottle Gallery is certainly worth a visit while in Oslo.  In fact, it might be worth a visit to Oslo!  They also rent out space for all of your special events!  So if you have a wedding or corporate lunch coming up, this is your place and I want an invite!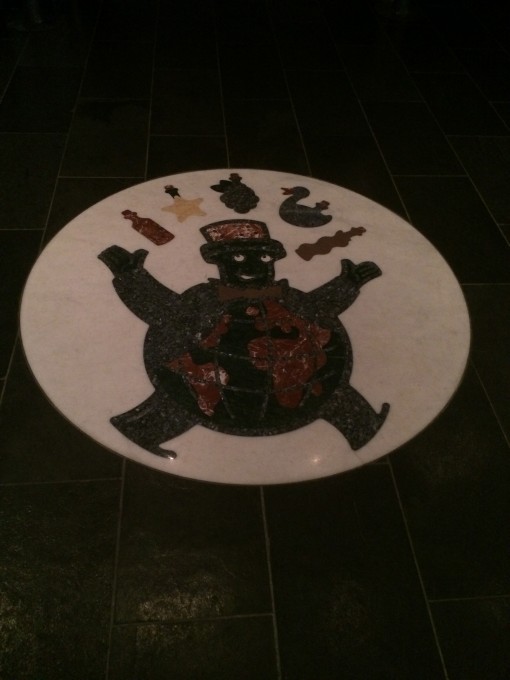 Save