Yay!  It's here again!  This why fall is my favorite time of year.  Pumpkin spice everything, Halloween, and The Food and Wine Festival (with the added bonus of being in Florida so it's not even cold)!  I was a bit concerned that this years addition of food and wine to the Flower and Garden Festival (March 6-May 19, 2013) would dampen my enthusiasm for the Food and Wine Festival.  I was was wrong.  It's still super exciting.
I've been attending the Food and Wine Festival for approximately a bijillon years, and every year there are new offerings to try as well as old standards that reappear.  It doesn't matter how hot and sticky it is outside, people will still wait in line for Canadian Cheddar Cheese Soup.  Unfortunately, every year also sees the passing of some of my favorites. (R.I.P. Aussie Wine Walk About).
While I do think the Epcot Food and Wine Festival is pretty much the best thing ever, there are of course some draw backs.  One such draw back being crowds.  When anyone asks me what the best time to visit Walt Disney World is I still tell them September/October (because hey, food and wine!) but I'm afraid word of the festival has gotten out.  Every year seems more crowded than the last. Sometimes it looks like this, and that's terrible.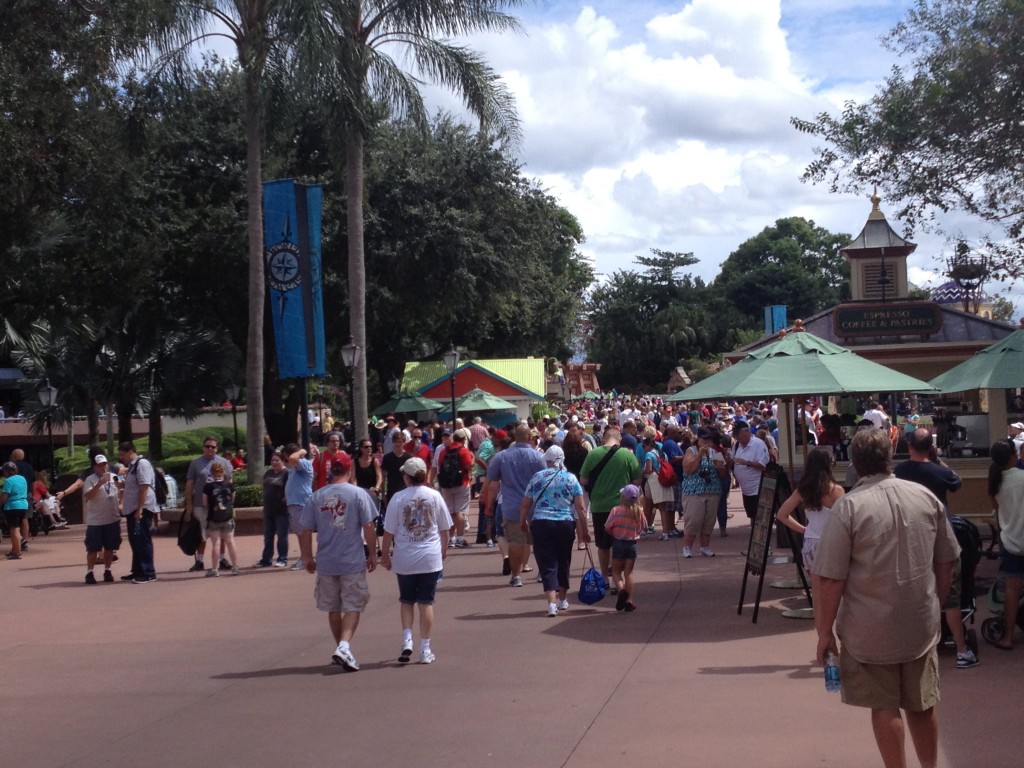 It's still far from the busiest time you could visit, but especially on weekends you can expect to wait in line for the more popular booths.  This coupled with a lack of seating makes for an interesting dining experience.  If your lucky you can find one of the high-top cocktail tables set up for the festival, but that's kind of a holy grail on a busy day.  Most of the time you'll find yourself leaning on a trashcan, which is a little disconcerting for the more germaphobic among us.  If you're an advanced multi-tasker, last year they rolled out a small tray you can purchase for right around $6 that has a cup holder for your wine (this years fits beer too!) and a place to put your plate of food.  This was one of those brilliant "why did it take them this long ideas.?"  I highly recommend picking one up at the festival center or at any merchandise booth along the way.  Don't worry, it's Disney, there are plenty of them!
As the tone of the post indicates though, I think the good far outweighs the bad at the festival.  There are all sorts of new foods to try and they're all smaller portions if you just want to grab a snack, or make a meal out of several items.  This is the best time of year to be on the Disney Dining Plan because almost all of the food items are considered "snacks" on the plan.
You can also take advantage of special events such as wine tastings, mixology seminars, cooking classes, and chef's dinners for an additional cost.  You almost always need to book those in advance and can do so at the Walt Disney World website.
If you're local, here for an extended period of time, or just up for a challenge you can grab a passport at the front of the park or any of the booths.  Every location you visit will give you a stamp and help you keep track of what you tried at each country.  I get a passport every year so stopping at all the booths feels like an accomplishment (you get a completion stamp!) and not just a huge drain on my bank account.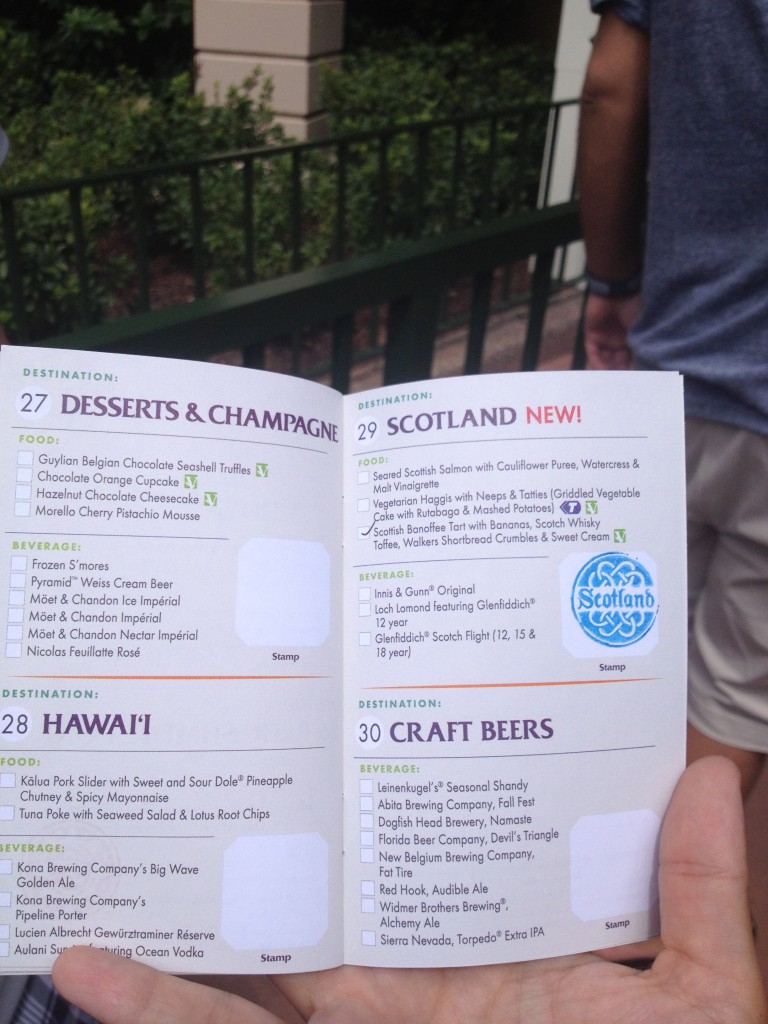 I make it a point to hit all of the booths every year, but I am a distinct advantage living in Orlando and having relatively unlimited access to the festival.  So, I have the luxury of being able to pace myself, other wise it can get expensive (and embarrassing).  If you're just visiting for a few days, I would recommend just hitting the highlights.
This time of year can make drinking around the world extra challenging, but also extra rewarding!  Sometimes you conquer food and wine, and sometimes it conquers you.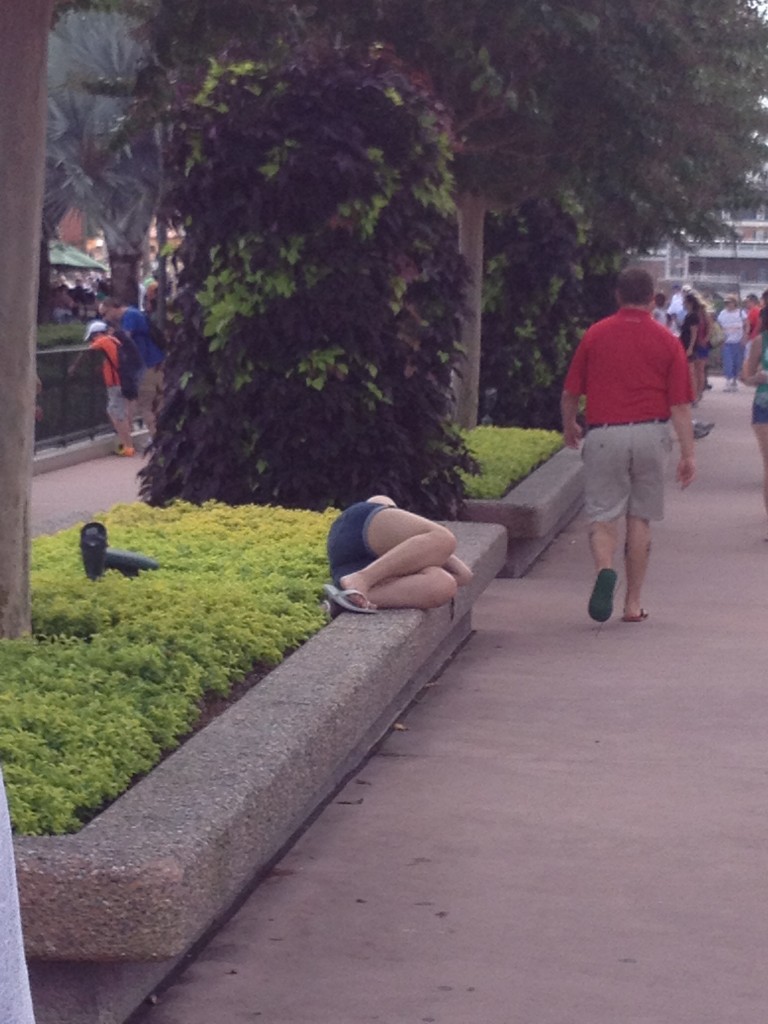 Stay tuned as I continue to update my journey around the world!
And remember, day drinking is okay… you're on vacation, or at a vacation destination, or it's your day off and it's warm outside.
Jump to: